GIGABYTE Z390 9th Gen OC Guide & VRM Thermal Test
An extensive overclocking guide and VRM thermal test for the GIGABYTE Z390 motherboards.
Published Mon, Nov 26 2018 10:00 AM CST
|
Updated Fri, Nov 22 2019 12:49 PM CST
Introduction to Overclocking, and The Flow Chart, and Video
Overclocking GIGABYTE Z390
Today we will be describing in detail how to easily overclock the new 9th generation hexa and octa-core Intel CPUs on GIGABYTE Z390 motherboards. GIGABYTE specifically redesigned their motherboard line up to support the new CPUs, as they pull significantly more power than their predecessors do, all up and down their Aorus Gaming lineup.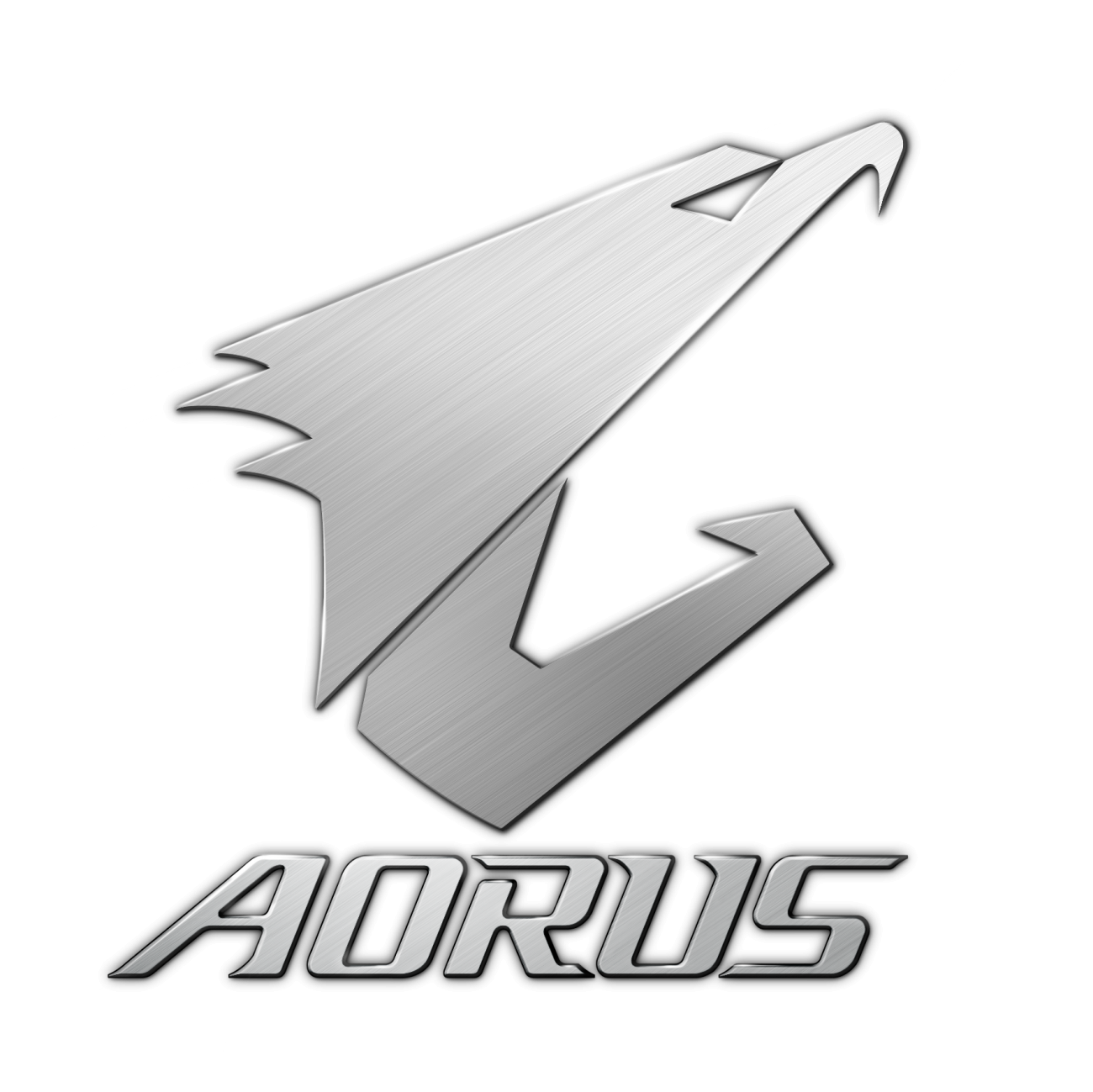 Overclocking the motherboard through GIGABYTE's UEFI is pretty easy, but we will make it even easier for you by telling you exactly what to change to get the results you want. We think most everyone should be able to hit 5GHz, as long as they have sufficient cooling.
The Flow Chart
Overclocking is simple; you set a multiplier and a voltage, then you run a test, if that test fails you either add more voltage, reduce frequency, or increase cooling. There are some other tricks this round, such as adjusting up Tjmax (Intel added this for Z390 specifically to increase thermal throttle point) and increasing power limits. The hardest part of overclocking for most people might just be finding a good starting point.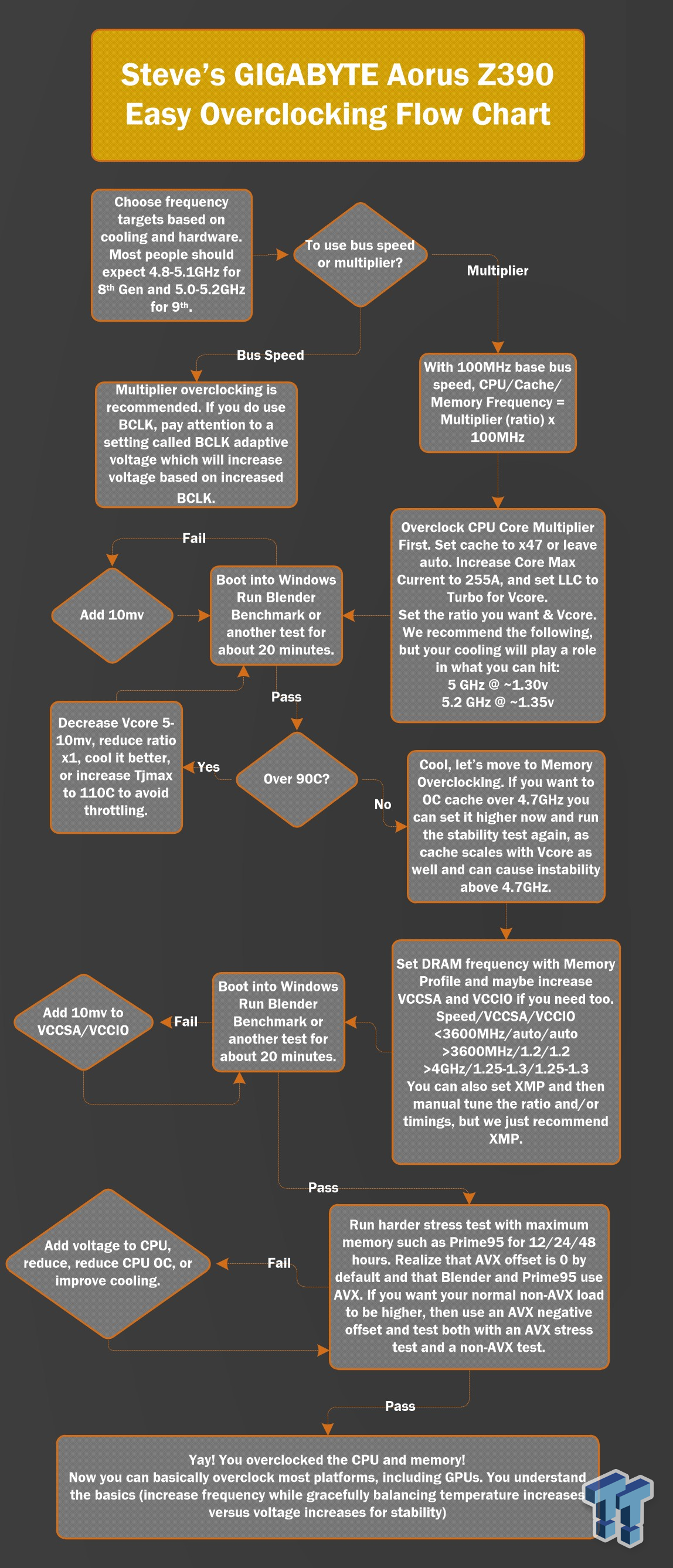 Our CPU is capable of 5GHz AVX and 5.2GHz non-AVX (can call it SSE) under very stressful conditions, and our CPU can even run benchmarks such as the Blender Benchmark and programs like Handbrake, both of which use AVX, at 5.2GHz. However, Prime95 won't run at 5.2GHz. You might want to use that as some sort of guide point for what you might expect. Now, we will use the 9900K as our example in this guide, and by default all core Turbo of the 9900K is 4.7GHz, meaning all cores can operate at 4.7GHz all the time. GIGABYTE's Z390 motherboards fully support this, not all do, and so you should aim for 5GHz stable if you have watercooling.
You can start VCore at 1.25v at 5GHz, but you will probably find you need bumps towards 1.3v to run Prime95 with AVX. We don't really recommend taking VCCSA or VCCIO over 1.3v, we like 1.25v each as maximum, but you can go higher. We also found that VCore over 1.3v was a bit tough to cool and might require a Tjmax set to like 110C to avoid throttling. Intel obviously added in this feature because they knew the CPUs run on the hot side, so they are letting people move the throttle point up. We are not saying it's 100% safe, just that you can.
The Video
Many users prefer videos, so we made a video for those people describing how to overclock with this motherboard.
Disclaimer and Before You Begin Overclocking
Disclaimer Overclocking your CPU technically voids your warranty. However, if you want to overclock and still be covered, Intel does provide an aftermarket overclocking warranty for about $50 located here: (PTPP). However, as of now, we don't see any 9000 series CPUs listed, we have contacted Intel for comment. Overclocking can also damage your CPU, especially if done incorrectly. This guide is about how to overclock, but neither TweakTown Pty. Ltd. nor GIGA-BYTE Technology Co., Ltd take responsibility for damages that could occur; you bare sole responsibility for any damages that may arise.
Have you Overclocked Before?
If you have overclocked before and understand hardware selection and the basics of overclocking, you should skip to the next page, but we will warn you the 9900K is a special beast. The first part of this guide is for those who want to know what to do before overclocking.
Where do I start?
GIGABYTE Z390 Overclocking Guide Systems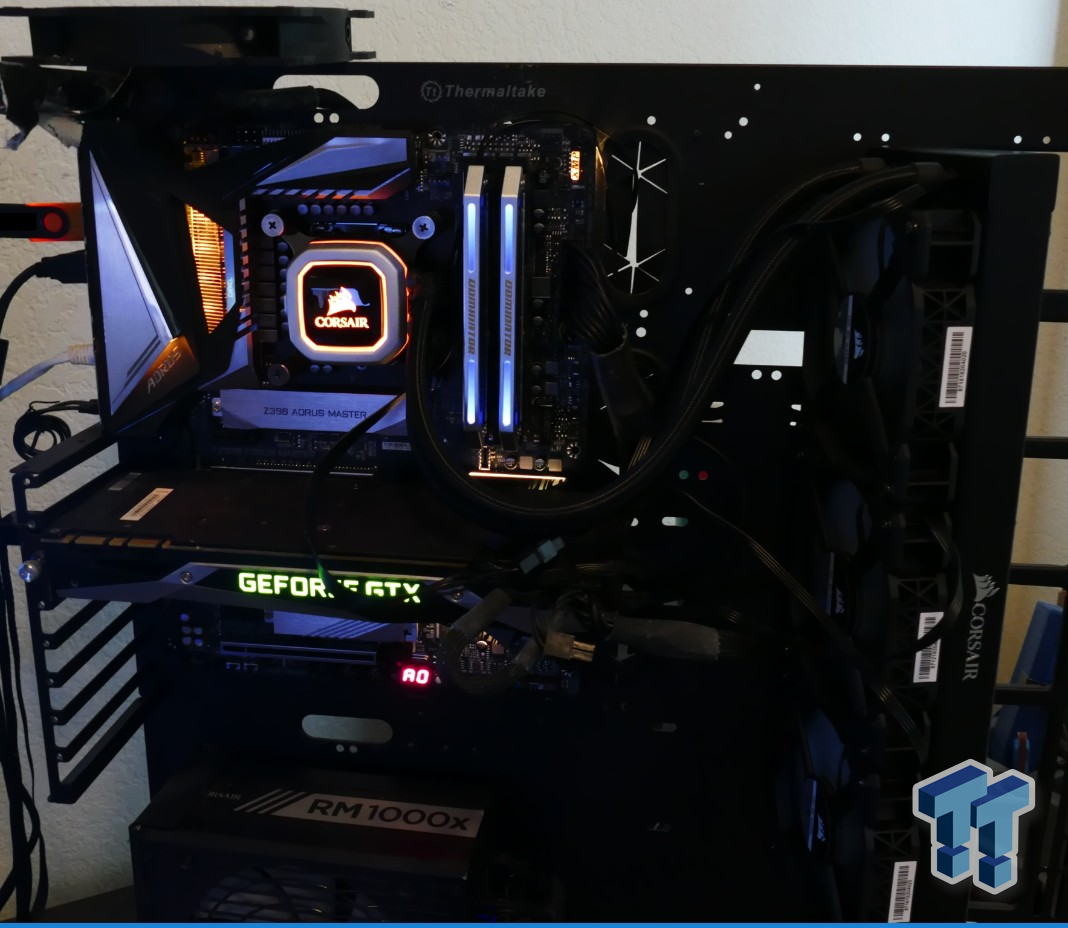 CPU: You will need a "K-SKU" CPU such as the 8086K or 9900K.
Motherboard: While you can buy a GIGABYTE Z370 motherboard, we highly suggest you buy a Z390 motherboard from GIGABYTE. While you are probably here because you bought a GIGABYTE Z390 motherboard, we just want to put this out there because of spec changes to the power supply design guide. Intel increased power supply requirements 70W under sustained load to 213W stock and over 100W peak at stock. After the PSU feeds the motherboard VRM, the VRM then changes that voltage from 12v to something like 1.25v for the CPU, and that is where Z370 motherboards generally fall short (except high-end). GIGABYTE has designed all of their Aorus Gaming Z390 motherboard to handle the increased requirements.
DRAM: If you go to GIGABYTE's website you will find a tab under "Support" for "Support List". Under that you will be able to download individual lists for each motherboard, such as the
Please Note: This is sponsored content and its contents may or may not represent the thoughts or opinions of TweakTown or its editors.
PRICING: You can find products similar to this one for sale below.

United States: Find other tech and computer products like this over at Amazon.com

United Kingdom: Find other tech and computer products like this over at Amazon.co.uk

Australia: Find other tech and computer products like this over at Amazon.com.au

Canada: Find other tech and computer products like this over at Amazon.ca

Deutschland: Finde andere Technik- und Computerprodukte wie dieses auf Amazon.de
We openly invite the companies who provide us with review samples / who are mentioned or discussed to express their opinion. If any company representative wishes to respond, we will publish the response here. Please contact us if you wish to respond.
Related Tags