Xbox One X Tear Down - Storage Upgrade
Ditch the spinner in your Xbox One X!

Published
3 minutes & 48 seconds read time
Before we even start going through the steps needed to complete this article, you must know once you open your One X, the warranty is gone. Not to mention things can go wrong when unplugging and reinstalling cables, pulling things apart and even putting them back together. With that said, let's get to it.
For those of you who have followed TweakTown for a while, you will know I wrote a similar guide a few years back for the OG Xbox One. The procedure for upgrading storage in the Xbox hasn't changed much since then but there are a few things you need to get started.
First, you will need to find a 1TB or higher capacity SSD that means 960GB will not work. SanDisk, WD and Samsung are obvious choices but I would also throw Crucial into the mix as well, for my article I purchased a WD Blue 1TB SSD from B&H for $265.99. Second, you need a desktop or laptop with two SATA connections available and third clonezilla on a bootable USB flash drive either through parted magic for a few bucks or stand-alone free of charge.
Digging in: One X teardown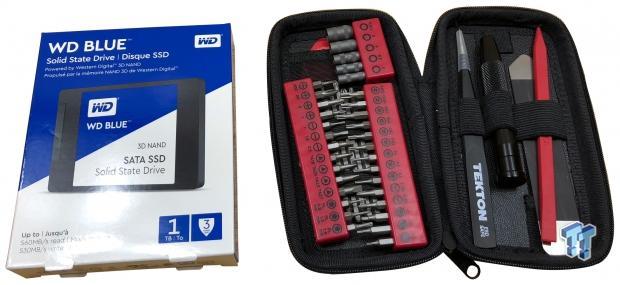 To start off this article, we will be tearing down the Xbox One X to remove the internal hard drive. If you have games and apps installed on this drive, I would recommend you connect an external drive to your Xbox and move them over to save time setting up the new drive. That being said, for opening up the One X we need a T9 driver or bit along with a thin plastic spudger and for upgrading storage, the drive you purchased.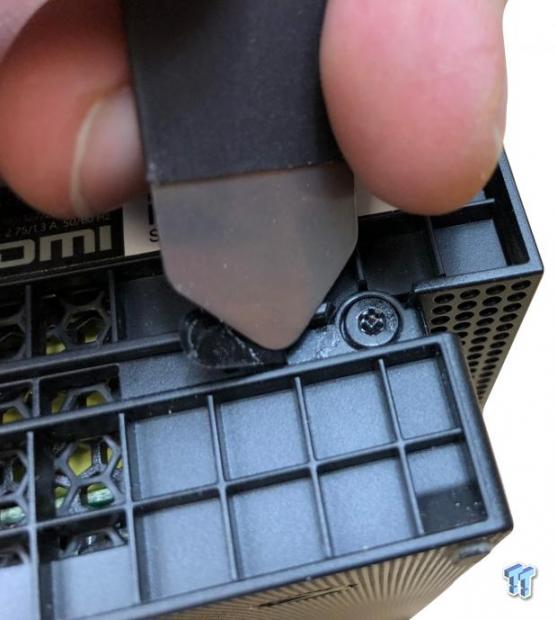 Take care and peel back the sticker revealing the torx screw on the left side of the One X. We also have one to the far right in the same location. Once these are removed, you can push from the back of the console forward to remove the lid.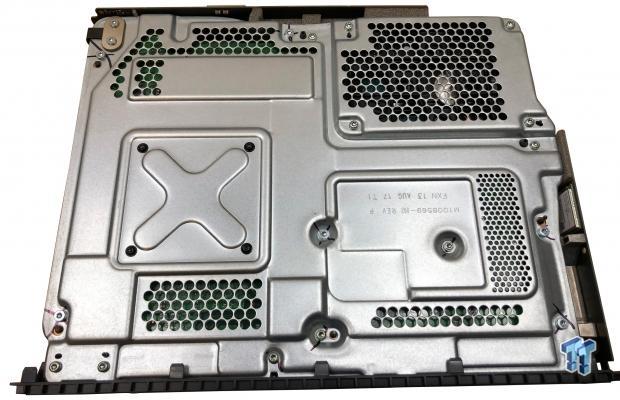 Once we are this far, we need to remove the long Torx screws that hold the two halves together, I have them marked on my cover as I have been in here previously.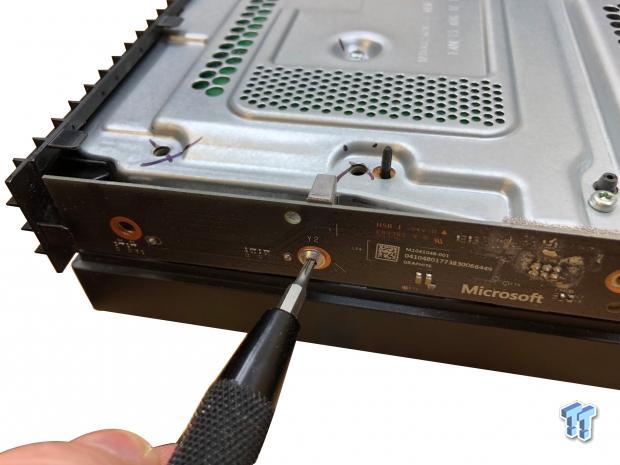 Now we need to remove the PCB on the left side of the console and the one on the front. For the left side, there are three screws and after we have those removed you just gently wiggle the PCB from its connection.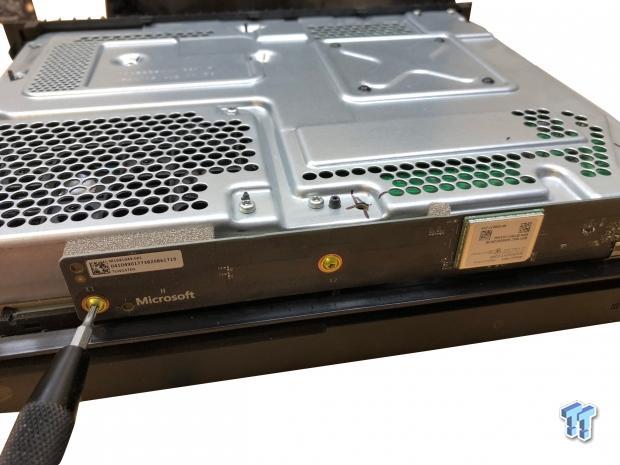 On the front, we have three more screws. Remove all three and then grab a thin plastic spudger or tweezers for the next step.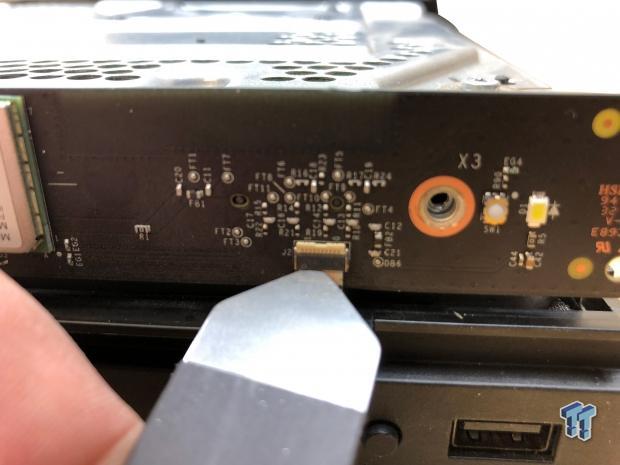 Assuming you have all three screws out of the way, we now need to pop the clip holding the flat wire connection and gently remove this PCB.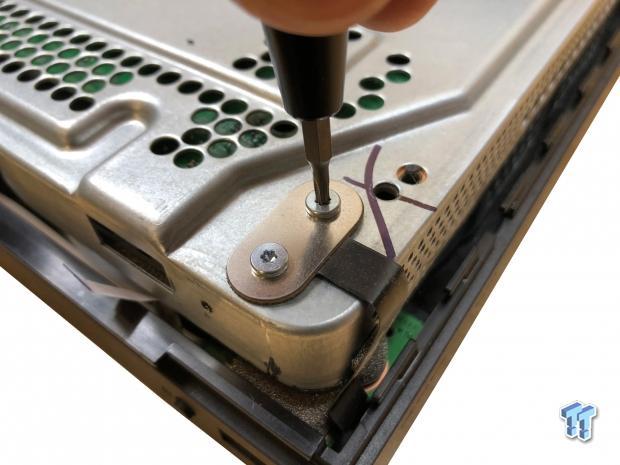 Next up, we remove the two screws on top and pull the connection apart.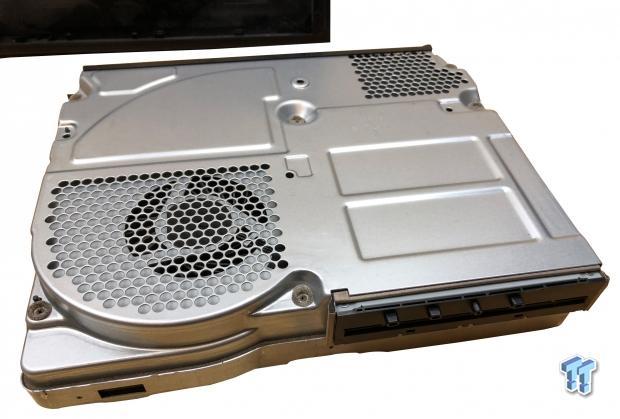 At this point, you should be able to remove the metal shell from all plastic shrouds as I have done above.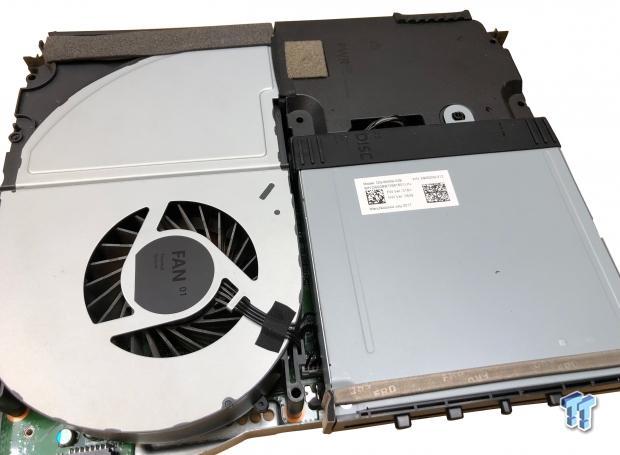 Removing the top cover, we have access to the internal components.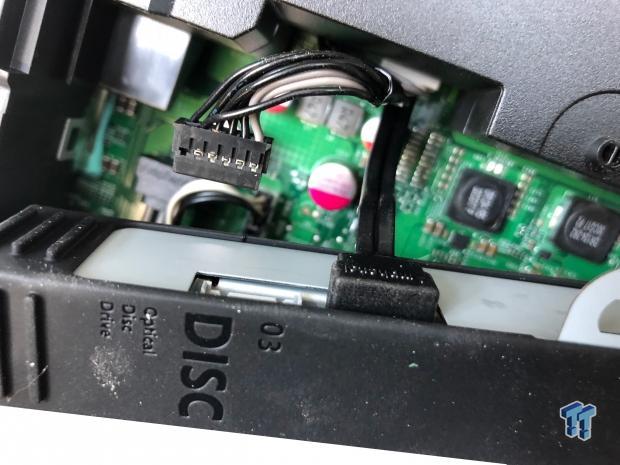 Next step is to remove the Blu-ray drive. For this pull up on the drive and at the back remove the power and SATA leads from the back of the drive. A small flat blade screwdriver can help here.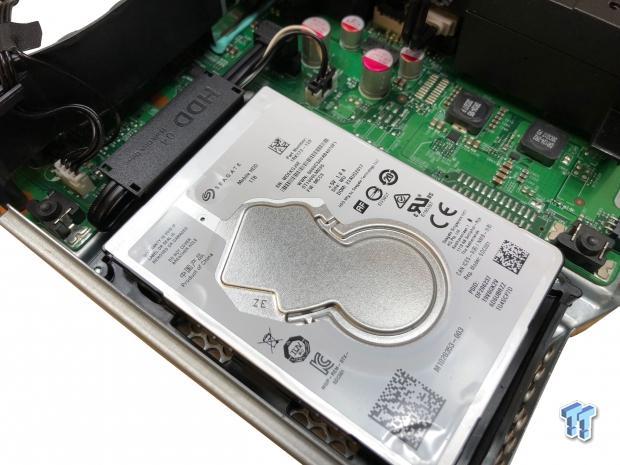 Now we have our eyes on the prize. My launch day One X came with a Seagate Mobile 1TB HDD.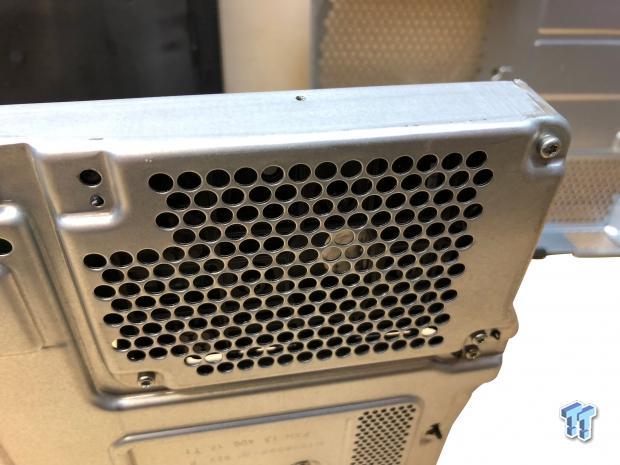 To remove the drive, we need to extract the four screws under the metal chassis.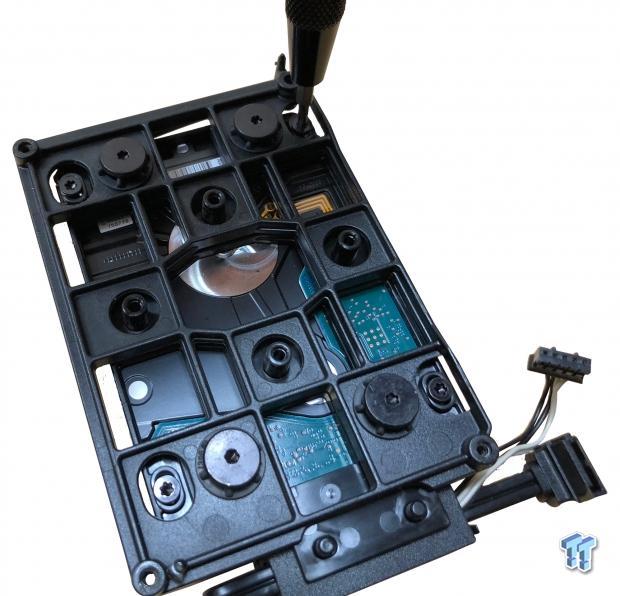 Once removed we can get at the tray and the retaining screws for the drive itself.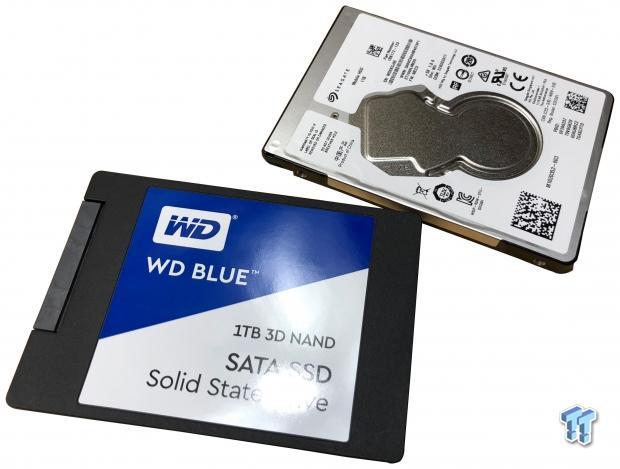 Old and New drives together.
The software side of things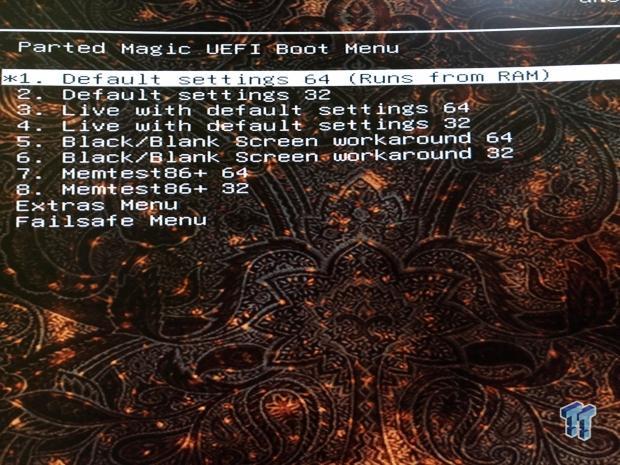 For this article, I'm using a parted magic bootable USB drive but you can use a stand-alone bootable version of Clonezilla if you would like. At this point, if the drive you intend to use for this upgrade was previously used in another machine I'd recommend you secure erase it within parted magic. You can then return to Pmagic and boot into Clonezilla.

Once we are loaded into Clonezilla, we choose the device-device option to work directly with disks.

For this step, we want the disk to disk clone.

Here we are choosing the source disk, which would be the spinner we removed from the Xbox.

The destination drive is your 1TB or greater SSD.

I usually just skip checking the source filesystem here as I don't want Clonezilla to alter anything on the spinner, just in case the upgrade does not work the first time.

This option is up to you; I usually select the option to choose once it's complete.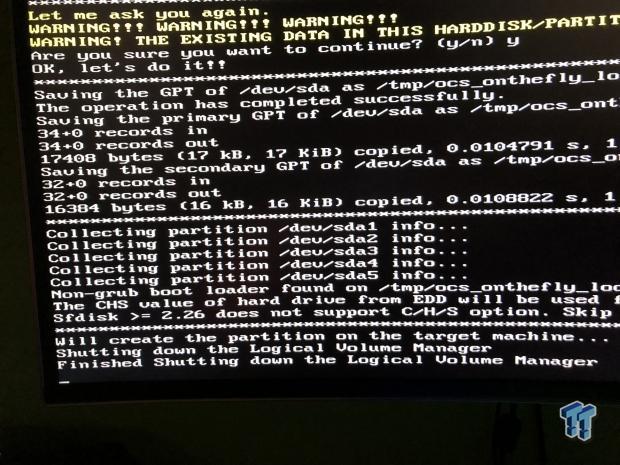 Ok now move to a black screen where Clonezilla will analyze and create partitions on the 1TB SSD. There are a few points here where you will need to enter Yes to continue.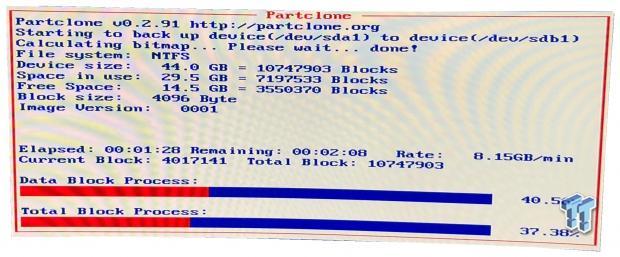 Ok, the copy process will take the longest. It will depend on how much data is on your hard drive and its why I said, in the beginning, to copy all of your games and apps to an external drive. With a bare Xbox One X system, no games or apps, this process will usually take 30 minutes.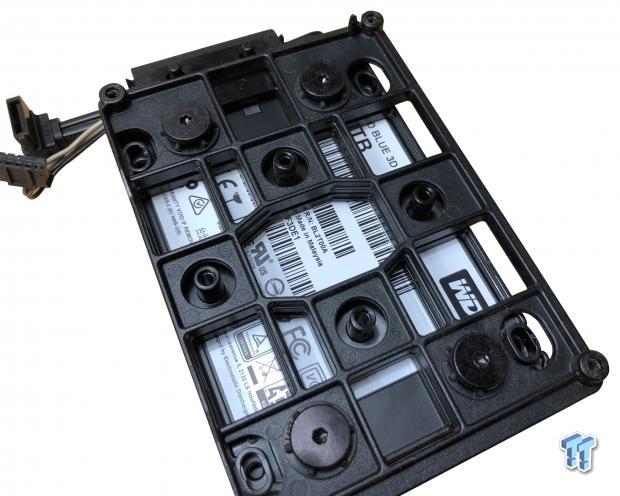 After powering off your PC and removing the drives, we bring the new SSD over to the One X to begin reassembling everything. As you can guess this is the reverse of the process we used to disassemble the One X. It's relatively simple as long as you take your time and if you do need help there are a ton of videos on the web to provide you with some assistance.
Once you have your Xbox One X back together, it's time for bootup.
PRICING: You can find products similar to this one for sale below.

United States: Find other tech and computer products like this over at Amazon.com

United Kingdom: Find other tech and computer products like this over at Amazon.co.uk

Australia: Find other tech and computer products like this over at Amazon.com.au

Canada: Find other tech and computer products like this over at Amazon.ca

Deutschland: Finde andere Technik- und Computerprodukte wie dieses auf Amazon.de
We openly invite the companies who provide us with review samples / who are mentioned or discussed to express their opinion. If any company representative wishes to respond, we will publish the response here. Please contact us if you wish to respond.