Killer Instinct Graphics Performance Tweak Guide
We show you the many graphics options in Killer Instinct and how they affect gaming image quality and performance.
Published
5 minute read time
Introduction, Testing Setup, & System Requirements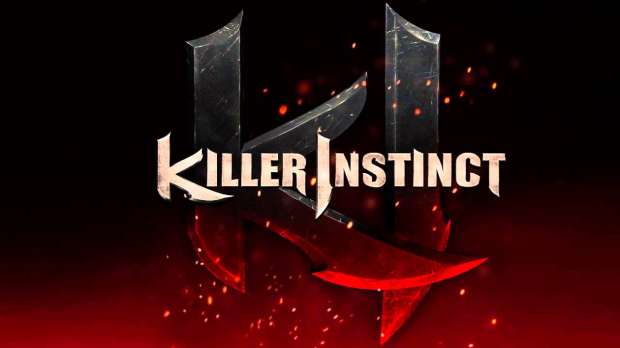 Until 2013's Killer Instinct, it had been nearly 20 years since we last saw the fighting franchise. Rumors circulated for years since that we'd see another entry, but after so long, fans all but gave up completely. Fortunately, things changed, the project got off the ground and saw good reception upon its eventual release.
Then, this year, Microsoft began its big PC push, finally putting its money where its mouth was. Among the console titles to come to the platform: Killer Instinct, complete with upgraded visuals.
The game is optimized for Windows 10, going so far as to require it. While it doesn't utilize DirectX 12 (yet at least), it does impress visually and performance-wise.
As a Universal Windows Platform (UWP) game, it, unfortunately, forces V-Sync and therefore a 60 frames per second (FPS) cap (on 60Hz monitors at least), and doesn't work with our benchmarking tool. This would make it useless for a proper tweak guide, but the in-game benchmark still yields useful results with unique benchmark scores (not FPS measurements), so that's what you'll see today.
Note that another Microsoft UWP title – Forza Motorsport 6 – will abolish the forced V-Sync at some point in the future, so it's possible Killer Instinct and other titles will too.
Test Setup and System Requirements
Our Test System
OS: Windows 10 64-bit

Processor: Intel Core i5 3570K 3.4GHz (Stock)

Memory: Corsair XMS3 8GB DDR3-1600 (Stock)

Storage: Crucial BX200 2.5'' 480GB 6GB/s SSD

Video Card: Sapphire Tri-X R9 290X 4GB (Stock)

Driver: Radeon Software Version 16.4.1

Resolution: 1920x1080

Input: Logitech G400 mouse, G.SKILL Ripjaws KM780 Mechanical Keyboard
System Requirements
Minimum:
OS: Windows 7 64-bit

Processor: Intel Core i5-750 @ 2.67 GHz | AMD Phenom II X4 965 @ 3.4 GHz

Memory: 4 GB RAM

Graphics: NVIDIA GeForce GTX 480 | AMD Radeon HD 5850

DirectX: Version 11

Storage: 30 GB available space
Recommended:
OS: OS 64-bit Windows 7 / 64-bit Windows 8 (8.1) or Windows 10

Processor: Intel Core i5-4670K @ 3.4GHz | AMD FX-4300 @ 3.8 GHz

Memory: 8 GB RAM

Graphics: NVIDIA GeForce GTX 670 | AMD Radeon HD 7950

DirectX: Version 11

Storage: 30 GB available space
Fullscreen, Resolution, Motion Blur, Reflections, & Ambient Occlusion
Fullscreen
This setting gives you the option of choosing between Fullscreen mode (actually Fullscreen Borderless) and Windowed mode. The former allows you to quickly task switch between the game and whatever else you're doing but still hinders your awareness of other tasks while the latter doesn't hinder your awareness at all but doesn't take up the full screen.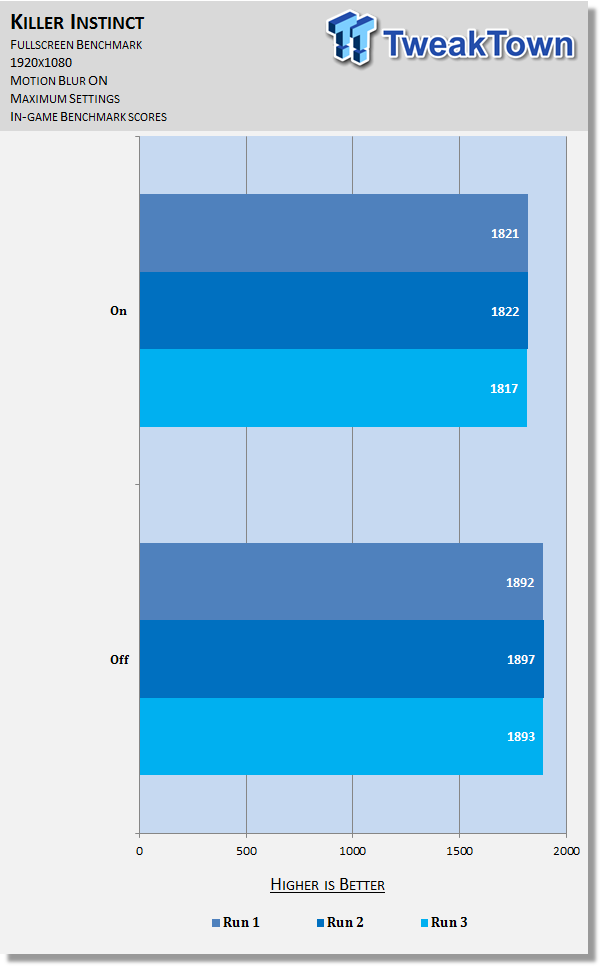 Contrary to some games, Windowed mode offers better performance than Fullscreen Borderless mode: 4% better, to be exact. If you don't mind the game not filling up your screen or just want to be able to see everything happening on your operating system anyway, Windowed mode offers a small but appreciable performance boost.
Resolution
The quality at which the scene is rendered, corresponding to the number of pixels; higher resolutions mean more pixels, which means higher quality.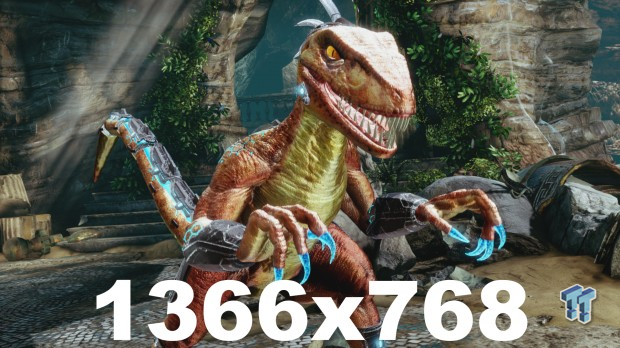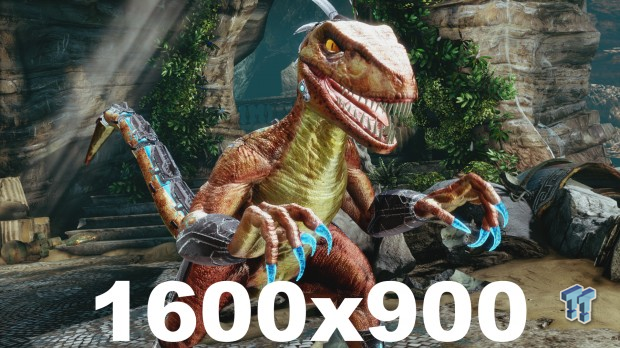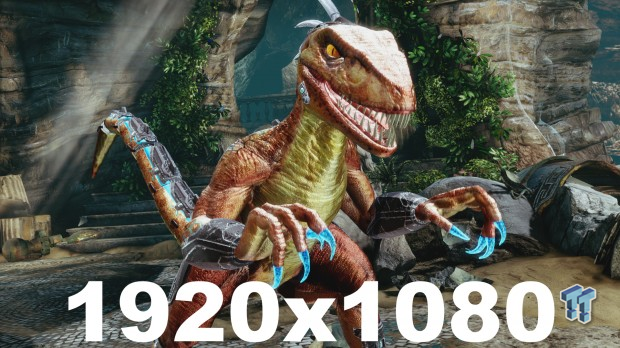 1920x1080 resolution is actually used here regardless what you choose, although significant image quality differences can be observed across the different options, indicating that automatic downsampling and upsampling are employed. The differences are much more noticeable between 1366x768 and 1600x900: note especially Riptor's skin, the sand, rocks, and walls. Going from 1600x900 to 1920x1080, you'll struggle to notice a change.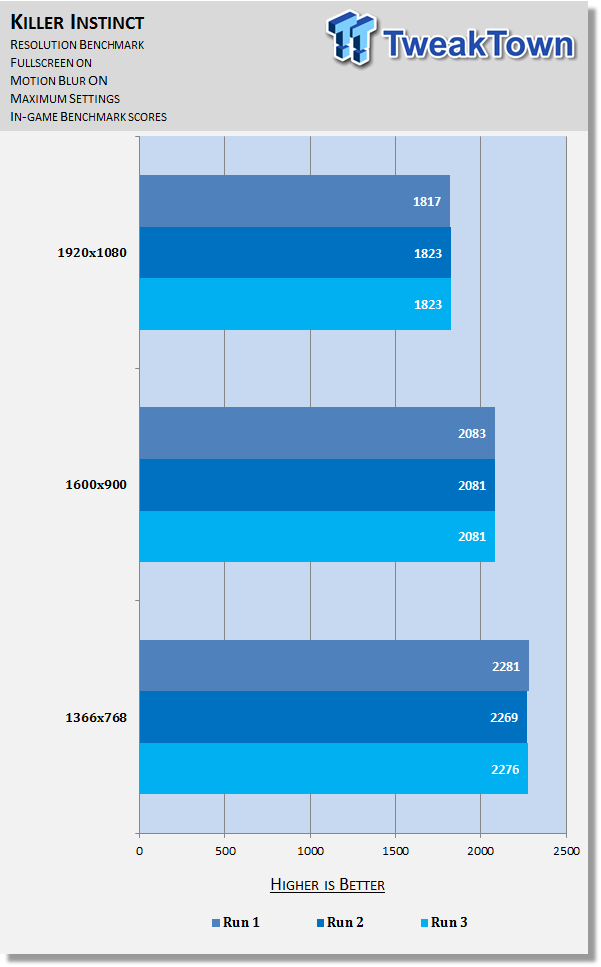 Moving down from one setting to another yields major performance benefits: a 12% improvement from 1920x1080 to 1600x900, and 9% from 1600x900 to 1366x768. This isn't really in line with the visual results, but it means you can safely drop down to 1600x900 resolution for a virtually free 12% performance boost.
Motion Blur
This setting is always arduous to capture properly, and it's no different here, so screenshots are absent from this section. In game, it's fairly noticeable during fights and cutscenes when characters are moving rapidly.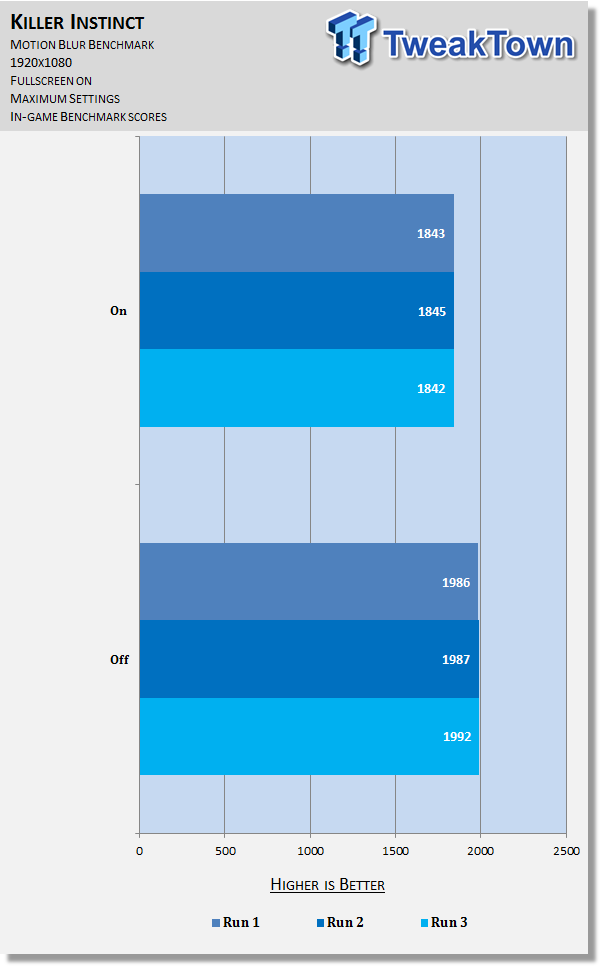 Testing shows Motion Blur has a significant impact on performance; a 7% performance improvement is observed when disabling this setting. Given how non-essential it is and the fact many prefer it off, you should strongly consider disabling this setting.
Reflections
This setting enables or disables real-time reflections and thus how realistic lighting behaves when reflecting off other objects.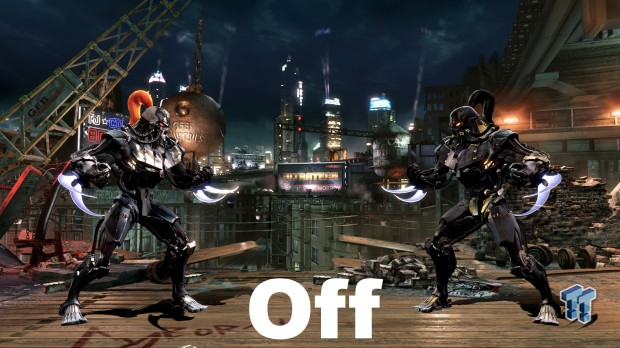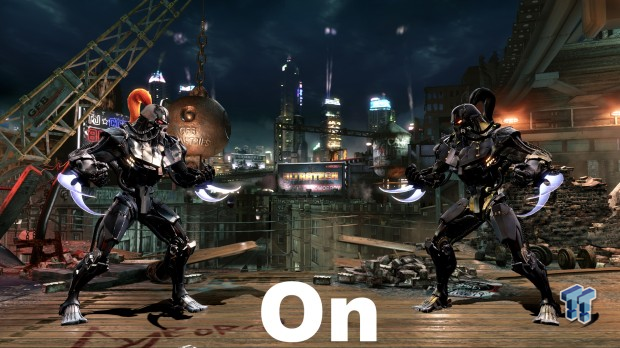 Reflections are difficult to notice in Killer Instinct even in still screens, but even more in the middle of the action. In these images, they're only definitively observed on the ground around the fighters' feet, where the differences are extremely minor between the two settings.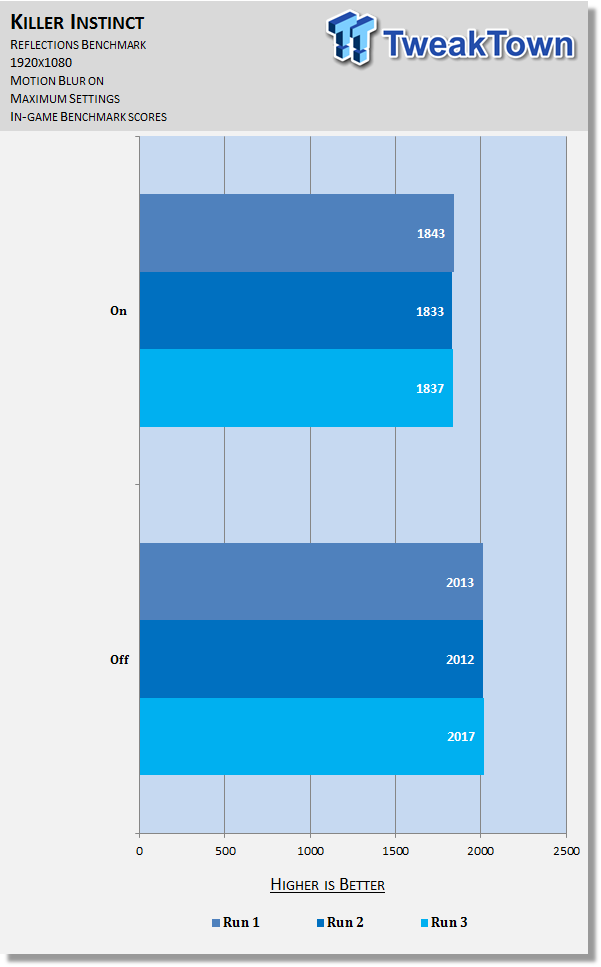 The benchmark shows quite the opposite results: a significant contrast in performance between enabling and disabling this setting: 9% to be exact.
Ambient Occlusion
This setting determines how realistic and rich shadows are in-game.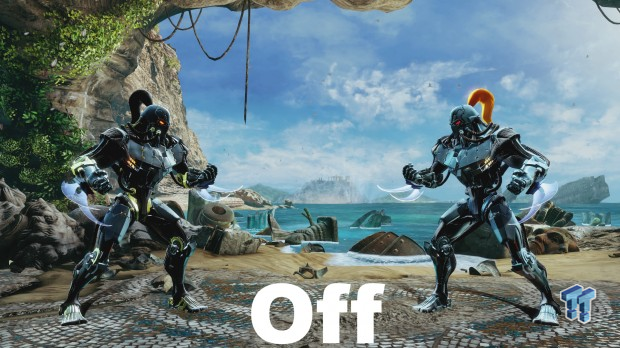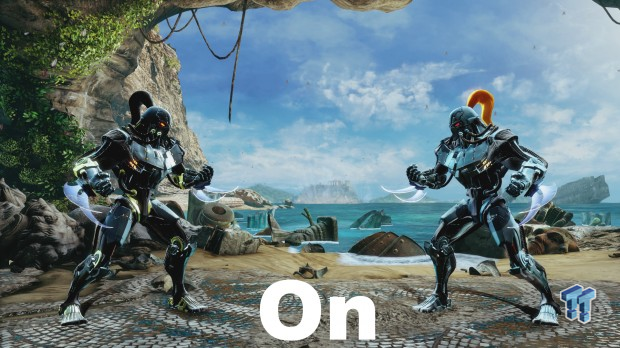 As always, ambient occlusion (AO) offers a significant boost to visuals, adding depth in shadowed areas. In the screenshots, particularly note the area around Fulgore's feet, the foliage in the background, and the various rocks and statues throughout the scene. The impact is less pronounced in some stages, but on the whole, this is a key setting graphics-wise.
The benchmark shows a moderate 5% increase in performance when disabling AO. The game looks considerably better with it enabled, but at the same time, it's far from critical and that 5% could make the difference for a lot of players on lower-end machines. I recommend keeping it lower on the list of tweaks to make, but it's definitely one to keep in your back pocket.
Bloom, Anti-aliasing, Shadow Quality, Texture Quality, & Final Thoughts
Bloom
A contentious option, Bloom is that ethereal shader effect you typically either love or despise.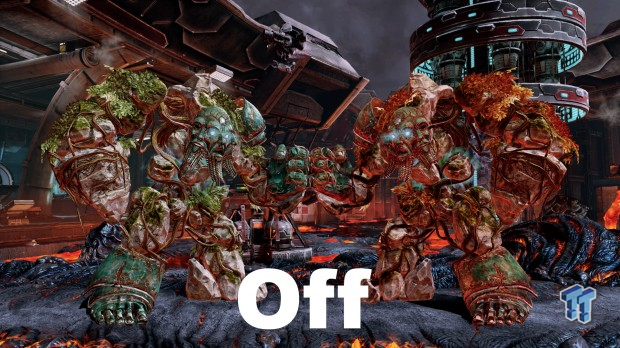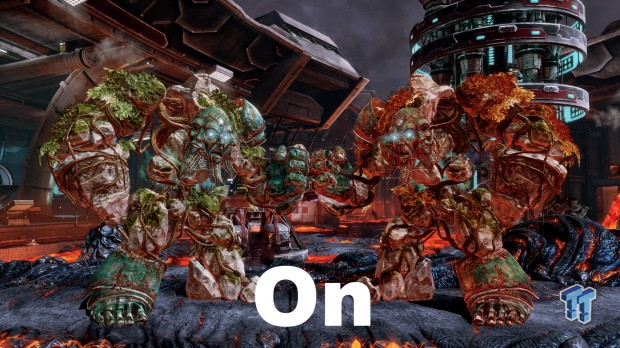 In Killer Instinct, the implementation of Bloom makes certain elements of certain scenes pop a little (namely the lava in the screenshot here). It's subtle enough that if it were disabled without your knowledge, you'd be very unlikely to catch it, but when comparing directly, the difference is appreciable, even for those that normally hate the effect.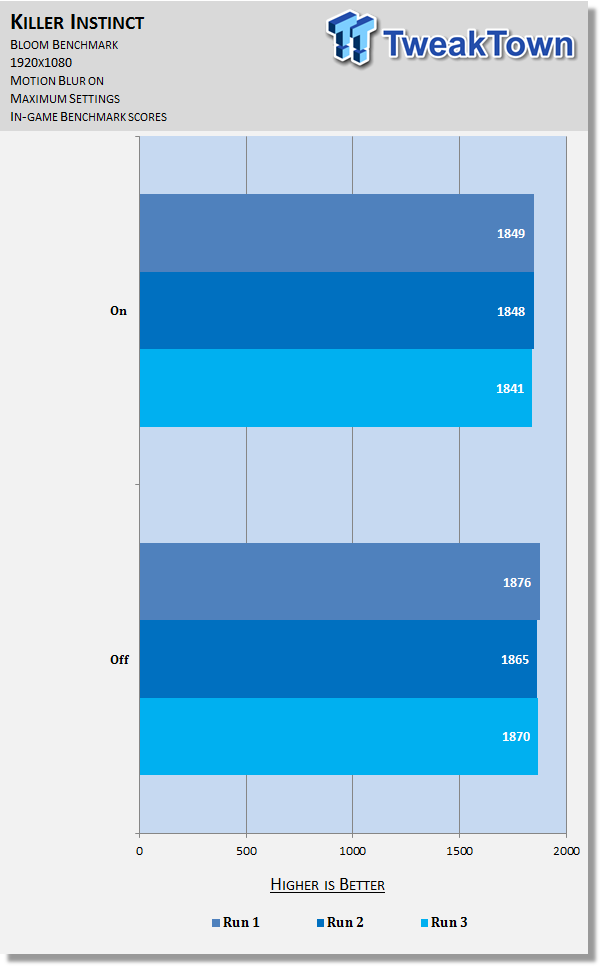 Testing reveals Bloom has an extremely mild 1-2% performance impact. Between that and the welcome visual boost, I recommend most leave this setting enabled. However, if you need every bit of performance you can get, by all means disable it, as there's no major hit to graphics.
Anti-Aliasing
This ever important option controls the appearance of jagged edges (jaggies) seen on various surfaces throughout the game.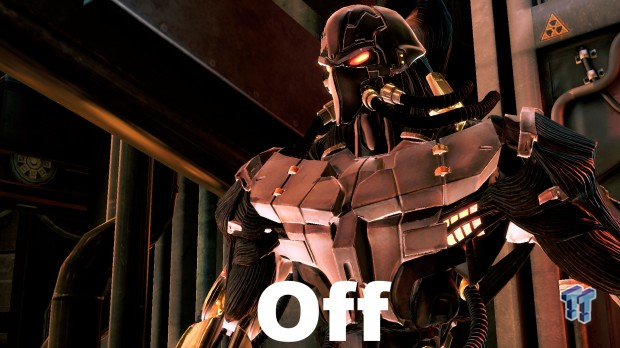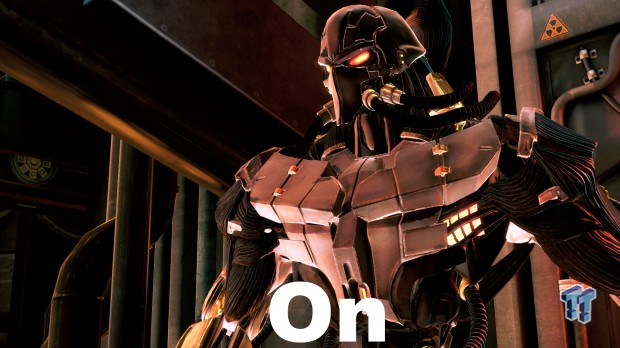 The screenshots show enabling anti-aliasing helps visuals greatly, reducing the moderately distracting jaggies by a large amount. While the coverage isn't completely precise (Fulgore's mask in particular still suffers), it's almost there. Note especially the bars and pipes and Fulgore's upper body. And what's great to see is there's virtually no blur introduced when this setting is enabled.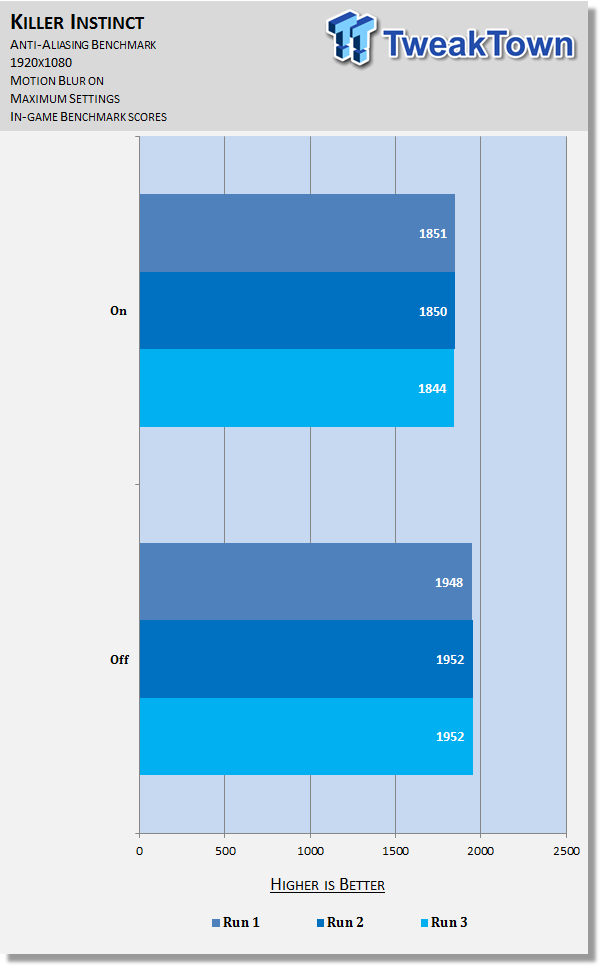 The benchmark shows anti-aliasing has a moderate 5% performance impact, which should be well worth it for most.
Shadow Quality
This option alters the coverage and resolution of shadows.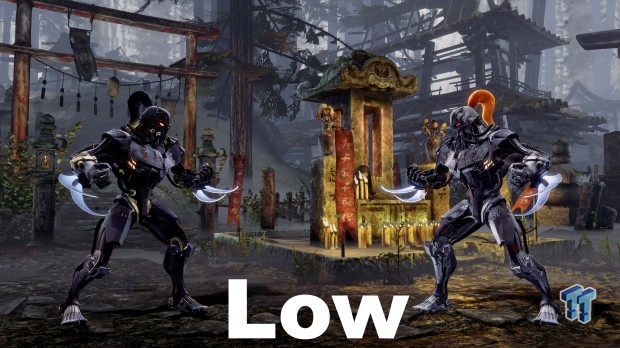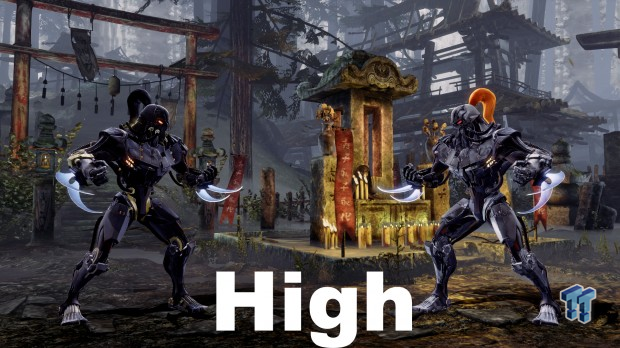 As you can see, Shadow Quality is one of the more high impact settings, increasing the depth and quality of both the background and foreground elements during fights. The key ones to focus on are the hill, the shrine, and the right Fulgore's legs as well as the ground beneath him.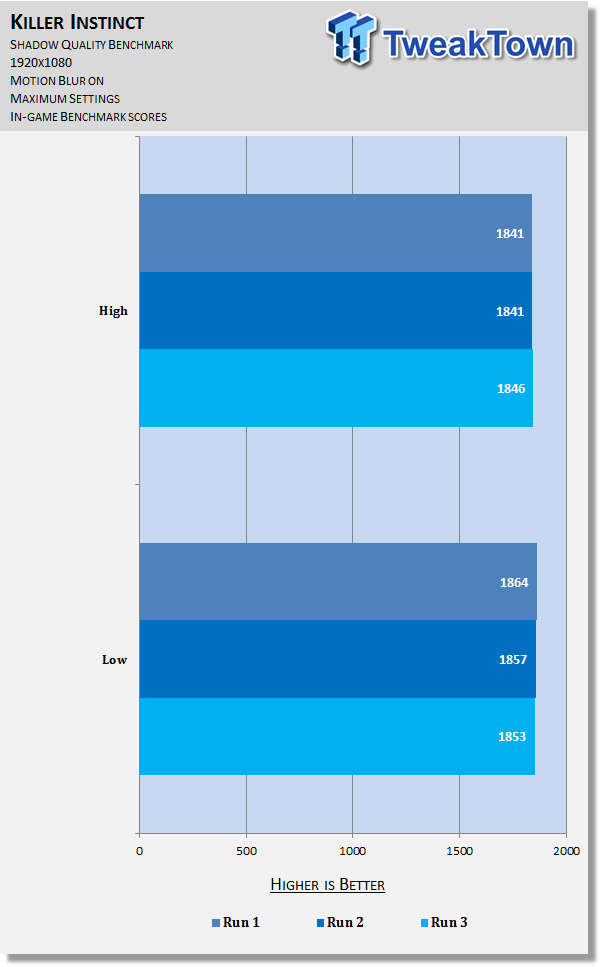 Testing reveals Shadow Quality has a mere 1% performance impact. Unless you're absolutely starving for performance, keep it enabled for what's one of the biggest boosts to visuals among all settings.
Texture Quality
The only setting that can't be changed in-game, this one alters the fidelity of textures.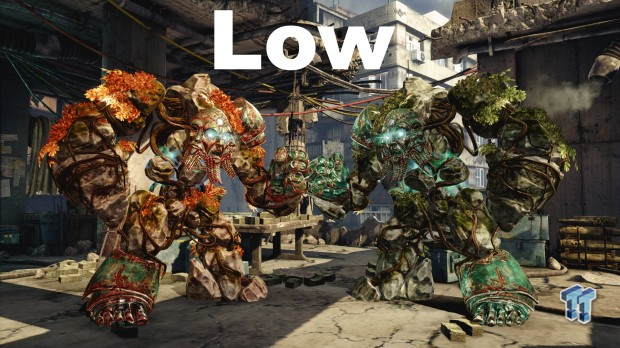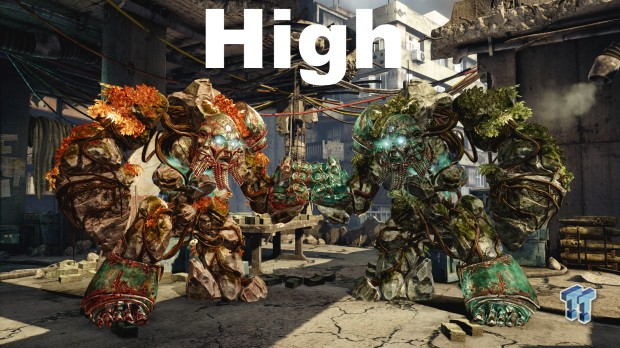 The screenshots reveal a major graphics impact when lowering this setting, most noticeable on ground textures and some parts of Aganos, which become very muddy and unpleasant to look at.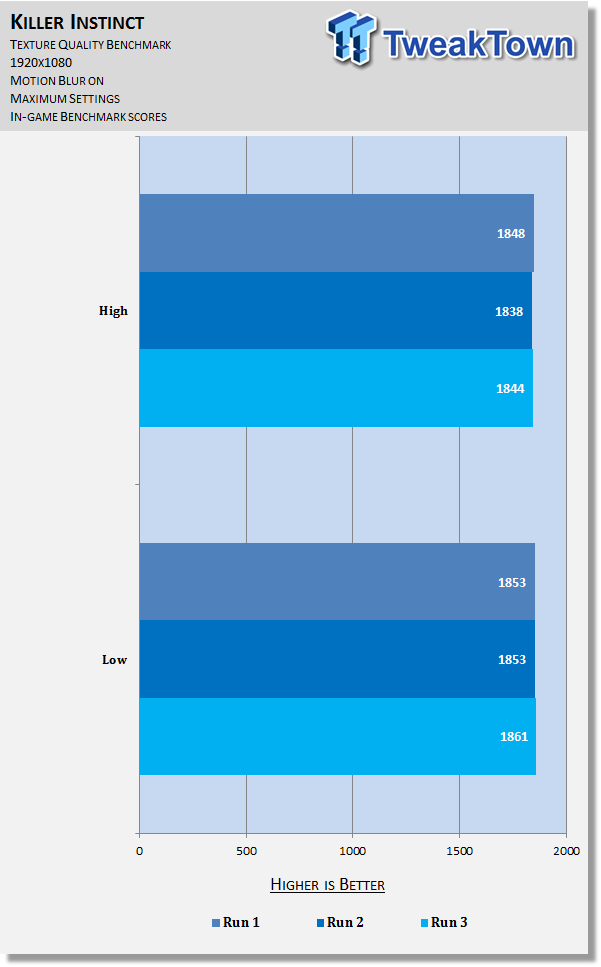 Testing shows Texture Quality has no notable impact on performance with an R9 290X, but that's because Texture Quality is dependent on VRAM, and the 290X has plenty to spare. If you have a GPU with about 1GB of VRAM, lowering this setting will yield you much better performance.
Final Thoughts
Killer Instinct offers a very respectable list of graphics options, which, as our benchmarks show, will do well to help those on lower-end machines play the game smoothly. If you're on something high-end, you can enjoy the superb visuals with butter smooth performance, and possibly unlimited framerate before too long.
Happy tweaking!
PRICING: You can find products similar to this one for sale below.

United States: Find other tech and computer products like this over at Amazon.com

United Kingdom: Find other tech and computer products like this over at Amazon.co.uk

Australia: Find other tech and computer products like this over at Amazon.com.au

Canada: Find other tech and computer products like this over at Amazon.ca

Deutschland: Finde andere Technik- und Computerprodukte wie dieses auf Amazon.de
We openly invite the companies who provide us with review samples / who are mentioned or discussed to express their opinion. If any company representative wishes to respond, we will publish the response here. Please contact us if you wish to respond.