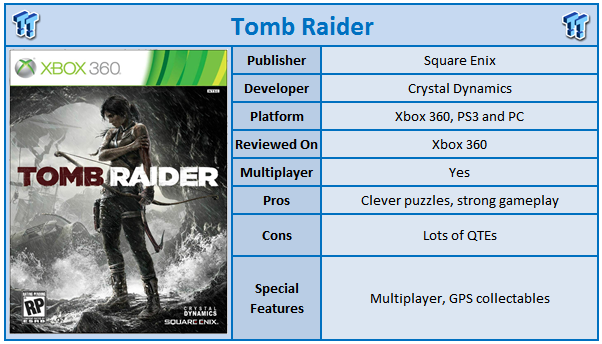 It's fair to say that Tomb Raider is a series that has had its ups and downs. From the very first game which introduced the world to the now famous Lara Croft character, through to today where we have the story somewhat starting over, the franchise has captured many gamers hearts over the past 15 or so years. And so we come to now. Crystal Dynamics wants to restart the Tomb Raider storyline and give fans an insight into how Lara came to become obsessed with raiding tombs - something which really hasn't been explored before in the series. In short, it's come off trumps and Crystal Dynamics has restored the series back to its former revered status.
The story begins with Lara travelling on a ship with her grandfather to film a reality TV series about exploring ancient areas of the world. Whilst Lara sleeps in her cabin, the boat hits a large storm and ends up running aground on the beach of a mysterious island. Lara damaged and broken - scratches and blood all over her - must figure a way to get off the island and save her friends.
Whilst the storyline is somewhat new, the gameplay and the way you interact with Lara is not. Controlled from a third person perspective, Lara tasks you jumping, shooting, hiding and puzzle solving to aid her in the quest of escaping. However, it is the atmosphere, and feeling of the character that has changed this time around.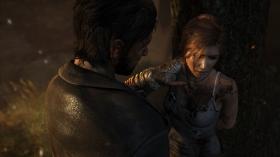 Instead of instantly becoming a female killing machine, Lara is instead broken and distraught. Throughout the early sections of the game it seems as if Lara is doing many things (such as shooting deer) that she just does not feel good about at all. This is where some of the problems first crop up with the game, though. One minute you will find yourself apologising to a deer for shooting it to get meat, and the next you will be gunning down enemies, without a care in the world. What Crystal Dynamics have attempted with the series should be commended as it takes away from the usual generic story we see from shooters, but there are times where the game forgets this.
One such example is when Lara is hurt at the start of the game and further on. During the early sections Lara limps about with a clearly damaged body and you can almost feel the pain she is in. Then all of a sudden without medicine she is fine and running about only for further into the game for this exact sequence to happen again. It just seems silly.
Looking past this you find some truly amazing gameplay. There is no doubt that Crystal Dynamics is a huge fan of the Uncharted series because many of that series' tropes has been carried over, but to be fair, Uncharted took a lot from Lara in the first place. As you progress through the levels you will come across puzzles built directly into the environment. These are incredibly well designed and not difficult enough that they will have you stuck for hours on end. We found that if we bashed our heads on the puzzle long enough, we would get it, with the longest puzzle only stumping us for 20 or so minutes.
There is a greater focus on the character of Lara as well with the gameplay revolving around how she turns from a timid, scared character through to a strong female lead. This has been the source of much controversy during the game's development. The other thing about Lara is that she graphically changes during the campaign. As time wears on her clothes tear and her wounds get covered by increasingly larger bandages. It's easy to see how far you are in the campaign just by looking at the Lara character model. The game is quite lengthy as well with the game taking us around nine hours to complete.
The other sections of the gameplay revolve around gunplay and environmental jumping puzzles. Generally the game does a very good job of letting you know where you should be heading next, but if you do get stuck, Lara can use a mode that mimics the eagle vision mode of Assassin's Creed quite closely to find important areas of the current environment.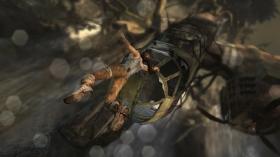 On the gunplay side of things there is two ways to approach the game - stealth or all out gunplay. The game really wants you to play it stealth with it punishing players severely for not doing so. To give just one example, we came to an area with just two enemies. When we triggered their line of sight, about 20 more appeared in waves before we could progress. However, if we went through with stealth, we only had to take those two enemies out. The game does become significantly harder if you do not sneak about, and whilst this is more realistic, Tomb Raider has generally not been about stealth so represents yet another change in the series characteristics.
The gunplay is actually where we have another problem with the game. Whilst Lara controls well and the gunplay can be enjoyable, it really is a case in Tomb Raider of too much of a good thing. The developers just did not seem to know how much was enough when developing the combat sequences. Just when you think the enemy battle is over, a new wave will appear time and time again until after many minutes of frustration you finally get through. This is the only time we felt frustration with the game, but it was a deep frustration that made us wonder if we wanted to keep on playing.
One area where Crystal Dynamics has enjoyed a great deal of success is the environments themselves. Whilst in Uncharted it seemed ridiculous that every time Drake needed a foot hold, there just happened to be one sticking out, but in Tomb Raider it seems natural. This is because where Lara climbs fits well into the environment instead of being convenient. For example, one of Lara's tools is the pick axe. This can be used to either smash enemy heads in or climb icy walls, and it makes sense as opposed to seeming convenient.
On the environment side of things the game impresses as well. Not only will you traverse some incredible looking areas of jungle, you also visit small towns, a factory and various other locales that mix up the gameplay quite well. This is in many ways what contributes to the game having some impressive visuals. However, on the Xbox 360 version at least, you do pay for this with the game struggling on the frame rate side of things every so often. Not enough to affect the gameplay, though.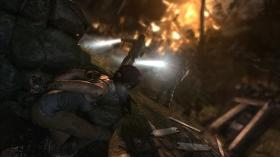 Visually Tomb Raider impresses even on the now ageing 360 hardware. Vast expanses of land are present throughout and whilst the game is not open world, it does give the feeling of being so with no loading screens present most of the time. The only time you will see a loading screen is the first load and if you choose to use any of the quick travel locations through the world. The voice acting is impressive with Lara's British accent coming through thick and the music has thematic crescendos during key sections of the game adding to the atmosphere.
For the first time Tomb Raider also contains a multiplayer component. This pitches scavenger characters against the survivors in a number of multiplayer specific modes such as capture the medical supplies. An interesting element of the multiplayer is user set traps that can catch the other players out. This is not just a run and shoot each other multiplayer, there is also some strategy to it. For example, you have to take out an enemy when they are done to finish them off. Problem is they are shooting at you and you have to hit them in the face with a pick axe. It's not as easy as it may sound. It's an interesting addition, but we do wonder about its longevity.
Tomb Raider is a fairly successful reboot of the franchise. The environmental puzzles are interesting, the gunplay is not too bad and the overall story pushes the franchise along well. It does have shades of Uncharted as we expected it might, but it also has enough unique features for it to be seen as a game by itself rather than an imitation of Drake's adventures. That being said, if you've been pining for another Drake game, forget Nathan and go for Lara. You will find a solid game that will keep you entertained from start to finish.