Kingdom Hearts: Dream Drop Distance Nintendo 3DS Review
A weird name does not mean this is a bad game by any strech of the imagination.
Published Aug 19, 2012 4:16 AM CDT
|
Updated Tue, Nov 3 2020 7:01 PM CST
3 minutes & 49 seconds read time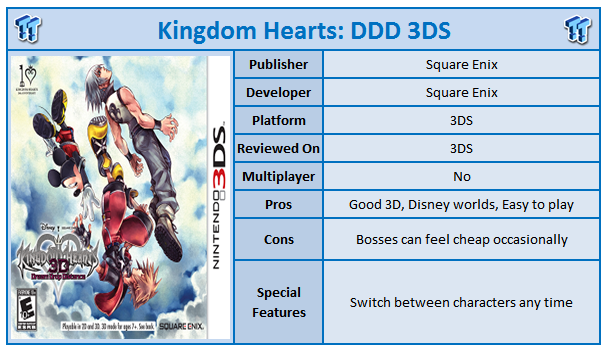 When Squaresoft at the time first announced that they were teaming up with Disney to build an RPG series known as Kingdom Hearts, many were puzzled. Just how would characters such as Cloud Strife and Chocobos fit in with the cutesy world of Disney? However, Squaresoft proved the doubters wrong and produced one of the most surprising RPG games to come along in a long while. And the success continued with Kingdom Hearts now appearing on multiple systems and multiple generations of console and so it comes with no surprise that the 3DS has its own game.
Kingdom Hearts: Dream Drop Distance is somewhat a direct sequel to the PSP game which came before it. Basically if you do not know where we are up to in the Kingdom Hearts system, then you are going to be very puzzled as to what exactly is going on in this game. The developers have tried their absolute best to bring you up to speed with flashbacks that can be skipped if you know what is going on. In a nutshell Sora and Riku are trapped back in the Disney world's once again, but this time in different "˜drops'. Known as the Sleeping Worlds they represent the Mark of Mastery exam which will give Riku and Sora the title of the true keyblade masters if they are successful.
It is these drops that define what this game is all about. At any time you can switch between the two characters (until a point where storylines converge) which offers a fairly unique mechanic. It also is the perfect situation for a portable game. If you are on a trip and get stuck with one character, change to the other and make some progression on the other side of the game. With that said, it's not the most difficult game around and most players will find it quite easy to get to the end.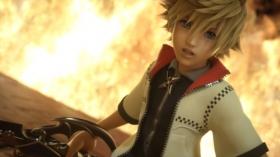 The other key change for this game is flow motion. Rather than just walking around the world in a slow manner, Sora and Riku can now both use flow motion which allows you to grab poles and spin around, before jumping to other areas of the level. Flow motion also has a key part in the combat system with many enemies completely overpowered when flow motion is ignored. Learning how flow motion works, especially at the higher difficulty levels, is one of the keys to success.
To assist you with the battles in game you can construct "˜helpers'. As you progress through the world and defeat dreameaters, you can find schematics for those creatures and with the right items build one to assist you. The dreameater can either heal you or attack enemies on your behalf. These creatures are controlled by the touch screen, but in general they can handle themselves well. You do have a limited time if they go down to heal them, which adds more of a challenge to managing these cute cuddly characters as well.
Other than this the mechanics of the game are very much like that of previous Kingdom Hearts games. Visit a Disney based world and complete a few tasks before taking on the boss. Of course for those who like to dig around there is some secrets and powerups to be found, but most of the time it's easy to stick to the mainline (except in the games more difficult "˜pride' mode). The difficulty of the game can get frustrating at times, especially with the boss characters, as they can feel cheap. Towards the end of battles, bosses develop moves which are almost unstoppable and frustrating to say the least. It is this cheap level of difficulty that makes the boss fights a lot less memorable than they should be.
Another problem with the more recent Kingdom Hearts games that flows through to this one is that the focus on Disney has become less and less. Whereas in the original game you were introduced and fought with Disney characters almost right away, this one hides its Disney characters a lot more and they generally only make a cameo rather than have a direct impact on the game. The worlds the game is set in however are all Disney centric from some of the most famous films and shows around including Tron, Pinocchio and of course Mickey Mouse.
[img]2[/img]
The game controls fine, even without the control pad pro, which is supported. We played the game on a 3DS XL and found the experience on the system a lot better than that of the normal 3DS, but your mileage may vary with this aspect. The system also keeps up with the detail of the world well with nary a frame rate drop to be seen. And perhaps one of the most impressive aspects of this title, the 3D looks really nice. Seeing some of the most famous Disney characters around in 3D on the screen makes it almost worth playing just for that.
Kingdom Hearts: Dream Drop Distance is a good new entry into the series. The major problem with the game is that those who are new to Kingdom Hearts will not be able to follow what is going on, but given the Disney setting, it is still worth playing. Fans of the series however will find a colourful RPG that continues Sora and Rikus story that plays well, even on the portable system. There are many decisions made for this game that make it perfect for the portable world and it's the kind of game you can really get into on a long haul flight, for example.

PRICING: You can find products similar to this one for sale below.

United States: Find other tech and computer products like this over at Amazon.com

United Kingdom: Find other tech and computer products like this over at Amazon.co.uk

Australia: Find other tech and computer products like this over at Amazon.com.au

Canada: Find other tech and computer products like this over at Amazon.ca

Deutschland: Finde andere Technik- und Computerprodukte wie dieses auf Amazon.de