Gigabyte call on Zalman - Radeon X1950PRO vs. GeForce 7900GS
Gigabyte has created some new graphics cards which use aftermarket Zalman coolers. We check out the X1950PRO and 7900GS.
Published Mon, Nov 27 2006 11:00 PM CST
|
Updated Tue, Nov 3 2020 7:04 PM CST
Introduction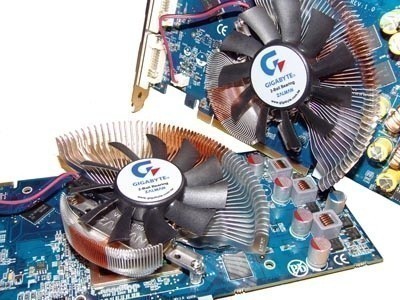 I wonder how this works? It could be a very formal affair - for instance, Gigabyte marketing is sitting at a round table and someone stands up and says, "We need to make ourselves stand out from the competition". Then someone proceeds to say, "What about we create a line of graphics cards with Zalman high performance coolers?" This is the most logical thing we could think of but you know, it could go down differently. The marketing team from Gigabyte and Zalman bump into each other at a local Taiwan bar and while drinking shots and stumbling around, someone shouts out, "You guys make a good product" and a member from the Zalman side stares over to a member of Gigabyte and says, "We do, don't we?" - a few weeks later and some boring paper work aside, Gigabyte start pumping out graphics cards with funky Zalman coolers.
Maybe we stretched the latter a little too much? But who cares? Gigabyte have been making a great line up of graphics cards for a long time now but it was time to mix it up a bit. The combination that HIS had with Arctic Cooling really seemed to help them differentiate themselves from the market. And even if it does cost the user more, knowing you have better quality after market cooling (without the need to sacrifice your warranty) is always a good thing.
We're looking at two graphics cards today that both utilize the Zalman cooler, both are mid-range cards and both come from different sides - one red and one green. They come in the form of the GeForce 7900GS which has easily become a favorite due to the huge overclock on offer and competitive pricing. The other comes in the shape of the Radeon X1950PRO which sits behind the green team as far as popularity goes.
Radeon X1950PRO
First of the line is the underwhelming Radeon X1950PRO using the funky new "Call of Juarez" themed box from Gigabyte. The front of the box gives us the normal spiel, with a few points worth pointing out; Gigabyte's decision to use all solid capacitors which offer a better life span, the fact that there is a Zalman HSF installed along with a copy of Call of Juarez. We also see that it's Windows Vista ready - we wonder if this means it won't pull itself out of oblivion if the HSF decides to stop working.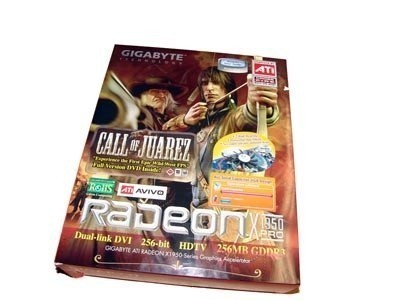 Turning the box over we have some more information that is specific to the chipset on offer as opposed to the actual card. We can see that with a second one you're able to make use of Crossfire - if you look closely, you will see that you simply just need another Crossfire ready card though not a master card. The X1950PRO is the first card in the ATI line up that is able to make use of the new internal Crossfire method, like nVidia SLI.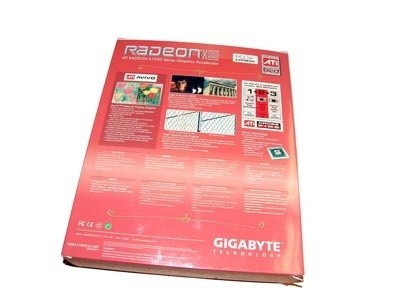 Moving to the guts of the package we have ourselves a copy of Call of Juarez, driver CD, Molex to PCI Express power connector, a couple DVI to VGA connectors, break out box for TV Out and the new internal Crossfire connector. It would have been nice to see some cables included so you can make use of the TV Out functionality out of the box but hopefully this is something Gigabyte notes later down the track.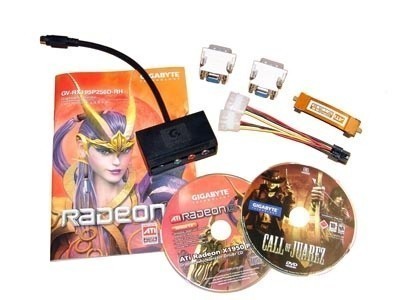 With the package out the way and moving onto the card, it is a bit freaky looking at an ATI card not only without its trademark red PCB but also the addition of nVidia SLI-like connectors across the top. We can clearly see the stand out feature of the card is the inclusion of the Zalman heat sink fan that combines both aluminum and copper to help dissipate heat - they don't look too bad either!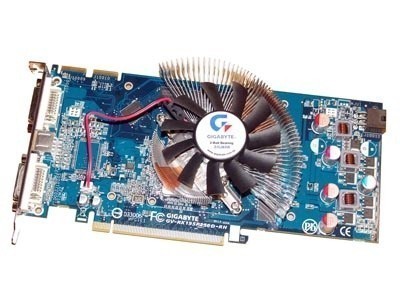 Doing a quick sweep on the card we can see a few things - as typically, we have our PCI Express power connector to the left of the card, moving along to the top we have the new Crossfire connector which works similar to that of SLI but two connectors are needed to transmit data back and forth. The back of the card is pretty typical with our normal array of circuitry and stickers.
The I/O side of things gives us our Dual DVI ports which support Dual Link DVI and the little S-Video connector that our break out box connects to so you can make use of the TV-Out functionality that is on offer from the Radeon X1950PRO.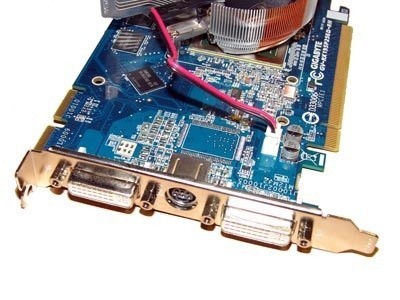 Overall the card is pretty good looking and you will notice that when you throw it up against the 7900GS offering the cards look extremely similar with only a few key differences separating them.
GeForce 7900GS TurboForce
The next card that we are meeting today is the semi equivalent GeForce 7900GS.
Semi equivalent
, you ask?
While the card generally sits around $40 AUD or almost 20% cheaper than most Radeon X1950PRO cards, the performance that the card has to offer would make you think that it should be priced closer to the X1950PRO. It's extremely clear that nVidia are on a serious mission to take control of all ends of the market at the moment with competitive pricing across the board.
The front of the box has a lot of similar traits to that of the ATI card thanks to the same Call of Juarez theme being used. We again see on the front of the box the focus being on the included game and Zalman HSF. We can also see that this particular model is a TurboForce edition. With nVidia not being as strict as ATI, Gigabyte is able to bump up the core and memory clock speeds, which makes their product more attractive than other brands. It also adds another reason on why they should be using a higher quality aftermarket cooler.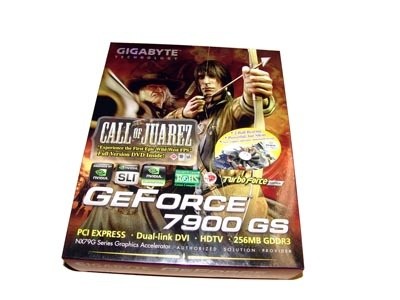 The back of the box like the X1950PRO box gives us more detail on what the GeForce 7900GS core has to offer as opposed to more what the Gigabyte version does. With that said though, if we have a look towards the bottom right corner, we can see that Gigabyte are claiming around about a 10% performance boost increase in certain games due to TurboForce. This is pretty believable though as you will see later the overclocked 7900GS really sees some gains.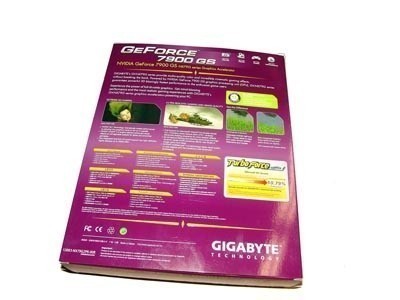 Moving inside the box we have a similar picture to that of the ATI card - a copy of Call of Juarez, Gigabyte CD with the usual goodies, manual, a couple DVI to VGA connectors and a TV Out break out box. There is no power cable included which is interesting but we will learn why in just a moment and again no TV out cables, unfortunately.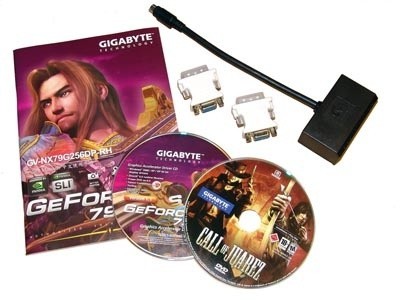 Moving to the card itself we again see the card is very similar to the X1950PRO. Most of the focus of the card is clearly on the Zalman HSF in the center. The main difference between the two cards physically is that the 7900GS is actually slightly shorter than the X1950PRO.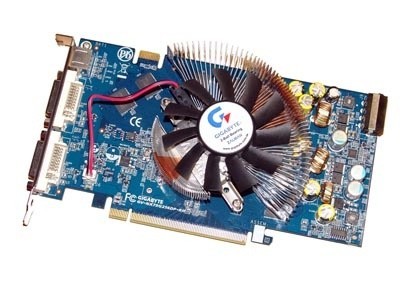 Having a quick look around the card we can see our standard SLI connector at the top of the card. What is interesting and if memory serves correctly, this is one of the first PCI Express cards that we have seen that use a standard Molex power connector, instead of the traditional 6-pin PCI Express power connector.
A quick look at the I/O side shows Dual DVI connectors that support Dual Link and of course the S-Video connector that connects the little TV-Out break out box to the card so you can make use of that feature.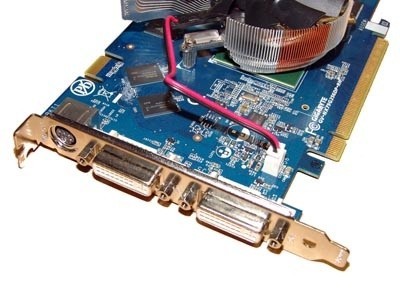 The decision to use the Molex connector as opposed to a PCI Express is cool but it's pretty safe to say that these days a PCI Express power connector of power supplies is more and more common and people shouldn't really need to be using the adapters that are found in the packages. With that said though, if you don't have a PCI E connector, instead of having to use two Molex connectors to power your card as in the past, you can now get away with a single connector.
Benchmarks - Test System Setup and 3DMark05
Test System SetupProcessor(s):
Intel Core 2 Duo E6600 @ 3150MHz (350MHz FSB 1:1)
Motherboard(s):
ASUS P5B Deluxe (Supplied by
ASUS
)
Memory:
2 X 1GB G.Skill HZ PC8000 @ 350MHz 4-4-4-12 (Supplied by
Bronet
)
Hard Disk(s):
Hitachi 80GB 7200RPM SATA 2
Operating System:
Windows XP Professional SP2
Drivers:
ATI Catalyst 6.11 and nVidia ForceWare 93.71 and DX9c
With the new Dell 24" LCD sitting around the labs, we thought coming of the bat of some GeForce 8800 testing, it was still time to continue using it and throw in some 1920 x 1200 benchmarks.
Just because you're not spending in excess of $800 AUD, doesn't mean that you shouldn't be able to game at some decent resolutions. We have continued with our new line up which now includes Company of Heroes, which is extremely taxing on the system.
As always, if you have suggestions for new games to be added which have a timedemo or benchmarking facility (BF2142 is not one of them!), please let us know.
With the cards using the aftermarket cooler it seemed fair that we had to go attack them both with ATI Tool and see what they are capable of in the overclocking department. We have included some results with the cards overclock to give you an idea as to why we love the GeForce 7900GS so much - if you buy the green teams card and don't overclock you're doing yourself and injustice with so much headroom to play with.
3DMark05Version and / or Patch Used:
Build 120
Developer Homepage:
http://www.futuremark.com
Product Homepage:
http://www.futuremark.com/products/3dmark05/
Buy It Here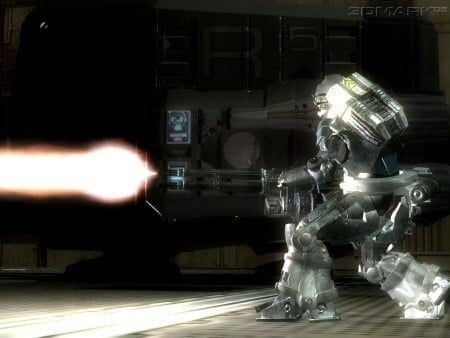 3DMark05 is now the second latest version in the popular 3DMark "Gamers Benchmark" series. It includes a complete set of DX9 benchmarks which tests Shader Model 2.0 and above.
For more information on the 3DMark05 benchmark, we recommend you read our preview
here
.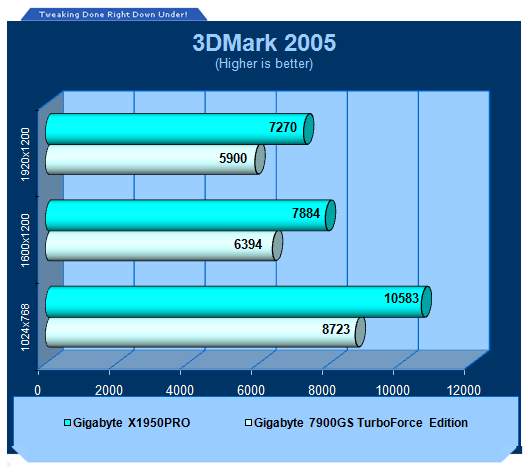 3DMark05 is the first of our tests and is one of our oldest benchmarks in the lineup. It shows us that the more expensive Radeon X1950PRO can justify its price difference here.
Benchmarks - 3DMark06
3DMark06Version and / or Patch Used:
Build 102
Developer Homepage:
http://www.futuremark.com
Product Homepage:
http://www.futuremark.com/products/3dmark06/
Buy It Here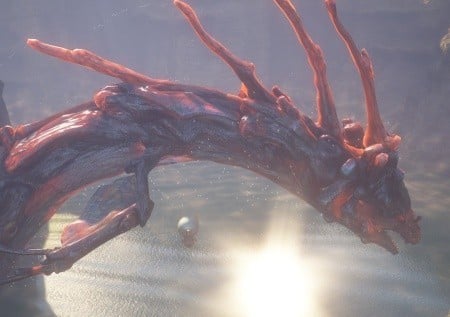 3DMark06 is the very latest version of the "Gamers Benchmark" from FutureMark. The newest version of 3DMark expands on the tests in 3DMark05 by adding graphical effects using Shader Model 3.0 and HDR (High Dynamic Range lighting) which will push even the best DX9 graphics cards to the extremes.
3DMark06 also focuses on not just the GPU but the CPU using the AGEIA PhysX software physics library to effectively test single and Dual Core processors.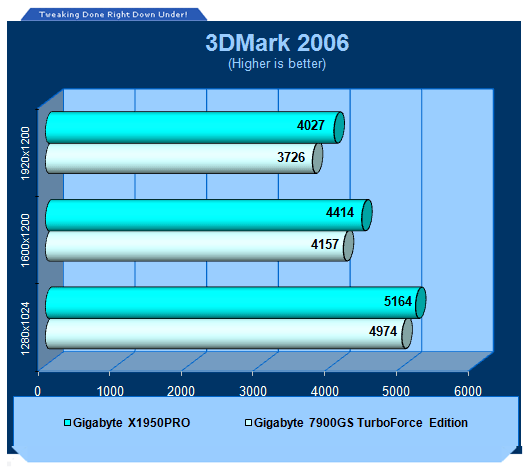 When we move to something that is more intensive, we can see that the GeForce 7900GS begins to close in.
Benchmarks - Half Life 2 (Lost Coast)
Half Life 2 (Lost Coast)Version and / or Patch Used:
Unpatched
Timedemo or Level Used:
Custom Timedemo
Developer Homepage:
http://www.valvesoftware.com
Product Homepage:
http://www.half-life2.com
Buy It Here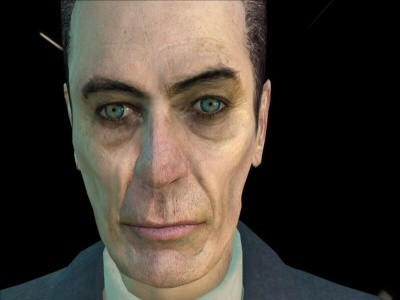 By taking the suspense, challenge and visceral charge of the original, and adding startling new realism, responsiveness and new HDR technology, Half-Life 2 Lost Coast opens the door to a world where the player's presence affects everything around him, from the physical environment to the behaviors even the emotions of both friends and enemies.
We benchmark Half Life 2 Lost Coast with our own custom timedemos as to avoid possible driver optimizations using the "record demo_name" command and loading the timedemo with the "timedemo demo_name" command - For a full list of the commands,
click here
.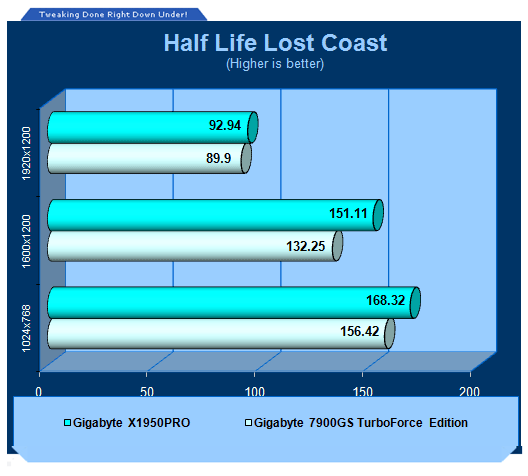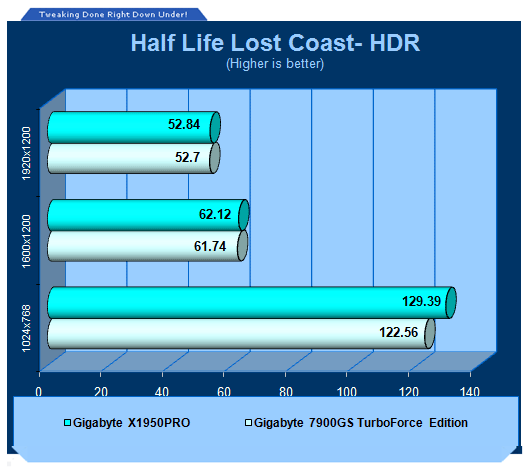 The lower resolution sees the cards separated more but when we start moving up and turning on HDR, we can see that more pressure is placed on the cards and the GeForce 7900GS is able to come in and close the gap.
Even being cheaper than the Radeon, it is able to give us a playable gaming experience in Half Life at 1920 x 1200 with HDR enabled.
Benchmarks - PREY
PREYVersion and / or Patch Used:
Unpatched
Timedemo or Level Used:
HardwareOC Custom Benchmark
Developer Homepage:
http://www.humanhead.com
Product Homepage:
http://www.prey.com
Buy It Here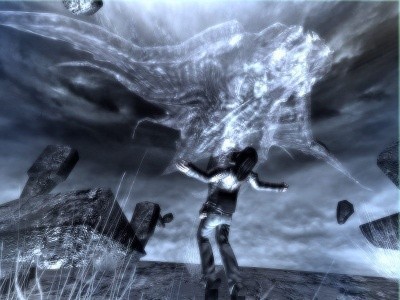 PREY is one of the newest games to be added to our benchmark line-up. It is based off the Doom 3 engine and offers stunning graphics passing what we've seen in Quake 4 and does put quite a lot of strain on our test systems.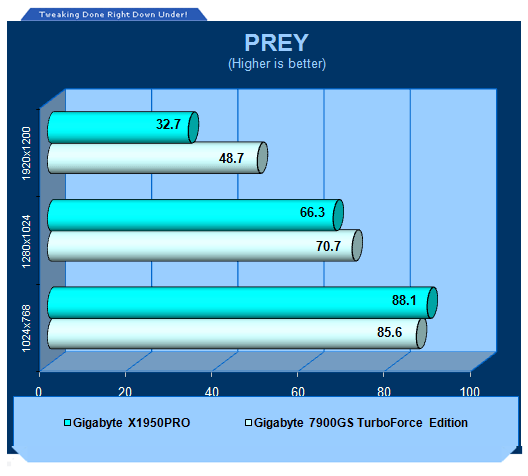 Low resolution sees the Radeon X1950PRO ahead again but as soon as we start increasing the load on the card, the OpenGL power house that is nVidia can clearly sneak ahead of the competition.
Benchmarks - F.E.A.R.
F.E.A.R.Version and / or Patch Used:
Unpatched
Timedemo or Level Used:
Built-in Test
Developer Homepage:
http://www.vugames.com
Product Homepage:
http://www.whatisfear.com/us/
Buy It Here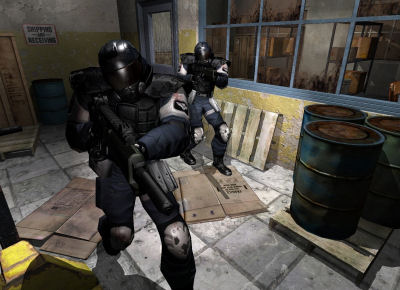 F.E.A.R. (First Encounter Assault Recon) is an intense combat experience with rich atmosphere and a deeply intense paranormal storyline presented entirely in first person. Be the hero in your own spine-tingling epic of action, tension, and terror...and discover the true meaning of F.E.A.R.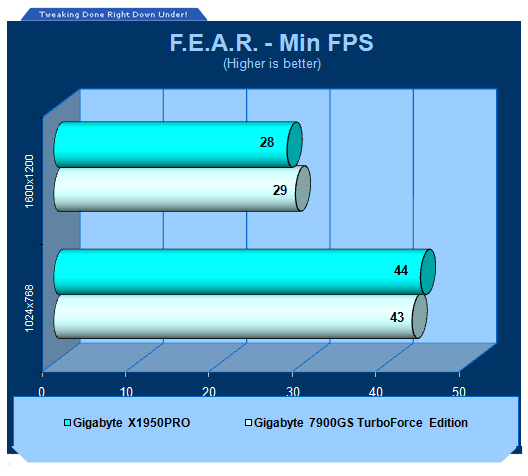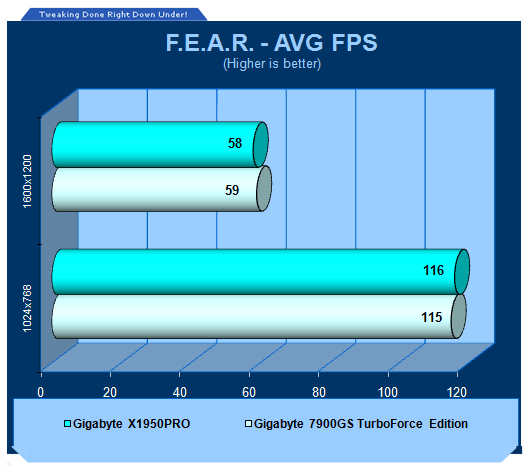 F.R.A.R. shows us both cards again sitting very close together at both resolutions.
Benchmarks - Quake 4
Quake 4Version and / or Patch Used:
1.2
Timedemo or Level Used:
HardwareOC Custom Benchmark
Developer Homepage:
http://www.idsoftware.com
Product Homepage:
http://www.quake4game.com
Buy It Here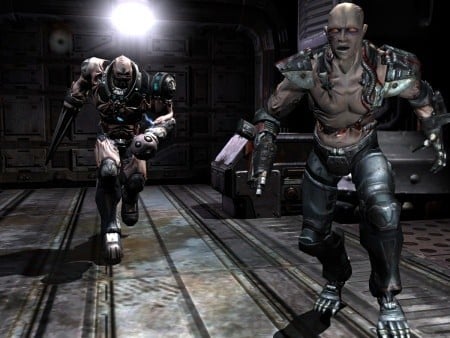 Quake 4 is one of the latest new games to be added to our benchmark suite. It is based off the popular Doom 3 engine and as a result uses many of the features seen in Doom. However, Quake 4 graphics are more intensive than Doom 3 and should put more strain on different parts of the system.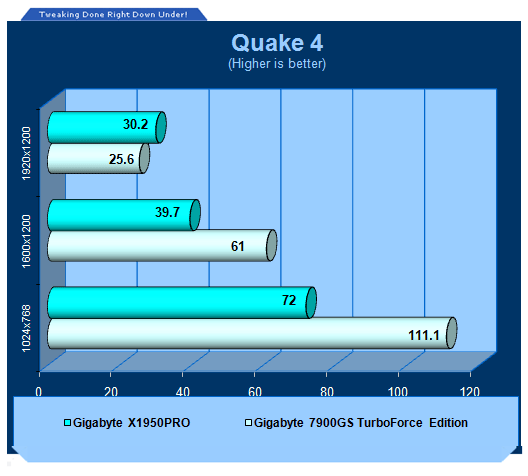 With Quake 4 again being an OpenGL game, we see that nVidia again are dominating across the board until we move to the higher resolution.
Benchmarks - Company of Heroes
Company of HeroesVersion and / or Patch Used:
Demo
Timedemo or Level Used:
Built-in Test
Developer Homepage:
http://www.relic.com
Product Homepage:
http://www.companyofheroesgame.com
Buy It Here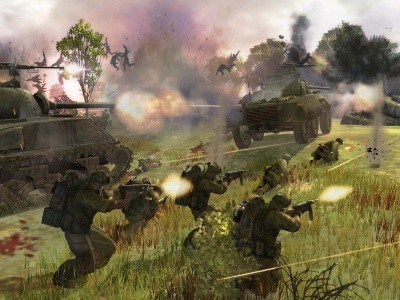 Company of Heroes, or COH as we're calling it, is one of the latest World War II games to be released and also one of the newest in our lineup of benchmarks. It is a super realistic real-time strategy (RTS) with plenty of cinematic detail and great effects. Because of its detail, it will help stress out even the most impressive computer systems with the best graphics cards - especially when you turn up all the detail. We use the built-in test to measure the frame rates.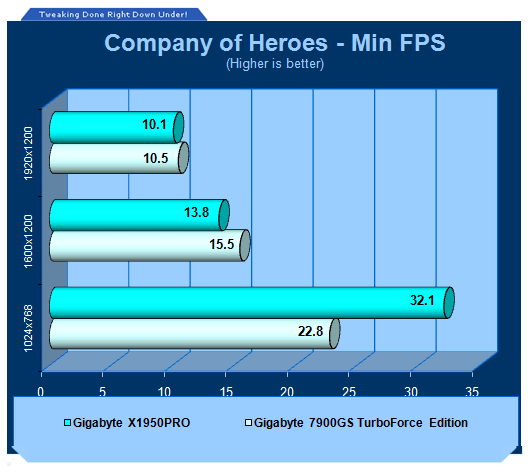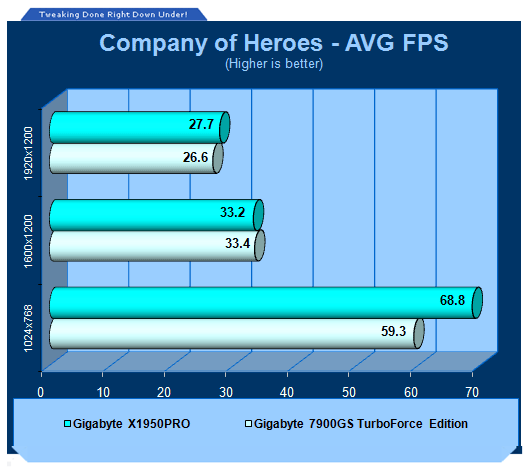 Company of Heroes paints us a similar picture to Half Life with the low resolution showing the ATI card being way in front. As we move up in resolution, we can see that the cards become closer together.
Benchmarks - High Quality AA and AF
High Quality AA and AF
Our high quality tests let us separate the men from the boys and the ladies from the girls. If the cards weren't struggling before they will start to now.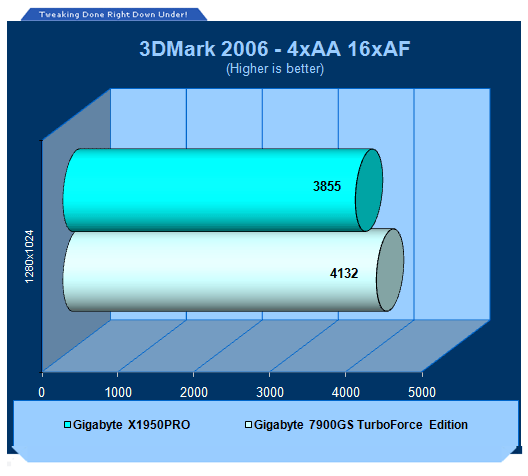 With less than 10% difference between the cards, there isn't a whole lot to talk about.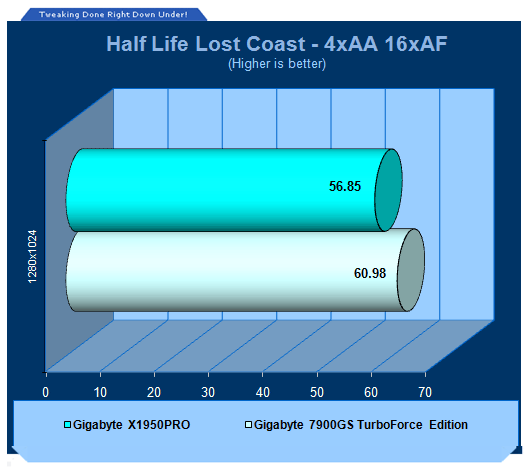 With the settings quite aggressive we can see that the GeForce 7900GS is able to sneak ahead of the Radeon X1950PRO.
Leaving our standard clock speed run on an OpenGL game, again we see the nVidia offering able to take advantage and sneak just ahead of the Radeon X1950PRO.
Benchmarks - Overclocking
Overclocking
Using ATI Tool, it was time to see what both Gigabyte graphics cards were capable of doing when it came to Overclocking.
With a default core and memory speed of 575/1380MHz DDR on the Radeon X1950PRO, we got a nice bump on the core to 654MHz but the memory only jumped to 1420MHz DDR.
The GeForce 7900GS on the other hand with its default clock speed of 525/1440MHz DDR got a healthy bump on both the core and memory. The core achieved a healthy 682MHz and the memory achieved an even healthier 1790MHz DDR which takes the speed well above what the Radeon X1950PRO is offering when we start talking about overclocking.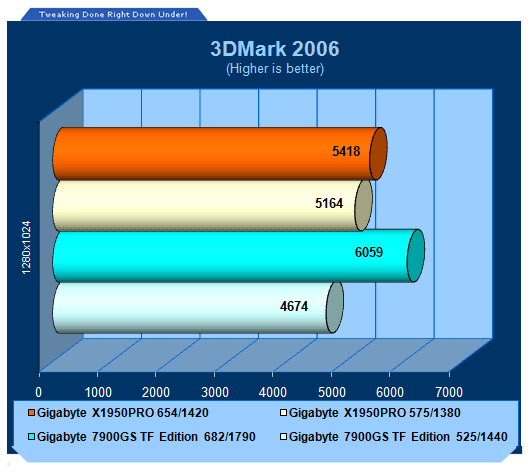 While we saw the GeForce 7900GS lag behind slightly in our default run, when it came to overclocking the huge jump that was achieved from the 7900GS propelled it well and truly into the lead.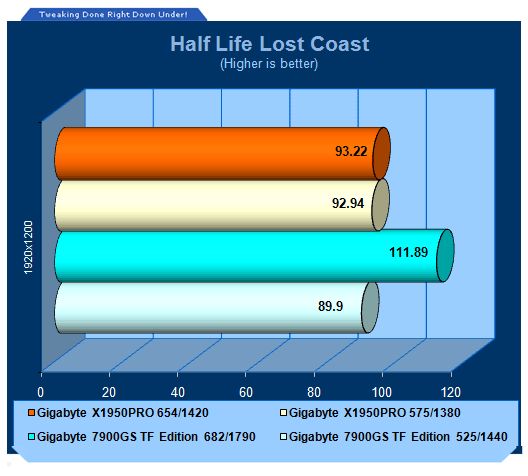 We again see the huge overclock from the 7900GS make it stand out from the pack.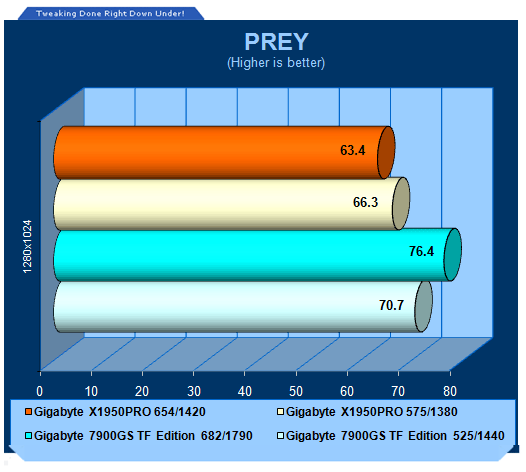 Finally we leave with PREY and while the Radeon X1950PRO gave us a weird result with a slight drop, the GeForce 7900GS continues to show its dominance when we overclocked the cards.
Final Thoughts
The decision for Gigabyte to team up with Zalman and release their latest line up of graphics cards was a fantastic idea. Not only does the Zalman cooler offer better heat dissipation, it is just all round generally quieter and looks quite good, too. It made sense that Gigabyte would choose to include the cooler on a card from both ATI and nVidia but we can clearly see that the latter gains the most advantage.
nVidia's GeForce 7900GS has always been a personal favorite for us here at TweakTown. This is mainly due to the fact that it is quite cheaper when compared to other cards in the same bracket and out of the box performance is good, as well. The card really begins to shine though when we start overclocking and the picture only gets better for the green team.
ATI and AMD's Radeon X1950PRO on the other hand sits more expensive then the GeForce 7900GS and generally shows us quite an ordinary overclock, in comparison. Combine this with the fact that everyone is so head over heels at the moment thanks to the performance of the new GeForce 8800 series. It's clear that who controls the high-end market drives sales for the low and mid-range markets but when you have a card as good as the GeForce 7900GS, it makes it even easier to sell.
If you have a few more dollars to spare and like the idea of an aftermarket cooler that doesn't destroy your warranty, we would recommend that you have a look down the Gigabyte path. If you're into overclocking, the Gigabyte 7900GS TurboForce using the Zalman cooler is definitely a good choice in our opinion.
PRICING: You can find products similar to this one for sale below.

United States: Find other tech and computer products like this over at Amazon.com

United Kingdom: Find other tech and computer products like this over at Amazon.co.uk

Australia: Find other tech and computer products like this over at Amazon.com.au

Canada: Find other tech and computer products like this over at Amazon.ca

Deutschland: Finde andere Technik- und Computerprodukte wie dieses auf Amazon.de