Introduction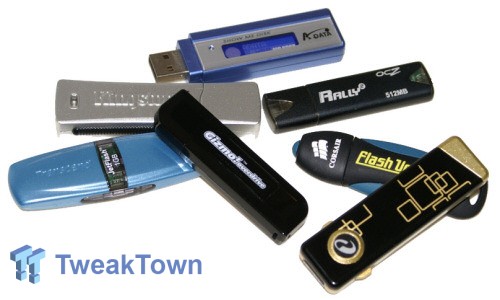 My first computer was a Commodore 64 and it came with a hard drive with less than 20MB of storage - somewhere around that mark if my memory serves correctly. Back in the day, that was plenty of space and the hard drive was never filled to capacity. Most of the applications were only "bytes" large and 20MB was plenty for most people.
Now days, 20MB is nothing - you could fill that previously trusty Commodore hard drive with just a few high resolution images and in a matter of seconds.
Enter the 21st century and we have desktop hard drives which not only spin and operate much quicker but come in sizes up to 750GB and even 1TB by the end of the year (according to our sources) - that's over 50,000 times the size, in a relatively short time frame. Given those numbers and if technology continues to move at the same pace, in year 2025 or so we could expect to see 50,000TB hard drives.
For years now, USB pen drives have become common place all around the world. They started off offering storage capacities of around 8MB and then gradually increased in size, even to a massive 16GB drive, which was recently released from Transcend. USB pen drives, thumb drives, pocket drives or whatever you like to call them are extremely handy and very reliable since they use solid state components - this is extremely important since it's data on the go. Some are even water-proof now incase one happens to slip out of your pocket into a puddle or if you decide to go for a swim but somehow forget to remove the pen drive from your pocket.
Today we are looking at a bunch of different pen drives from a range of different companies. Sizes range from 512MB to 4GB and each have their own special feature and style. With Christmas only about two months away, a pen drive would make a great gift for someone in your family or a friend and even the high-end brand name drives with all the cool features and good performance won't cost you a fortunate.
Let's have a look and find out a couple of things - which offers the most attractive looks and features and which offers the best performance, at the right price.
Kingston, OCZ, Crucial and Transcend
Pen drives from Kingston, OCZ, Crucial and Transcend- Kingston DataTraveler Elite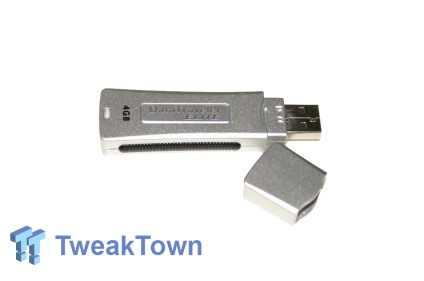 First on the list is the 4GB DataTraveler Elite from Kingston. This is a no thrills pen drive, meaning it is basic but it does its job well and the quality of materials used feels good.
The DataTraveler Elite series from Kingston come in sizes of 256MB to 4GB in USB 2.0 and are designed for the business or enterprise user in mind - so there are no fancy bells or whistles here. Claimed read speeds are 24MB/s and write speeds are 14MB/s.
One thing worth mentioning, which is of concern to us, is the fact that the Kingston drive takes much longer to detect in Windows than any of the other pen drives in this roundup, which were all detected by Windows in around about the same amount of time. This may or may not be due to the fact that the Kingston pen drive has 4GB of storage (or we got a dodgy unit) but do note that you will be waiting several seconds before you can access the drive in My Computer. The drive was tested on several computers with Windows XP and the same delay occurred.
It is a simple pen drive measuring 3.1" x 0.9" x 0.4" (77.4mm x 22.1mm x 10.1mm), so while it is not huge, it is one of the biggest in this roundup.
- OCZ Rally2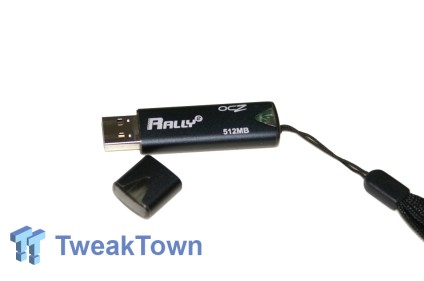 If you don't know OCZ Technology, they are mainly a producer of memory modules designed for overclockers and gamers. Recently they've started producing a range of high quality power supply units as well as fast pen drives with plenty of style and the performance to back up those looks.
The OCZ Rally2 is one of the newest pen drives to come from the company and comes with an impressive feature this. One of the key features of the Rally2 besides the impressive looks is the use of Dual Channel memory technology. OCZ was one of the first to start using Dual Channel technology in pen drives and now many others have started to use it, as well.
The memory inside Rally2 is protected by a stylish black metal covering which feels good and seems like it would stand up to some small drops. Unlike the Kingston pen drive, Rally2 has an orange active LED which lets you know what is happening as far as read and write activity goes.
Rally2 comes in sizes of 512MB to 4GB in USB 2.0 and claims read speeds of 28MB/s and write speeds of 15MB/s.
- Crucial Gizmo! Overdrive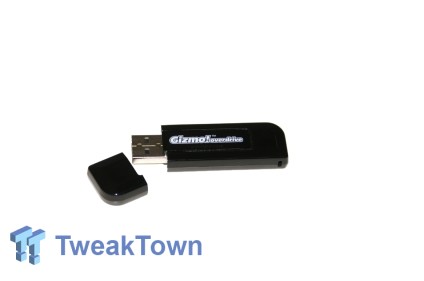 Next up is Crucial with their Gizmo! Overdrive pen drive which also features Dual Channel technology, like the OCZ Rally2 pen drive.
Crucial offers a pen drive which not only looks good (probably one of the best in this roundup) but also one of the lightest, weighing very little. The memory is incased in black plastic which has a nice feel to it. You've also got a rapid flashing red LED which gives you an indication of the activity of the pen drive - the black color of the pen drive and the red light mixes quite well together and looks fantastic.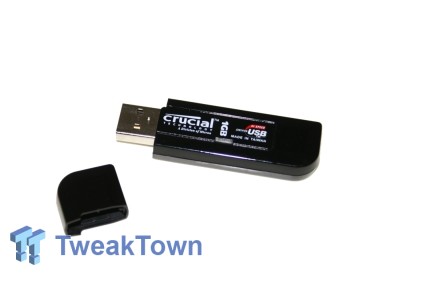 All Gizmo! pen drives come with Crucial's own security software which allows you to protected unwanted users from accessing your data. You are also given a lanyard which allows you to wear the pen drive around your neck, if you so please.
Gizmo! comes in sizes of 512MB to 2GB in USB 2.0 and claims read speeds of 25MB/s and write speeds of 13MB/s.
- Transcend JetFlash 120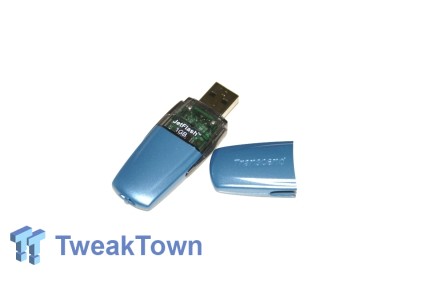 Transcend has been a company which has been around for a long time and make all kinds of different products which revolve around memory.
Transcend sent us their JetFlash 120 pen drive which doesn't offer any unique features but is a product which looks good and works well. The JetFlash 120 series come in a range of different colors - each color represents the different storage sizes from 128MB all the way up to 4GB which comes in a turquoise color.
We have the blue JetFlash which means it is 1GB. All of the pen drives are partly see-through with a clear plastic cover. This allows you to see some of the IC's inside of the pen drive as well as the red activity LED which lets you know what is happening.
Transcend claims read speeds of 12MB/s and write speeds of 8MB/s for the full range of pen drives from the biggest to the smallest capacity. The JetFlash 120 series don't have any stand out features but at the same time manage to impressive with a solid style and high quality plastic material.
ADATA, Corsair and Silicon Power
Pen drives from ADATA, Corsair and Silicon Power- ADATA Pen Drives
The folks at ADATA in Taiwan sent us a couple of their newest pen drives to take a look at.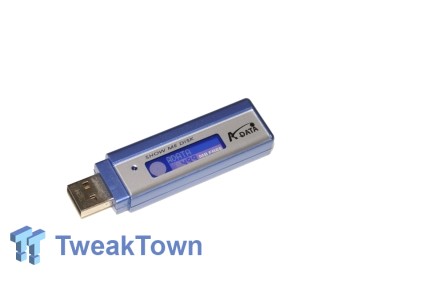 The first is the BC2 "Show Me Disk" - as the name implies, the pen drive provides you real-time information about the amount of space left on the drive through its Bi-stable Cholesteric Liquid Crystal display, without the need of an embedded battery. You are even able to program your name on the drive up to a total of 11 characters. This would be especially handy in an office environment if your company supplied you with the same pen drive as all of the other employees in your office.
It's a cool feature and other companies have started doing the same type of thing recently but it's debatable how useful the feature actually is. If you're using the pen drive with your notebook computer, then you're fine - you'll be able to see the information. If you're using a PC, chances are the USB port won't be in front of you and you won't be able to see the information being reported to you.
Besides that, then pen drive looks good but it is one of the largest in the roundup and weighs more but these things weigh hardly anything to begin with, so it's not even really an issue. To include the information about the amount of free storage, you do pay for it terms of a thicker-sized pen drive.
ADATA's BC2 comes in sizes of 512MB to 2GB in USB 2.0 but there were no claimed read or write speeds to be found on the ADATA website.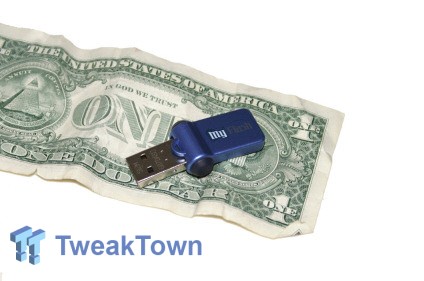 The next pen drive from ADATA looks more like a pen drive cap rather than an actual pen drive. In fact, it is so small to begin with we didn't see the USB plug and we thought it
WAS
a cap for one of the pen drives.
The ADATA PDO uses a memory technology called COB (chip on board) which places the memory inside the USB plug itself. This type of technology is new to us and is quite cool, indeed. It is amazing to think that ADATA are able to squeeze anywhere from 512MB to 2GB of USB 2.0 storage space inside that USB plug. Keep in mind, the USB plug does get warm - even a little hot at times - but it does cool down quite quickly, since it is made of metal material. Also worth noting is that the USB plug seems a tiny bit bigger than a regular USB plug and for that reason, the ADATA PDO doesn't slip in and out of the USB ports as easily as regular pen drives do.
This COB technology allows for extremely small pen drives - the ADATA PDO only measures a mere 34.18*21.71*13mm (L*W*H), making it easily one of the smallest pen drives on the market. It also weighs an extremely light 9 grams - hardly anything! All these numbers pose an important question, though - with a pen drive which is so small and so light in weight, the chances of losing it must be high. Fortunately the drive has a hook on it which allows you to attach it to your key ring and because it is so small and light, it will make a great addition in that location for your portable storage needs.
ADATA instantly receives the award for the smallest storage device we've ever seen but what about performance? We'll check it out soon enough.
- Corsair Flash Voyager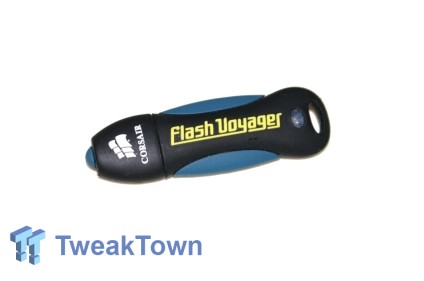 Corsair is another company much like OCZ (or maybe I should, OCZ is much like Corsair, to avoid annoying anyone). Corsair produces a range of high quality memory modules for gamers and overclockers and quite recently entered the power supply market.
Corsair has been in the flash game for sometime now and the pen drive we are taking a look at today is not a new product but still one of the most stylish-looking on the market.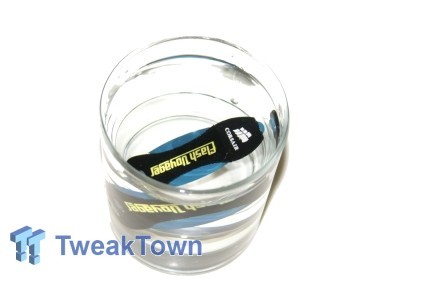 Besides offering claimed read and write speeds of 33MB/s and 16MB/s respectively, the pen drive is one of the only on the market which claims to be water resistant. Yes, the Flash Voyager is protected by a rubber material which makes it water proof! We tested the theory by dropping it in a glass of water for a few minutes and then plugging it back into our testing computer. We had no doubts... the pen drive worked without any issues.
Like the Crucial Gizmo! pen drive, the Corsair pen drive also comes with its own security software to help unwanted people from accessing your portable data. The "True Crypt" security allows you to create a hidden and password-protected area on the pen drive, which is a nice addition.
Like many of the other pen drives in the roundup, included is a blue activity LED which lets you know what is happening. The blue color works very well with the overall color scheme of the pen drive and is definitely up there in looks with the pen drives from Crucial and OCZ.
Besides the impressive looks, included USB cable and lanyard, huge claimed read and write speed and water-proofness, the Flash Voyager is available in sizes of 512MB to a whooping 8GB in USB 2.0. You also get a staggering 10 year warranty - if you even know where the pen drive is in that amount of time, you deserve some type of medal.
- Silicon Power Touch 510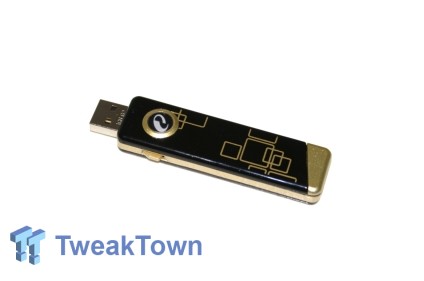 Last but not least is the Silicon Power Touch 510 pen drive. It comes from a company in Taiwan who is starting to make ground in the flash business and after claiming that their pen drive is one of the fastest on the market, we told them we would take a look at it.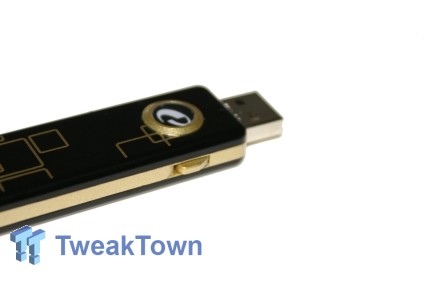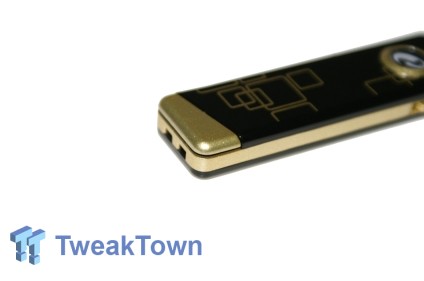 The 510 pen drive is the biggest pen drive in this roundup in terms of size - while it is not as thick as the ADATA pen drive, it is a little longer.
The unique feature about the 510 is the USB plug spring function - the pen drive does not come with a lid, which saves you from losing the cap, which happens all too much. The feature works by pushing a button at the bottom of the drive and then the USB plug pops out. It works pretty well but sometimes a little bit of force is required - not a lot but it's not a matter of just touching the button, you need to physically push it fairly hard for it to open. This raises concerns about the life of such a mechanism.
To put the USB plug inside the drive, there are two buttons at the top of the pen drive on each size - squeeze these in and then push the plug inside. Again, some amount of force is required with these buttons but not that much that you'll need Super Man strength to do so.
Like most of the other pen drives in this roundup, the 510 comes with a blue LED which lights up the Silicon Power logo whenever the drive is being accessed. The 510 pen drive comes in size of 256MB to 4GB in USB 2.0 and claims read speeds of 13MB/s and write speeds of 4MB/s.
For a company which claimed to have one of the fastest pen drives on the market, these speeds are much lower than other companies in this roundup but we'll take a closer look soon in our testing.
Testing
Test System SetupProcessor(s):
Intel Core 2 Duo E6700 @ 3150MHz (7 x 450MHz FSB)
Motherboard(s):
Gigabyte P965-DQ6 (Supplied by
Gigabyte
)
Memory(s):
2 x 1GB Kingston HyperX PC8000 DDR-2 (DDR-900 1:1)
Graphics Card(s):
XFX GeForce 7900GS Extreme (Supplied by
XFX
)
Hard Disk(s):
Seagate 7200.10 SATA2
Operating System(s):
Windows XP Professional SP2
Drivers Used:
nVidia ForceWare 92.91 / DX9c / Intel INF 8.1.1.1001
Now we've finished taking a look at all of the pen drives in the roundup, it's time to put all the impressive features and stylish appearances aside and work out which are able to offer the best performance numbers.
Sure, you would expect the big overclocking and gamer memory companies like Corsair and OCZ to be well in front but you might be surprised by some of the other pen drives in the roundup.
Features and appearance of a pen drive is important but if the pen drive performs like a dog, what good is that? Read on as we put all the pen drives through their paces to work out which one of the best performance in our range of storage related benchmarks.
We have also included a cheap no brand name pen drive along with a ThermalTake external HDD enclosure using a standard 5,400RPM notebook hard drive for comparison purposes.
- HD Tach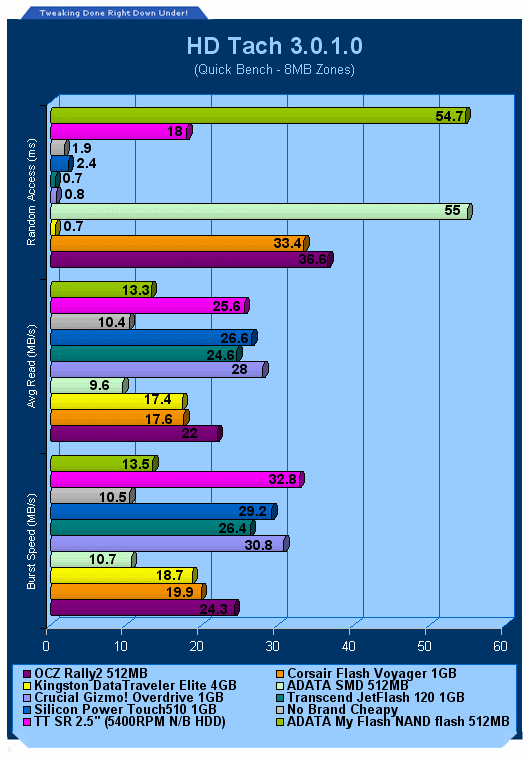 In our first test we put the pen drives through a run of HD Tach. As far as burst speeds go, the external notebook HDD is out in front but the big surprise is that the Crucial Gizmo! pen drive is leading the pen drive pack and only a little slower than the notebook HDD!
Silicon Power and Transcend trail a little further behind the fast Crucial pen drive with OCZ and Corsair sitting even further behind, which is a bit of a surprise.
- Read Speeds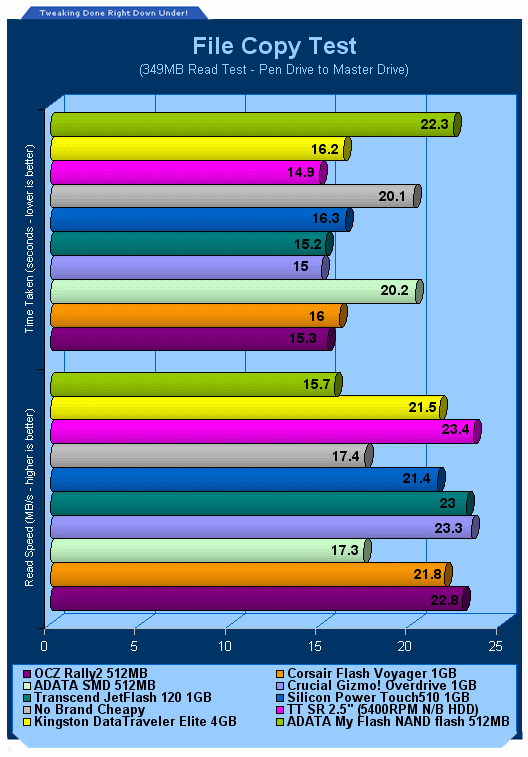 In this test we time how long it takes to copy a 349MB TV episode from each pen drive to the master hard drive inside the computer - this will test the effective read speed of each pen drive.
Crucial is our winner again but only by a short margin - OCZ, Corsair and Silicon Power are hot on the heels of the Gizmo! drive. Poor old ADATA struggles way behind the pack, once again.
- Write Speeds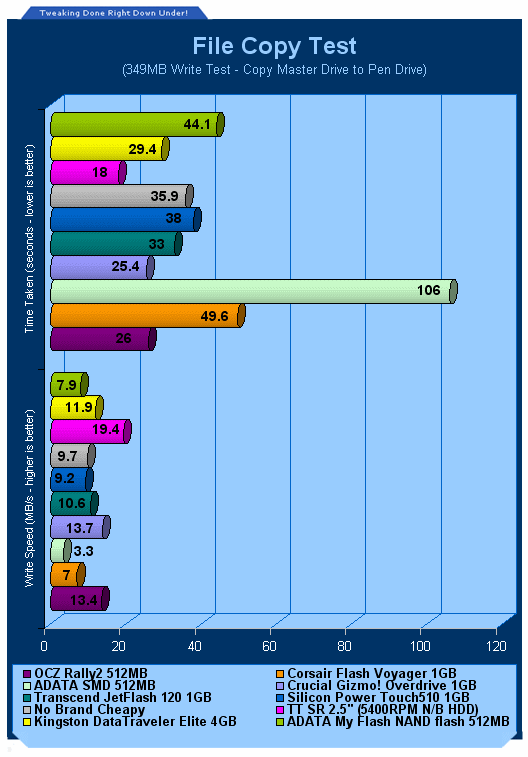 Here we switch things around and determine the overall write speeds of each pen drive. We are copying from the master hard drive inside the computer to the pen drive.
In this situation the external notebook hard drive has a clear advantage but Crucial manages to continue its lead with OCZ not too far behind with Silicon Power and Kingston showing good performance in these write tests.
Final Thoughts
After all is said and done, the best pen drive in this roundup is the Crucial Gizmo! Overdrive, by far. It not only offers one of the best visual appearances along with its included security software and included goodies but also manages to consistently offer the best performance out of the pack.
ADATA has a nice feature in their "Show Me Disk" pen drive which shows information about available storage space and even allows you to put your name on the drive but unfortunately, performance is not good. Corsair has a good product in that it is water-proof, comes with great warranty and some goodies but performance is in the middle of the pack most of the time, neither great nor horrible.
OCZ has a fast pen drive which is really only just a little bit slower than the Crucial pen drive and the Rally2 also looks great and is one of the smallest in the roundup. Silicon Power were a bit of a surprise - their pen drive was second to Crucial in most of our tests but just be careful of that spring-loaded cap free USB plug.
ADATA's PDO is easily the smallest storage device we've ever seen and will make a great addition to your key ring but unfortunately, it is let down by poor performance - that seems like the tradeoff for having such a small storage device. Transcend's JetFlash 120 keeps a low profile throughout the roundup although manages to quietly impressive with solid performance in our testing. While Kingston have a drive which performs fairly well, it just doesn't seem to have all that much going for it - especially considering the "boot time" for the drive, it takes several seconds to prepare itself before you can access it in Windows, whereas all the other pen drives were up and running almost instantly.
We hope this pen drive roundup proved useful and if you're on the market for a new pen drive or looking for a reliable Christmas present gift, you should find a pen drive here which will please your recipient. Price is not going to kill you either - for instance, the Corsair Flash Voyager 4GB can be found as low as $83 USD on our
shopping comparison website
.