Intel Introduces X299, Kabylake-X, and Skylake-X
In what is a solid response to AMD's Ryzen, Intel unveils its Core X-Series processors and X299 desktop chipset. Game on, PC fans!
Published May 30, 2017 2:01 AM CDT
|
Updated Tue, Nov 3 2020 6:58 PM CST
Intel's New X-Series Processors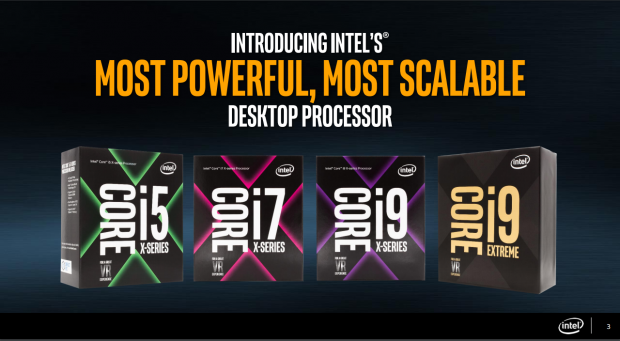 We all knew that the launch of Intel's Basin Falls platform was imminent and now we get confirmation on rumors and speculation directly from Intel regarding the new platform. The new platform will be Intel's "most scalable", meaning it will support CPUs with as little as four cores up to 18. That 18 core 36 thread CPU will cost almost $2000, but the new 10 core 20 thread CPU will cost $1000, while the lower-end CPU for the platform will cost under $300. They are even offering a 6 core 12 thread CPU at under $400. Yes, 18 cores with Hyper Threading, which is big news for the consumer industry. The new platform also upgrades Intel's HEDT segment to include newer technologies such as PCI-E 3.0 in the PCH. Intel has also made minor improvements and added some features to the new processors.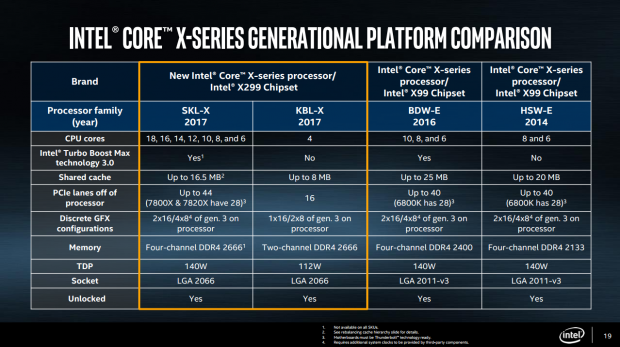 The X299 platform will support Kabylake-X and Skylake-X CPUs. The Kabylake-X CPUs will only come in the 4-core variety, and are pretty much transplants of their desktop counterparts. I expect the same IPC, but higher clocks, as the TDP of the Kabylake-X CPUs is 21W higher than the 7700K and I doubt it will have an iGPU. The Skylake-X CPUs will offer four more PCI-E 3.0 lanes from the CPU for your GPUs and will use the new LGA 2066 socket (same mounting as LGA2011). You might also notice shared cache has decreased compared to Broadwell-E, and this is part of a cache restructuring effort that should improve performance.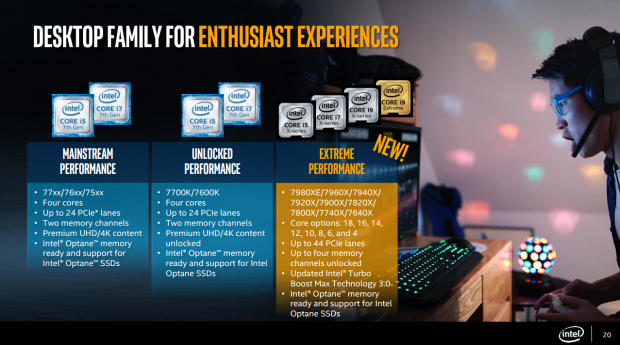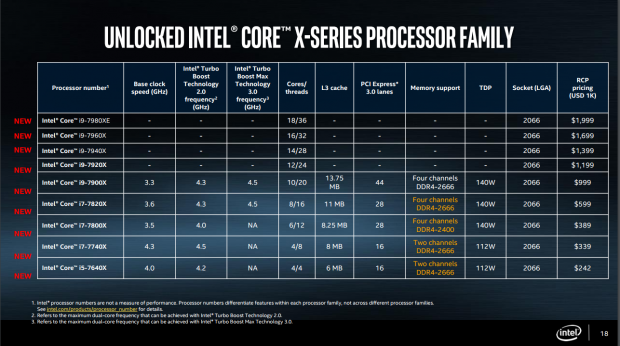 The shift to scale the X299 platform is an interesting one for Intel. They have basically added in two new core series lineups to their HEDT, signaling a change in strategy when it comes to the high performance consumer computing market. It should also result in lower platform prices, and we might see motherboards that feature the X299 chipset and only support some of the processors rather than all of them. The 10 core 20 thread i9-7900X will cost $1000, while the i9-7980XE will cost $2000 when launched. The pricing on their six-core processor, puts six Intel cores in the reach of many consumers.
Intel's Breakthroughs and New Technologies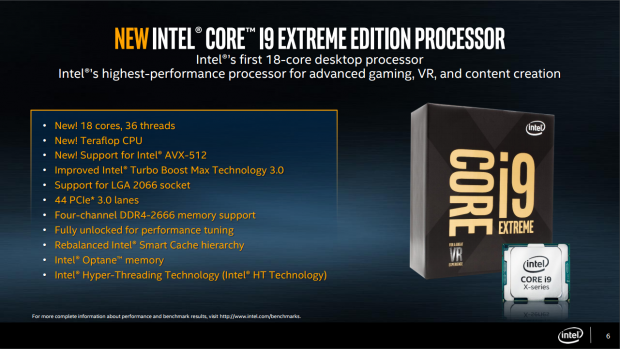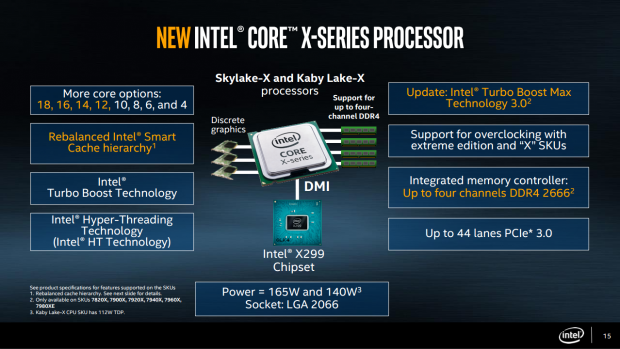 The insane 18 core 36 thread processor will be the first for Intel on the HEDT platform. It will also be the first time a 1 Teraflop processor hits the consumer market. Intel is also adding in support for AVX-512, improving Turbo Boost Max Technology 3.0, and boosting DDR4 speeds a bit. The Core i9 series are sure to make things interesting when compared to AMD's Thread Ripper.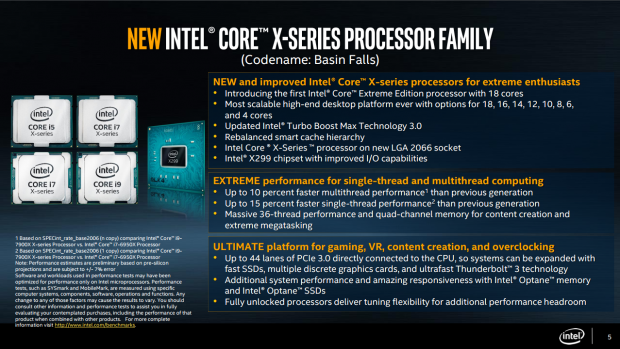 Intel's HEDT CPUs are generally very similar to their mainstream CPUs, they just feature more cores and cache. However, this time Intel seems to have made a change to the smart cache hierarchy of the Skylake-X CPUs.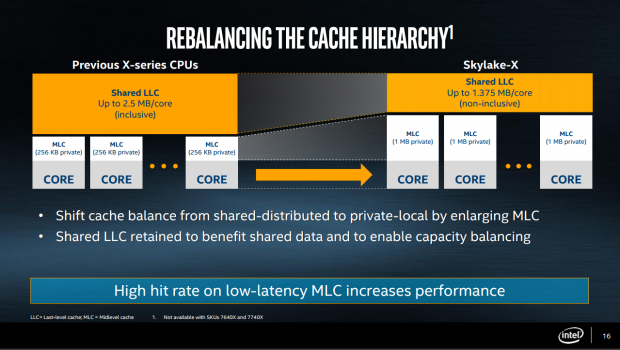 These changes include reducing L3 cache (by 50%) and quadrupling L2 cache to 1MB per core. By increasing the higher level cache (L1 is higher than L2, which is higher than L3) density, Intel is able to keep more data closer to the cores. To be clear, the fastest storage is L1 cache, then L2, L3, DRAM, Optane, NAND, and finally spinning platters (HDDs). Intel's algorithms might be producing lower miss rates than what they might have expected when designing Skylake's cache and it could possibly be the reason for the shift in cache size allocation. L2 cache is said to be more expensive than L3 cache as it's much faster.
There is also one other change, the L3 cache or LLC (lowest level cache) went from being inclusive (meaning it contained all the data in the cache level below it; L2) to non-inclusive, which means it may or may not contain all the data in the cache below it. Intel does seem to be tweaking the "smartness" of their "Smart Cache", and we will test the changes in the future. To be straight, the Kabylake –X processors do not get this cache tweak, and this tweak is not only a departure from Broadwell-X, but also a change from Skylake-S. Intel did go back and tweak the cache architecture; it's not just a change resulting from the shift from Broadwell to Skylake.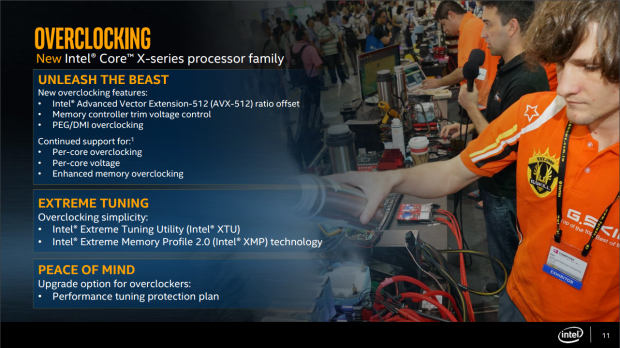 All processors on the X299 platform are unlocked, and Intel has added in some overclocking enhancements. They have added memory controller trim voltage control, which I assume means we will be able to change the voltage of the memory controller alone rather than a larger region inside the system agent. Intel has also added the ability to overclock the DMI/PCI-E bus, which was uncoupled from the CPU's BCLK a few generations ago to make BCLK overclocking easier. Intel is continuing to provide its Performance Tuning Protection Plan (PTPP) so you can insure your 18 core monster CPU from the perils of overclocking.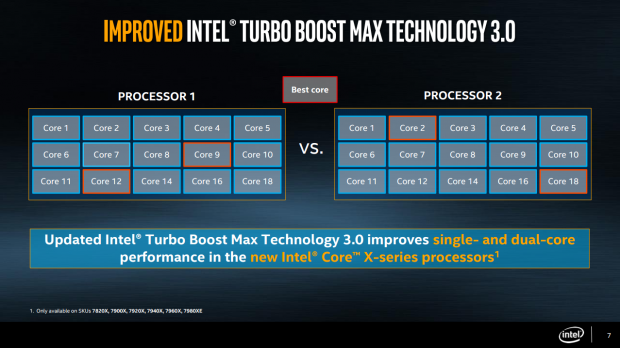 Intel's Turbo boost Max 3.0 has also been improved. While in the past Turbo Boost 3.0 would only boost one core very high, now it can boost your two best cores further up.
The X299 Platform
X299 Platform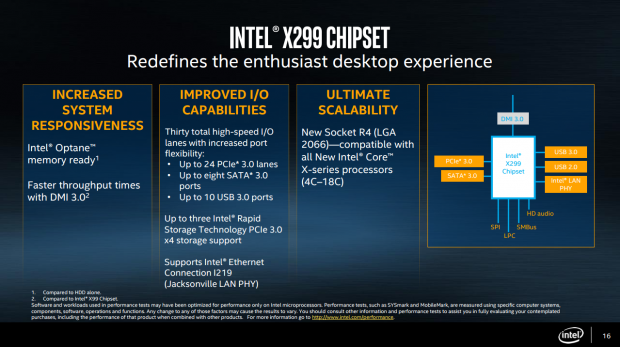 The new X299 chipset will support DMI 3.0, which is a welcome upgrade from the DMI 2.0 interface X99 used. It will also get 30 high-speed IO lanes that can be used as PCI-E/USB 3.0/SATA6Gb/s. The platform will support up to eight SATA6Gb/s ports, up to 10 USB 3.0 ports, and up to 24 PCI-E 3.0 ports finally putting it above the Z270 chipset in terms of IO capability. It will still support a maximum of three NVMe x4 PCI-E drives in RAID, just like the Z170 and Z270 chipsets.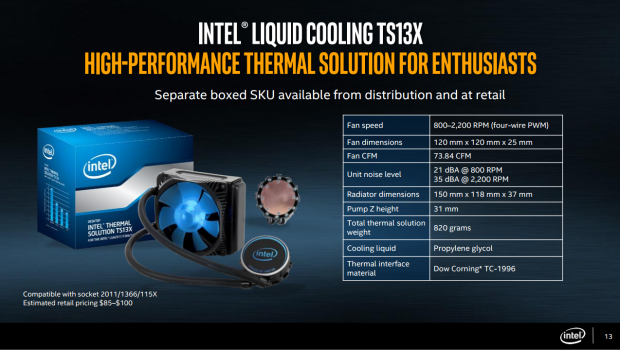 Intel is also introducing a new Intel AIO cooler. It should be competitive with other single radiator AIOs from the major brands in the industry, but will have the fancy Intel logo and blue lit fan. The Intel Thermal Solution TS13X should cost between $85 and $100. It will support LGA2011 (and LGA2066), LGA1366, and LGA 115X.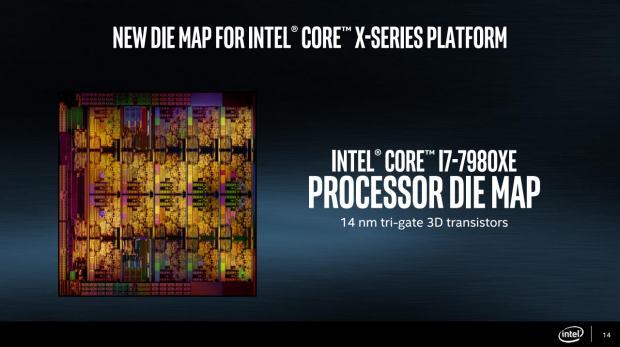 While Intel will initially release the Core i9-7900X along with its X299 platform, the monster Core i9-7980XE, which features 18 cores and 36 threads won't be available until later down the road. Intel's pricing looks to be extremely competitive with the Kabylake-X processors costing $242 (4C/4T) and $339 (4C/8T) respectively. The six core i7-7800X looks to be the sweet spot at $389 and 6C/12T. Competition is good for everyone, and Intel's X299 offerings look to be very competitively priced.
We look forward to testing out its performance in the coming weeks!
PRICING: You can find products similar to this one for sale below.

United States: Find other tech and computer products like this over at Amazon.com

United Kingdom: Find other tech and computer products like this over at Amazon.co.uk

Australia: Find other tech and computer products like this over at Amazon.com.au

Canada: Find other tech and computer products like this over at Amazon.ca

Deutschland: Finde andere Technik- und Computerprodukte wie dieses auf Amazon.de