NVIDIA VR Funhouse Unleashes the Best of Pascal and VR
NVIDIA's first VR experience built from the ground up, VR Funhouse, is now here in reality.

Published
9 minute read time
Introduction & Welcome to the Funhouse
One of the most immersive VR experiences I've had would have to be NVIDIA's VR Funhouse, which is somewhat of a celebration for NVIDIA, as it's their first VR experience built from the ground up, by NVIDIA. The company has had VR Funhouse shown off at various events, where it was used to showcase the GeForce GTX 1080 at its launch event in May.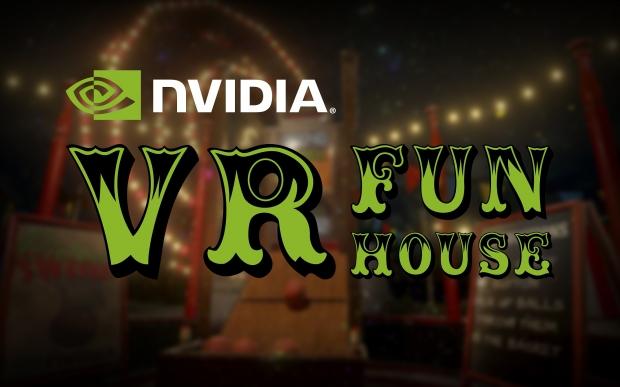 During the GeForce GTX 1080 launch event, NVIDIA displayed VR Funhouse running on not one or even two GTX 1080s, but three GTX 1080s in SLI. There were 2 x GTX 1080s in SLI used for the actual visual rendering, while another handled all of the PhysX calculations.
VR Funhouse is one of the most immersive VR experiences you can have, and right now it's exclusive to the HTC Vive. NVIDIA is able to showcase all of the power of Pascal within VR Funhouse, showing off various physics effects, real-time lighting and shadows, and so much more. It's a room-scale experience like no other, with VR Funhouse being powered by Unreal Engine 4 - so it looks amazing, too.
Welcome to the Funhouse
NVIDIA really should have worked with P!nk, the singer, on any and all marketing on VR Funhouse... what a lost marketing opportunity! But, VR Funhouse is good enough to stand on its own legs for more reasons than one.
VR Funhouse is technology-infused virtual reality extravaganza, and includes six different VR experiences, for now.
Fire Archer

Balloon Knight

Clown Painter

Shooting Gallery

Mole Boxing

Cannon Skeet
The World's Most Advanced VR Game
VR Funhouse is a Technological Marvel
NVIDIA wanted VR Funhouse to not just be a VR experience that you would play and forget, so the company put considerable amounts of time and effort into making it the "world's most advanced VR game", which is quite the claim. But, when you look at what the company included in the game, you would agree. VR Funhouse is something you need to play to understand, as you easily lose yourself in the game.
VR Funhouse is that immersive that Cameron (the owner of TweakTown) stepped out of playing VR Funhouse during Computex last month, and ordered himself the HTC Vive. It really is that awesome, and this is just the start of NVIDIA's adventures into their own VR experiences. So what has NVIDIA baked into VR Funhouse?
Flow

PhysX

Flex

Destruction

HairWorks

VRWorks
NVIDIA has enhanced all areas of VR Funhouse with its various technologies, with object interaction being enhanced by NVIDIA VRWorks PhysX-based haptics.
Hello There, Multi-Res Shading
NVIDIA has been talking about Multi-Res Shading for quite a while, with a big push behind it for VR Funhouse. Multi-Res Shading, if you didn't already know, is an impressive rendering technique for VR where each part of an image is rendered at a resolution that "better matches the pixel density of the lens-corrected image". Multi-Res Shading renders multiple scaled viewpoints in a single pass, delivering improved performance in pixel shading.
VR Funhouse has Multi-Res Shading enabled by default, but users can adjust the level of Multi-Res Shading within VR Funhouse. If you press the D-pad on the Steam VR controllers, you'll have a dial on your right wrist that will show the Multi-Res Shading level, and by using the D-Pad (up/down for Multi-Res Shading, while left/right handles the Screen Percentage) - you can adjust it to your personal liking.
What Hardware You'll Need
What kind of system do you need for VR Funhouse? Well, you're going to need one of NVIDIA's new Pascal-based GeForce cards, with the GeForce GTX 1060, GTX 1070 and GTX 1080 all compatible with VR Funhouse. The biggest thing of all is that you'll need the HTC Vive, as VR Funhouse is not compatible with the Oculus Rift.
NVIDIA recommends their GeForce GTX 1060 matched with an Intel Core i7-4790 for low-quality settings, while the medium quality settings in VR Funhouse will demand the GeForce GTX 1080... or higher, as well as the Core i7-5930 processor. For high quality settings, NVIDIA recommends that you have a GeForce GTX 1080 with a dedicated PhysX GPU (with the GeForce GTX 980 Ti or greater recommended).
VR Funhouse Games
Let The Games Begin
I have spent hours inside of VR Funhouse, and while I have my favorite games, each of them has their own little piece of my heart. Each of the VR Funhouse games has something different on show, whether it's a technological trick, or it's more casual and fun to play.
Balloon Knight
Balloon Knight is one of the first games that will really stress your system, as it features NVIDIA Flow technology which sees insanely realistic confetti falling all around you. How does the confetti fall around you? Well, you're equipped with your two Steam VR controllers and two swords - with balloons popping around.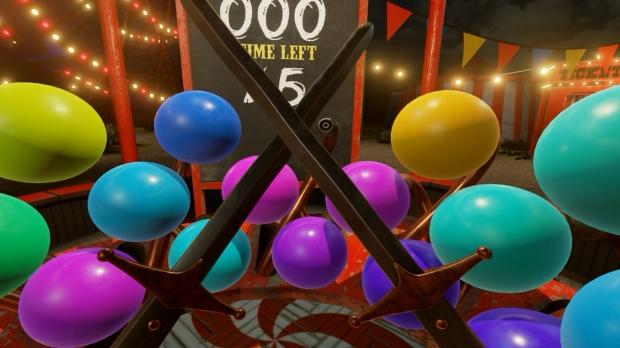 When the balloons are floating around you, you can gently touch the balloon and do what I do - balance the balloon on the side of your sword, and then fling it up and slice it. Once the balloon pops, confetti flies out and fills the screen. It's an immersive thing to see, and that's an understatement.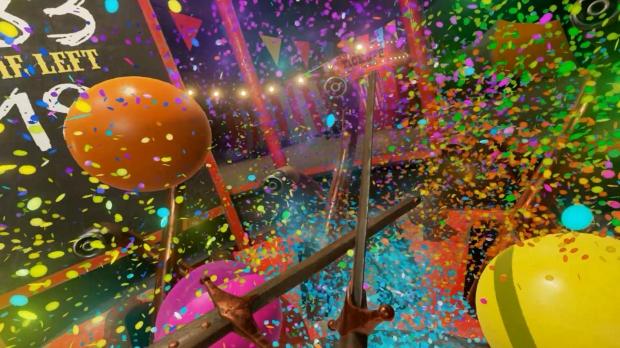 NVIDIA has built in some incredible physics into Balloon Knight, so you can't just tap the balloons for them to pop - you'll have to actually put some weight into the balloon with the sword before they'll pop. The balloons will also bump into each other in a realistic way, just like they would in real life - except, I've never popped balloons with a sword in real life before.
Cannon Skeet
You've got 60 seconds to shoot all of the teapots being flung at you, so use your two pistols like a champion, alright? Once the time begins to run out, the cannon fire will increase in speed, so you'll need to be a good shot to get a higher score. There will also be shards of ceramic flying at you, so be careful.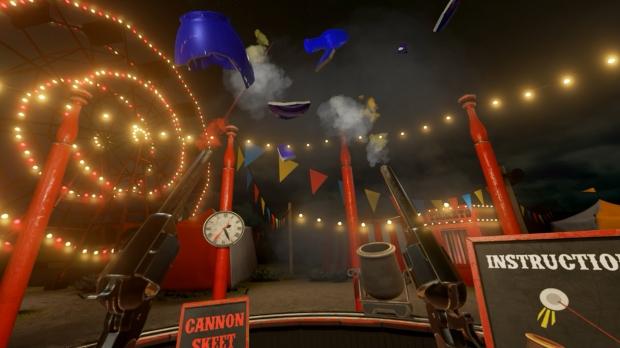 Cannon Skeet makes for a great demonstration of PhysX destruction, with some impressive physics manipulation with the guns. There are some great smoking gun effects when you pull the trigger on the pistols, which adds to the immersion. The ceramics also have realistic impact destruction when they hit the ground, too.
Clown Painter
Clown Painter is my favorite VR Funhouse game, as it has the most incredible fluid physics I've seen in a game or VR experience yet. You'll have a 30-second time limit to fill clown's mouths with green goo that you shoot out of your two squirt guns, but the first handful of times that I played Clown Painter, I never filled the clown's mouths with the green goo.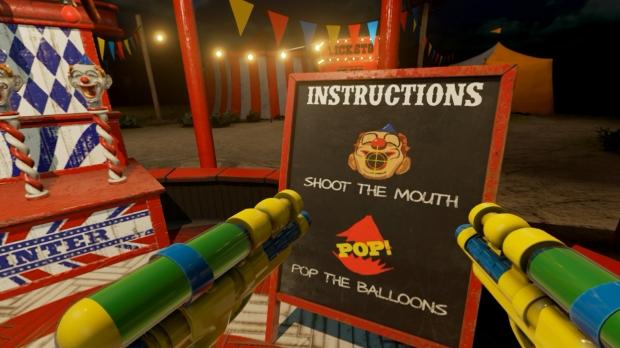 Instead, I had way more fun spraying the green goo all over the place to see how the fluid simulation worked, and man is it impressive. I was shooting the tops of the clown's heads and watching it ooze down realistically, and then turned over to the sign board and filled the entire board with green goo, watching it slide down and form a puddle on the ground.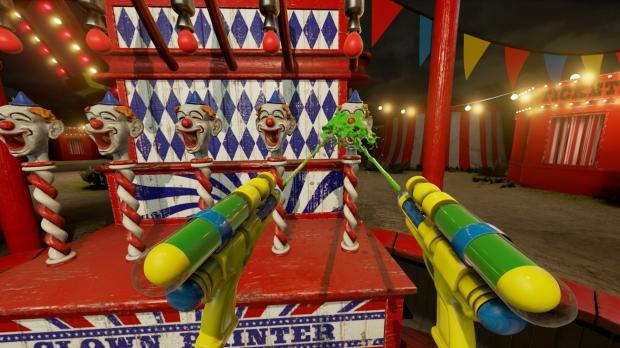 NVIDIA's impressive use of FleX technology makes Clown Painter an amazing VR experience, but if you want to play by the rules, you'll have to fill the clown's mouths with the green goo. If you don't want to play by the rules, aim the squirt guns into the air and shoot the goo into the sky and watch it splash on your face, and onto the ground, realistically. It's just awesome.
Fire Archer
Personally, I didn't like Fire Archer so much, as I think Longbow in Valve's 'The Lab' is a much better representation of archery. But, NVIDIA's use of Flow technology has some impressive volumetric fire effects that outmatch what Valve did with Longbow.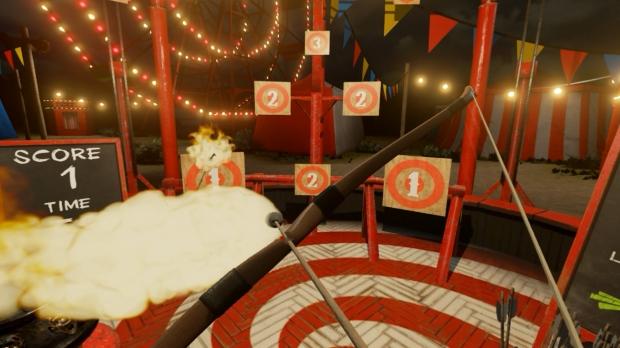 Fire Archer will have you equipped with a bow, and a barrel of arrows - you'll have to reach behind to your back for your quiver filled with arrows, grab an arrow, light it on fire, and shoot at the targets. You have just 60 seconds to hit as many of the wooden targets as possible.
The haptic feedback on the Steam VR controllers is put to good use here, and so is your NVIDIA GeForce graphics card for the volumetric fire effects courtesy of NVIDIA Flow.
Mole Boxing
I've never been to a traditional carnival, so the closest I've been to a whack-a-mole is in VR Funhouse with Mole Boxing. Mole Boxing will see you with boxing gloves attached to your hands, while moles will be charging directly at your house. You'll need to punch, or box them back, in order to score points.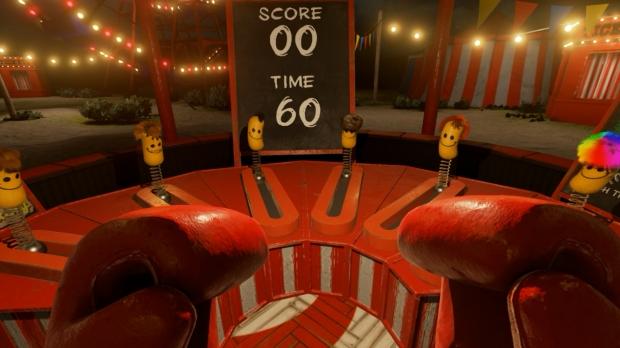 NVIDIA has used their HairWorks technology on Mole Boxing, where the hair on the moles flows backwards and forwards depending on where they're being punched. If you tap the mole lightly, the mole and the hair won't move that much - but if you smack it really hard, get ready for that HairWorks to kick in, in a really big way.
Better yet, you can do what myself and plenty of others have done with Mole Boxing, and put your glove over the mole's head to see how the hair reacts - and it's pretty damn realistic. Sure, NVIDIA's HairWorks isn't used that widely outside of VR Funhouse, but in VR Funhouse, it's a huge dose of immersion - and that's what we want to see in VR.
Shooting Gallery
Shooting Gallery was my second favorite game in VR Funhouse, because for one - shooting in VR is ten times more realistic than clicking a mouse - or, shudder... using a controller. Secondly, the PhysX destruction is something I really wanted to push the limits of.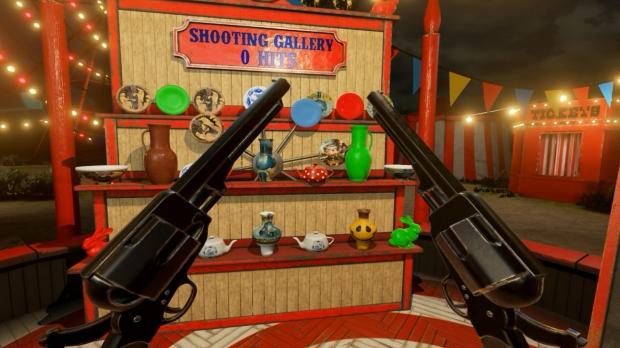 You can shoot the planks of wood away, which really puts the PhysX technology under strain - and note, it also requires the medium or high graphics quality settings. NVIDIA's use of PhysX destruction in Shooting Gallery is impressive, and is definitely one of the more hilarious VR experiences in VR Funhouse.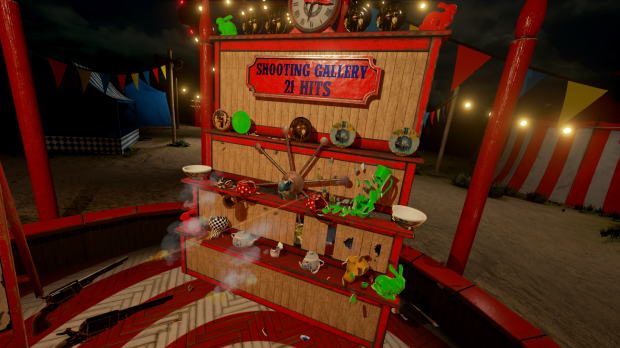 The amount of time I spent getting each shot correctly was higher than I thought, as you feel like you need to perfect each shot. Or maybe that's the old Angry Birds junkie in me... one of the two.
Whack a Mole
What good is the VR Funhouse without a second mole-based experience? Whack a Mole has you using a huge wooden mallet to smash moles as they pop out of their holes, with the moles featuring the same HairWorks technology that the Mole Boxing game did.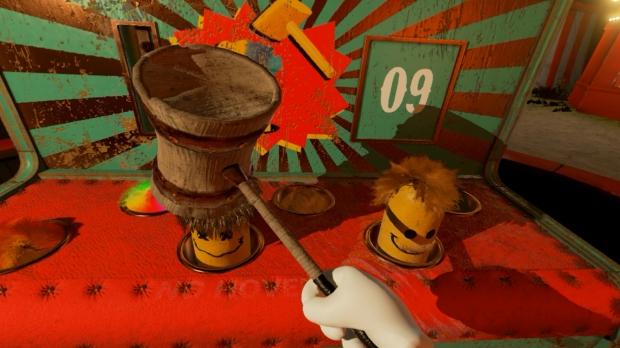 You'll need to smash the moles as they pop up, with the HairWorks technology being used to good effect here once again. If you look up close at the moles, you can see the paintaking detail NVIDIA has used on the hair, which is why you can't just run these games with an older GeForce GTX 760 or something.
Final Thoughts
Ever since I laid my hands and eyes on VR Funhouse, I needed it in my life. NVIDIA could've kept VR Funhouse locked away, and showcased only at events and tradeshows - but now, the second you read this, it'll be on Steam for you to grab. You'll obviously need a HTC Vive headset and a GeForce GTX 1060 (which comes out next week), or the awesome GeForce GTX 1070 or GeForce GTX 1080 to get it up and running, but man is it worth it.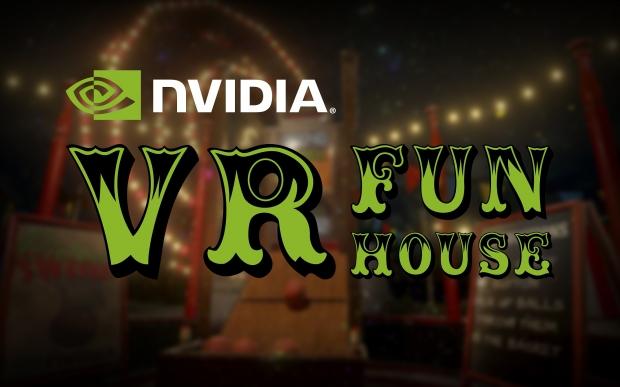 NVIDIA is able to showcase its various technologies like Multi-Res Shading, HairWorks, VRWorks and Flex... all while wrapping it into an awesome VR experience. I didn't think I'd have this much fun inside of a VR experience that pits you in the middle of a carnival, and I also didn't think that NVIDIA would put this much marketing muscle behind it, either.
But, it has paid off for NVIDIA as VR Funhouse is the perfect showcase for not only its own technologies and its Pascal architecture, but VR in general. Better yet, it's completely free - which is another great thing to see from NVIDIA. They could've easily have charged something like $9.99 for VR Funhouse, and it would've been and instant buy for many. But free, is always best.
Where to from here for VR Funhouse? I'd like to see NVIDIA expand on the games included, and maybe provide different environments for the carnival. It would be cool to see dynamic weather effects inside of VR Funhouse, which will also strain the GPUs - and that's what I want to see. Also a built-in benchmark would be nice, so we could see what type of PC you'd need to run the various NVIDIA technologies.
But what I'd really love to see is an actual game based around NVIDIA's technologies, where it was exclusive to GeForce owners. Sure, they'd be cutting away Radeon gamers, but that's what the game is about (and if AMD had the same thing going, I'd want to see Radeon exclusive content, too).
I'd play the hell out of a HairWorks-powered, Flex-infused, PhysX-based game in VR. Give me some Quake III style, arena-based shooter with NVIDIA technology and I'll throw 3 x GeForce GTX 1080s in SLI to run it. Come on, NVIDIA.
Wrapping up, VR Funhouse is one of the best examples of the future of VR. We have realistic hair, particle simulation, smoke and fire, and even green goo that's realistic. It might not sound like much when you're reading about it, but VR requires a massive level of immersion. The little things like goo reacting realistically, or smoke and fire effects reacting how they do in the real-world, and especially fluid simulation with the green goo - it all adds up to one of the most immersive VR experiences I've had.
That's not something I thought I'd be typing 6-12 months ago, but NVIDIA has surprised with VR Funhouse. If you have the chance to play it, you really need to get behind the game and see what it's all about. You won't regret it - there are some cool easter eggs hidden in VR Funhouse, too.
PRICING: You can find products similar to this one for sale below.

United States: Find other tech and computer products like this over at Amazon.com

United Kingdom: Find other tech and computer products like this over at Amazon.co.uk

Australia: Find other tech and computer products like this over at Amazon.com.au

Canada: Find other tech and computer products like this over at Amazon.ca

Deutschland: Finde andere Technik- und Computerprodukte wie dieses auf Amazon.de
We openly invite the companies who provide us with review samples / who are mentioned or discussed to express their opinion. If any company representative wishes to respond, we will publish the response here. Please contact us if you wish to respond.