Star Wars Battlefront Open Beta GPU Performance Overview
EA and DICE unleashed the open beta of Star Wars Battlefront. We tested all of our video cards at 1080p, 1440p, 4K, and 3440x1440 to see how it performs.

Published
4 minute read time
Introduction
One of the biggest games of 2015 would have to be Star Wars Battlefront, and while the game hasn't officially launched, EA and DICE launched the open beta in the last few days. If you haven't heard, read or seen anything about Star Wars Battlefront yet, it's a new first-person shooter set in the Star Wars universe (duh) leading up to the new Star Wars movie later this year.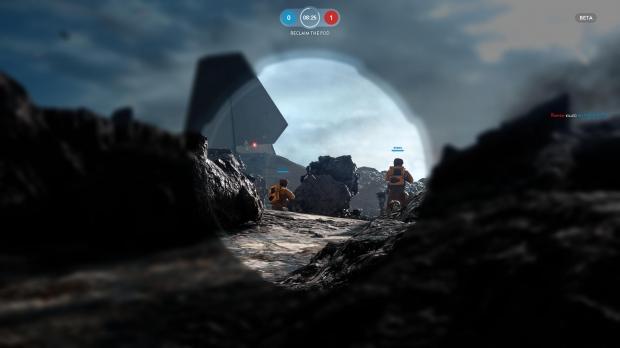 Star Wars Battlefront uses EA DICE's impressive Frostbite engine, the same engine that powered Battlefield 4, Battlefield Hardline, the new Need for Speed, and more. Frostbite 3 is used to great lengths in Star Wars Battlefront, making it one of the best-looking games out right now.
The open beta is in no way a final representation of the performance of the final version, but it should be close (10-20% or so). Both AMD and NVIDIA have new drivers out for the game, something we walked you through here, and something we used for all of our testings that we're about to get into now.
Testing Method & Test System Configuration
Testing Method
For our testing on Star Wars Battlefront, we joined a full 16-player 'Drop Zone' multiplayer match. We ran around for a few minutes to get a good minimum and average FPS count, using FRAPS to record our results. We did this for each resolution: 1920x1080, 2560x1440, 3840x2160, and 3440x1440.
Test System Configuration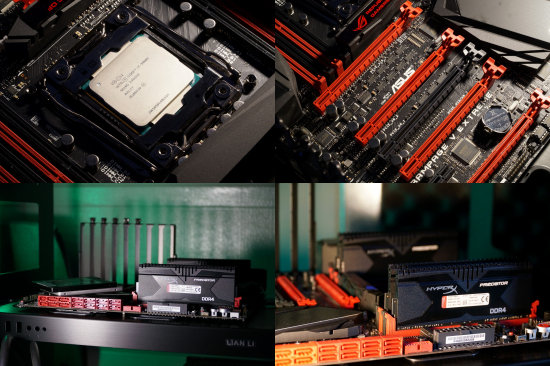 Anthony's Video Card Test System Specifications
Star Wars Battlefront Beta Benchmarks
Star Wars Battlefront @ 1080p
Star Wars Battlefront is a first-person shooter built on EA DICE's Frostbite 3 engine, with great effects. It's one of the best looking games on the market right now, even in its early beta form.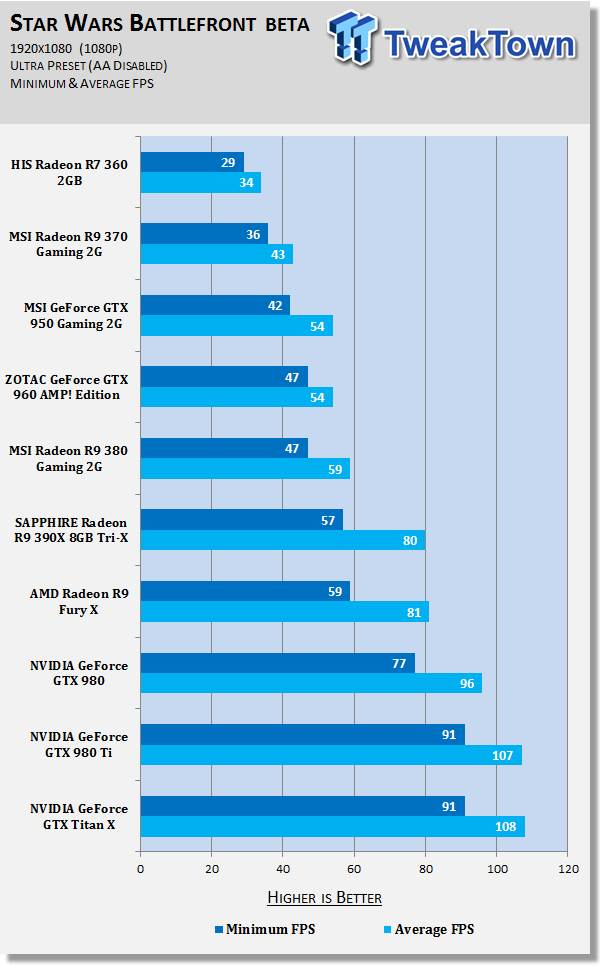 Star Wars Battlefront @ 1440p
Star Wars Battlefront @ 4K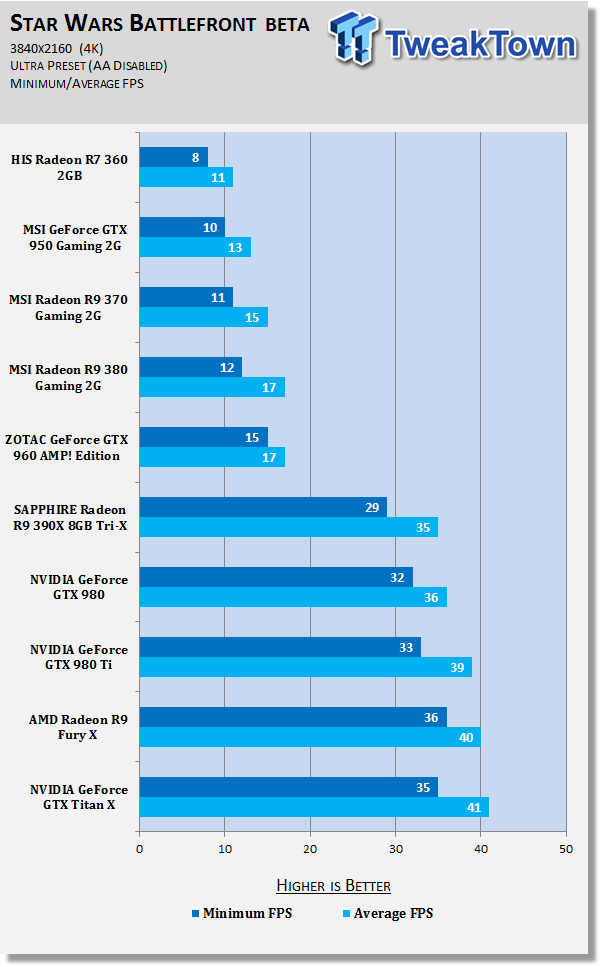 Star Wars Battlefront @ 3440x1440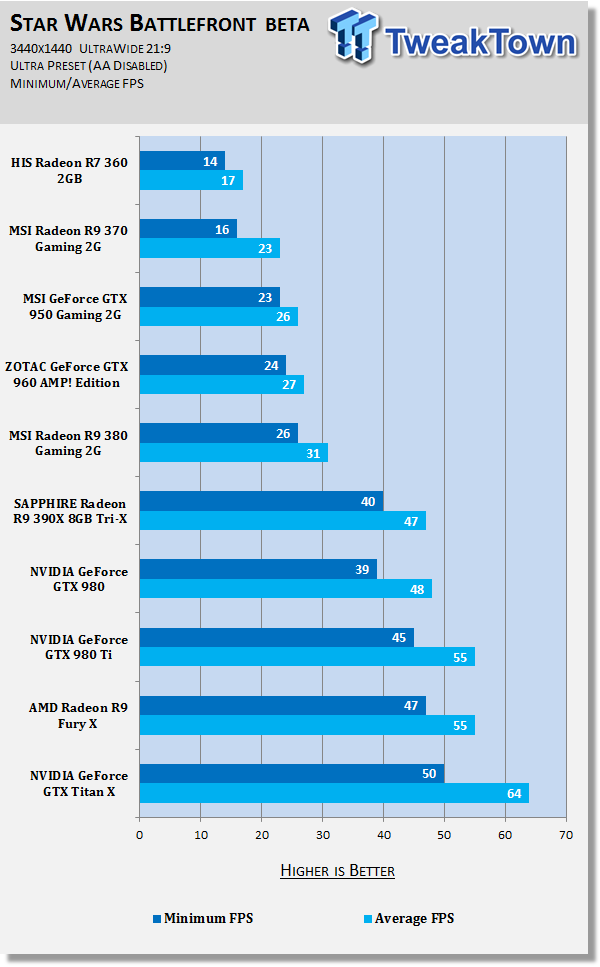 Performance Summary
Surprising Results, Young Padawan
If there's one piece of advice we have for Star Wars Battlefront, it's that turning the detail down from the Ultra preset (where we disabled AA) to Medium. This provided some serious performance benefits. We tried it on our MSI Radeon R9 380 Gaming 2G at 3440x1440, with the Ultra preset providing 26/31 FPS for minimum and average, respectively, to 50/60 FPS on the Medium preset.
What we found was that while you can tell the difference in visual quality between Ultra and Medium, the difference isn't massive. But the performance benefit is worth it, with close to 100% additional performance. The graphics don't drop by 100% when you go down to the Medium preset, so we think this is worth it on lower- and mid-range systems.
What we're looking for in our performance results is 30FPS from our lower-end cards, and 60FPS+ from our mid- and higher-end cards.
Performance at 1080p
Looking at our lower-end cards, the AMD Radeon R7 360 is capable of 34FPS average at 1080p in Star Wars Battlefront, while the closest NVIDIA card - the GTX 950 - pumps out 54FPS. Keep in mind that the R7 360 isn't the direct match, as it's $110 on Amazon while the GTX 950 is around $160.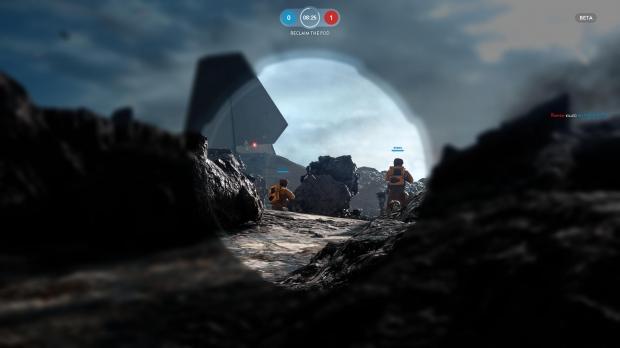 The GTX 950, GTX 960, and R9 380 are all great cards for 1080p 60FPS in Star Wars Battlefront. You could tweak the Ultra detail and drop one or two details to maintain 60FPS without a problem.
Moving up to the R9 390X, GTX 980 and above, all of these cards pump away at 60FPS+ without a problem. The GTX 980 is surprisingly good here, with the card maintaining 96FPS at 1080p while the new GM200-powered GTX 980 Ti and Titan X are above 100FPS average.
Performance at 1440p
Our lower-end and mid-range cards aren't so good at 1440p with the $110 R7 360 dropping down to a not-so-playable 23FPS average. The R9 370 on the other hand, which can be picked up for around $175, is capable of 30FPS. The GTX 950 which is priced just under the R9 370 is a little better with 32FPS average.
The R9 390X starts the 60FPS+ campaign while the rest of our cards enjoy more performance. The Radeon R9 Fury X only pushes out 3FPS more than the R9 390X, at 65FPS average. The GTX 980 beats it, which is surprising, while the GTX 980 Ti and Titan X push 73FPS and 76FPS, respectively.
Performance at 4K (3840x2160)
Here our cards apart from the higher-end parts drop right off a performance cliff, with all of our cards under the $400 mark seeing less than 20FPS at 4K.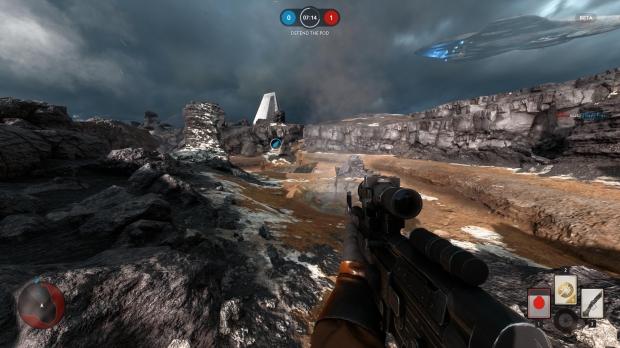 The R9 390X 8GB performs well here with 35FPS, just 1FPS behind the GTX 980. The GTX 980 Ti sees 39FPS average, which is 1FPS behind the Fury X. The Fury X is just 1FPS behind the Titan X, showing that the High Bandwidth Memory begins to scale better at higher resolutions.
Performance at UltraWide (3440x1440)
3440x1440 is so exciting for me, which is why we include the 21:9 UltraWide benchmarks in all of our GPU-related content. At 3440x1440, we see some good but not great performance from our lower-end cards, which are all under 30FPS except for the R9 380 which is 1FPS above - at 31FPS.
The R9 390X 8GB scales well here with 47FPS at 3440x1440, while the GTX 980 is 1FPS better at 48FPS average. The GTX 980 Ti and Fury X are neck-and-neck with 55FPS average each, with the Fury X beating it by 2FPS on the minimum frame rate. The Titan X, surprise surprise, takes it out with 64FPS average on our 21:9 aspect ratio resolution.
Final Thoughts
For an open beta of the game, we're not going to be pinning down EA and DICE for the performance of Star Wars Battlefront. But we have to say we're impressed. Performance at 1080p on $200 video cards is impressive, thanks to the Frostbite 3 engine being nice and scalable.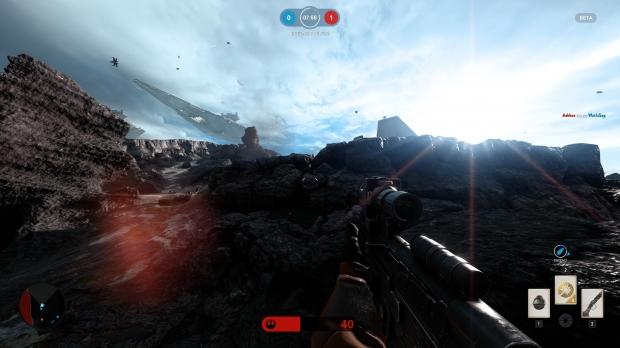 If you're running a $100-$150 card, you can drop down to the Medium preset, where you can enjoy nearly double the framerate. Even with the $250-$400 cards, you might be gaming at 1440p or 4K so dropping to the Medium preset ensures you're getting over 60FPS.
The final version of Star Wars Battlefront should offer an additional 10-20% performance thanks to the final code being more optimized. But as it stands, we're looking at a game that not only looks great, but it runs beautifully, too.
PRICING: You can find products similar to this one for sale below.

United States: Find other tech and computer products like this over at Amazon.com

United Kingdom: Find other tech and computer products like this over at Amazon.co.uk

Australia: Find other tech and computer products like this over at Amazon.com.au

Canada: Find other tech and computer products like this over at Amazon.ca

Deutschland: Finde andere Technik- und Computerprodukte wie dieses auf Amazon.de
We openly invite the companies who provide us with review samples / who are mentioned or discussed to express their opinion. If any company representative wishes to respond, we will publish the response here. Please contact us if you wish to respond.