Introduction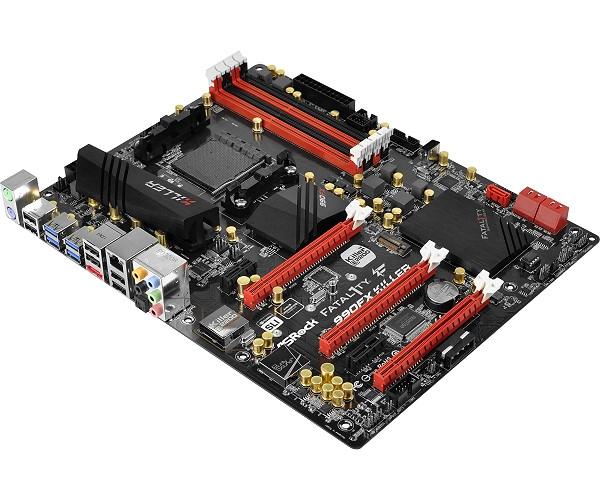 Prior to the Intel Developers Forum 2011 in San Francisco, ASRock released a motherboard with SAS storage, and a few other nice storage features. A tier one motherboard manufacturer was at the show, and released a similar motherboard. After seeing the tier one manufacturer's board, I started to size the two boards up in my head, and blurted out a few comparisons. The marketing rep for the tier one company snapped back without pause, with an almost rehearsed response: "We don't compare our products to tier three makers."
Here we are a few years later, and I have to wonder what other motherboard manufacturers are saying about ASRock. As an American, I have some predefined genetic code that leads me to favor the underdog. When it comes to underdogs, it's hard to find a more fitting definition than AMD when it comes to the CPU space. For this story, I think it's fitting that ASRock, the underdog and newcomer to the motherboard space, used an AMD platform to make the world's first desktop motherboard with native PCIe x2 m.2 storage. It was either that, or the fact that AMD has more PCIe lanes on the consumer platform to make it possible.
Today we're taking a look at the new m.2 storage on ASRock's new Fatal1ty 990FX Killer motherboard. As mentioned, this is the first desktop motherboard with native PCIe x2 m.2; formally NGFF. The socket is right on the motherboard, between two PCIe slots normally used for video card, and you don't need an adapter. The ASRock implementation uses two PCIe lanes, and that's what separates it from ASUS's ROG Series m.2 products that use a single PCIe lane. Technically, ASUS beat ASRock to the NGFF punch, but the single lane implementation works best for cache, while the two-lane solution gives you up to 10Gbps of bandwidth for storage performance that blazes past the SATA 6Gbps limits.
This article should hit the web right around the same time socket m.2 SSD information starts to ramp up from CES. We've actually covered m.2 products on more than one occasion, our first was back in June of last year, when we tested two SATA based m.2 drives pulled off of the show floor at Computex. We followed that up with a definitive guide, and then a test of the first PCIe based m.2 drive: the SanDisk A110. Today, we're once again using the SanDisk A110, and placing it inside the ASRock Fatal1ty 990FX Killer's m.2 slot to see how the combination performs.
Test Components
ASRock Fatal1ty 990FX Killer
As mentioned in the introduction, ASRock managed to release the first desktop motherboard with a PCIe 2.0 x2 m.2 socket, for high speed storage that breaks past the SATA III barrier. It would be a disservice to overlook the other great features of this product, since ASRock packed so many in an ATX design.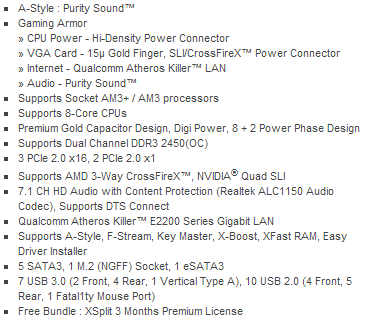 The "Killer" portion of the name refers to the Qualcomm Atheros Killer E2200 network interface that reduces network latency when gaming. If ASRock put all of the significant features in the product name, we couldn't even use it as a title for this article. Purity Sound increases the fidelity of the onboard audio system; especially in the low frequency range. The board supports AMD's Socket AM3, and AM3+ processors, including AMD's 5GHz (4.7 GHz before Turbo) FX9590 processor. Quad SLI and three-way CrossFireX are also supported.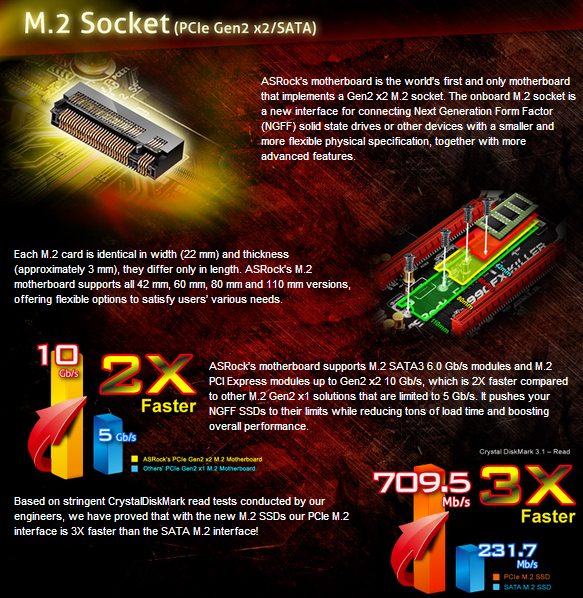 Today we are focused on the m.2 socket though, and this motherboard not only supports the full bandwidth, but it also supports up to 22x110mm drives. The SanDisk A110 is a 60mm length card, but the SATA 3.2 specifications support cards nearly twice as long for massive flash based storage devices. The ASRock board also supports 42mm and 80mm drives.
SanDisk A110 m.2 PCIe SSD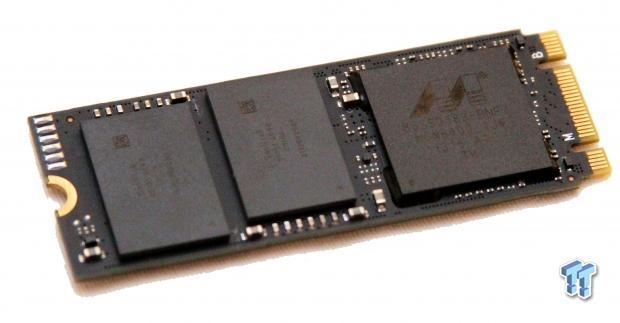 We've previewed and reviewed the SanDisk A110 in the past, and we still get excited every time we pull it out of storage. It's sad that we've had to keep it tucked away until now, but it's finally time to use this drive for personal use, now that we have a motherboard that supports its features, and still gives us dual GPU capability.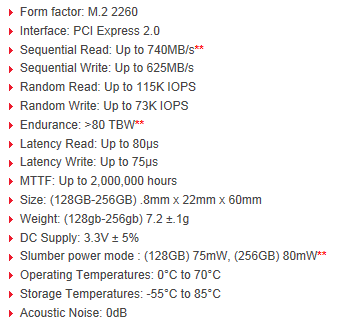 The SanDisk A110 breaks past the SATA III limitations, and provides up to 740 MB/s sequential read and 625 MB/s sequential write performance. The 4K random read performance is up to 115K IOPS. You just can't do that with SATA III; it only comes from PCI Express based storage.
At the time of writing, neither the ASRock Fatal1ty 990FX Killer, nor the SanDisk A110, were available at Newegg or any other e-tail shops we frequent. The ASRock board announcement just happened, so we should see retail availability just after CES. With products on the market, SanDisk should follow suit and release a retail A110. They should follow suit, that doesn't mean they will, but it would be nice to see these drives at Newegg, or at the very least in the channel via CDW or another outlet.
Test System Setup and ATTO Baseline Performance
Cyberpower Zeus EVO Lightning 3000SE Modified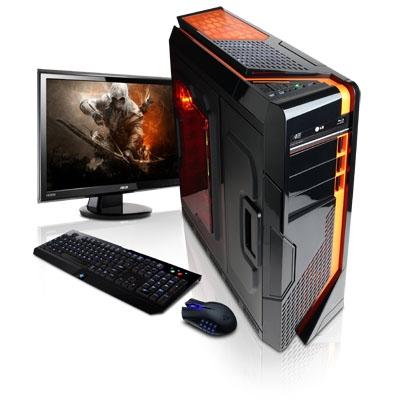 Today we're starting with the Cyberpower Zeus EVO Lightning 3000 SE that we recently reviewed. We're leaving the system intact aside from the motherboard; we replaced the GIGABYTE GA-990FXA-UD3 with the ASRock Fatal1ty 990FX Killer, and the secondary storage with the SanDisk A110 256GB.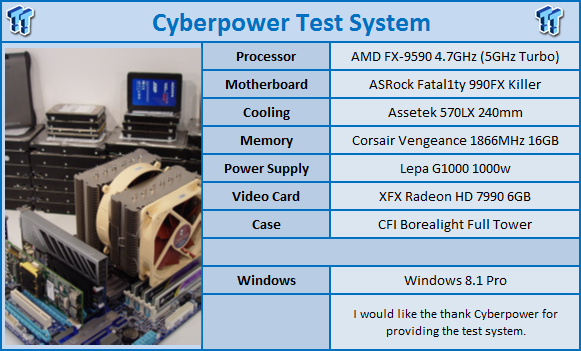 The system uses the AMD FX-9590 unlocked processor, which is AMD's fastest consumer CPU to date. Prices on these are now under $280, and they are very fast.
ATTO Baseline Performance
Version and / or Patch Used: 2.34
ATTO is a timeless benchmark used to provide manufactures with data for market storage products. It shows sequential read and write performance over a large span of block sizes.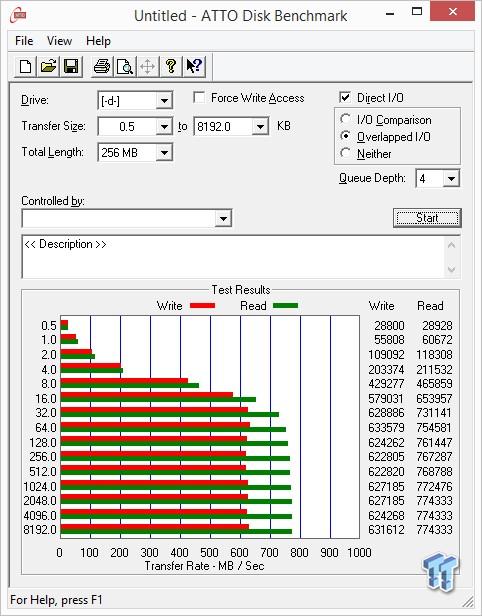 Our initial tests with ATTO delivered results higher than what SanDisk claimed on the spec sheet. Our tests show sequential reads at nearly 775 MB/s, and sequential writes just over 631 MB/s.
Benchmarks - Sequential Performance
HD Tune Pro
Version and / or Patch Used: 4.00
Developer Homepage: http://www.efdsoftware.com
Product Homepage: http://www.hdtune.com
Benchmark: Measures the performance
Info: Shows detailed information
Health: Checks the health status by using SMART
Error Scan: Scans the surface for errors
Temperature Display
HD Tune Pro gives us accurate read, write, and access time results. For the last couple of years, it has gained popularity amongst reviewers. It is now considered a must-have application for storage device testing.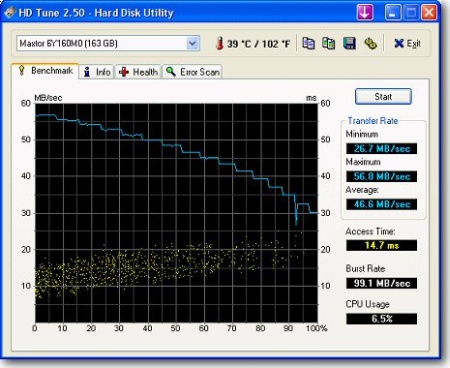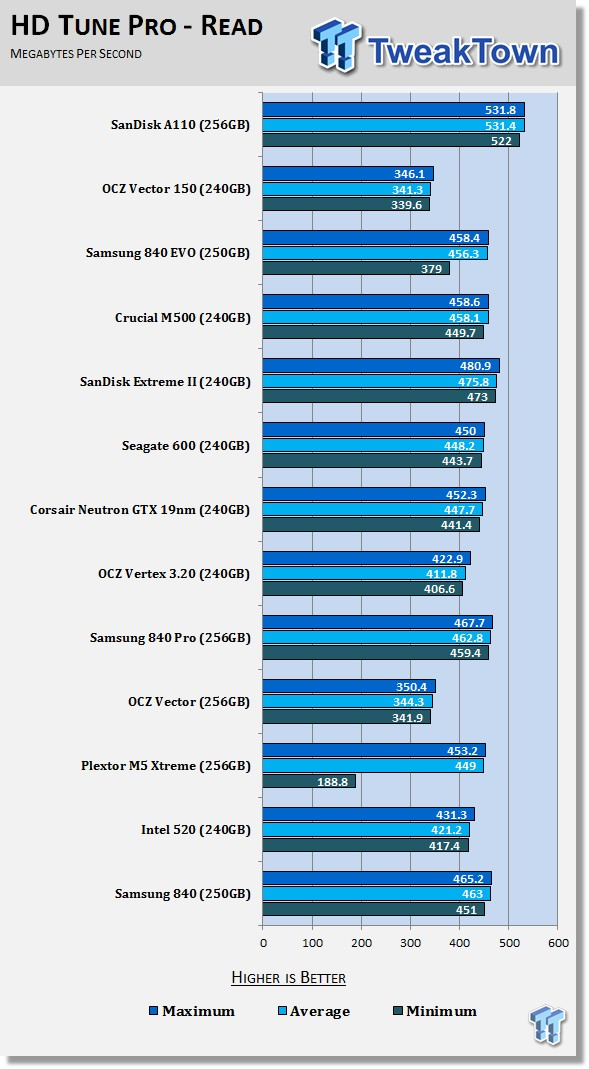 Here, we see where a majority of the higher performance comes from, in sequential performance.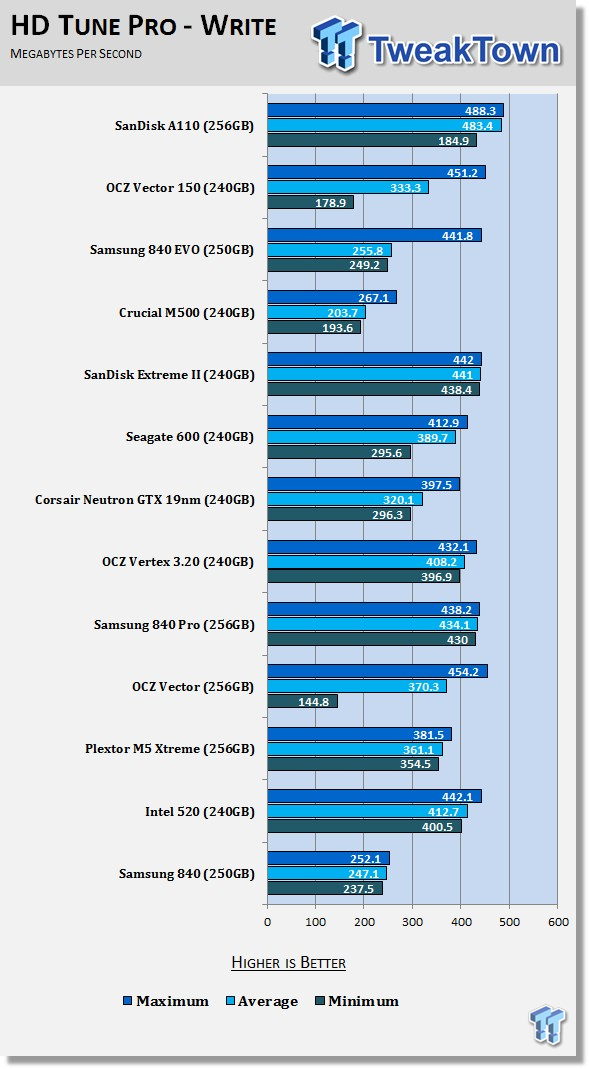 Both the sequential read and write performance are higher than what SATA has to offer.
HD Tach - Sequential Write Performance after Random Writes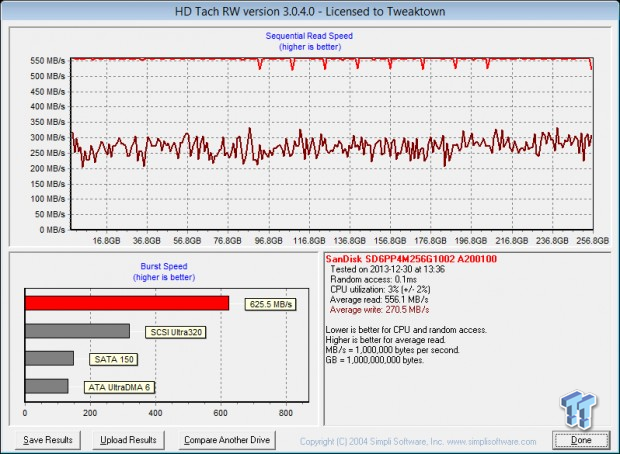 After a reasonable amount of random writes to the drive, the write performance still drops like SATA drives, but the read performance holds strong.
Benchmarks - AIDA64 Random Access Time
AIDA64 Random Access Time
Version and / or Patch Used: 1.60
Developer Homepage: http://www.aida64.com
Product Homepage: http://www.aida64.com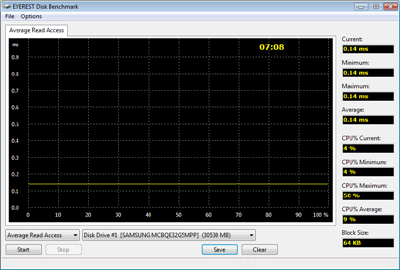 AIDA64 offers several different benchmarks for testing and optimizing your system, or network. The Random Access test is one of very few (if not the only), that will measure hard drives random access times in hundredths of milliseconds, as oppose to tens of milliseconds.
If a drives has only one or two tests displayed in the write test, it means that they have failed the test, and their Maximum and possibly their Average Scores were very high after the cache fills. This usually happens only with controllers manufactured by Jmicron.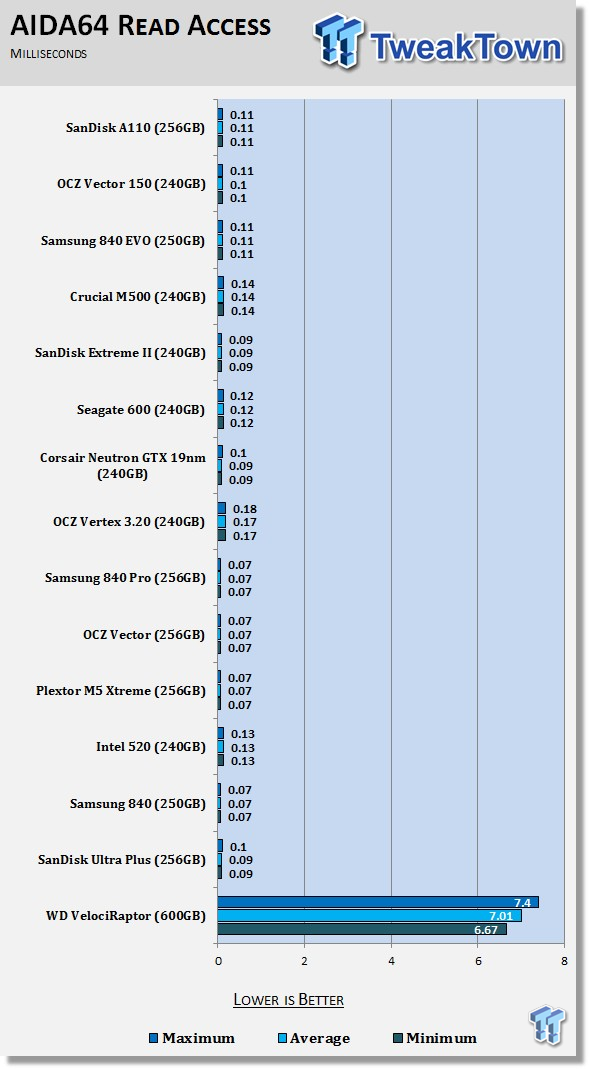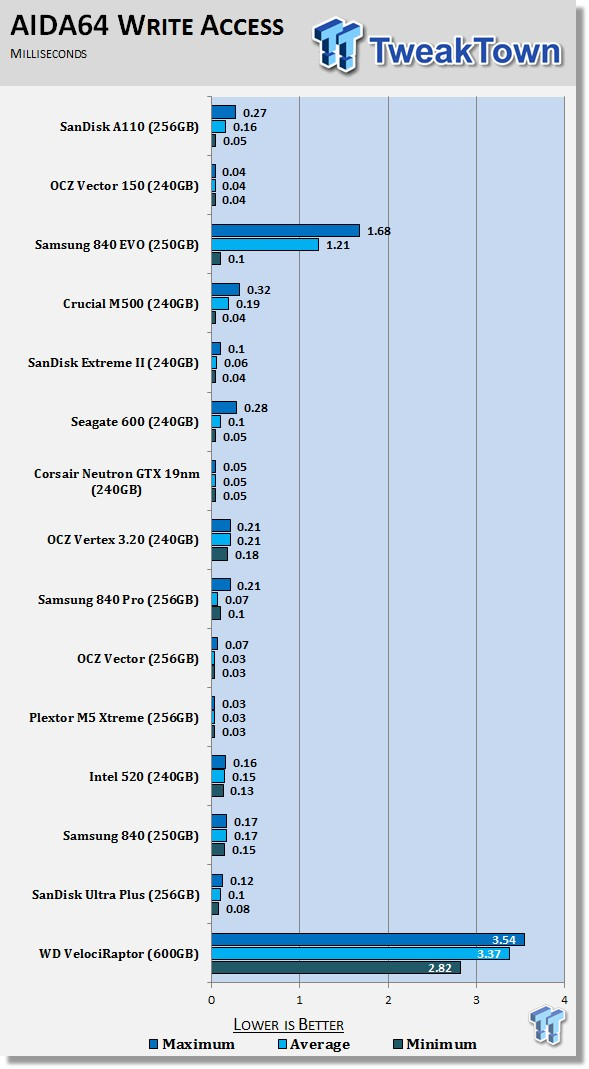 Latency is the one area where I expected to see performance increases, but after testing both Intel PCIe, and AMD PCIe, it looks like we won't see a major latency decrease. We'll have to see what happens when m.2 SSDs move to PCIe 3.0 with 128/130b encoding.
Benchmarks - Anvil Storage Utilities
Anvil Storage Utilities
Version and / or Patch Used: RC6
So what is Anvil Storage Utilities? First of all, it's a storage benchmark for SSDs and HDDs where you can check and monitor your performance. The Standard Storage Benchmark performs a series of tests, you can run a full test, or just the read or the write test, or you can run a single test (i.e. 4K DQ16).
Anvil Storage Utilities is not officially available yet, but we've been playing with the beta for several months now. The author, Anvil, has been steadily updating the software on several international forums, and is adding new features every couple of months.
The software is used several different ways, and to show different aspects for each drive. We've chosen to use this software to show the performance of a drive with two different data sets. The first is with compressible data, and the second data set is incompressible data. Several users have requested this data in our SSD reviews.
0-Fill Compressible Data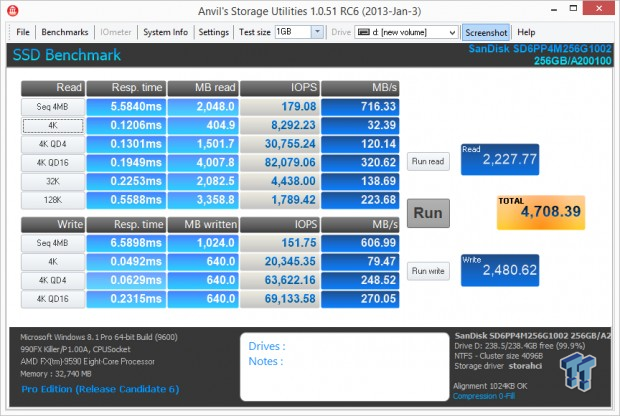 Incompressible Data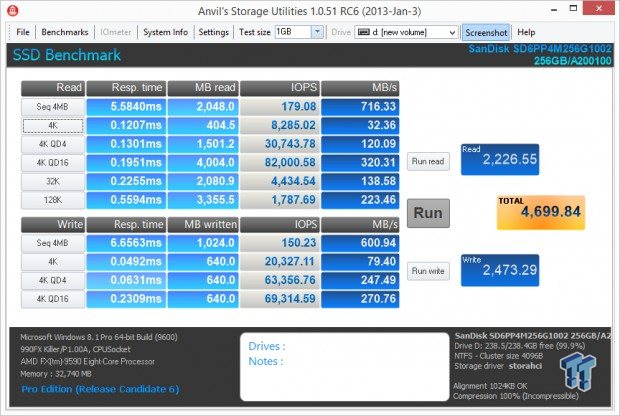 The Marvell controller on the SanDisk A110 doesn't compress compressible data, so the performance is the same with both types of data.
Read IOPS through Queue Depth Scale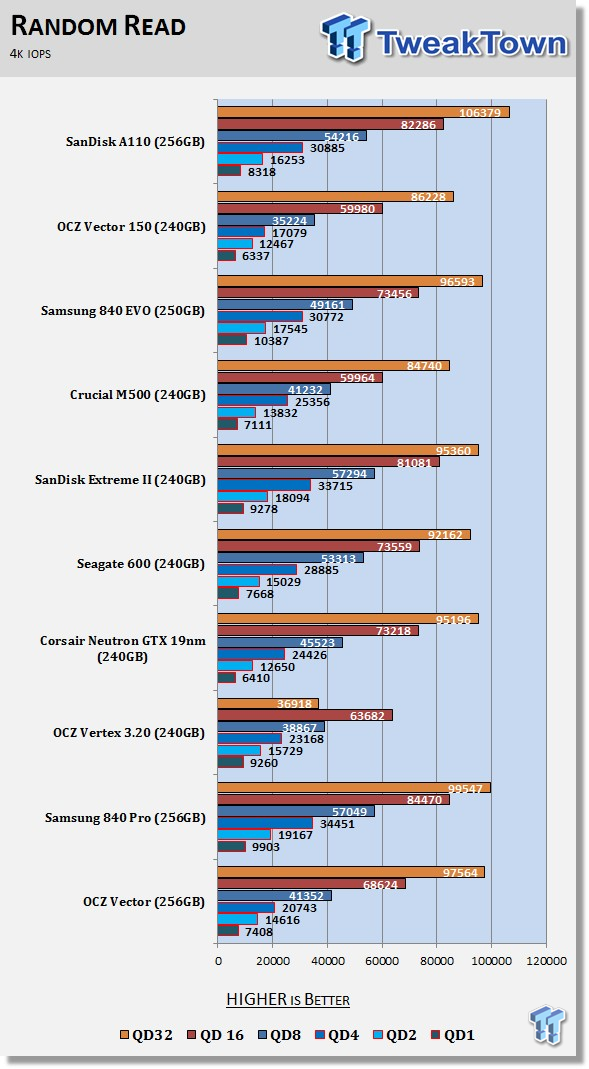 Low queue depth IOPS performance is on par with SATA drives, but the additional bandwidth will allow controller manufacturers to increase the channels from the controller to the flash. That will allow SSD manufacturers to reach the maximum performance available to PCIe 2.0 x2.
On the other end of the scale, current flash and controllers allow high queue depth performance to push past 100K, which is the ceiling for SATA III.
Scaling Write IOPS through Queue Scale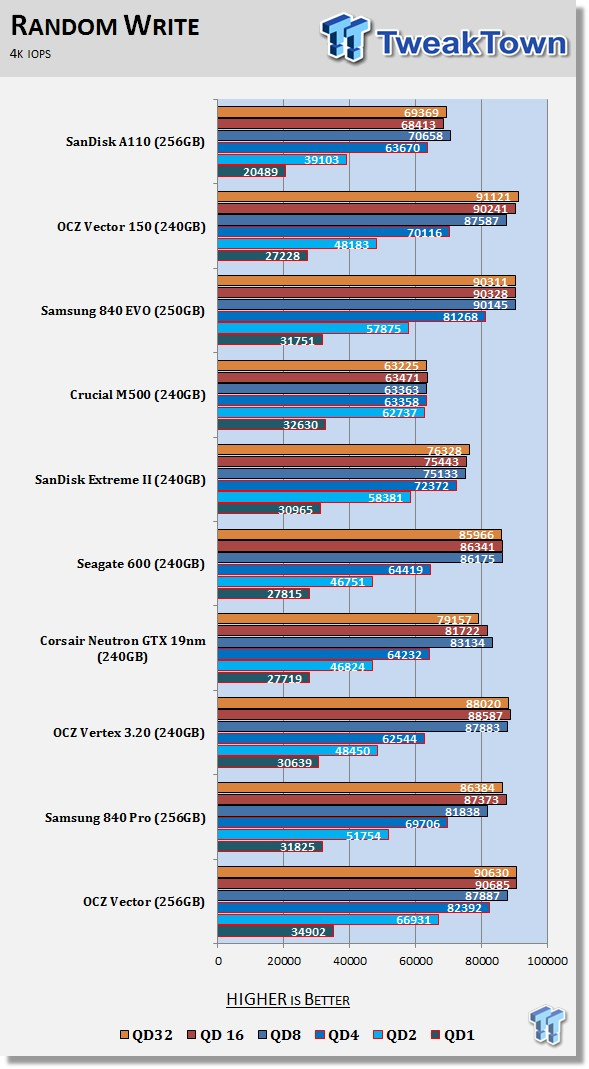 The SanDisk A110 peaks at 70K write IOPS, and that comes at QD8. Performance dips after that.
Benchmarks - CrystalDiskMark
CrystalDiskMark
Version and / or Patch Used: 3.0 Technical Preview
Developer Homepage: http://crystalmark.info
Product Homepage: http://crystalmark.info/software/CrystalDiskMark/index-e.html
Download here: http://crystaldew.info/category/software/crystaldiskmark
CrystalDiskMark is a disk benchmark software that allows us to benchmark 4K, and 4K queue depths with accuracy.
Key Features:
* Sequential reads/writes
* Random 4KB/512KB reads/writes
* Text copy
* Change dialog design
* internationalization (i18n)
Note: Crystal Disk Mark 3.0 Technical Preview was used for these tests, since it offers the ability to measure native command queuing at 4 and 32.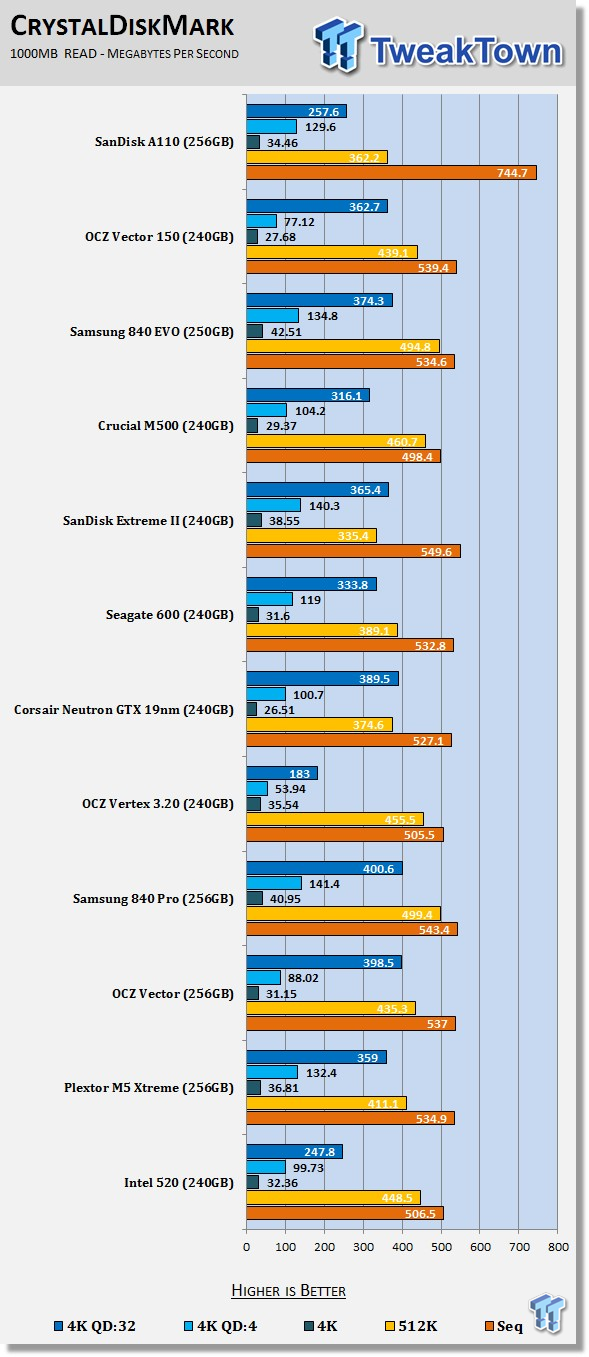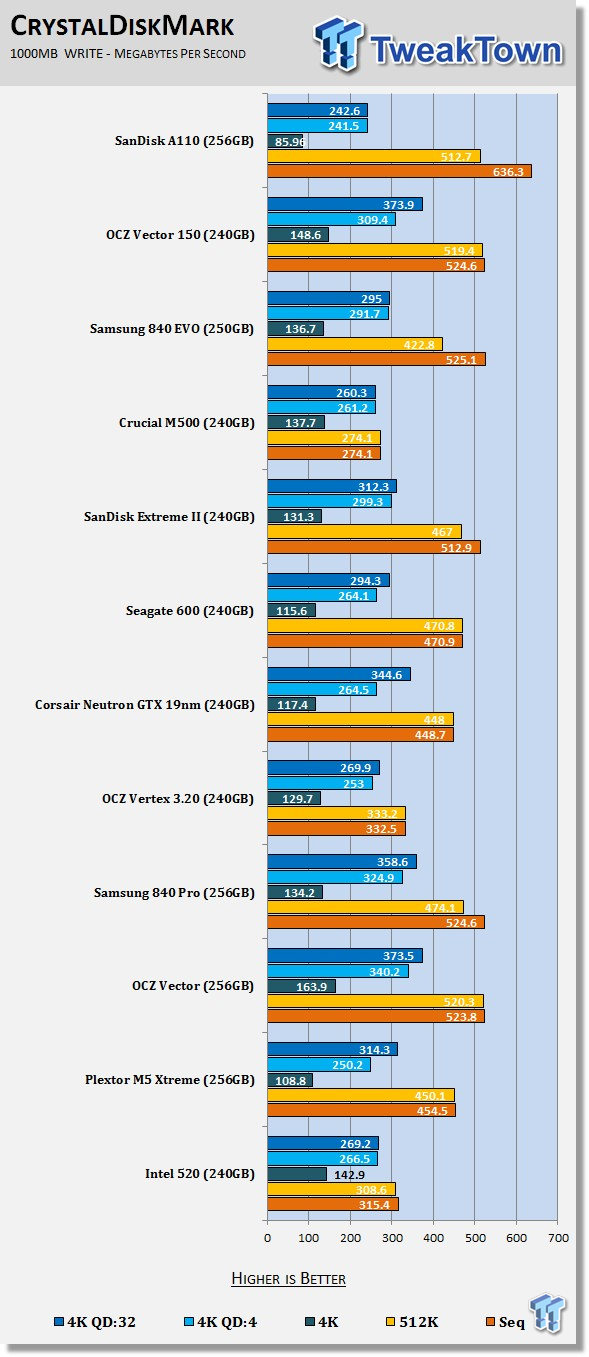 In CDM, we see the massive sequential read and write performance advantage that PCIe based storage has to offer.
Benchmarks - PCMark Vantage Hard Disk Tests
PCMark Vantage - Hard Disk Tests
Version and / or Patch Used: 1.0.0
Developer Homepage: http://www.futuremark.com
Product Homepage: http://www.futuremark.com/products/pcmarkvantage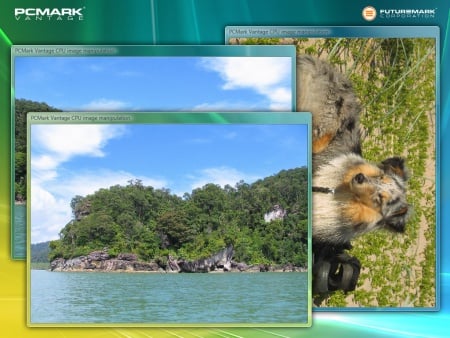 PCMark Vantage is the first objective hardware performance benchmark for PCs running 32, and 64 bit versions of Microsoft Windows Vista. PCMark Vantage is perfectly suited for benchmarking any type of Microsoft Windows Vista PC, from multimedia home entertainment systems and laptops, to dedicated workstations and high-end gaming rigs. Regardless of whether the benchmarker is an artist, or an IT Professional, PCMark Vantage shows the user where their system soars, or falls flat, and how to get the most performance possible out of their hardware. PCMark Vantage is easy enough for even the most casual enthusiast to use, yet supports in-depth, professional industry grade testing.
FutureMark has developed a good set of hard disk tests for their PCMark Vantage Suite. Windows users can count on Vantage to show them how a drive will perform in normal day to day usage scenarios. For most users, these are the tests that matter since many of the old hat ways to measure performance have become ineffective to measure true Windows performance.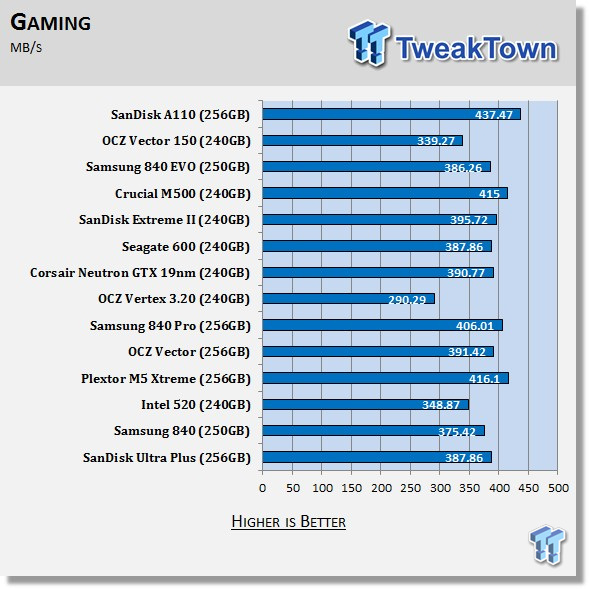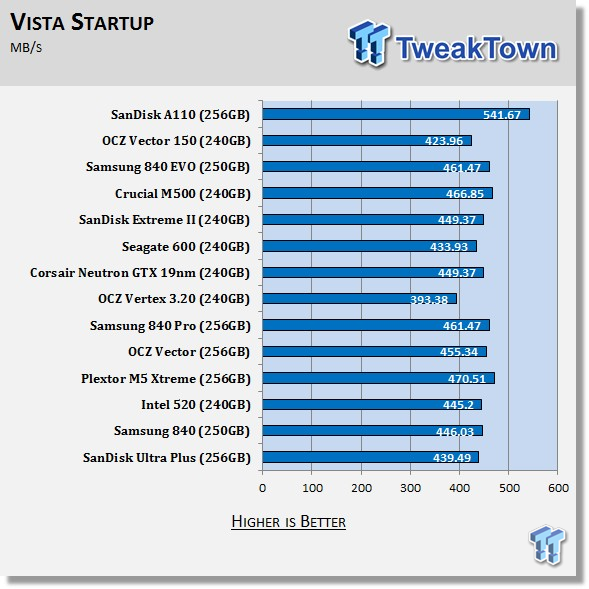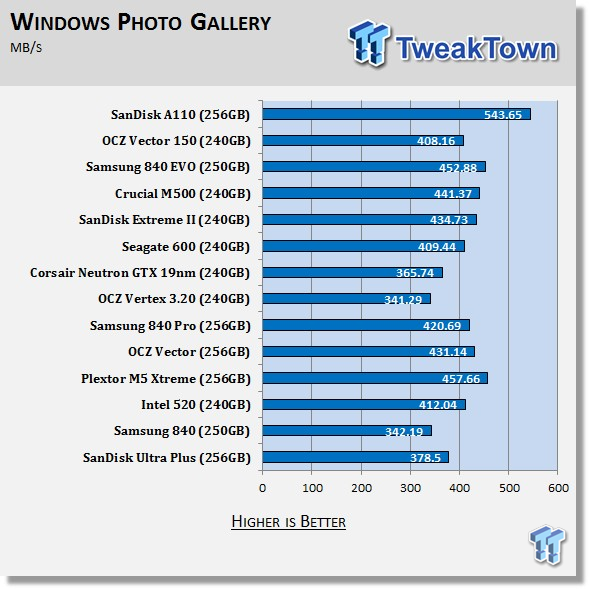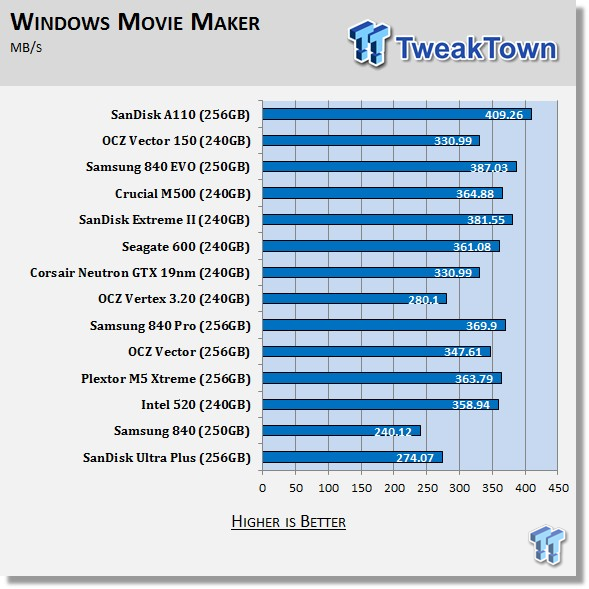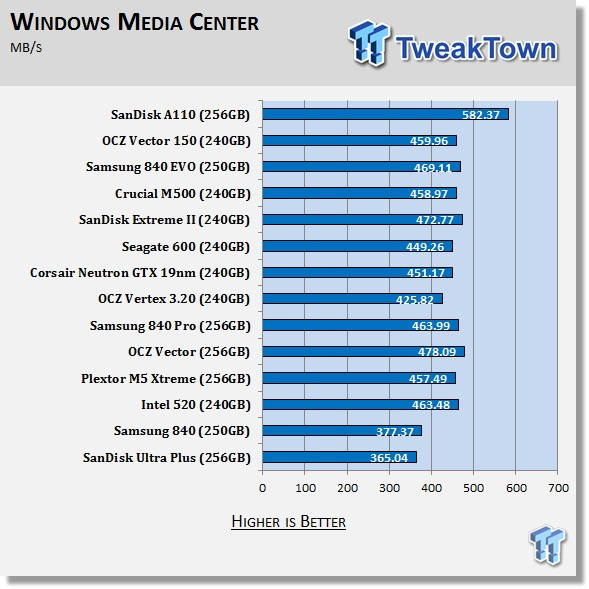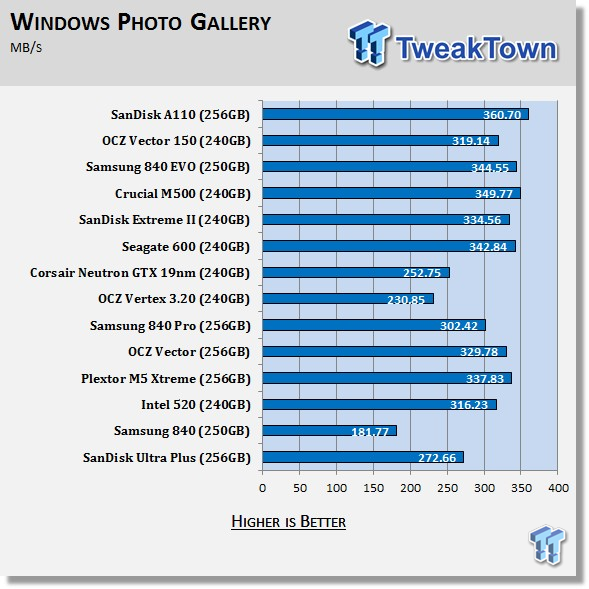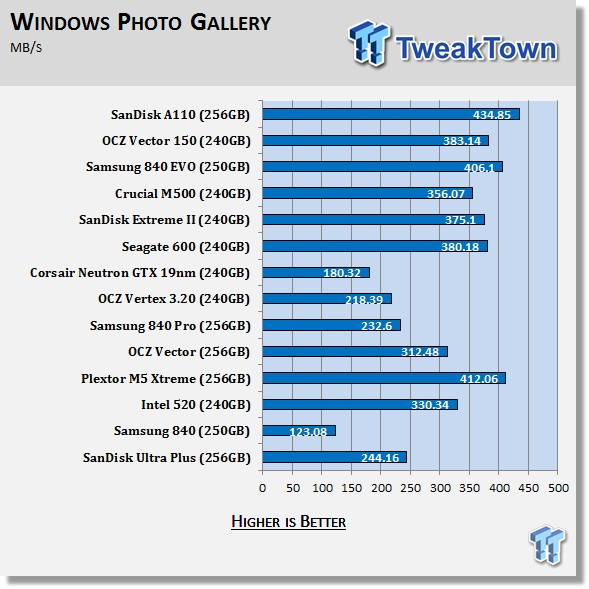 In our daily use tests, the SanDisk A110 PCIe based m.2 dominates the charts. This shows how PCIe based storage will have an immediate impact on daily use computing.
Benchmarks - PCMark 8 Hard Disk Tests
Version and / or Patch Used: 1.0.0
Developer Homepage: http://www.futuremark.com
Product Homepage: http://www.futuremark.com/products/pcmark8
Note: PCMark 8 Storage benchmark is ideal for testing the performance of SSDs, HDDs, and hybrid drives. PCMark 8 Storage highlights real-world performance differences between storage devices by using traces recorded from Adobe Creative Suite, Microsoft Office, and a selection of popular games.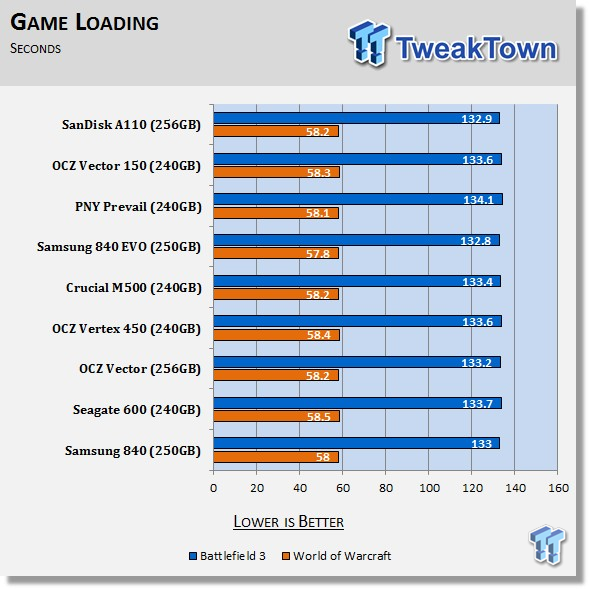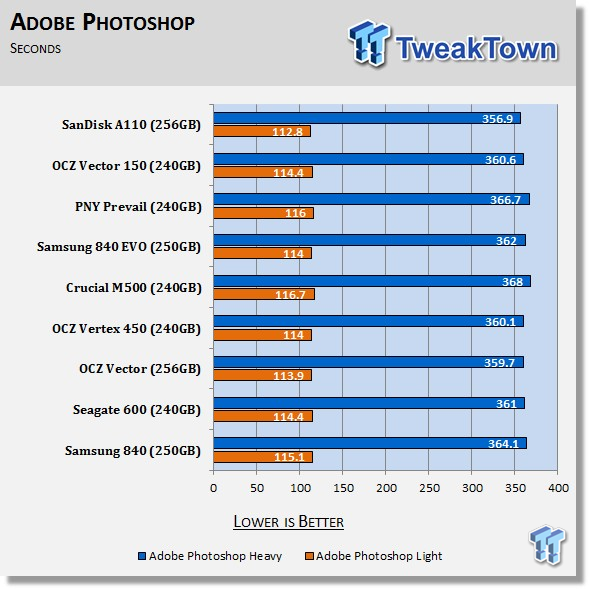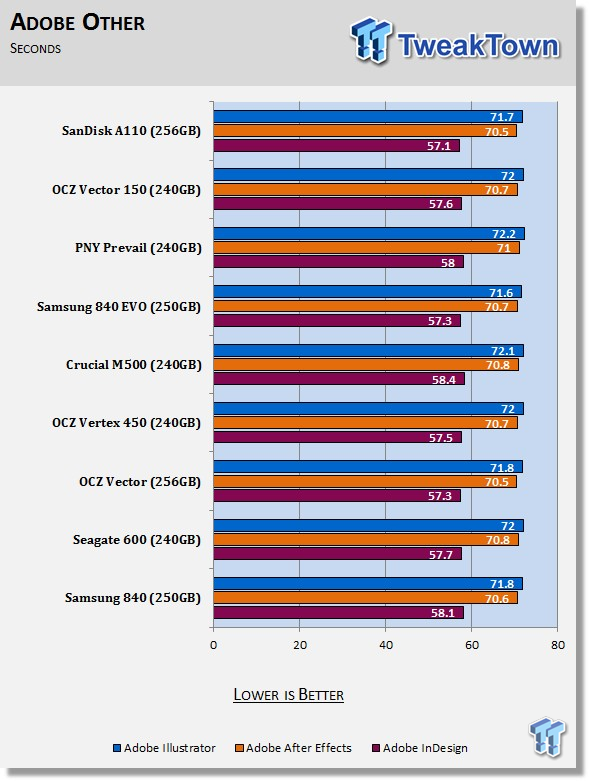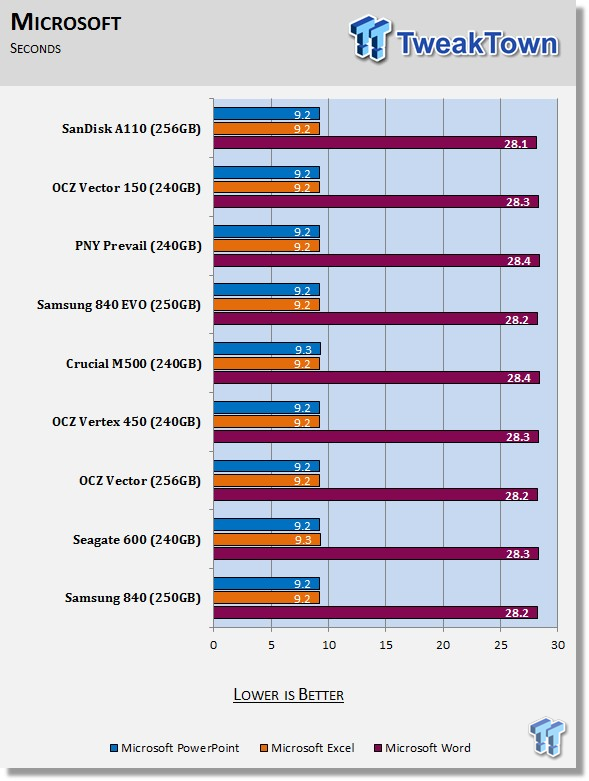 PCMark 8 runs similar tests to Vantage, but in modern form with modern programs. The test also gives results in seconds, and not megabytes per second.
PCMark 8 Storage Bandwidth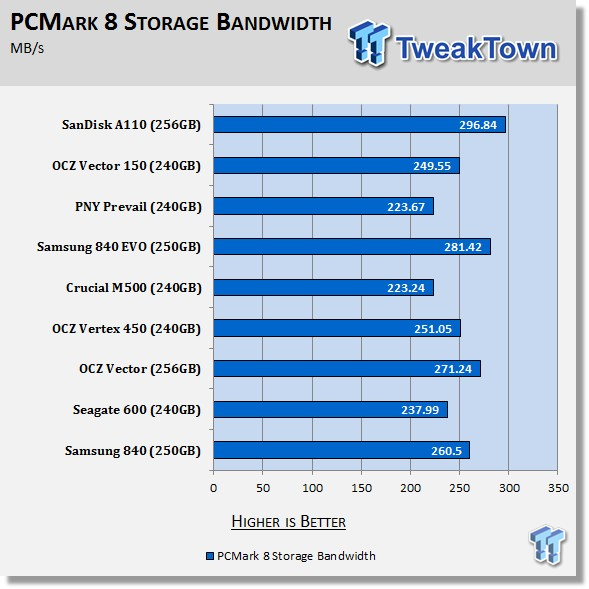 PCM8 also shows an overall summary of the performance in all tests. Not surprisingly, the SanDisk A110 manages to outperform the other drives on the chart.
Final Thoughts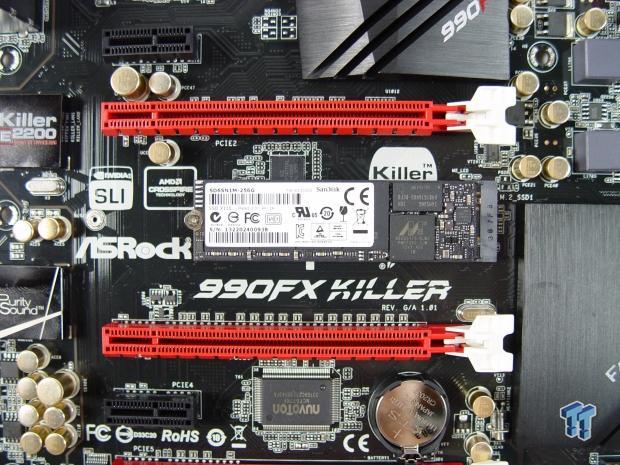 We've reviewed the SanDisk A110 previously, and Shawn should have a Fatal1ty 990FX Killer on the test bench soon. Today, we really just wanted to see what the Next Generation Form Factor has to offer in final retail form. I'm definitely not disappointed, and I can't say I'm surprised. Then again, I've ran the SanDisk A110 in a number of PCIe adapters already, and the performance is pretty close to what we've published before.
It's not a big secret that AMD chipsets lag behind Intel's a bit when it comes to SATA III performance. Moving to PCIe based storage evens the playing field, and improves AMD's storage stance. It's difficult to screw up PCI Express, but this is one area where AMD does have an advantage.
AMD offers more PCIe lanes for system builders to work with over Intel's consumer chipsets, but they are only PCIe 2.0 instead of PCIe 3.0. When it comes to the storage side, PCIe 3.0 and PCIe 2.0 are nearly irrelevant because the first m.2 and SATA Express drives are PCIe 2.0.
ASRock not only managed to kick out the first desktop motherboard with full m.2 support, but they also did it in style. The Fatal1ty 990FX Killer packs a lot of really nice features. I think a lot of hardcore enthusiasts will pass on the board since it's AMD based, but for those willing to take a chance, the FX-9590 is a powerful CPU as long as you can handle the high TDP.