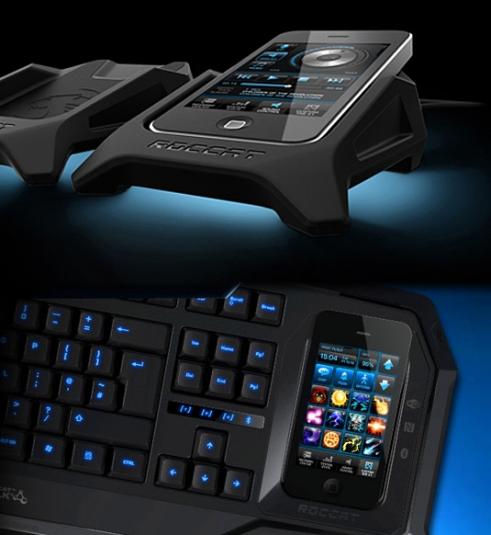 ROCCAT has been leading the way with PC peripheral innovation for over half a decade now, and some of the latest products to come out of the company are nothing less than amazing. Earlier this year, I switched my entire gaming peripheral setup to ROCCAT gear, and it has honestly made me a better gamer.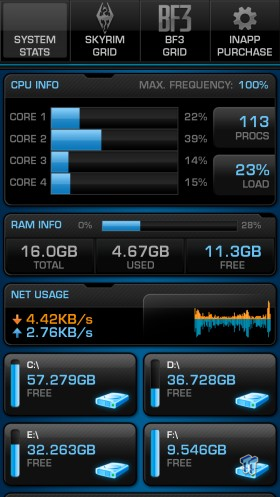 When ROCCAT first announced its Power-Grid app, I became quite excited, and could not wait to get my hands on it to see if it really could live up to the hype. About two months ago, ROCCAT released Power-Grid into an open beta test, and I instantly downloaded it to both my PC, and HTC One smartphone.
In case you are not familiar with ROCCAT's Power-Grid, it is a combination of software that runs on your PC, an app for your smartphone, and it integrates with ROCCAT Talk compatible devices.
Power-Grid basically turns your smartphone into an immersive, fully customizable, remote control for your PC. This allows the user to take full control of their gaming experience, and adjust system settings, check hardware specs, and even execute in-game macros from their smartphone's touchscreen. Power-Grid can be customized by the user to display only the information relevant to them, and those users can also visit the Power-Grid website to upload, and download, custom made "Grids" that other players have created.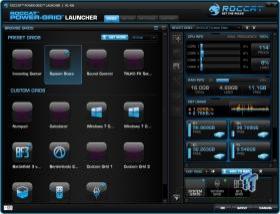 ROCCAT's Power-Grid uses Wi-Fi to connect the smartphone to the PC, meaning that commands from the phone are executed on the PC in real-time. Information from games and software can be displayed on the smartphone too. This means that it can also be used as an effective second screen. In order to empower the full potential, ROCCAT provides a SDK for Power-Grid.
Let's jump right into the PC side of the app, known as the Power-Grid Launcher, and take a look at its features. Once installed, the first screen you will see is the "Grid" browser screen that lets you view and select pre-built grids, and user created custom grids. This screen will display the selected grid on the right, and show you exactly how it will look on your mobile device.
Adding one of these new grids to the app on your smartphone is quick and simple too. All you need to do is select the grid of choice, and then click the "Add to Bar" button near the bottom, on the right side of the screen. Once you see the grid loaded onto slider below, you simply need to click apply, and it will be updated in real-time on your smartphone.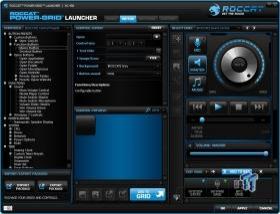 The next screen we come across features the grid editor, a handy tool that users can use to create very powerful custom grids to control their PC remotely from anywhere in their home. You can create buttons to open applications on your pc, or even build a system information screen that details all of your PCs health stats. Users can also customize grids with things like TeamSpeak controls, timers, stopwatches, custom macros for high-level control, and even open websites.
Once a custom grid has been created, users can give it a custom title, icon image, and even sound. Users can then add the custom grid to their mobile device in the same way I explained earlier. Users can also save the custom grid, and even upload it to ROCCAT's Power-Grid website, for others to download and use.
One of the coolest features of Power-Grid is its ability to interact with several web services, including email, Facebook, RSS feeds, Skype, TeamSpeak, and Twitter. Users can connect Power-Grid with these services, and then use it to post status updates, change settings, and even keep up with the latest happenings in the gaming community via RSS. While smartphones can already do this, and more, this allows you to keep up with everything without ever having to leave the app.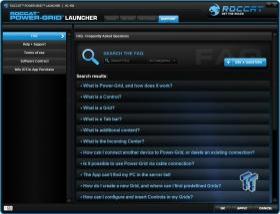 Finally, we have the Support tab, which is designed to lend you a helping hand when you are unsure how a specific part of Power-Grid works. Here, you will find a FAQ section, Help and Support links, ROCCAT's Terms of Service, and the Software Contract. Additionally, information and disclaimers about iOS's in app purchase policies can also be found here.
Before I move on, I wanted to take a moment to cover custom grid creation a little more. In the image below, you can see that I have created a custom grid that displays what I feel are the most important information sources needed during my gaming sessions. I have added a network usage meter, a stopwatch, C-Drive monitor, Pizza timer (a gamer has to eat!), RAM Usage Meter, and a CPU Usage meter.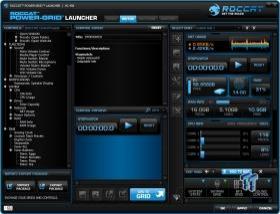 While some of these things may seem trivial to the casual gamer, I am sure that everyone can see why they would be useful during prolonged gaming sessions that last several hours. Some of the tiles are interactive, such as the stopwatch and pizza timer, and allow me to turn them on and off with nothing more than a simple tap of the finger. Granted, this is a very basic setup, and only includes stock features, but more interesting grids have been built that you can download and use for yourself. To download these, just visit ROCCAT's Power-Grid website.
Now that we have the PC side of things covered, let's move on to the mobile side of things. The app is very light weight, and I do not notice any performance issues with it running on my HTC One. I do notice that battery life suffers some, but that is expected, as the device needs to maintain constant connectivity with your wireless network.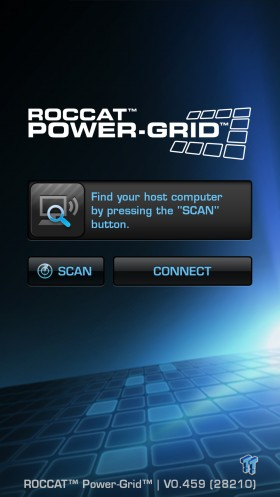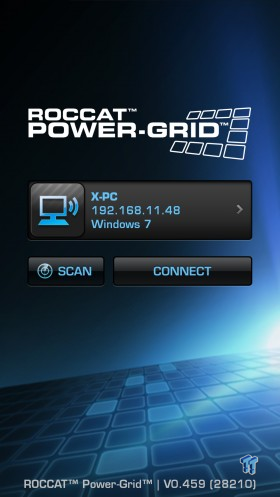 When launching the app, users are greeted with a simple connect screen. If you have the ROCCAT Power-Grid launcher running on your PC, and your mobile device is connected to your wireless network, all you need to do is click scan, and select the desired PC when it pops up. Clicking connect will take you to your default grid screen, where you can begin monitoring your PC, or controlling everything from volume, to specific parts of games, such as menus or macros.
The default screen for the app is the pre-built System Stats grid. To change default apps, one needs to simply place the desired grid in the first position on the grid slider in the Launcher. The System Stats Grid is quite handy though, and gives you all of the need-to-know information about your pc, right on your smartphone or tablet screen.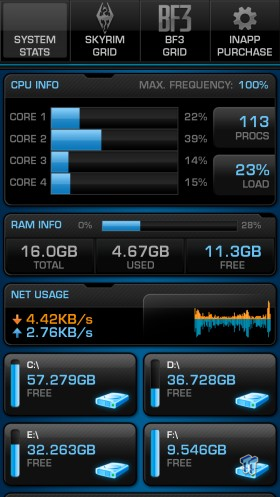 Additionally, other Grids are available for download that let you control specific aspects of video games. Here, you can see that I have the Skyrim grid loaded, and can click any of the tiles to quickly bring up their respective actions on my PC, in-game. For example, if I clicked the Map tile, ROCCAT Power-Grid would then load the map onto my screen, in-game. I can set other useful features such as Always Run, or Toggle Move, and change my weapon with a simple tap on my phones screen.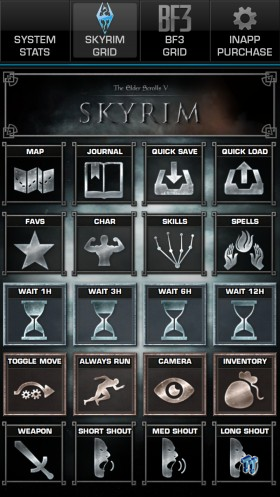 Another example would be the Battlefield 3 grid. With it, I can easily and quickly view several parameters of the match I am playing in. I can use Power-Grid to zoom in on the Mini Map, show scores, turn the chat overlay on and off, or even select which players I broadcast my chat with.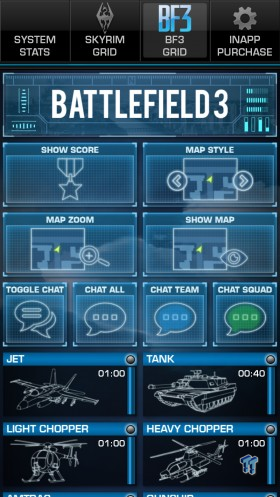 As I mentioned earlier, ROCCAT hosts a dedicated mini-site for the Power-Grid, and users can visit this site to download free grids, as well as purchase premium grids that have been officially created for Power-Grid by professional developers. ROCCAT has limited free users to just two custom grid slots, and additional grid slots can be purchased at the price of $1.22 each through Google Play, or the Apple App Store. A maximum of ten grids appears to be the limit.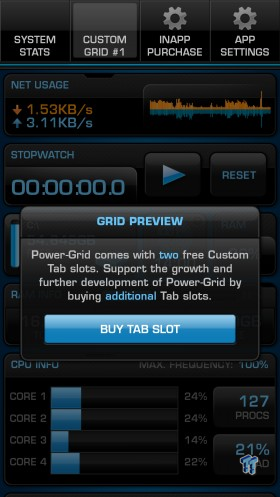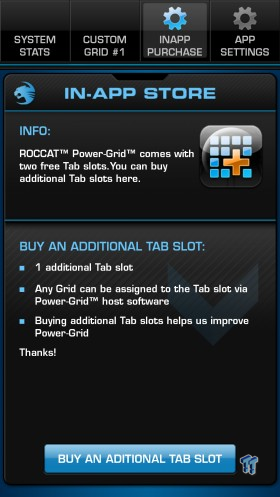 When you visit the ROCCAT Power-Grid website, you will find a wealth of free apps that support just about every popular game on the market today. Everything is covered, from Starcraft to Borderlands, to EVE Online. League of Legends, Guild Wars 2, Dota 2, and dozens more are featured for free. There are even grids to control web services, such as Spotify, Pandora, Steam, and more. Grids for Photoshop, Office, VLC, and just about every other popular software suite, are available for free as well.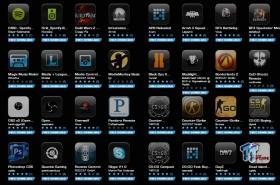 ROCCAT is developing a pair of devices that will seamlessly integrate Power-Grid into your everyday lifestyle; including a gaming keyboard known as Project Phobo. The keyboard will allow users to dock their smartphone right on the keyboard, and access all of its power right at their fingertips. Project Apuri 2.0 is a stand-alone USB dock for your smartphone that will easily integrate into Power-Grid, and allow users to properly dock their phone for Power-Grid use, while charging the device as well.
Over the last month, I have spent many hours including ROCCAT Power-Grid into my daily workflow, as well as my gaming sessions. The ability to quickly access features in Skyrim, makes the game much more efficient, and allows me to get more accomplished in my limited sessions. Power-Grid comes in quite handy when setting macros for programs such as Photoshop, and Excel. Since my initial download of the app, there have been many custom grids added to the website, and I have yet to try most of them. This is simply from a lack of free time for gaming on my part. I have used the system monitor grid almost daily though, and have actually grown to rely on it for system information.
The only issue that I have yet to find with Power-Grid, is the fact that it does speed up the battery consumption on my HTC One. It appears to shorten its charge life by a few hours if I leave it connected all day. This is not an issue most times though, as many users will only turn it on only when it is needed. Overall, I feel that the ROCCAT Power-Grid is the future of gaming peripherals, and something that we will see more of in the near future. With games like Battlefield 4 bringing mobile devices directly into the fight, it only makes sense that companies begin to develop software for mobile devices that integrate their keyboards, mice, and docking stations with the gaming experience.