Introduction and Package
Introduction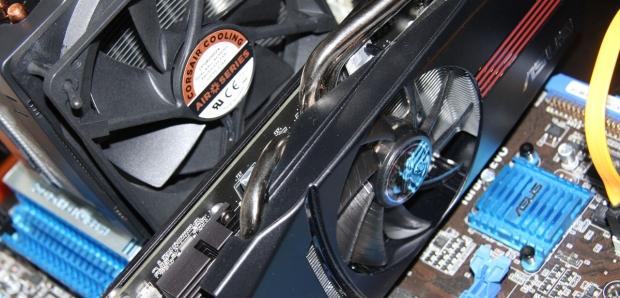 At the start of the month we built a PC on a $599ish US budget and showed you the kind of performance it could offer in our
$599 Gaming PC Built and Tested
article. It all started when the NVIDIA GTX 550 Ti press kit said that the GTX 550 Ti was the perfect card for a $599 gaming PC.
After the article went live, though, one of our fellow readers and
TweakTown Facebook
followers said we should do it again, but this time based on an AMD system. We thought that was a great idea and we spoke to both AMD and ASUS about getting some parts together to see within the same budget, what could they offer?
What we wanted to do was keep as many items as we could identical between the systems and only change the main core components from an Intel / NVIDIA setup to an AMD one. So what that meant was we wanted to keep the Corsair CX500 PSU, Western Digital 1TB HDD, Kingston HyperX Grey 4GB kit and Corsair A70 cooler.
What we wanted to replace was the ASUS P8P67 Pro Motherboard, Intel Core i3 2100 CPU and ASUS GTX 550 Ti DirectCU II which was what ultimately started all this. So with those three items out, what did we get instead? Well, that's exactly what we're about to find out.
A Closer look at the $599 AMD PC
Before we get into the components we swapped out from our other $599 PC, let's just have a quick look at what we're keeping. For the power supply we'll be again using the trusty CX500 from Corsair. Corsair has just replaced the CX500, though, with a new version, and that can now be nabbed for a
really low $39.99 US after rebate
at Newegg.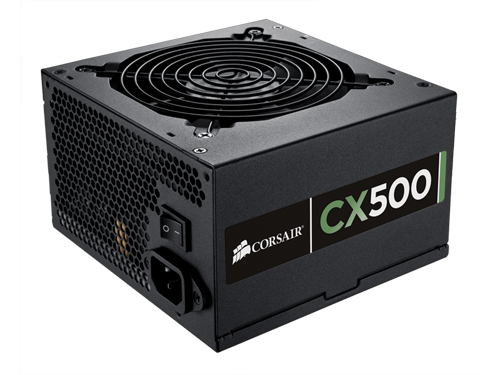 As we mentioned in the intro, we'll also again be using the Western Digital 1TB Green drive alongside our 4GB Kit of Kingston HyperX Grey Series. The Western Digital 1TB Green comes in at a healthy $44.99 US while the RAM carries a price tag of $49.99 US.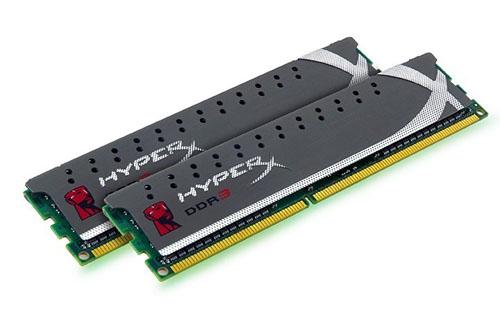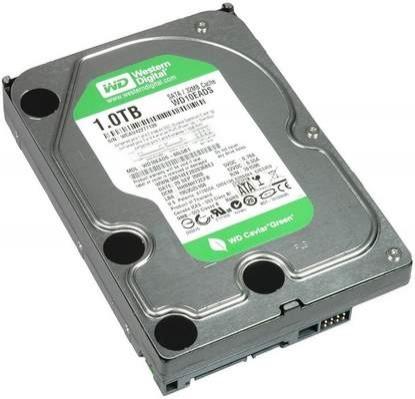 While you could of course use the stock cooler that comes with our CPU of choice, we'll be throwing the same Corsair A70 cooler into the mix today. We've been using the Corsair H70 for a while now and it's a great unit. To be honest, I didn't think they'd be able to do a lot in the air cooling market, but the A70 cooler is a great unit. It's got an extremely strong heatpipe setup and a great dual 120mm fan setup.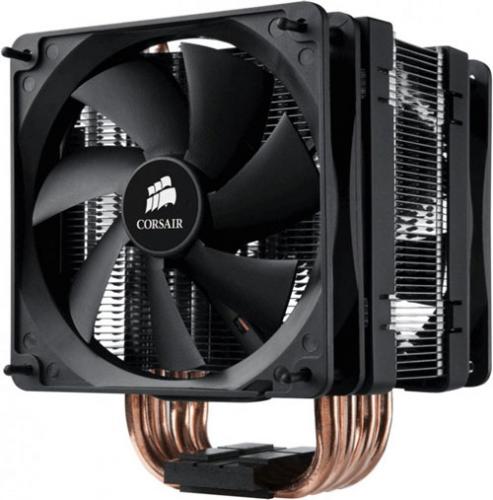 Without the cooler, those components come in at $134.97 US. Our original $599 PC came in at $636 without the A70, so you can see we've still got a fair bit of money to splash out when it comes to the CPU, Motherboard and Video Card. Those three components are of course the most expensive. Anyway, with the help of AMD and ASUS, let's see what we ended up with.
I don't proclaim myself as any kind of guru when it comes to AMD motherboards. As I've just taken over the motherboard section at TweakTown, my understanding of what's going on with the AMD segment is growing. With around $500 left in the budget, we found the board that slotted in perfectly to our $599 AMD PC to be the ASUS M4A89TD Pro.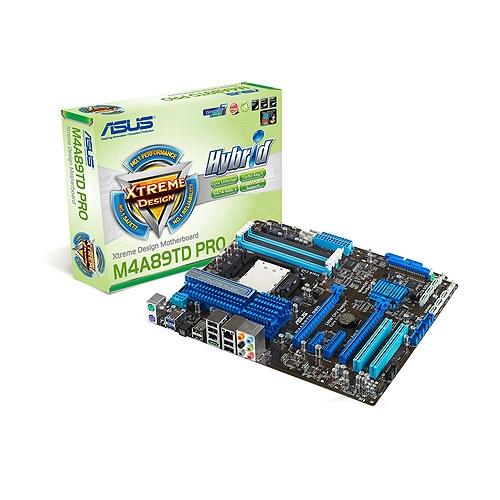 I've actually used this board before. When G.Skill released their Flare series memory specifically for the AMD platform, the board we were using at the time had trouble overclocking the RAM. With the ASUS M4A89TD being on the list of approved boards, we got ASUS to hook us up with one and it was fantastic, getting us some strong performance from the memory we had.
Priced at $174.99 US
, it's a cheaper option than the P8P67 Pro we used in our original $599 PC article. It meant that we'd have a little more wiggle room when it came to both the CPU and video card.
Next on the shopping list was a CPU. Priced at $139.99 US, $15 more than the i3 2100 we looked at, the Phenom II X4 965 hit the spot. It offers a higher out of the box clock speed than the i3 2100 and should yield stronger overclocking potential.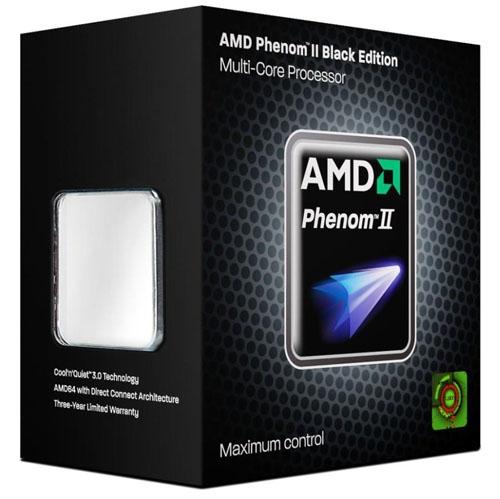 Something important to remember in regards to the P67 / Z68 platform and the massive overclocking praise they've received is in regards to the "K" series CPUs from Intel. CPUs like the i3 2100 can't have their multiplier adjusted and with BCLK overclocking extremely limited on the platform, OC potential in general on non "K" series CPUs is quite weak. It will be extremely interesting to see what we're able to get out of this Phenom II X4 today.
Finally, we have our video card. The weapon of choice today is the ASUS HD 6870 DirectCU II. We haven't actually reviewed this particular card, but we'll try and make some time in the coming weeks to look at it. We do know the HD 6870 well, though, and if previous DirectCU II cards are anything to go by, this should be another strong card from ASUS.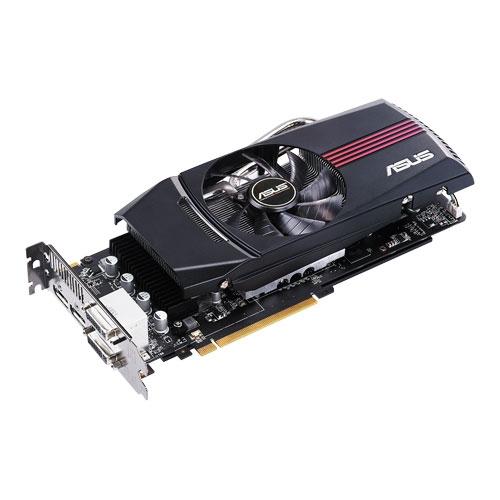 The price tag on this is $199.99 US and the most expensive item in the package. It's of course one of the most important components for a gaming PC, though, so it will be extremely interesting to see how it goes.
Without the Corsair A70 CPU cooler our system comes in at $634.94 US, or $635 US. This is a whole $1 US cheaper than the Intel / NVIDIA machine we setup which came in at $636 US. With pretty much every dollar of our budget soaked up, it's all going to come down to performance. Which machine can rein supreme?
Test System Setup and AIDA64
Test System Setup
So, with two systems built almost to identical budgets, we'll today see which the more attractive option is. For most people the general thought would be the Intel one I think, just because when we think of Intel machines, we always think they're faster.
The thing is, that statement holds a lot of truth. When it comes to power houses, there's nothing in the AMD flock that's really able to compete with those really high end expensive CPUs like the 990X. What about people who are working on a budget, though? If you don't have $4,000 US for a system, is the AMD option something you should be looking at?
We'll figure that out today as we run some benchmarks on our machines. Before we get into the performance side of things, though, let's first look at the overclocking side of things. Like our other $599 article, we'll be testing the machine at both stock speeds and overclocked.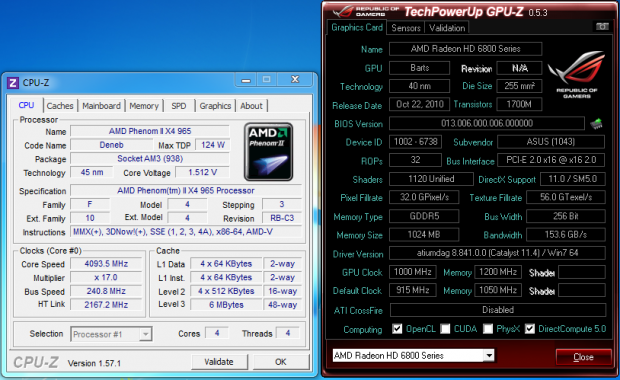 You can see above the speeds we ended up with. We managed to push our X4 965 from a stock clock of 3.4GHz to 4.09GHz which is a really nice overclock. As we've mentioned before, because of the way the P67 / Z68 platform works, if you haven't got a "K" series CPU you're limited by a small ceiling in BCLK.
Just like our other $599 PC article, we also overclocked the video card of choice. As you can also see in the above image, we managed to up our card to 1000MHz on the core and 4800MHz QDR on the 1GB of GDDR5 memory.
This is a strong overclock from stock and we should see some strong gains over the stock clocked setup. With everything said and done, though, let's have a look at just how our AMD based PC went.
Let's get started!
AIDA64Version and / or Patch Used:
1.00.1035BETA
Developer Homepage:
http://www.aida64.com
Product Homepage:
http://www.AIDA64.com
Buy It Here
Replacing Everest in our labs is AIDA64. This new testing suite is from the core development team from Lavalys and continues that tradition. The guys have thrown in better support for multithreaded CPUs as well as full 64 bit support. We use this to test memory and HDDs for now, but may find ourselves opening this up to other areas of the motherboard.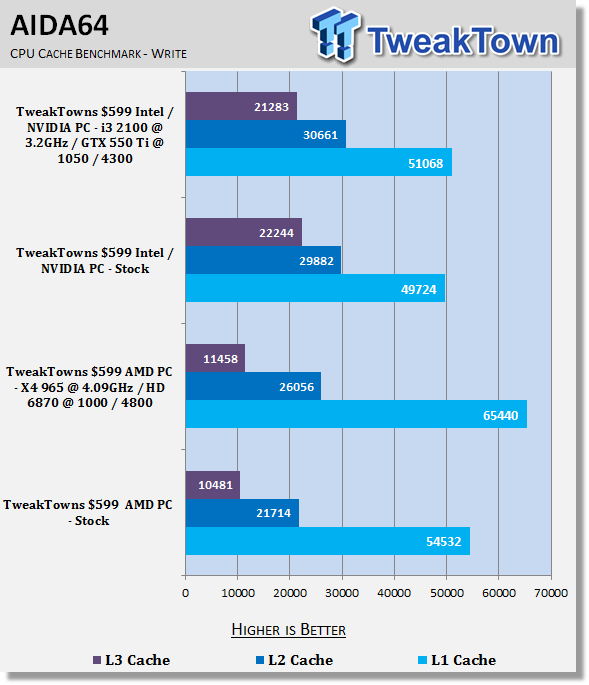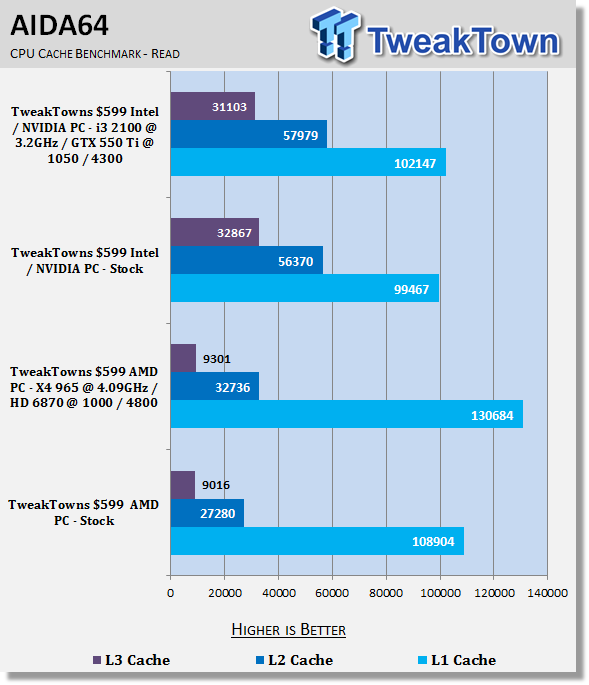 Just having a quick look at some CPU benchmarks, we can see that performance is extremely strong in the L1 cache department. In L2 and L3, though, it's not as strong.
Phenom II architecture is getting a bit on now, but I think this is where a lot of the negative performance comments come from. Is the lower L2 and L3 performance going to make a difference when we start to get into games which is exactly what we've built this PC to do? - We'll soon see.
AIDA64 Continued
AIDA64Version and / or Patch Used:
1.00.1035BETA
Developer Homepage:
http://www.aida64.com
Product Homepage:
http://www.AIDA64.com
Buy It Here
Replacing Everest in our labs is AIDA64. This new testing suite is from the core development team from Lavalys and continues that tradition. The guys have thrown in better support for multithreaded CPUs as well as full 64 bit support. We use this to test memory and HDDs for now, but may find ourselves opening this up to other areas of the motherboard.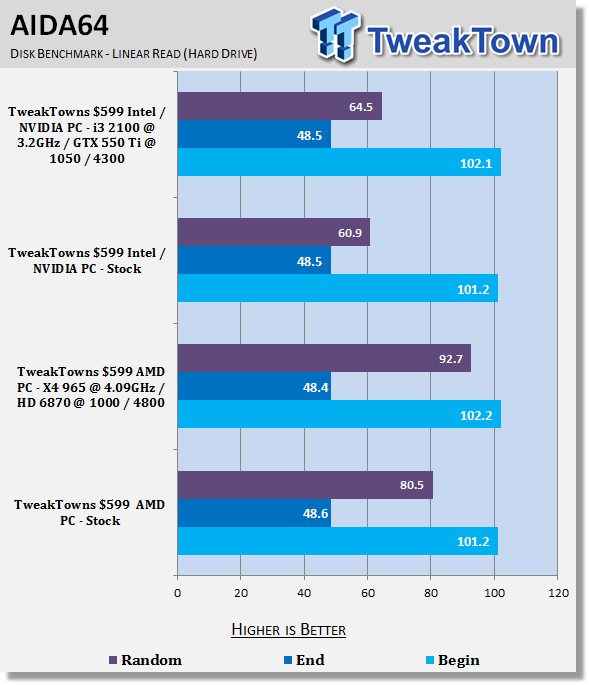 Hard Drive performance between both setups is very similar; the only difference is in random read performance which sees much stronger performance on our AMD based platform.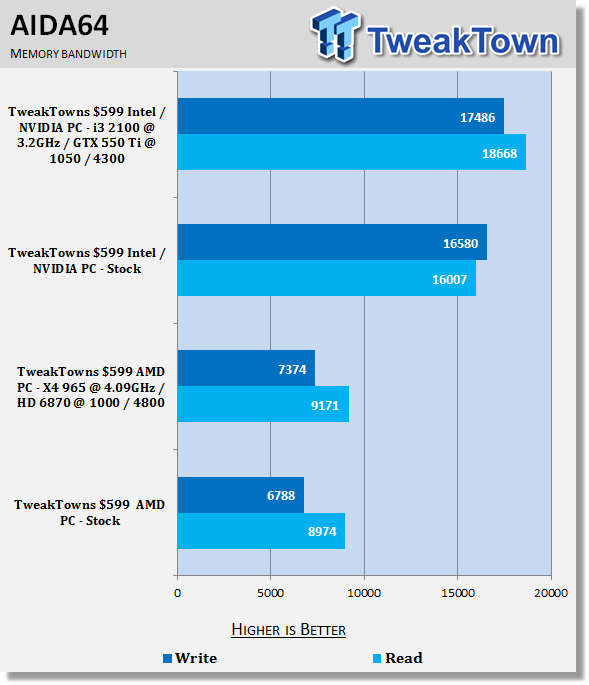 Here we again see the AMD System lag behind a bit. We've seen so many times, though, that increased RAM performance can bring little extra performance to the table when we start to look at games. P67 / Z68 memory performance is also exceptional and again the Phenom II is a bit of an aging platform.
3DMark 11
Version and / or Patch Used:
1.0
Developer Homepage:
http://www.futuremark.com
Product Homepage:
http://www.3dmark.com/3dmark11/
Buy It Here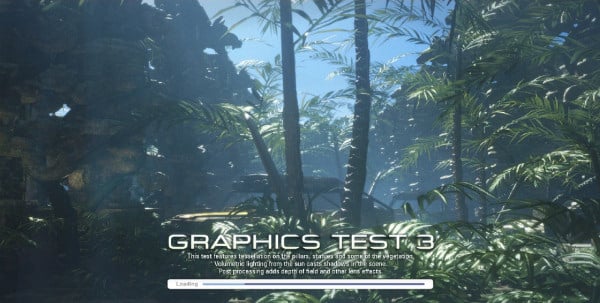 3DMark 11 is the latest version of the world's most popular benchmark. Designed to measure your PC's gaming performance 3DMark 11 makes extensive use of all the new features in DirectX 11 including tessellation, compute shaders and multi-threading. Trusted by gamers worldwide to give accurate and unbiased results, 3DMark 11 is the best way to consistently and reliably test DirectX 11 under game-like loads.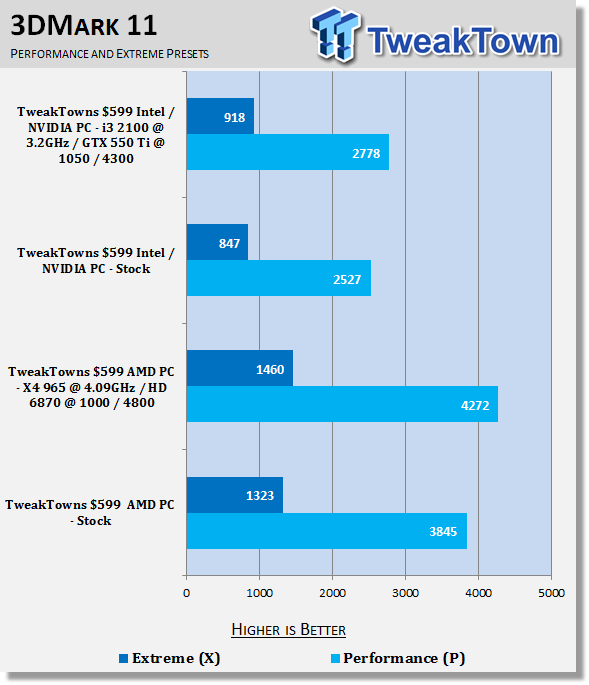 Here is exactly what you want to see, though. Look at the performance difference for two PCs based on the same price. So, the AMD system is slower in memory benchmarks and L2 / L3 cache ones, but look what happens when we start to put some VGA orientated graphics into the mix. The aggressive pricing on the whole AMD setup means it's a more attractive option for gaming.
Unigine Heaven Benchmark
Version and / or Patch Used:
2
Developer Homepage:
http://www.unigine.com
Product Homepage:
http://unigine.com/press-releases/091022-heaven_benchmark//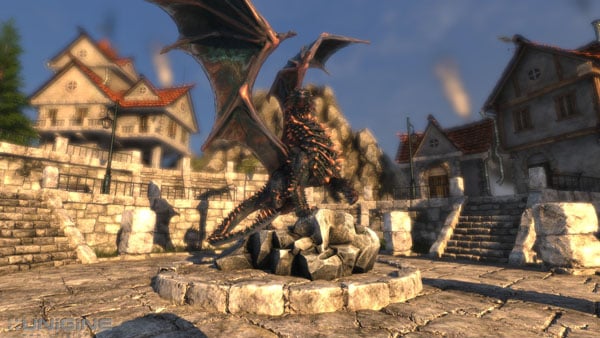 New benchmark grants the power to unleash the DirectX 11 potential in the gift wrapping of impressively towering graphics capabilities. It reveals the enchanting magic of floating islands with a tiny village hidden in the cloudy skies. With the interactive mode emerging experience of exploring the intricate world is ensured within reach. Through its advanced renderer, Unigine is one of the first to set precedence in showcasing the art assets with tessellation, bringing compelling visual finesse, utilizing the technology to the full extend and exhibiting the possibilities of enriching 3D gaming.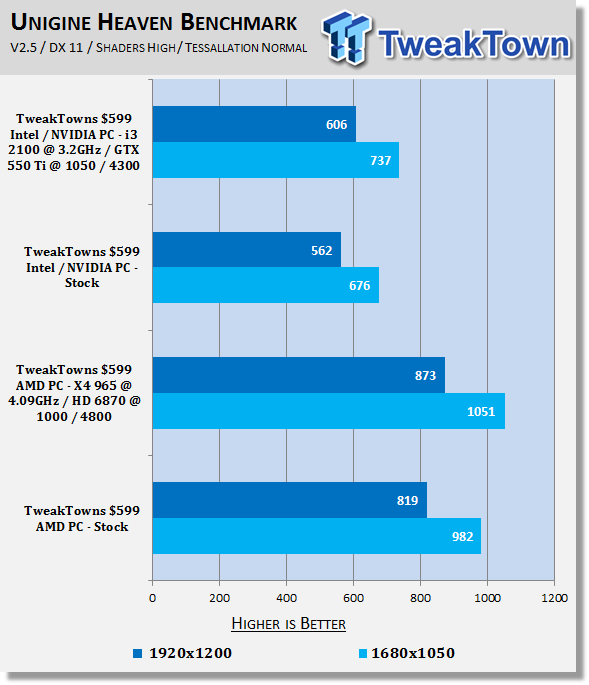 NVIDIA is extremely strong at tessellation, but you can see that the extreme value of the AMD system has allowed us to opt for a much stronger card, which is the most important aspect when it comes to building a PC that's for gaming.
Benchmarks - Tom Clancy's H.A.W.X. 2
Tom Clancy's H.A.W.X.2Version and / or Patch Used:
Benchmark Demo
Timedemo or Level Used:
Built-in Test
Developer Homepage:
http://www.ubi.com/UK/default.aspx
Product Homepage:
http://www.hawxgame.com/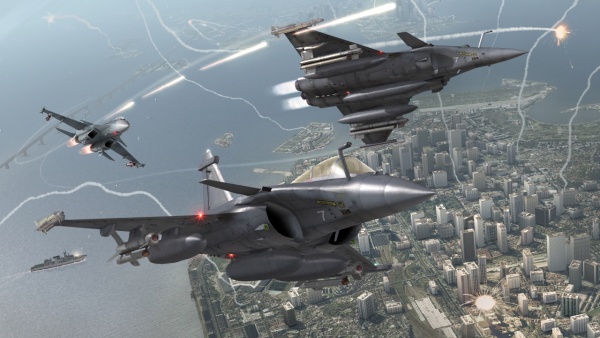 Tom Clancy's H.A.W.X. 2 is an arcade-style flight action game developed by Ubisoft Romania and published by Ubisoft. The game is the sequel to Tom Clancy's H.A.W.X., released in 2009.
The game begins with Colonel David Crenshaw participating in a routine patrol mission in the Middle East. After halting an insurgent attack, a volley of missiles is fired at the Air Force base that Crenshaw was stationed at, with one of the missiles disabling Crenshaw's aircraft, resulting Crenshaw being in enemy captivity. A joint strike force composed of the U.S. Navy, U.S. Air Force, and a Ghost Recon squad executes an operation to rescue Crenshaw. In Scotland, Royal Navy Pilot Colin Munro encounters an unidentified passenger aircraft that explodes from an on-board bomb when undergoing training exercise. In Russia, an air force squadron led by Colonel Denisov and Captain Dmitri Sokov engages separatist aircraft but is ordered to retreat from the region after numerous Russian military installations have been attacked.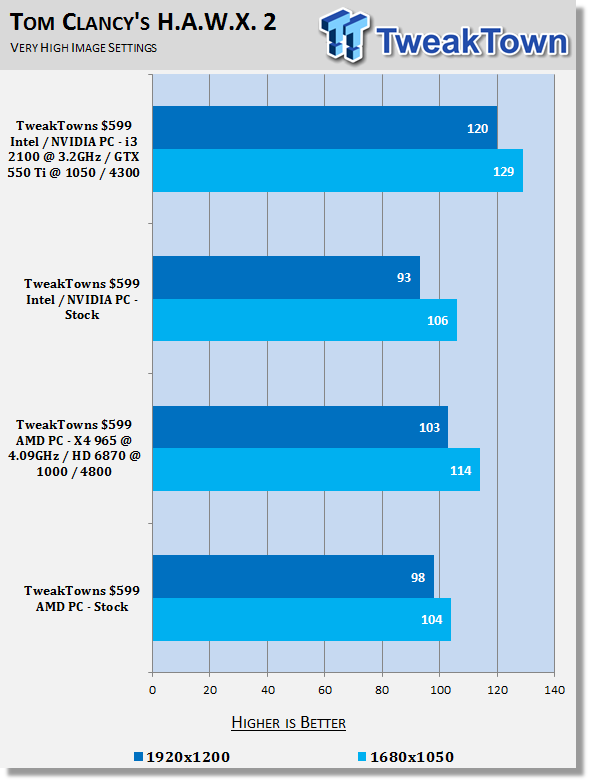 Looking at HAWX 2, you can see overclocked our Intel / NVIDIA system does win out. This game is massively favored to NVIDIA, though; normally we would see the NVIDIA setups win out by a large margin. Not only is the margin much smaller in this instance, but the main thing is that we're still able to get playable FPS on the AMD based one.
Benchmarks - Mafia II
Mafia IIVersion and / or Patch Used:
Latest Steam Update
Timedemo or Level Used:
Built in Benchmark
Developer Homepage:
http://www.2kczech.com/
Product Homepage:
http://www.mafia2game.com/
Buy It Here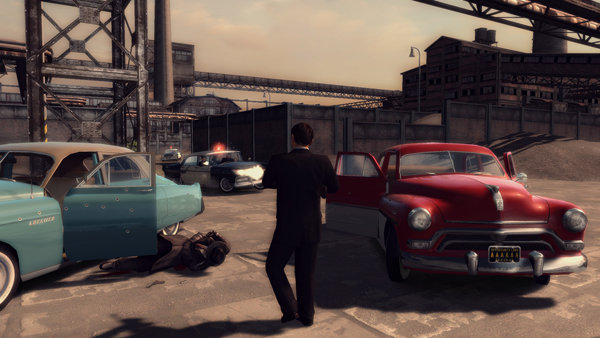 Mafia II is a third-person action-adventure video game, the sequel to Mafia: The City of Lost Heaven. It is developed by 2K Czech, previously known as Illusion Softworks, and is published by 2K Games. The game is set from 1943 to 1951 in Empire Bay (the name is a reference to New York's state nickname "The Empire State"), a fictional city based on San Francisco and New York City, with influences from Chicago and Detroit. The game features a completely open-ended game map of 10 square miles. No restrictions are included from the start of the game. There are around 50 vehicles in the game, as well as licensed music from the era.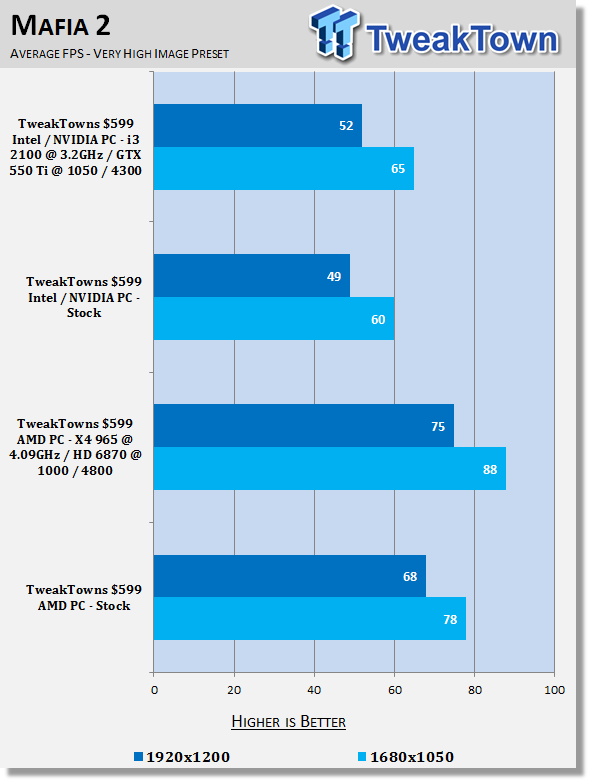 Mafia II really begins to tell the story of what we're capable of here on this system. You're looking at an Intel / NVIDIA setup that performed well at 1680 x 1050, but at stock was just able to squeeze that 60 FPS average we need.
Our AMD one doesn't have that problem. Not only that, though, we can see we've even got enough performance to confortably play at 1920 x 1200 which again is fantastic news.
Benchmarks - Aliens vs. Predator
Aliens vs. PredatorVersion and / or Patch Used:
Standalone Benchmark
Timedemo or Level Used:
Built in Benchmark
Developer Homepage:
http://www.rebellion.co.uk/
Product Homepage:
http://www.sega.com/games/aliens-vs-predator/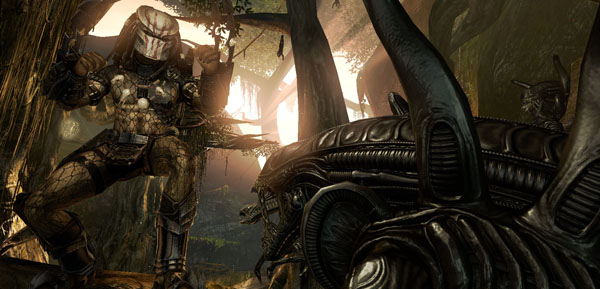 Aliens vs. Predator is a science fiction first-person shooter video game, developed by Rebellion Developments, the team behind the 1999 original PC game, and published by Sega for Microsoft Windows, the PlayStation 3 and the Xbox 360. The game is based on the Alien vs. Predator franchise, a combination of the characters and creatures of the Alien franchise and the Predator franchise. There are three campaigns in the game, one for each race/faction (the Predators, the Aliens and the Colonial Marines), that, while separate in terms of individual plot and gameplay, form one overarching storyline.
Following the storyline of the campaign modes comes the multiplayer aspect of the game. In this Multiplayer section of the game, players face off in various different gametypes in various different ways.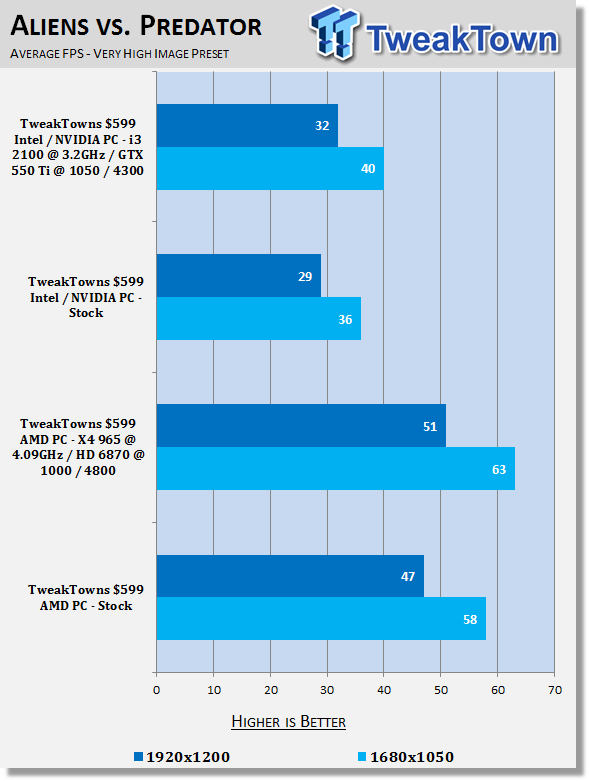 We're so far away from the FPS we need on our previous $599 rig that it would take both a detail drop and resolution drop to get us at a playable level. While at stock on our AMD rig we also do fall behind that 60 FPS mark we aim for, it's only by 2 FPS. A small detail drop, or in this case a bit of an overclock, and you're able to get the FPS you need.
We can see as we climb to 1920 x 1200 we're pulling a 51 FPS average when overclocked, again a little shy of that 60 FPS mark we aim for, but a small detail drop will give us playable numbers. What's a small detail drop from maximum detail when your PC is setting you back around $600 US?
Final Thoughts
I've had arguments with friends over this before. With a set budget can an AMD machine be a better gaming one than an Intel one, because the more aggressive pricing on the CPU / Motherboard front means you're able to buy a better video card. You can see here today, though, what you're able to do with the same budget if you go down the AMD path.
Sure, we could buy a cheaper Intel motherboard and throw a bit more into the video card, but then we can start to lose other features. As far as the boards we've used, both offer a very similar feature set.
The other important thing to note is just how limiting overclocking is on the P67 / Z68 platform when you're not looking at a K series CPU. Of course, you could go out and buy an i5 2500k CPU and throw that into our other setup and achieve 4.5GHz with ease. That will set you back almost another $100, though, which for a gamer would probably be better spent on a video card.
Then you'd be faster than what we had here today, but you could spend a further $100 on a video card for this setup and you'd be ahead again. When it comes down to it all, for a gamer the best thing you can do is spend as much of your budget on a video card.
So what if your hipster nerd friend can do a Hyper PI run 90 seconds faster than you, he could well find himself gaming at 1680 x 1050 while you're able to enjoy 1920 x 1200. It's easy to get wooed by these strong CPU and RAM benchmarks, but when push comes to shove and you start to do what you really want on the machine you've just built, game, you can see what the better decision was.
Of course, there's like an infinity amount of combinations you can do when it comes to building a $599 PC and you could argue all day and night about it. You could buy a really cheap motherboard for your i3 2100 and buy a better video card, but you could do the same with the AMD platform.
Having a better CPU than someone else is one thing, but having a better platform is another. I think it's important when you come to looking at parts for your next PC, you don't just dismiss AMD because when you look at CPU benchmarks, they're slower. In the scheme of things, an AMD platform could just bring you so much more enjoyment because the faster video card means you're able to play games at a higher resolution and in more detail.
Of course, when we see the new Llano and Bulldozer platform over the coming months, AMD could well be in front in those CPU and RAM benchmarks while still offering us the same great value, giving us the opportunity to buy a better video card than the competitions offerings. Time will no doubt tell.