Introduction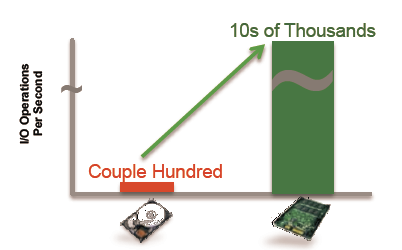 I'm going to start this article off with a preface. At this time I do not have an unreleased motherboard with an Intel chipset in my possession. I am unfortunately under NDA with a motherboard manufacturer about their specific product that is, at the time of writing, not in my possession.
I have not received any information about this product from any official or unofficial source other than the fact that something is coming in the mail and I can't talk about it until sometime in the future. Hopefully this is enough to keep the legal hounds off my behind.
Today we are going to play a brief game of connect the dots with information that is publically available. We are going to mix two parts of facts and one part speculation. The pinch of speculation has been verified by two sources and in the media world that gives it enough validity to 'go to print' so to speak. The overall picture will be a little cloudy, but I think enough of a silhouette will pass through to give us a close representation of what's to come. The good ole' "Things That Might Be Happening, but What Do I Know?" editorial!
Let's just dive in with the facts we know and then start to put the picture together.
Intel Z68 Smart Response Technology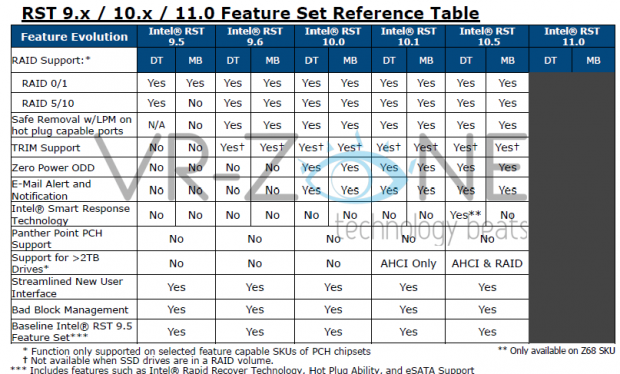 The Above Image Comes Courtesy of VR-Zone.
On April 25th, 2011, VR-Zone published an article titled
Intel SSD Caching Feature for Z68 Chipset Explored
. You can
read that article here
.
Intel SSD Caching is officially (or is that unofficially at this time) known as Intel Smart Response Technology. The feature is part of Intel's RST version 10.5, but is unique to the Z68 chipset. In a nutshell, Smart Response Technology allows for an SSD to act as a caching buffer between the motherboard and a traditional platter drive. In theory, this will be the marriage of SSD's ultra low access times and traditional platter drives high capacity points.
The theory is not a new concept. Adaptec already have an add-on product called
MaxCache
, LSI has
CacheCade
, SilverStone has
HDDBOOST
and there may be a few others I've left out. All of these products work with varying degrees of success, but the constant is that the data must be cached on the SSD for read performance to increase.
For the purpose of this article the important thing to know is that Intel's Smart Response Technology is limited to 64GB for the SSD.
For more information on Intel Smart Response Technology, I'm going to once again direct you back to the
VR-Zone article
where you will find all of the System Requirements and Feature Limitations.
SandForce SF-2141: The Odd Kid in Class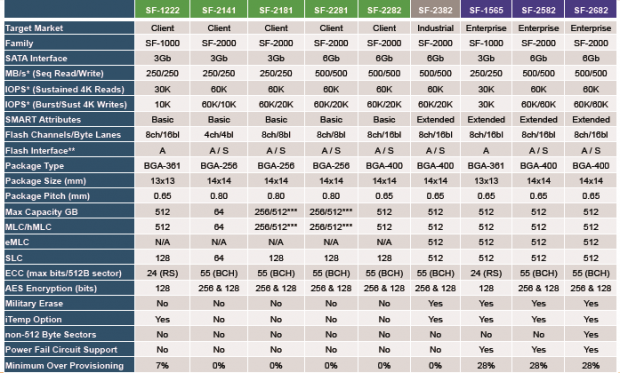 In our article that covered SandForce's SF-2000 Series Client announcement, we found a pair of controllers that were a little out of place; these being the two SF-2100 Series drives, SF-2141 and SF-2181, the SATA 3G products that no one has really talked about. The 2100 Series at first appear to be low cost drives, possibly developed for the mSATA market. Even though they have similar specifications, they are very much unique in capability.
Let's focus on the SF-2141 since it's directly related to this editorial. The SF-2141 is a 4-channel, 4 byte lane SATA 3G controller with a 14mm square die package size. The flag that pops up when we start connecting the dots is that the SF-2141 has a maximum capacity size of just 64GB. We've seen 4 channel SSDs before, the main one that comes to mind is the Indilinx Barefoot. The Barefoot was offered in capacity sizes of up to 256GB.
The rest of the SF-2141 specifications look like this. 250MB/s read and write speed, 60K 4k IOPS read, 60K 4k IOPS write burst, 10K 4k IOPS sustained.
The next dot has to do with the use of SLC flash with the 2000 Series Client family. Aside from the SF-2141, every other 2000 Series controller is restricted to a significant capacity decrease when SLC flash is used. Even the SF-2282 with 8 channels, 16 byte lanes that is capable of delivering up to 512GB of MLC flash is restricted to just 128GB of SLC. Our suspect SF-2141 can use 64GB of MLC or SLC, no restrictions for high speed, long endurance SLC flash.
I think this is going to be a very important issue when we start actually using the Z68 chipset that is limited to just 64GB of flash use. I've never been a fan of small SSDs, especially small SSDs using MLC flash that is guaranteed to wear out much faster than larger capacity drives.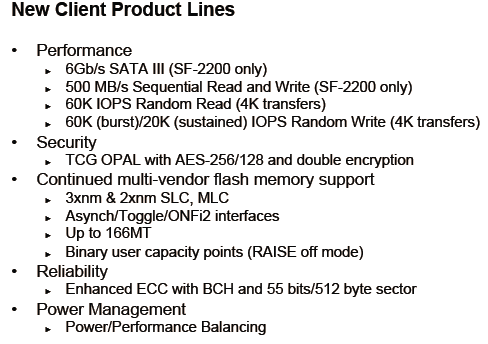 In our SandForce SF-2000 Client Series article I also talked about the options SandForce opened for drive manufacturers. Several flash types being supported received most of the attention, but we didn't let 'Binary User Capacity Points (RAISE Off Mode) slip by without a mention. At the time my speculation was that we'd see SF-2200 drives hit the market without RAISE and have capacities of 128GB and 256GB as opposed to 120GB and 240GB, the standard for SandForce consumer drives. This still might be the case - please send samples my way for testing and I'll let you know how that goes :)
Now I'm more inclined to think the ability for manufacturers to enable or disable RAISE has more to do with the Intel Smart Response Technology than our standard Team SandForce 2.5" drives that we all love.
There are three options available; Off, Enhanced (Default) and Maximized. Enhanced uses write-through data caching and Maximized uses write-back data caching. VR-Zone describes the two modes as such:
Enhanced mode is the default acceleration mode as it offers data protection in the case of disk failure. It uses write-through data caching method to write data to the SSD and hard drive simultaneously. For user who wants maximum disk performance, you can choose the maximized mode but there is a high risk of data loss during disk failure. It uses the write-back cache method where data is written from the Cache SSD to the disk at intervals. For even better disk performance, you can first stripe your hard drives then choose maximized mode. User can change acceleration mode at any time as long as the SSD and hard drive are working normally.
The Enhanced (Default) mode appears to be primarily a read mode for the SSD. Obviously writes have to occur at some point, but not to the same degree as the Maximized setting. On VR-Zones chart at the bottom of the page Enhanced has a performance listing as Run-Time Read, but in the same performance column the Maximized option says Run-Time Read and Run-Time Write. I think this is going to really open the door for SSD manufacturers to justify both MLC (for Enhanced use) and SLC (for Maximum use) scenarios.
One option I'd liked to see opened up for the Maximum setting drives if they are made is carried over from SandForce's enterprise product line up. SandForce has a unique way of handling power failures on enterprise specific models. By using a capacitor called a SuperCap, data can be written to the flash after a power interruption has occurred. On our chart at the top of this page under the category of
Power Failure Circuit Support
for the SF-2141, it says that it is not a supported option. Let's cross our fingers and hope someone has a change of heart on that one.
Final Thoughts
It wouldn't make sense for SandForce to develop a product so restricted in capacity unless it had a very specific purpose in mind....maybe even a specific buyer. Back in March a website wrote an editorial that linked Intel's 522 Series to the SandForce SF-2200 controller. In the article everything was based on speculation, but I suspect a little birdie whispered some information. I don't believe in fairy tales or talking birds, but do listen to those in the know; dancers mainly.
Intel and SandForce are teaming up for some kind of project. This is something that we know from reliable sources (plural), but as far as details go we are just as much in the dark as you are after reading this article. Intel may join the Team SandForce group with a 2.5" SF-2200 product; your guess is as good as mine. An Intel SF-2200 2.5" part certainly would bring an interesting twist to this SSD season. We already know Kingston has been signed to Team SandForce for the 2011 season, but just like Intel, we don't know what products they are preparing.
When it comes to Z68 and SSD Caching we'll all have to just wait and see how things turn out. I think we made a clear case for the SF-2141 being developed for the new Z68 feature set, but like we said at the beginning, this is 2 parts fact and 2 parts speculation. I wouldn't eat a cake with only half the recipe verified, but I might take a nibble to see how it tastes.
My game of connect the dots today is really just a way to clear these thoughts that have been swirling around for the last few days. The SandForce SF-2141 has been in the back of my mind ever since the client launch and things started coming together when I read the VR-Zone article. If I didn't write this editorial I wouldn't be able to get all of this out of my head and thus not be able to write about the six SATA 6G next gen SSDs sitting in front of me. Stick around for the most comprehensive SSD coverage in the business.