TweakTown Commander PC Benchmarked
We bench the Commander from our System Builders Guide to show what $2,000 actually gets you.
Published Wed, Jun 2 2010 8:38 AM CDT
|
Updated Tue, Nov 3 2020 7:02 PM CST
Introduction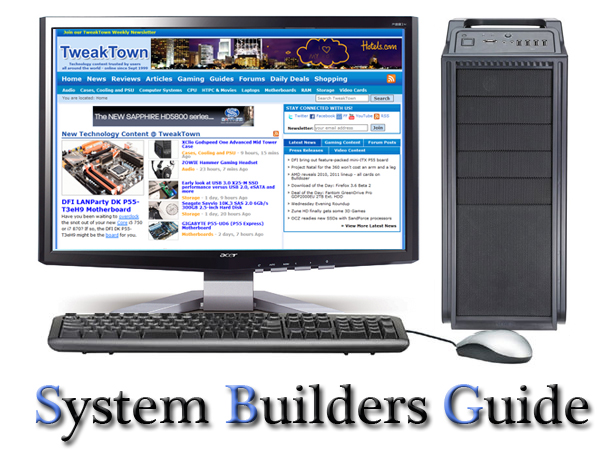 The idea behind the System Builders Guide here at TweakTown is that it gives someone an idea of the kind of system they could build for three budgets which can be seen
here
at our SBG page.
The first budget is $1,000 USD, while the top is an unlimited one. The middle system, however; the Commander, comes in at $2,000 USD and is a fairly standard budget for someone looking for a complete system from CPU to Video Card and Monitor to Mouse. If you're already happy with the monitor you've got, though, and perhaps also your speakers, mouse and keyboard etc. and you're just looking for a new box, then the guide also helps.
Today we're taking it a little further. What we're doing is grabbing the main bits from our Commander PC which include Motherboard, CPU, Video Card, RAM and Hard Drives and showing you that if you built this system what kind of performance you can expect from it.
We've ignored a lot of the things like PSU, Case, Monitor, etc. for the simple reason that they're not actually going to impact the FPS or general computing performance. Since we haven't done this before, there's no real formula to how we should attack everything. So what I've done is on the next page just given you a brief run down on the main components we're using and why, before we then get stuck into the actual numbers the system can achieve.
A Closer Look at The Commander
For a real close look on the Commander system in all its detail, you can head over to the
Commander
page within our SBG section. What I'll quickly do is just cover the main components we're using along with why we're recommending them to everyone.
The motherboard is one of the most important decisions when it comes to building a PC. It decides what CPU you're going to be using, how much memory you'll need and more.
Currently the weapon of choice is the ASRock P55 Deluxe. To be honest, for a long time I associated the ASRock name with dodgey boards and riser cards. I'm not sure if you remember the add-on board gem that was the K8 Upgrade Module seen
here.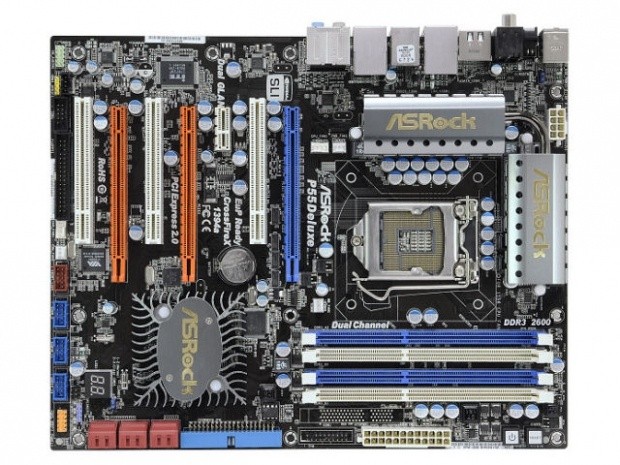 To be honest, though, I moved my memory testbed to the P55 Deluxe we're recommending today because the P55 board I was previously using had trouble coping with high speed dual channel memory kits. Having seen the P55 Deluxe from ASRock achieve memory speeds in excess of 2400MHz DDR, I know it's a keeper. I was so happy with the ASRock P55 Deluxe that I ended up moving my X58 VGA testbed to another ASRock board and to be honest, I couldn't be happier with both machines.
Supreme stability and great overclocking is the reason we use the ASRock P55 Deluxe. Throw in the great price tag and it's the reason we recommend it to you as the board of choice in our Commander PC.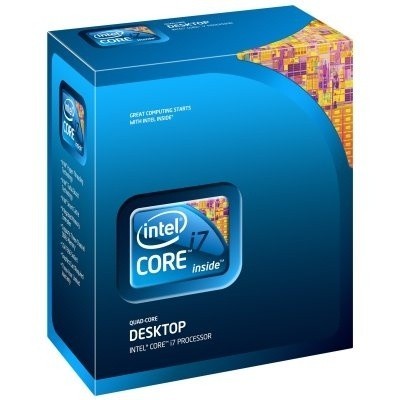 Unfortunately the tales for the rest of the items aren't full of such memories. The i7 860 is simply the best 1156 socket CPU when it comes to performance and value for the P55 chipset, which is the reason we recommend it. Big OC potential also means that if you like to dabble, you can really have some fun.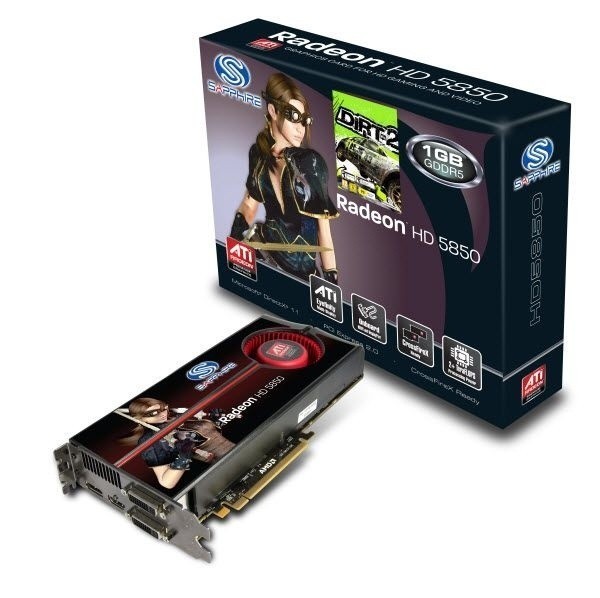 The video card came down to price and the HD 5850 fits the bill nicely. A much loved Sapphire option is used and we couldn't be happier with the model. It's that perfect valued card with great price and performance. It's also the perfect partner for the 1920 x 1080 screen we recommend.
The last two main items come in the form of memory and hard drives. To be honest, Kingston has been one of my favorite memory companies for a long time. They offer fantastic quality modules at a good price. The HyperX kit we suggest performs well and is a great companion for the high clocking P55 ASRock board and i7 860 CPU.
The other half that is the Kingston 1 - 2 Punch is a pair of 30 GB SSDs which are part of the V Series. They're not the largest capacity, but the aggressive pricing means we can run a pair in RAID 0 and honestly, the 60 GB does give us room for games. If you want a bit more space there's always the option to throw a 1TB or 2TB drive on the side for those downloads.
For the most part, though, they are the key components to our Commander PC and why we use and recommend them. With the boring bits out the way, let's get stuck into the performance side of things and see exactly what we've got on offer today.
Test System Setup and 3DMark Vantage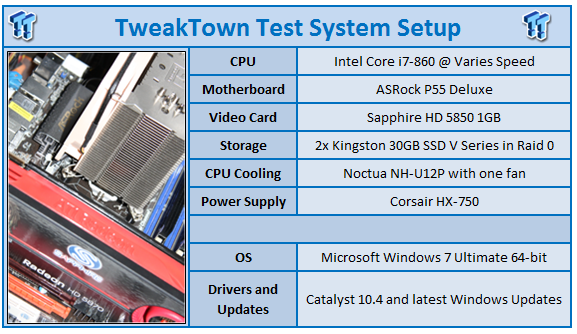 We would like to thank the following companies for supplying and supporting us with our test system hardware and equipment:
Intel
,
ASRock
,
Kingston
,
Western Digital
,
Noctua
and
Thermaltake
.
Today we'll be comparing the June 2010 Commander PC against itself in two forms. The first will be at stock clock speeds on the CPU which is already an impressive 2.8GHz. The second will be at 4GHz which should hopefully yield some impressive gains.
The main thing we want is to make sure at the default setup performance is strong, so if you're not interested in overclocking or don't know how to do it you can buy the components we recommend knowing that they're going to perform strong.
On the topic of testing, we've benched at 1680 x 1050 and slightly above the native resolution of the monitor we recommend, 1920 x 1200. This will give you an idea of overall performance in the situation you bought a 22" monitor or a 1920 x 1080 23" monitor or larger.
Let's get started!
3DMark VantageVersion and / or Patch Used:
1.0.1
Developer Homepage:
http://www.futuremark.com
Product Homepage:
http://www.futuremark.com/products/3dmarkvantage/
Buy It Here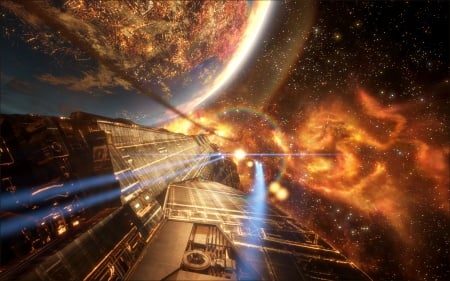 3DMark Vantage is the new industry standard PC gaming performance benchmark from Futuremark, newly designed for Windows Vista and DirectX10. It includes two new graphics tests, two new CPU tests, several new feature tests, and support for the latest hardware.
3DMark Vantage is based on a completely new rendering engine, developed specifically to take full advantage of DirectX10, the new graphics API from Microsoft.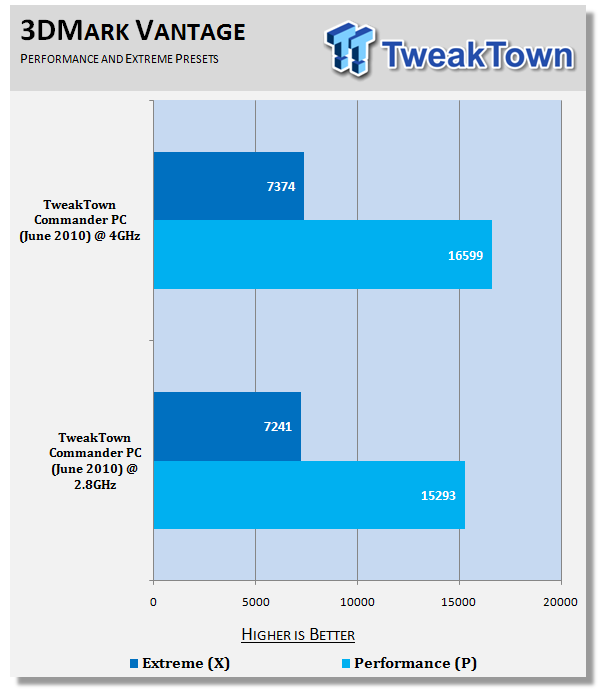 Vantage performance is strong out the gate and gives us a good idea of where the setups are going to sit. If this is anything to go by, we should be happy with what performance we get out of the two setups.
Benchmarks - Tom Clancy's H.A.W.X.
Tom Clancy's H.A.W.X.Version and / or Patch Used:
Benchmark Demo
Timedemo or Level Used:
Built-in Test
Developer Homepage:
http://www.ubi.com/UK/default.aspx
Product Homepage:
http://www.hawxgame.com/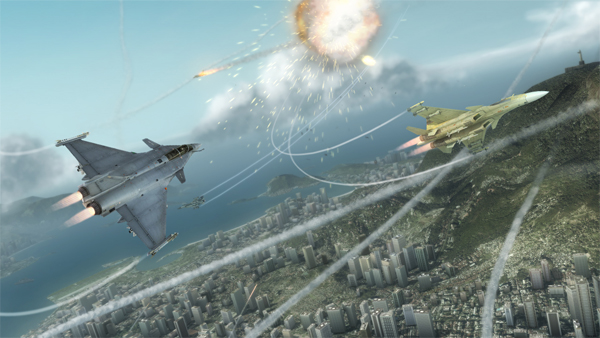 Tom Clancy's H.A.W.X is an arcade-style flight simulator video game developed by Ubisoft Romania and published by Ubisoft for Microsoft Windows, Xbox 360, PlayStation 3, and iPhone OS.
The fundamental gameplay mechanics are similar to those of other console-based flight series. Players take on enemies with over 50 aircraft available. Each mission is at real world locations in environments created with commercial satellite data. A cockpit, first person, and third person view are selectable. The third person view gives the player an external view of both their plane and the target.
Set above the skies of a near-future world, increasingly dependent on private military companies with elite mercenaries who have a relaxed view on the law. As these non-governmental organizations gain power, global conflict erupts with one powerful PMC attacking the United States.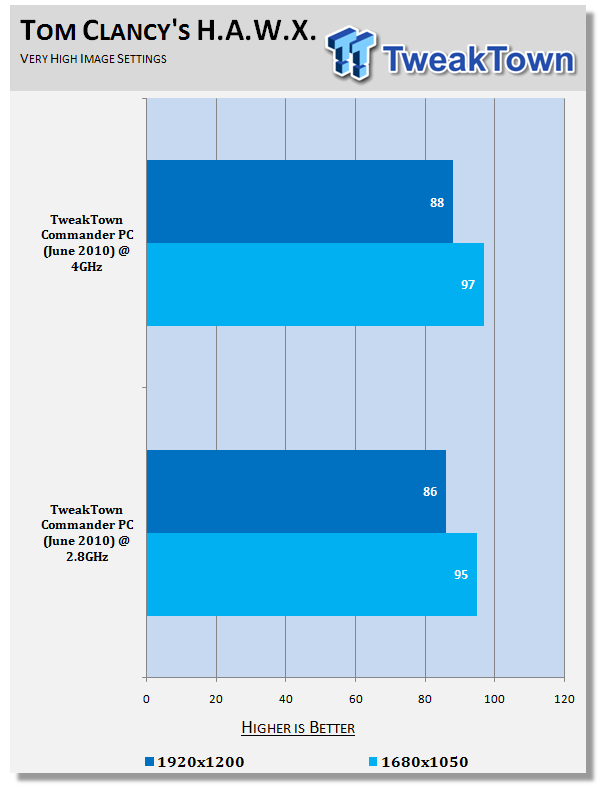 With no minimum we want to see an average of 60 FPS. We're well above that at both resolutions. As for overclocking, there's minimum difference between the two setups.
Benchmarks - Darkest of Days
Darkest of DaysVersion and / or Patch Used:
1.4
Timedemo or Level Used:
Built-in Test
Developer Homepage:
http://www.darkestofdays.com/index.php
Product Homepage:
http://www.darkestofdays.com/index.php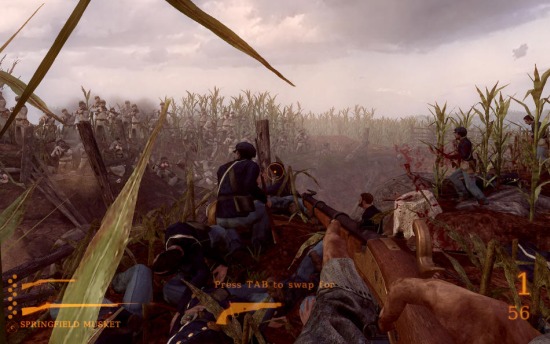 Darkest of Days takes the player through time into historic battles in an effort to save key individuals from certain death. The battles range from Custer's Last Stand at the Battle of the Little Bighorn in 1876 to fighting in Pompeii as ash and fire rain down from an erupting Mt. Vesuvius in 79 AD. Other locations include the battles of Antietam and Tannenberg, and a German World War II P.O.W. camp. There are different missions in every time period and the game takes about 4 hours to complete.
The game features over twenty weapons, both from the original time period as well as those brought back from the future. In addition, there are artillery weapons from different time periods to assist in battle.
Note:
With the PhysX set to Medium or High Darkest of Days take advantage of the NVIDIA PhysX abilities. For that reason we will test ATI cards at the Low preset, NVIDIA based cards though will be tested at Low and High.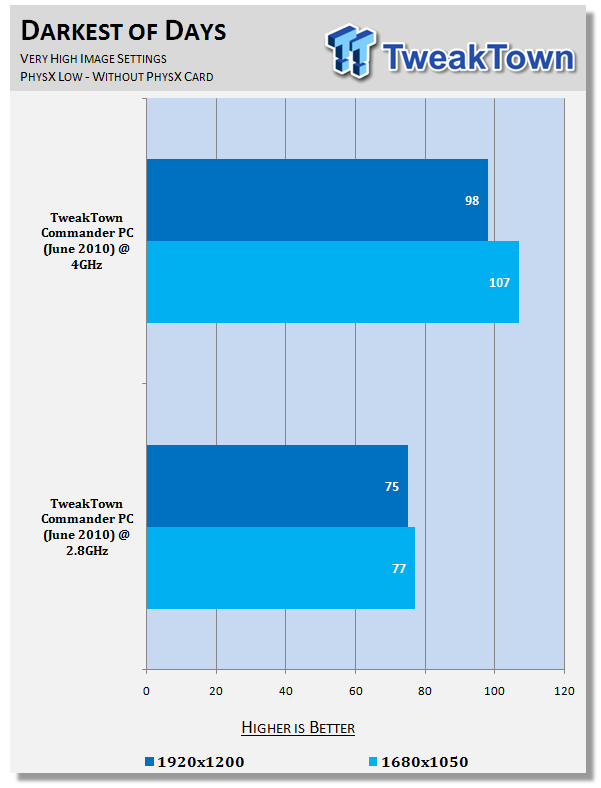 With no minimum we want to see an average of 60 FPS. The system at stock doesn't have an issue doing that at both resolutions, which is fantastic. When overclocked we really see a great boost in performance which is always appreciated.
Benchmarks - Far Cry 2
Far Cry 2Version and / or Patch Used:
1.01
Timedemo or Level Used:
Ranch Long
Developer Homepage:
http://www.ubi.com/
Product Homepage:
http://www.farcry2.com/
Buy It Here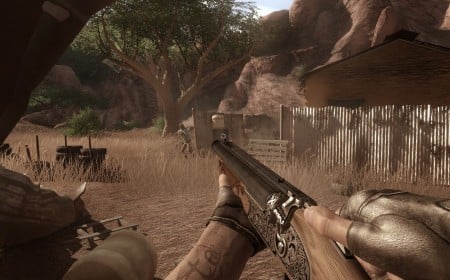 The Dunia Engine was built specifically for Far Cry 2 by the award-winning Ubisoft Montreal development team. It delivers the most realistic destructible environments, amazing special effects such as dynamic fire propagation and storm effects, real-time night-and-day cycle, dynamic music system, non-scripted enemy A.I. and so much more.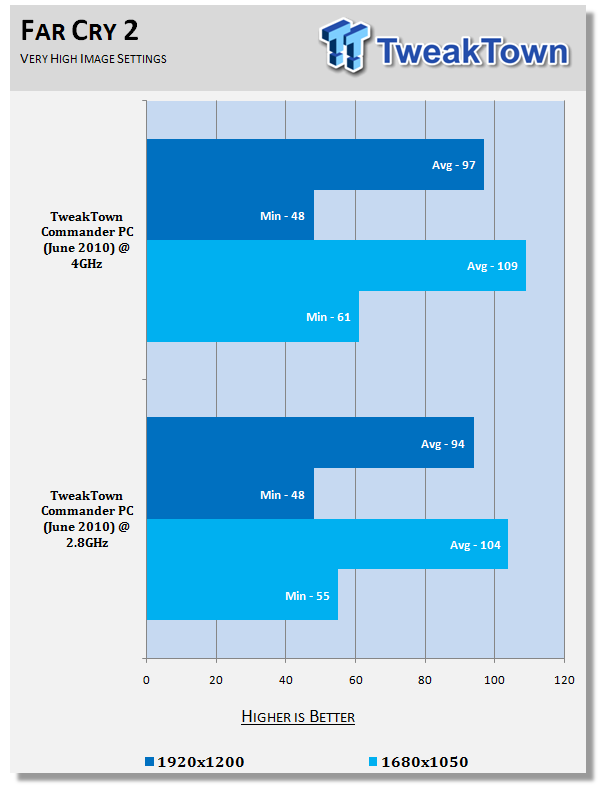 At both resolutions we're well above that 30 FPS minimum that we want you to see, which is fantastic. When it comes to overclocking, there's not a huge difference between the two setups.
Benchmarks - Batman Arkham Asylum
Batman Arkham AsylumVersion and / or Patch Used:
1.1
Timedemo or Level Used:
Built-in Test
Developer Homepage:
http://www.batmanarkhamasylum.com/
Product Homepage:
http://www.batmanarkhamasylum.com/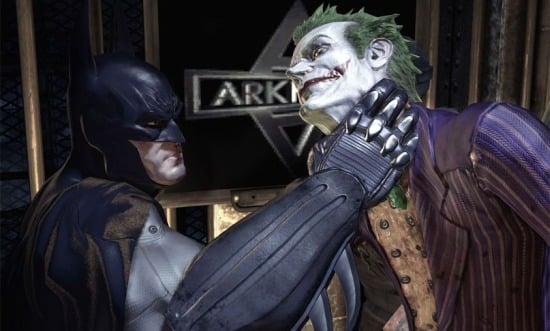 Batman: Arkham Asylum exposes players to a unique, dark and atmospheric adventure that takes them to the depths of Arkham Asylum - Gotham's psychiatric hospital for the criminally insane. Gamers will move in the shadows, instigate fear amongst their enemies and confront The Joker and Gotham City's most notorious villains who have taken over the asylum.
Using a wide range of Batman's gadgets and abilities, players will become the invisible predator and attempt to foil The Joker's demented scheme.
Batman: Arkham Asylum features an original story penned exclusively for the game by famous Batman author and five-time Emmy award winner Paul Dini, whose credits include Lost season one and Batman: The Animated Series.
Note:
With support for PhysX NVIDIA based cards will be tested with the technology on and off, ATI cards will be tested with the technology off due to it not being supported on their cards.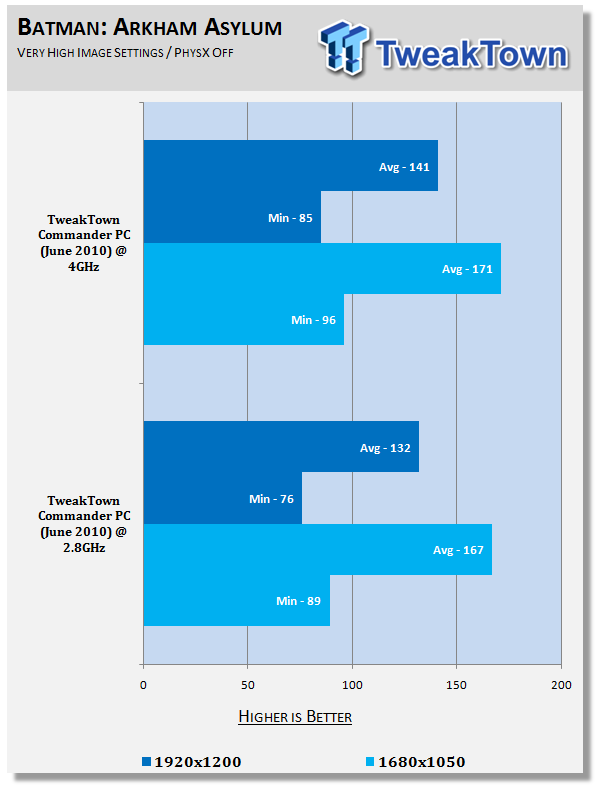 Performance from the system on a whole is great under Batman AA which is just a testament to the system we've recommended here. Overclocking just helps bring performance up to another level which is going to be appreciated in future more intensive releases.
Benchmarks - wPrime
wPrimeVersion and / or Patch Used:
1.62
Developer Homepage:
http://www.wprime.net/
Product Homepage:
http://www.wprime.net/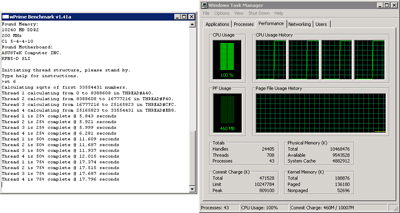 wPrime uses a recursive call of Newton's method for estimating functions, with f(x)=x2-k, where k is the number we're sqrting, until Sgn(f(x)/f'(x)) does not equal that of the previous iteration, starting with an estimation of k/2. It then uses an iterative calling of the estimation method a set amount of times to increase the accuracy of the results. It then confirms that n(k)2=k to ensure the calculation was correct. It repeats this for all numbers from 1 to the requested maximum.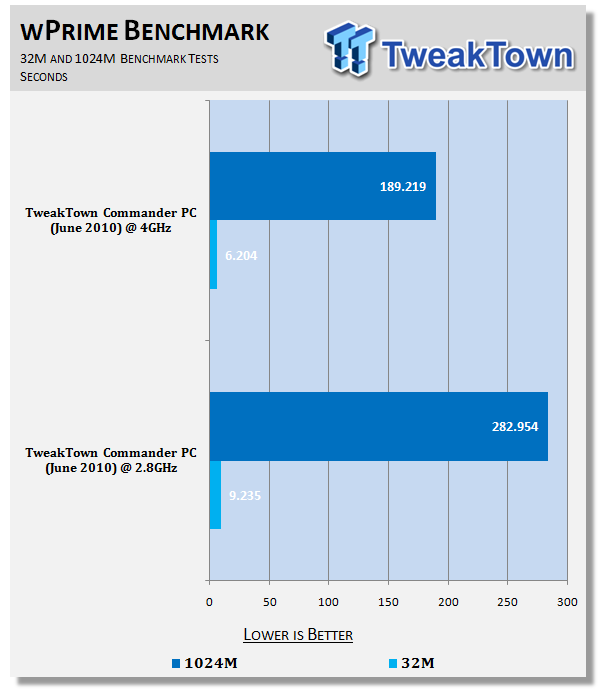 Coming off the games, you can see the massive boost in performance when it comes down to CPU performance. That extra 1GHz+ does wonders for performance.
Benchmarks - Everest Ultimate Edition
EVERESTVersion and / or Patch Used:
Ultimate Edition
Developer Homepage:
http://www.lavalys.com/
Product Homepage:
http://www.lavalys.com/products/overview.php?pid=3&ps=UE&lang=en
Buy It Here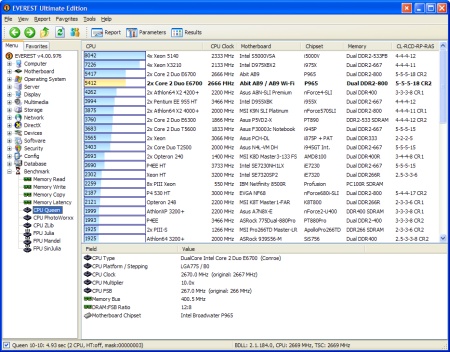 EVEREST Ultimate Edition is an industry leading system diagnostics and benchmarking solution for enthusiasts PC users, based on the award-winning EVEREST Technology. During system optimizations and tweaking it provides essential system and overclock information, advanced hardware monitoring and diagnostics capabilities to check the effects of the applied settings. CPU, FPU and memory benchmarks are available to measure the actual system performance and compare it to previous states or other systems. Furthermore, complete software, operating system and security information makes EVEREST Ultimate Edition a comprehensive system diagnostics tool that offers a total of 100 pages of information about your PC.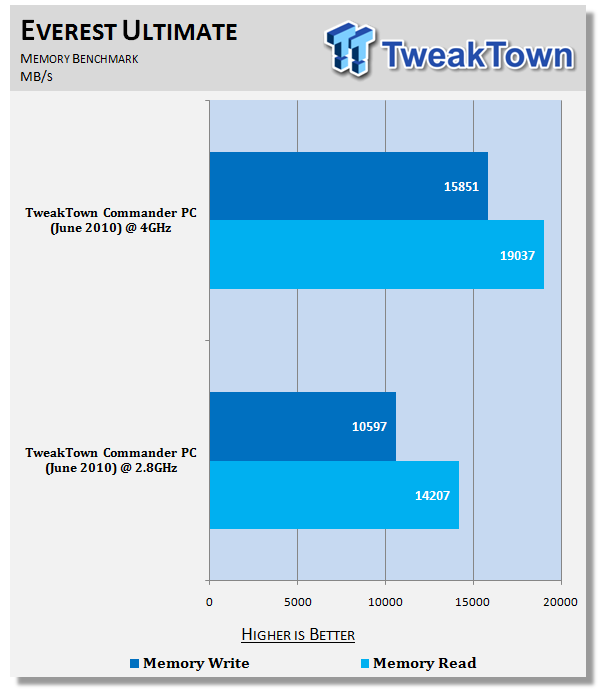 The overclock means our memory has gone from 1600MHz DDR to 2000MHz DDR and has in turn given us a massive boost in memory performance.
Benchmarks - SiSoft Sandra
SiSoft SandraVersion and / or Patch Used:
Professional Home
Developer Homepage:
http://www.sisoftware.co.uk
Product Homepage:
http://sisoftware.jaggedonline.com/index.php?location=home&a=TTA&lang=en
Buy It Here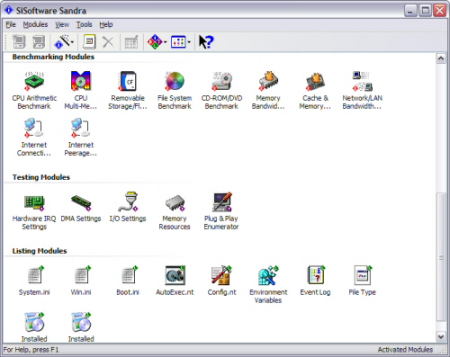 SiSoft Sandra (
S
ystem
AN
alyser,
D
iagnostic and
R
eporting
A
ssistant) is a synthetic Windows benchmark that features different tests used to evaluate different PC subsystems.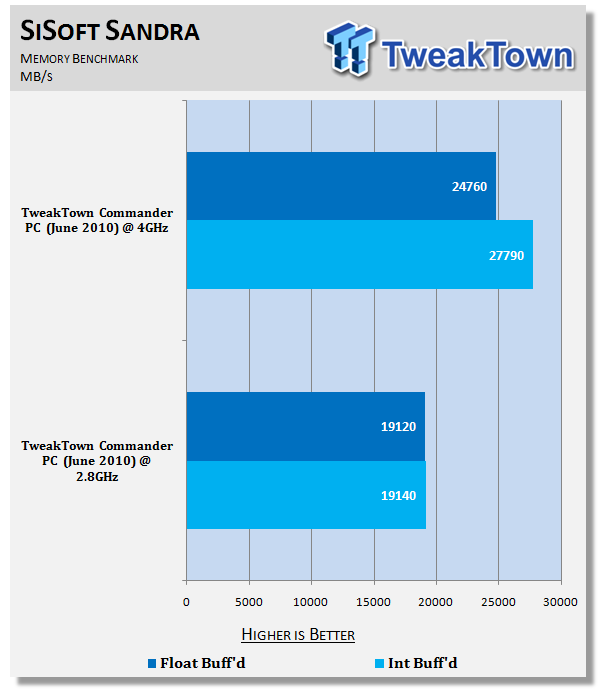 Like Everest, the overclock means we've got a massive performance boost in our memory performance.
Benchmarks - Sciencemark
ScienceMark 2.0
ScienceMark 2.0 is a mathematical program designed to stress the memory subsystems of both desktop/workstation and server environments to determine the read/write latency as well as the overall memory bandwidth available between the CPU and the memory controller.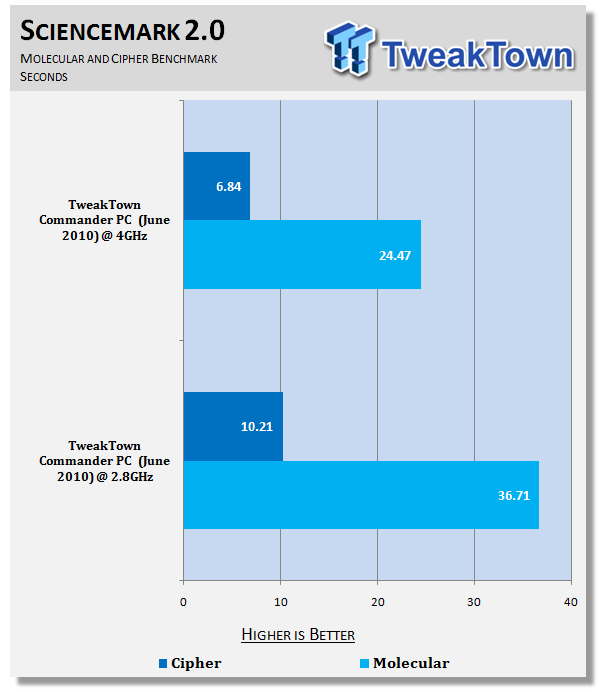 In another synthetic test you can see the strong performance of the system when overclocked.
Benchmarks - HD Tune Pro
HD Tune ProVersion and / or Patch Used:
2.5
Developer Homepage:
http://www.efdsoftware.com
Product Homepage:
http://www.hdtune.com
HD Tune is a Hard Disk utility which has the following functions:
- Benchmark: measures the performance
- Info: shows detailed information
- Health: checks the health status by using SMART
- Error Scan: scans the surface for errors
- Temperature display
HD Tune Pro gives us accurate read, write and access time results and for the last couple of years has been gaining popularity amongst reviewers. It is now considered a must have application for storage device testing.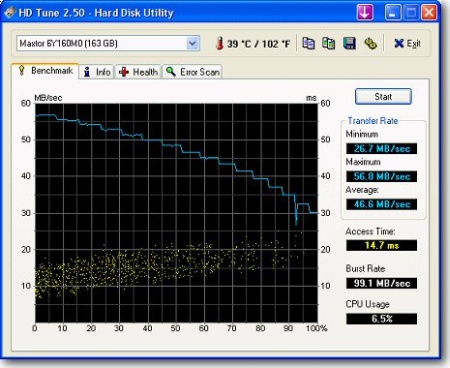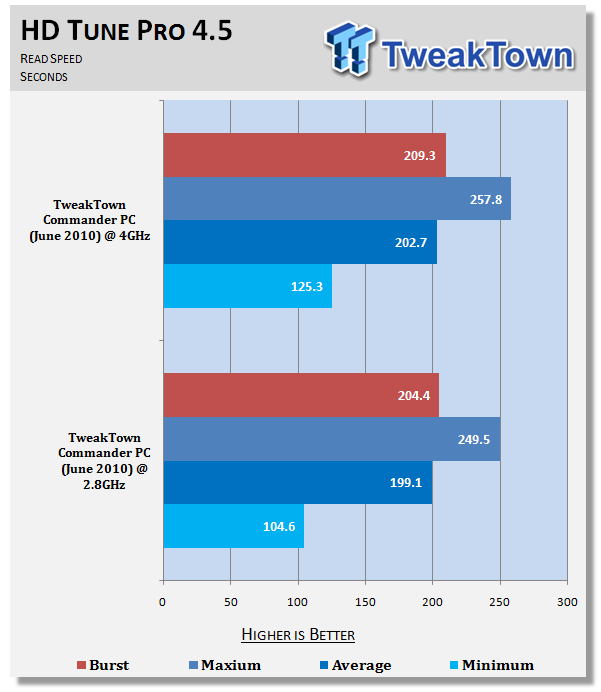 It comes as no surprise that when overclocked our system performance doesn't change. What's important here, though, is that performance from the SSD setup is blazing fast and any gamer is really going to appreciate it.
Final Thoughts
Sure, performance is strong in our synthetic tests, but when you look at the gaming results this is where you really see how strong the system we've built is. Minimums are above 30 FPS and averages above 60 FPS. For a gamer there's not much more you could ask for when it comes to gaming and it's a real testament to the system we've built and recommend to our readers.
The biggest worry that you might have with the recommendation is the amount of hard drive space. From a gaming perspective the fact that we've only recommended a 60 GB setup might be a slight issue. With Windows 7 installed along with Darkest of Days, Far Cry 2, Batman AA, H.A.W.X. Demo and our other benchmarking software including Vantage, we still had 20.1GB of free hard drive space left.
Sure, it's not going to be fantastic if you're wanting to download GBs from the internet, but for your games it's perfect. Worst case scenario, when you're running a little low you could dump some of the stuff you're not playing yet and still keep the save games. There's also the option of throwing in a standard 3.5" hard drive with much larger capacity.
Gaming performance is strong and thanks to the 4GB of memory and SSD RAID 0 setup everything is just zippy. We mean everything from just working your way through Windows to loading up games and playing them.
For 1920 x 1080 and lower the HD 5850 is the perfect choice. 4GB of memory is a great amount and RAID 0 SSD for that $2,000 price mark is just a bonus. Recommending what parts to buy is one thing, but being able to show you just how it will perform is another. We've put our money where our mouth is and shown just why we've chosen the parts we've chosen.
If you felt a bit skeptical before now, you don't need to any longer. And the good news is if you do build the setup and performance isn't this strong, then you know something's wrong since we haven't done anything special to the system.
PRICING: You can find products similar to this one for sale below.

United States: Find other tech and computer products like this over at Amazon.com

United Kingdom: Find other tech and computer products like this over at Amazon.co.uk

Australia: Find other tech and computer products like this over at Amazon.com.au

Canada: Find other tech and computer products like this over at Amazon.ca

Deutschland: Finde andere Technik- und Computerprodukte wie dieses auf Amazon.de