Introduction

The driver is out that does it all. Crossfire X; we've wanted it, we've asked for it, we've (finally) got it. Crossfire X is the next generation of Crossfire technology for Radeon based graphics cards.
If you're curious on just what you can do with Crossfire X, check out the picture below that gives you an idea on just how versatile this technology is.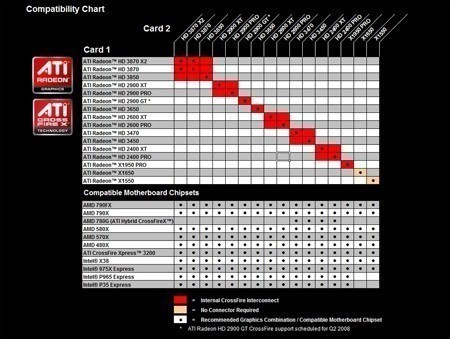 We'll be looking at the top dogs today, the HD 3870 X2. Let's get stuck into it.
Test System Setup and 3DMark06
Test System SetupProcessor(s):
Intel Core 2 Quad Q6600 @ 3GHz (333MHz x 9)
Cooling:
Corsair Nautilus500 (Supplied by
Corsair
) with Arctic Cooling MX-2 Thermal Compound (Supplied by
Arctic Cooling
)
Motherboard(s):
GIGABYTE X48-DQ6 (Supplied by
GIGABYTE
)
Memory:
2 X 1GB Kingston PC6400 DDR-2 3-3-3-10 (KHX6400D2ULK2/2G) (Supplied by
Kingston
)
Hard Disk(s):
Seagate 250GB 7200RPM SATA-2 7200.10 (Supplied by
Seagate
)
Operating System:
Windows Vista
Drivers:
Catalyst 8.2, 2-22-08 dated CrossfireX driver
With a pair of HD 3870 X2 cards in hand it's time to check out what Crossfire X is capable of. For comparisons sake we've also included a single HD 3870 and a single HD 3870 X2.
3DMark06Version and / or Patch Used:
Build 110
Developer Homepage:
http://www.futuremark.com
Product Homepage:
http://www.futuremark.com/products/3dmark06/
Buy It Here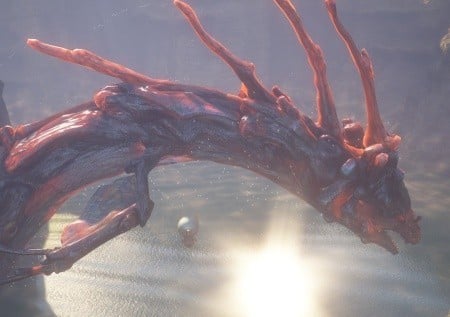 3DMark06 is the very latest version of the "Gamers Benchmark" from FutureMark. The newest version of 3DMark expands on the tests in 3DMark05 by adding graphical effects using Shader Model 3.0 and HDR (High Dynamic Range lighting) which will push even the best DX9 graphics cards to the extremes.
3DMark06 also focuses on not just the GPU but the CPU using the AGEIA PhysX software physics library to effectively test single and Dual Core processors.
It doesn't come as any real surprise that we see improvements over the single X2, but gains aren't exactly massive. The biggest gains can clearly be seen at 1920 x 1200 with only 300 points separating it from the default score.
Benchmarks - CINEBENCH R10
CINEBENCH R10Version and / or Patch Used:
Release 10
Developer Homepage:
http://www.maxon.net/
Product Homepage:
http://www.maxon.net

CINEBENCH is a real-world test suite that assesses your computer's performace capabilities. MAXON CINEBENCH is based on MAXON's award-winning animation software, CINEMA 4D, which is used extensively by studios and production houses worldwide for 3D content creation. MAXON software has been used in blockbuster movies such as Spider-Man, Star Wars, The Chronicles of Narnia and many more.
MAXON CINEBENCH runs several tests on your computer to measure the performance of the main processor and the graphics card under real world circumstances. The benchmark application makes use of up to 16 CPUs or CPU cores and is available for Windows (32-bit and 64-Bit) and Macintosh (PPC and Intel-based).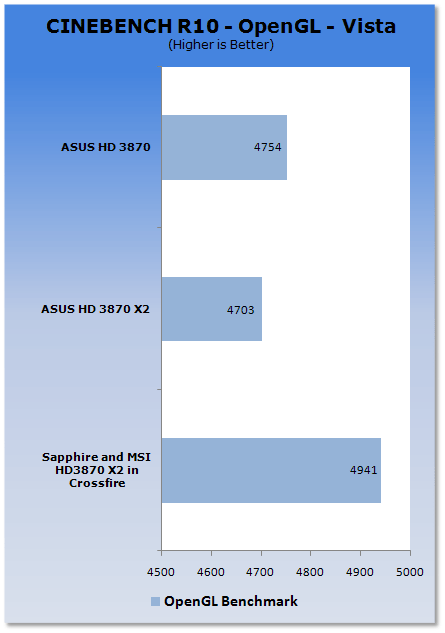 CINEBENCH shows small gains, but again nothing all that interesting.
Benchmarks - Half Life 2 (Episode Two HDR)
Half Life 2 (Episode Two HDR)Version and / or Patch Used:
Latest from Steam
Timedemo or Level Used:
Custom Timedemo
Developer Homepage:
http://www.valvesoftware.com
Product Homepage:
http://www.half-life2.com
Buy It Here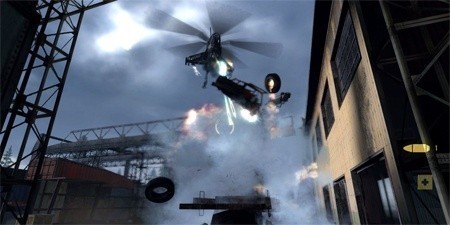 By taking the suspense, challenge and visceral charge of the original, and adding startling new realism, responsiveness and new HDR technology, Half-Life 2 Episode Two opens the door to a world where the player's presence affects everything around him, from the physical environment to the behaviors even the emotions of both friends and enemies.
We benchmark Half Life 2 Episode Two with our own custom timedemos as to avoid possible driver optimizations using the "record demo_name" command and loading the timedemo with the "timedemo demo_name" command - For a full list of the commands,
click here
.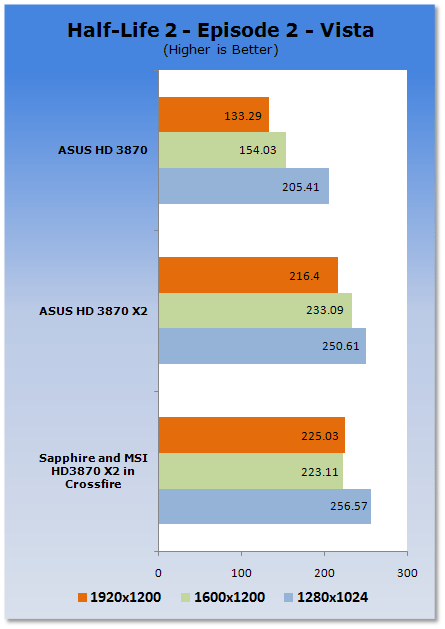 Moving onto Episode Two we can see small gains at the higher resolution, but we're already pumping out such massive numbers that it doesn't make a difference.
Benchmarks - Enemy Territory: Quake Wars
Enemy Territory: Quake WarsVersion and / or Patch Used:
Latest Steam Version
Timedemo or Level Used:
Custom time demo
Developer Homepage:
http://www.splashdamage.com/
Product Homepage:
http://www.enemyterritory.com/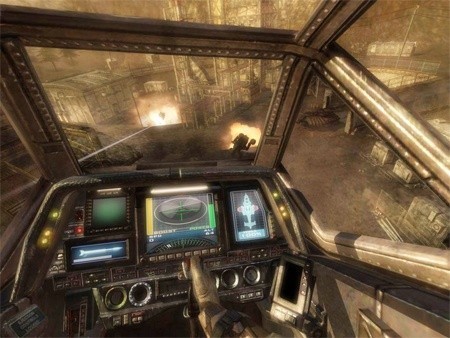 Enemy Territory: Quake Wars is the latest Quake incarnation to make it out of the iD labs and carries with it a fast paced experience that manages to place a good amount of strain on your graphics card.
We use a custom made time demo which shows a bit of everything and manages to give us a good solid benchmark for the graphics cards that we test.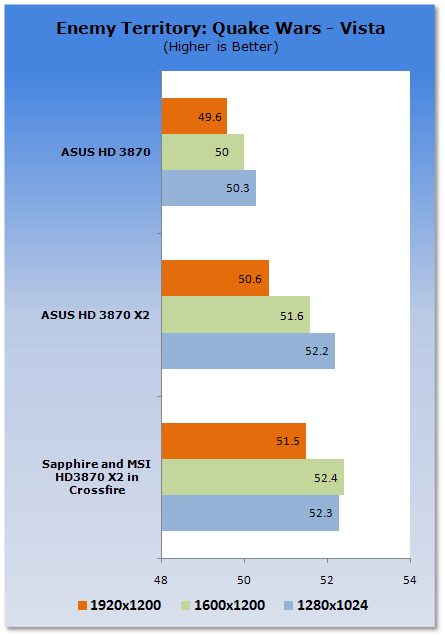 We continue to see no real difference between the single card and the Crossfire X setup.
Benchmarks - Crysis
CrysisVersion and / or Patch Used:
1.1
Timedemo or Level Used:
Custom time demo
Developer Homepage:
http://www.crytek.com/
Product Homepage:
http://www.ea.com/crysis/
Buy It Here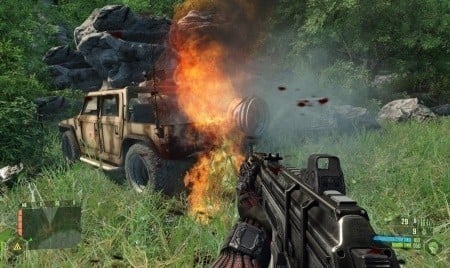 From the makers of Far Cry, Crysis offers FPS fans the best-looking, most highly-evolving gameplay, requiring the player to use adaptive tactics and total customization of weapons and armor to survive in dynamic, hostile environments including Zero-G.
Real time editing, bump mapping, dynamic lights, network system, integrated physics system, shaders, shadows and a dynamic music system are just some of the state of-the-art features the CryENGINE™ 2 offers. The CryENGINE™ 2 comes complete with all of its internal tools and also includes the CryENGINE™ 2 Sandbox world editing system.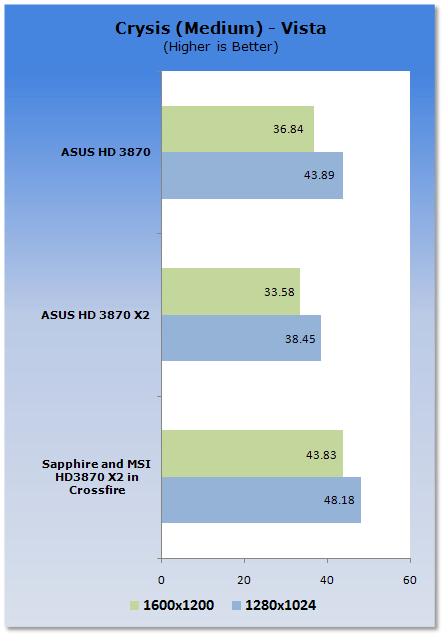 Crysis had some issues with the single X2, and while the Crossfire X2 numbers are the best numbers here, they are again not huge. The option to play at 1920 x 1200 was also not available under the setup.
Benchmarks - Unreal Tournament 3
Unreal Tournament 3Version and / or Patch Used:
1.1
Timedemo or Level Used:
Developer Homepage:
http://www.epicgames.com/
Product Homepage:
http://www.unrealtournament3.com/
Buy It Here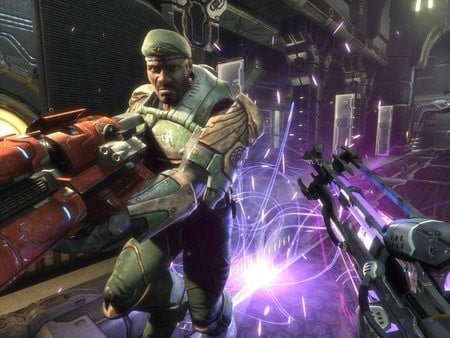 Following the formulae that made Unreal Tournament so great the third installment to the series has hit us recently with better than ever graphics. The games uses the latest Unreal Engine which like most modern day games when maxed out puts the pressure on our lineup of graphics cards.
UT3 numbers also sit pretty similar to what we've seen so far, with nothing exactly ground breaking.
High Quality AA and AF
Our high quality tests let us separate the men from the boys and the ladies from the girls. If the cards weren't struggling before they will start to now.
3DMark06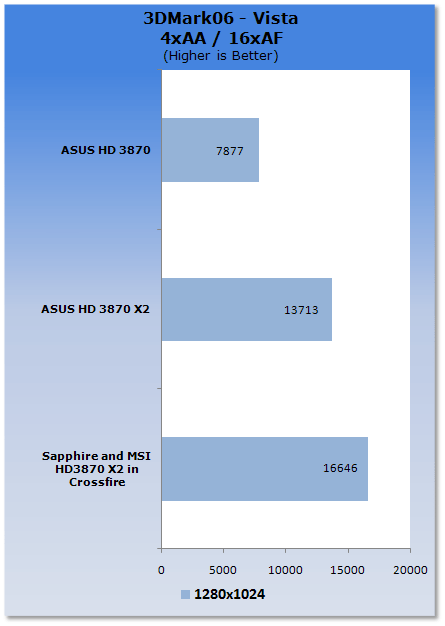 We continue to see the gains here, but the biggest gains have only been seen under 3DMark06.
Final Thoughts
Well, that wasn't as exciting as I had hoped. We're going to start running into CPU limitations again with this kind of setup. We can see this with the small differences being seen between 1280 x 1024 and 1920 x 1200.
I don't know what we really expected to be honest, but it would have been nice to see something like Crysis get an average of 80FPS.
The thing is though, with this issue of small gains for the Quad GPU setup, I don't think it's going to be specific to that of AMD based graphics cards. The chances are we're going to see similar issues when it comes to NVIDIA wanting to jump on the QUAD GPU band wagon.
The people who are going to have the most fun with the Crossfire X driver are 3DMark bench markers. The rest of the people are probably going to run into the same problems that we had here, which involved some applications not running (PT Boats) or AA not being able to turn on (Half Life 2 Episode 2), or just generally very little performance gains.
AMD made a promise that we would have Crossfire X by the end of the first quarter, and good on them for sticking to that promise, but clearly some tweaking needs to be done!