Introduction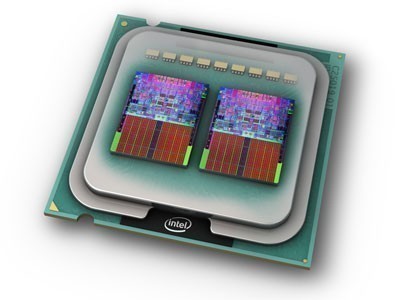 Intel's Core architecture has really made a huge impression on the CPU war between AMD and Chipzilla. Not long ago Intel was in hot water over its Peltier-element temp running Prescott based CPUs, running single core on them was bad enough, but dual core pushed the thermal envelope to 130+ watts. This was AMD's time to shine, managing to get its CPUs to run at just over 60 watts in thermal displacement out of the same 90nm cores, only AMD has its SOI (Silicon-On-Insulator) where Intel simply refused to believe that SOI was better than a strained silicon design.
Intel tried all it could to squeeze as much money out of Netburst, but when Dothan laptop CPUs were simply able to kill the desktop versions it was time to put this to bed. Intel's Core architecture made its debut not on the desktop but on the Laptop and mobile platforms, with the Core Solo and Core Duo really making a name for themselves in the initial stages, so much so that it made sense for desktop boards to be developed which could run these mighty quick and efficient CPUs.
Soon after came the desktop variants with a few more perks added such as extra cache, faster speeds and higher thermal envelopes, though it still managed to keep well below its Netburst counterparts.
Core 2 CPUs are the big thing these days, really sticking it to the AMD Athlon 64 family. For the most part the 266MHz (or 1066MHz quad pumped) FSB has been the big power behind the success of the Core 2, now Intel has upped this to 333Mhz (or 1333QDR).
Today we are testing out the high-end Core 2 Extreme QX6850 along with some other processors to see if the 1333MHz FSB offers a noticable performance increase over the usual 1066MHz parts.
Intel's 1333MHz FSB CPUs
The Next Bus step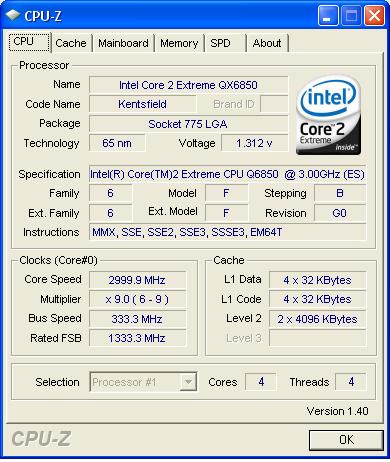 Intel's latest series of CPUs come to us with a new numbering system. They have been given the 6x40 and 6x50 branding. any CPU with the 6x40 or 6x50 tags are 1333Mhz FSB rated CPUs. Intel has moved its high-end Extreme, Quad core and Duo series to the 1333Mhz FSB series. The E4xxx are not moving past their 800Mhz FSB rating allowing Intel to keep the price of the CPU as low as possible, as well as crippling its raw speed compared to the 1066MHz series.
The biggest thing is the Core 2 Quad CPU which will in theory benefit from the increased FSB speed compared to that of the standard Core 2 Duo series. Why you may ask? Simply put, Intel's Core 2 Quad puts two Core 2 Duo CPUs on a single CPU package, the two cores are separate and have no direct access to each other. For inter-core communications between the two separate dies, it has to go along the traditional FSB, this is identical to how the old SMP setups used to work (like the Pentium III) in dual CPU configurations.
A single Core 2 CPU can chew up significant amounts of bandwidth quite easily on its own, when it has to contend with another CPU wanting access it's all up to how fast you can feed the cores, and the 1333MHz FSB can give quite a bit more bandwidth which obviously allows the transfer to happen much quicker.
Intel's platform of choice for the 1333MHz FSB CPU is the P35, this being the newest kid on the block. Intel's P35 chipset manages to run speeds of 1333MHz without any problems, not only this but it also packs a DDR-III memory controller for higher speed memory and greater bandwidth, something the Core 2 Quad really needs. Until Intel releases a true Quad Core CPU, the faster the bus you can get the better off you're going to be.
Benchmarks - Test System Setup and Sisoft Sandra XI
Test SystemsIntel Test PlatformMotherboard
: Gigabyte P935-DQ6 (Supplied by
Gigabyte
)
Memory
: 2x 1GB DDR2-1066MHz Corsair (Supplied by
Corsair
)
Hard Disk
: 500GB Seagate 7200.9 (Supplied by
Seagate Australia
)
Graphics Card
: Nvidia 8800GTS 640MB
Cooling
: Gigabyte Neon775 (Supplied by
Gigabyte
)
Operating System
: Microsoft Windows XP SP2
Drivers
: Intel INF 8.3.0.1013, Forceware 158.22
AMD Athlon 64 Test PlatformProcessor
: AMD Athlon 64 X2 6000+
Motherboard
: MSI K9N SLI (Supplied by
MSI
)
Memory
: 2x 1GB DDR2-1066MHz Corsair (Supplied by
Corsair
)
Hard Disk
: 500GB Seagate 7200.9 (Supplied by
Seagate Australia
)
Graphics Card
: Nvidia 8800GTS 640MB
Cooling
: Gigabyte Neon K8 (Supplied by
Gigabyte
)
Operating System
: Microsoft Windows XP SP2
Drivers
: Forceware 158.22, nForce Platform Drive 9.53
For a clearer indication of comparative results, we are testing a number of different CPUs today. While we only received a single QX6850 (which is a Quad Core 1333MHz FSB offering with a speed of 3GHz), we also have a Core 2 Quad QX6700 which we clocked up to QX6800 speeds (2.93GHz) on the 1066MHz FSB. We also used a Core 2 Extreme X6800 at 2.93GHz on a 1066MHz FSB, and we chose to clock it up to 3GHz (identical to the X6850) on the 1333MHz FSB.
Our AMD sample was an X2 6000+ processor running at 3GHz. We wanted to do as comprehensive a test suite as possible in order to compare the 1333MHz FSB to the 1066MHz FSB in both quad and dual core situations, as well as seeing how much more ground AMD has lost compared to the new CPU.
SiSoft SandraVersion and / or Patch Used:
XI
Developer Homepage:
http://www.sisoftware.co.uk
Product Homepage:
http://sisoftware.jaggedonline.com/index.php?location=home&a=TTA&lang=en
Buy It Here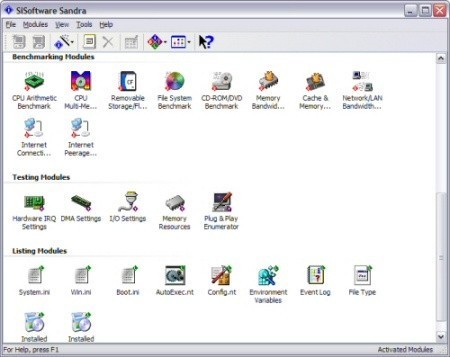 SiSoft Sandra (
S
ystem
AN
alyser,
D
iagnostic and
R
eporting
A
ssistant) is a synthetic Windows benchmark that features different tests used to evaluate different PC subsystems.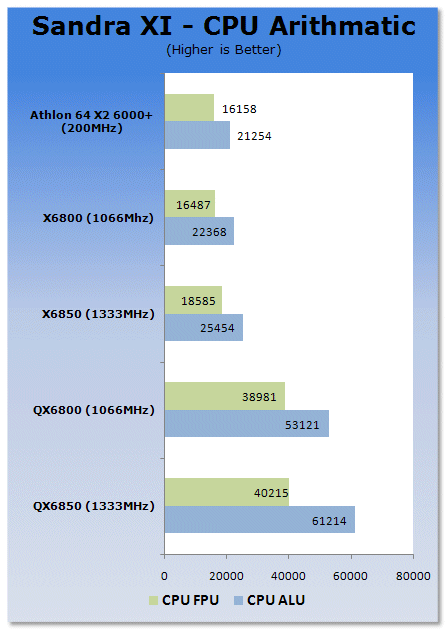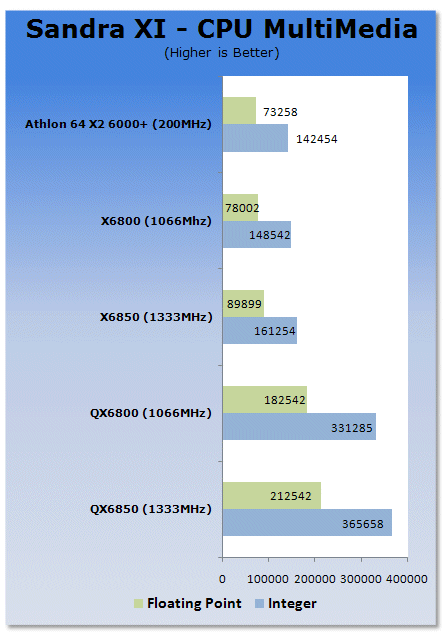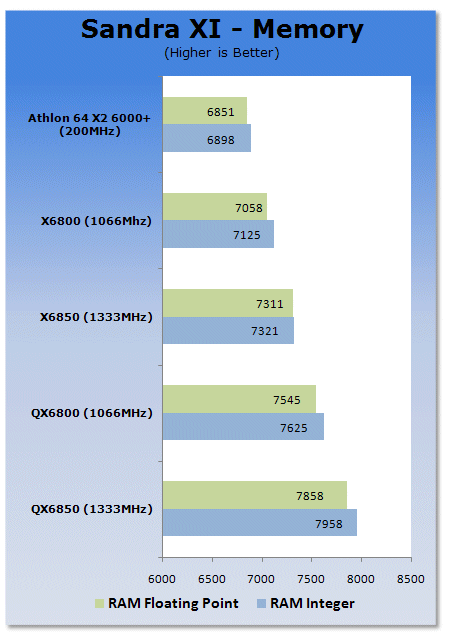 Not surprisingly, the big winner here is the Core 2 Quad QX6850 with a significant boost across the board thanks to the extra bus speed feeding those four hungry cores.
Benchmarks - Everest
EVEREST Ultimate EditionVersion and / or Patch Used:
2006
Developer Homepage:
http://www.lavalys.com
Product Homepage:
http://www.lavalys.com
Buy It Here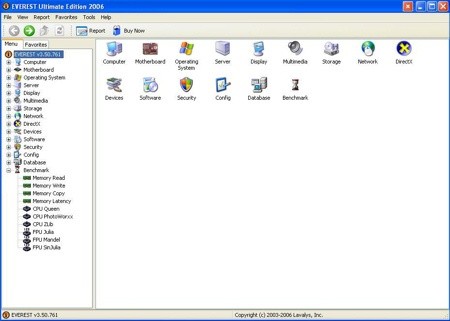 EVEREST Ultimate Edition is an industry leading system diagnostics and benchmarking solution for enthusiasts PC users, based on the award-winning EVEREST Technology. During system optimizations and tweaking it provides essential system and overclock information, advanced hardware monitoring and diagnostics capabilities to check the effects of the applied settings. CPU, FPU and memory benchmarks are available to measure the actual system performance and compare it to previous states or other systems.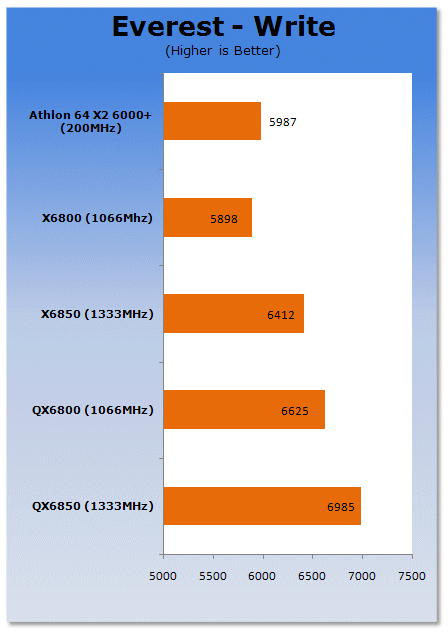 Everest's memory performance puts the new 1333MHz series well ahead of the rest.
Benchmarks - PCMark05
PCMarkVersion and / or Patch Used:
1.2.0
Developer Homepage:
http://www.futuremark.com
Product Homepage:
http://www.futuremark.com/products/pcmark04/
Buy It Here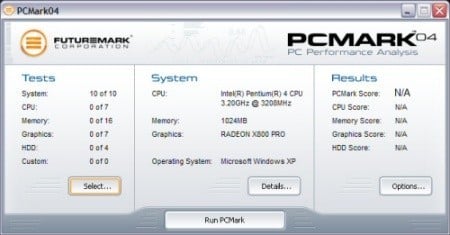 PCMark is a multipurpose benchmark, suited for benchmarking all kinds of PCs, from laptops to workstations, as well as across multiple Windows operating systems. This easy-to-use benchmark makes professional strength benchmarking software available even to novice users. PCMark consists of a series of tests that represent common tasks in home and office programs. PCMark also covers many additional areas outside the scope of other MadOnion.com benchmarks.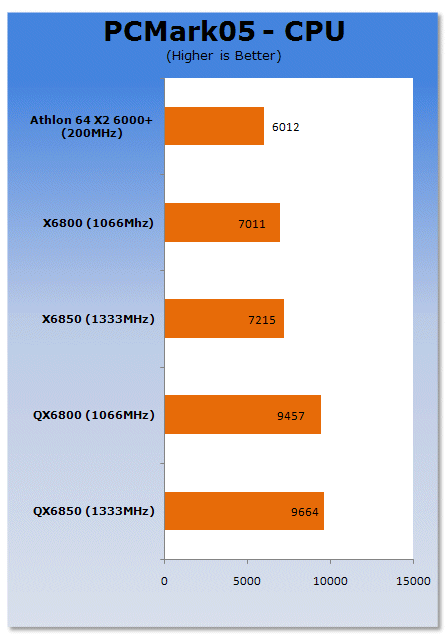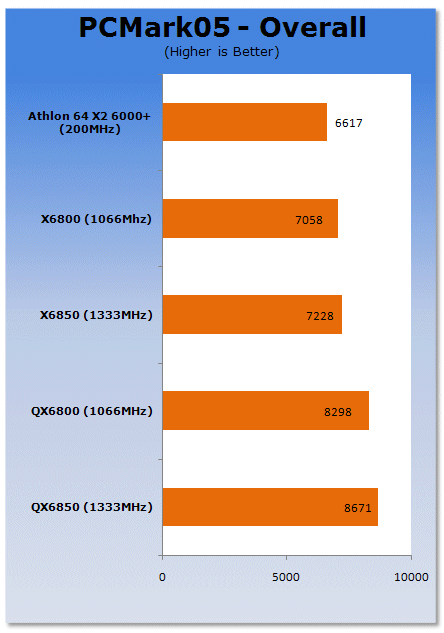 CPU scores are quite impressive here, especially for the Core 2 Quad 1333MHz. Surprisingly the 1066MHz X6800 and the 1333MHz X6850 aren't that far off in terms of these results.
Benchmarks - Worldbench
WorldBench 5.0Version and / or Patch Used:
Retail, version 5.0
Developer Homepage:
http://www.pcworld.com
Product Homepage:
http://www.pcworld.com
Buy It Here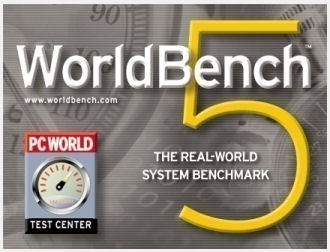 WorldBench 5.0 is the fifth generation of PC World's industry-standard benchmarking application. Designed to measure the performance of today's wide range of personal computers, WorldBench has been in continuous use at PC World for nine years.
WorldBench 5.0 uses the following applications to gauge system performance: ACD Systems ACDSee PowerPack 5.0, Adobe Photoshop 7.0.1, Adobe Premiere 6.5, Ahead Software Nero Express 6.0.0.3, Discreet 3ds max 5.1 (DirectX), Discreet 3ds max 5.1 (OpenGL), Microsoft Office XP with SP-2, Microsoft Windows Media Encoder 9.0, Mozilla 1.4, Musicmatch Jukebox 7.10, Roxio VideoWave Movie Creator 1.5 and WinZip Computing WinZip 8.1.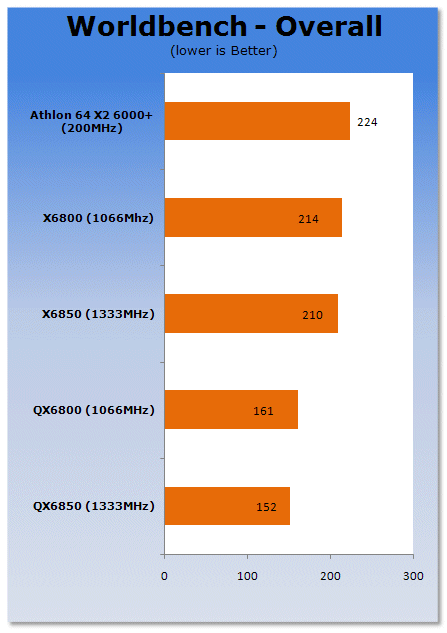 This is where the higher bus speeds start to show their true colours, the 1333MHz FSB series manages to keep ahead of the 1066MHz Core 2's quite easily.
Benchmarks - Adobe Premiere Elements 2.0
Adobe Premiere Elements 2.0Version and / or Patch Used:
2.0
Developer Homepage:
http://www.adobe.com
Product Homepage:
http://www.adobe.com/products/premiereel/
Buy It Here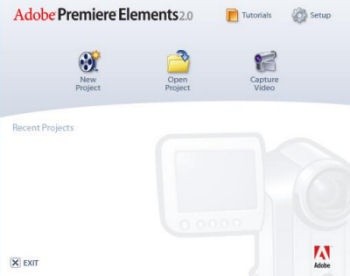 Our test with Adobe Premiere Elements 2.0 is performed with a raw two hour AVI file. It is then compressed into DivX format using the latest version codec. We measure the time it takes to encode and then record CPU usage.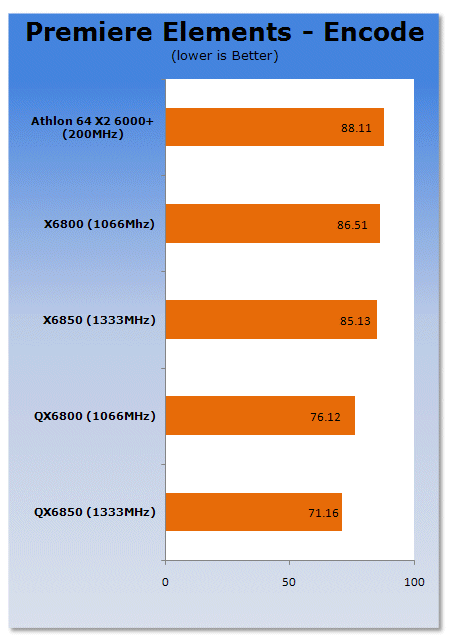 Encoding shows the Core 2 Quad 1333MHz processor in a very strong light. This is where the four cores really excel. There is only a few minutes difference between the 1066MHz and 1333MHz dual core CPUs.
Benchmarks - Super PI
Super PIVersion and / or Patch Used:
x
Developer Homepage:
http://pw1.netcom.com/~hjsmith/Pi/Super_Pi.html
Product Homepage:
http://pw1.netcom.com/~hjsmith/Pi/Super_Pi.html
Developed by some folks from the University of Tokyo (yes, Japan), Super PI is a small utility that does just as the name implies. It figures PI to a set number of decimal places. Since PI is an infinite number to the right of the decimal point, the utility measures the time it takes to figure a set number of places. It runs the calculations a set number of times and gives a time for the completion of the task. This is a simple and effective way to measure the raw number crunching power of the processor being used to compile the results..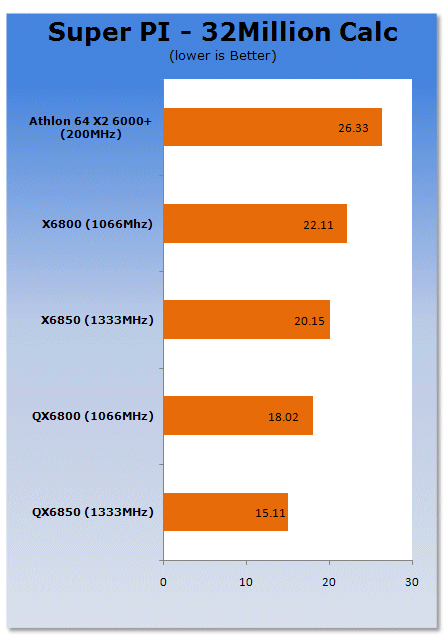 The Core 2 Series CPUs at both 1066 and 1333MHz are almost identical in scores, the Core 2 Quads however are quite a bit apart thanks to the new FSB.
Benchmarks - 3DMark06
3DMark06Version and / or Patch Used:
1.1.0
Developer Homepage:
http://www.futuremark.com
Product Homepage:
http://www.futuremark.com/products/3dmark06/
Buy It Here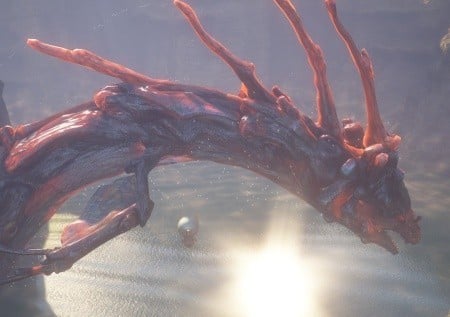 3DMark06 is the very latest version of the "Gamers Benchmark" from FutureMark. The newest version of 3DMark expands on the tests in 3DMark05 by adding graphical effects using Shader Model 3.0 and HDR (High Dynamic Range lighting) which will push even the best DX9 graphics cards to the extremes.
3DMark06 also focuses on not just the GPU but the CPU using the AGEIA PhysX software physics library to effectively test single and Dual Core processors.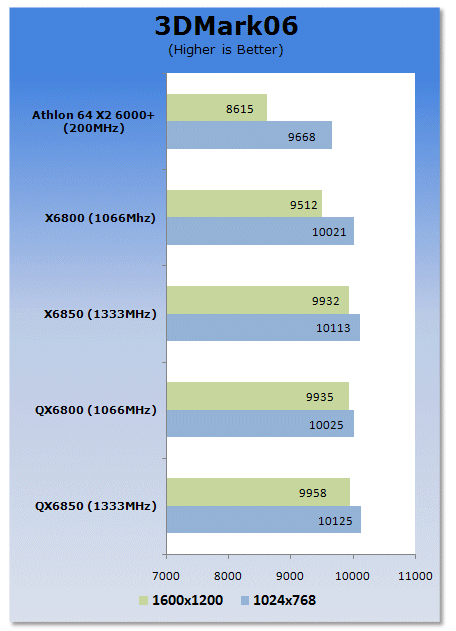 In our gaming tests we see that the Core 2 Quad doesn't have that much more advantage over the X6850 dual core CPU.
Benchmarks - Prey
PreyVersion and / or Patch Used:
1.2
Timedemo or Level Used:
Hardware OC Demo
Developer Homepage:
http://www.humanhead.com
Product Homepage:
http://www.prey.com
Buy It Here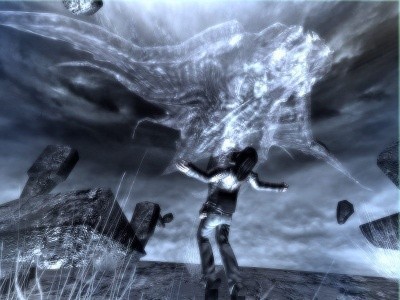 Prey is one of the newest games to be added to our benchmark line-up. It is based off the Doom 3 engine and offers stunning graphics passing what we've seen in Quake 4 and does put quite a lot of strain on our test systems.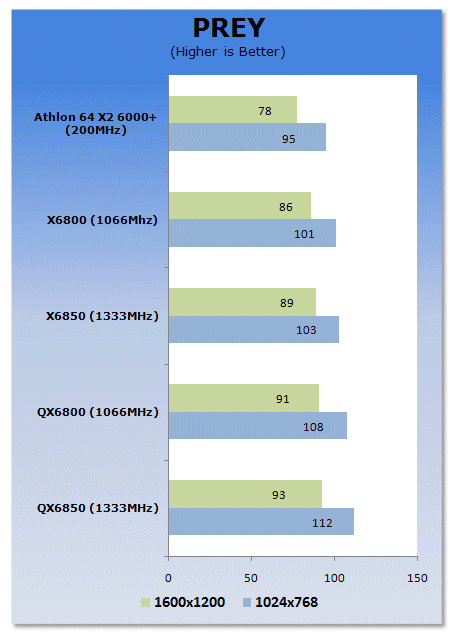 Real world gaming shows the same results as 3DMark's synthetic tests. The Core 2 Quad 1333MHz FSB and the Core 2 Duo dual core 1333MHz CPUs are not that far apart.
Benchmarks - Far Cry
Far CryVersion and / or Patch Used:
1.3
Timedemo or Level Used:
Benchemall Default Demo
Developer Homepage:
http://www.crytek.com
Product Homepage:
http://www.farcrygame.com
Buy It Here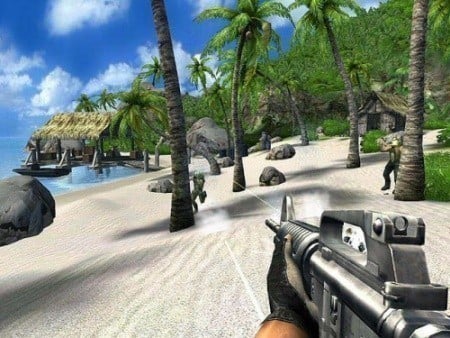 While Far Cry is now one of our older benchmarking games, it is still able to put pressure on most computers systems as it is able to utilize all parts of the system. Utilizing PS2.0 technology with the latest versions supporting Shader Model 3.0 with DX9c and offering an exceptional visual experience, there is no denying that even some of the faster graphics cards get a bit of a workout.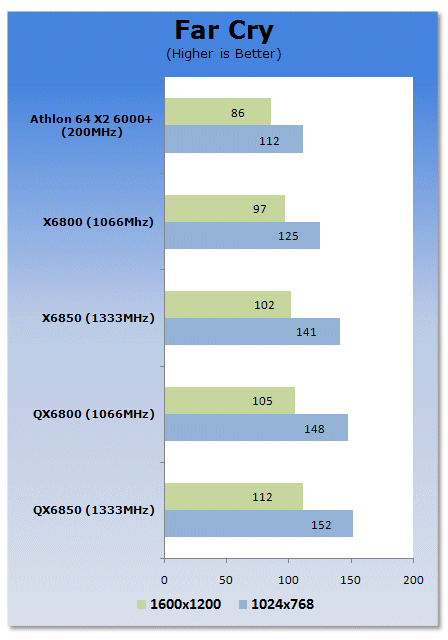 Lastly our scaling test show the same, the QX6850 and X6850 are pretty close in results.
Final Thoughts
Intel's move to a 1333MHz FSB is quite simply the next logical step. CPU core speed itself does make a difference to performance, but as we saw with Netburst it's not everything. Increasing bus speeds along with a new memory controller helps to make a difference, especially when you load the FSB up with too much data like the Core 2 Quad does.
Intel's current crop of quad core CPUs really are very hungry for bandwidth, and due to their weakness of two separate dies having to communicate across the old archaic protocol, this actually puts Intel behind AMD, especially when AMD puts its true quad core offering on the table (whenever that may be, your guess is as good as mine).
The 1333MHz FSB didn't make a huge impact on the Core 2 Duo as its core to core communication happens through the shared L2 cache, taking a lot of data load off the FSB and leaving it to feed the CPU its data rather than communicating between the two cores.
Core 2 Quad is simply not the greatest gaming processor, as its use of the FSB for core to core communications requires more cycles, and reduces the overall FSB rate as a result. If your intent is gaming only, a Core 2 Duo or Extreme dual core solution is more of what you are looking for.
Core 2 Quad's biggest strength is in pure mathematical operations, such as decoding, rendering and encoding, as well as media files and overall server style applications, making it the ideal digital media processor on the market. It managed to shave quite a few minutes off the Premiere Elements encode times as well as the overall score in World bench where CPU power is paramount.
Overall the Core 2 Quad and Core 2 Duo on the 1333MHz FSB will be the next big step, as Intel's pricing structure plans to make the 1333MHz series more financially viable than the 1066MHz counterparts, in turn pushing the P35 (and X38 when it hits the retail market) with a vengeance.
Our best advice is to use the new 1333MHz FSB CPU as there are no performance hits over the older 1066MHz versions, and with the increased bus speed the Core 2 Quad has much more breathing space to be able to perform to the best of its capabilities.