Introduction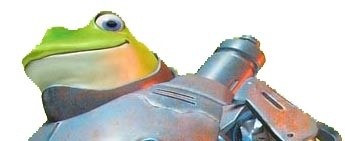 Creating a 320MB edition of the GeForce 8800GTS was a good idea, before we even look into the card or test it. The decision to create the toned down model was fantastic, a whole lot better than releasing a new card with a completely different naming scheme that was just going to go ahead and confuse everyone.
They shouldn't have changed the name anyway, since it is an 8800GTS with just less memory. Fortunately they didn't do something stupid like call it the "8850GT" which does nothing but cause panic to everyone who owns a new graphics card.
Palit have come to the party today and shown us the 320MB version of the 8800GTS - we're going to have a quick look at it and the package before we gets stuck into what really matters, and of course what we really want to know. Are we sacrificing much by loosing 320MB of memory?
Well, let's find out!
The Package
The package is very Palit and who ever said Sex Sells never bet the Frobot because as far as I'm concerned, frogs sell! The front of the box is very standard; we have the main information in the bottom right hand corner that tells us how much memory, memory width, memory type, card model and some of its main features.
Turning the box over we have some extended information on the product in a multitude of languages along with the standard array of logos and URL and email address for Palit.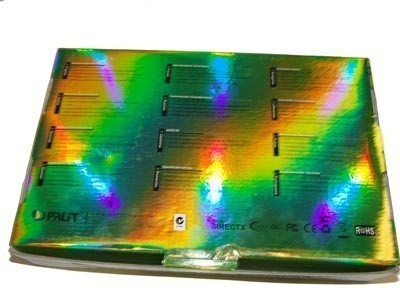 Moving to the inside it continues to follow the typical Palit layout, the package is light but so is the price. With that said though Palit have no trouble including a game, in this case SpellForce 2. We also have our driver CD and standard paper work.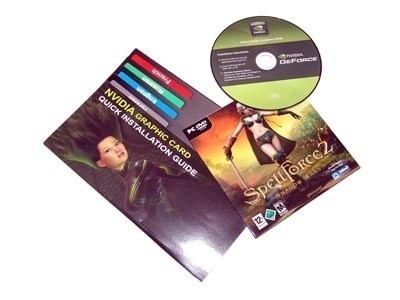 Moving to the cables, we have a couple DVI to VGA connectors, HDTV out cable, which also has the standard RCA out along with a power connector for those who don't have a native 6 pin PCI Express power connector on their power supply.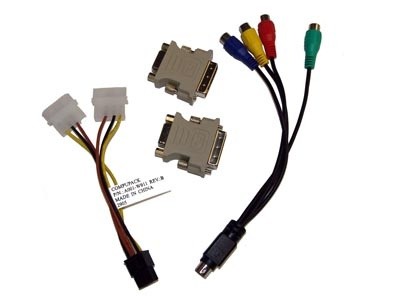 As we mentioned the package is all very Palit-like. There isn't a whole lot to it but Palit continue to release one of the cheapest cards on the market and include a game that isn't 5 years old, something other companies can never seem to achieve.
The Card
Onto the card! Well, there isn't a whole lot to see here, placed next to a standard GeForce 8800GTS you can't tell the card apart. They physically look exactly the same in every shape, way and form. Of course the 320MB version has less memory but due to the huge cooler that covers the card you can't see it.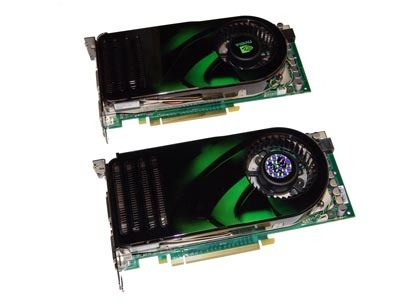 Looking at the front of the card, if it wasn't for the Palit sticker, you would think it was the standard nVidia reference model - it's no big deal though, why pay an extra $15 to have a company's sticker covering the cooler.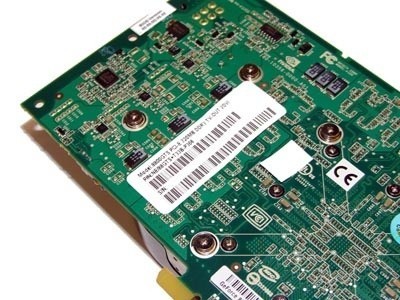 Turning the card over is also very standard, the only real way to differentiate the two cards is by looking at the sticker that says it's a 320MB version. Apart from this we have all our standard array of connectivity.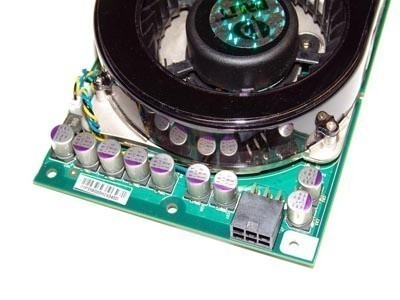 With a quick sweep around the card we have a very typical layout; the side shows us the 6-pin PCI Express power connector that is needed to have the card operating at full speed.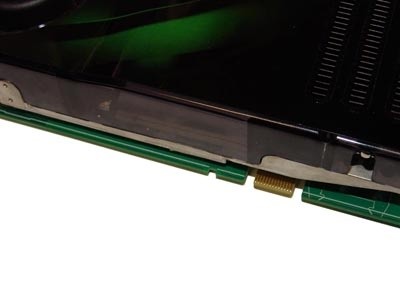 The top of the card has an SLI connector for those fortunate enough to have two cards along with an SLI compatible motherboard to go with it.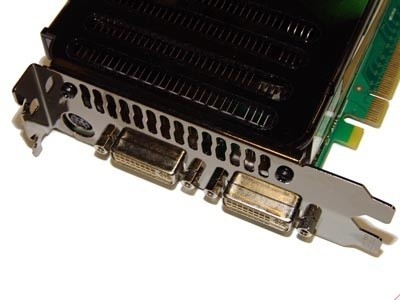 Finally I/O wise we have two Dual Link DVI connectors for owners of 30" monitors along with our TV-Out port. The whole GeForce 8800 range is HDCP compliant and this card is no different. As far as clock speeds go, there is no difference between the 640MB and 320MB versions - they remain unchanged at 500MHz on the core and 1600MHz DDR on the memory.
Benchmarks - Test System Setup and 3DMark05
Test System SetupProcessor(s):
Intel Core 2 Duo E6600 at 3150MHz (350MHz FSB 1:1)
Motherboard(s):
ASUS P5B Deluxe (Supplied by
ASUS
)
Memory:
2 X 1GB G.Skill HZ PC8000 @ 350MHz 4-4-4-12 (Supplied by
Bronet
)
Hard Disk(s):
Hitachi 80GB 7200RPM SATA 2
Operating System:
Microsoft Windows XP Professional SP2
Drivers:
nVidia ForceWare 97.92 and DX9c
There was no point comparing this graphics card to anything other than the GeForce 8800GTS 640MB version. This is what everyone wants to know - can I save around $100 AUD or more (about $80 USD) and not have to be sacrificing everything I want in the image quality department.
We are going to work through our normal array of tests which tests everything from OpenGL to HDR along with everything in between.
Let's see how 320MB compares against the 640MB version.
3DMark05Version and / or Patch Used:
Build 130
Developer Homepage:
http://www.futuremark.com
Product Homepage:
http://www.futuremark.com/products/3dmark05/
Buy It Here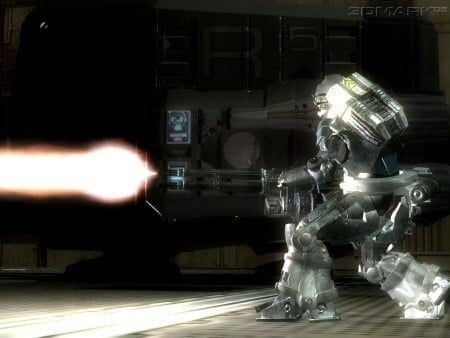 3DMark05 is now the second latest version in the popular 3DMark "Gamers Benchmark" series. It includes a complete set of DX9 benchmarks which tests Shader Model 2.0 and above.
For more information on the 3DMark05 benchmark, we recommend you read our preview
here
.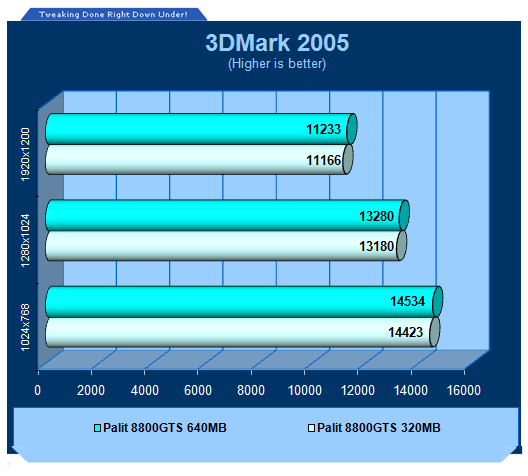 The older 3DMark05 shows us that the difference is almost nothing between both versions.
Benchmarks - 3DMark06
3DMark06Version and / or Patch Used:
Build 110
Developer Homepage:
http://www.futuremark.com
Product Homepage:
http://www.futuremark.com/products/3dmark06/
Buy It Here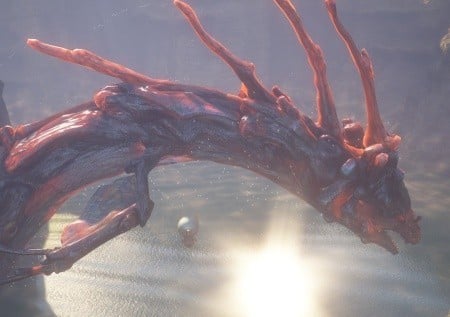 3DMark06 is the very latest version of the "Gamers Benchmark" from FutureMark. The newest version of 3DMark expands on the tests in 3DMark05 by adding graphical effects using Shader Model 3.0 and HDR (High Dynamic Range lighting) which will push even the best DX9 graphics cards to the extremes.
3DMark06 also focuses on not just the GPU but the CPU using the AGEIA PhysX software physics library to effectively test single and Dual Core processors.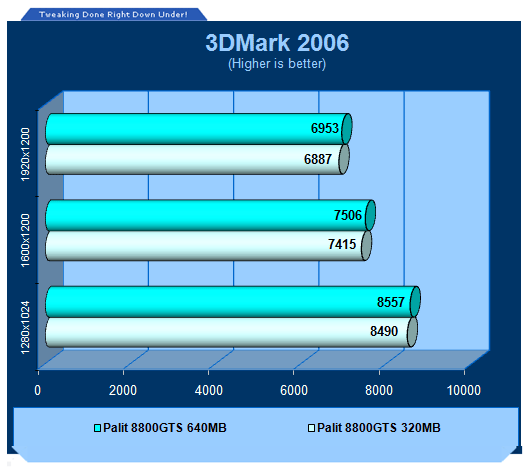 The more intense 3DMark06 benchmark is painting a similar picture and while the 640MB version is faster, it's only by such a small amount.
Benchmarks - Half Life 2 (Lost Coast)
Half Life 2 (Lost Coast)Version and / or Patch Used:
Unpatched
Timedemo or Level Used:
Custom Timedemo
Developer Homepage:
http://www.valvesoftware.com
Product Homepage:
http://www.half-life2.com
Buy It Here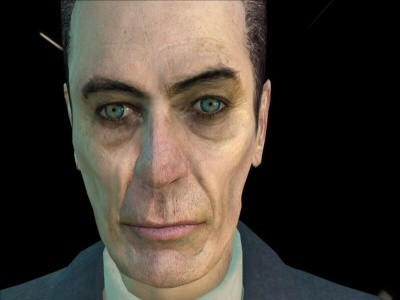 By taking the suspense, challenge and visceral charge of the original, and adding startling new realism, responsiveness and new HDR technology, Half-Life 2 Lost Coast opens the door to a world where the player's presence affects everything around him, from the physical environment to the behaviors even the emotions of both friends and enemies.
We benchmark Half Life 2 Lost Coast with our own custom timedemos as to avoid possible driver optimizations using the "record demo_name" command and loading the timedemo with the "timedemo demo_name" command - For a full list of the commands,
click here
.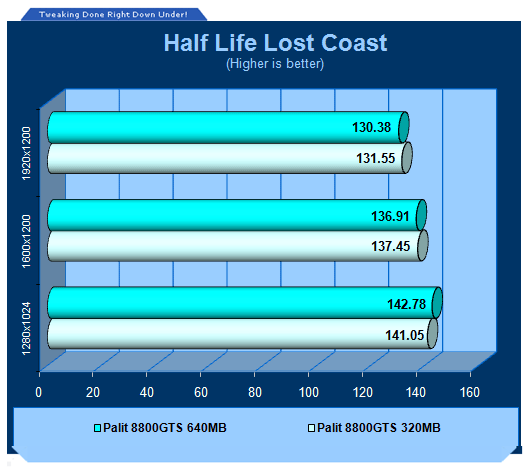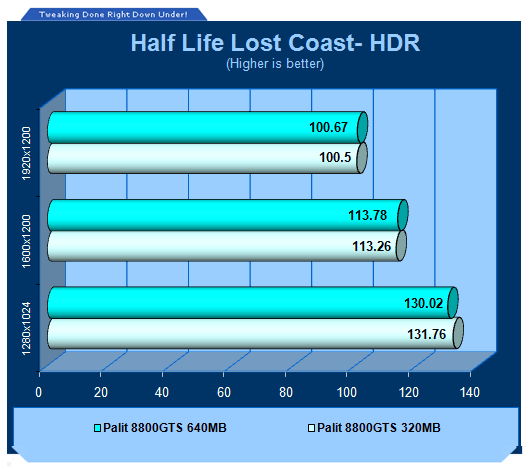 The first of our real-world testing continues to show what we have already seen; the HDR tests which places more load on the card sees that again there is really nothing between both cards.
Benchmarks - PREY
PREYVersion and / or Patch Used:
Unpatched
Timedemo or Level Used:
HardwareOC Custom Timedemo
Developer Homepage:
http://www.humanhead.com
Product Homepage:
http://www.prey.com
Buy It Here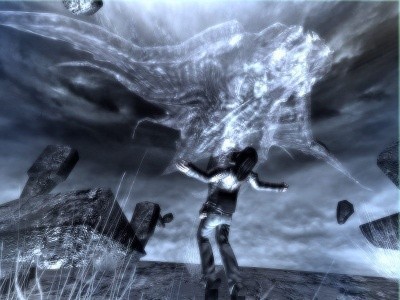 PREY is one of the newest games to be added to our benchmark line-up. It is based off the Doom 3 engine and offers stunning graphics passing what we've seen in Quake 4 and does put quite a lot of strain on our test systems.
With PREY completely maxed out we see that the 640MB version is able to have the jump on the 320MB version. Although as we move up in the resolution rank, the cards come closer together.
Benchmarks - F.E.A.R.
F.E.A.R.Version and / or Patch Used:
Unpatched
Timedemo or Level Used:
Built-in Test
Developer Homepage:
http://www.vugames.com
Product Homepage:
http://www.whatisfear.com/us/
Buy It Here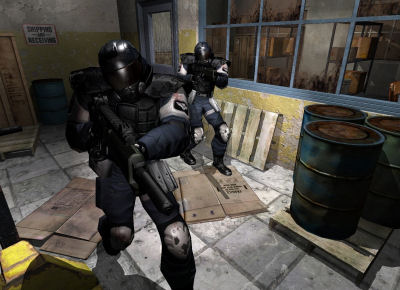 F.E.A.R. (First Encounter Assault Recon) is an intense combat experience with rich atmosphere and a deeply intense paranormal storyline presented entirely in first person. Be the hero in your own spine-tingling epic of action, tension, and terror...and discover the true meaning of F.E.A.R.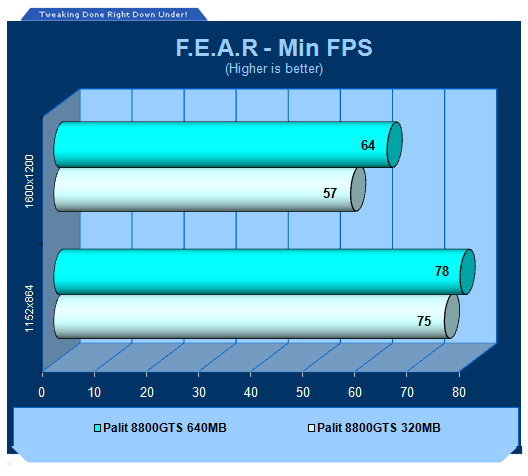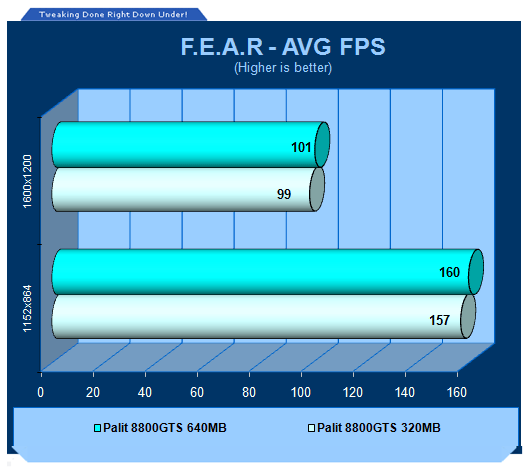 Average wise in F.E.A.R., there is really no difference. It's only when you look at the minimum that you can see it's slightly slower. The bottom line though is that at a minimum FPS of 57, you're not going to be having an unpleasant gaming experience.
Benchmarks - Company of Heroes
Company of HeroesVersion and / or Patch Used:
Demo
Timedemo or Level Used:
Built-in Test
Developer Homepage:
http://www.relic.com
Product Homepage:
http://www.companyofheroesgame.com
Buy It Here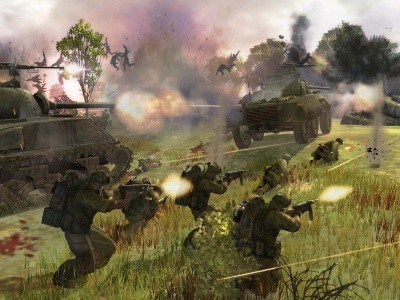 Company of Heroes, or COH as we're calling it, is one of the latest World War II games to be released and also one of the newest in our lineup of benchmarks. It is a super realistic real-time strategy (RTS) with plenty of cinematic detail and great effects. Because of its detail, it will help stress out even the most impressive computer systems with the best graphics cards - especially when you turn up all the detail. We use the built-in test to measure the frame rates.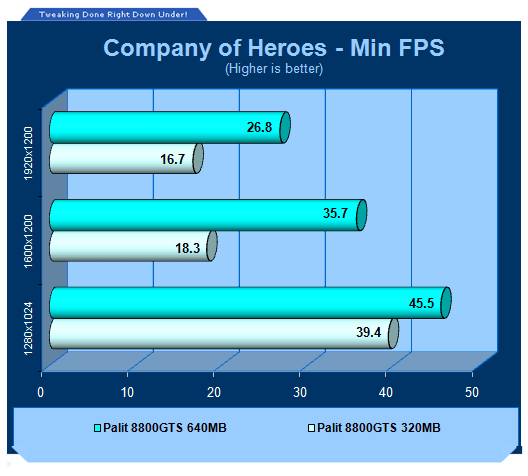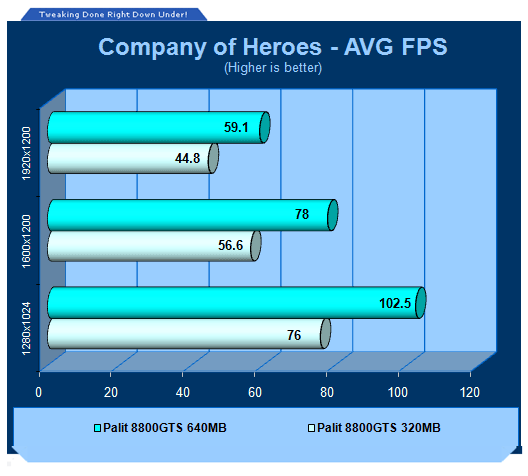 The latest addition Company of Heroes which is extremely intensive sees that all the extra memory on offer from the 640MB version is able to be utilized - it paints huge performance differences between both cards.
Benchmarks - High Quality AA and AF
High Quality AA and AF
Our high quality tests let us separate the men from the boys and the ladies from the girls. If the cards weren't struggling before they will start to now.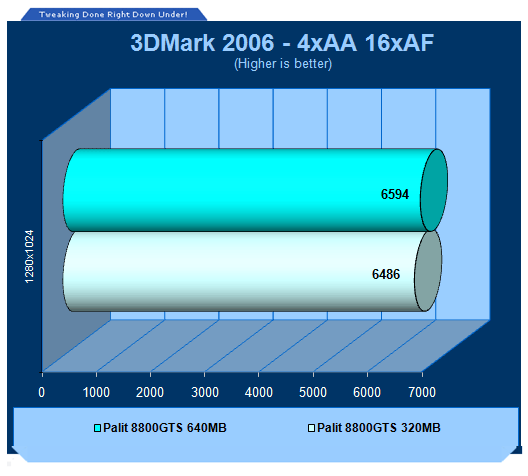 Increasing the load for 3DMark06 continues to show us that both cards continue to perform almost identically.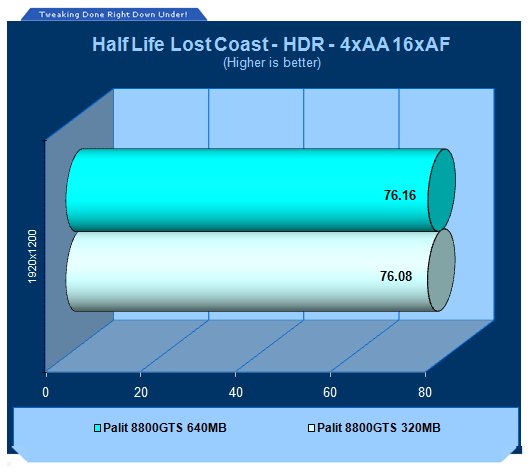 Lost Coast which showed us very little difference in our non AA tests continues to show us there is no difference when the load on the graphics card is increased.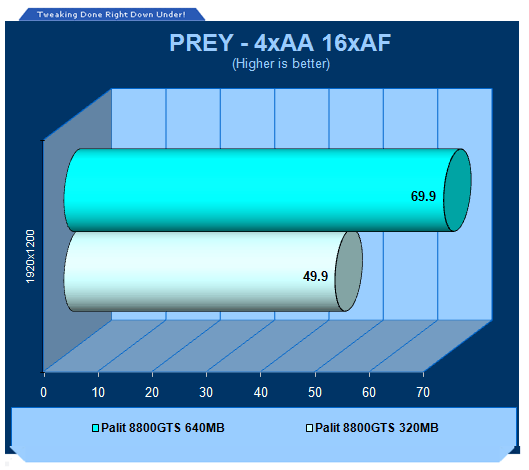 PREY which saw a difference again shows us a difference this time at the higher resolution with AA and AF enabled.
Final Thoughts
nVidia's GeForce 8800GTS 320MB is brilliant for people who want to get into the DirectX 10 arena but not spend over $500 AUD (about $380 USD) on a graphics card - you should find yourself being able to pick up a Palit 320MB for the high $400 AUD range, though.
The general feeling we have is that the 640MB version is going to be discontinued, and it does make sense to do so. There are not a lot of games that see a real difference with the extra memory and if you're really serious about your gaming, spend the extra money (about $230 AUD or $175 USD) and get the high-end GTX version that has more memory and higher clock speeds.
If you're the owner of a smaller type LCD monitor (like 17" to 19") and cannot run any higher than the standard 1280 x 1024 resolution that these monitors offer (or even 1680 x 1050 that entry level widescreen monitors do), then this is the perfect option for you. You're going to be able to get into the DX10 gaming arena without totally breaking the bank.
What is interesting though is that it's obvious that the extra memory does make a difference in certain areas and with such texture driven and highly intensive games like Crysis coming out soon, the more onboard VGA memory the merrier. However, is $100 AUD (640MB version) or $200+ AUD (8800GTX) extra worth spending so that you can have your draw distance that little bit further or be able to turn on AA and AF?
From what we can see, nVidia's GeForce 8800GTS 320MB really is going to be the "in" graphics card to own for a while. AMD's R600 is no doubt going to come out faster and a hell of a lot more expensive. It will take ATI at least three months before we see a budget conscious version like the 320MB 8800GTS come out.
Suffice to say, we are pleased with the GeForce 8800GTS 320MB. It manages to reduce the price by almost 20% over the 640MB version and in just about all of our gaming tests, performance is the same or only a little slower. Palit has only managed to make it better by selling it cheaper than most other brands on the market.
- Pros
Better value for money than 8800GTS 640MB
Free game included
320MB barely impacts performance
Typical Palit pricing (cheap!)
Dual Link DVI and HDCP support
- Cons
High resolution gamers will be better with 8800GTX - save your pennies!
Rating - 9 out of 10 and TweakTown's "MUST HAVE" Best Value Award!