Introduction
It wasn't too long ago that ATI/AMD released the latest set of drivers for their product line. We have come to expect these updates on a very regular basis, but the month of November brought a new twist to the driver set; software CrossFire support. While this was already showing itself as a huge step in the right direction, ATI went a step further and negated the requirement for a CrossFire Master Card. Now it was possible to utilize the CrossFire technology without having to purchase an impossible to find Master Card. There are a few caveats to the new drivers, but it is still a definite improvement in past CrossFire requirements.
Caveats?
In order for the software based CrossFire to work, you need any combination of two CrossFire
Ready
video cards from either the X1900 family or the X1950 family. The exception to this rule is the X1950 Pro, which uses its own form of interconnect and cannot be used in this method of CrossFire. Also, you have to have a motherboard that is capable of a CrossFire graphics setup. While not all inclusive, many motherboards using the Intel 965/975 series chipsets and the ATI chipsets fall into this category.
Additionally, if you choose two video boards that have a different number of rendering engines, both boards will perform at the lowest common denominator of the two video cards. If clock speeds are different, both boards will run at their respective speed.
For more information, check out ATI and their FAQ.
Installation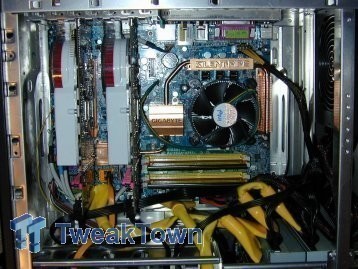 Assuming that you have the necessary equipment to make use of this new CrossFire technique, installation is very simple. Install both boards, power them up, then start up your system. Windows will automatically pick up the second video board since it is using the same driver set that is already in use, but make sure to do a system reboot after the second video board is loaded. Since the second card isn't picked up until the Catalyst drivers are already running, it requires this reboot to allow it to make use of this second board in a CrossFire setup.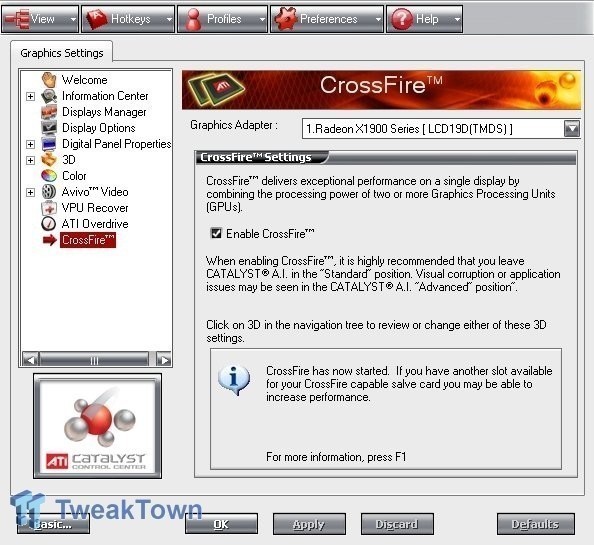 After the reboot you should see a new menu choice within the Catalyst Control Panel labeled "CrossFire". Simply put a check mark in the "Enable CrossFire" box in the window on the right and Windows will work with the driver set to start your graphics in a CrossFire mode. Another reboot is not required at this point since the system will already be properly configured to make use of the second video board.
For clarification, your monitor will need to be plugged into the primary video board, which is the one in PCI-E slot #1 on your system. In simpler terms, plug the monitor into the board that would be used in a single board setup.
Test System and Results
Test System
Since this is a short article confirming that software CrossFire is viable, I only performed synthetic testing using 3DMark05 and 3DMark06 at a couple of resolutions. I also wanted to use two cards that were different, but they are of the same family so rendering pipelines will still be the same. Let's take a closer look at the test system.
Gigabyte 965P-DS4 motherboard (Supplied by
Gigabyte
)
Intel Core 2 Duo E6600 processor
2x 1024MB Corsair XMS2-8500-C5 memory (Supplied by
Corsair
)
GeCube X1900XTX graphics (Supplied by
GeCube
)
Sapphire X1900XT graphics (Supplied by
Sapphire
)
Corsair HX620W power supply (Supplied by
Corsair
)
Western Digital 250GB SATA hard drive
Sony 52x CD-ROM optical drive
Samsung 16x DVD-R optical drive
Even though the two graphics boards are different and from different manufacturers, they were both detected properly by Windows and the CrossFire setup went without a hitch. I ran the two benchmarking utilities with just the X1900XTX board, then added the Sapphire board and tested again.
As I mentioned above, this isn't designed to be a full and formal testing of the new drivers, so I did this series of testing on an LCD monitor so my resolutions were limited to 1280x1024, the native resolution of the display.
Results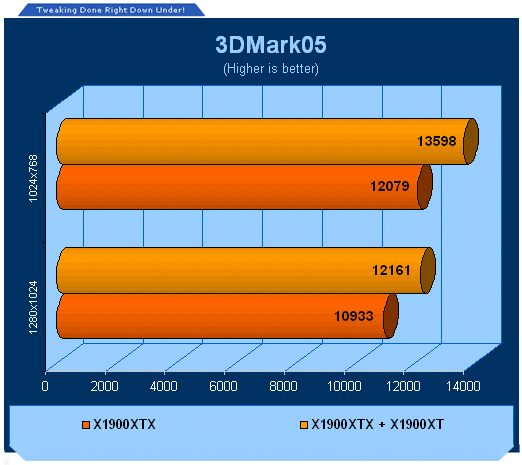 While there was a noticeable improvement at the lower resolution, there was a significant increase in performance at the higher resolution. To grind up the numbers, the CrossFire system produced a 12.6% and 11.2% performance increase under 3DMark05, but boasted a very nice 33.9% and 30.5% increase under 3DMark06. The 3DMark06 utility has been noted in the past as being more graphics driven than previous revisions, so this bodes quite well for this new driver set from ATI.
This new method of using CrossFire isn't perfect, but for those who happen to have a spare video card gathering dust who have been interested in playing with the ATI version of multiple graphics processors, this is a huge improvement from having to look for (and likely never finding) a Master Card that is compatible with your graphics board.
ATI has made great strides with their latest driver revision and I look forward to seeing even more improvements in the future.
Good job guys!