We kicked off our new 3440x1440 benchmarks a few days ago, testing out how the GeForce GTX 780, GTX 980, GTX 980 Ti and Titan X all performed on a 34-inch UltraWide monitor from LG. We're back again, this time toting two each of the GTX 780, GTX 980, GTX 980 and Titan X for some delicious SLI results.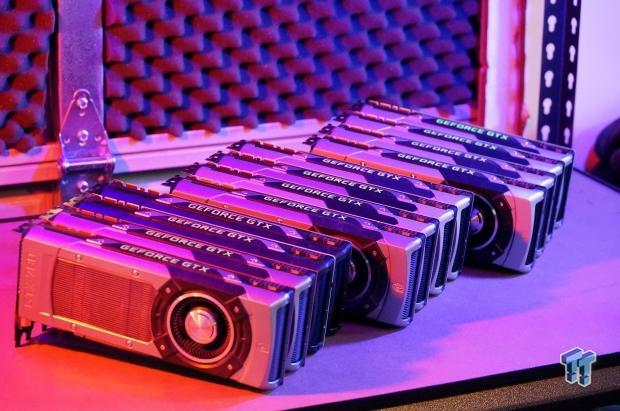 In our first article, we found that running our suite of benchmarks at 3440x1440 was actually quite good on performance. Most games ran at 60FPS or above, with some of them dipping below 60FPS - this is easy to fix with a few tweaks to in-game settings. But what type of performance do you think we'll see at 3440x1440 when we're running two cards in SLI, especially the GTX 980 Ti and Titan X?
Gaming at 3440x1440 is just utterly beautiful, with the 21:9 aspect ratio really adding to the experience in some games. I'm mostly a Battlefield 4 player and the additional horizontal pixels are glorious, especially when you mix it with a 95-degree FOV with the in-game settings.
What We're Using
As for our system, we have worked with be quiet!, GIGABYTE and Kingston on our new system that we wrote a build guide for here. It's quite the system, with the breakdown in specifications below:
CPU: Intel Core i7-5830 (stock clocks)
Cooling: be quiet! Dark Rock Pro 3
Motherboard: GIGABYTE X99-SOC Champion
RAM: Kingston 32GB (4x8) HyperX Fury DDR4-2666 (HX426C15FBK4/3)
Storage: Kingston HyperX Predator 480GB M.2 PCIe SSD
Display: LG 34UC97 (34-inch UltraWide 3440x1440 21:9)
PSU: be quiet! Dark Power Pro 1200W
Case: be quiet! Silent Base 800
OS: Windows 7 Ultimate x64
Drivers: GeForce 353.30
Benchmarks
Heaven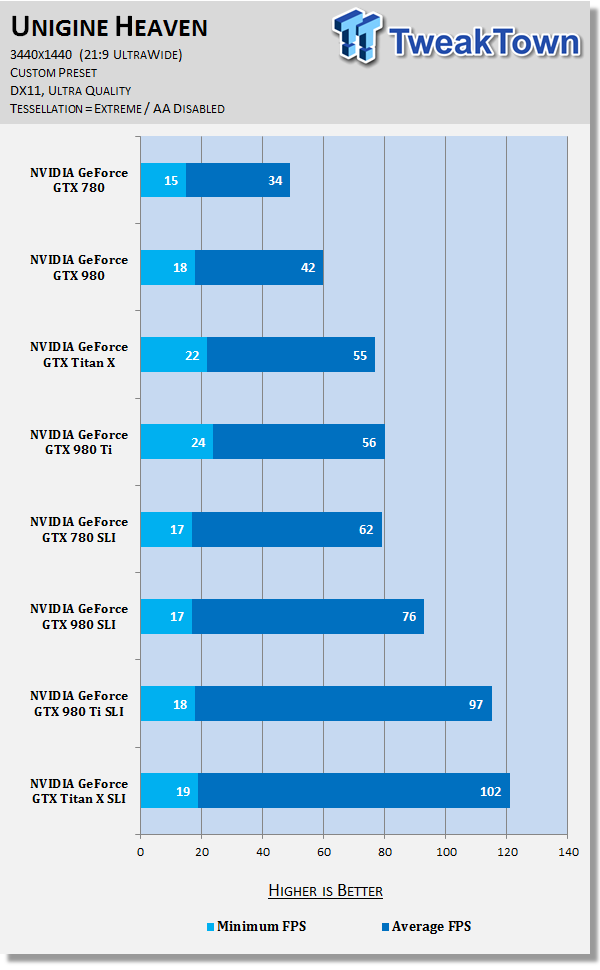 Battlefield 4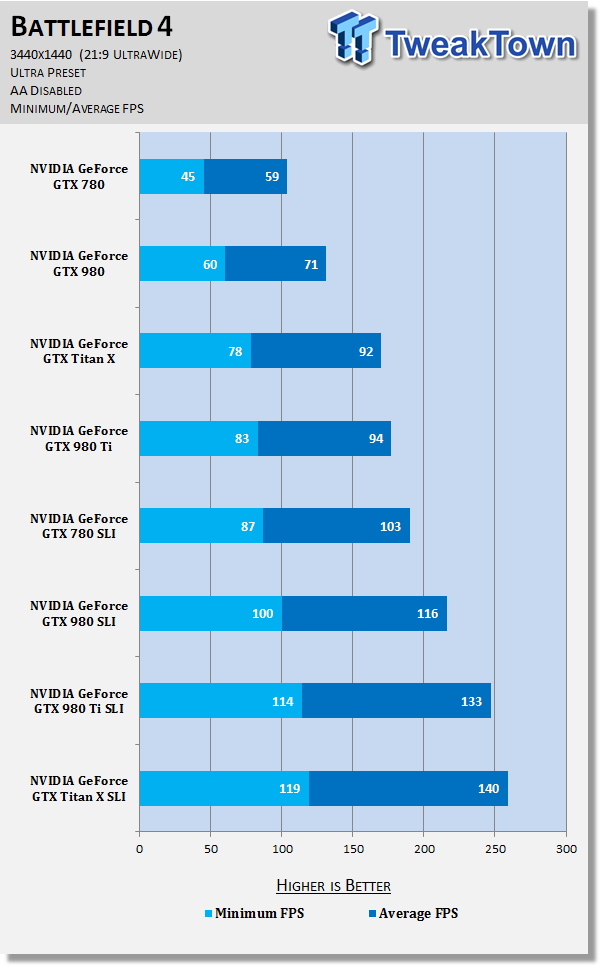 GRID Autosport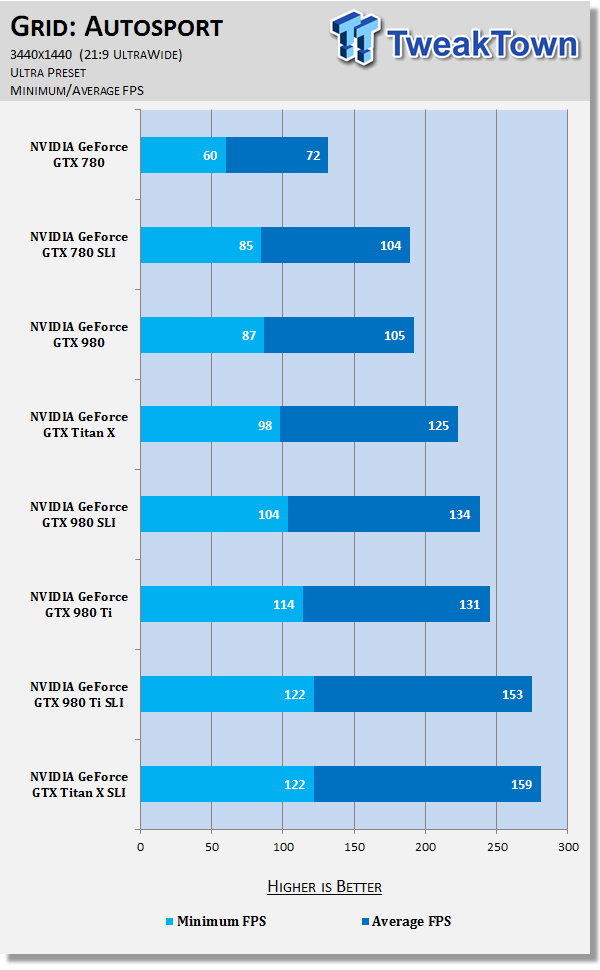 Metro: Last Light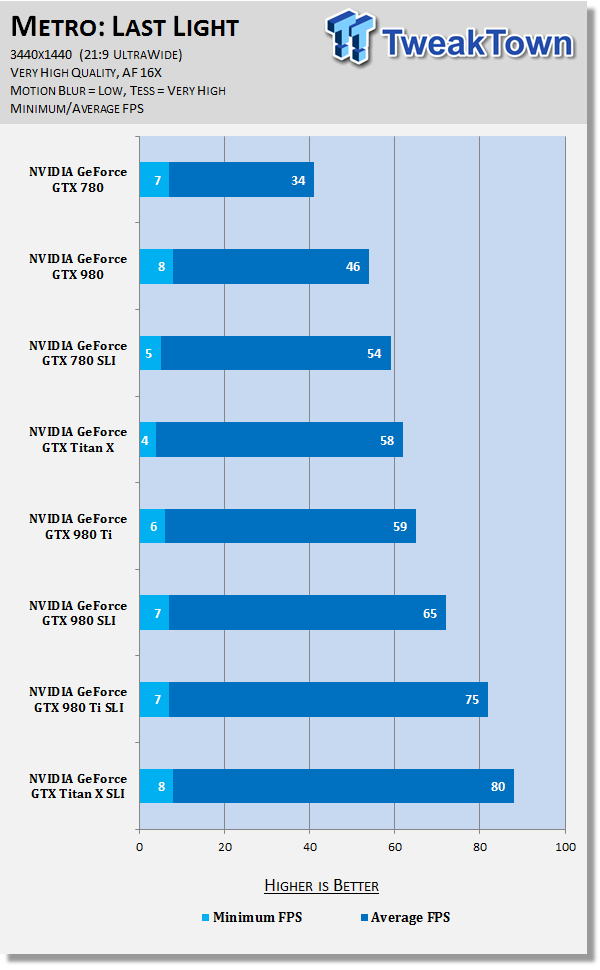 Middle-earth: Shadow of Mordor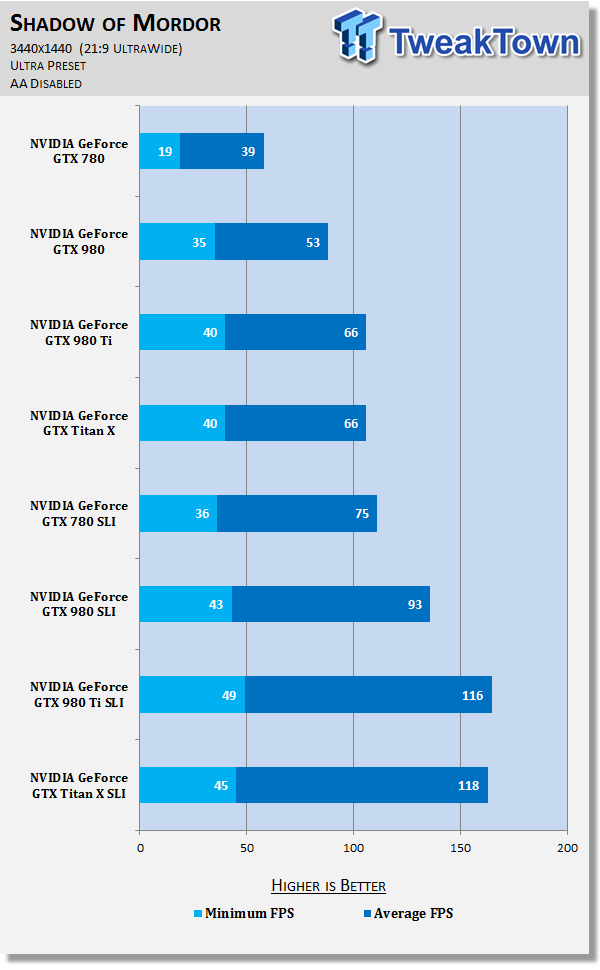 Thief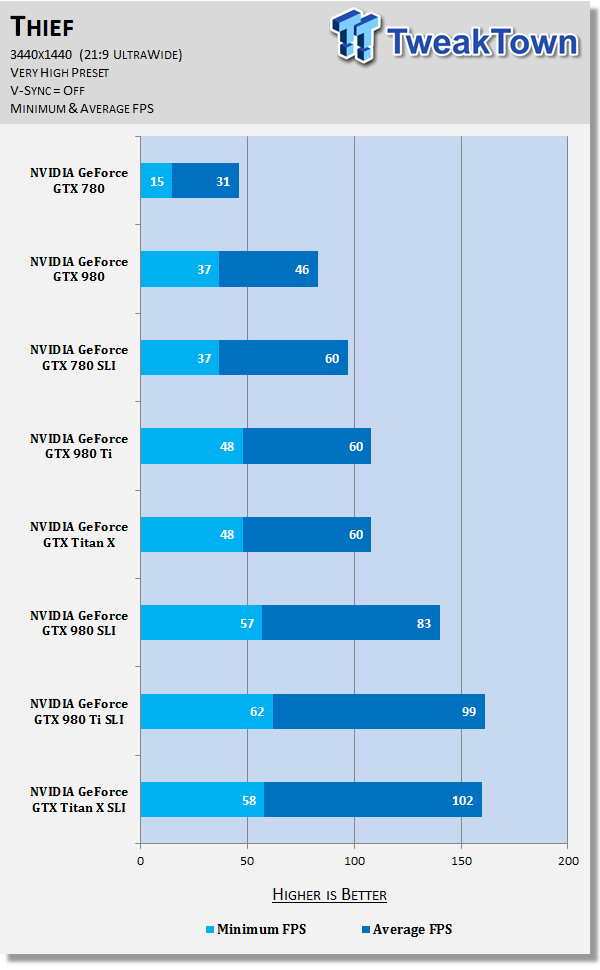 Tomb Raider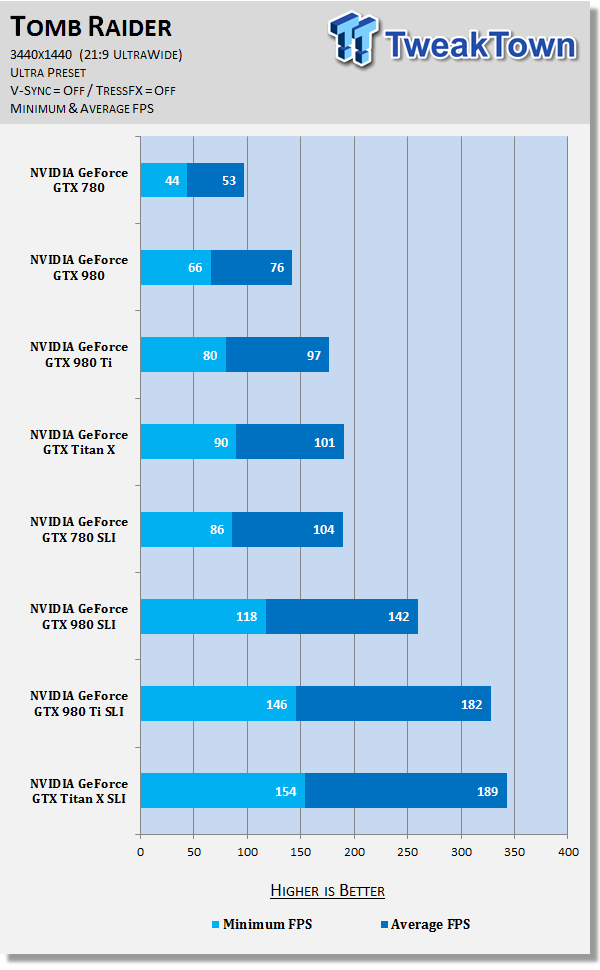 BioShock Infinite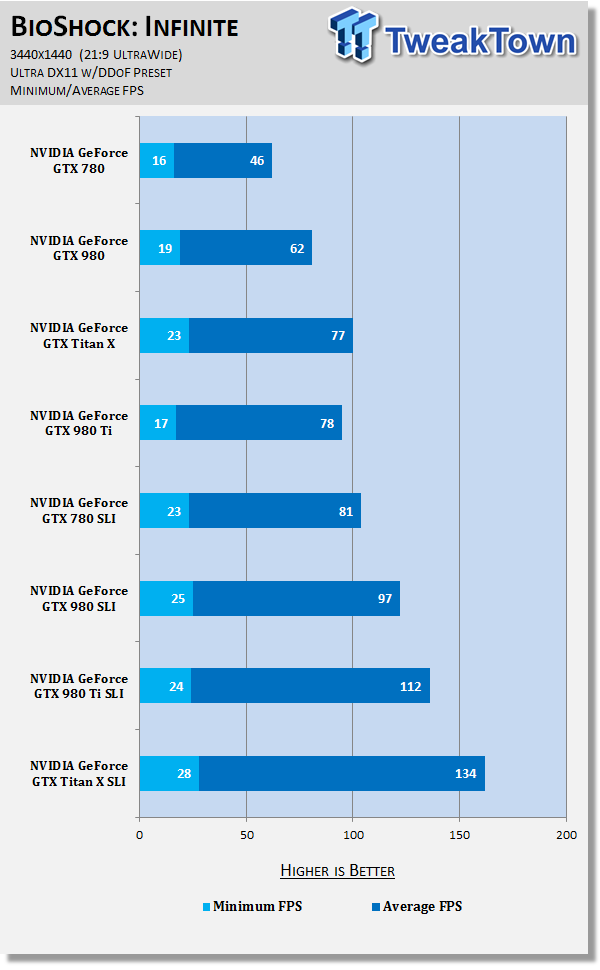 Final Thoughts
If you thought that the two GeForce GTX 980 Ti cards in SLI would beat a pair of Titan X cards, you'd be wrong. I was also surprised, as the Titan X performance is usually very close to the GTX 980 Ti and even in some cases, slower. But, the Titan X SLI setup is the champion when it comes to 3440x1440. It destroys everything else we test, which makes me excited to get the AMD hardware into the system.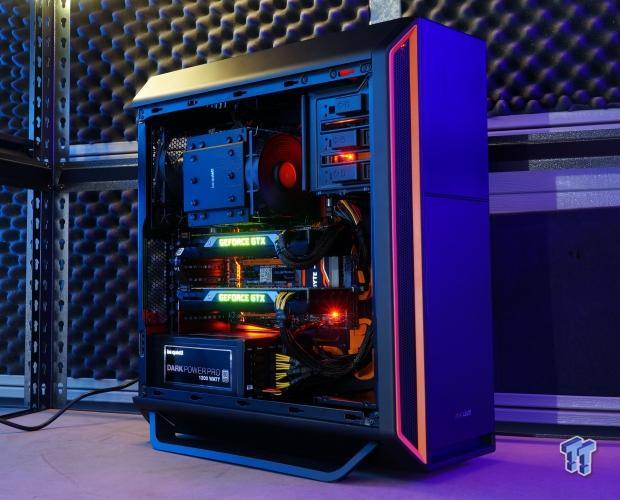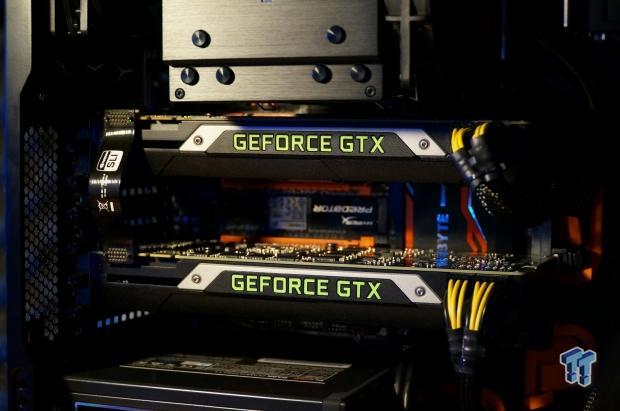 But you know what? The two GeForce GTX 980 cards in SLI were pretty damn impressive, especially when it came to gaming in Battlefield 4 at 3440x1440 at 116FPS average. Comparing the GTX 980 SLI to a single GTX 980 Ti in Battlefield 4 however, has the GTX 980 SLI only 23% faster than the single GTX 980 Ti.
All-in-all, we have some great SLI scaling at 3440x1440 from our NVIDIA cards. If you want the best performance money can buy, you're going to press the 'buy now' button on two of NVIDIA's GeForce GTX Titan X cards, as they are simply unstoppable.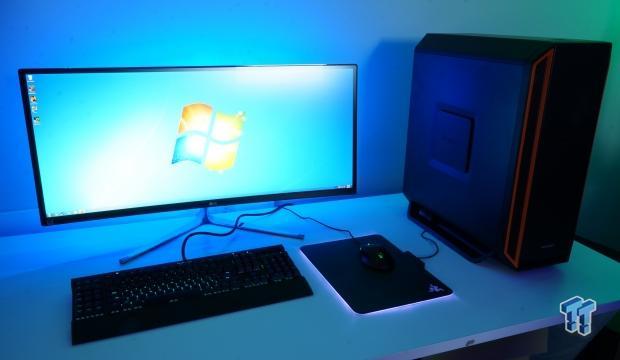 But I would still recommend the GTX 980 Ti cards in SLI over the Titan X, as they are considerably cheaper, even more so when you buy two of them.
Last updated: Nov 3, 2020 at 07:12 pm CST