Futuremark has been around for what feels like forever, with the Finnish company being one of the first on the market with a mainstream benchmark that stressed your PC. Everyone remembers 3DMark and the iconic Matrix-like tests from 3DMark 2001... well, they have come a fair way since then!

Fast forward to today, and we have Futuremark on the precipice of releasing a DX12-based 3DMark in the New Year, as well as VRMark. Futuremark recently released the VRMark Preview with a new UI into 3DMark as part of a holiday beta. The 2016 version of 3DMark will include a benchmark for VR headsets like the Oculus Rift and HTC Vive, so the VRMark Preview is great to see out before the end of the year.
VRMark in its current state, works with the Oculus Rift and the HTC Vive - but it will also work as a monitor-only benchmark so you can see what it's all about. I decided to give it a run on my new MSI GT72 Dominator Pro G Series gaming laptop, which is powered by the full GeForce GTX 980 from NVIDIA - this isn't a cutdown GTX 980M folks, this is the real deal. The GTX 980 on this laptop is a mobile gaming beast, and is more than capable of playing games on my Oculus Rift DK2 headset, so I thought I'd use the MSI gaming laptop to test out VRMark.
VRMark is an experience, not just a benchmark
This is something that I had to get used to... with most VR games, applications and experiences you have to constantly turn your head in the world to take it all in, or even play the game at all. After years upon years of benchmarking my PCs, running 3DMark was a set-and-forget affair after the first few times of watching the graphics display across the screen.
The new VRMark isn't just that - a set-and-forget benchmark - it's an experience. The current "Holiday Beta" of 3DMark is actually quite impressive with a VR headset on, as you can look around the world that Futuremark places you in. There are all sorts of things going on in the world, with various 'setpieces' to look at - in front of you, to the sides and even above you. It's an impressive thing to see, so I'm hoping Futuremark keep with this theme when it comes to VRMark's release in 2016. I would actually love to see Futuremark include an experience-style part of VRMark, where you could walk around or explore the benchmark.
VRMark is a great first step for VR benchmarking
VR headsets are going to really take off next year, and before you spend $300+ on a new VR HMD, you want to know if your PC is up to rendering 2K at 90FPS... right? This isn't 1080p 60FPS gaming, this is much higher, so benchmarks are going to be incredibly important for VR headset manufacturers like Oculus and HTC. Futuremark is on the forefront of this, and I applaud them.
I hope we see some totally different benchmarks - bringing back the old 3DMark 2001 test that was so Matrix-like, so I can have a VR benchmark where I have to dodge bullets... come on, Futuremark - you can do it.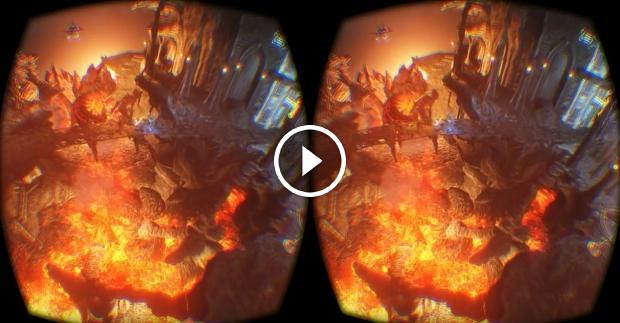 Last updated: Nov 3, 2020 at 07:12 pm CST