TweakTown's Rating: 90%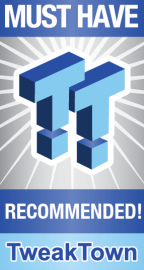 The Bottom Line
The most affordable E18 with 176L Micron flash SSD we've come across. It deserves a close look.
Introduction & Drive Details
TeamGroup's Cardea line of SSDs has become one of the most recognized and sought after in the DIY PC enthusiast world, both for its aggressive pricing as well as its tier-1 performance. Earlier this year, TeamGroup brought forth its first 7,000 MB/s capable SSD the T-Force Cardea A440. This SSD, at the time, was one of the better performing SSDs we had ever tested. It was also priced such that it is/was a bargain compared with other E18/96L Micron competition, especially considering the thermal options it comes with.
So fast forward to the present, where we see 96L Micron flash being supplanted with 176L Micron. 176L Micron arrayed E18 SSDs are starting to pop up all across the SSD industry as Phison's E18 controller remains the most prolific consumer Gen4 SSD controller. Although most SSD retailers had E18/96L flagship offerings, some like Seagate and Kingston waited for 176L flash before jumping on the Phison E18 train.
The move to 176L Micron flash has ushered in vastly increased workload and gaming performance, or as we like to refer to it, performance that matters. Sequential throughput is also up a few hundred MB/s as well. Under the right conditions, E18 SSDs arrayed with 176L flash can deliver up to 7,400 MB/s throughput as demonstrated by the below T-Force Cardea A440 Pro CDM benchmark run on our AMD 5900X test system: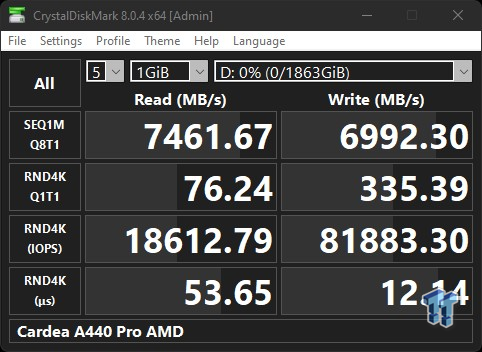 As we ran this benchmark, we noticed something immediately. While its sequential throughput is pretty much spot on from what we'd come to expect from 176L arrayed E18 SSDs, its Q1T1 random read performance was lower than expected. About 12 MB/s lower than what we were expecting. After pinging Phison, we realized that what we had on our hands was the first SSD we've tested with what Phison refers to as Media Grade 176L Micron. Until now, we'd only seen Fortis Grade 176L Micron from the likes of Seagate, Corsair, and Kingston.
Now it all makes sense and explains why TeamGroup is selling the T-Force Cardea A440 Pro for about $50 less than Fortis Grade with heat sink E18 SSDs go for. So, this is the trade-off. Equivalent throughput, but slightly lower gaming performance, workload performance, and a lower TBW for a savings of about $50. Humm, is it worth it? Let's dive in and find out.
Drive Details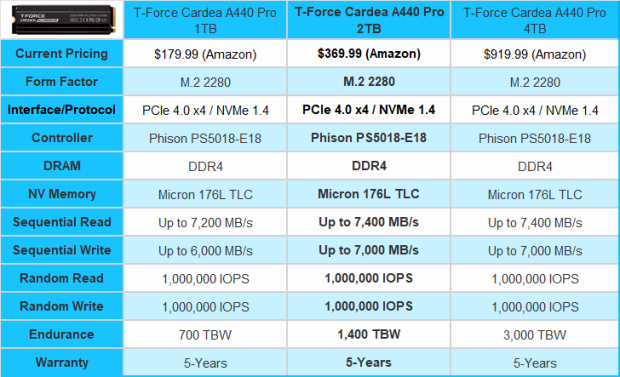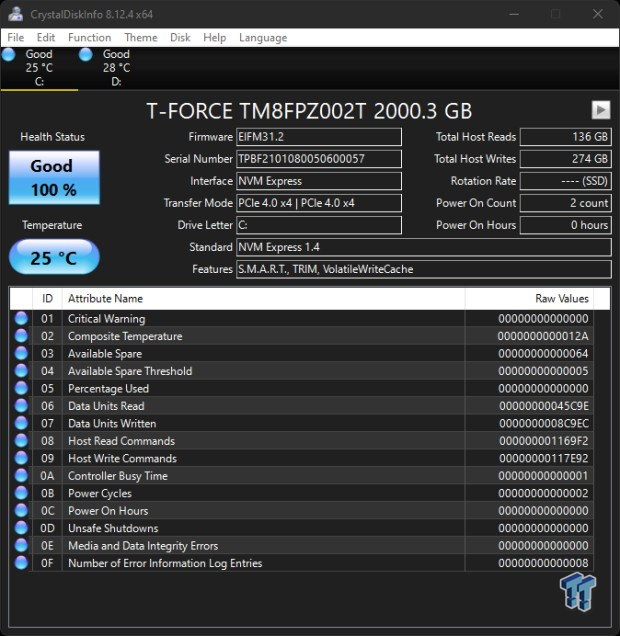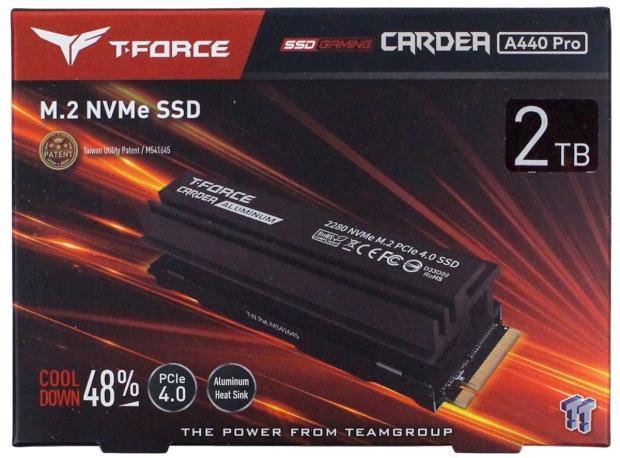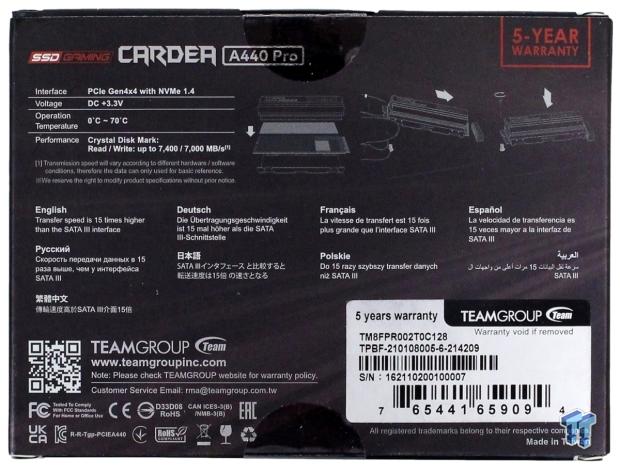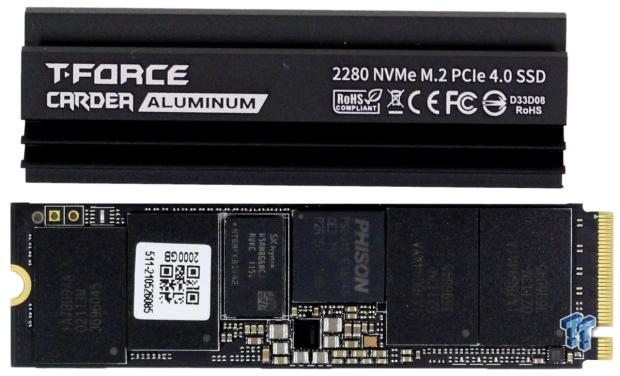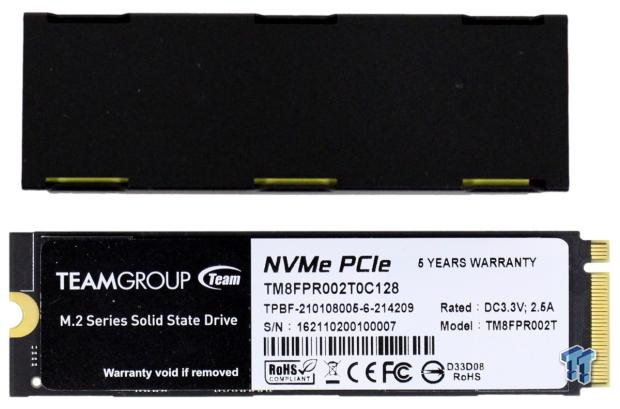 Our Cardea A440 Pro came naked with an optional heat sink, just the way we like it.
Jon's Test System Specifications
Synthetic Benchmarks: CDM, Anvil, ATTO
CrystalDiskMark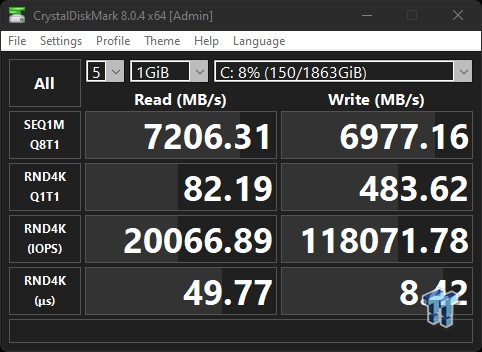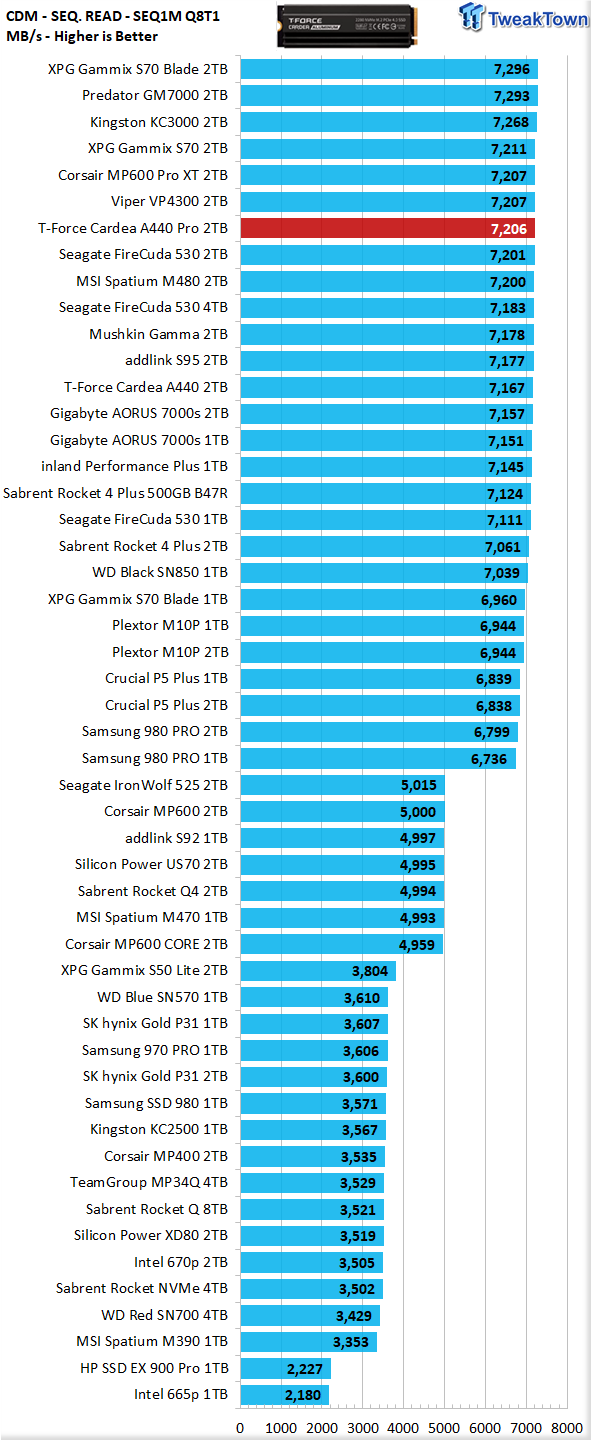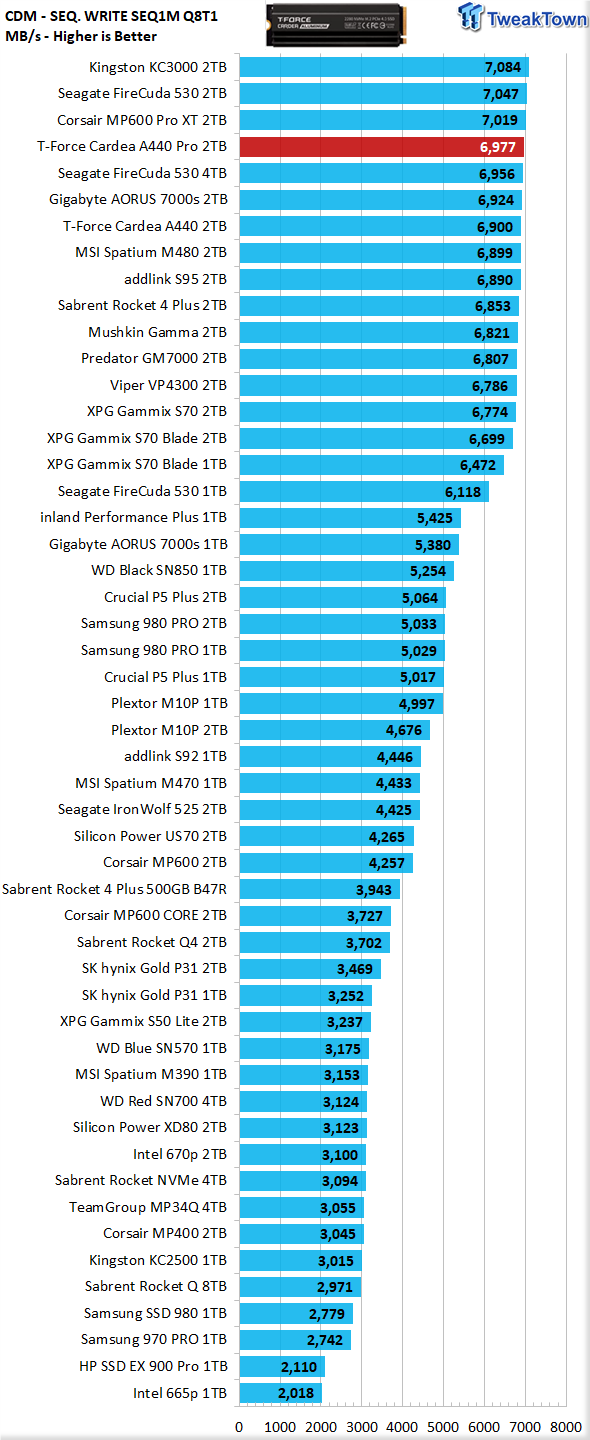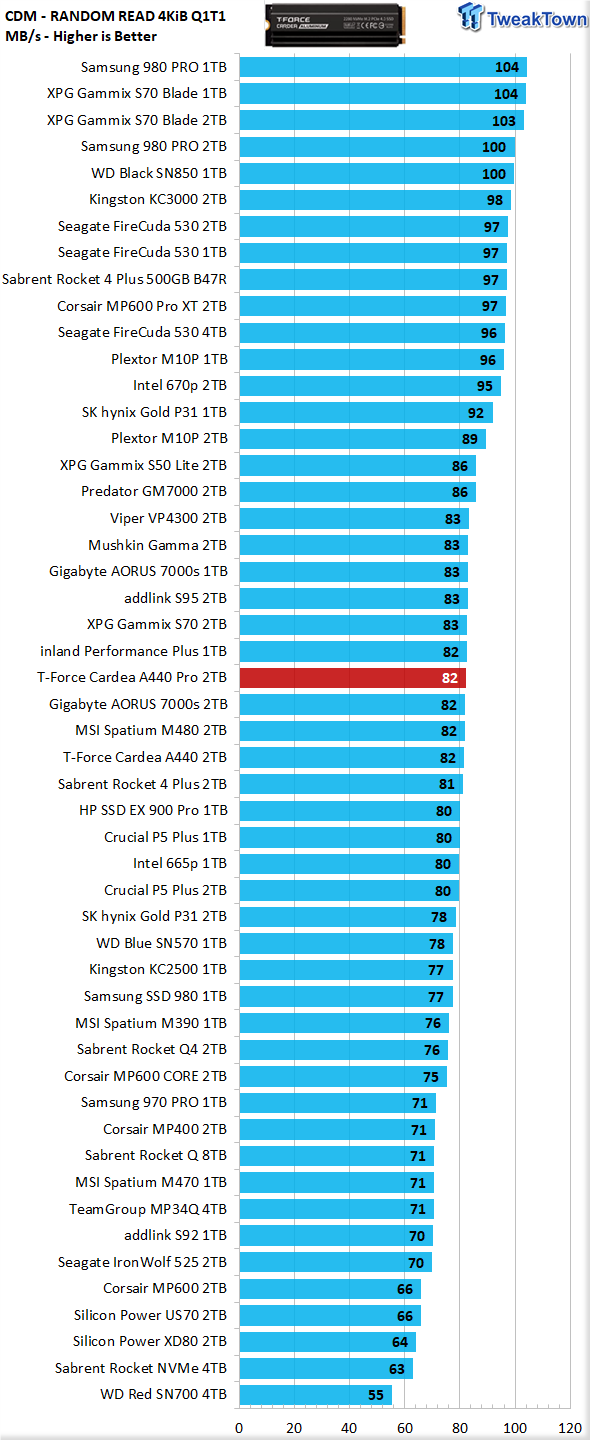 TeamGroup's factory sequential throughput specs are given for AMD-based systems capable of delivering about 250MB/s more sequential read throughput with the A440 Pro's hardware configuration. However, sequential speeds have very little to do with how fast an SSD actually is. Low queue depth random read performance is the number to watch.
Low queue depth random read performance is where Intel has a big advantage, and the primary reason Intel systems from Z590 and newer enjoy significantly better overall storage performance than anything from the AMD camp. Lower 4K random read performance, with the same controller, always translates to less performance where it matters. This is THE difference between Media grade 176L flash and Fortis grade.
Anvil's Storage Utilities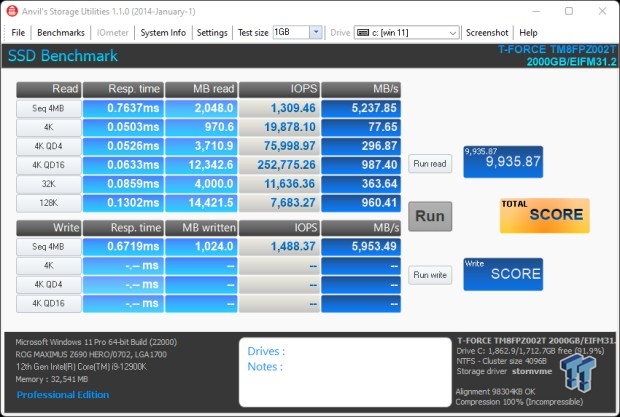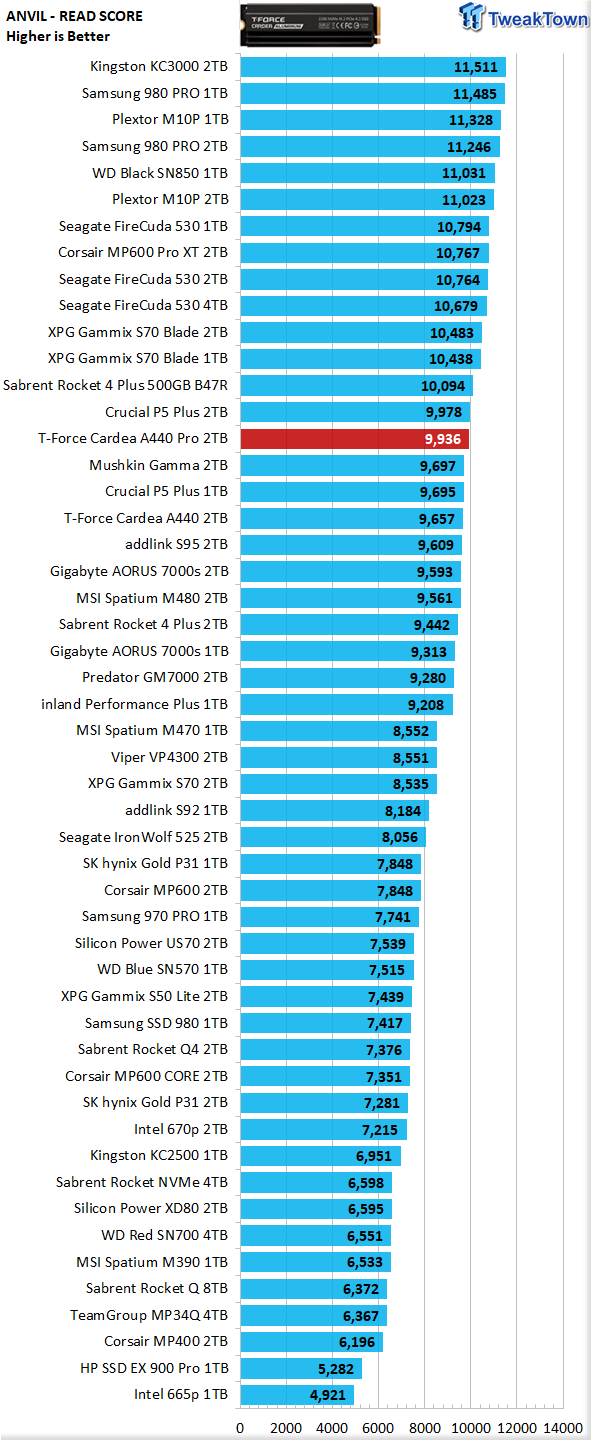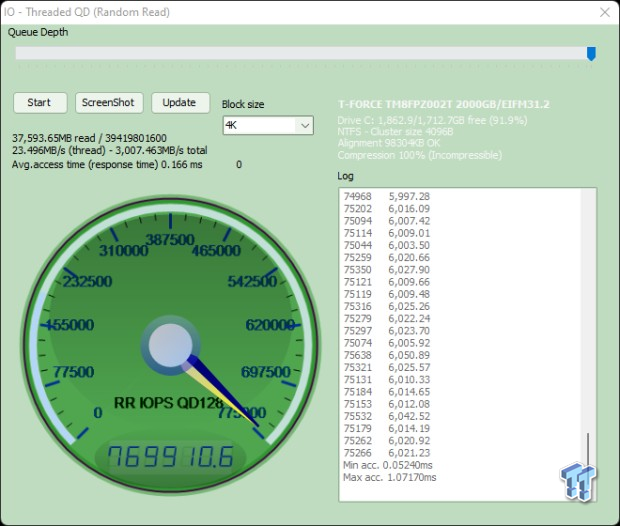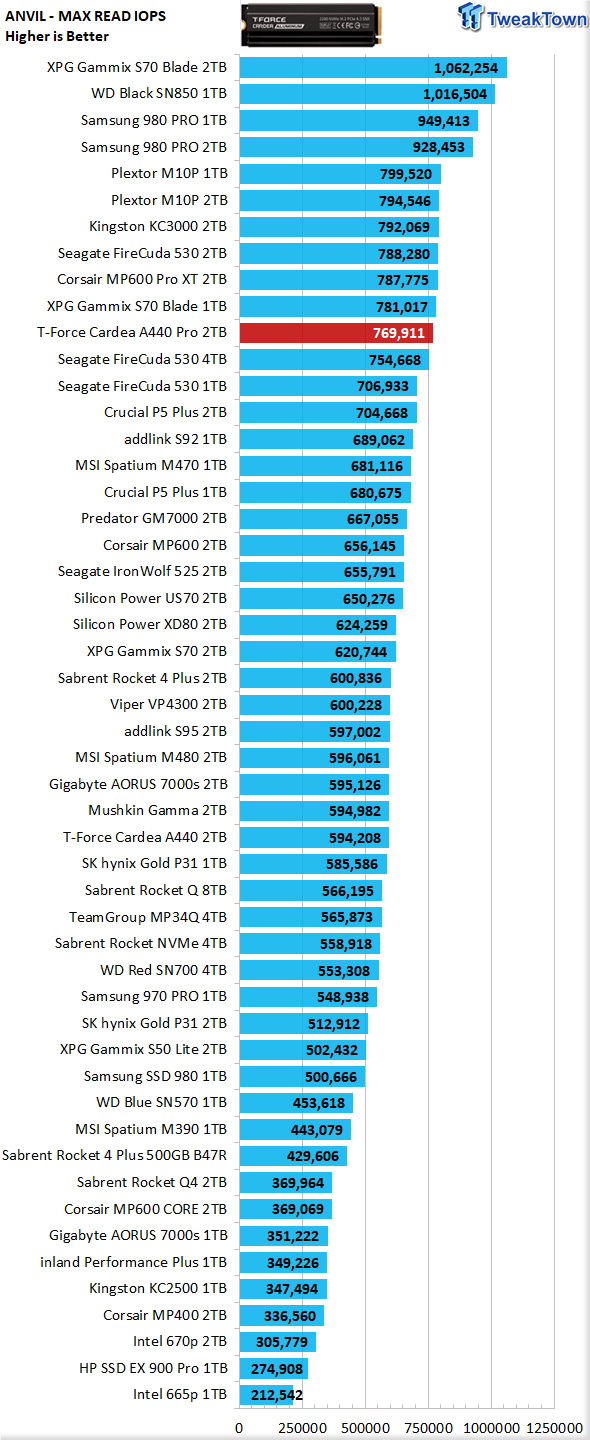 This pretty much sums up what the T-Force Cardea is all about. Faster than E18 SSDs with 96L flash and slower than E18 SSDs with Fortis grade 176L flash when serving data to the host (reading). We find it interesting that 176L Media grade flash can deliver max read IOPS almost as well as Fortis grade, but it just serves to underscore the importance of low queue depth random read performance.
ATTO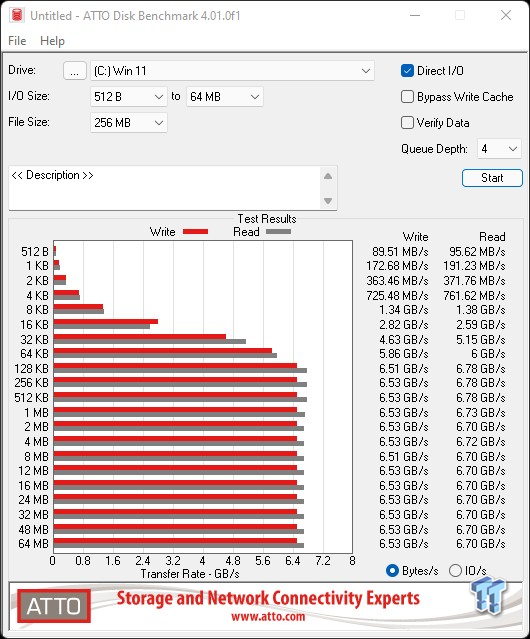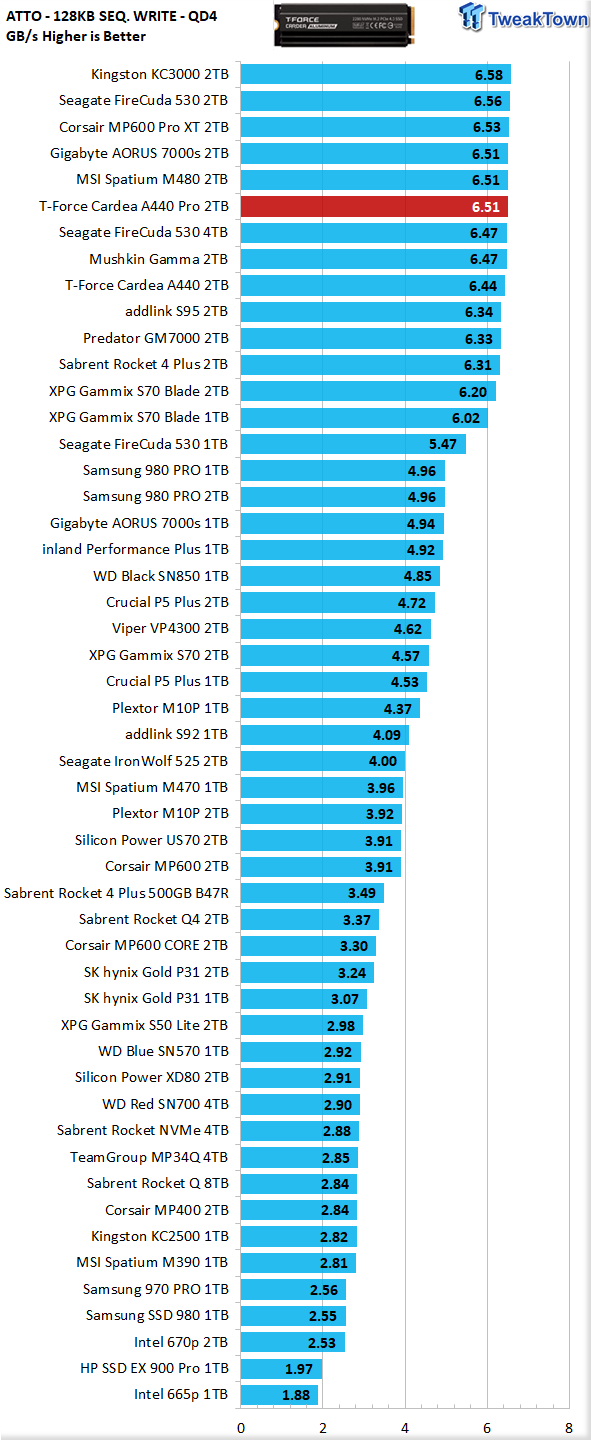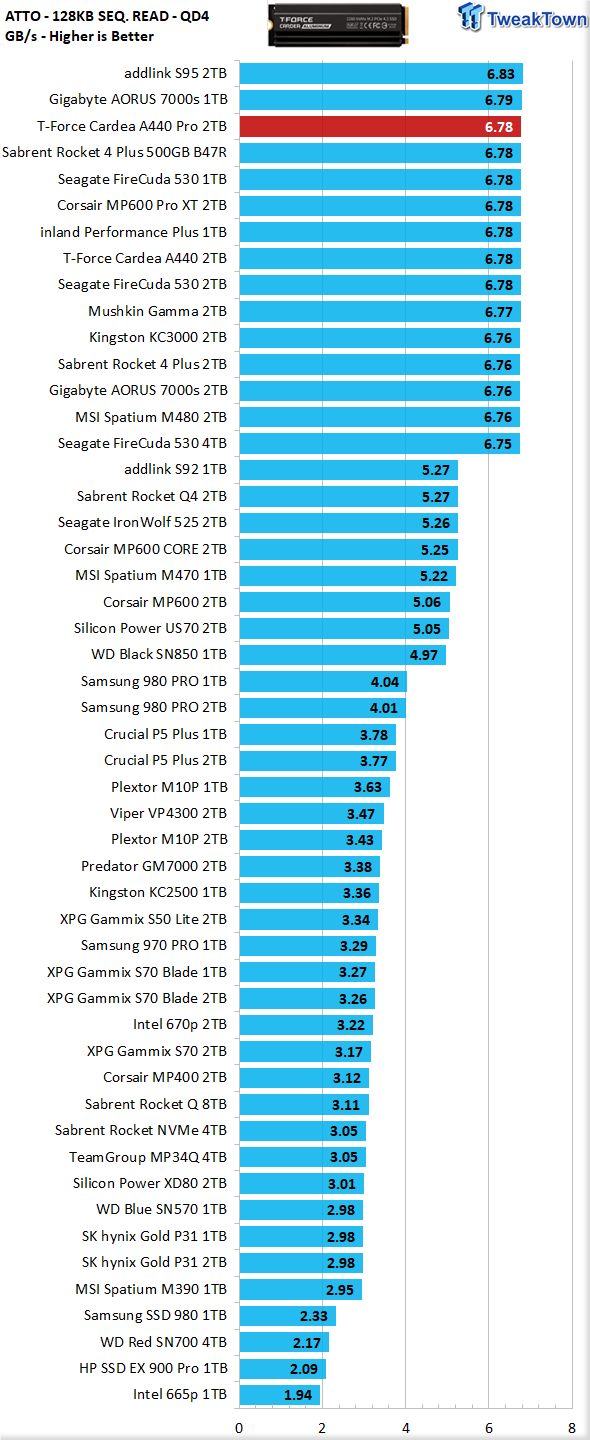 These results back up what we saw with CDM. Sequential speeds for Media grade 176L are right in there with Fortis grade.
Real-World Testing: Transfers, 3DMark SSD Gaming Test, PCM10 Storage
Transfer Rates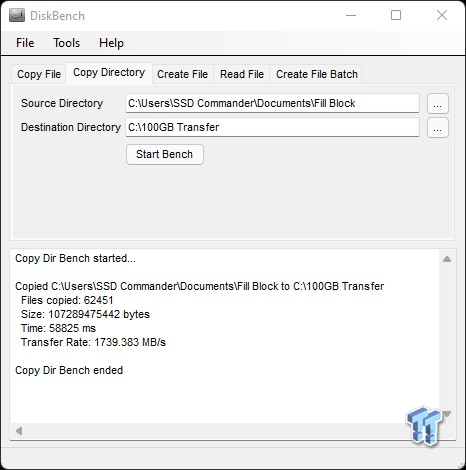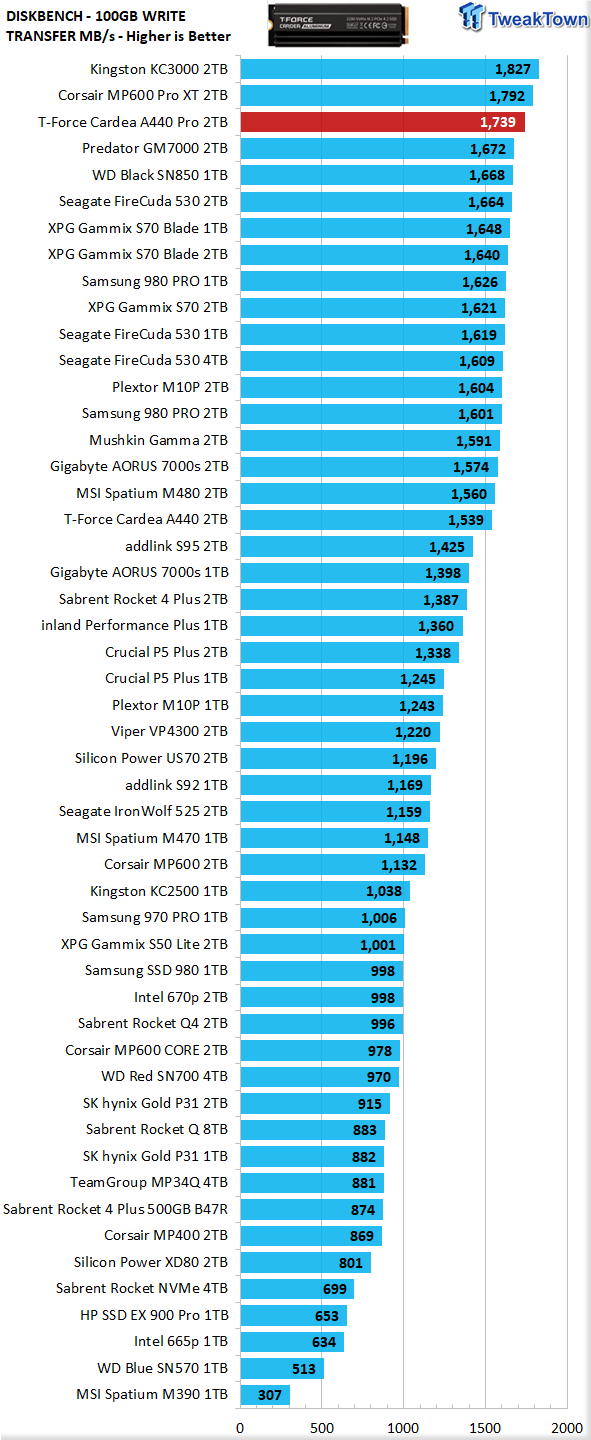 Outstanding transfer rate. Third best to date. Impressive.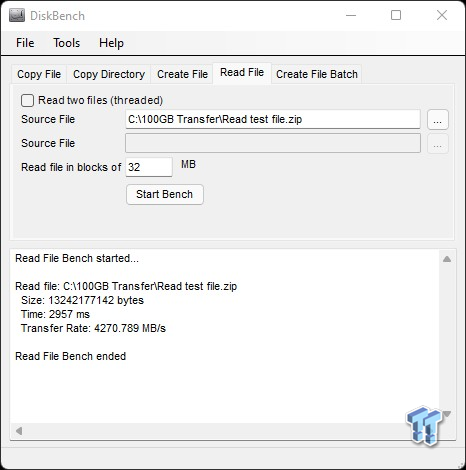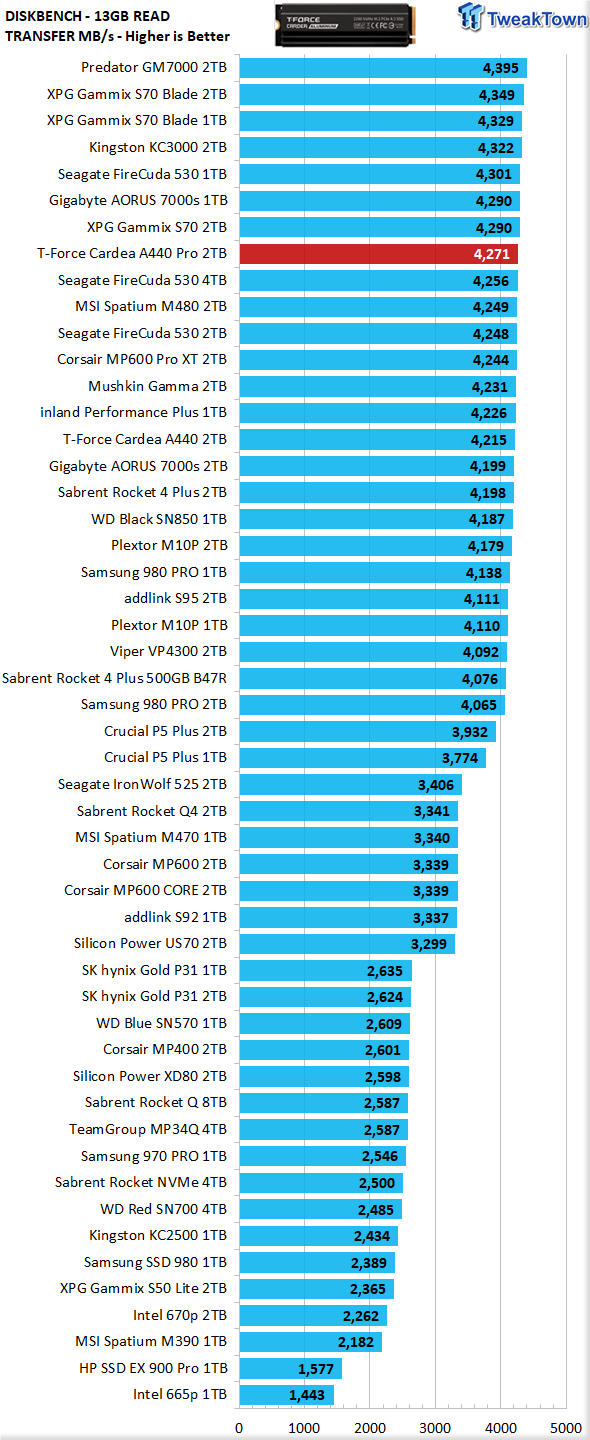 Again, outstanding transfer rate. Right in there with the Fortis-based E18 SSDs.
3DMark SSD Gaming Test
UL's newest 3DMark SSD Gaming Test is the most comprehensive SSD gaming test ever devised. We consider it to be superior to testing against games themselves because, as a trace, it is much more consistent than variations that will occur between runs on the actual game itself. This test is, in fact, the same as running the actual game, just without the inconsistencies inherent to application testing.
In short, we believe that this is the world's best way to test an SSDs gaming prowess and accurately compare it against competing SSDs. The 3DMark SSD Gaming Test measures and scores the following:
Loading Battlefield V from launch to the main menu.

Loading Call of Duty Black Ops 4 from launch to the main menu.

Loading Overwatch from launch to the main menu.

Recording a 1080p gameplay video at 60 FPS with OBS (Open Broadcaster Software) while playing Overwatch.

Installing The Outer Worlds from the Epic Games Launcher.

Saving game progress in The Outer Worlds.

Copying the Steam folder for Counter-Strike Global Offensive from an external SSD to the system drive.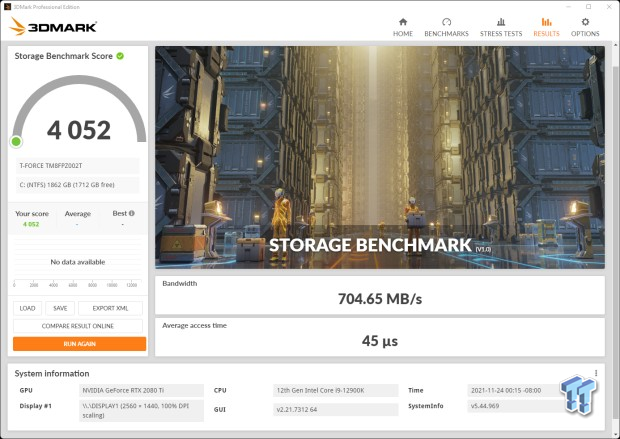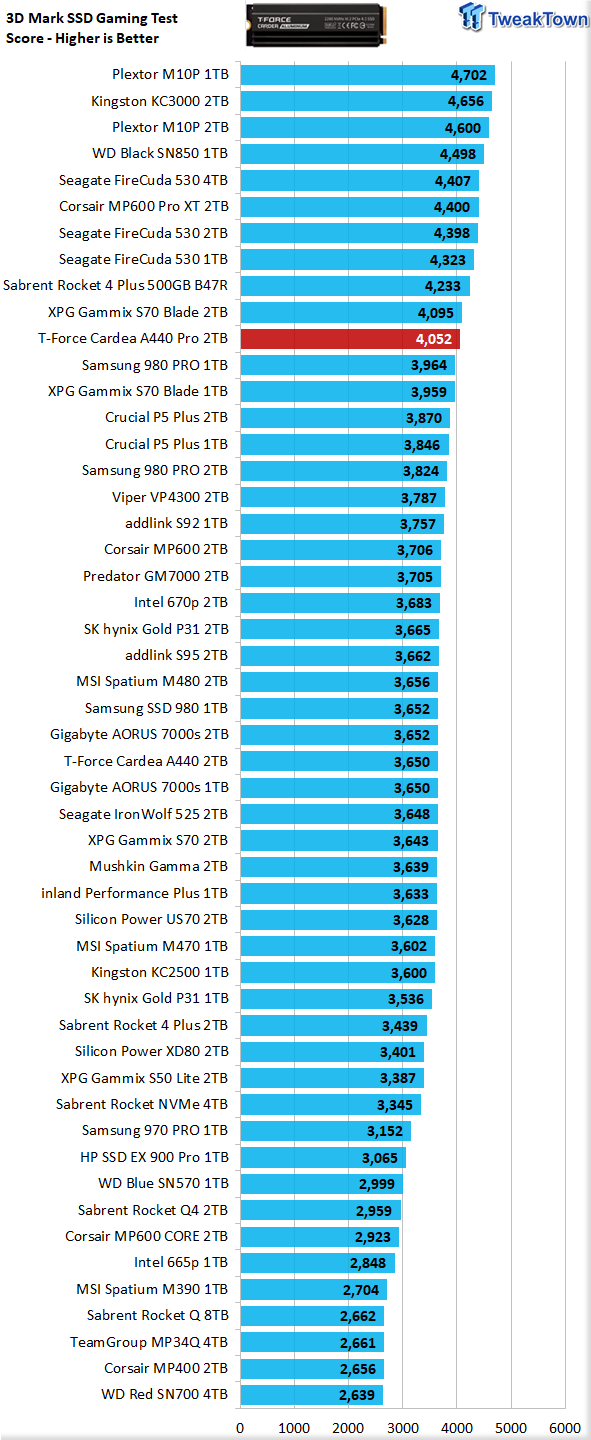 Gaming is a performance metric that matters to the majority of DIY consumers, especially to the enthusiast crowd that TweakTown caters to. The A440 Pro shows itself to be a superior gaming SSD as it places very well on our chart. Again, better than E18 SSDs with 96L flash, but not as good as E18 SSDs with Fortis grade flash.
PCM10 Storage Tests
PCMark 10 Storage Test is the most advanced and most accurate real-world consumer storage test ever made. There are four different tests you can choose from; we run two of them.
The Full System Drive Benchmark and the Quick System Drive Benchmark. The Full System Drive Benchmark writes 204 GB of data over the duration of the test. The Quick System Drive Benchmark writes 23 GB of data over the duration of the test. These tests directly correlate with mainstream user experience.
PCMark 10 Full System Drive Benchmark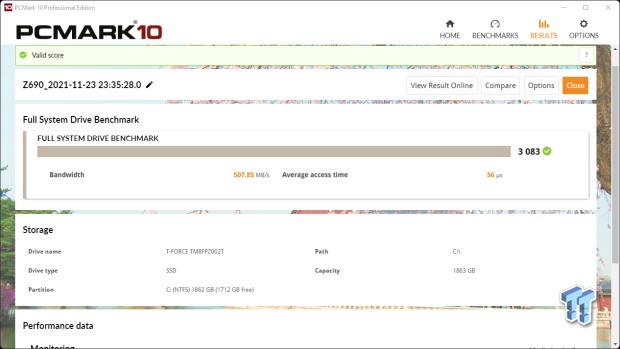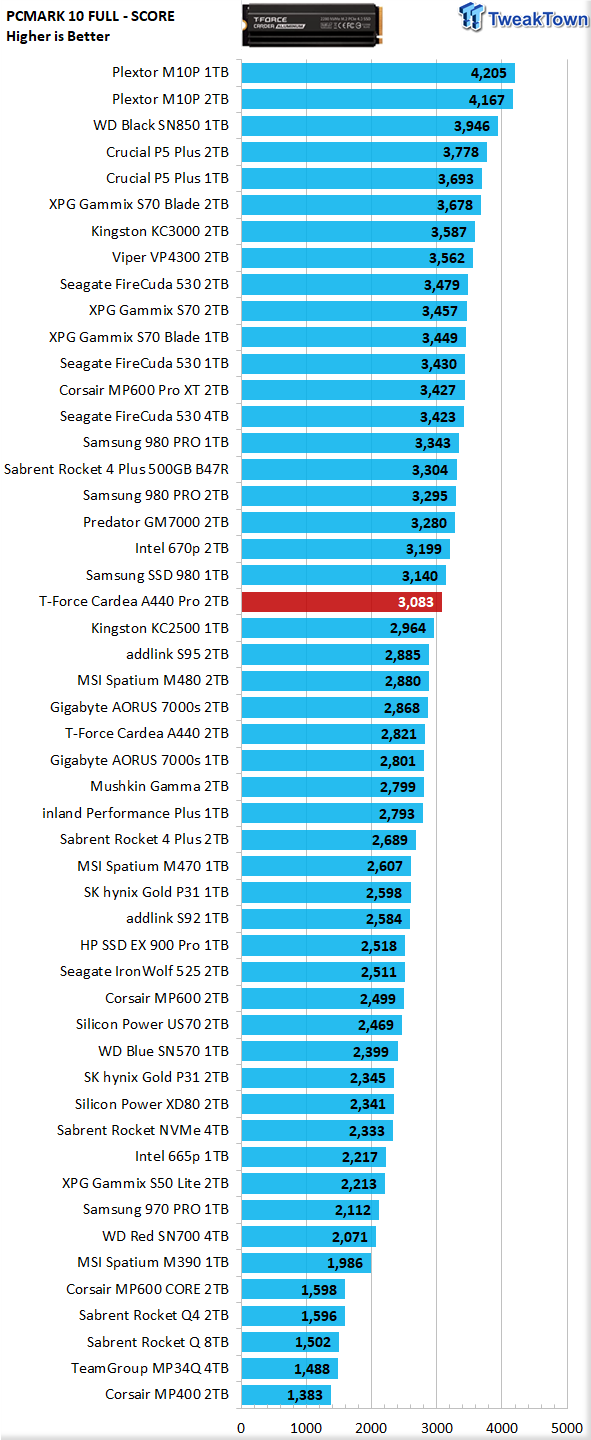 This particular test writes 204GB data and covers a broad range of common consumer tasks, including booting Windows 10, file transfers, Adobe and Office applications, and startup times for games including Battlefield V, COD Black Ops 4, and Overwatch. Unlike synthetic numbers, this is comprehensive real-world data which is why we use it to rank SSDs in terms of user experience.
The A440 Pro delivers about 260 points more than its older sibling, the A440. Again, the A440 Pro shows itself to be faster than 96L E18 SSDs but slower than E18 SSD with Fortis grade flash.
PCMark 10 Quick System Drive Benchmark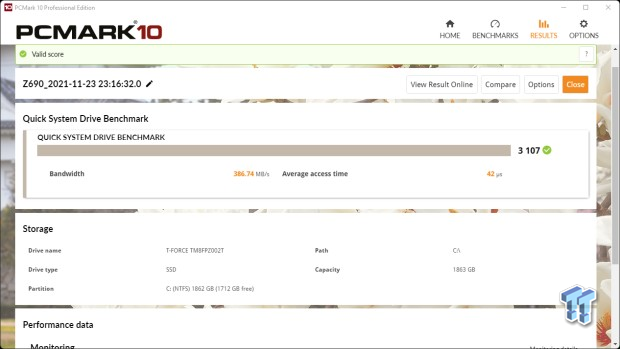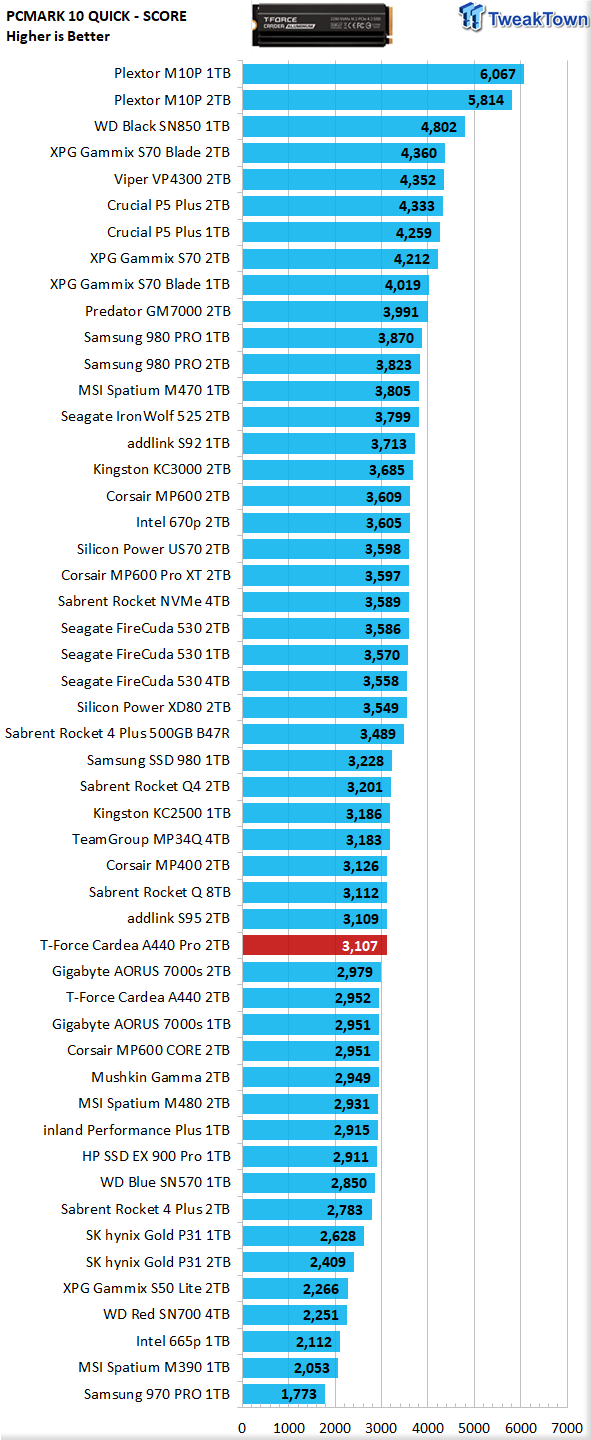 This is where E18 SSDs have always struggled mightily. The A440 Pro, as expected, struggles with this workload, landing on the lower third of our chart.
Final Thoughts
When Phison first made the move from 96L Micron flash to 176L, back when we at TweakTown delivered the world's first E18 with B47R Fortis benchmark results Phison said we would also see E18 SSDs arrayed with Media grade 176L flash coming down the line. Well, that day has arrived via TeamGroup.
On the performance front, performance where it matters anyway, we naturally don't like to see a reduction there. However, the real question being does its $50 lower price tag offset slightly reduced performance? We are inclined to believe it does, especially when you consider that the difference will largely go unnoticed by the end-user in all but the rarest of corner case usage scenarios.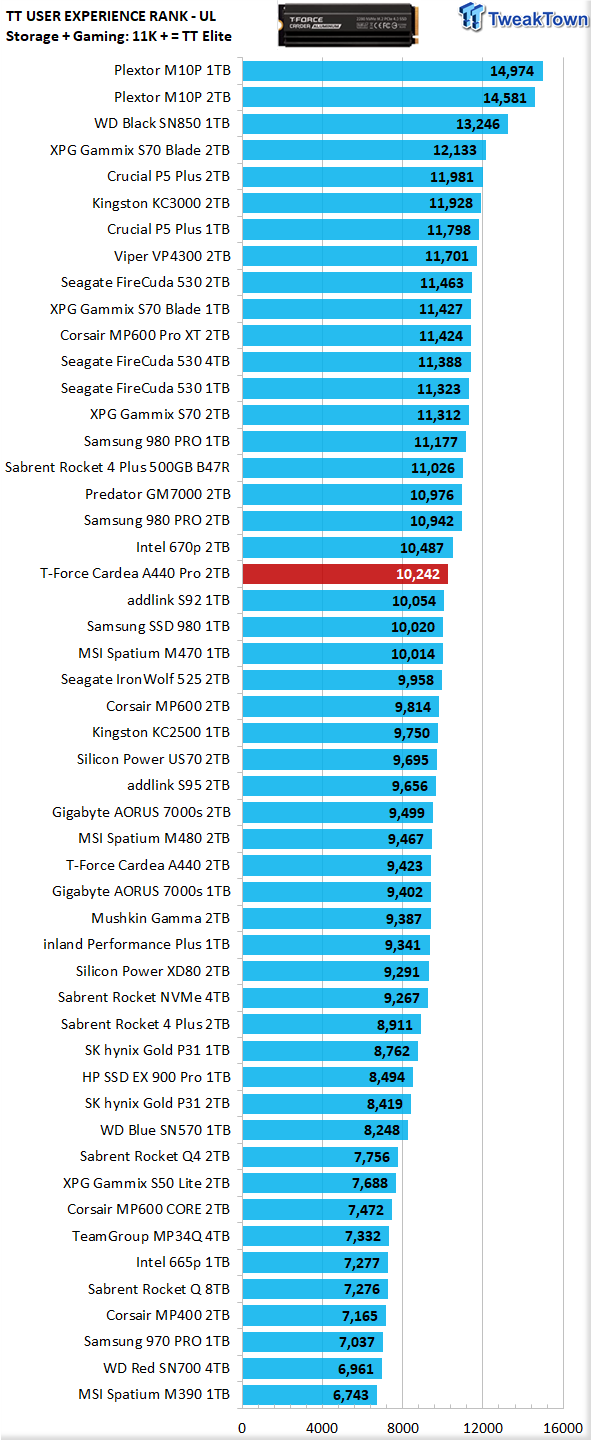 We rank SSDs in terms of overall user experience (performance where it matters most) as expressed by PCMark 10 storage and 3DMark gaming storage tests. We consider a user experience score of 11K or more to verify an SSD as a TweakTown Elite performer. Overall, a good showing, but not TweakTown Elite.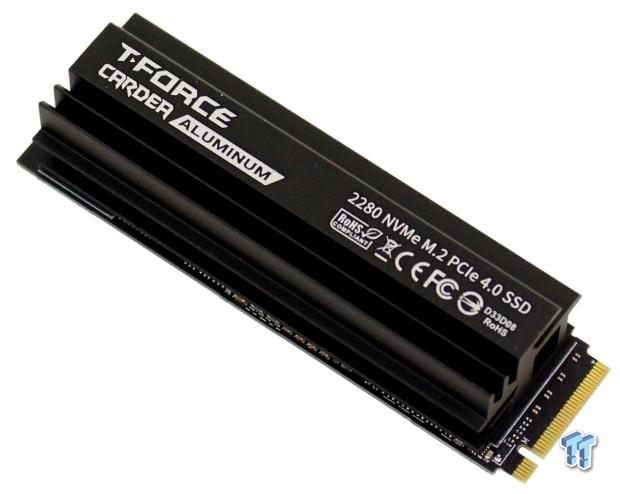 Excellent transfer rates, superior gaming prowess, and bargain pricing have earned the TeamGroup T-Force Cardea A440 Pro 2TB Gen4 NVMe SSD a coveted TweakTown award and a hearty recommendation.
Pros
Transfer Rates

7,400MB/s Throughput

Pricing
Cons
| | |
| --- | --- |
| Performance | 90% |
| Quality | 90% |
| Features | 90% |
| Value | 90% |
| Overall | 90% |
The Bottom Line
The most affordable E18 with 176L Micron flash SSD we've come across. It deserves a close look.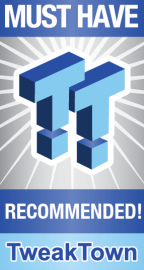 We openly invite the companies who provide us with review samples / who are mentioned or discussed to express their opinion. If any company representative wishes to respond, we will publish the response here. Please contact us if you wish to respond.