TweakTown's Rating: 98%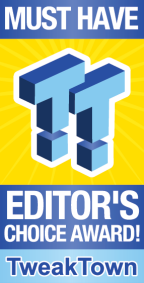 The Bottom Line
Biggest, baddest device of its kind in the world. You need this.
Introduction & Drive Details
Sabrent has a well-earned reputation for being first to market with the biggest baddest solid state storage devices. The Sabrent product we have on the bench today exemplifies how this reputation for the extreme has been built. Sabrent's newest portable Thunderbolt SSD delivers speed and capacity on a mind-blowing scale.
The Sabrent Rocket XTRM-Q we have on the bench today sports 16TB of ultra-fast NVMe storage behind an Intel-certified Thunderbolt 3 interface. You read that right, sixteen terabytes. At 16TB, Sabrent's XTRM-Q is the world's highest-capacity consumer portable solid state storage device. The device is both Windows and MAC compatible right out of the box. All that capacity comes via two Sabrent 8TB QLC NVMe SSDs tucked inside a sealed all-aluminum dual drive enclosure.
The beefy all-aluminum Sabrent XTRM enclosure is rugged and functions as a heat sink, keeping the enclosed dual 8TB Rocket Q NVMe SSDs running nice and cool. This portable device requires external power, as do all Thunderbolt storage devices of this nature. The necessity for external power does cut into the portability aspect of this device somewhat, but you can't get this type of speed and capacity in portable form any other way. A very minor inconvenience as we see it.
Dual drives inside give you options that are not possible with single drive devices. Those options come in multiple forms of RAID. Sabrent's XTRM-Q 16TB can be utilized in several ways. As two stand-alone devices or as a RAIDed device. On the RAID front, you have three options. RAID 0, RAID 1, or JBOD. RAID 0 (stripping) gives you 16TB of all-out performance. RAID 1 (mirroring) is slower and cuts your capacity in half to 8TB but creates a backup copy of every bit of data written in real-time. JBOD (spanning) is not RAID per se, but rather both drives appear as a single 16TB volume.
Sabrent makes it super easy to create the aforementioned RAID volumes via its Sabrent RAID Assistant tool. With Sabrent's Raid tool, you can create the array of your choice with two clicks of your mouse. Sabrent has a couple of excellent video guides to make it even easier. Windows users look here. MAC users look here.
Enclosure Details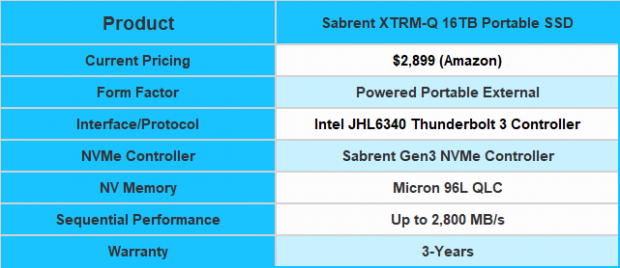 At $2,900, the 16TB XTRM costs a pretty penny, but that's to be expected for any device of this magnitude. We expect the 16TB XTRM will be gobbled up by video production outfits across the globe. There is nothing else like it, and those guys have an insatiable appetite for high-capacity, super-fast portable storage. For them, this is the holy grail of storage and very reasonably priced for what it is.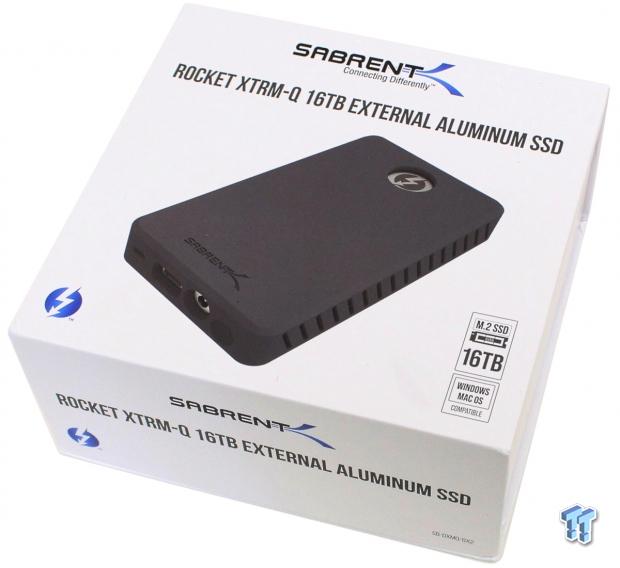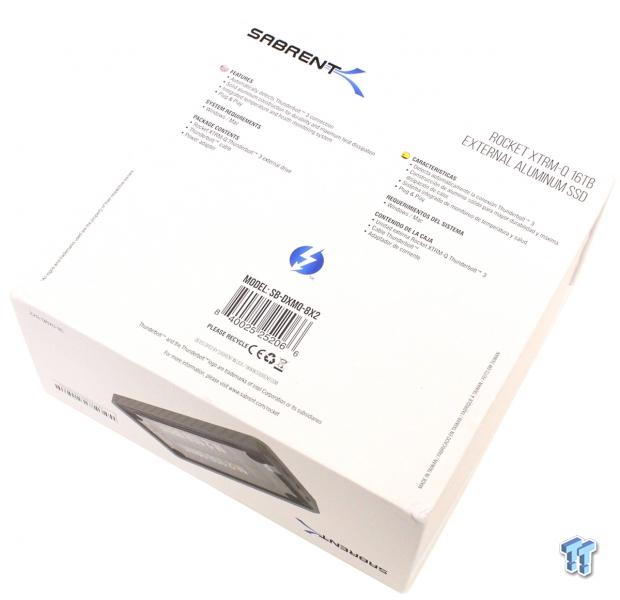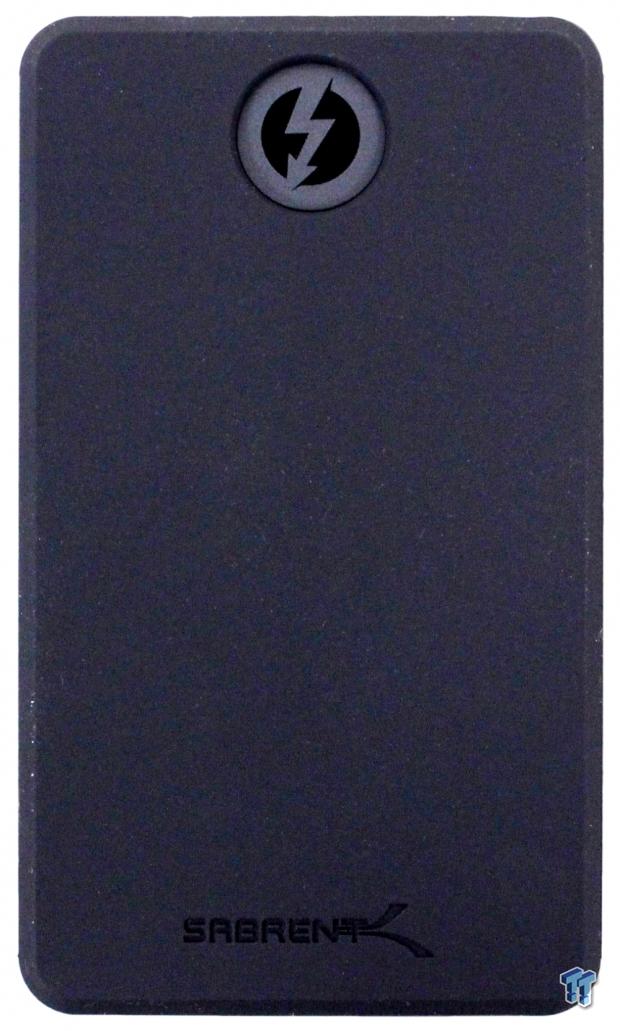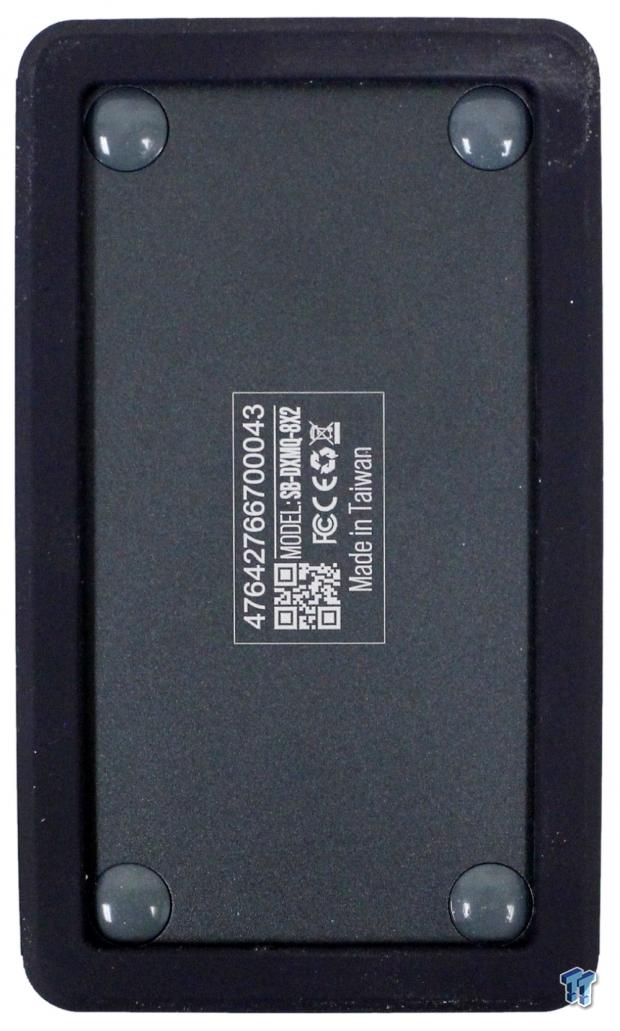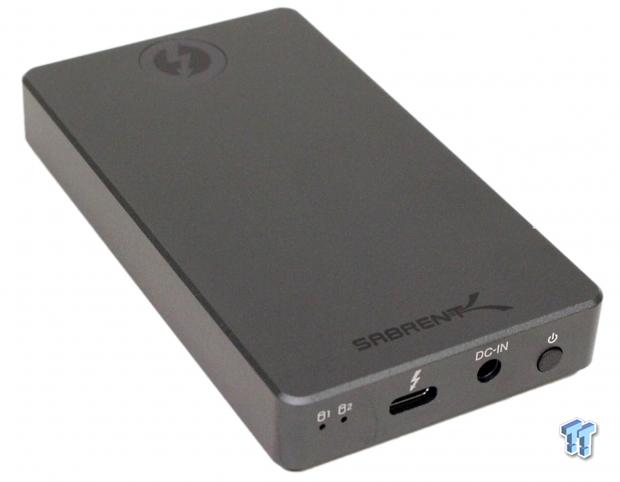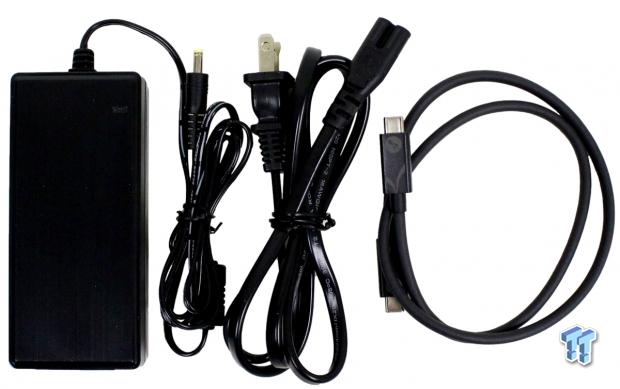 The enclosure comes pre-fitted with a removable rubber sock. Also included are the unit's power supply and certified Thunderbolt cable. This device is Thunderbolt only.
Jon's Test System Specifications - Intel NUC 11 Pro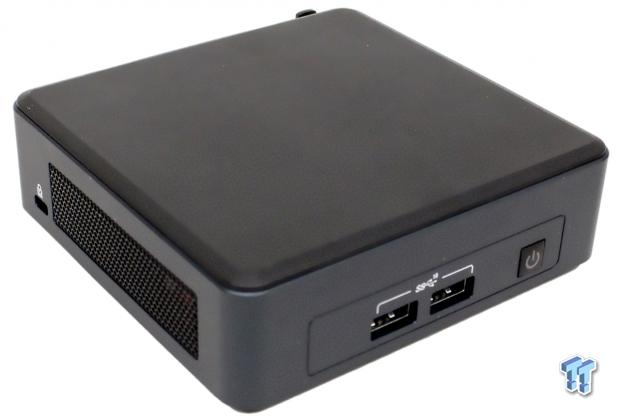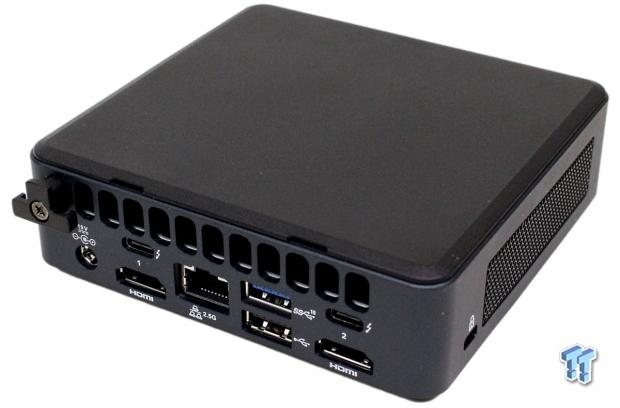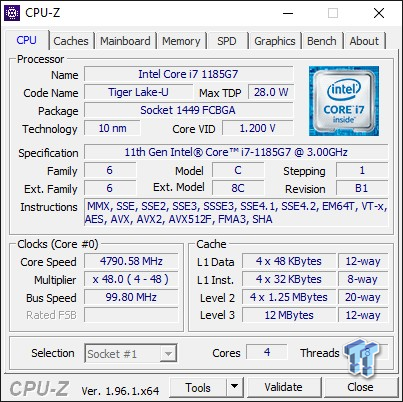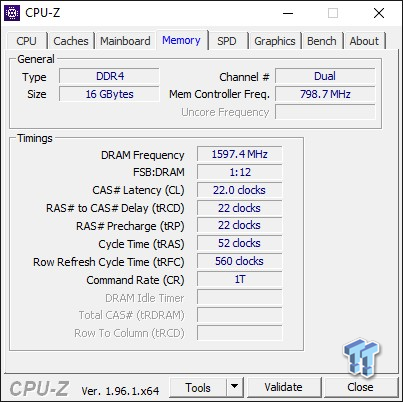 Intel has partnered with Sabrent for its NUC 11 Pro. Intel's NUC 11 Pro is shipping with Sabrent's Rocket 4.0 SSD. The 500GB Sabrent SSD that powers our new NUC 11 Pro external storage test system delivers powerful PCIe Gen4 speeds and, very importantly, does so while staying nice and cool under full load.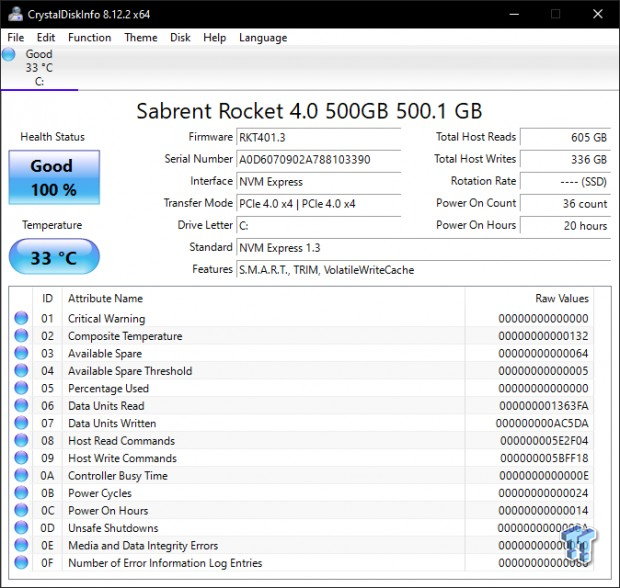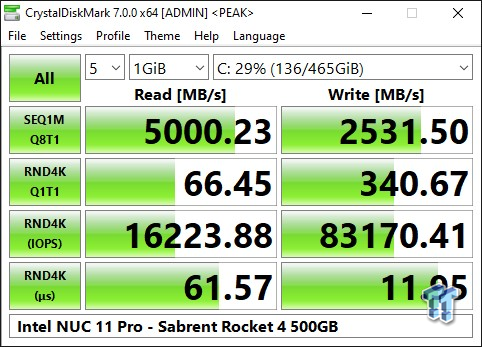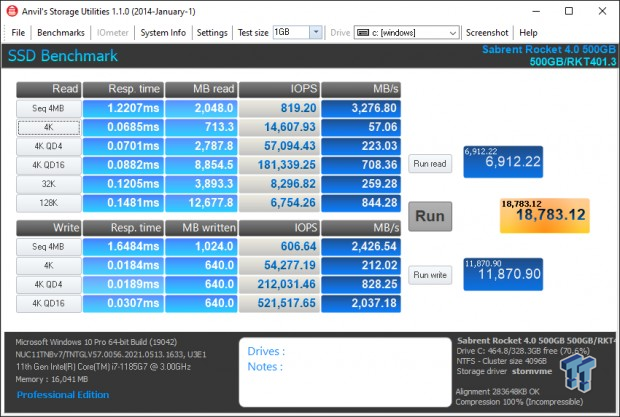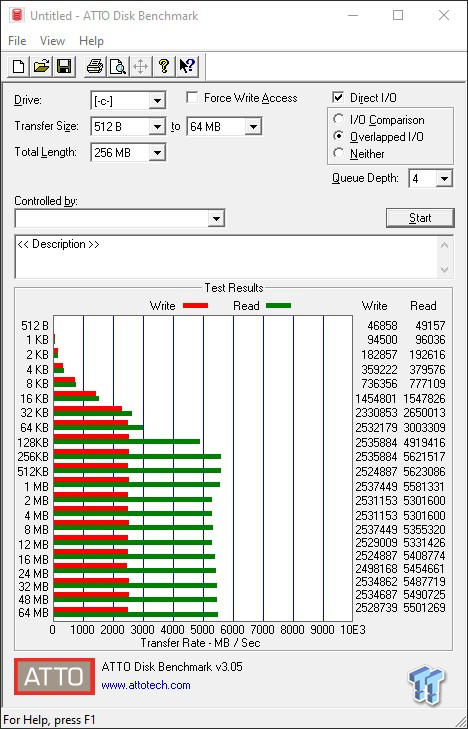 With cool running performance like that, it's easy to see why Intel has chosen to partner with Sabrent for its PCIe Gen4 capable NUC 11 Pro. This potent combination is churning out desktop-type performance. Amazing.
Note: For USB 3.2 Gen2 x2 SSDs, we test on our Z590 system set to match our Intel NUC 11 specs (4.8GHz, 8-threads, DDR4 3200).
Free SSD Software/CrystalDiskInfo
Sabrent Rocket Control Panel / Sabrent RAID Assistant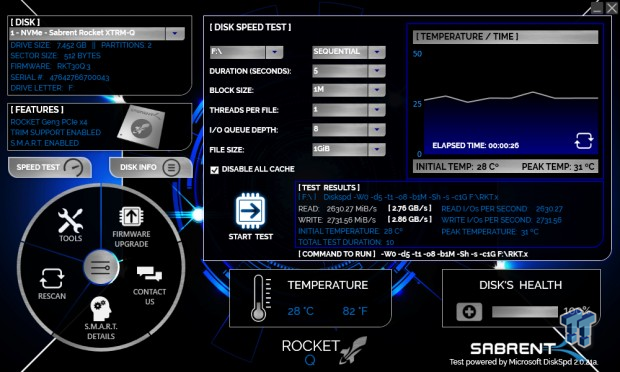 Sabrent offers a full feature SSD Toolbox to complement its SSDs including the XTRM. Sabrent's Rocket Control Panel also gives you access to additional freeware like Acronis for Sabrent.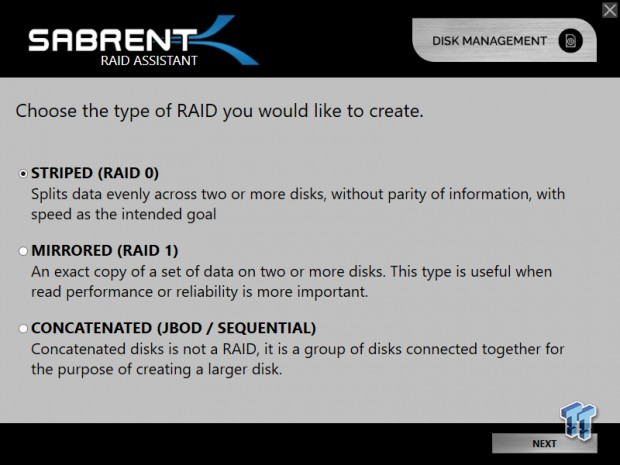 Sabrent also offers an easy-to-use RAID tool to create various RAID arrays on the XTRM-Q, which you can download here.
Drive Details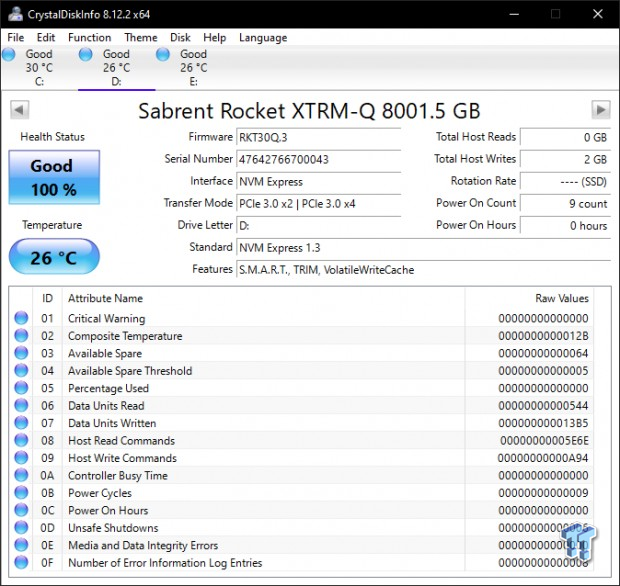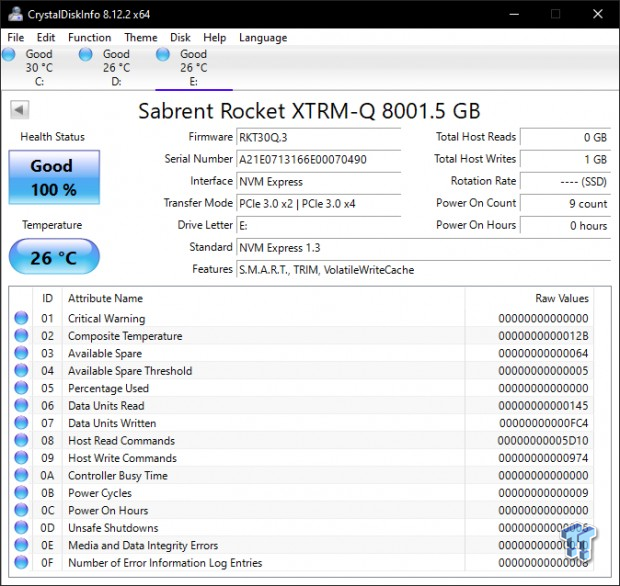 The 16TB XTRM-Q features dual 8TB Sabrent Rocket Q PCIe Gen3 SSDs running on 2-lanes each. This helps keep the device nice and cool under load.
Synthetic Benchmarks: CDM, ATTO & Blackmagic
We benchmarked the XTRM-Q as single drive performance and as RAID 0 performance. All benchmark screenshots that follow will be presented as a single drive on the left and RAID 0 on the right.
CrystalDiskMark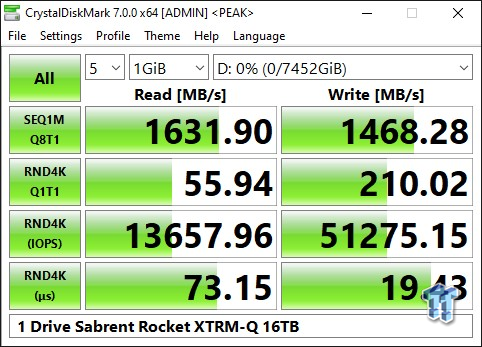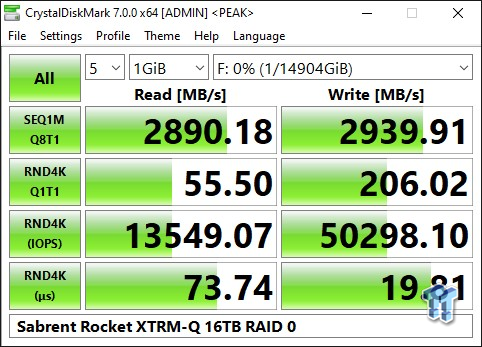 The RAID 0 array we created yields the highest sequential numbers we've recorded for a portable TB3 device. We easily exceed the device's factory sequential spec of up to 2,800 MB/s. Impressive.
ATTO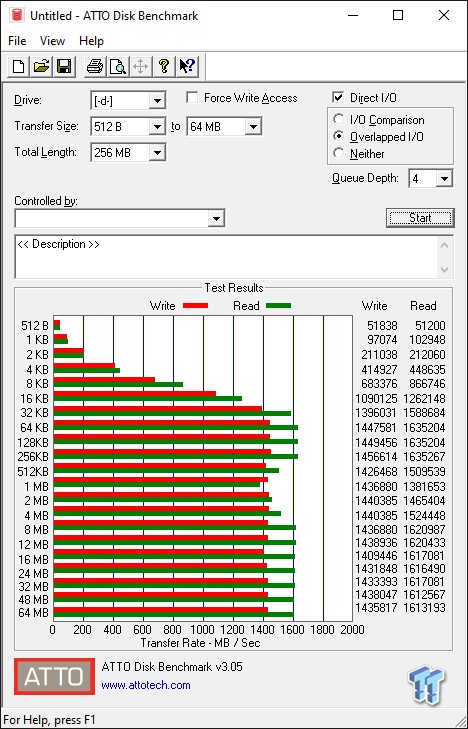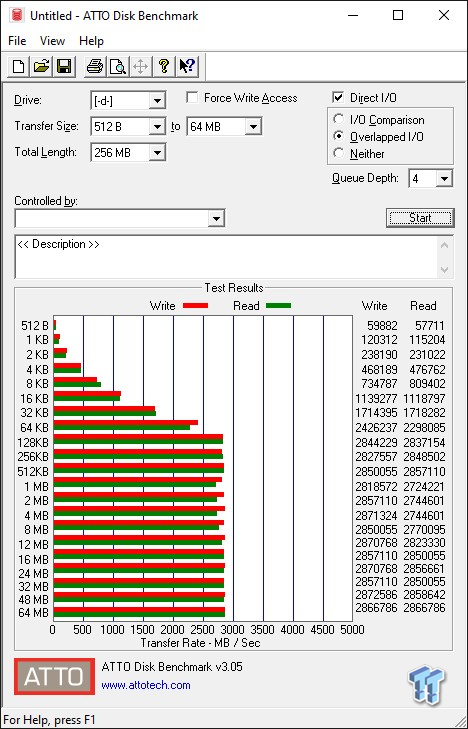 We are looking for 50 MB/s performance at 512B transfers and full speed at 128K transfers. The 16TB XTRM surprisingly is able to deliver both. And more amazingly can do so in single drive mode or RAID 0. We find this feat to be exceptional because most internal SSDs cannot deliver what we are looking for here.
Blackmagic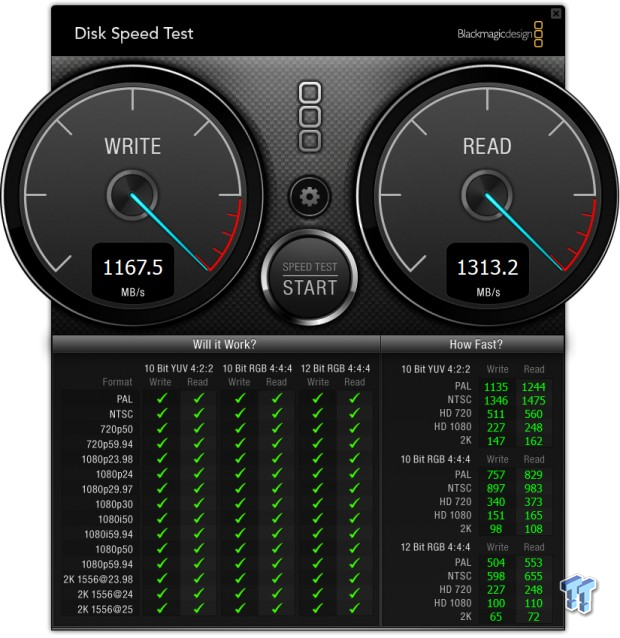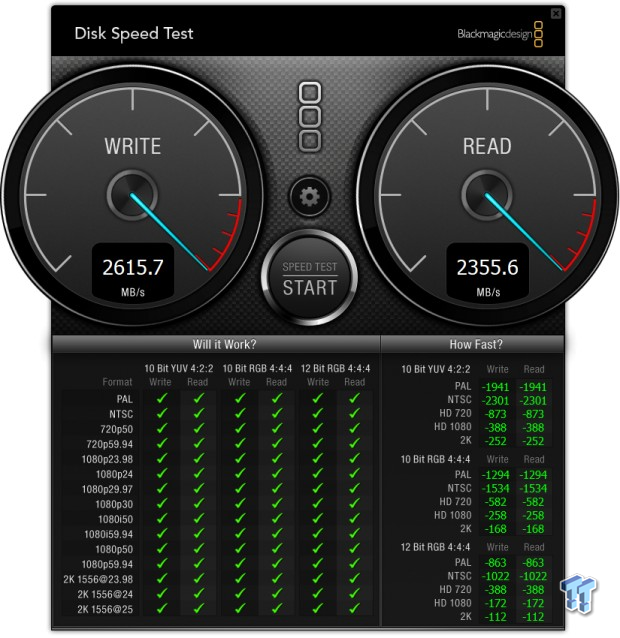 These results attest to the fact that the 16TB XTRM-Q is a video editing juggernaut. MAC workstation users pay close attention because this is a dream come true for you. This device is the pinnacle of speed, capacity, and portability. You need this.
Real-World Testing: PCMark 10 & Transfer Rates
PCMark 10 Data Drive Benchmark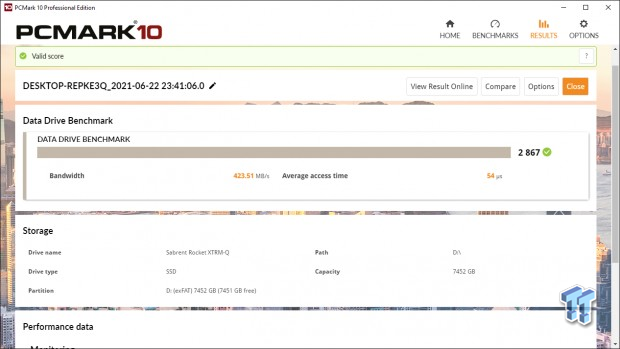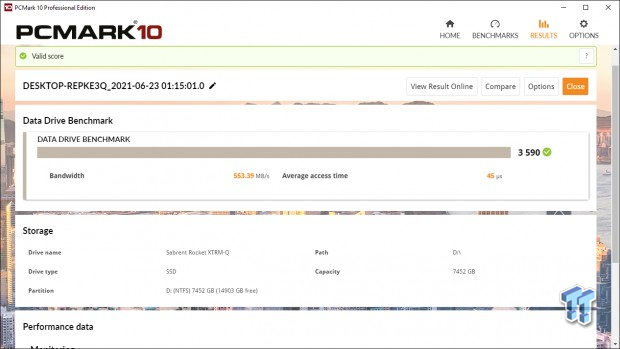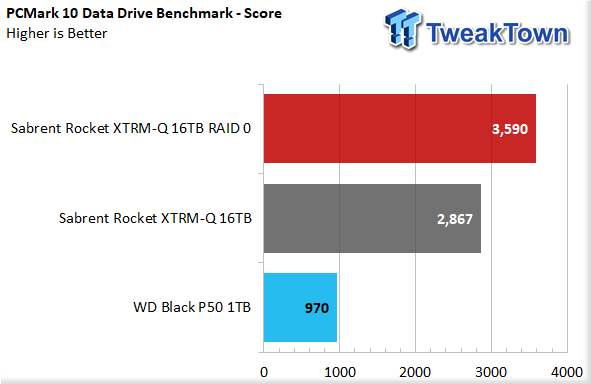 PCMark 10 provides real-world type performance data that closely simulates actual user experience. Whether single drive mode or RAID 0 mode, the XTRM-Q delivers an unrivaled user experience for a portable storage device across a broad range of use case scenarios. Outstanding.
Transfer Rates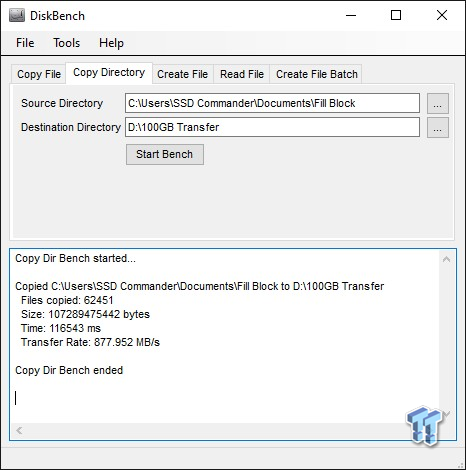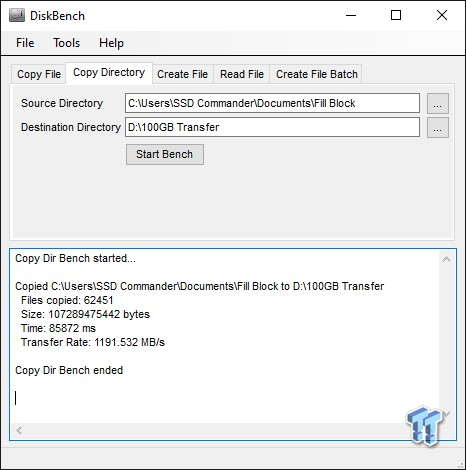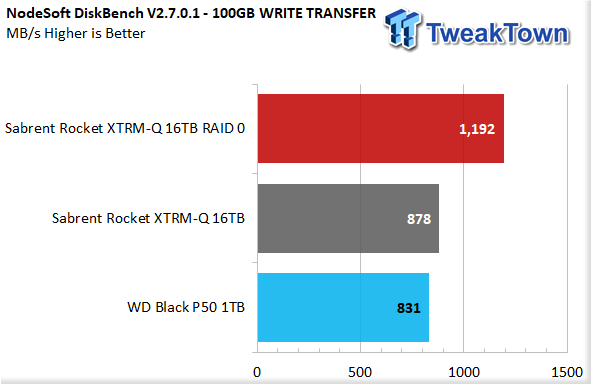 We brutalized our test subjects with our extremely hard-to-swallow 100GB data block. This data block is the same one we use for our internal SSD testing and is composed of more than 62K files. To our amazement, the XTRM-Q actually outperforms many of the latest internal NVMe SSDs in either test mode.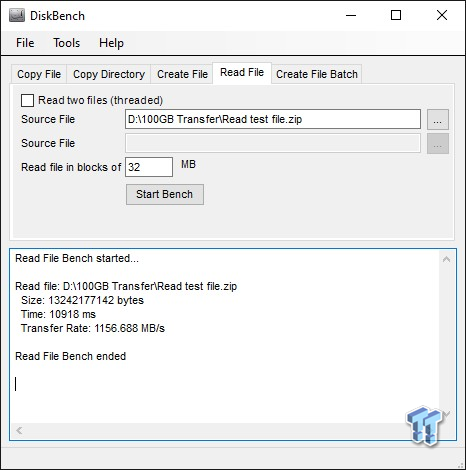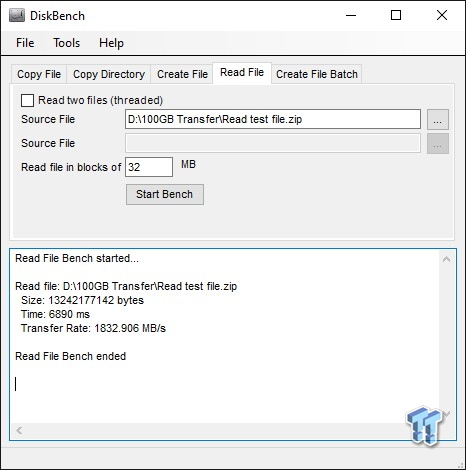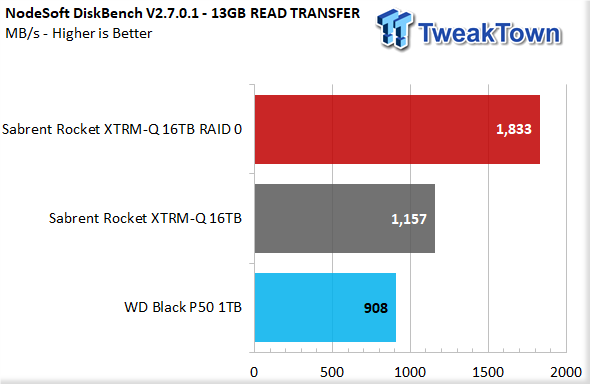 More head-turning performance, this time when serving data to the host. The XTRM lays waste to the USB 3.2 Gen2 x2 SSD we placed on our chart for comparison.
Final Thoughts
Well, here once again, we have Sabrent doing Sabrent things. Once again, Sabrent shows that they are at the forefront of solid-state storage innovation. There has never been a portable consumer storage device like this one. This baby is what storage enthusiast dreams are made of. It's the best of the best and has earned our highest recommendation.
Pros
Sequential Speeds

Capacity

User Experience
Cons
| | |
| --- | --- |
| Performance | 100% |
| Quality | 100% |
| Features | 100% |
| Value | 90% |
| Overall | 98% |
The Bottom Line
Biggest, baddest device of its kind in the world. You need this.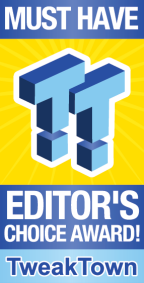 We openly invite the companies who provide us with review samples / who are mentioned or discussed to express their opinion. If any company representative wishes to respond, we will publish the response here. Please contact us if you wish to respond.