TweakTown's Rating: 93%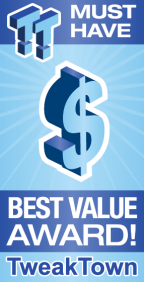 The Bottom Line
Maybe the best value in Gen3 NVMe SSD storage.
Introduction & Drive Details
Silicon Power is back on our bench once again. This time it's not about blazing fast Gen4 speeds and enthusiast-level performance. The UD70 is all about delivering supreme value at Gen3 NVMe speeds. The 2TB model we are testing today is checking the right boxes. First and most importantly, it's super cost-effective, coming in at roughly 9.8 cents per gigabyte of fast NVMe storage. Pricing like that makes the UD70 the most affordable NVMe storage we could find anywhere.
We consider 2TB the sweet spot in terms of capacity for DIY enthusiasts/gamers, considering the size of modern games, videos, etc. The model we are testing checks that box as well. Silicon Power has once again partnered with Phison Electronics to bring the UD70 to market. The drive comes in a familiar configuration that we've grown particularly fond of, Micron 96L QLC and a Phison E12S controller.
Silicon Power is kind of a bare-bones brand, as we've pointed out before. There are no expensive heat sinks adding to the cost, and the packaging is minimal and efficient - even the PCB is the stock blue color that Phison uses as a default. Cost efficiency at its finest. We like that when cost savings are transferred to the consumer through lower cost per GB of storage. Not all companies pass savings on to their customers, but Silicon Power does and, as a result, has built a well-deserved reputation for value.
Now let's get this extreme value-priced SSD on the bench and see what it is serving up on our AMD Ryzen 3900X based test rig.
Drive Details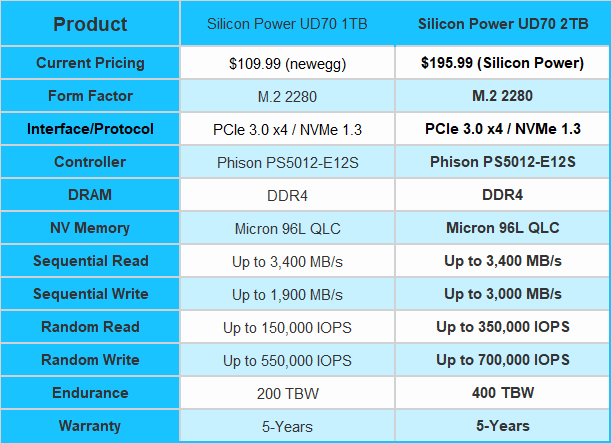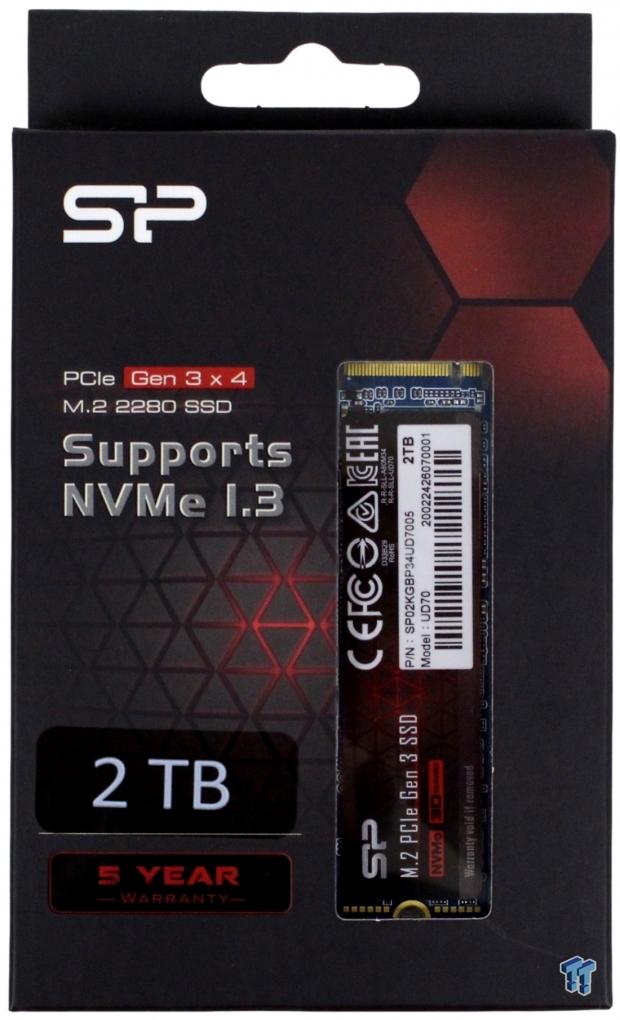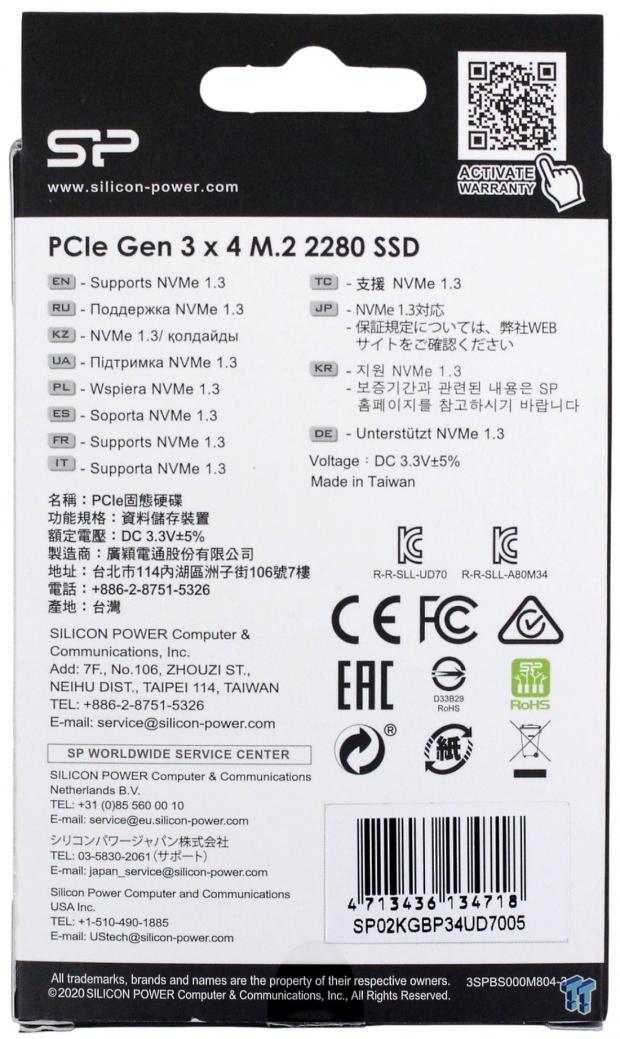 The 2TB UD70 comes as a drive-only package. There are complementary software packages that are available via download to help with data migration and health monitoring. Silicon Motion provides everything you need to make your upgrade easy.
Jon's Test System Specifications
Free SSD Software
SP Toolbox/NTi ECHO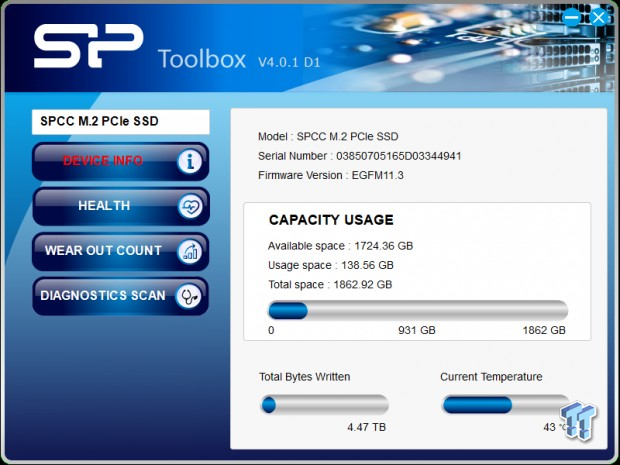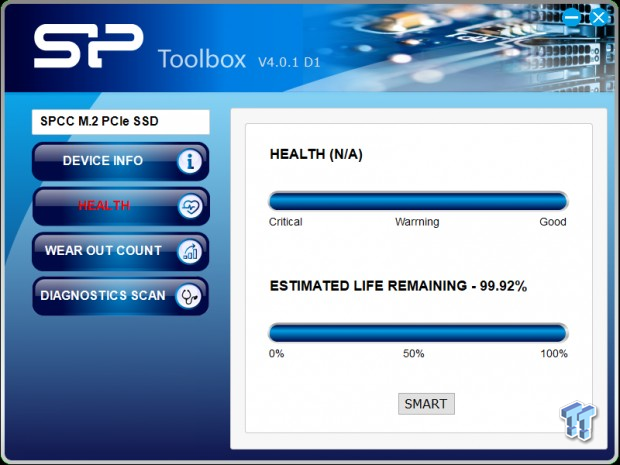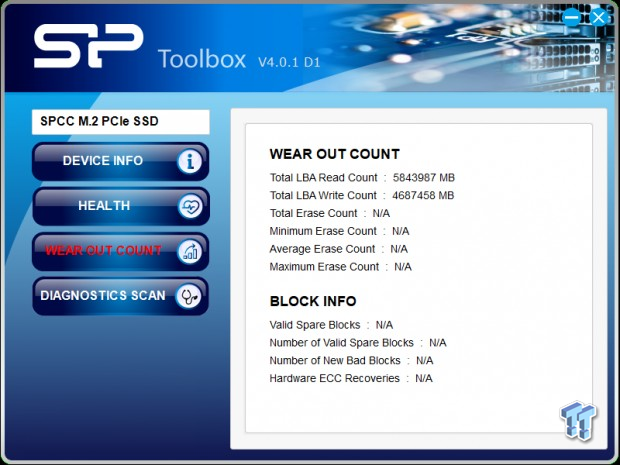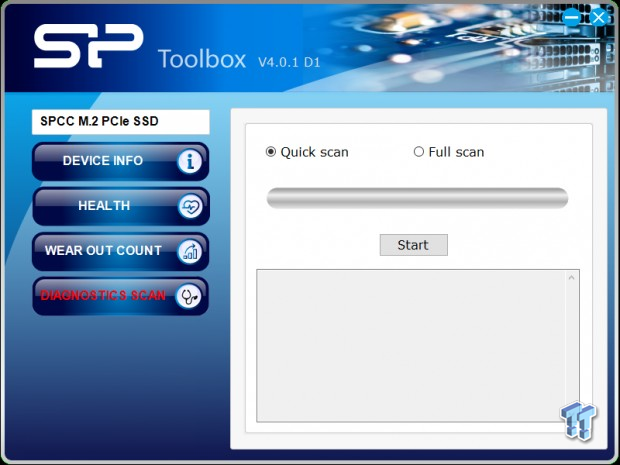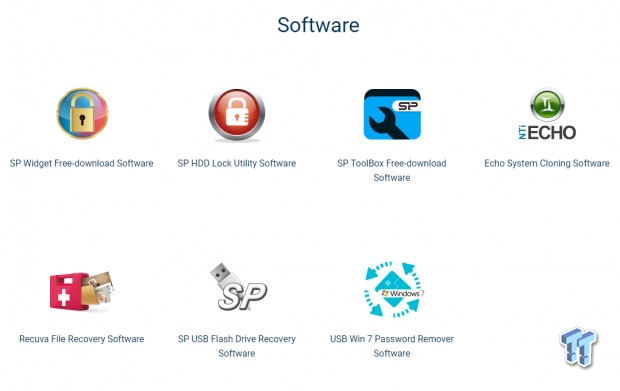 The SP Toolbox functions mainly as a health monitoring station which is a nice compliment to the UD70. If you need cloning software, Silicon Power offers free NTi ECHO cloning software. A nice value add especially considering this SSD is priced at under 10 cents per gigabyte of RAW storage.
Click here to download.
Synthetic Benchmarks: CDM & Anvils
CrystalDiskMark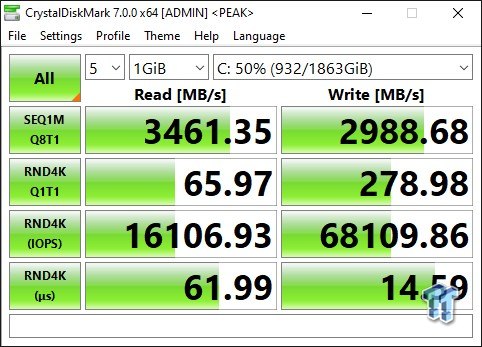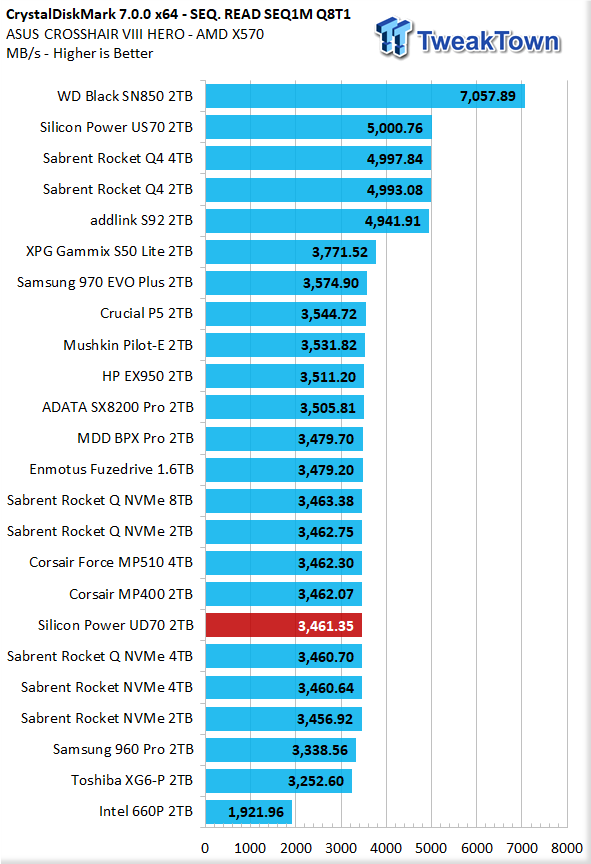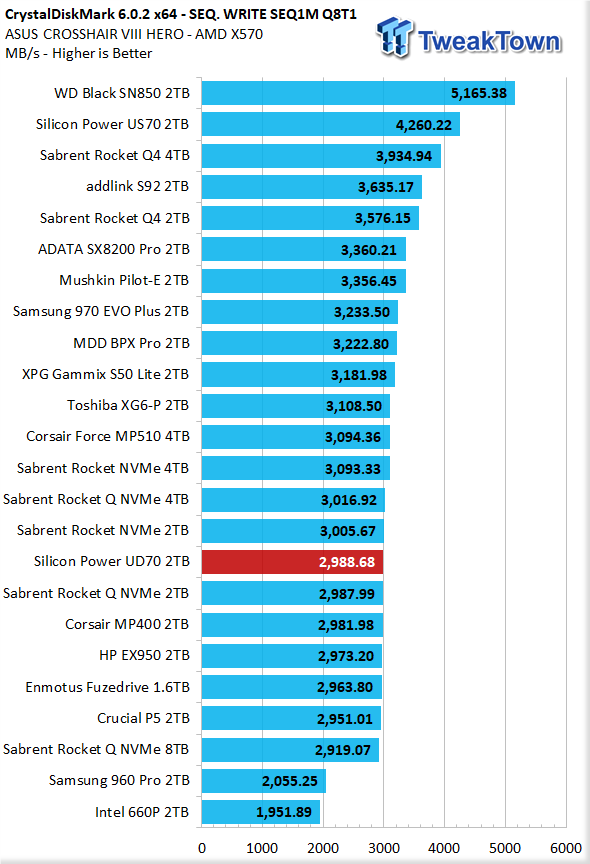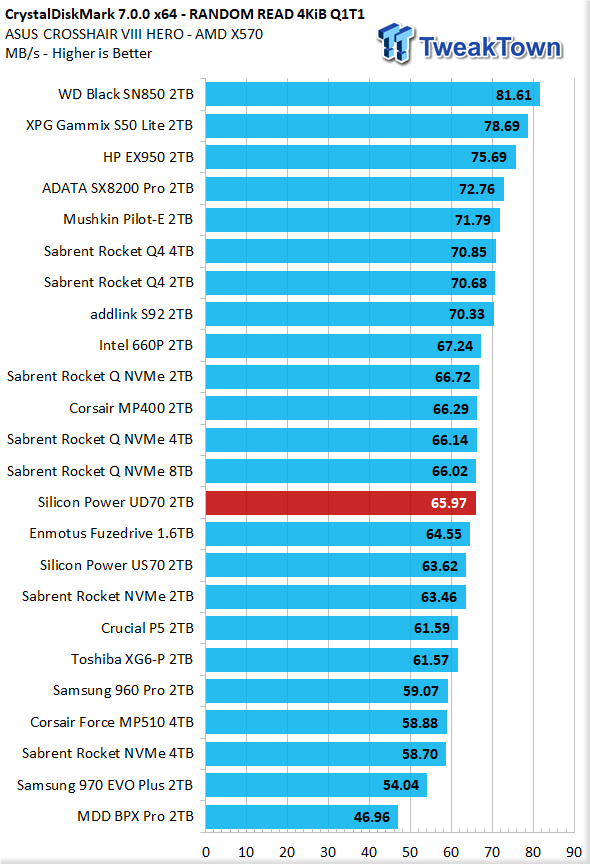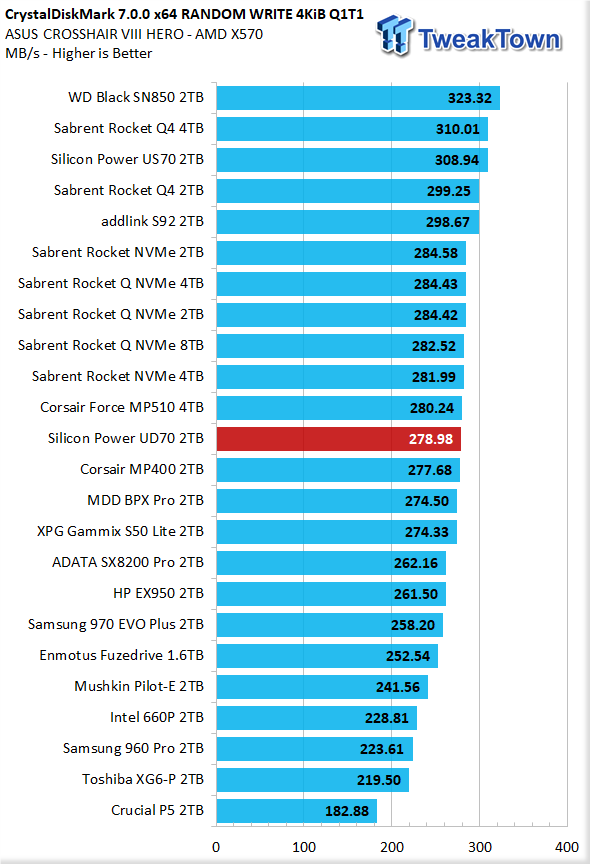 Sequential performance delivered is about tops for a Gen3 powered QLC based SSD. Low queue depth random performance is even better, coming in higher than the whole host of TLC-powered competition.
Anvil's Storage Utilities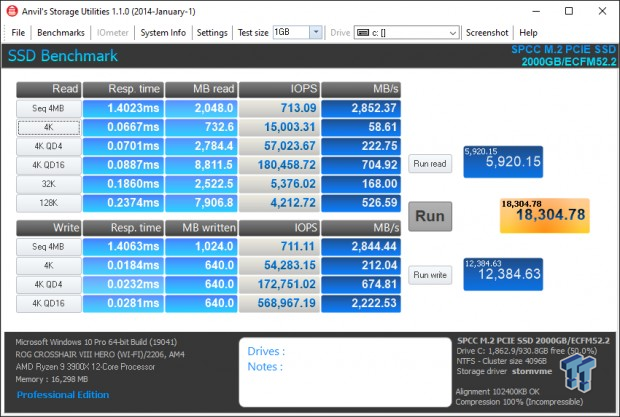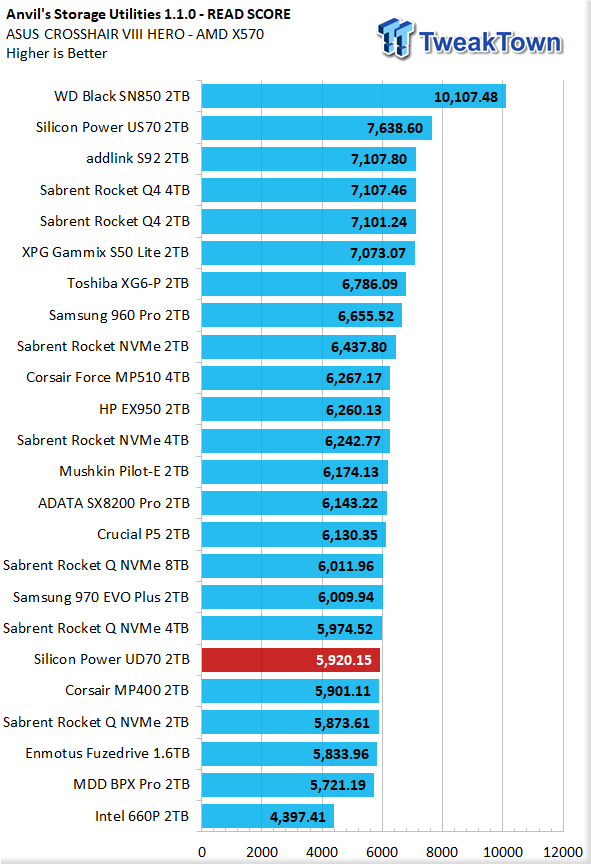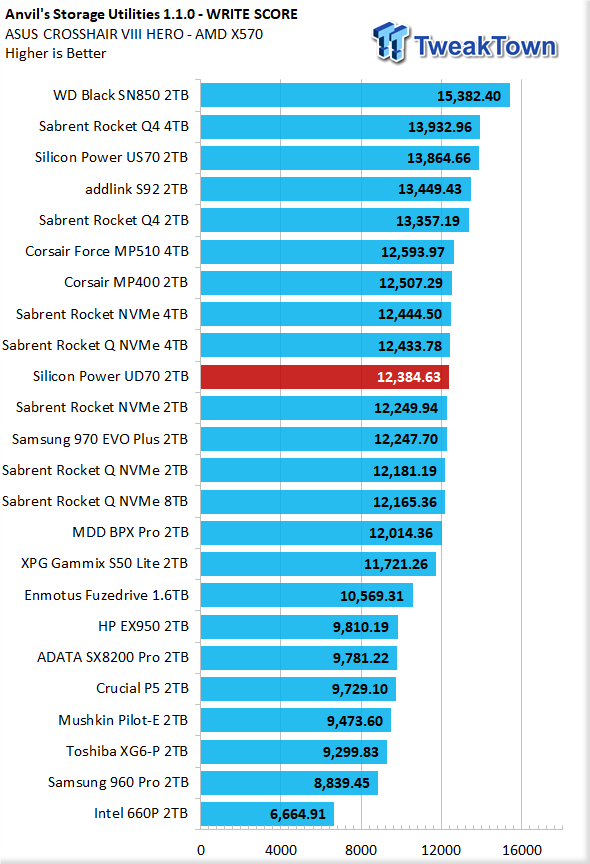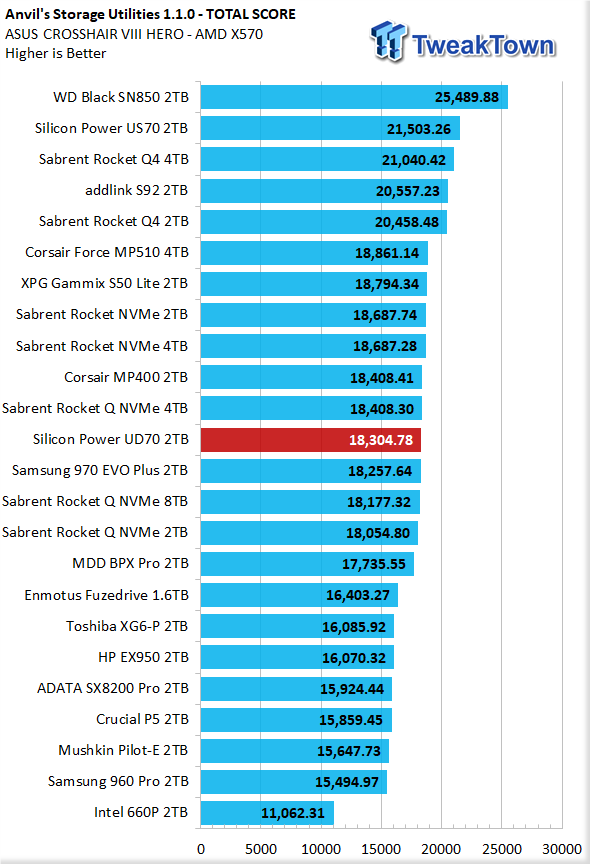 In terms of overall synthetic burst performance, the 2TB UD70 is dishing out performance equivalent to Samsung's TLC-based 970 EVO Plus. Impressive. We almost make it to our desired 6,000-point total read score plateau, which is again impressive for a Gen3 powered QLC based SSD.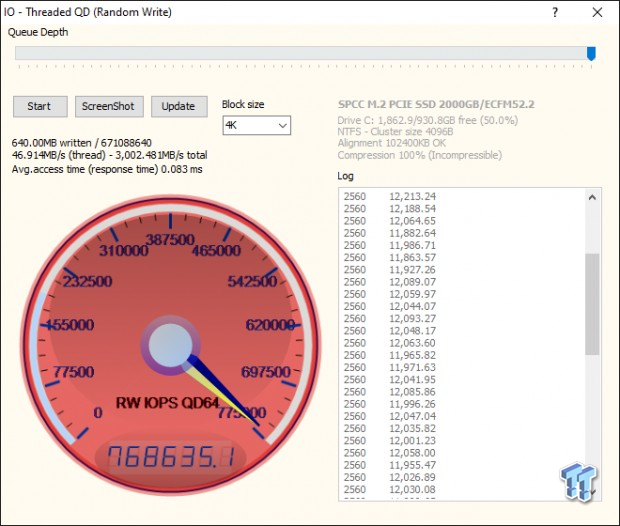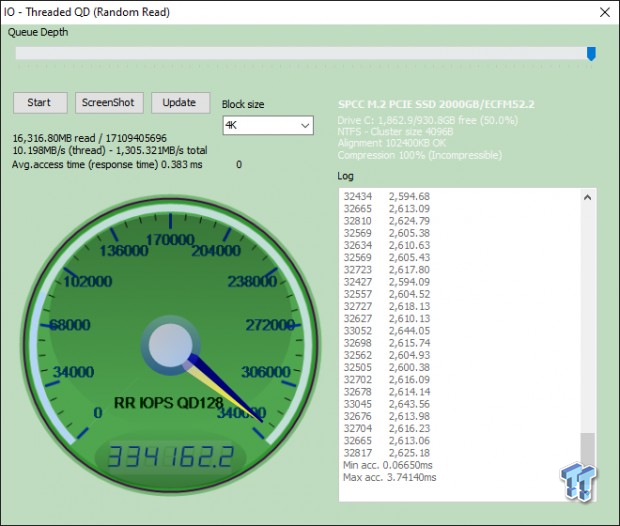 We easily exceed factory specs for max random write IOPS but can't quite get there with max random reads. This is expected when we are testing as we do with our more demanding user state of system disk 50% filled with data.
Synthetic Benchmarks: AS SSD & ATTO
AS SSD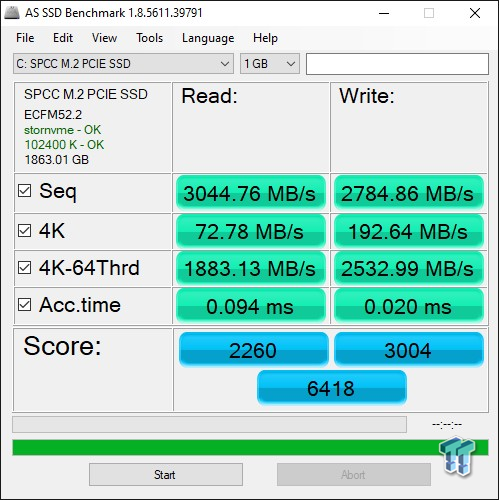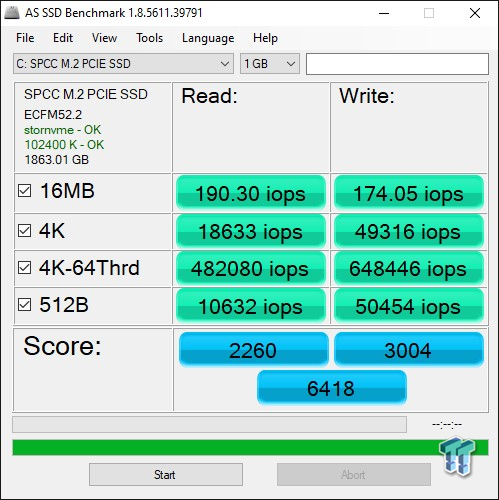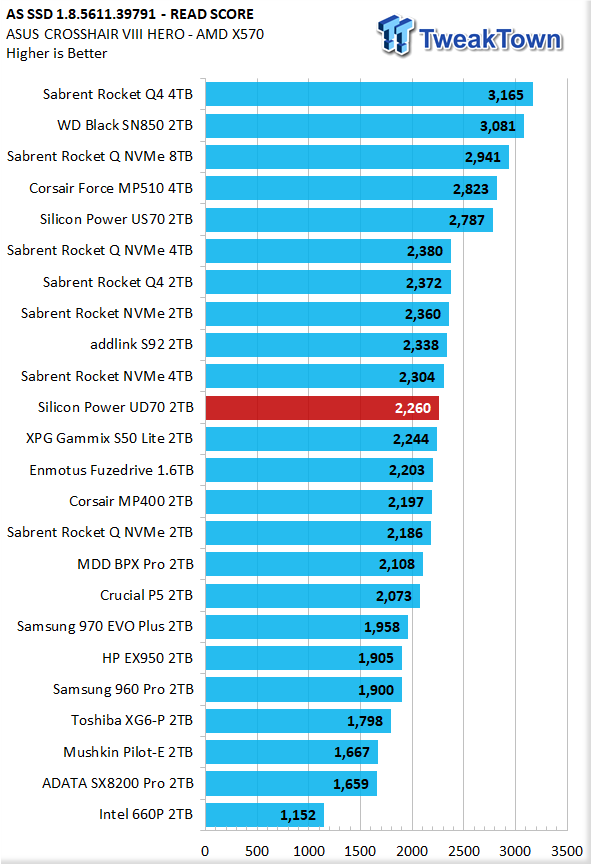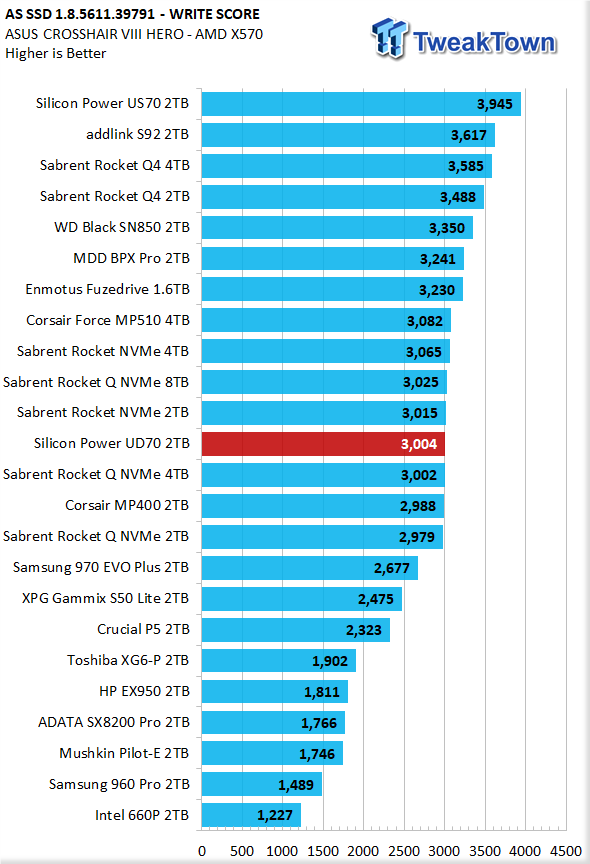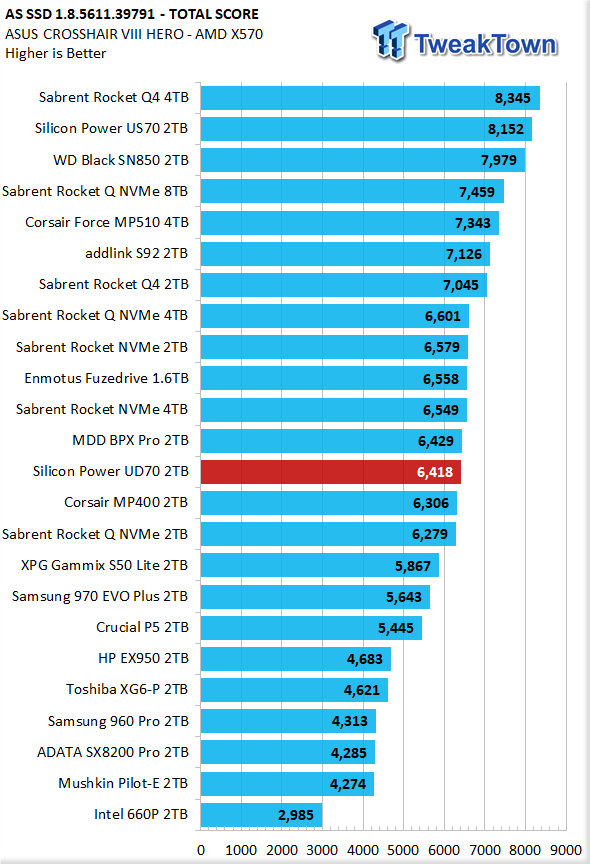 AS SSD and Phison controlled SSDs are a match made in heaven. Phison SSDs digest AS SSD's data like no other, and the 2TB UD70 is no exception. The UD70 manages to squeak out the highest score we've gotten from a 2TB Gen3 QLC based SSD tested on our 3900X based test rig.
ATTO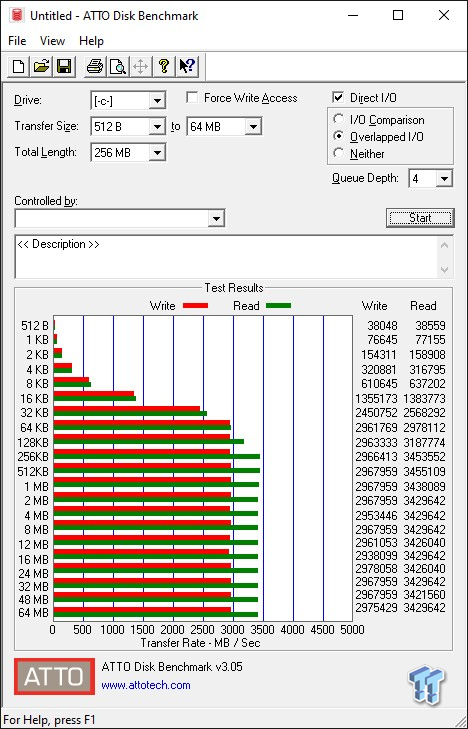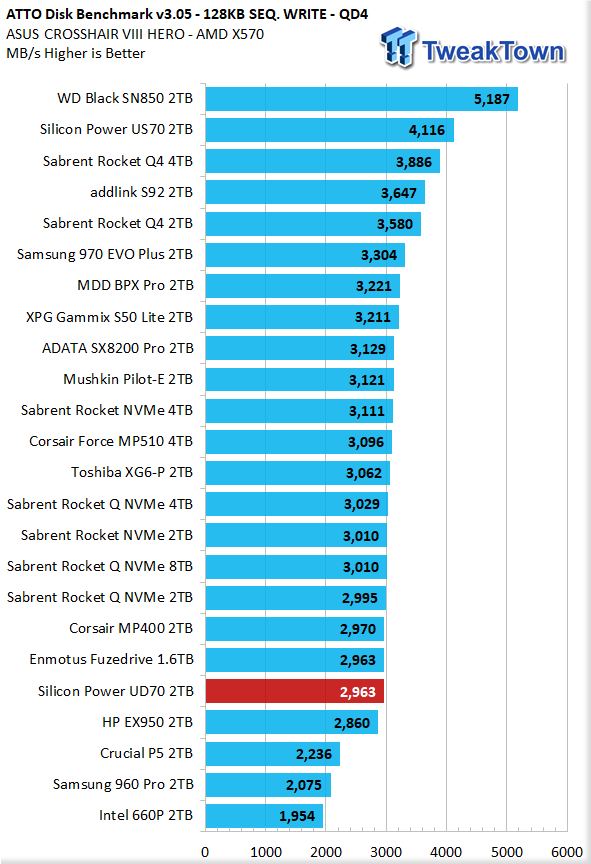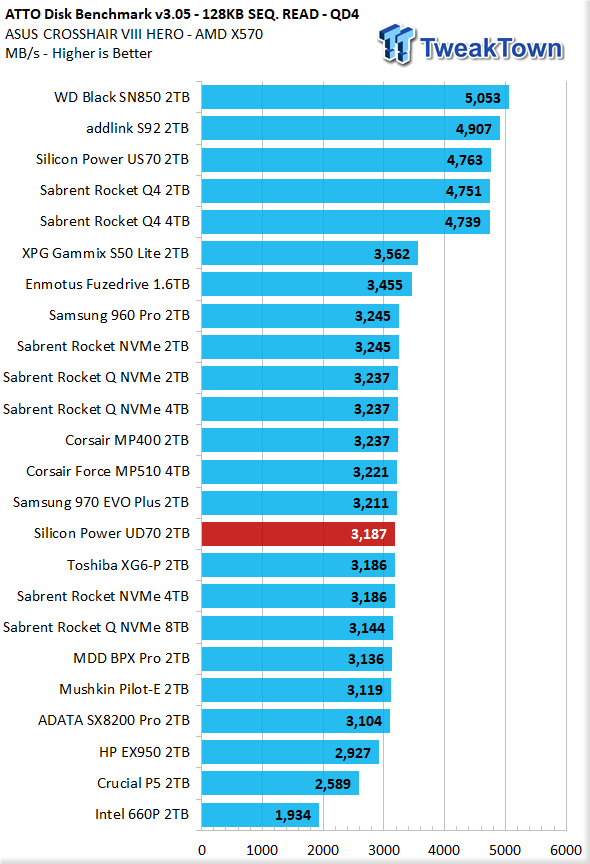 We want to see 40 MB/s or higher at 512B transfers, but we don't quite get there. Next, we are looking for full speed at 128K transfers. We get it when writing sequential data but fall a bit short when serving it to the host.
Real-World Testing: Transfer Rates & Gaming
Transfer Rates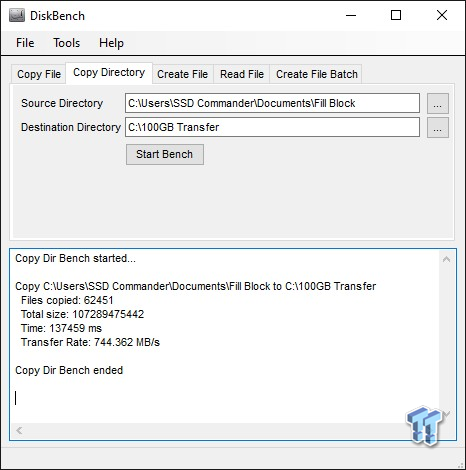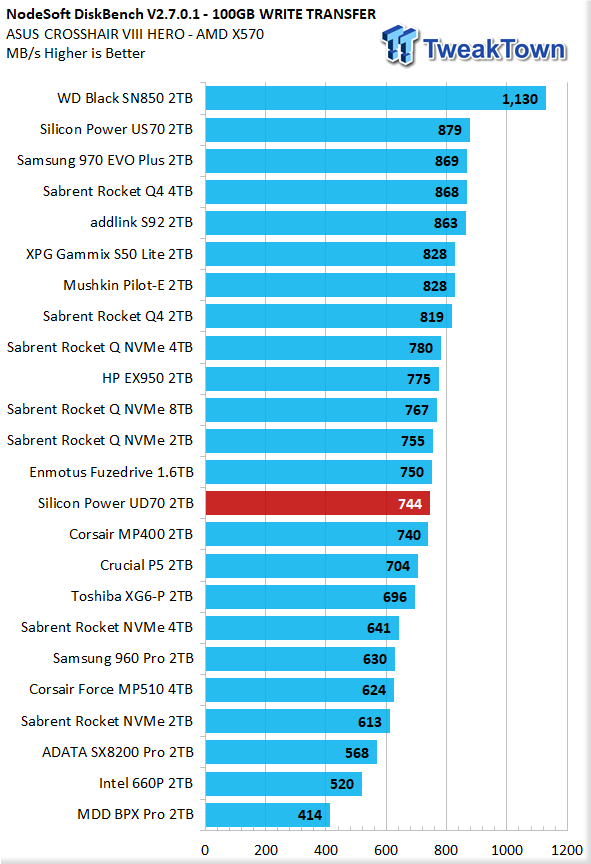 With transfer that fast, it's hard to believe the UD70 is QLC based. After all, it is beating a whole host of TLC-based SSDs.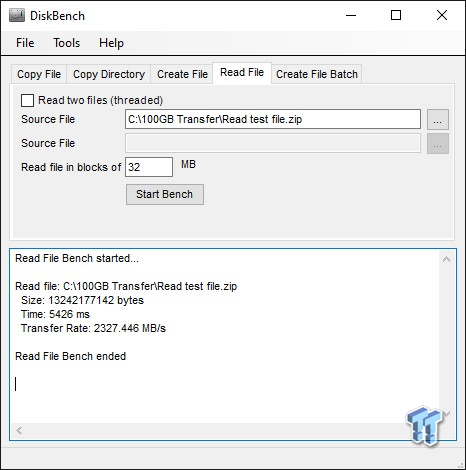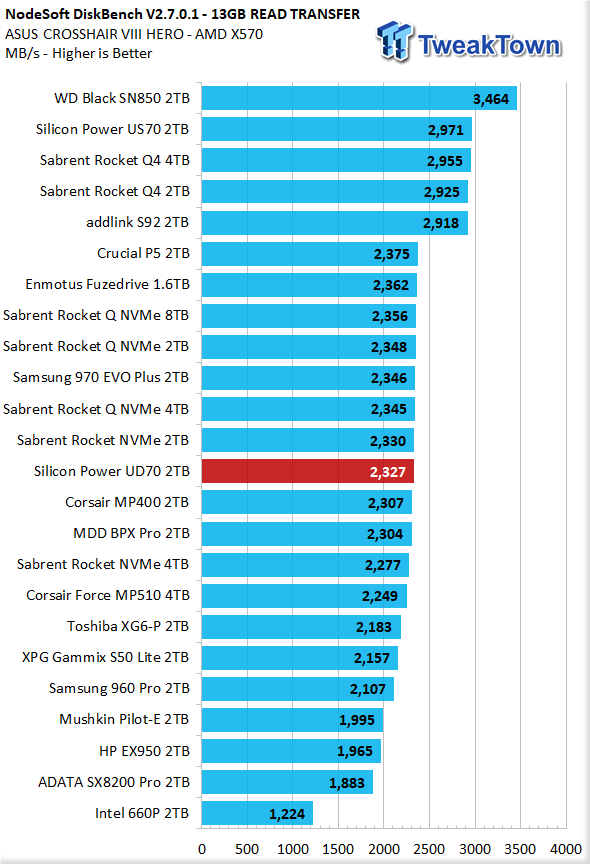 Again, the 2TB UD70 impresses with performance that is better than conventional wisdom would dictate.
Game Level Loading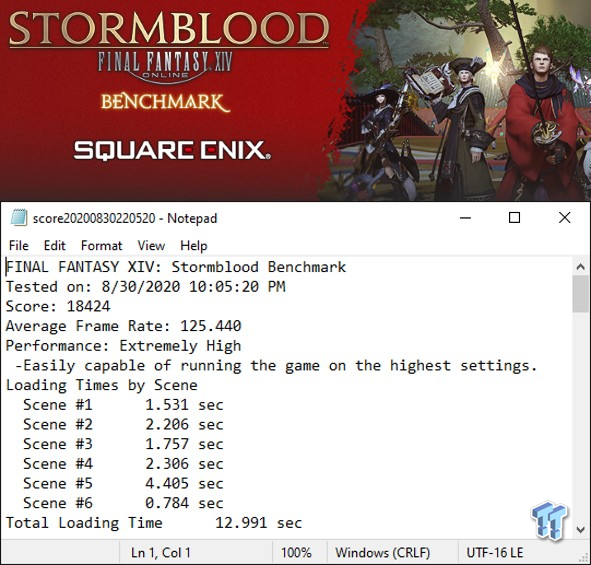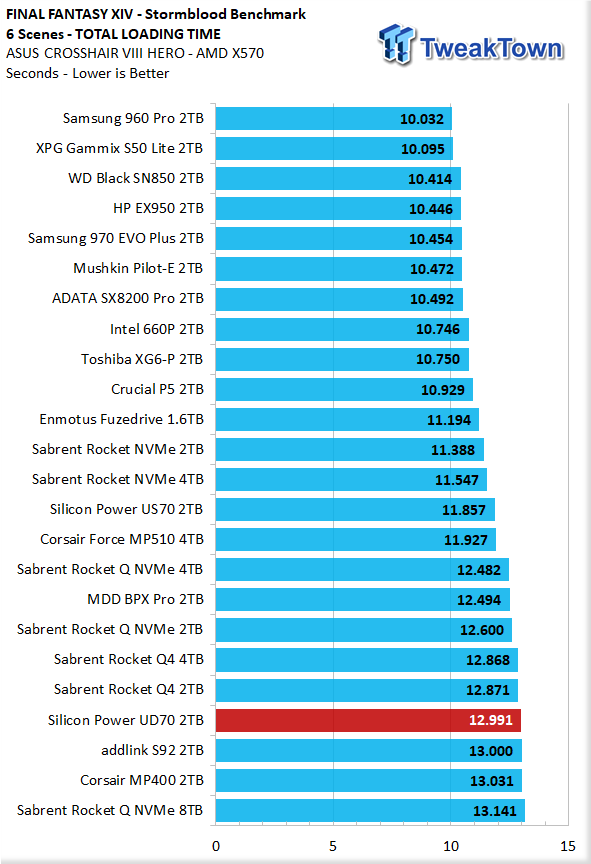 As we test gaming, the UD70 delivers what we've come to expect from the hardware configuration it is sporting. It is hovering near the bottom of our chart, but the difference between first and last is fractions of a second spread over 6 level loads, so we won't read too much into this result.
Real-World Testing: PCMark 10 Storage Tests
PCMark 10 Storage Test is the most advanced and most accurate real-world consumer storage test ever made. There are four different tests you can choose from; we run two of them.
The Full System Drive Benchmark and the Quick System Drive Benchmark. The Full System Drive Benchmark writes 204 GB of data over the duration of the test. The Quick System Drive Benchmark writes 23 GB of data over the duration of the test. These tests directly correlate with user experience. Of the two tests, we feel that the Quick System Drive Test most accurately replicates a typical user experience.
PCMark 10 Full System Drive Benchmark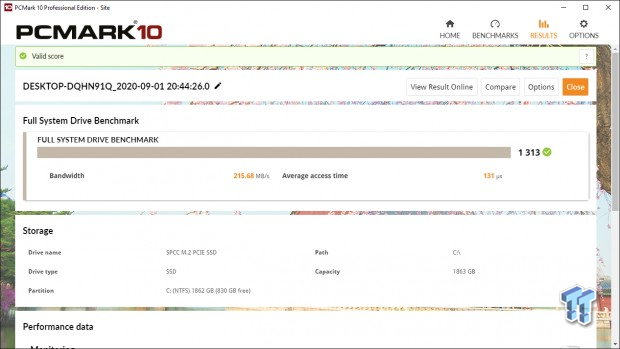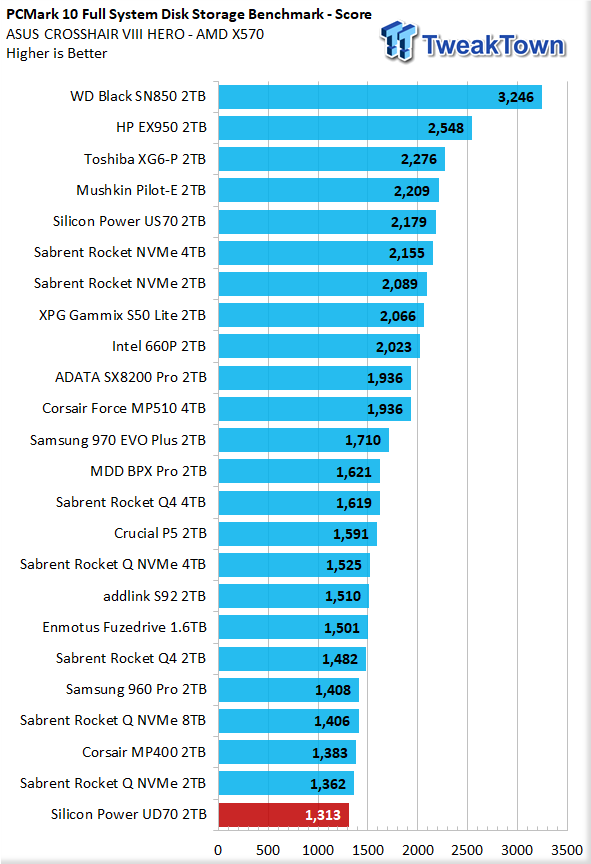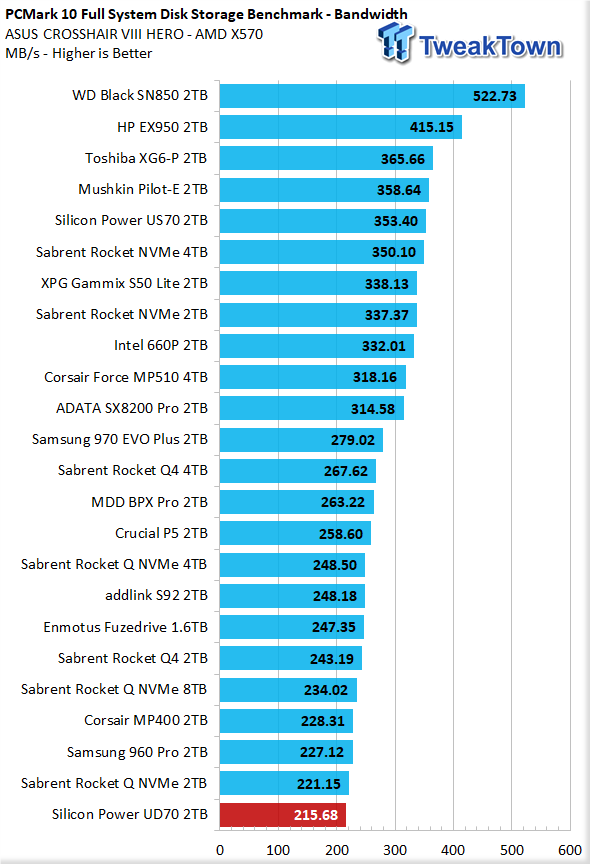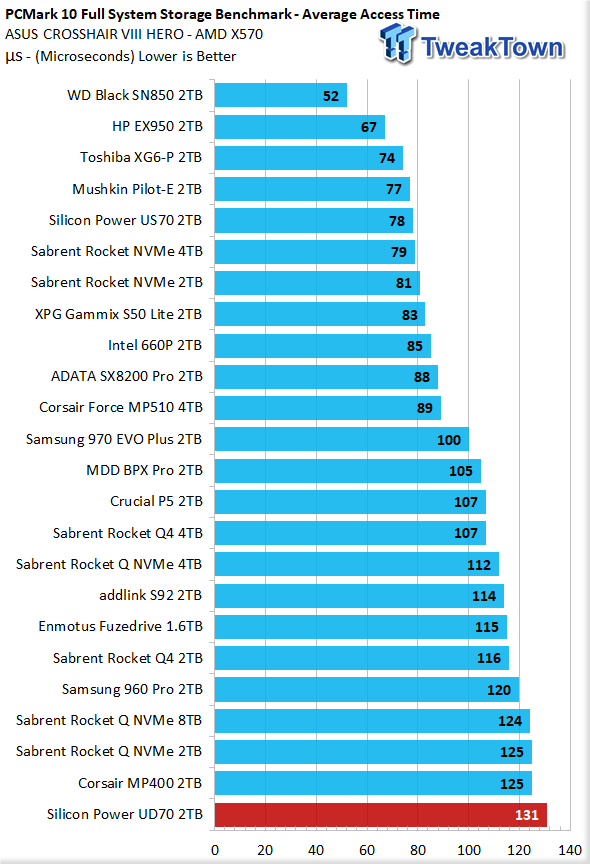 This hardware configuration is not well suited to demanding consumer workloads, as evidenced by the UD70's bottom-of-the-chart performance. This is as expected, and again no cause for worry as we believe the next test most accurately represents real-world consumer usage and therefore is a better gauge of what the UD70 is all about.
PCMark 10 Quick System Drive Benchmark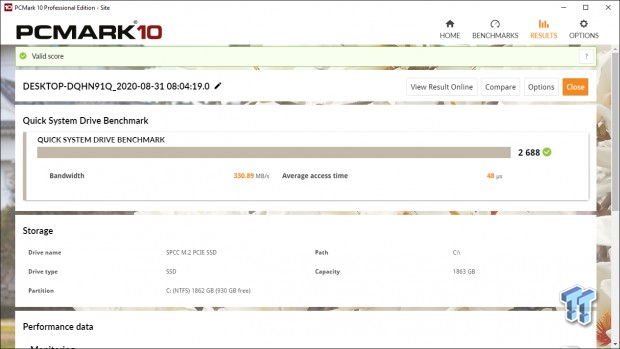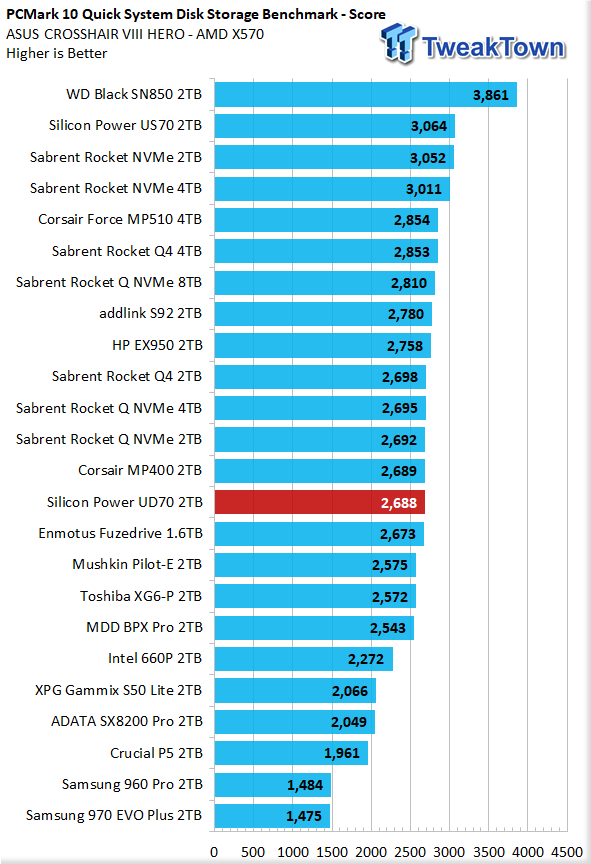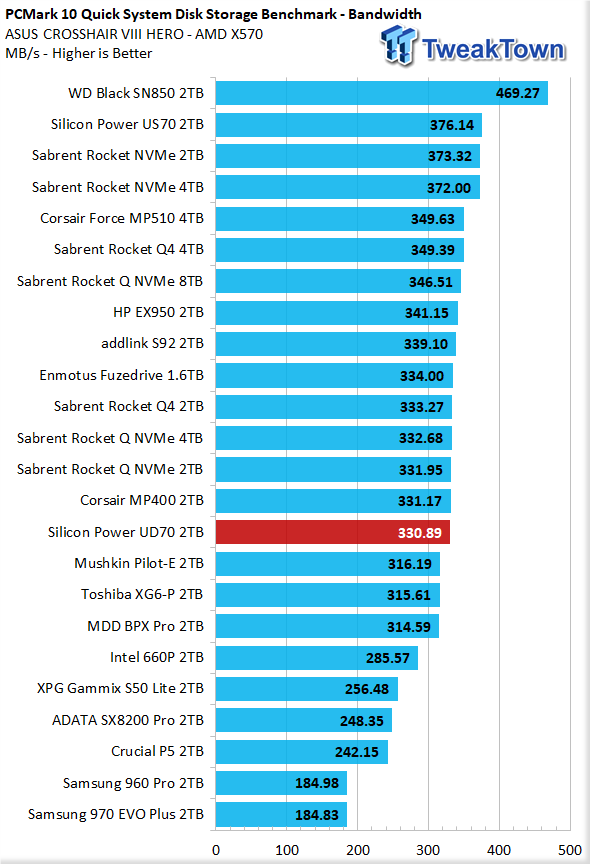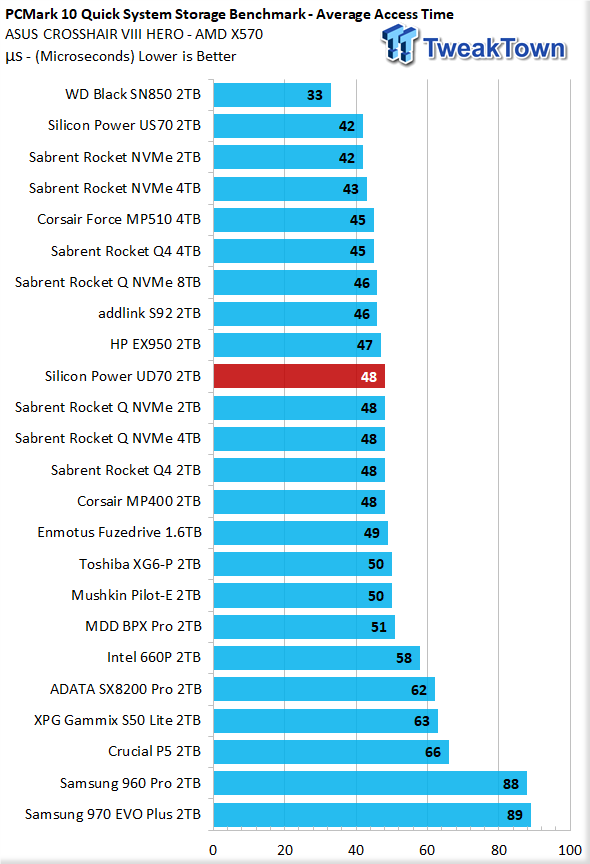 There we go. The 2TB UD70 is serving up great performance when digesting moderate consumer workloads. It is really within striking distance of the next four spots above it on our chart. We feel that these test results prove without any doubt that the 2TB UD70 will deliver a great user experience in most consumer usage scenarios.
Final Thoughts
Performance like this for under 10 cents per gigabyte is about as good as it gets for an NVMe SSD. The capacity is right on the money as we see it, and once again, Silicon Power has delivered a bit more than much of its competition.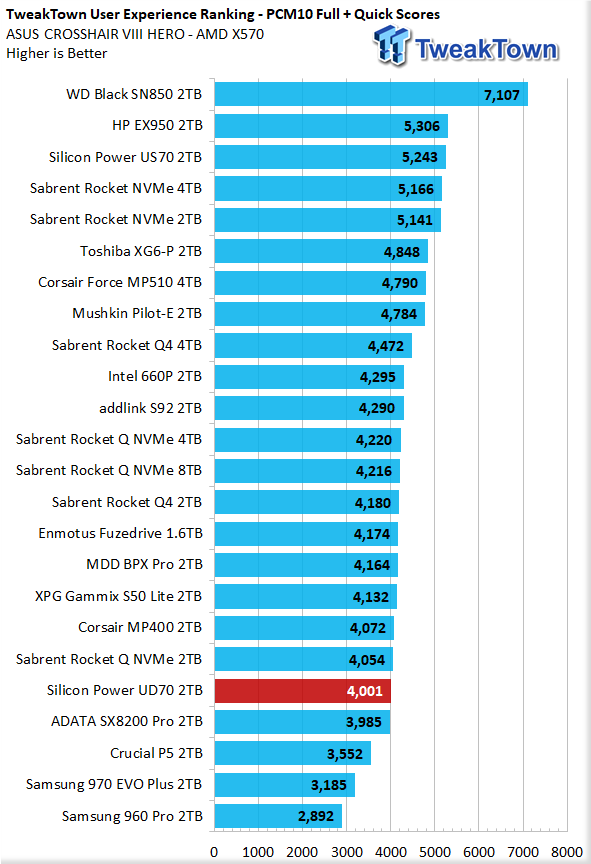 We always look to user experience when ranking SSDs, and although the UD70 is charting at the lower-end, look closely at the drives it is beating. They are all popular brands sporting TLC flash arrays and even one sporting an MLC flash array. How is this possible? The UD70 has more efficient SLC caching than the drives below it on this chart. This means that for most consumer use case scenarios, the UD70 can provide a better user experience.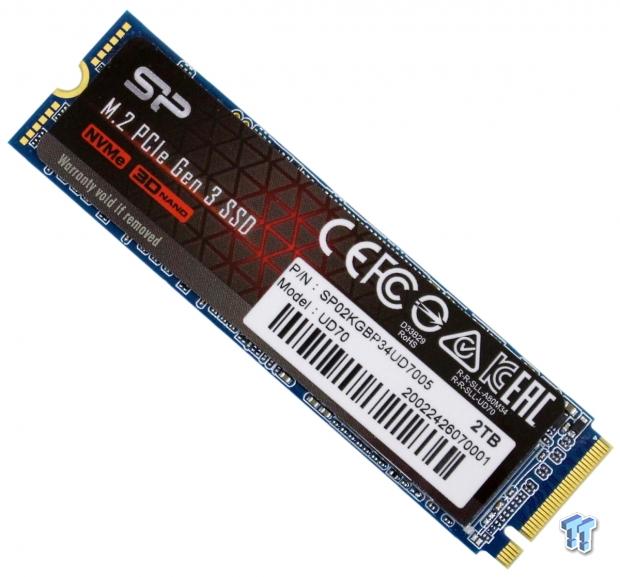 A quick recap of our test results reveals a few outstanding performances for the Silicon Power UD70 2TB SSD. CDM revealed the UD70 2TB capable of nearly 3.5 GB/s throughput, which is outstanding for a Gen3 QLC based SSD. The UD70 then served up a head-turning performance when tested against Anvil's. The UD70 then demonstrated that it can transfer data at rates that can exceed many popular TLC-based SSDs. Finally, the UD70 2TB dished up some stout performance when performing common consumer tasks, as demonstrated by its excellent performance as tested against our PCM10 Quick System Disk testing.
The UD70 2TB SSD's mix of value and performance has earned it TweakTown's best value award.
Pros
Capacity

Pricing

Consumer Workloads

5-Year Warranty
Cons
Heavy Workload Performance
| | |
| --- | --- |
| Performance | 85% |
| Quality | 95% |
| Features | 90% |
| Value | 100% |
| Overall | 93% |
The Bottom Line
Maybe the best value in Gen3 NVMe SSD storage.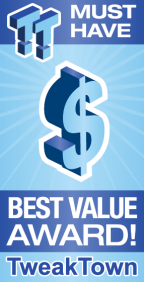 We openly invite the companies who provide us with review samples / who are mentioned or discussed to express their opinion. If any company representative wishes to respond, we will publish the response here. Please contact us if you wish to respond.