Gigabyte 3D Rocket II HSF
Gigabyte's latest monster CPU heatsink, the "3D Rocket II", has been tested and we compare to other big name coolers.
Published Mon, Sep 18 2006 11:00 PM CDT
|
Updated Tue, Nov 3 2020 7:04 PM CST
Introduction
When you hear the brand name "Gigabyte", odds are good the first thing that comes to mind is motherboards. While the company certainly makes a lot of these, they have also expanded their product line to include graphics cards, mobile phones, laptops, peripherals, and the subject of today's article, cooling solutions.
The 3D Rocket II, as the name implies, is a revision of an older design. With several enhancements, the current offering claims to do a significantly better job than its older brother. While we will not be comparing this product to the original, we will be comparing it to some other modern coolers here today that have already established themselves as solid contenders.
So will the Gigabyte cooler be able to stand its ground? Continue on as we look into this question and try to help you make informed buying decisions where cooling is concerned.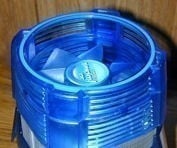 In The Box
It only takes about a heartbeat to realize where the product name came from. With the tall cylindrical design and the outward thrusting fins, the term
Rocket
just seems to fit. Besides the core cooling device, you also get some other items that we'll talk briefly about.
As is common with most coolers on the market today, this particular model comes with the devices necessary to attach to most common processor types. Whether you are running AMD or Intel, this cooler will be compatible with anything from S754 on the AMD front and from S478 on the Intel side of the fence. This should cover a vast majority of processors still in use, so there is a great deal of flexibility here.
Also included in the photo above you will see a small tube of a thermal interface material, a PCI bracket for the rheostat, and a fan cable.
Since we mentioned a rheostat device, we'll start there.
The default mounting of this item is within a 3.5" bay that will fit in any normal FDD slot in your machine. If you do not like the 3.5" bay option, or if you don't have an open drive bay, you can simply pull off the knob, unscrew a single nut, and mount the rheostat in the included PCI bracket. This allows the ability to use either method of thermal control without having to include two separate rheostat devices.
Something that isn't normal on a rheostat device is a fan speed indicator. Sure, we know that when you turn the knob to the right the fan goes faster, but to have the fan speeds noted on the device is a nice addition. The smaller numbers you see on the inner ring is the estimated sound output of the fan measured in decibels.
When I first saw these rings, I was a bit confused. Granted this unit it tall, but I certainly didn't think it was so tall as to require a seal between the top of the unit and the side panel of the enclosure.
After a bit of research, I realized that these rings are nothing more than an option to change the appearance of your cooler. Many folks are running unique lighting schemes within their cases and these rings may be helpful in this. You see, they are all different colors and are also UV reactive, so regardless of the color scheme you are using, odds are good there will be a UV reactive ring to help enhance the overall look.
The final item we will look at in the box is the manual. While this isn't unusual anymore, the thickness of this booklet caught me by surprise. After realizing it is written in about a gazillion languages, however, the size didn't seem so daunting anymore. Each language receives about 10 pages that covers the installation details.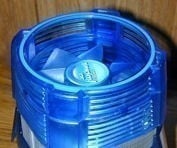 The Cooler
As I have hinted to already, this heatsink is
HUGE
! This does not, however, mean that it is going to be dangerous to use. The overall weight of the cooler is 640 grams. While it isn't a total lightweight, the design is such that most of the weight falls toward the base of the cooler. This allows the heatsink to sit easily over a processor even when the device is positioned horizontally.
For those with a smaller enclosure, you may well want to do some measuring before you decide on this cooler. The measurements of this beast roll in at 112mm x 112mm x 175mm in height. The balance ratio stays close to the base due to the heatpipe design and the aluminum fins used instead of copper. Since heatpipe coolers don't really need the dissipation qualities of copper, it allows this larger than normal heatsink to maintain a relatively low weight.
Pictured above is a closer look at the fin system used in the 3D Rocket II. You will also note the plastic side fins that give it the look of its namesake. While they don't look to add anything to the effectiveness of this cooler, they do make it stand out in a crowd.
You can also see the four heatpipes running through the fin system. For those who are new to building or are not up to speed on this technology, it is a system of hollow tubes that contain a wicking material and a liquid transfer substance. When heat is transferred to the copper base, it is carried into the heatpipes where it rises and is dissipated. While a relative newcomer in the computer cooling sector, the technology has been in use with industrial equipment since the 1960's.
At the bottom edge of the fin system you will find a small PCB that handles connections to the fan and the rheostat device. It also takes care of the power requirements of the cooler. The photo above was taken right out of the box, so the two empty connectors belong to the fan speed monitoring cable and the power intake connector.
Above you can see the riser system used for this heatsink. Since heatpipe technology needs a bit of distance in the piping to be effective, we see several modern coolers utilizing a high profile design.
Those with a keen eye have likely already noticed the fan housed in the bottom of the unit. This is one of two fans used in the Rocket II cooler. The bottom fan is a small and quiet unit that blows downward. This aids the heatpipes in their cooling chores and since it operates in the opposite direction of the top fan (it blows upward), there is no turbulence in the central chamber like models that have tried this in the past. The open fin design allows for plenty of airflow so you will have no issues regarding the two fans working together.
Moving to the base of the heatsink, we see what we have come to expect; copper. While not lapped to a sheen finish, it is very smooth and the machine marks pictures above were not felt with the finger. The studs that secure the base to the cooler are just slightly inset so you will have no problems with seating on the processor core.
I made mention of the top fan before, but here it is in all its glory. Since the entire unit maintains a roughly circular design, it is a given that a normal fan is out of the question. The model used, however, should be up to the task at hand. Measuring in at 92mm x 92mm x 25mm, this ball bearing fan spins at speeds ranging from 1500-3000 RPM and emits 16-33 dBA of sound. At lower speeds it is truly quiet. At higher speeds it is about par for what we have come to expect from a performance oriented cooler.
The fan is also lighted, so if you happen to be running a windowed enclosure you should be able to show off some added lighting effects. Coloring for the LED is blue, so plan accordingly.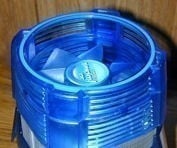 Installation
Installation Notes
When it comes to installing a heatsink, the ease is usually determined by the type of processor being used. Since I am testing on an AMD based S939 system, I have come to expect everything from very simple to massively complex installations. The 3D Rocket II falls into the very simple category. Motherboard removal is certainly not required, but you will need to make sure that the plastic bracket that surrounds the processor block is firmly secured in place. You will not be needing this for the installation; you just need it to be there.
Remember, this particular model comes equipped with brackets that work for nearly all current processor types. Since the test system is AMD based, the installation notes may differ from your own system.
That said, the K8 mount is a matter of simplicity. It slides through the open riser portion of the cooler, then fits over the lugs of the bracket. It is slightly reminiscent of the old Socket A days, but the mount in this case has a latch that locks the heatsink firmly in place. After installation I noted no movement in the cooler, even when standing the case up and allowing gravity to come into play. It is very stable and should have no problems residing in your system in any position.
NOTE: Due to the weight involved with this cooling solution, I highly recommend you remove this cooler before moving the system for LAN play or moving. While the unit is very stable, the weight may be too much for the restraint system to handle if the system is moved or bounced around.
The shot above shows you what the cooler looks like from a straight down angle. While it is large, it doesn't appear to be too awkward mounted atop a DFI motherboard. Let's get a little different view, though.
This angle lets you see how the heatsink fits into a standard mid-sized tower case. The riser design makes sure that the MOSFETs and memory modules are cleared, so you should have no problems with fit unless you are using a SFF-type system. In that case you will want to make sure of your measurements before using this cooler...but then, that is not what it was designed for anyway.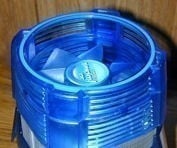 Testing
When it comes to testing a heatsink, I generally try to thrash the system while monitoring the emperatures. Since we're talking about a cooling solution that has the processor as its primary concern, I find it easiest to simply run it at 100% load and monitor in the background. This simple method lets me see just what a cooling solution can do and also lets us know where we should consider spending our hard-earned upgrade dollars.
Before getting into the meat of the matter, though, let's take a quick look at the test system:
AMD Athlon FX-53 Processor @ 2.4GHz (Supplied by
Newegg.com
)
DFI LANParty UT nF4 Ultra-D Motherboard
2x512MB Mushkin "Redline" PC3200 Memory (Supplied by
Mushkin
)
GeCube X1900XTX Graphics Board (Supplied by
GeCube
)
Thermaltake PurePower 600w PSU (Supplied by
Thermaltake
)
Testing will be monitoring temperatures at both idle and at load. The processor is running at default speeds but still manages to put out 94 watts of heat. Voltage of the CPU is 1.55v and testing temperatures were a consistent 22C.
Results
When I began testing and noted the idle temperatures, I was a little concerned that this cooler would not be up to speed with other models available. While not totally out of line, they were a little higher than other sinks that fall into the "Performance" category. That changed, however, when I ran the processor through a 100% load series of testing. Even the low speed of the fan allowed for temperatures that were more than acceptable. This is mainly due to the use of the heatpipe technology we talked about earlier.
I was even more impressed with the differential between idle and load temperatures. While the Thermaltake and asetek units produced better idle temperatures, their differential between the two states was in the vicinity of 16 degrees Celsius. Compare that to the 10C and 11C results garnered from this Gigabyte cooler and we see a very solid level of performance.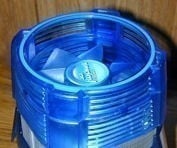 Final Thoughts
When the dust settles and all the tests are completed, we find ourselves looking at a very workable cooling solution. Ambient temperatures were on par with all previous testing and the smaller temperature differential speaks very well for the Gigabyte 3D Rocket II HSF. With its dual fan design and heatpipe technology, it performs very well and should have little problems with nearly any system out there.
The large footprint might turn some off, but it is simply a means to enhance a design that must sit taller than other coolers simply because of the technology in use. I have seen others that are just hulks sitting on top of their heatpipes. Gigabyte decided to do something about it and give it a unique look. Add to this the LED lighting and you have a cooler that will catch the eye of your neighbor at your next LAN.
As far as price is concerned, you can expect to shell out just under $60 USD for this behemoth. It is just a little higher than other similar models, but not terribly so.
Bottom line... If you're in the market for a solid performing cooler that has a little more aesthetic appeal than other models, take a hard look at the Gigabyte 3D Rocket II HSF. With its heatpipe technology, LED lighting and very good performance, it should certainly be on your short list of potential candidates.
- Pros
Excellent temperature differential between idle and load
Easy installation
Interesting design
LED lighting
Heatpipe technology
- Cons
Very tall profile may scare some off
Pricey
- Latest Pricing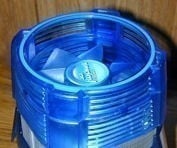 Rating - 9 out of 10 and TweakTown's "MUST HAVE" Best Features Award!
PRICING: You can find products similar to this one for sale below.

United States: Find other tech and computer products like this over at Amazon.com

United Kingdom: Find other tech and computer products like this over at Amazon.co.uk

Australia: Find other tech and computer products like this over at Amazon.com.au

Canada: Find other tech and computer products like this over at Amazon.ca

Deutschland: Finde andere Technik- und Computerprodukte wie dieses auf Amazon.de
We openly invite the companies who provide us with review samples / who are mentioned or discussed to express their opinion. If any company representative wishes to respond, we will publish the response here. Please contact us if you wish to respond.