Patriot Viper VP4100 2TB NVMe PCIe Gen4 M.2 SSD Review
Patriot serves up amazing Gen4 performance for your AMD Zen 2 platform with its Viper VP4100 2TB NVMe PCIe Gen4 M.2 SSD. Here's our full review.

Published
5 minute read time
TweakTown's Rating: 98%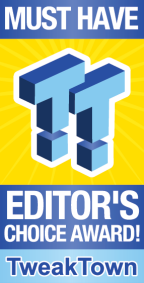 The Bottom Line
Have your cake and eat it too. Patriot's Viper VP4100 2TB SSD will have your AMD Zen2 platform running its best.
Introduction & Drive Details
Owners of Zen 2 PC platforms have been riding high since AMD snatched the performance crown from Intel. AMD's newest platform has introduced us to new technologies, process nodes and breathed new life into competition driven consumer bliss. Of everything Zen 2 has to offer us, we storage enthusiasts are most excited by PCIe Gen4 technology.
Our excitement stems from the fact that potential performance gains offered by PCIe Gen4 can be immediately realized with PCIe Gen4 SSDs. The same cannot be said for Gen4 graphics cards that use the next gen bus, because current graphic cards do not even fully exploit the full bandwidth of PCIe Gen3 x16.
Consumer NVMe SSDs are another story altogether. Because consumer NVMe SSDs typically use 4 PCIe lanes, it has not taken long for most flagship SSDs to be able completely saturate the PCIe Gen3 x4 interface with sequential performance. We've been stuck at a maximum of about 3,600 MB/s sequential performance for well over a year now because of the limited bandwidth available from a PCIe Gen3 x4 interface.
Zen 2 has changed all that by offering PCIe Gen4 x4 M.2 slots for NVMe SSDs. With double the bandwidth of a Gen3 x4 M.2 slot, PCIe Gen4 x4 M.2 slots that are populated with Phison E16 powered SSDs are delivering sequential performance of up to 5,600 MB/s. We mention Phison's E16 Gen 4 x4 controller specifically because it is the one and only consumer Gen4 SSD controller on the market today. Phison is the industry leader in this respect.
On the bench today, we have Patriot's 2TB Viper VP4100 M.2 x2280 Gen4 x4 Phison E16-based NVMe SSD. Let's take a close look at how it compares with the most current 2TB Gen3 x4 M.2 SSDs when running on AMD's Zen 2 platform.
Drive Details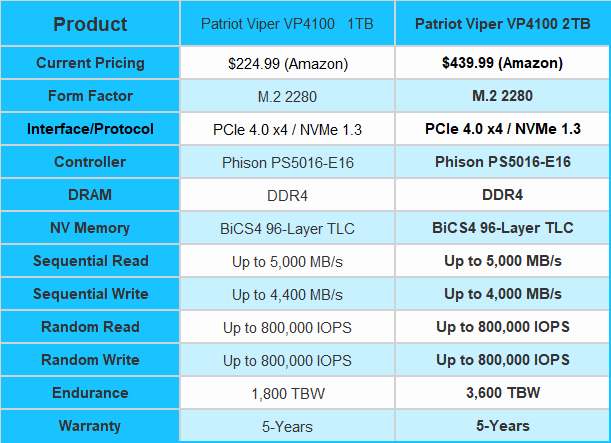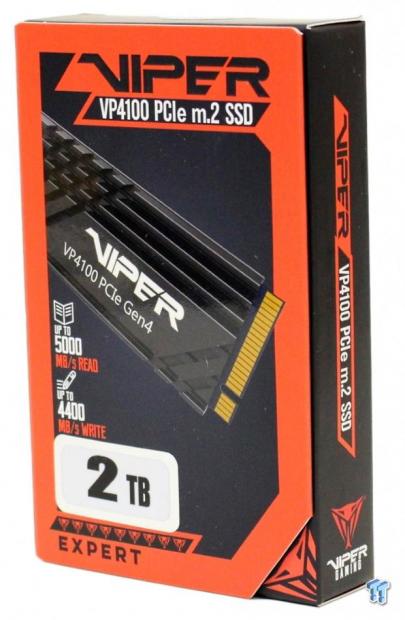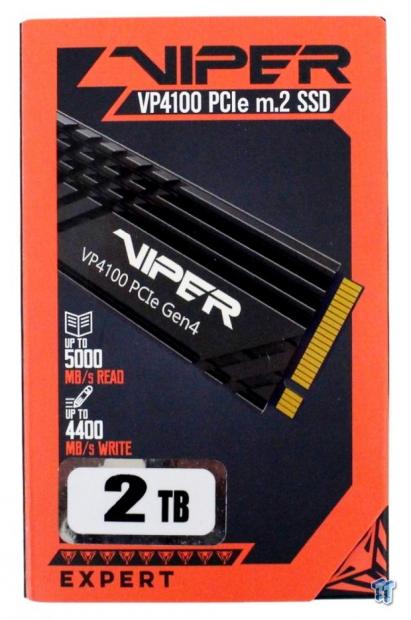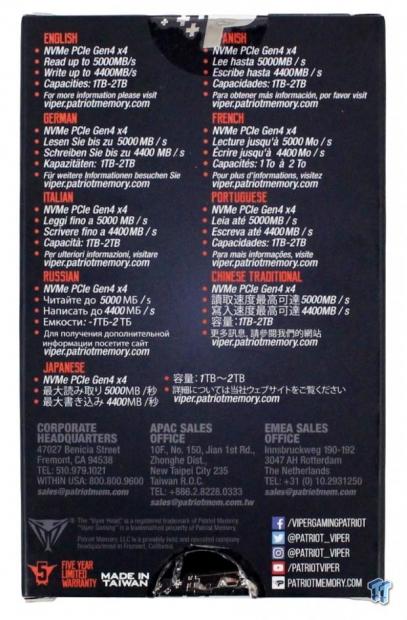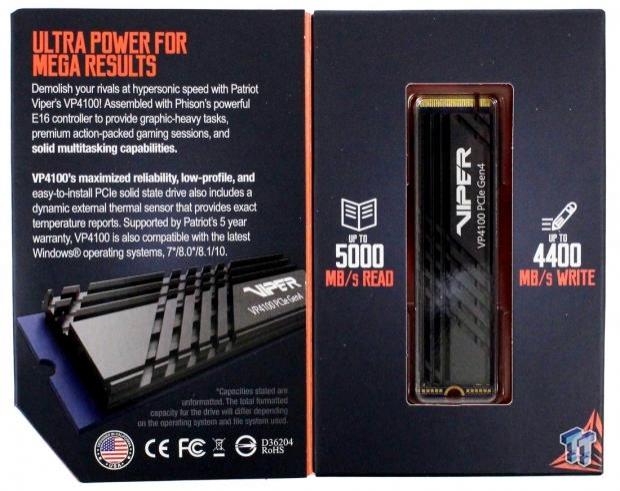 Patriot does a nice job of protecting the VP4100 from potential shipping damage by placing the SSD itself in a very thick and substantial clamshell container. The drive features a low-profile all-aluminum heat sink that is both attractive and functional. To test how well the integrated heat sink does its job, we monitored temps as we filled the drive with 798.5 gigabytes of 80/20 mixed data on our open-air test bench with no active airflow.
The VP4100's integrated heat sink dissipated the heat coming off its powerful E16 controller with ease. The highest temperature reached while filling the drive with our data mix was a cool 59c. We say cool, because the drive will not even begin to throttle until it hits 82c, and the drive is rated to function all the way up to 125c. One thing is for certain, the VP4100 is throttle proof with its integrated heat sink in place.
SSD Toolbox
Patriot PCIe ToolBox SSD Toolbox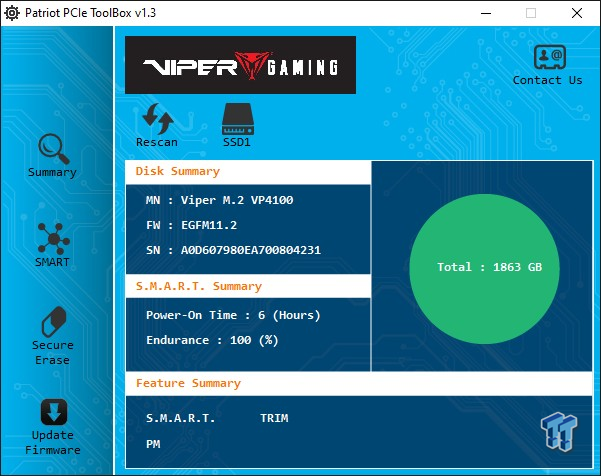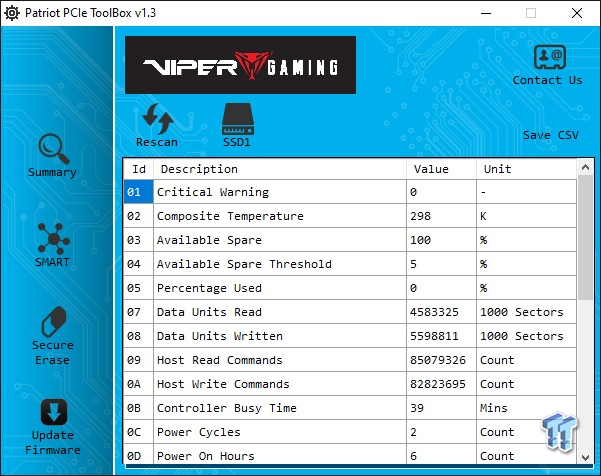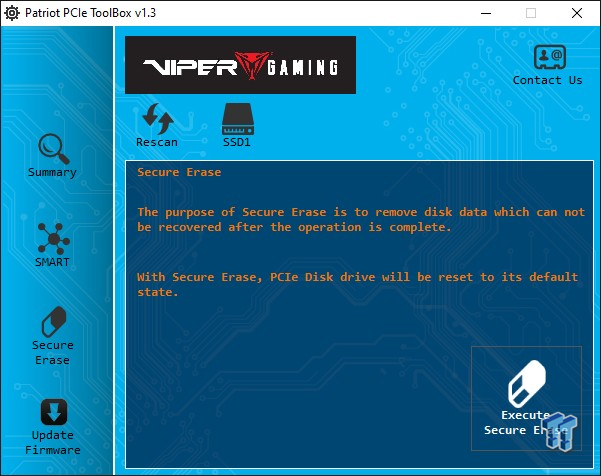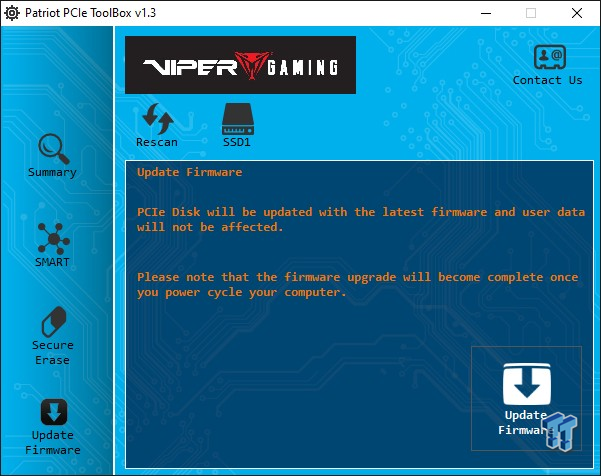 Patriot's PCIe ToolBox allows you to check the status of your SSD, upgrade firmware and secure erase. We like that Patriot's SSD ToolBox is a minimalistic standalone piece of software that doesn't run on its own in the background, taking up resources. It only runs when you want it to run.
Synthetic Benchmarks: CDM & Anvils
CrystalDiskMark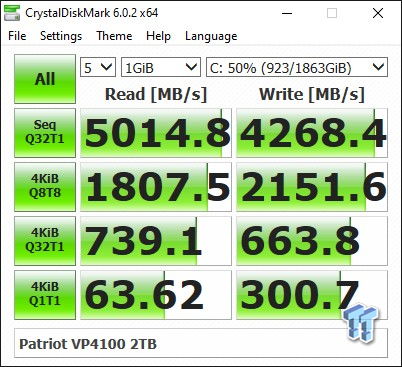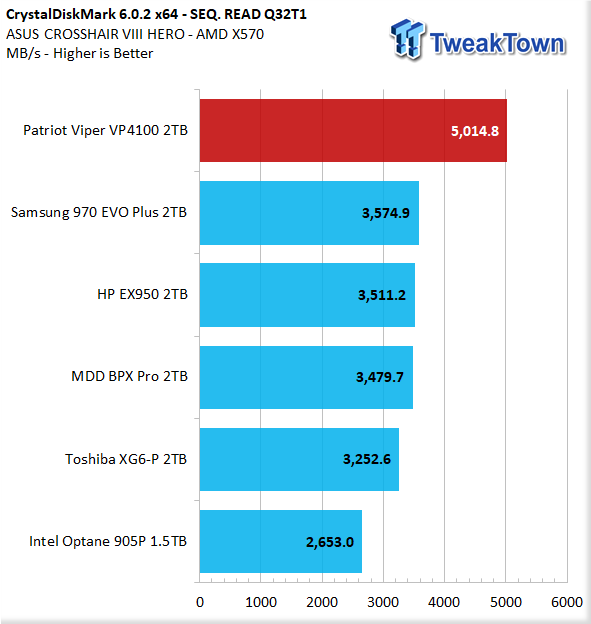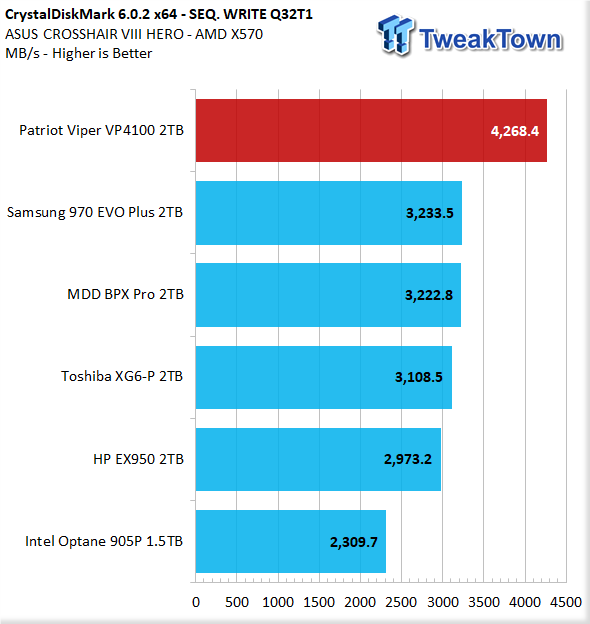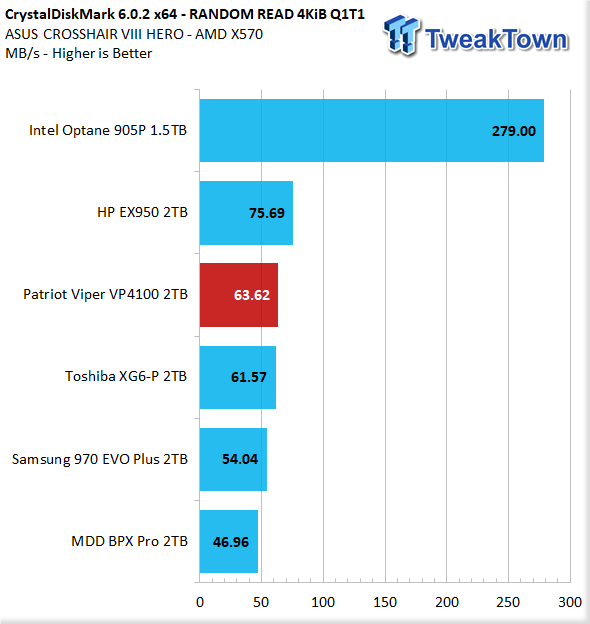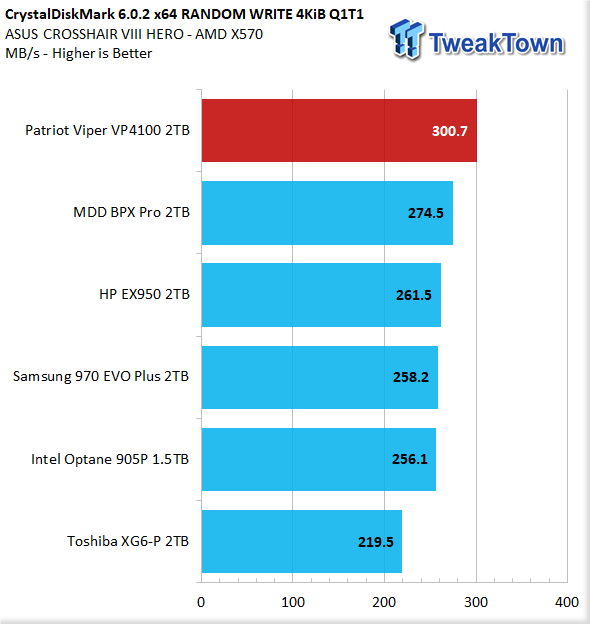 Despite our built-in handicap of running the VP4100 as our system disk filled 50%, we had no problem exceeding Patriot's factory sequential read spec of up to 5,000 MB/s. Patriot arrived at their factory specs the way most do, which is testing the SSD as an empty secondary device - otherwise known as the wrong way to test SSDs.
Because we do not test our SSDs the wrong way, we cannot hit the factory sequential write spec of 4,400 MB/s. Who cares though? 4,200 MB/s plus is still fast as hell.
Anvil's Storage Utilities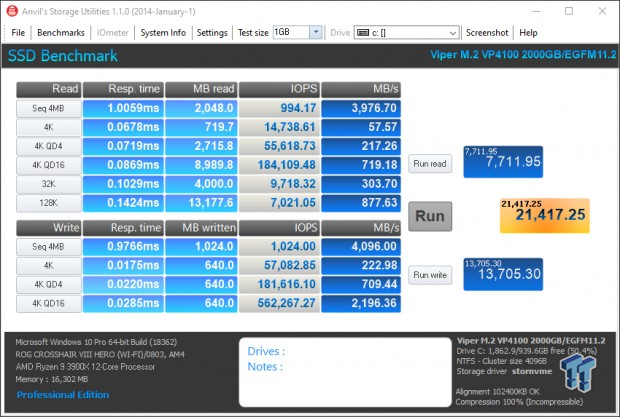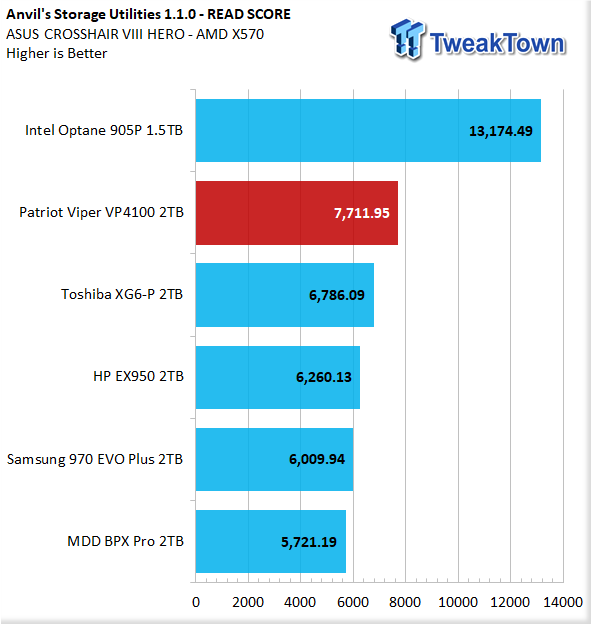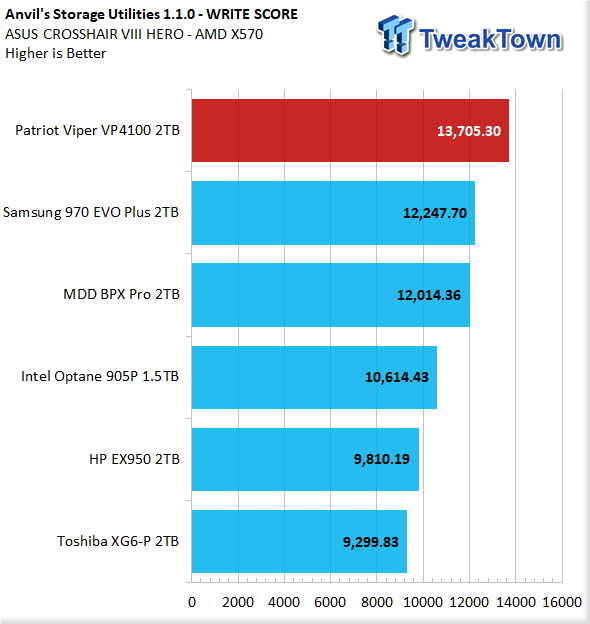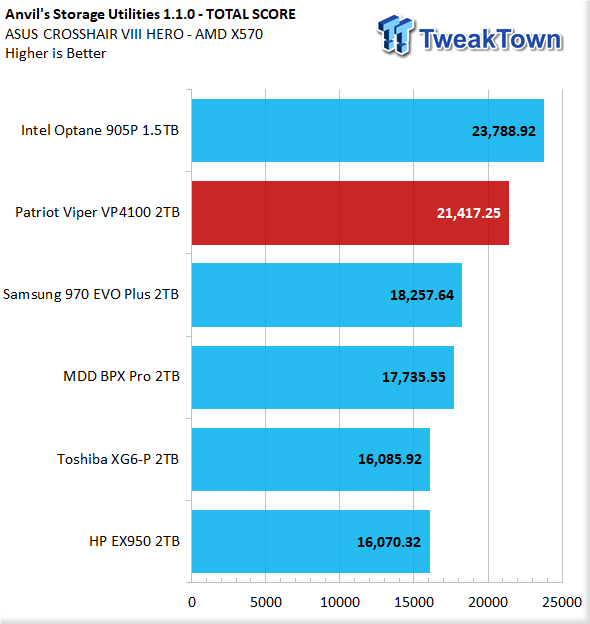 Focusing in on total read score, we find the VP4100 vanquishing its flash-based brethren thanks to its superior Gen4 interface. Of course, Intel's Optane 905P performs much better when reading data, but it's not flash-based and it's not affordable for the average storage enthusiast.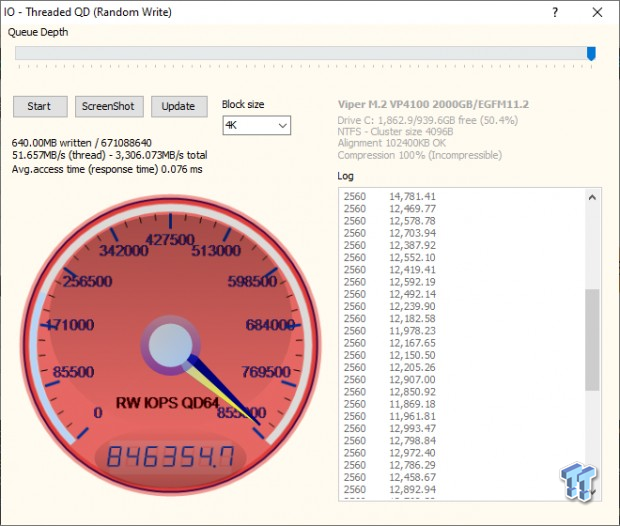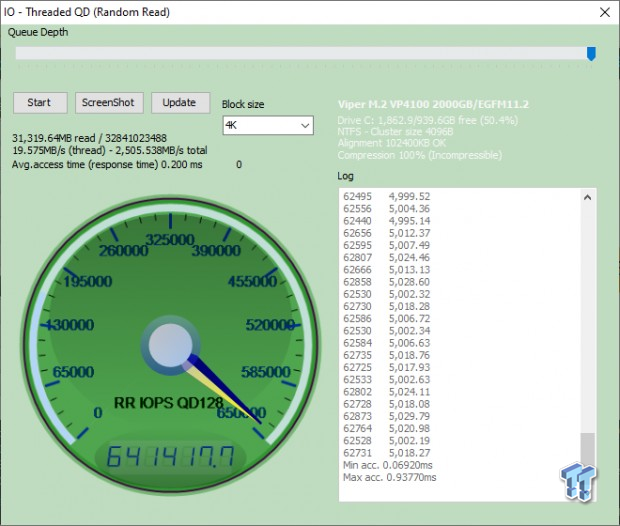 We don't place much importance on max IOPS, we are just showing what the drive can deliver while running in our test-state. We can exceed factory spec of 800K max IOPS for random writes. We can't hit 800K factory spec for max random reads, but that is again because we do not test empty secondary devices.
Synthetic Benchmarks: AS SSD & ATTO
AS SSD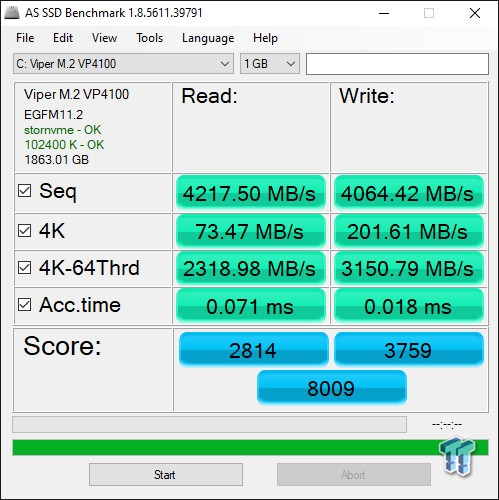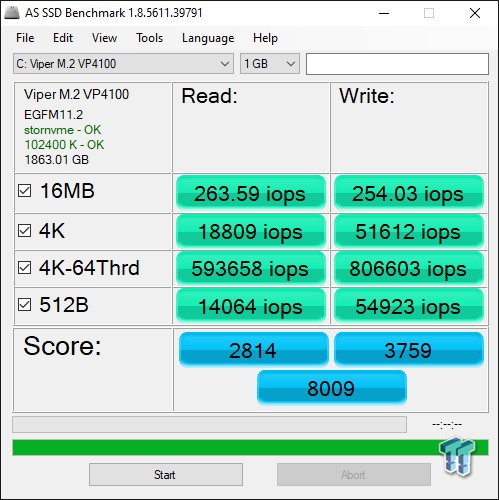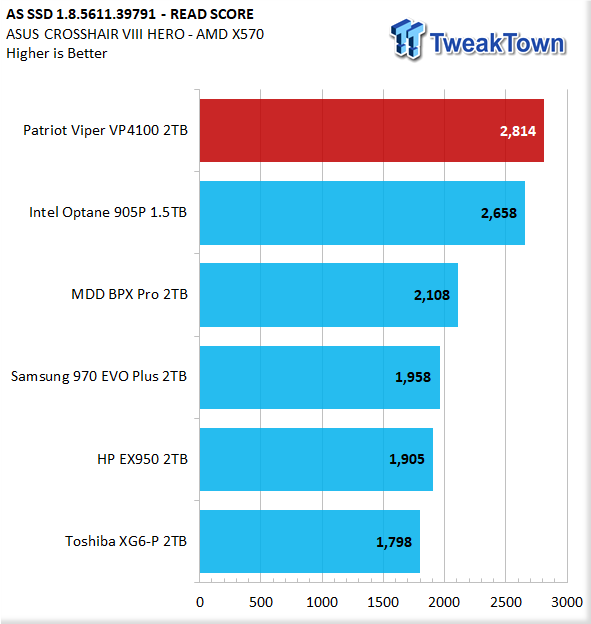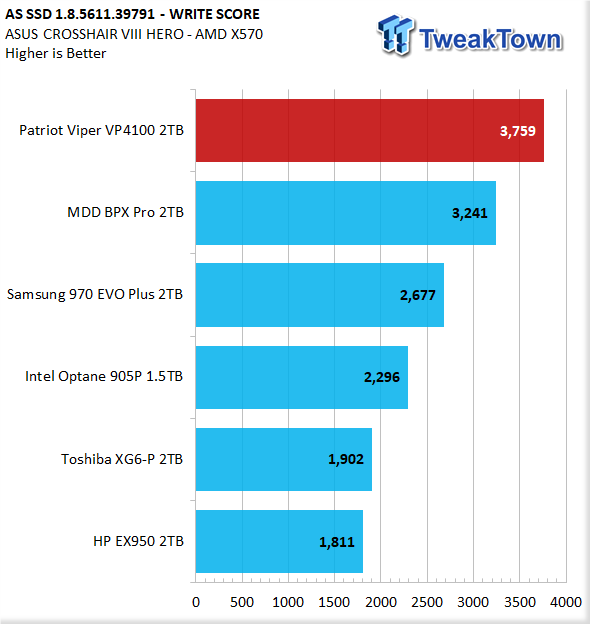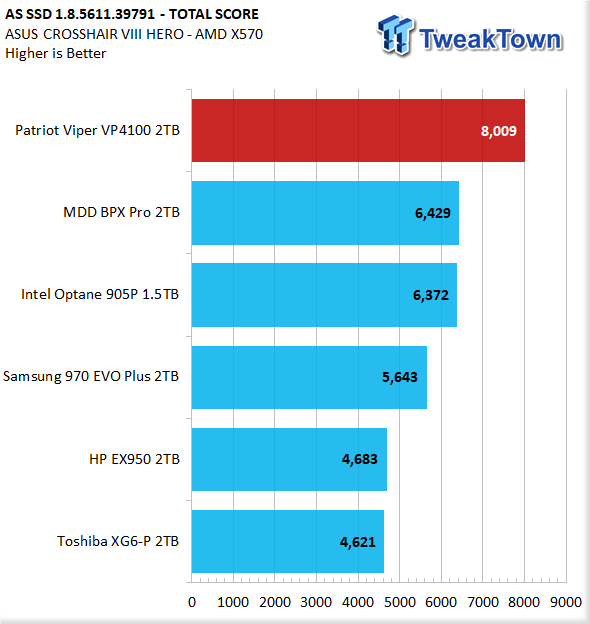 Without question, Phison E16 powered SSDs own AS SSD from top to bottom. Even Optane can't keep up with Patriot's Gen4 powered VP4100 when running this well-established benchmark.
ATTO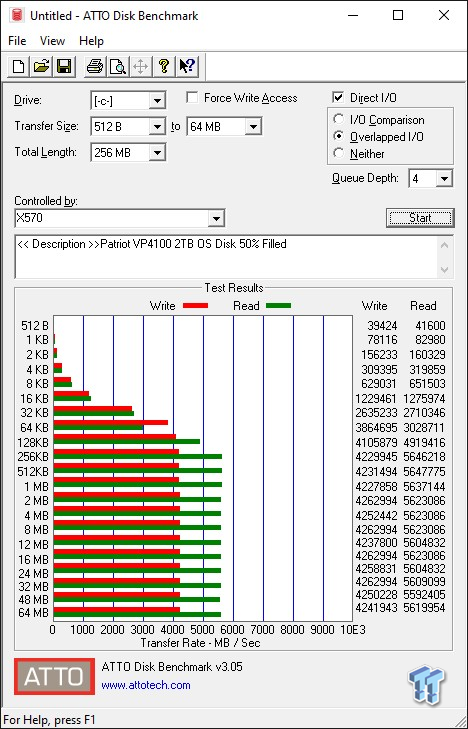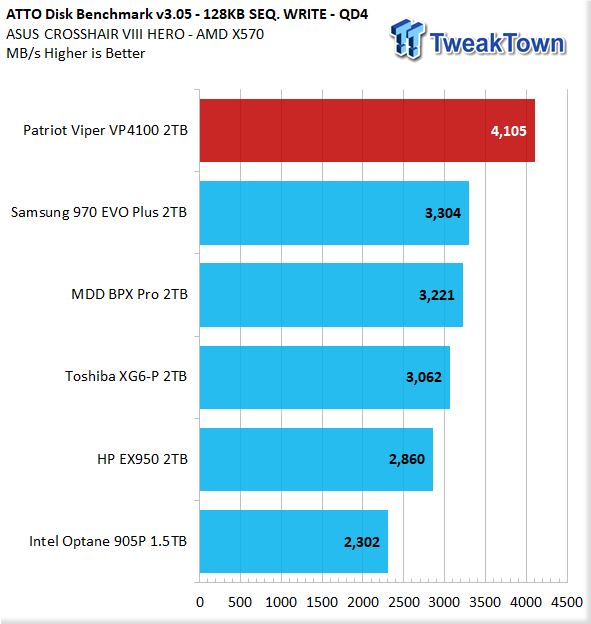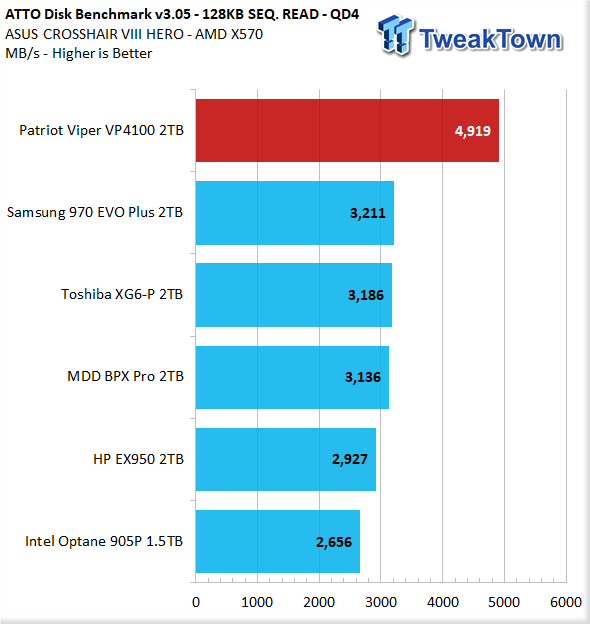 When evaluating ATTO our focus is sequential performance at 128KB transfers. It comes as no surprise that the VP4100 with its superior Gen4 PCIe interface obliterates the Gen3 competition. If you are paying attention, you will notice from our benchmark screenshot that the VP4100 is hitting over 5,600 MB/s sequential read at transfer sizes of 256KB and larger. Gen4 FTW.
Real-World Testing: Game Loading & PCM8
Game Loading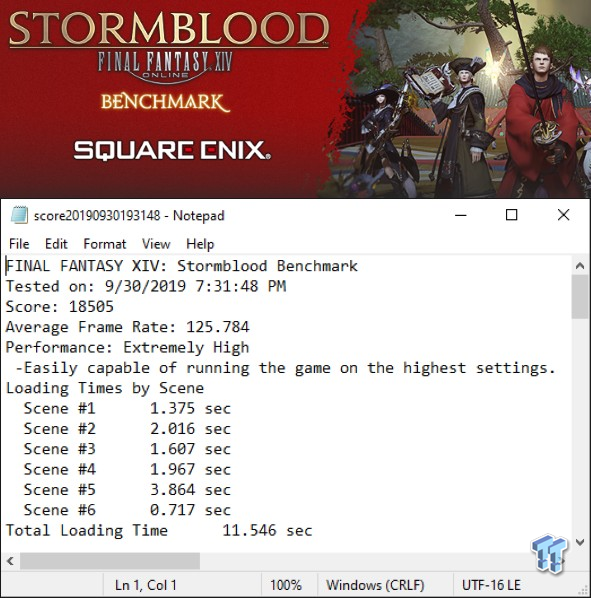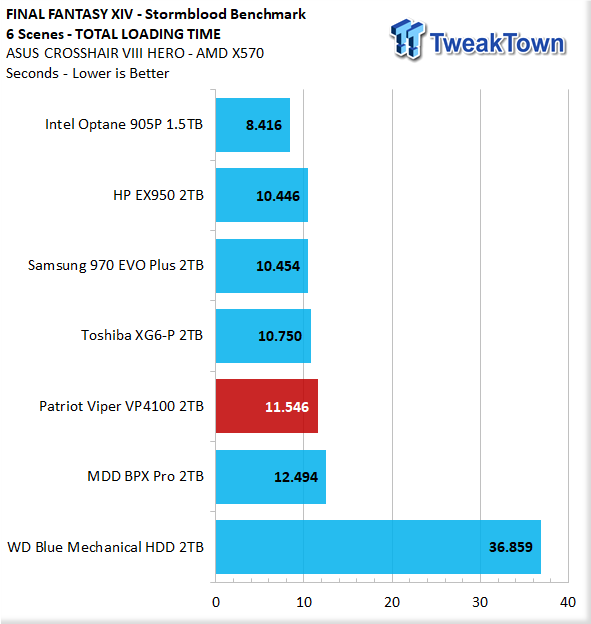 Can't win them all. The VP4100 is about a second slower than the best performing flash-based SSD on our chart. We see this as insignificant when you look at what the VP4100 has delivered to this point.
PCMark 8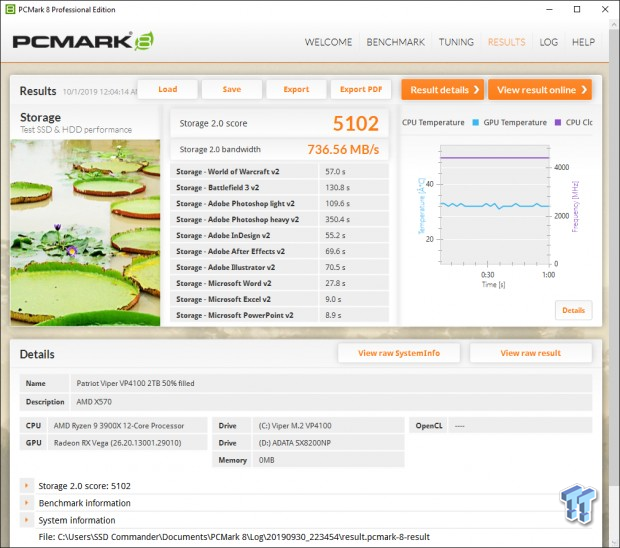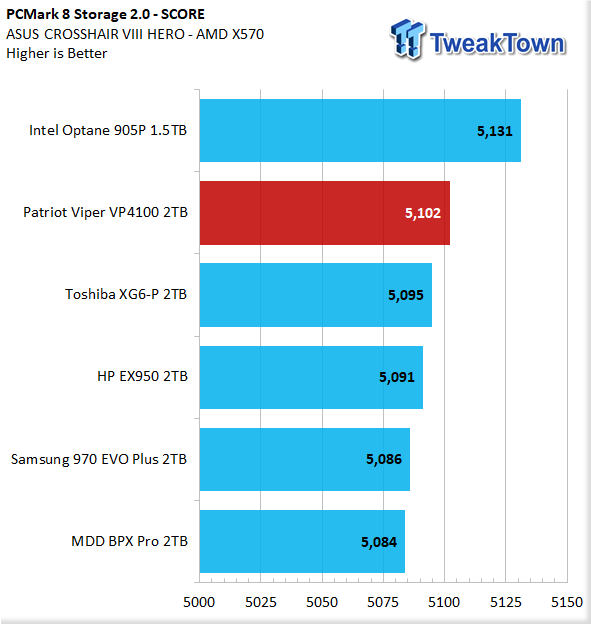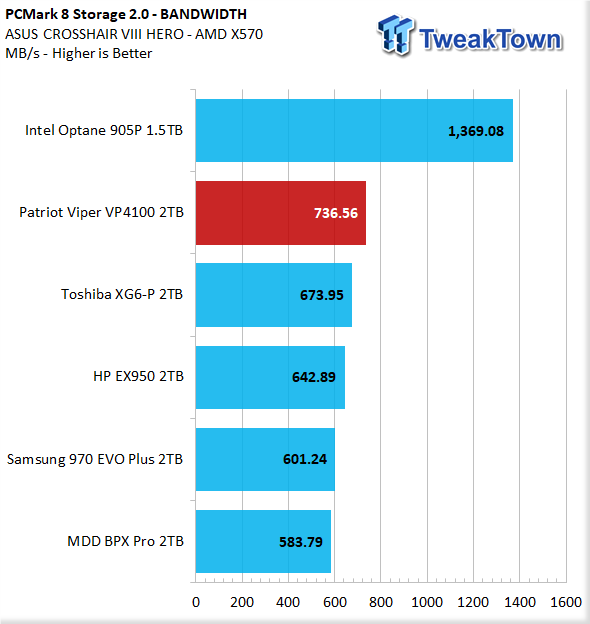 UL's PCMark 8 storage test accurately represents real-world performance which translates as user experience. Therefore, we consider it the most important benchmark we run. The results of this test are what we use to rank SSDs in terms of overall performance.
Naturally, Intel's exotic Optane 905P displays exactly why it is the world's fastest SSD, but again owning a 1.5TB Optane SSD is way out of reach for most enthusiasts. Optane aside, Patriot's VP4100 easily defeats the remaining 2TB flash-based SSDs. This result further cements our assertion that Phison E16 powered SSDs, like the VP4100, deliver the best flash-based storage performance you can get at this time for your AMD Zen 2 platform.
Real-World Testing: Transfer Rates
Transfer Rates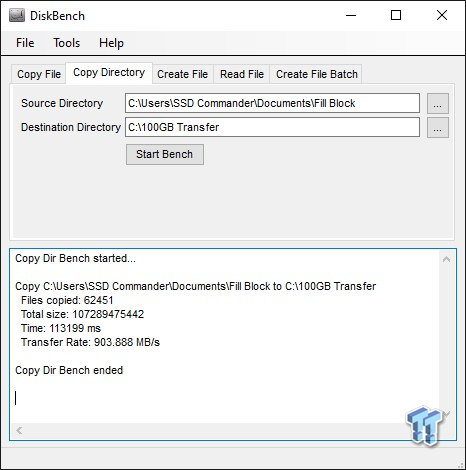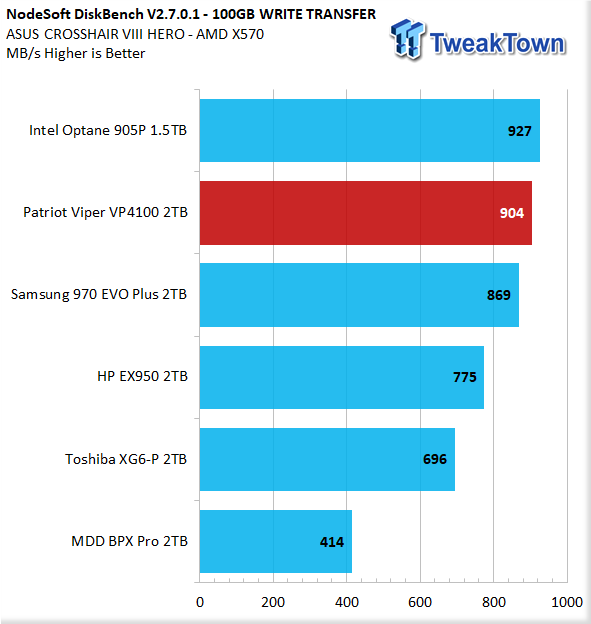 Our write transfer is 100GB in size and composed of more than 62,000 files. Our data mix can tax an SSD to its limits, even Optane has difficulty dealing with it. The VP4100 bests all its flash-based competition, delivering 904 MB/s throughput.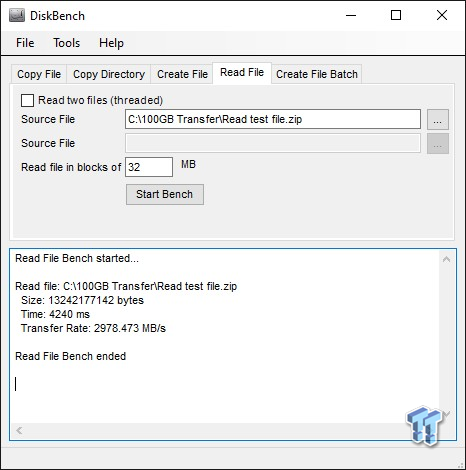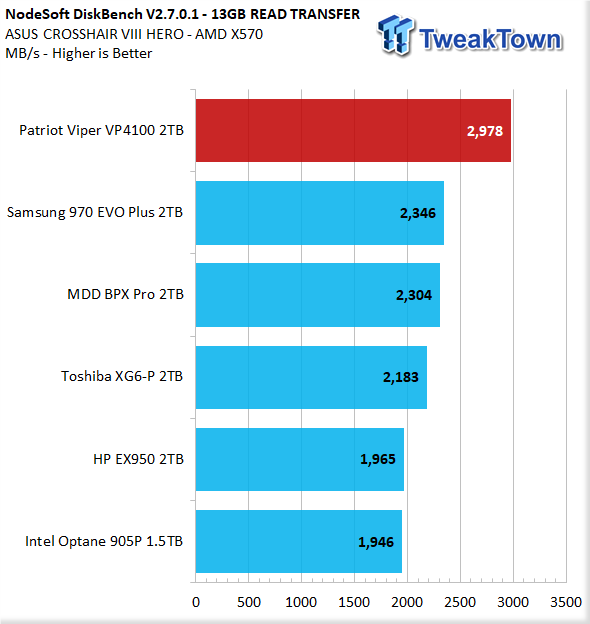 Our read transfer is similarly taxing with the best Gen3 SSDs only hitting 2,300 MB/s. However, the Gen4 powered Viper 4100 serves our transfer block up quite well, delivering nearly 3 GB/s of performance.
Final Thoughts
As we've noted previously, 2TB Phison E16 powered SSDs seem to hold a distinct advantage over competing 2TB SSDs other than just being faster overall on Zen 2 platforms. They are the only 2TB SSDs that do not lose a significant amount of performance in comparison to their 1TB siblings. 2TB E16 powered SSDs are only about 1% slower in real-world applications than their 1TB siblings. Other 2TB SSDs we've tested give up between 7% and 13% in performance compared to their 1TB siblings. So, when you buy a 2TB Viper VP4100, you can have your cake and eat it too.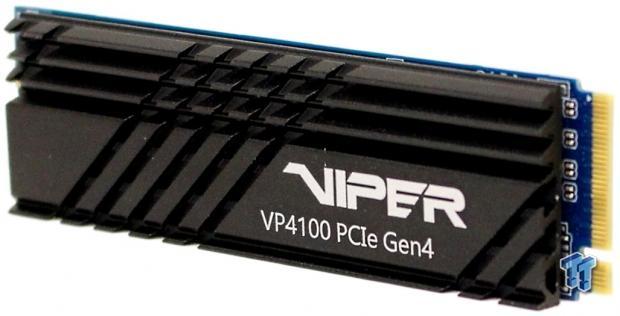 If you are fortunate enough to be the proud owner of AMD's wildly popular Zen 2 platform, and you want to get the most from your system, you will be needing a Phison E16 powered SSD like Patriot's potent Viper VP4100. As we demonstrated, Optane aside, there is nothing currently available that will deliver a better user experience than a PCIe Gen4 SSD. It will cost you a bit more, but owning the best always does.
Patriot's Viper VP4100 2TB NVMe PCIe Gen4 x4 M.2 SSD is TweakTown approved and highly recommended.
Pros
Overall Performance

High Capacity

High Endurance

PCIe Gen4
Cons
| | |
| --- | --- |
| Performance | 100% |
| Quality | 100% |
| Features | 100% |
| Value | 90% |
| Overall | 98% |
The Bottom Line
Have your cake and eat it too. Patriot's Viper VP4100 2TB SSD will have your AMD Zen2 platform running its best.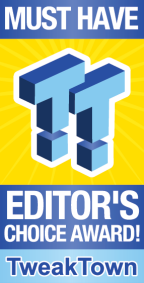 We openly invite the companies who provide us with review samples / who are mentioned or discussed to express their opinion. If any company representative wishes to respond, we will publish the response here. Please contact us if you wish to respond.