Rivet Networks: Killer Wi-Fi 6 AX1650 Review
Are you ready for Wi-Fi 6? Because we have the Killer Wi-Fi 6 AX1650 in-house and have run it through our tests.

Published Mon, Aug 19 2019 10:03 PM CDT
|
Updated Tue, Nov 3 2020 6:57 PM CST
Rating:

92%
Manufacturer: Killer (KILLER1650X.01)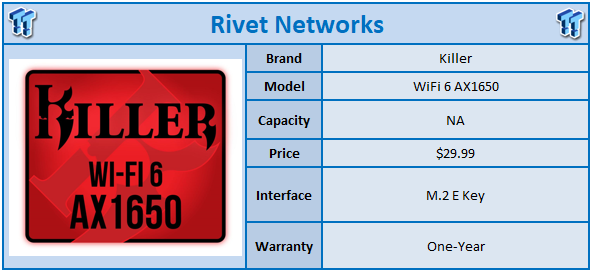 802.11ax is set to be the biggest gain in Wi-Fi since we moved from 802.11g to 802.11n. Coming off a rather successful launch of the Wi-Fi 5 AC1550 part last year, Rivet Networks is ready for the next generation.
Like the AC1550, the new AX1650 part is built with Rivet's partnership with Intel. The underlying AX200 chipset from Intel gives a unique level of control to the Killer Intelligence Engine, allowing hardware-level management for increased performance.
Speaking of hardware, the AX1650 offers 542Mbps on the 2.4GHz band and 2.4Gbps on the 5GHz band using 160MHz channels. This solution is offered in several SKUs including two m.2 2230 variants; 1650x and 1650i and two soldered versions; 1650w and 1650s the latter of each being the CNVi setup utilizing integrated MAC. All models include Bluetooth 5
All of the standard Killer Control Center features are made available to this new chipset. These include Advanced Stream Detect 2.0, Wireless xTend and the latest addition; GameFast.
MSRP of the Killer Wi-Fi 6 AX1650 comes in at $35 with a one-year warranty.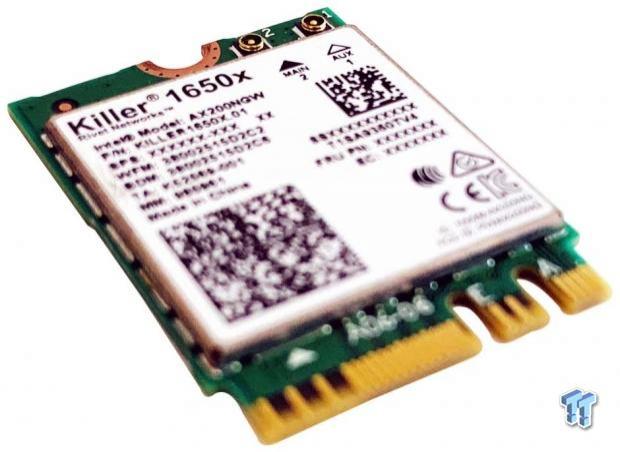 The AX1650 module seen above is keyed for Socket 1 solutions. We have two antenna connections at the top right with appropriate identification on the sticker below.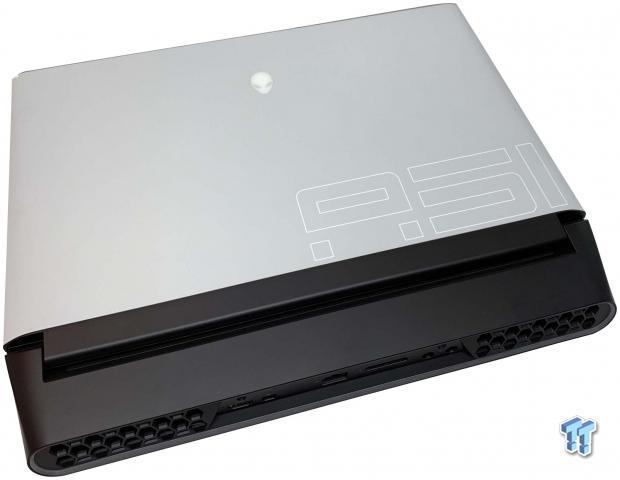 To test the AX1650, Dell was kind enough to loan us a top tier offering from their Area51 lineup and judging by the specs; Core i9 9900K, 32GB DDR4 and RTX2080, this notebook puts many desktop PCs to shame.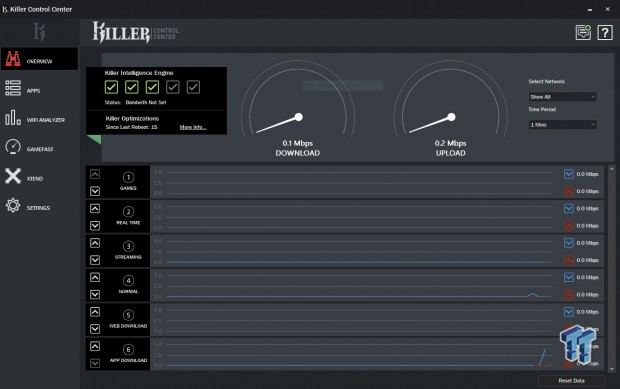 With the release of the AX1650, Rivet is also launching Killer Control Center 2.0. With this new refreshed interface, users can see real-time optimizations being made along with the use of a checkmark system on the dashboard, letting you know you have done your part in optimizing your setup.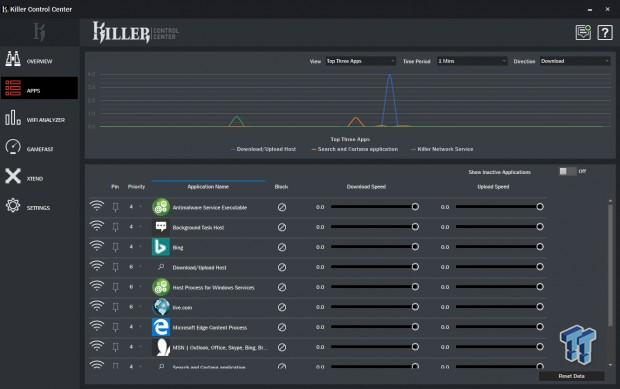 The Apps tab offers insight and even more control to the end-user by enabling fine-tuning. What I mean by this is, you can set priority on and app by app basis and also control the bandwidth of a single application on the right side.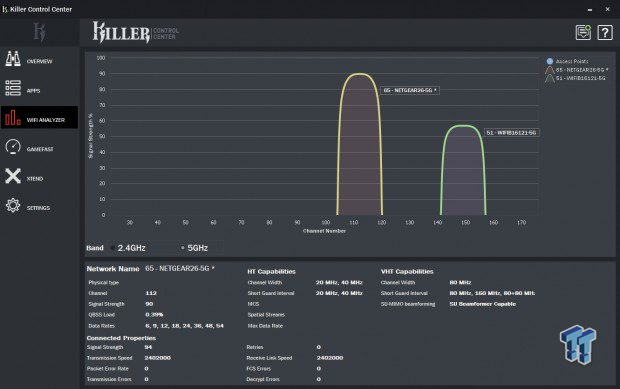 Wi-Fi Analyzer offers insight into your neighborhood surrounding networks that may affect your Wi-Fi performance. This allows you to manually adjust your router's channels to a less congested band and the possibility of higher performance.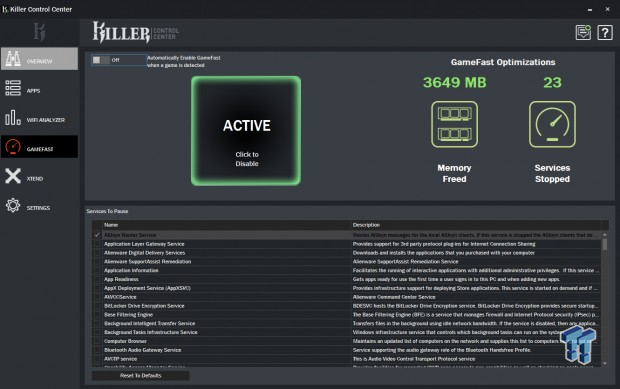 GameFast is the latest tech to be added to Killer Control Center. What we have here is a list of services below with checkboxes that you can configure. When GameFast detects you are starting or playing a game, it will disable those services to free up additional performance.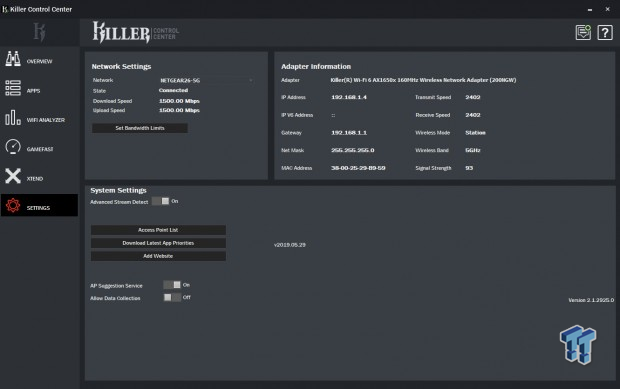 I did skip over Killer xTend in images, but as many will know, this enables you to use your PC as an Access Point. Settings offer configuration of bandwidth limits along with enabling ASD; it also offers adapter information to the right.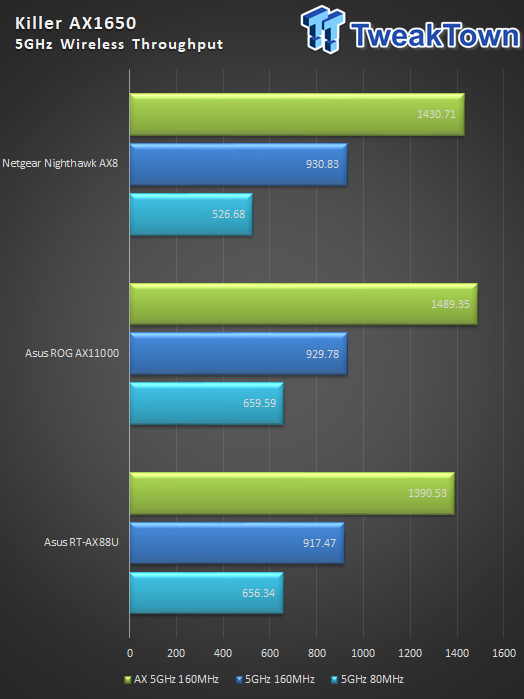 For testing, I utilized several ASUS solutions I had from past articles along with the Netgear AX8 that was sent with the Alienware A51. These solutions include the ROG AX11000 and AX88U. Testing was done using link aggregation on each router, two client machines, and one host machine. Of note are the standard 5GHz 160MHz results, which were taken from an Intel AC9560 for comparison.
Getting into it, the AX1650 produced solid performance across the board but reached peak numbers with the ROG solution at 1489Mbps. The Netgear AX8 offered 1430Mbps and the AX88U at 1390Mbps. At the low-end, standard 80MHz performance of the AX1650 too was slightly higher than past AC solutions; 656Mbps for the AX88U, 659Mbps for the ROG and 626Mbps for the AX8 from Netgear.
It's here; the Wi-Fi everyone has been waiting for is at long last a reality. While we did get a peak of what technology had to offer with Wave 2 802.11ac pushing past the limits of gigabit ethernet, Wi-Fi 6 promises even more.
Rivet Networks is at the forefront of the industry, offering the worlds first 2x2 Wi-Fi 6 client solution. This enables early adopters a solid upgrade path for legacy systems while at the same time OEMs to integrate the latest in technology into their platforms; launch partners include both Dell/Alienware, MSI and Acer with more surely to come in the future.
For myself, I have had the opportunity to take both routes, testing the AX1650 on the Alienware A51m and upgrading a legacy Dell system with the m.2 AX1650. From my experience, I can say there is no legitimate performance difference between the two setups. In my testing with the Alienware and then verifying results with my Inspiron PC, across three routers, we had an average of 1436Mbps real-world with consistent connection rates at 2.4Gbps out to 15-20ft.
Killer Control Center has been transformed in its latest release, with a new user interface that's modern offering feedback to the user on optimizations and a checkmark system, so they know they have completed setup fully. With that, the KCC 2.0 is easily the most complete set of software for any gaming system and with the addition of GameFast, takes optimization to another level.
As for pricing, Rivet has been able to get the AX1650 listed on Amazon.com for $35 and if I'm honest its the best upgrade anyone can do to their Notebook, MiniPC or Motherboard.
Tyler's Test System Specifications
| | |
| --- | --- |
| Performance | 92% |
| Quality | 89% |
| Features | 93% |
| Value | 92% |
| Overall | 92% |
The Bottom Line
Rivet Networks once again raises the bar on Wi-Fi integrating a solid 2x2 Wi-Fi 6 solution with Bluetooth 5 for OEMs and system builders.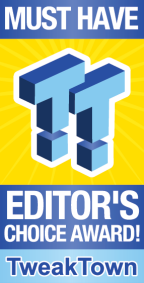 Killer Wi-Fi 6 AX1650 Module - Dual Band
Today
Yesterday
7 days ago
30 days ago

-

-

-

* Prices last scanned on 12/31/1969 at 6:00 pm CST - prices may not be accurate, click links above for the latest price. We may earn an affiliate commission.
We openly invite the companies who provide us with review samples / who are mentioned or discussed to express their opinion. If any company representative wishes to respond, we will publish the response here. Please contact us if you wish to respond.