TweakTown's Rating: 81%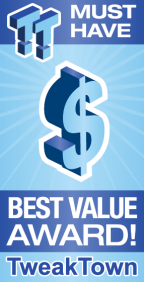 The Bottom Line
Pricing is king and with the Archer A20, TPLink is offering tri-band functionality with its AC4000 platform for $169.99.
Introduction
With Wi-Fi 6 on the horizon, TPLink launched a series of Archer wireless routers aimed at lowering the cost of entry for the budget-minded consumers. The high-end of this lineup is the Archer A20; an AC4000 Tri-band solution.
With the Archer A20 in house, we move to the build which sees this unit as an AC4000 class platform utilizing the Broadcom BCM4908. This is a quad-core SoC operating at 1.8GHz paired with 512M of memory and 128M of NAND flash.
The radios supplied are BCM4365E allowing this unit to take advantage of 1024QAM; this means 1625 Mbps for each 5GHz band and 750Mbps for the 2.4GHz band. Wired connectivity is managed through the 4908 SoC with four LAN and one WAN port. Additional connectivity is offered via USB 2.0 and 3.0 ports.
MSRP of the TP-Link Archer A20 comes in at $199.99 with a two-year warranty.
Archer A20
Packaging and a Closer Look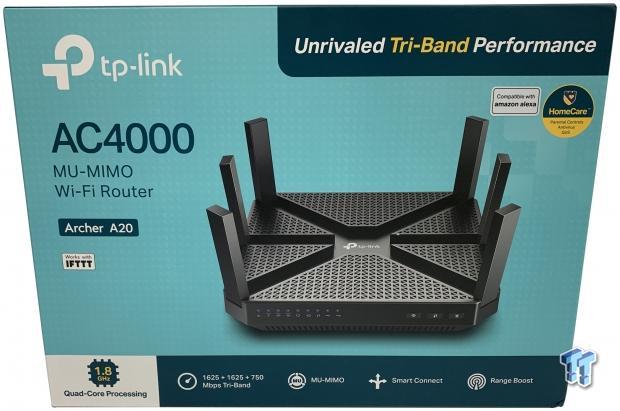 Starting from the top, packaging follows the new TPLink colorway. An image of the router sits centered with marketing below and model number to the left.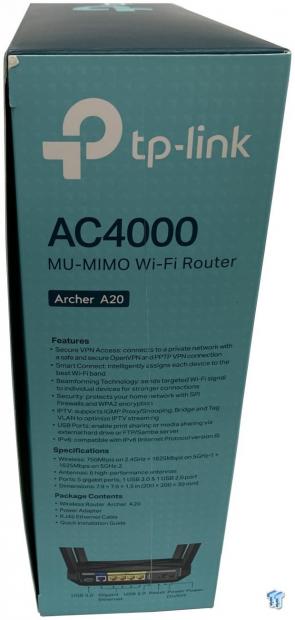 The spine of the box offers features, specifications, and package contents.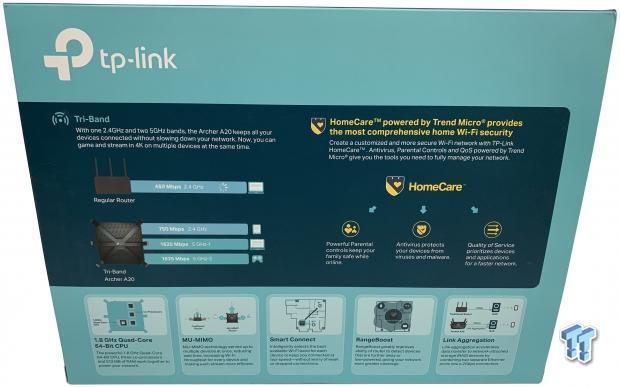 The back of the box offers a comparison between a "standard" router and the tri-band A20.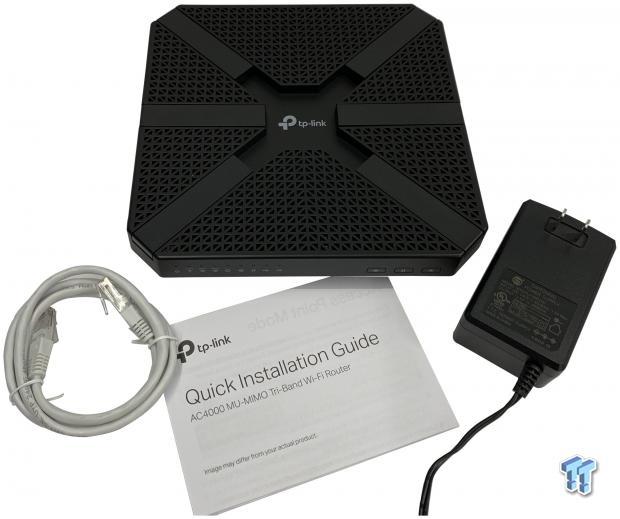 Unboxing the kit; we have the router centered power And ethernet cable to the sides.

Looking at the front of the A20, we have a set of LEDs to the left for power, activity, and USB. To the right, we have switches for Wi-Fi APS and LEDs.

The back is all business with USB 3.0, followed by WAN in blue. We then have four LAN in yellow and USB 2.0 in white.
Test System Setup and Web Management
Tyler's Test System Specifications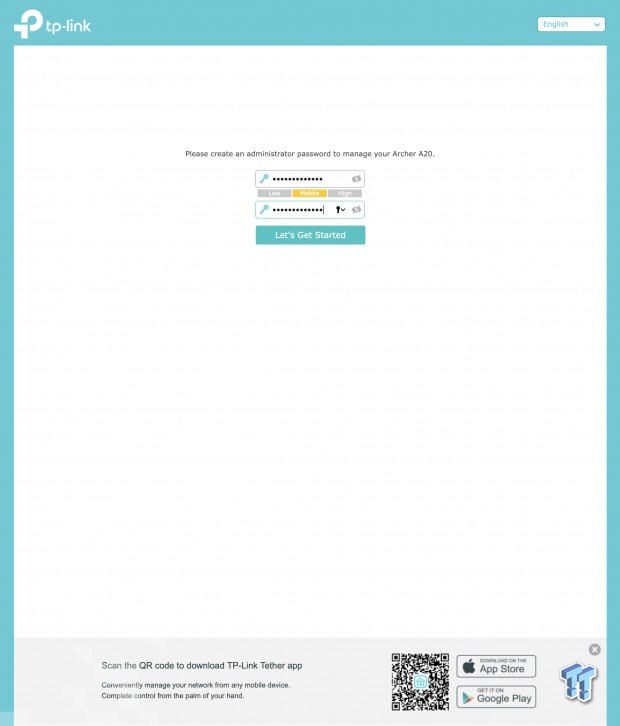 Setup starts by hitting the GUI using the default gateway IP.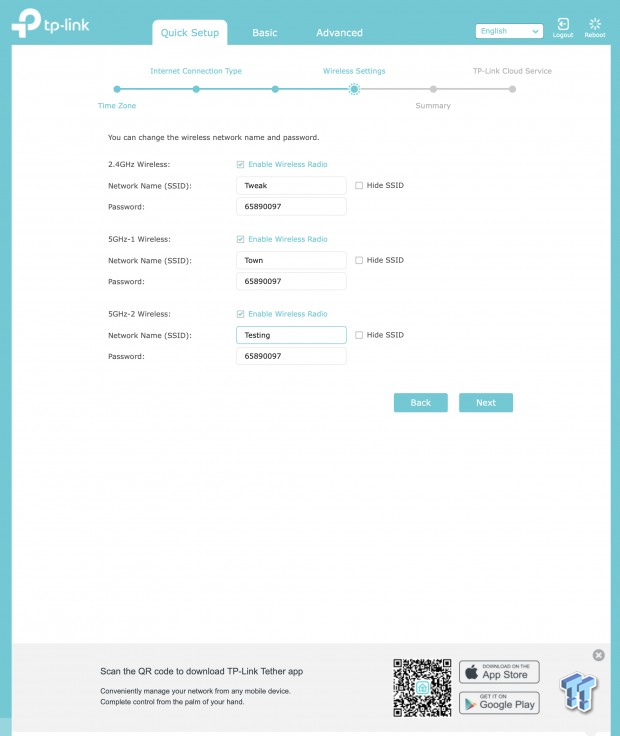 Moving through setup; we name our SSID and add passwords.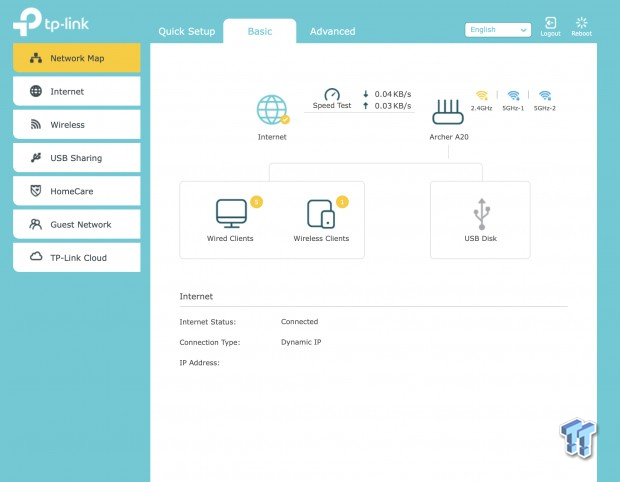 Once we are in, we have a quick glance dashboard to the right and sidebar to the left. The dashboard offers information on the internet connection along with connected clients.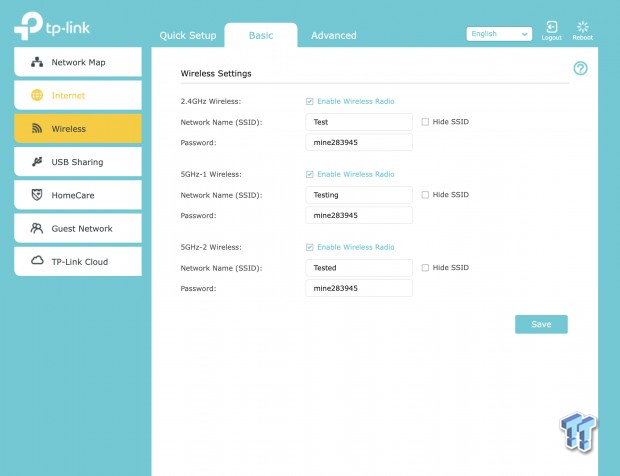 The wireless setting allows you to enable or disable each radio individually. You can also change SSID and password here.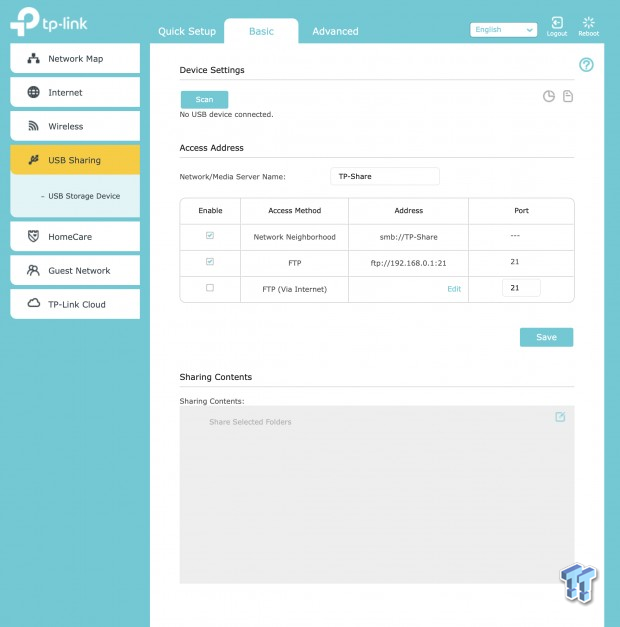 Into USB sharing, you can setup a connected USB storage solution to use FTP along with SMB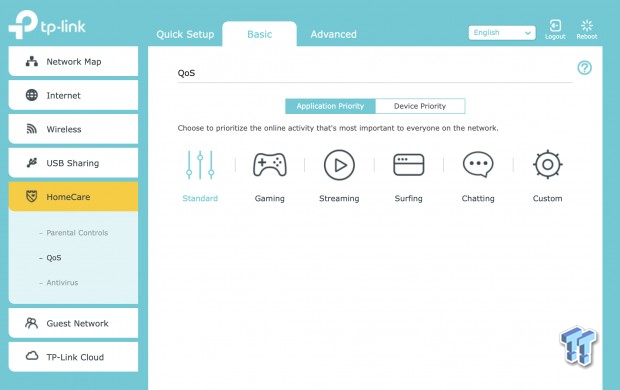 HomeCare is advanced QoS from TP-Link; it allows you to setup prioritization based on application or device along with anti-virus and parental controls.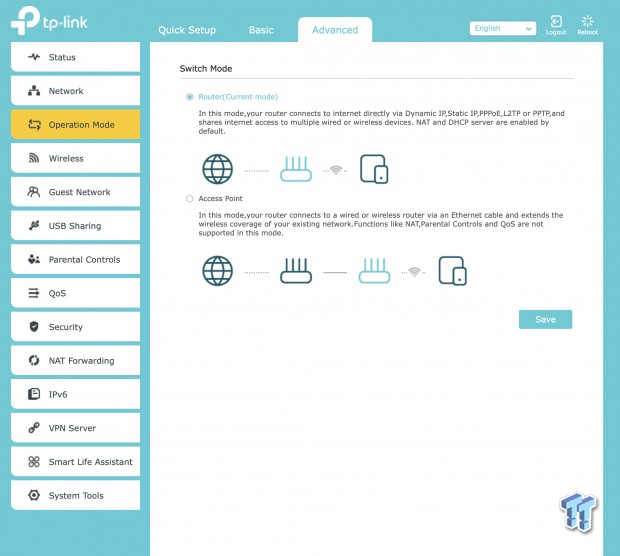 Into advanced mode, you can choose the operation mode of the Archer A20.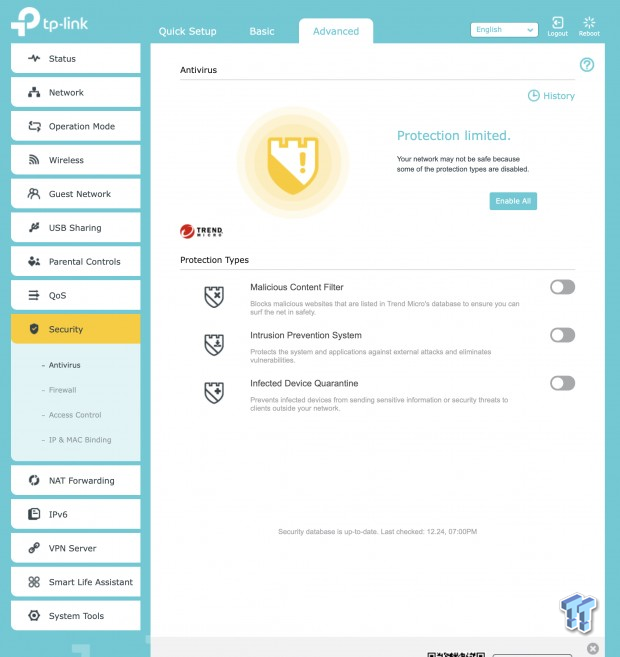 Security included in the advanced HomeCare section includes both Anti-virus and malware protection including Intrusion prevention and infected device quarantine.
Benchmarks - LAN and WLAN Throughput
LAN and WLAN Throughput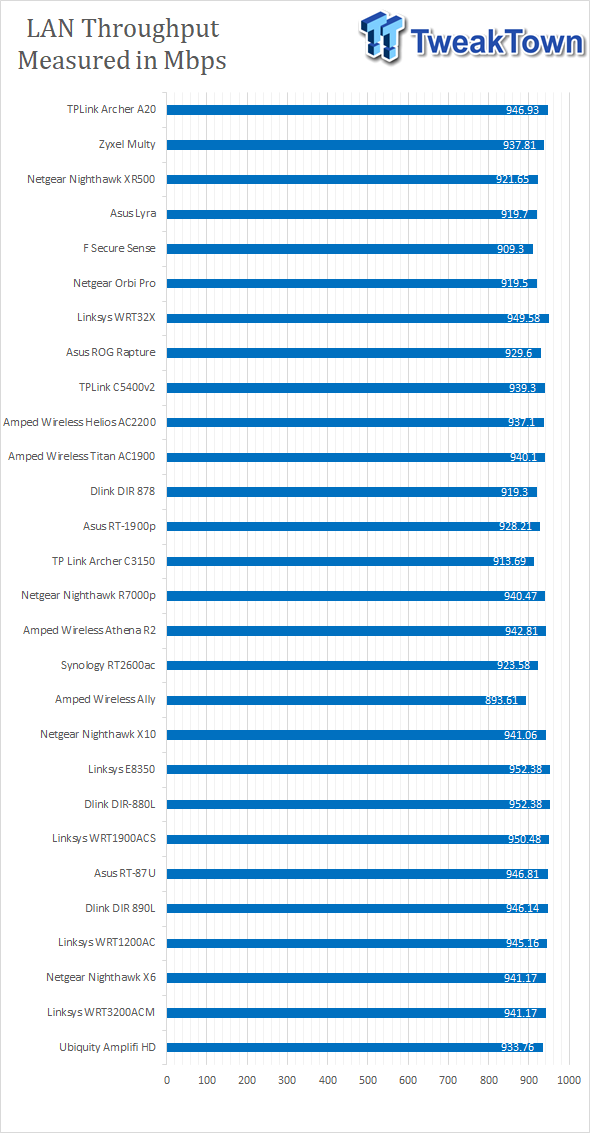 Testing followed our standard procedure with the test system listed above. For LAN throughput the Archer A20 did quite well offering 946mbps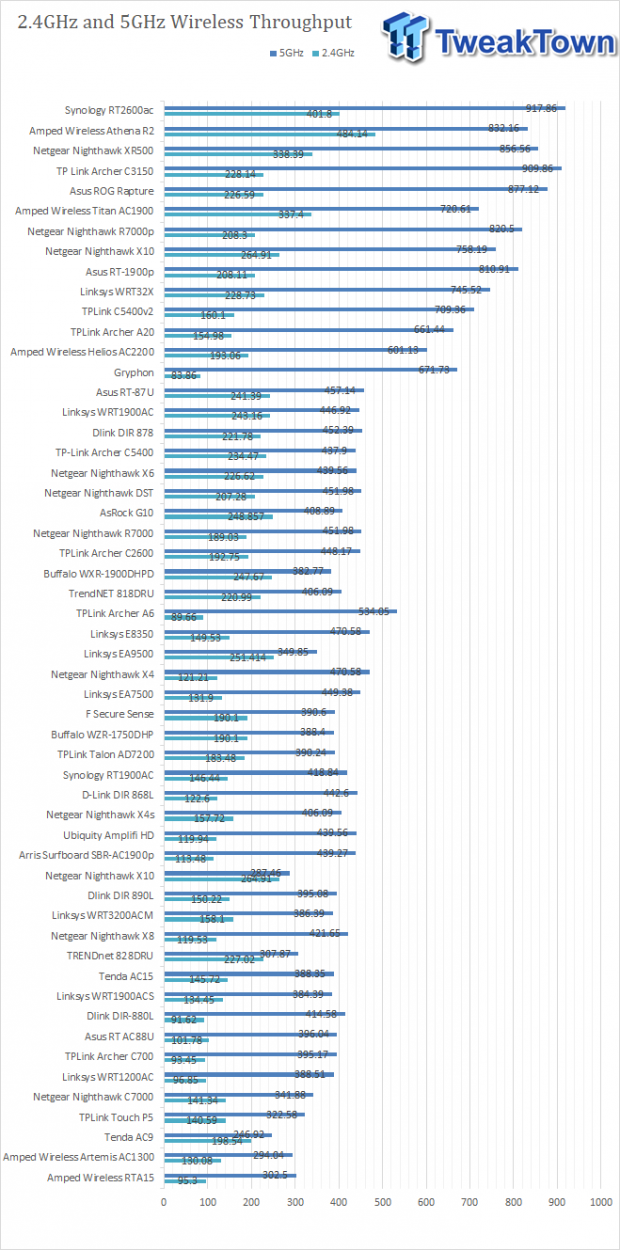 Wireless throughput started with the A20 reaching 154.98 in 2.4GHz and 661.44 in 5GHz. The second 5GHz band produced 654.82 putting this router just under the C5400v2 in our charts.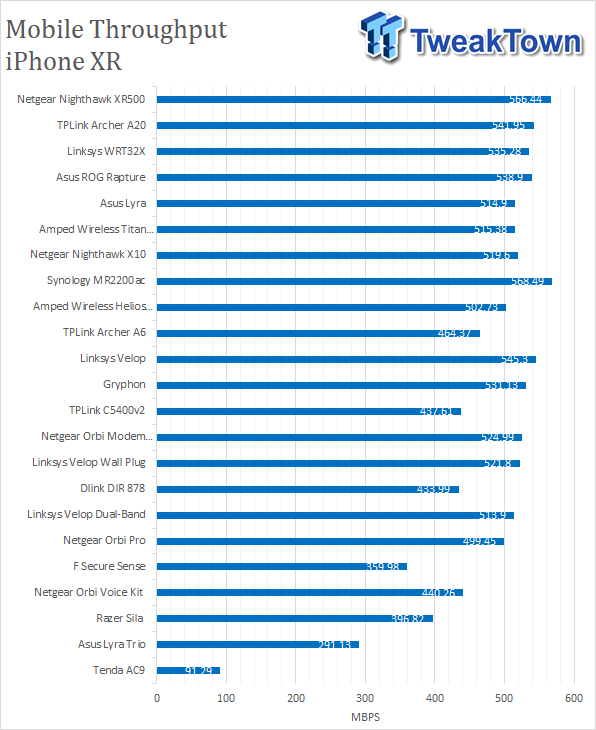 Mobile throughput offered 541.95 with our iPhoneXR, second in our current charts.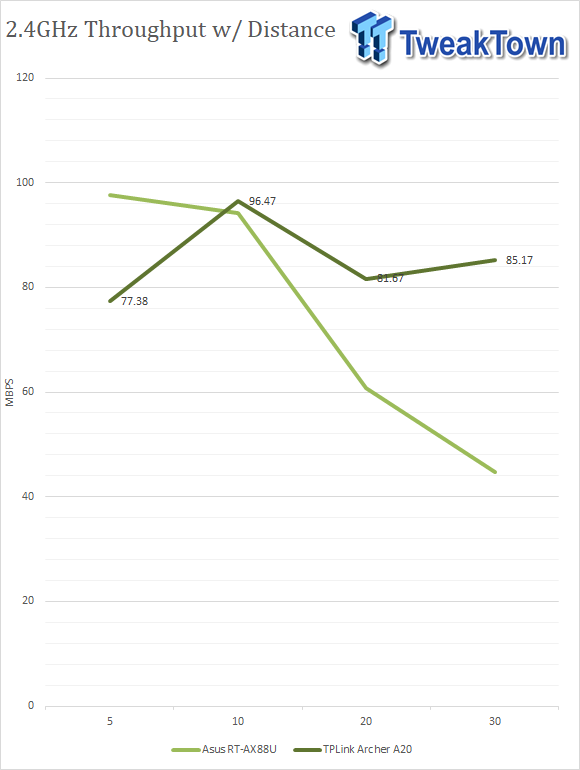 Above, we have throughput at distances of 5,10,20 and 30ft line of sight. For the Archer A20, we start at 77Mbps at 5ft and moving out to 10ft we see a slight increase to 96.4Mbps. At 20ft this regresses to 81Mbps, and at 30Ft we hold 85Mbps.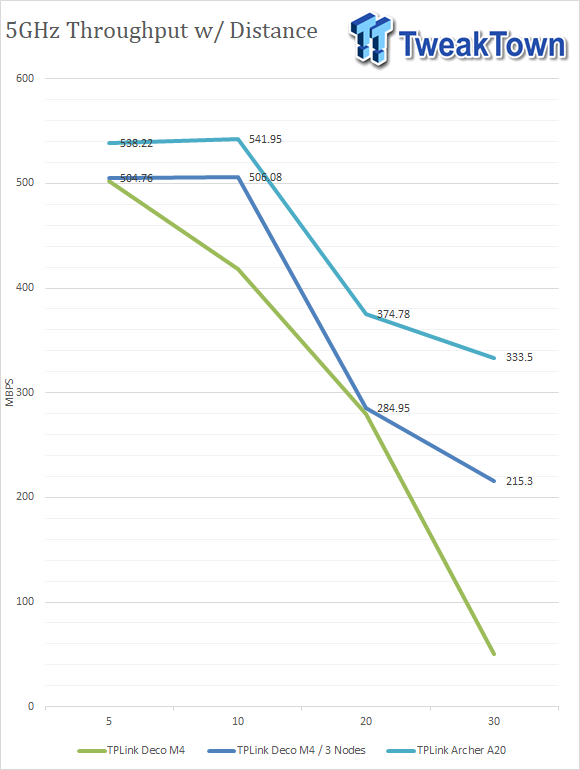 We have the same thing here for the 5GHz band. For this test, I was able to put the Archer up against the Deco M4 in single and 3 node setup. The Archer starts off strong at 538Mbps and moving out to 10Ft we hold that performance at 541Mbps. At 20Ft we see a sharp drop to 374Mbps and at 30Ft finishing up at 333Mbps.
Final Thoughts
After spending a good amount of time with the Archer A20, I can certainly say that while this unit is a good amount cheaper than the C5400 it gets its design from, it feels solid both physically and in use. I was able to use this unit in my own home network for a solid month and taking from that I had no issues with streaming, gaming or day to day browsing activities. Build quality is just as heavy as the C5400v1 we reviewed in October of 2016, or the v2 we looked at in September of 2017.

Taking from those two units its design, internally the Archer A20 takes a new route opting for the BCM4908 over the aging 4709 and new Wi-Fi chips with a 3x3 design over the C5400's 4x4 setup. This lowers costs marginally without sacrificing much in terms of real-world performance. As you can see from our charts the Archer A20 outperforms the C5400 in wired throughput and beats the v1 in wireless throughput by 200Mbps, the v2 does have a slight advantage over the A20 by 40Mbps.
As for the GUI, the addition of homecare is certainly a plus as it gives a basic foundation for both malware and anti-virus protection and the added intrusion monitors offer better peace of mind. The QoS functionality has been improved allowing for device and application priority to be configured and the parental controls are more customizable than ever.
Pricing is king and with the Archer A20, TPLink is offering tri-band functionality with its AC4000 platform for $169.99. the next closest comparable solution is the ASUS RT-Ac3200 at $199.99 followed by the TPLink C5400 at $215.99
| | |
| --- | --- |
| Performance | 81% |
| Quality | 83% |
| Features | 80% |
| Value | 78% |
| Overall | 81% |
The Bottom Line
Pricing is king and with the Archer A20, TPLink is offering tri-band functionality with its AC4000 platform for $169.99.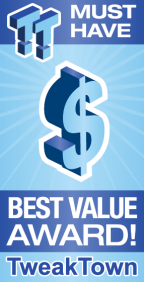 We openly invite the companies who provide us with review samples / who are mentioned or discussed to express their opinion. If any company representative wishes to respond, we will publish the response here. Please contact us if you wish to respond.