HyperX Double Shot PBT Pudding Keycaps Review
The HyperX Double Shot PBT "Pudding" Keycaps earned our Editors Choice award, find out why we cannot recommend them enough.

Published Mon, Jun 3 2019 10:00 AM CDT
|
Updated Tue, Nov 3 2020 6:57 PM CST
Rating:

100%
Manufacturer: HyperX

When it comes to mechanical keyboard users, they break down into subsets. While the vast majority use mechanical switch keyboards for what they are, if you visit Reddit, you will quickly see two other groups as well.
The first are those that want to buy all of the components from various companies so that they can assemble it, solder on switches, opt for whatever LEDs they want, and likely will cover the frame with something like paint or vinyl to customize it even further.
Many of the previously mentioned users also can fall into another group of users, who do not like the standard keycaps sent on many retail products, and spend much of their time looking for the latest and greatest in keycaps.
Reasons many users spend time researching and locating the best deals on keycaps is simple. The standard offerings are, well, crap. While the standard single shot plastic keycaps will get most users by for a couple of years, these keycaps tend to get shiny, the legends rub off as its only paint on top of the caps, and of course, style and aesthetics are a factor as well.
We have had custom keycaps in the past, and we know what a good set of PBT keycaps cost. That being said, what HyperX is offering will make more than a few jaws drop when users are made aware of what can be had from them.
What HyperX has brought forward is an economical solution to the masses, for just about anyone who is looking for more intensity and color from the LED backlighting, along with removing the paint from the mix to deliver keycaps which will stand the test of time.
What you are about to see is a set of the HyperX Double Shot PBT keycaps that will fit any HyperX keyboard currently offered, up to 104-key layout devices. However, you can also buy these for any keyboard with the same key sizes, which is quite a few mechanical keyboards that we have seen in our many years of reviewing peripherals.
So, if you are on the hunt for a great set of keycaps which tick all of the boxes, without paying the exorbitant prices associated with full-custom keycaps sets, we strongly urge you to keep reading to see what all the hype surrounding the "pudding" keycaps is all about.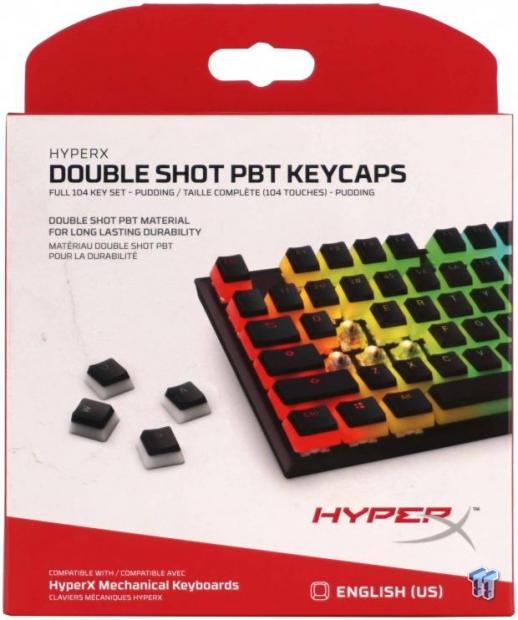 Packaging for the Double Shot PBT Keycaps mimics what we saw with their keyboards. All of the bright red accents, a marbled white backdrop, all to allow the image of the product to pop. This kit is for English keyboards, and as it shows under the product name, these are made for longer lasting durability, and of course, added RGB LED goodness.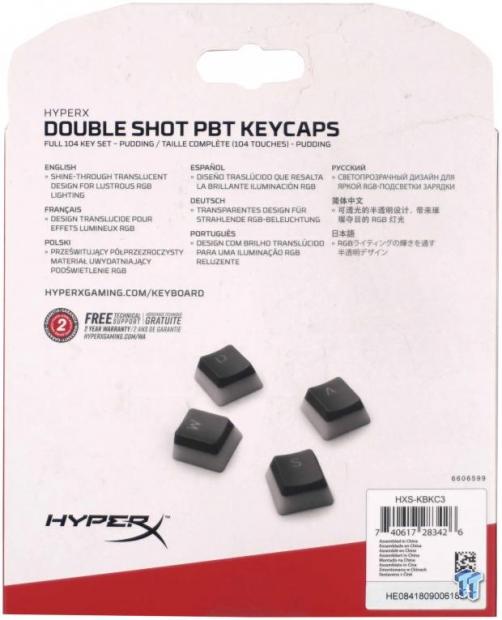 The back of the box does not offer all that much more when it comes to information on the product, but this is where HyperX mentions the benefit to RGB LED lighting, We also see the two-year warranty icon as well as the part number on the sticker in the bottom-right corner.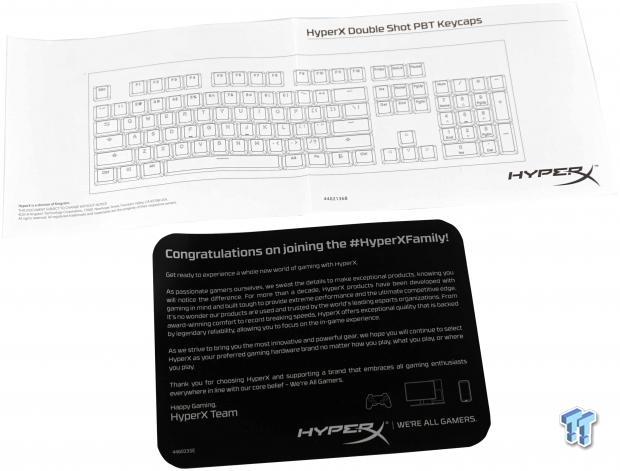 Along with the keycaps, inside of the box, you will find some literature. Since many customers may have thrown away the keyboard box, or access to the internet without the keyboard connected might be tough, HyperX offers a keyboard layout to simplify the keycap installation once all the default caps are removed. There is also a black card that congratulates you into the #HyperXFamily, with multiple products shown on the reverse.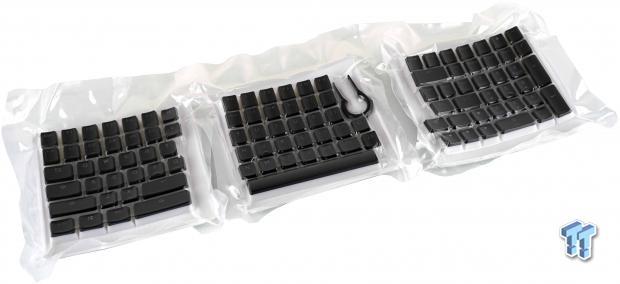 Fresh out of the box, we find the keycaps to be in three groups, left, middle, and right sections of a 104-key keyboard. Each group is resting on a thin layer of cardboard, and is vacuum sealed to keep them all in place. Also note, that with the middle group of keycaps, HyperX does also provide a keycap puller tool, again, so you have everything you need to use the "pudding" keycaps.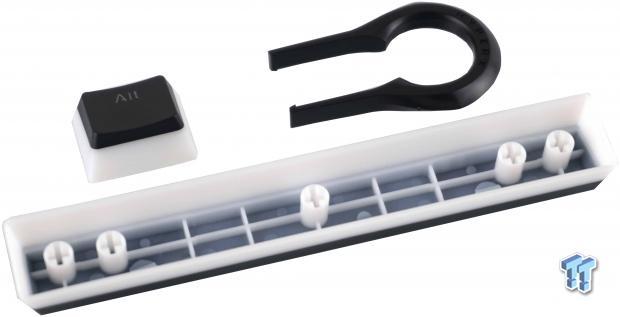 If you are new to keycaps, let us get into detail on double shot keycaps. Usually, a mold is made, and plastic is injected into them, and once broken from the spring, they are painted. In this instance, things start off with the first shot of white, which makes up the sides, as well as the legends on the keycaps. Once completed, another injection of PBT is used here, to build the thick black layer on top. The last thing to mention here is that standard stems are used, so these will fit the typical switches used in the majority of mechanical keyboards.

After a fair bit of time to take all of the original keycaps off, dusting the top plate, and installing the Double Shot PBT Keycaps from HyperX, even without RGB LED lighting the look has vastly improved. The bright white sides are a terrific contrast to all of the black surrounding it, and keep in mind, visually it gets better, and these caps will last virtually forever without shine or loss of the legends.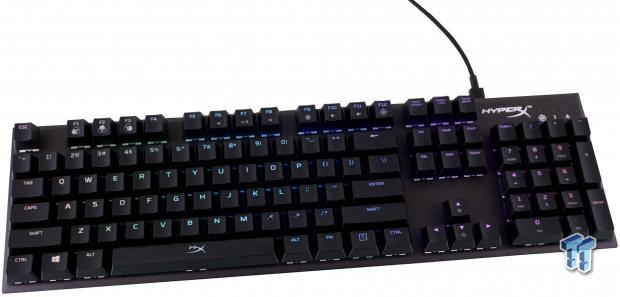 Just to remind you of what the Alloy FPS RGB from HyperX looked like fresh out of the box, but this time with the LEDs active. Towards the back, we can see a bit of the RGB LEDs peeking out under the keycaps, but virtually all of the light is coming from the fine font used on top of the keycaps.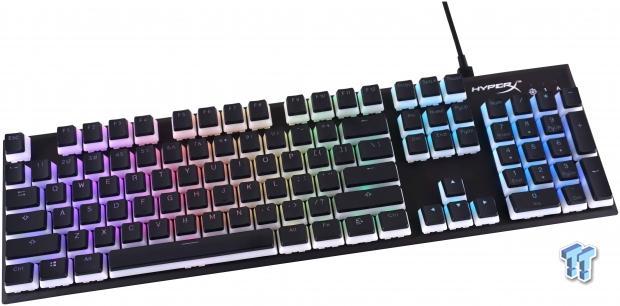 By opting for the "pudding" caps, things are drastically different. For those that love RGB LEDs, and wish that their keyboard offered much more of it, this is definitely a solution to such a requirement. Of course, in the photo booth, lighting of the LEDs is muted, but in a dark office, the wave pattern of RGB LEDs moving across the keyboard is brought to an entirely new level, one we love, and also to a place where the masses will flock to them.
As to the Alloy FRPS RGB we initially tested the keycaps on, with the HXS-KBKC3 Double Shot PBT keycaps installed, we could not be happier from an aesthetic and longevity standpoint. On each key, there is twenty-five to thirty percent more lighting allowed to pass through the keycaps, and for the RGB lovers out there, unless going with all white custom keycaps with painted legends, it isn't going to get much better.
On the longevity end of the spectrum, we tend to gravitate to a specific keyboard for a while, and with reviews coming out of our fingers all of the time, we have not only made many keycaps shiny in our time, but many of the keyboards ended up with legends worn off completely.
Since the initial shot of PBT is white with the raised letters, numbers, and words made at the same time, you have to wear out the inner plastic while wearing through the black PBT shot on top as well, which will take longer than the keyboard will last. It also brings up another point, that when and if it comes to the keyboard kitting its fifty, sixty, or seventy million clicks and things start to go south, you can always transfer the keycaps to the next mechanical keyboard.
While these are designed to fit HyperX products without any issues, and no guarantees beyond that, we find that many of the keyboard we have reviewed up till now will also take these keycaps without issue.
For instance, we tend to like a TKL over a 1-4-key option, and you all know we prefer blue switches, so after the Alloy FPS RGB review, we moved back to our trusty Fnatic miniStreak. A quick look and some measurements of the wider keycaps on either side of the keyboard, we knew that the HXS-KBKC3 PBT keycaps would fit. So not only can you improve upon the HyperX lineup of mechanical keyboards, but many others on the market can be possible contenders to all the benefits of these terrific additions to mechanical keyboarding.
The last factor that may keep many from ordering custom keycaps is the cost. When we grabbed a set from WASD a few years ago, we looked at the various costs and cross-checked with other companies offering them, and it seems that around $50 is the base to enter the world of custom keycaps, and not all of them are PBT, and again, not all are designed to work with RGB LED keyboard at that price point either.
However, for those with HyperX keyboards, you can have all of what you have seen and heard in this review for half of that. The product page shows that HyperX set the MSRP at $24.99, and the listing at Amazon shares this price. However, Newegg, they want $49.99 for them, and we have no idea why.
If, like us, you want the most out of your RGB LED backlighting on your mechanical keyboard, and you are tired of shiny keycaps and legends rubbing off, we see not a single reason outside of fit, as to why one should not give the HyperX Double Shot PBT "Pudding" Keycaps a try, especially if you already have an Alloy Series mechanical keyboard.
Chad's Peripherals Test System Specifications
| | |
| --- | --- |
| Performance | 100% |
| Quality | 100% |
| Features | 99% |
| Value | 100% |
| Overall | 100% |
The Bottom Line
Even though black is the only option for colors, the additional lighting, the near unlimited wear, and the extremely low price are all perfect reasons that you need a set of HyperX Double Shot PBT "Pudding" Keycaps on your mechanical keyboard!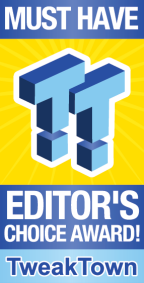 HyperX Double Shot PBT Keycaps - 104 Mechanical Keycap Set
Today
Yesterday
7 days ago
30 days ago

-

-

-

* Prices last scanned on 1/15/2021 at 12:04 pm CST - prices may not be accurate, click links above for the latest price. We may earn an affiliate commission.
We openly invite the companies who provide us with review samples / who are mentioned or discussed to express their opinion. If any company representative wishes to respond, we will publish the response here. Please contact us if you wish to respond.
Related Tags