Introduction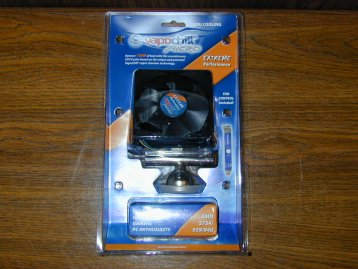 When you think of cooling solutions from asetek, odds are good that you will either think of water cooling, or the big daddy of them all, phase change cooling. Air generally doesn't figure into this method of cooling to the greater extent, but what would happen if you were able to combine the concept of phase change cooling with air?
The folks at asetek asked this very question and came up with the VapoChill Micro. By combining an air operated HSF with a gaseous heat exchange technology, they have come up with something that they are claiming to both effective and lightweight.
Our goal will be to test both of these ideas and see if the VapoChill Micro has what it takes to be a consideration in our own enthusiast rigs.
What You Get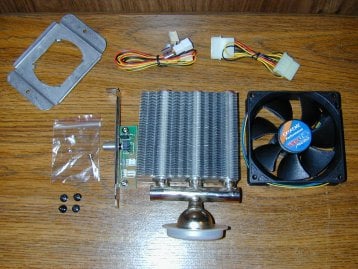 To begin with, there are three different versions of this cooler. While the base cooling system is the same in all models, you can choose between three different fan speeds to handle the load you need. From 28dBA to 39dBA, you can choose the noise level and performance that best suits your own rig.
As far as what you get once you crack open the plastic shell packaging, you get the sink, the fan of choice, mounting hardware, and a PCI rheostat along with the cabling necessary to keep everything running smoothly. Also included but not pictured is a plastic frame that you'll use to attach the fan. When I first saw this I had assumed it was nothing more than packing material, so don't make a mistake and throw it away. You'll be able to see this frame after the unit is installed.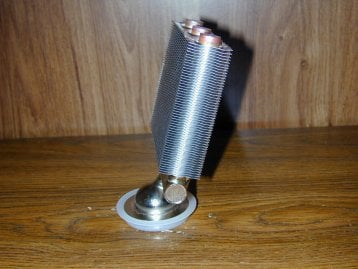 It doesn't take long to see that this is not your average heatsink. The main purpose of the design is to allow the attached fan to cool not only the sink, but also the components close by and the motherboard. But even with this design in mind, this
still
isn't your average cooler.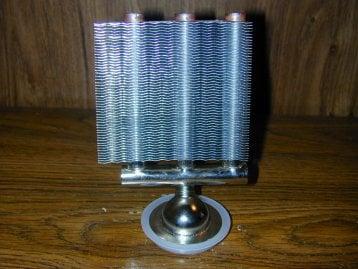 Take note of the round tubing and the three tubes that rise through the aluminum fin array. I say tubes because that is exactly what they are. This isn't your run of the mill heatpipe setup with a gel inside to help dissipate heat; no, this is that combination I was mentioning in the introduction.
Inside the tubing is a liquid refrigerant (R134a) much like what you would use in a phase change cooling setup. The concept is also similar in that the processor creates heat that is carried into the copper base, which heats the refrigerant in the round evaporation chamber and causes it to turn into a gas and rise. As it is rising, the cooler air blowing through the aluminum fins dissipates this heat, which causes the cooling refrigerant to return to a liquid state and sink back into the lower areas of the cooler. While this is a very basic explanation of the process, it does indeed create a cycle of rising heat and falling refrigerant that should, in theory, do an adequate job of keeping everything nice and cool. All this in a package that only weighs in at just over 350 grams
with the 92mm fan attached
! If this thing can cool a processor under load at this weight, it will be a very pleasant change indeed.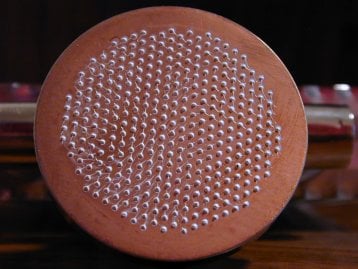 Pulling off the protective boot from the base shows a pre-applied TIM. By this time I'm sure most of you know the next step I will be taking...removing this stuff and using some Arctic Silver 5. So lets remove the white goop and take a closer look at the base of this cooler.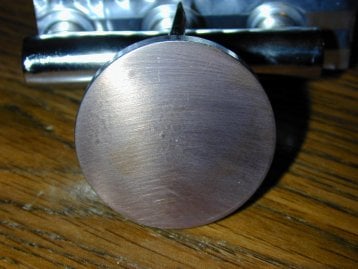 Overall it is not in bad shape, but it could use a good lapping to make everything operate at peak efficiency. There were no gouges noted and the surface area looks to be quite smooth. Since this is a formal test, however, I'll run it through its paces as it was received from the factory.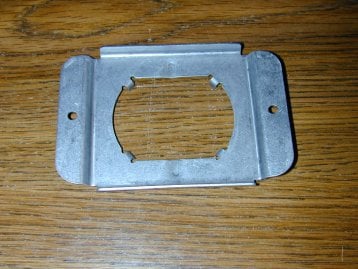 The mount is nothing fancy, but since it has cutouts that fit the base of the cooler, it is incredibly simple to install. Once the AS5 is applied to the processor, simply slip the bracket over the base and set it into place. Secure the unit in place with the motherboard screws and the job is finished. It is that simple.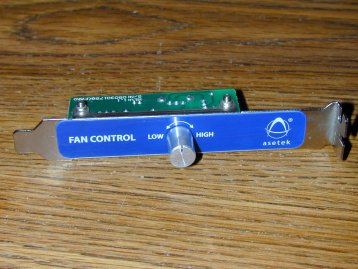 The final component of note is the included rheostat. It is a PCI bracket that fits easily into an empty slot. The back side of the bracket has ports for the included cabling so that the unit will be powered from a standard 4-pin Molex and the rheostat can then be hooked to the fan and the speed controlled manually. Again, nothing fancy but it is effective.
Installation Notes
To begin with, let me take a moment and make mention of the choice you have in fans. I'll show them in order of fan speed.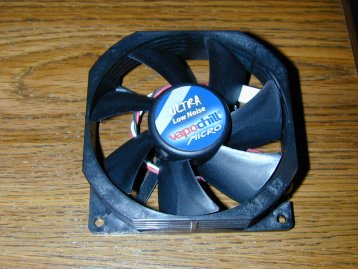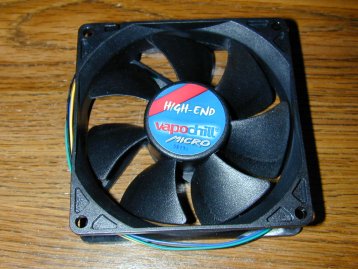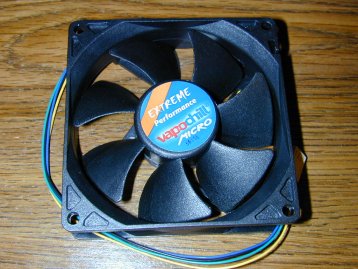 It doesn't take a rocket scientist to figure out the meanings of their labeling.
The top image shows what is referred to as the
Ultra Low Noise
fan. It is the meekest of the choices and draws only .2 amps of power. At maximum speed the fan spins at only 2350 RPM, puts out a slight 17.7 CFM of airflow, but only emits 28dBA of noise. If you plan on using this in a home system and don't want a lot of noise, this should be your likely choice.
Next in line is the fan referred to as the
High End
model. This beast is a good deal louder, but has a lot more muscle as well. The fan draws almost .4 amps of power while spinning at 3800 RPM. It puts out 67 CFM of airflow while creating about 35dBA of noise output. This isn't going to be useful in a quiet system, but it will work nicely in a gaming box or one that makes use of moderate levels of overclocking.
The last choice in fans is called simply
Extreme Performance
. It draws a full .5 amps of power while spinning its more aggressively pitched blades at 3800 RPM to create roughly 73.7 CFM of airflow at almost 40dBA of noise output. This will be the monster of the group. We will test all three fans during our test phase to give you a better idea as to performance levels.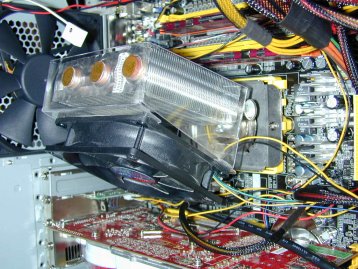 As far as the actual installation goes, it is a very simple and painless process. You will not have to remove the mainboard from the case, and the process of installing the cooler itself is as noted earlier. Slip the mounting bracket around the base and install the cooler with the two screws that came with the motherboard bracket. Once installed, the entire unit had a very solid feel and did not move around.
One interesting concept with the VapoChill Micro is the ability to change out fans without having to remove the entire cooler. The plastic shroud used to secure the fan in place can be slipped off the heatsink to make changing out fans a simple matter. While there are three fan options from asetek, you can use any 92mm fan with this cooler.
As a side note, I would still not recommend leaving the cooler mounted while going to a LAN simply due to the height of the unit. This is a simple precaution to protect your investment, and besides, it is too easy to install and uninstall this cooler to take unnecessary chances.
Testing
When it comes to testing a heatsink, I generally try to thrash the system while monitoring temperatures. Since we're talking about a cooling solution that has the processor as its primary concern, I find it easiest to simply run it at 100% load and monitor in the background. This simple method lets me see just what a cooling solution can do and also lets us know where we should consider spending our hard-earned upgrade dollars.
Before getting into the meat of the matter, though, lets take a quick look at the test system:
AMD Athlon FX-53 Processor @ 2.4GHz (Supplied by
Newegg.com
)
DFI LANParty UT nF4 Ultra-D Motherboard
2x512MB Mushkin "Redline" PC3200 Memory (Supplied by
Mushkin
)
GeCube X1900XTX Graphics Board (Supplied by
GeCube
)
Thermaltake PurePower 600w PSU (Supplied by
Thermaltake
)
Testing will be monitoring temperatures at both idle and at load. The processor is running at default speeds but still manages to put out a good deal of heat. Voltage of the CPU is 1.55v and testing temperatures were a consistent 22C. Finally, all fans tested will be run at their maximum speeds.
I'll be using a Thermaltake POLO 735 as a comparison model since it has done a very good job to date of producing excellent results during all kinds of testing. It works well but is quite loud so I'll be interested in seeing how well the asetek cooler does with regards to both temperatures and noise.
Results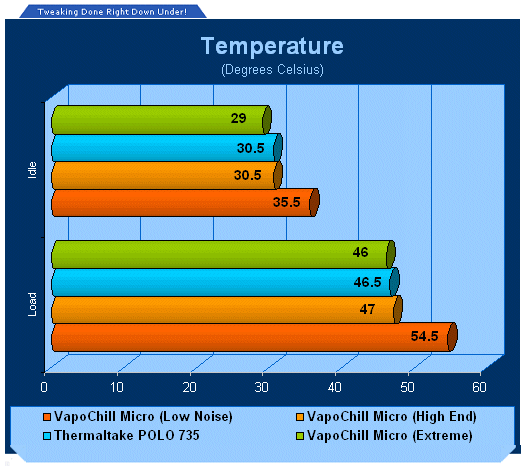 Not too shabby at all!
During testing, the Extreme Performance fan was producing about the same level of noise as the POLO 735 running at full speed. It did manage to produce a better overall result, but I was even more impressed with the High End model that was only about a half degree off the POLO but at a good deal less noise. While 4 decibels may not seem like a lot of difference, there is a distinct reduction in volume with the High End fan.
It is looking like I found a worthy replacement for the POLO for my air cooling needs!
Final Thoughts
When all is said and done, it appears that the folks at asetek have done their homework. While the concepts of using a refrigerant as a cooling medium have been around for some time, the required condenser and airtight components to go along with it have made the cost terribly prohibitive. The VapoChill Micro gives us the ability to use the same methodology, but in a product that produces very reasonable results without going below ambient, thus taking away the need for all the big dollar accessories.
What about the cost? A quick look online shows this product ranging from about $35US - $60US depending on the fan speed desired. This brings a lightweight contender to the market for a cost that won't break the bank, especially considering that the technology involved usually comes at a premium price.
The ability to change fans without removing the entire cooling system is a plus, but the plastic shroud used to mount the fan seemed a bit flimsy to me. Even so, I made an effort to move the case around a good deal while the system was off to see if there were any issues, but there were no problems with the fan falling off or even becoming loose enough to cause any concern. Besides this small item, there really isn't much bad you can say about this cooler.
Bottom line... If you've been in the market for something that performs well and won't cost an absolute fortune, add the asetek VapoChill Micro to your list of potential candidates. With a performance level that is rock solid and price that is reasonable, you certainly wont' be disappointed in this little gem. As mentioned earlier, it will be taking the place of the Thermaltake unit in my air cooled system.
- Pros
Gas/Liquid cooling technology
Very good results for air
Lightweight
3 fan choices
Reasonably priced
- Cons
Fan shroud is flimsy
Extreme fan is LOUD!
Rating - 9 out of 10 and TweakTown's "MUST HAVE" Best Performance Award!