Intel Core i9-9900K 9th Gen Coffee Lake Review
Intel's very first consumer 8C/16T processor is the new king, the Core i9-9900K.
Published Fri, Oct 19 2018 8:00 AM CDT
|
Updated Tue, Nov 3 2020 6:57 PM CST
Rating:

94%
Manufacturer: Intel
Introduction, Specifications, and Pricing
Intel's 8-core 16 thread CPU that would go into their consumer 300-series chipset was just a rumor over a year ago. Today we are here to not only say that the good rumors about the CPU are true, but that it basically redefines Intel's consumer desktop product line.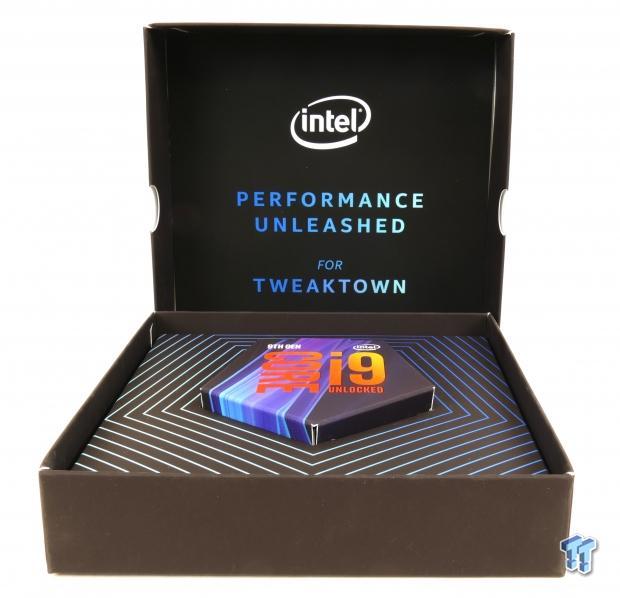 After having run through all the benchmarks we can tell you that this CPU is not only a beast, it's an anomaly in a good way. It seems that changing the TIM and optimizing process not only helped Intel increase core count 33% over its 6-core offerings, but it also allowed Intel to increase turbo tables, supposedly in the same TDP. Let's take a look.
Specifications
The i9-9900K has 8-core and 16-threads with a maximum Turbo of 5GHz with a base frequency of 3.6GHz. The CPU has a 95W TDP and 16MB of SmartCache and has the same platform features as the 8th generation of Core processors, such as 16 PCI-E 3.0 lanes for PCI-E slots.

Intel specifies a 130W cooling solution and a junction temperature of 100C, but Intel also added in a feature into the UEFI to allow for movement of TJmax by 15C to 115C. We also found a few turbo tables not confirmed by Intel, as Intel has refused to provide turbo tables. The tables say that all core turbo is 4.7GHz (very high), four core turbo at 4.8GHz, and two core turbo up to 5GHz. The CPU also uses solder between the CPU heat spread and the CPU die.
Pricing
The Core i9-9900K is priced at $499.99
The CPU and Test Setup
The CPU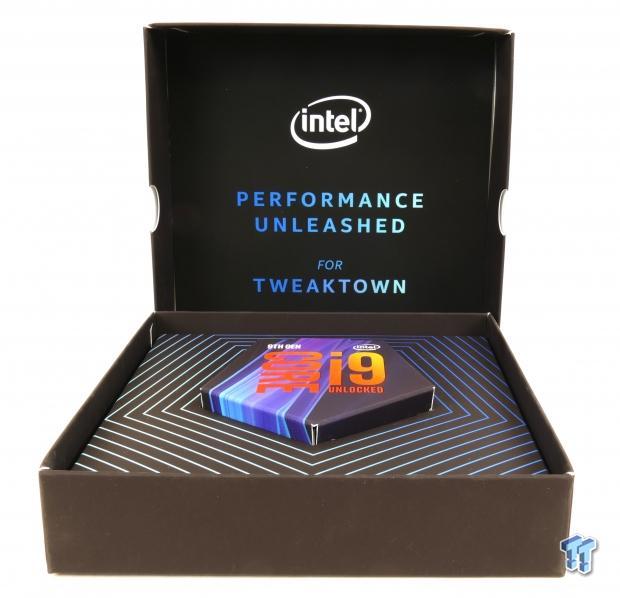 Our CPU was delivered in a customized box; the retail box does not look like this.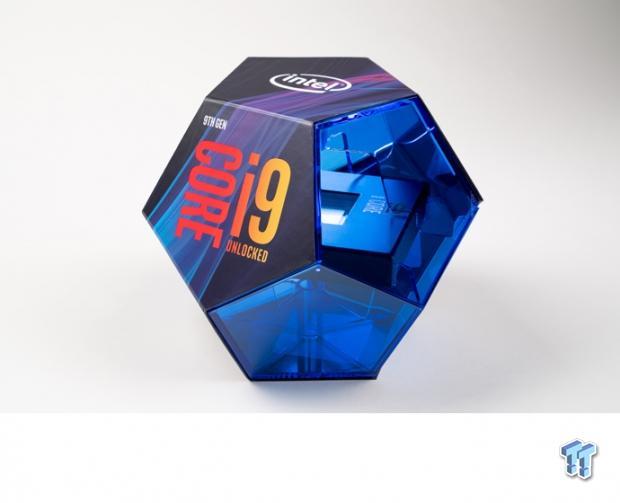 The retail box is in the shape of a convex regular dodecahedron, and it's made up of clear blue plastic sides and uses magnetics in the information panels to keep it together.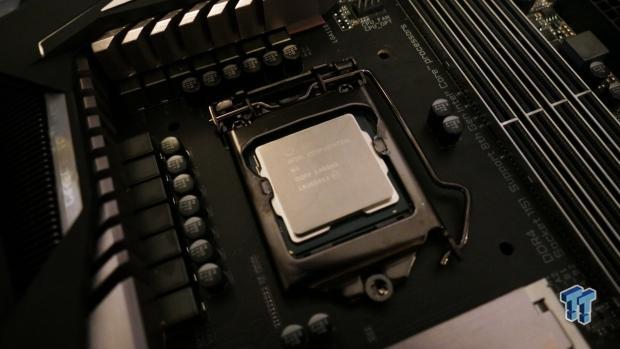 The CPU is very similar to every other LGA1151 CPU that is designed for the LGA1151 socket.
Test Setup
Out of the Box Performance: CINEBENCH, wPrime, and AIDA64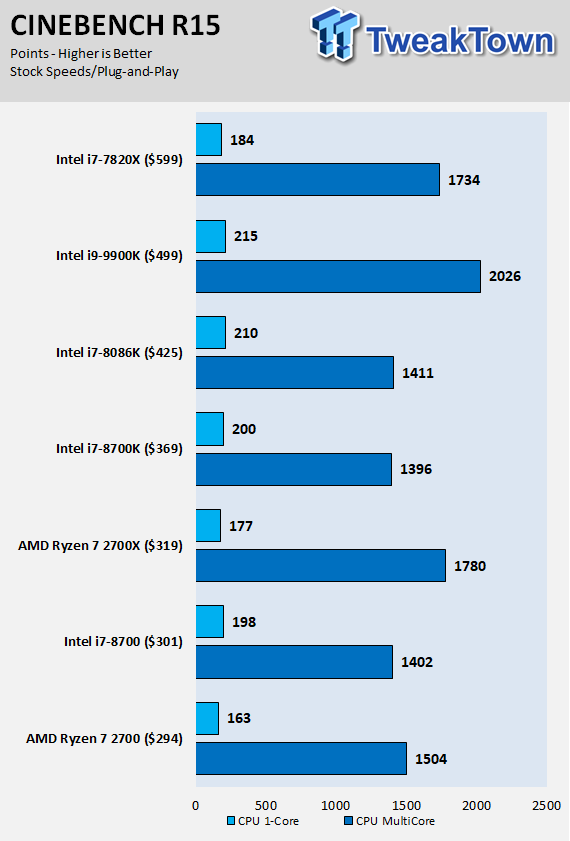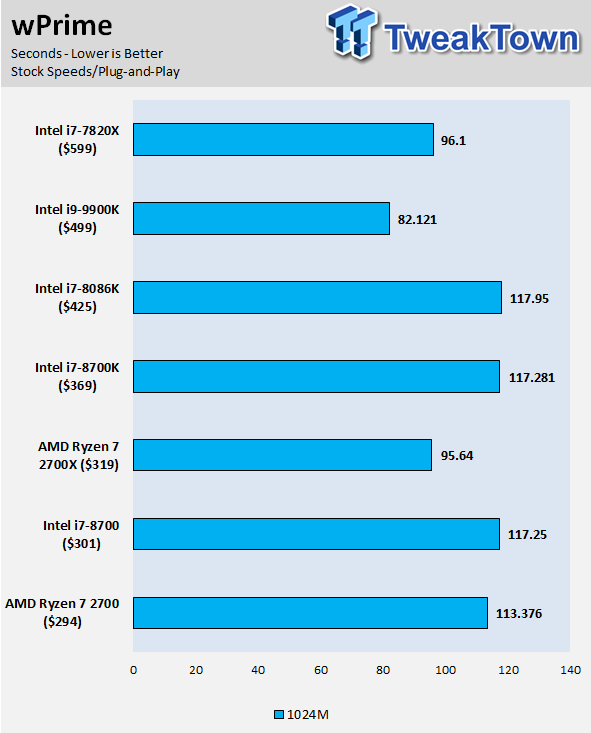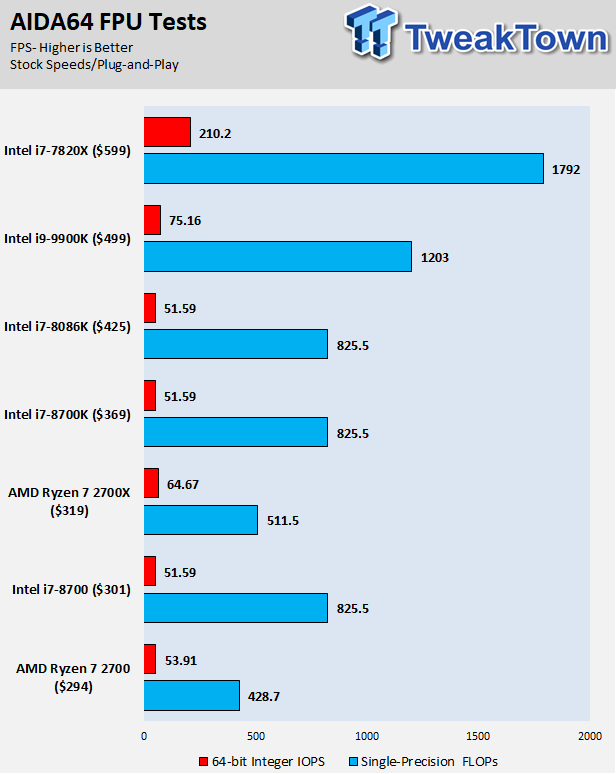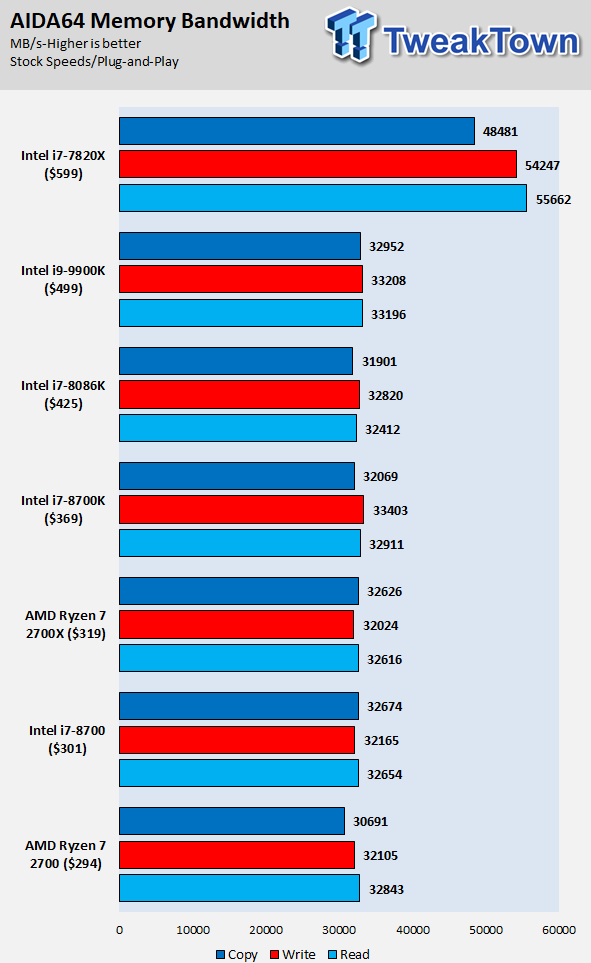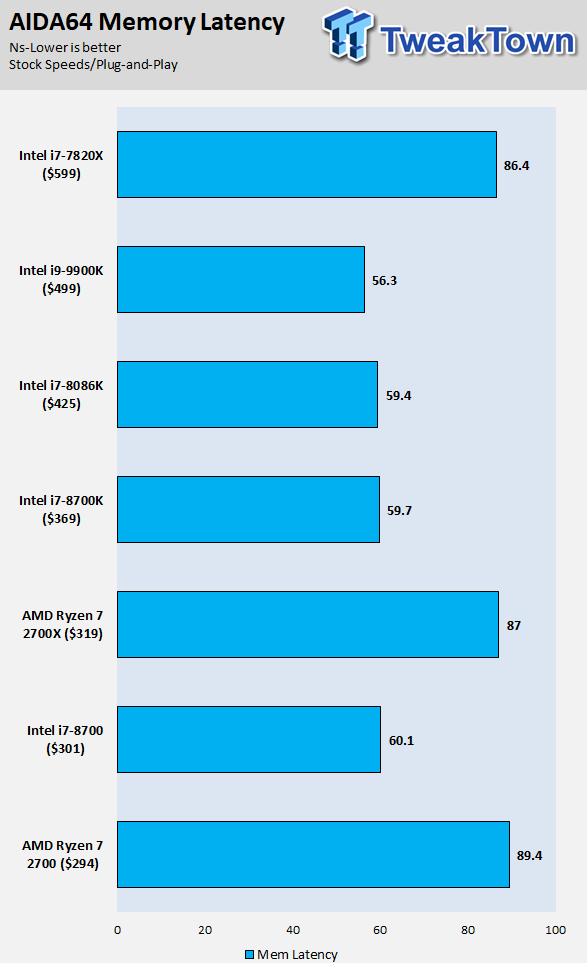 In CINEBENCH we see the 9900K dominates, and in wPrime, it does the same because of its very high frequency all core turbo. In AIDA64 FPU tests, we see that the mesh architecture does have some sort of advantage coupled with the quad channel RAM, so it would see there is some use for the 7820X. Memory bandwidth seems to be the same as the other dual channel, with similar latency results as well.
Out of the Box Performance: Handbrake Video Transcoding, ScienceMark, and SuperPI
Out of the Box Performance: Handbrake, SuperPI, and ScienceMark
HandBrake UHD Video Transcoder (x264)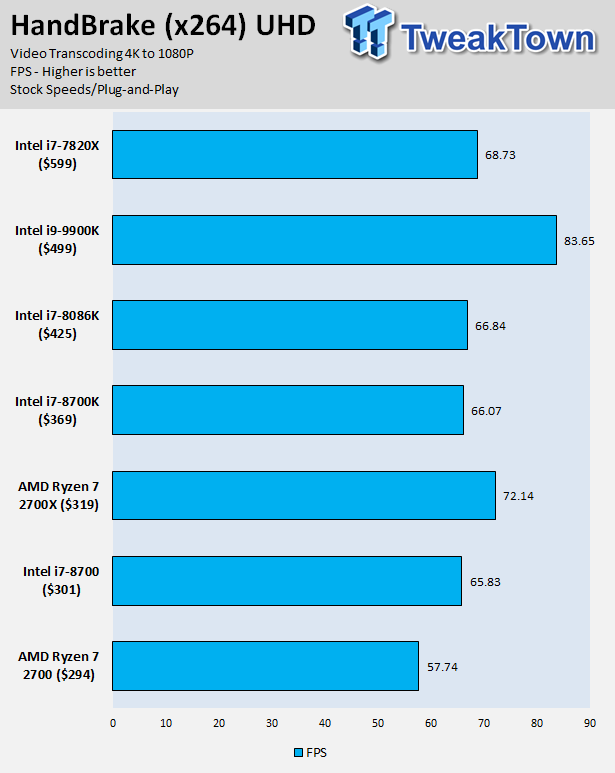 HandBrake HD Video Transcoder (x264)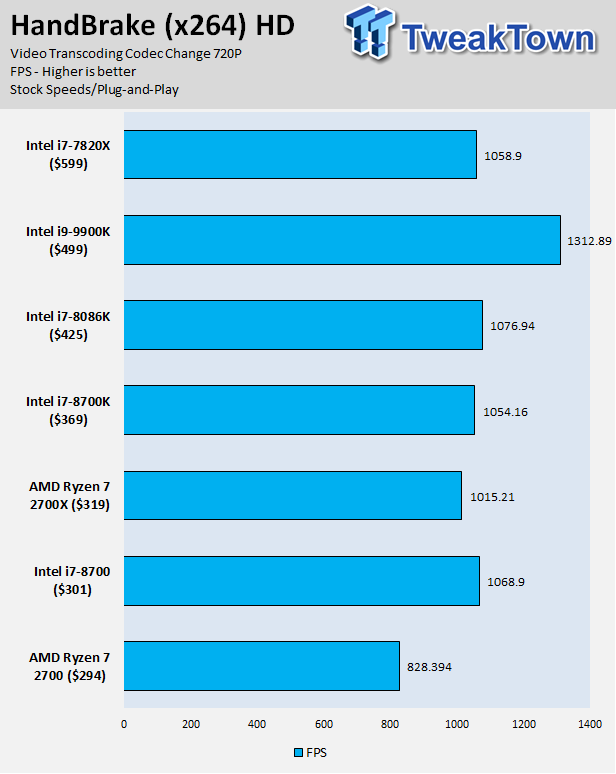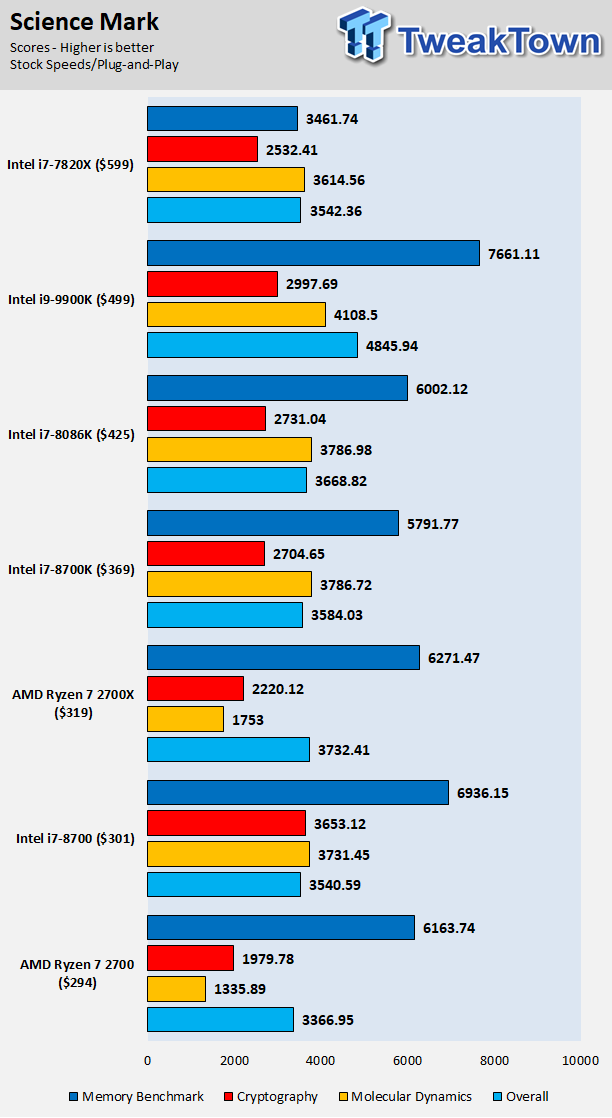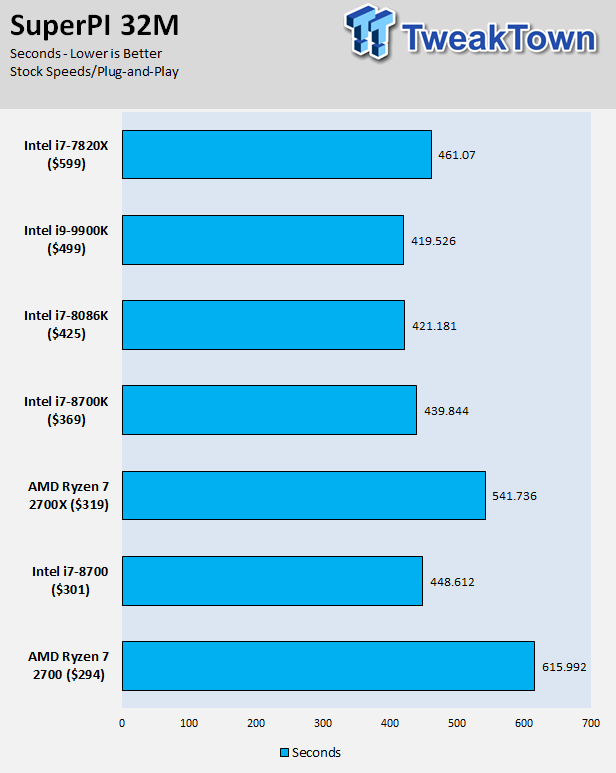 Here we see Intel taking back the 8-core title from AMD, and the high frequency all core turbo demolishes other Intel CPUs. ScienceMark is all over the place, but overall score goes to the 9900X for the win. In SuperPI, a very single threaded memory dependent benchmark, the 8086K and 9900K basically tie since they both have the same 5GHz turbo.
Synthetic Gaming Performance: UNIGINE and 3DMark
Out of the Box Synthetic Gaming Performance: UNIGINE and 3DMark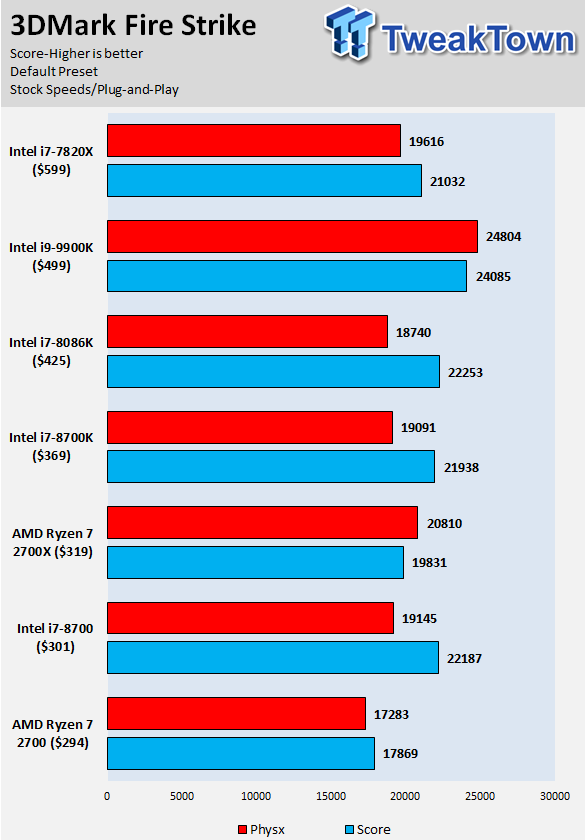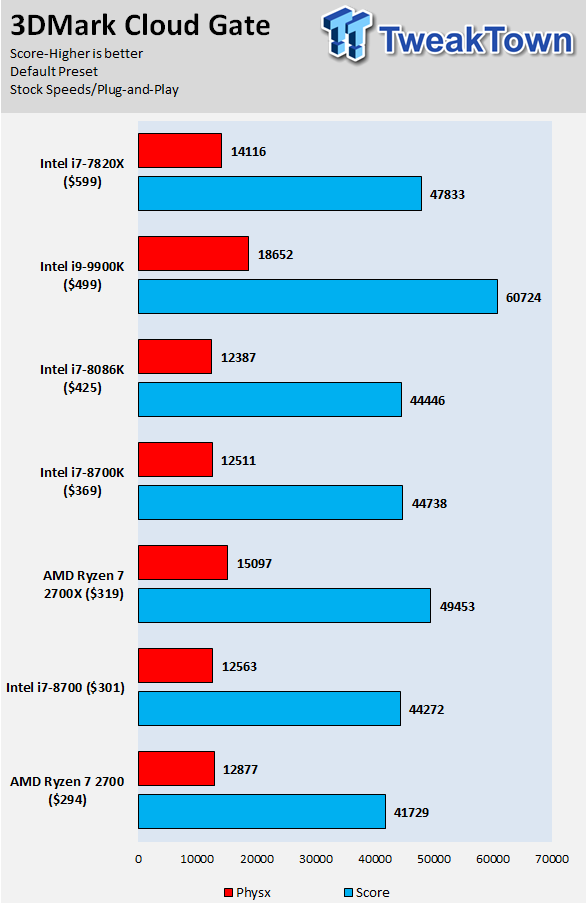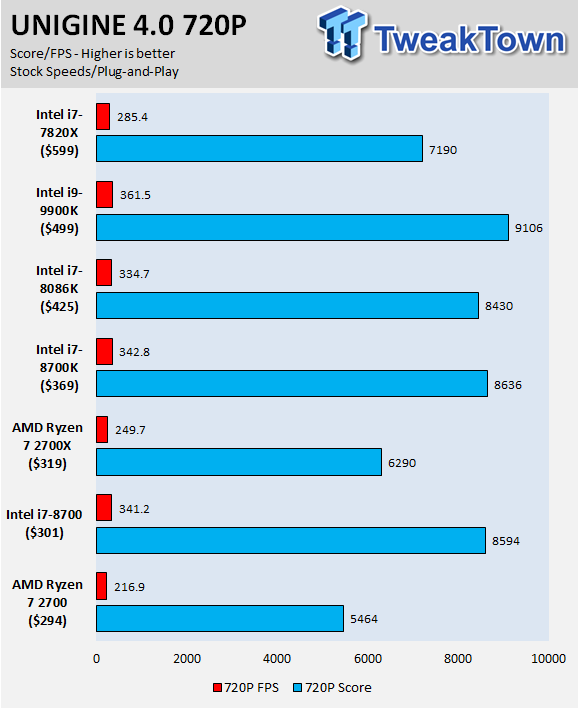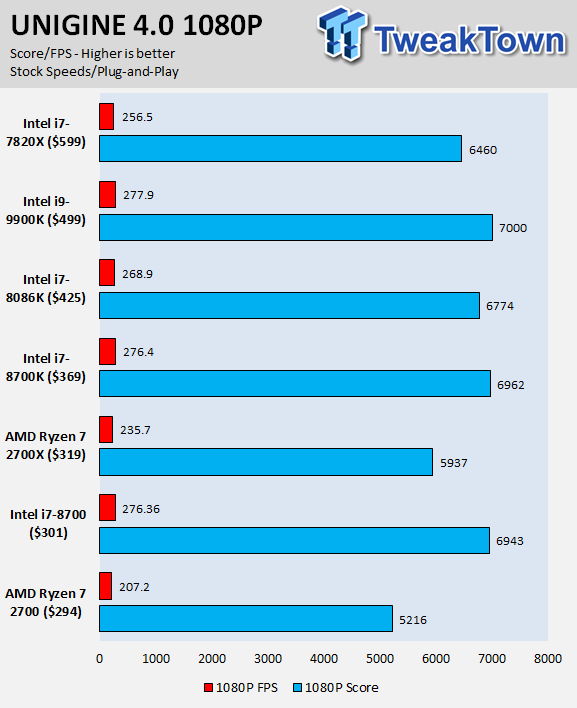 In Fire Strike and Cloud Gate, we see how well the CPU does in synthetic gaming benchmarks, taking back the Physx crown from the 2700X. In Unigine we see a bottleneck emerging around the GPU.
Gaming Performance: Resident Evil, Tomb Raider & More
Out of the Box Gaming Performance: Resident Evil, Tomb Raider, GTA:V, Ashes of Singularity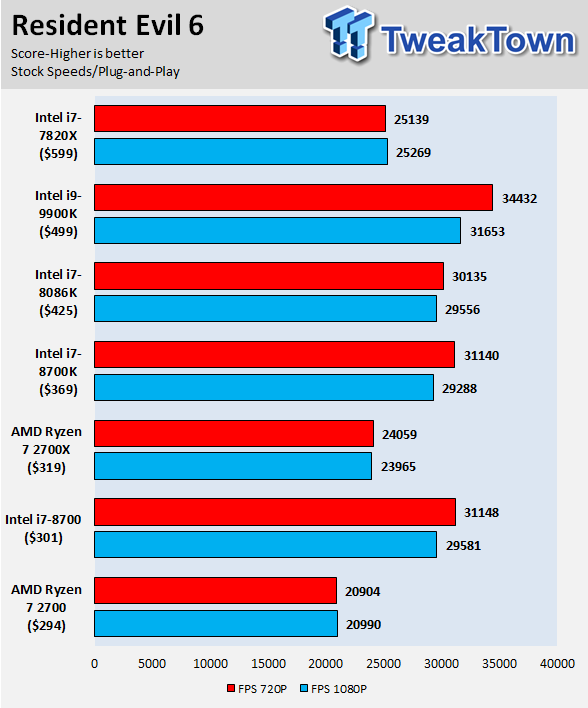 Rise of the Tomb Raider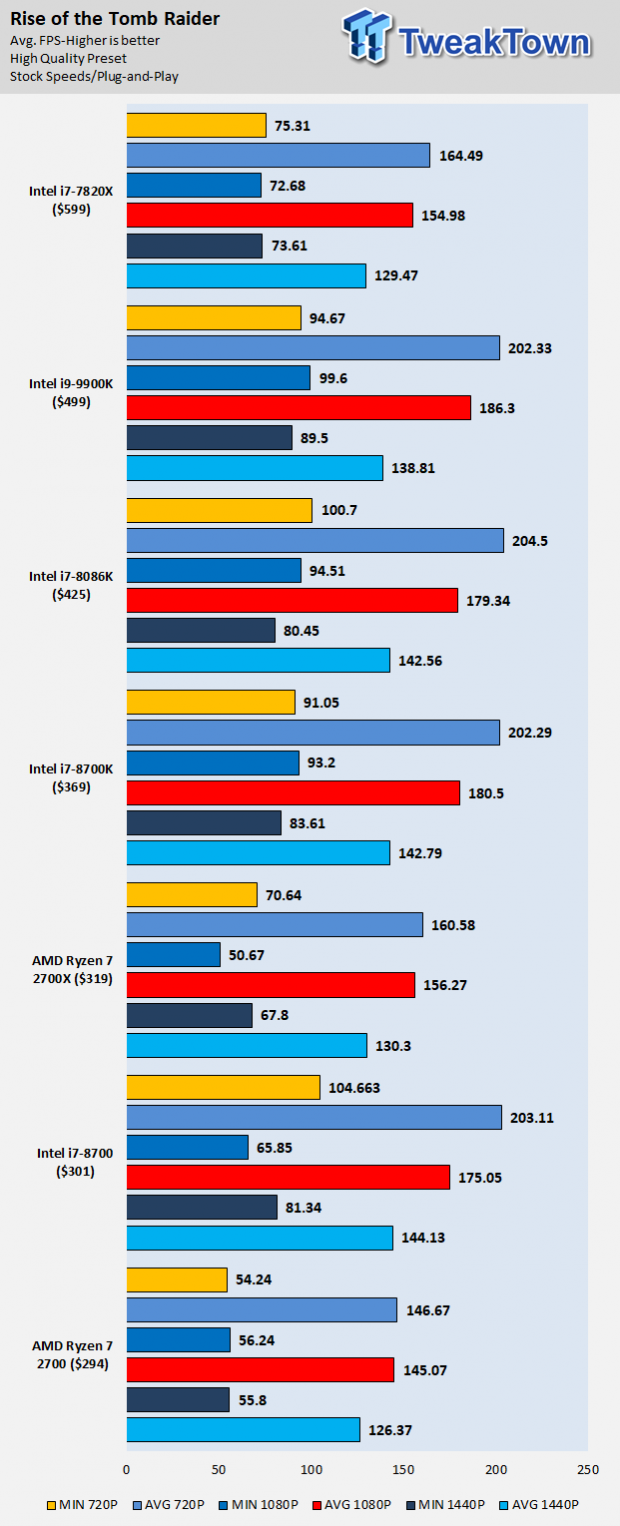 Ashes of the Singularity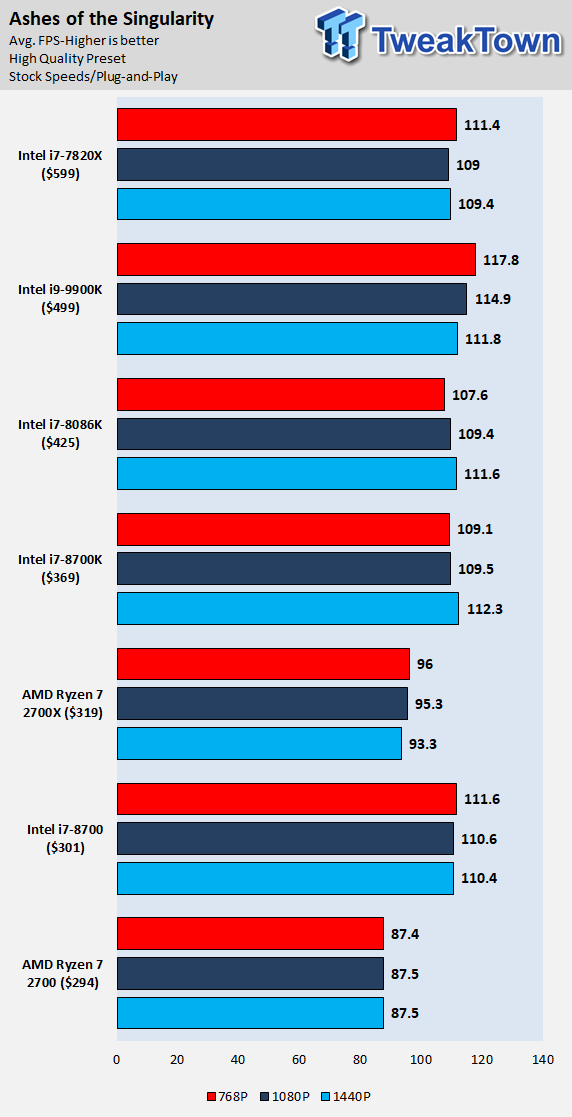 We see major gains in Resident Evil 6. While in all the games we see total domination in average FPS, in GTA:V we see a slight dip in minimum frame rates compared to the 8086K. Some of it could be a margin of error or Z370 vs. Z390, or it could be a performance impact from the hardware patches to two of the vulnerabilities. We see that in Rise of The Tomb Raider, that minimum thing basically is gone at 1080P and 720P, so it's not a steady trend. In Ashes of the Singularity: Escalation, we see, for the first time, noticeable scaling of performance, and of course, the GPU bottleneck at 1440P. Overall, this CPU dominates games.
Overclocking and Power Consumption
Page 8[Overclocking and Power Consumption]
Power Consumption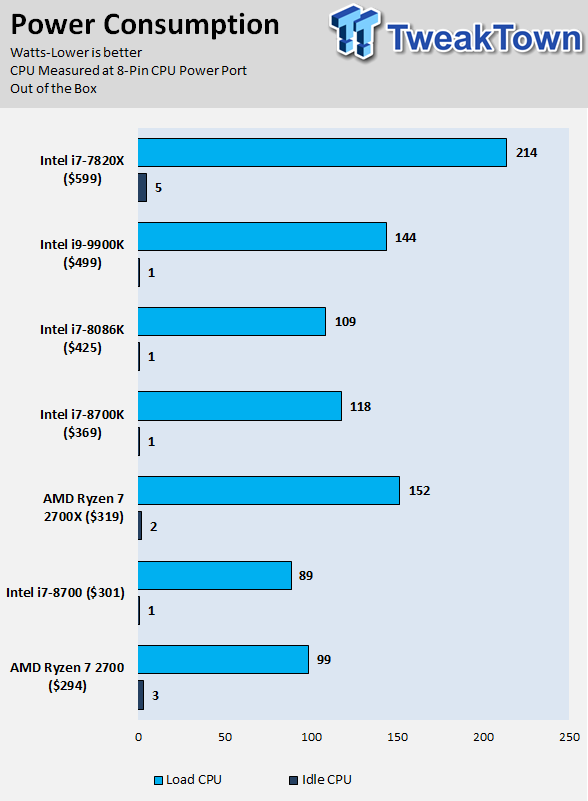 We measure at the 8-pin power connector, and we see some pretty high power consumption as we did with the 2700X and PBOD. It could be motherboard vendors didn't securely power lock the CPU, but we do see that default power limits are set at 95W for PL1 and 118W at PL2, which is in line with a 15% decrease in converter power efficiency costs. The CPU will pull roughly 20-25W more than 95W if you use an AVX load at 100% on all cores at stock, and while that isn't too much, it is 25% more than what you might expect.
Overclocking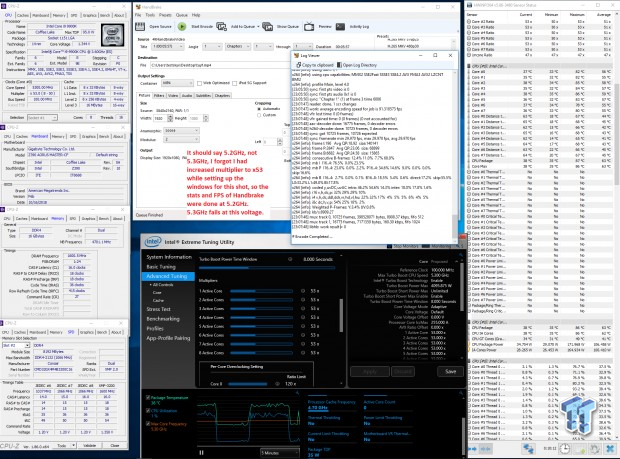 A nice overclock I found was with 1.33v set with LLC Turbo level, 5.2GHz, XMP enabled, and I didn't mess with TJMax offset, although Intel has added that into the base UEFI code so you can increase it as the CPU can get pretty hot over 5GHz. I think Intel has added the ability to increase TJMax to 115C from 100C because they changed from paste to solder, which is a much quicker and better way to move heat from the die to the cooler. However, 100C is listed as junction temperature, so I decided to stay on the safe side of things with my CPU and not try and mess with throttle points. The CPU overclocks just as easy as Sandy Bridge and to the same frequencies.
What's Hot, What's Not & Final Thoughts
What's Hot, What's Not & Final Thoughts
This is where you can fast forward to the final section of the review, and get a quick recap and points on the Core i9-9900K.
What's Hot
Performance Advantage: The 4.7GHz all core turbo, 5GHz dual-core turbo, and the high core count of the 9900K allow it to dominate any other consumer CPU. When I say consumer, I don't include high-end desktops such as X-series Intel CPUs and AMD's ThreadRipper line, but it's pretty clear that the 9900K obliterates Intel's X-series 8-core 16-thread CPU, the 7820X, in almost everything. We have no doubt that the 1920X ThreadRipper CPU would outdo the 9900K in core-based benchmarks, but in this case, for your normal consumer, the 9900K's competition is mainly other desktop CPUs.
"STIM": Intel's marketing aside, the removal of paste based thermal interface material for solder based material was one of the best surprise moves Intel made with the 9900K. We can also confirm the other 9th generation SKUs launched today also have the same STIM.
Sandy Bridge Level Overclocking : The CPU does a 4.7Ghz all core turbo hovering at 50C with an AVX load and a Vcore of 1.23v, so it's safe to say we expected it to overclock to 5GHz with ease. Even just enabling MCE in the BIOS landed us all core 5GHz, but tuning voltage down, we were Intel Burn Test AVX stable at 5GHz (no offset) at 1.25v and not throttling. We were able to go up to 5.2GHz with ease and 1.33v, which is very good. Surprise, surprise, anyone want to guess the last generation Intel soldered their mainstream consumer CPUs? (Hint, it's mentioned above)
What's Not
Power: Power consumption was high, higher than what we expect from a 95W CPU, but we recently saw the same thing happen. What we see here seems to be in line with the AMD PBOD feature that was enabled in most X470 motherboards.
It appears that Intel just did the same thing, give the motherboard vendors a nudge towards not restricting power. Intel's own XTU showed TDP at stock around 115W, and we measured 144W power pull at the 8-pin power connector, so if we add in VRM losses around 15% (kind of a high estimate I would think), we get about 122.4W output to the CPU. That's still 25W and around 25% above rated TDP, so either AVX isn't included in Intel's TDP advertisement, or board vendors or Intel are getting extra performance out. Just be ready to buy a decent PSU if you are going to OC, and don't cheap out on a motherboard if you are going to OC.
Final Thoughts
The 9900K is the fastest gaming CPU we have in the charts, and in many cases it could be the fastest 8-core processor in existence, beating both Intel's HEDT 8-core and AMD's top 8-core CPU. The massive frequency gains and IPC advantage the 9900K has allows it to beat out the 2700X, and the switch back to a ring bus and frequency advantage allows it to beat out the 7820X in many areas easily.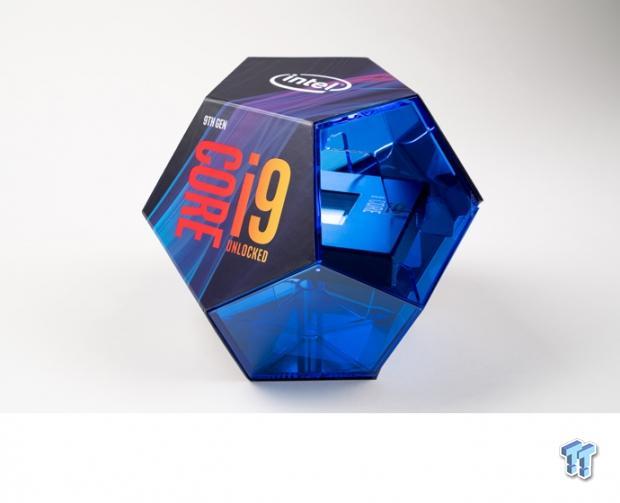 The CPU itself is a high-end beast, but as we have seen, performance isn't free. It requires power, and in this case, it's running a bit power hungry, sort of how many cars never reach their advertised MPGs. It also runs pretty hot when it's overclocked beyond 5GHz, so you will not only require a strong VRM on a pricey motherboard to properly overclock the CPU, you will also need high-end cooling. Either way, we are very impressed with what Intel was able to push out to counter the threat AMD poses, and in this case, they did a solid job and went over the top with overclocking capabilities.
The Intel i9-9900K not only dominates games, it also takes back the fastest 8-core crown from AMD and brings back the good old days of super easy 5GHz+ overclocks we miss from the days of Sandy Bridge.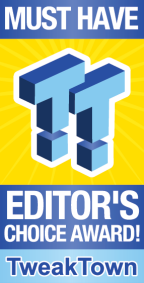 | | |
| --- | --- |
| Performance | 99% |
| Quality | 96% |
| Features | 92% |
| Value | 88% |
The Bottom Line: The Intel i9-9900K not only dominates games, it also takes back the fastest 8-core crown from AMD and brings back the good old days of super easy 5GHz+ overclocks we miss from the days of Sandy Bridge.
PRICING: You can find products similar to this one for sale below.

United States: Find other tech and computer products like this over at Amazon.com

United Kingdom: Find other tech and computer products like this over at Amazon.co.uk

Australia: Find other tech and computer products like this over at Amazon.com.au

Canada: Find other tech and computer products like this over at Amazon.ca

Deutschland: Finde andere Technik- und Computerprodukte wie dieses auf Amazon.de