Plextor M8V 512GB SATA III SSD Review
Plextor releases a next-gen SATA III SSD fortified with 64-layer BiCS flash, let's take a close look.

Published
15 minute read time
TweakTown's Rating: 94%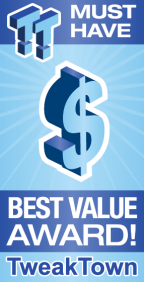 The Bottom Line
With its strong price point, exclusive features, and strong performance, the Plextor M8V represents one of the best values on the market today.
Introduction, Specifications, Pricing & Availability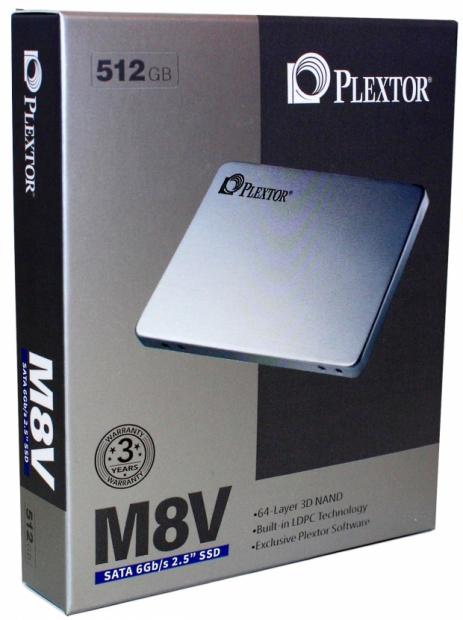 Plextor is bringing to market a next-gen SATA III SSD powered by Toshiba BiCS 64-layer flash. The M8V is designed as a value-oriented legacy storage device that can deliver MLC like performance on a TLC budget. The M8V will be initially offered in two form factors and three capacities. We don't know if larger capacity points will be offered in the future, but for now, the M8V Series tops out at 512GB.
Plextor has once again teamed up with Silicon Motion for the M8P Series. Powering the M8V is SMI's venerable SM2258 SATA controller. Silicon Motion's 4-channel SM2258 has become a favorite of ours because it is chock full of advanced features and more importantly delivers outstanding performance.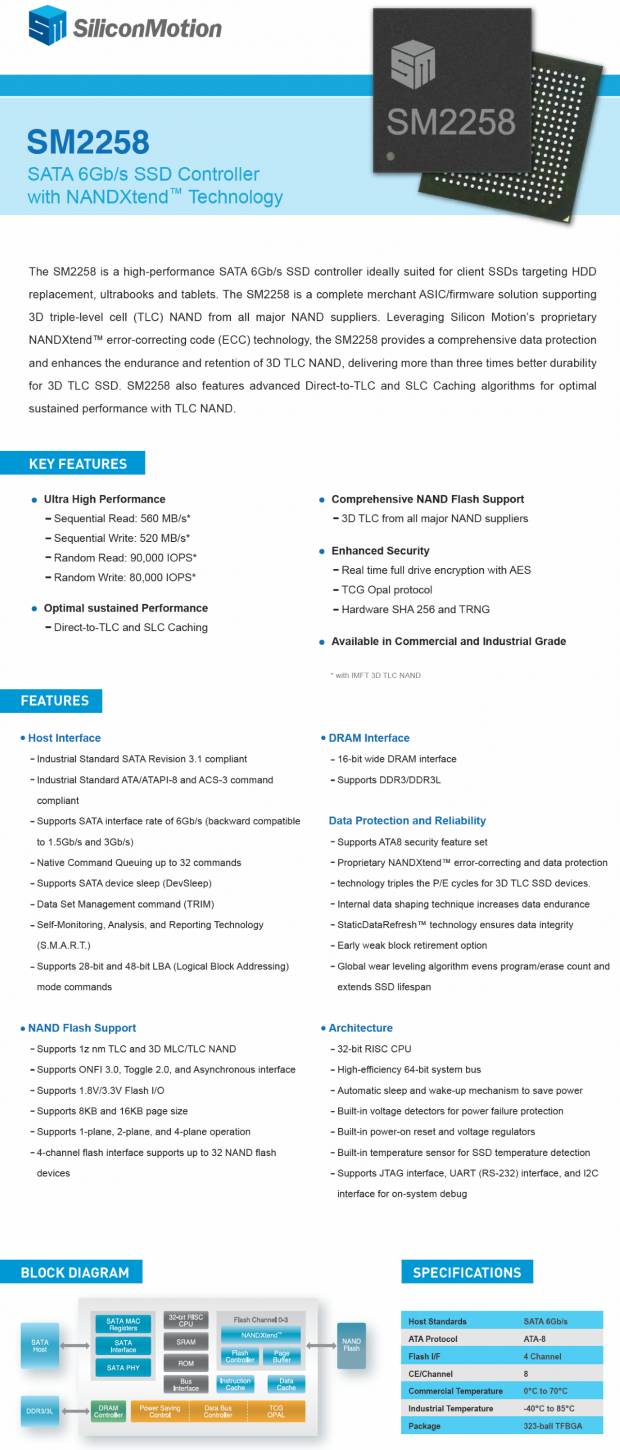 Of all the features listed, Silicon Motion's NANDXtend technology is the most important for TLC SSDs. NANDXtend is SMI's proprietary LDPC (Low Density Parity Check) bit correction technology. This technology is essential for TLC (Triple Level Cell (3-bit)) powered SSDs because it extends the endurance of low P/E cycle flash by as much as 3x over conventional bit correction technologies. With NANDXtend, TLC flash arrays are capable of endurance that is at or near MLC (Multi Level Cell (2-bit)) levels. In addition to LDPC bit correction, the M8V Series the M8V supports RAID Engine (Drive Array Accelerator) and Data shaping (Data management) for enhanced data transfer stability.
Plextor are sticklers for quality control, and like all Plextor SSDs, the M8V is subjected to rigorous inspections from Plextor's world-class advanced SSD testing laboratory thereby ensuring error-free performance for the lifetime of the drive. Plextor's quality control testing simulates a wide range of professional read-write scenarios, verifying that your Plextor SSD will deliver expected performance while remaining error-free under the most rigorous circumstances.
To further enhance your SSD experience, the M8V features PlexNitro SLC (Single Level Cell (1-bit)) buffer technology. PlexNitro, enhances both the performance and endurance of the M8V. The M8V Series also supports three of Plextor's exclusive SSD applications. PlexTurbo (Smart Cache) effectively reduces the number of write access on the SSD resulting in extended service life. PlexCompressor (Smart Compression) automatically compresses files that have not been used for more than 30 days, providing more available storage space. PlexVault provides a secure storage area allowing your private/sensitive data to be hidden from prying eyes. In addition, Plextool, a proprietary SSD Toolbox, provides an easy to use interface to monitor status, update firmware and diagnose the drive for data integrity and security.
Let's get the M8V on the bench and see for ourselves exactly what kind of performance the M8V will deliver.
Factory Specifications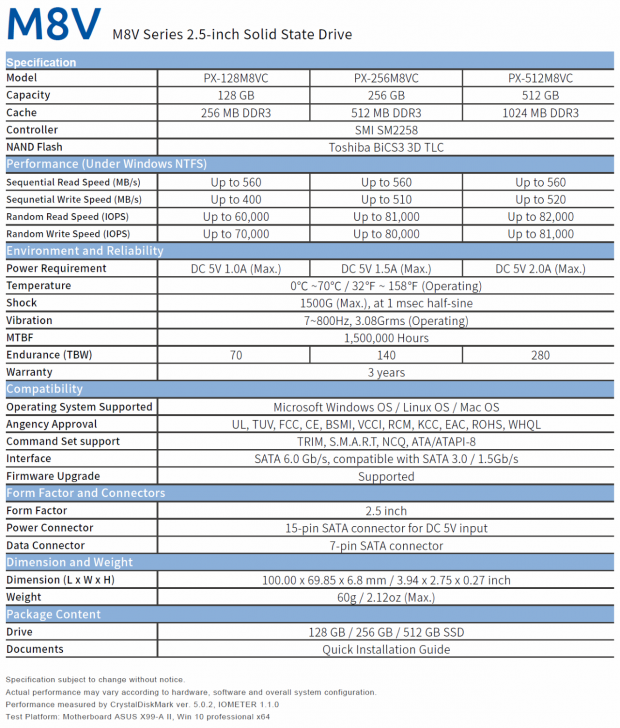 The 512GB model we have in the lab sports the following specifications:
Sequential Read: up to 560 MB/s
Sequential Write: up to 520 MB/s
Max 4K QD32 Random Read: up to 82,000 IOPS
Max 4K QD32 Random Write: up to 81,000 IOPS
Endurance: 280 TBW
MTTF: 1.5 Million Hours
Warranty: 3-Year Limited Warranty
DEVSLP
ECC
SMART
TRIM
Garbage Collection
Software: Plextool SSD Toolbox
Availability: March 2018
MSRP at 512GB = $148
Plextor's M8V is available in 128GB, 256GB and 512GB capacities. The M8V is available in the standard 2.5" x 7mm form factor as well as the M.2x2280 form factor.
Drive Details
Plextor M8V SATA III SSD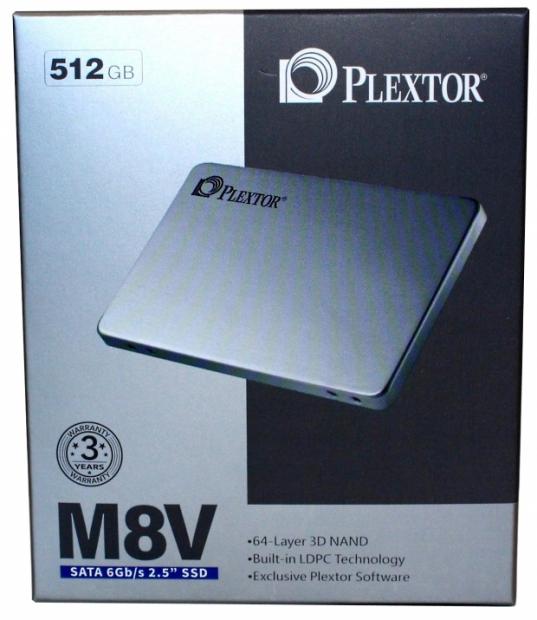 The M8V ships in an attractive silver and black themed box. There is an image of the enclosed drive on the front. The drive's capacity, form factor, warranty, flash array and SATA interface are advertised here.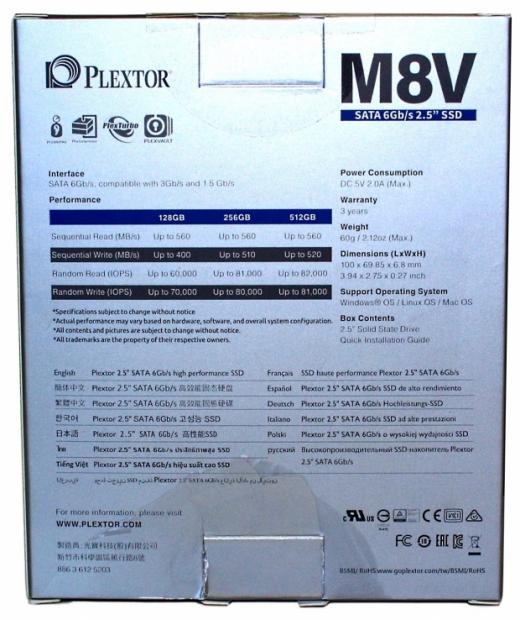 The rear of the packaging advertises the drive's maximum sequential and random performance.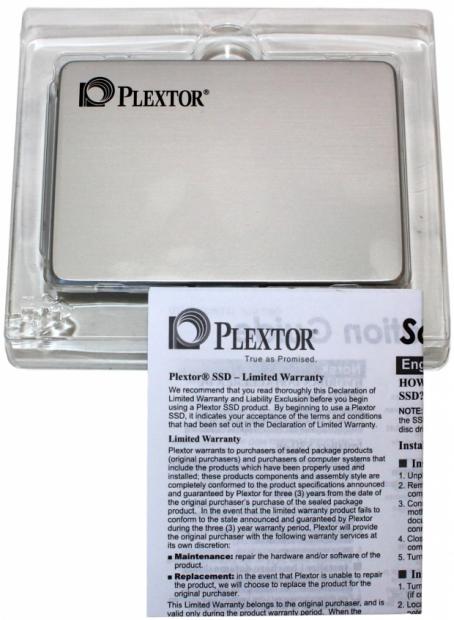 Included with the drive is a printed installation guide.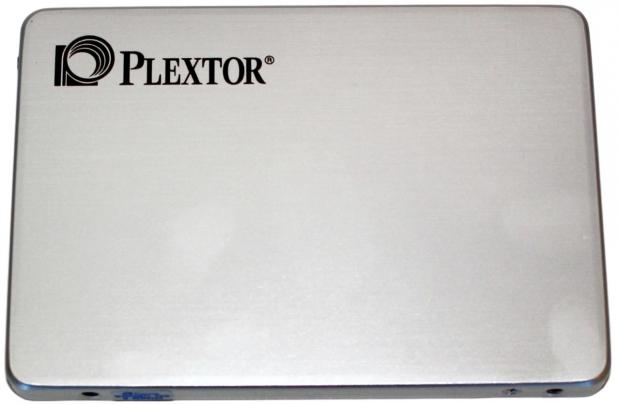 The top and sides of the enclosure is formed from natural colored sheet aluminum.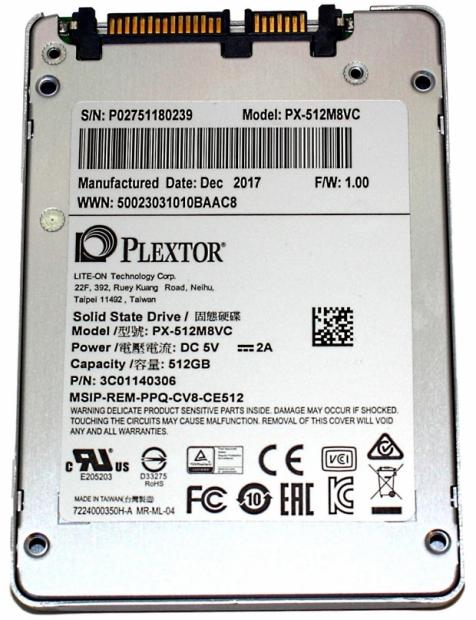 The bottom of the drive's enclosure is also formed from sheet aluminum. There is a manufacturers' label that lists the particulars of the SSD.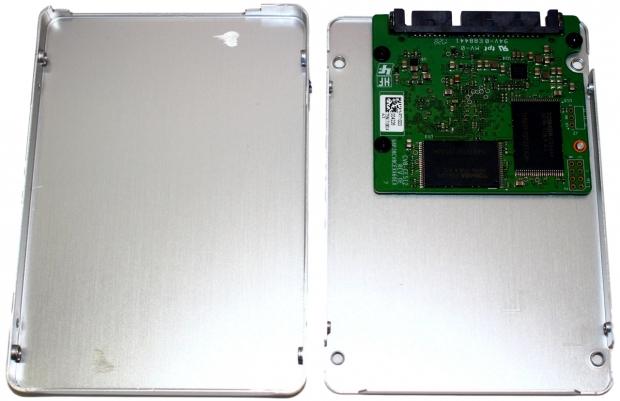 The enclosure is held together with four small screws.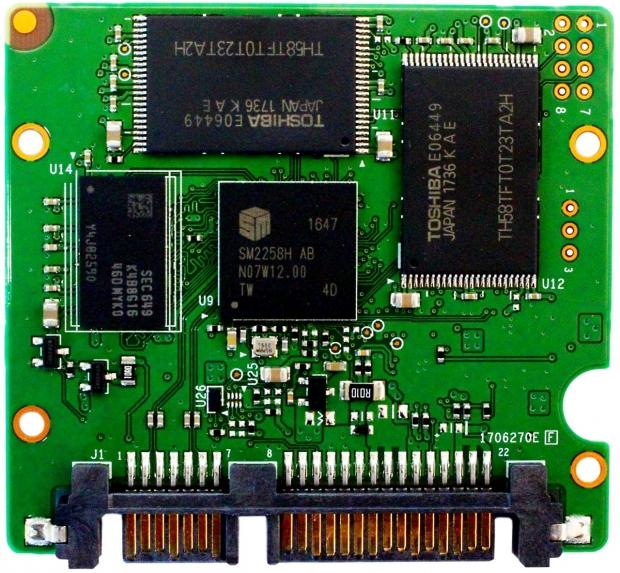 This side of the PCB houses the drive's SM2258 4-channel controller, a DDR3 DRAM cache package and two of the drive's four 128GB BiCS 3 TSOP flash packages. TSOP flash packages are a bit cheaper than BGA, which accounts for the M8V 512GB' low MSRP.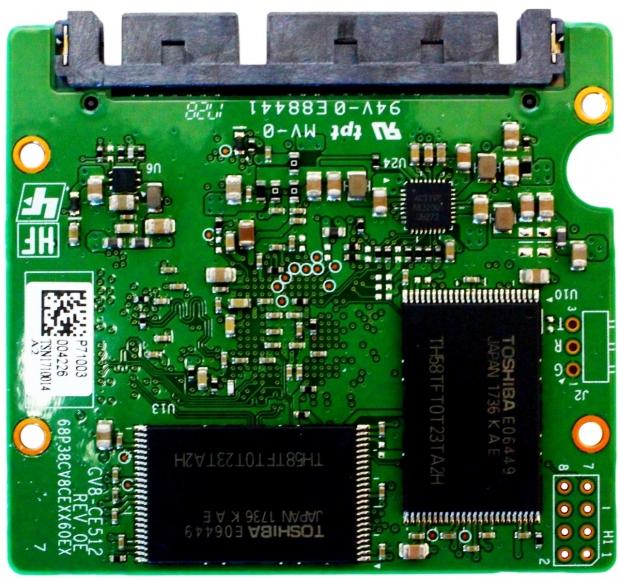 This side of the PCB houses two of the drive's four 128GB BiCS 3 TSOP flash packages.
Test System Setup and Properties
Jon's Consumer SSD Review Test System Specifications
We would like to thank ASRock, Crucial, Intel, Corsair, RamCity, IN WIN, and Seasonic for making our test system possible.
Drive Properties
Plextor M8V 512GB SATA III SSD OS Disk 75% Full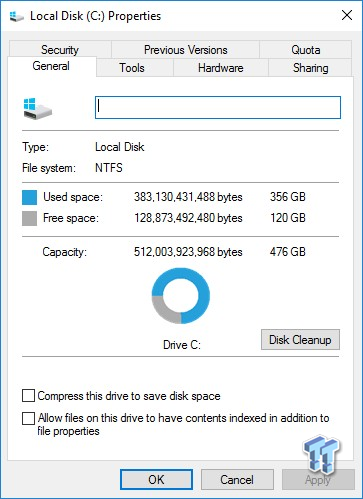 The majority of our testing is performed with our test drive as our boot volume. Our boot volume is 75% full for all OS Disk "C" drive testing to replicate a typical consumer OS volume implementation.
We feel that most of you will be utilizing your SSDs for your boot volume and that presenting you with results from an OS volume is more relevant than presenting you with empty secondary volume results. We are utilizing Windows 10 Pro 64-bit OS for all our testing. Empty Windows 10 benchmark screenshots are shown on our MOP (Maxed-Out Performance) page.
System settings: Cstates and Speed Stepping are both disabled in our system BIOS. Windows High-Performance power plan is enabled. Windows write caching is enabled, and Windows buffer flushing is disabled.
Please note: When comparing our results to those of other review sites, look at page 10 Maxed Out Performance-Windows 10 which is done with the disk empty.
Synthetic Benchmarks - ATTO & Anvil's
ATTO
Version and / or Patch Used: 2.47
ATTO is a timeless benchmark used to provide manufacturers with data used for marketing storage products. With ATTO, we are looking at maximum sequential performance with compressible data as well as the performance curve.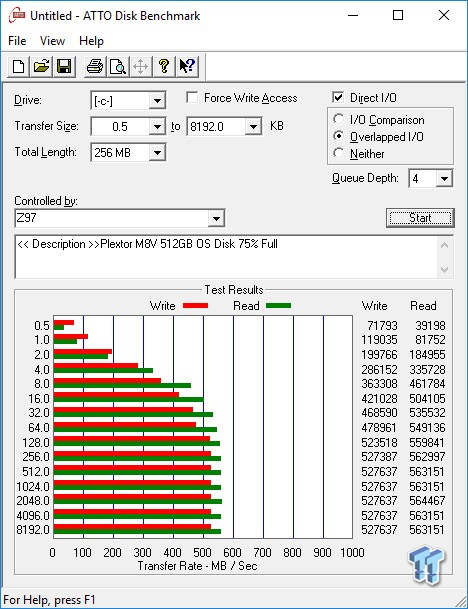 Compressible sequential read/write transfers max out at 564/527 MB/s. Both figures exceed factory specs. Keep in mind this is our OS volume, and it is filled to 75% of its total capacity.
Sequential Write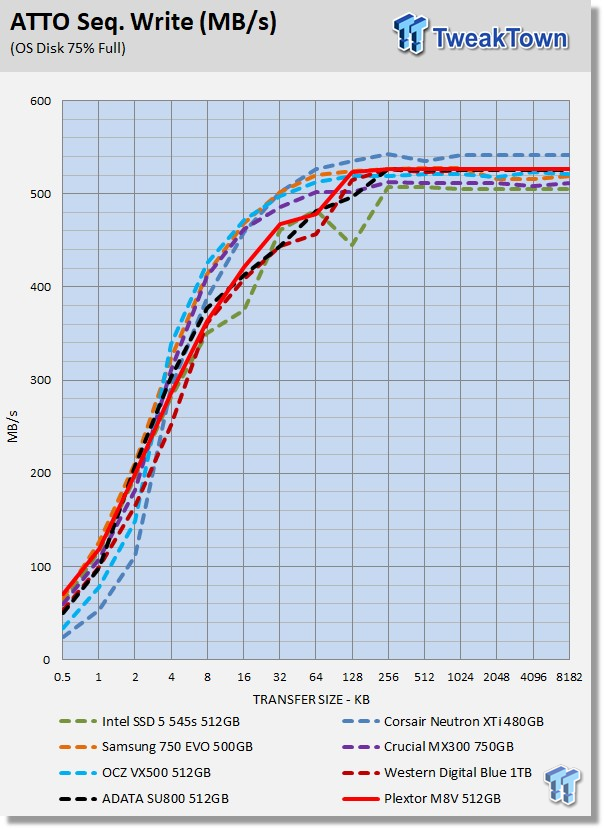 We would like to see a little smoother performance curve, but that may be the after effects of running this test within a couple of minutes of filling the drive. The M8V is delivering exceptional small file performance which is something we want to see. On the top end, the M8V is the best performing TLC equipped SSD in our test pool.
Sequential Read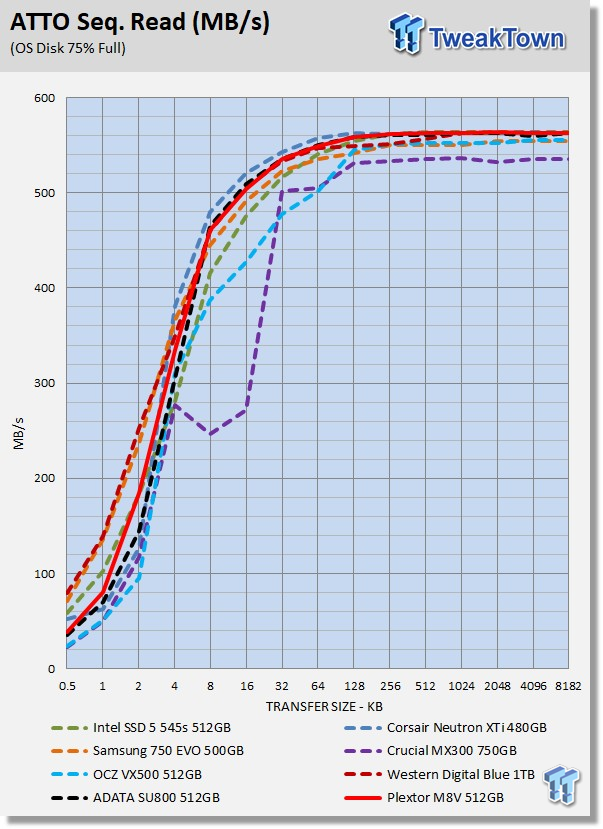 We are looking for a nice smooth performance curve and good small-file performance. The M8V delivers a smooth performance curve, but only average small-file performance. Here again, we see the M8V delivering top-flight performance on the big end.
Anvil Storage Utilities
Version and / or Patch Used: 1.1.0
Anvil's Storage Utilities is a storage benchmark designed to measure the storage performance of SSDs. The Standard Storage Benchmark performs a series of tests; you can run a full test or just the read or write test, or you can run a single test, i.e. 4K QD16. With Anvil's, we are focused on the total score.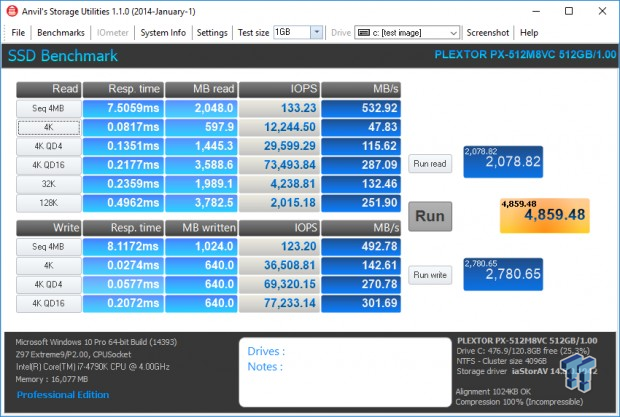 We consider 10K IOPS at QD1 random read a milestone that very few SSDs are capable of delivering. Only the best can do it. We are hitting over 12K in this metric. However as with all SSDs that use an SLC buffer this type of performance only manifests itself when data is being read from the drive's SLC cache.
Scoring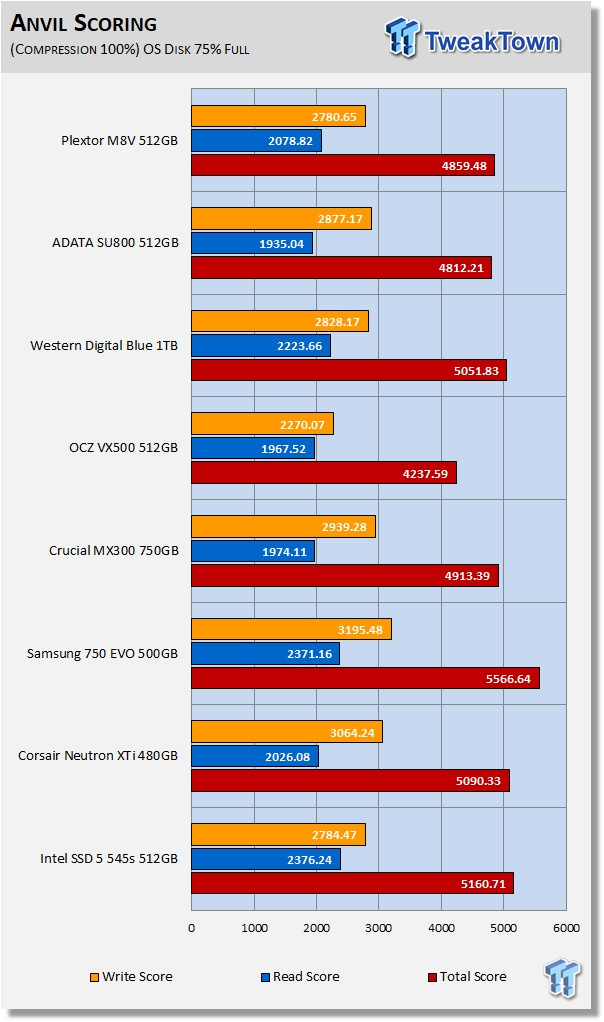 Anvil's scoring typically provides us with a good indication of a drive's overall synthetic performance. We like to see a score of over 5,000, but the M8V doesn't quite get there. The M8V is outscored by the majority of the SSDs in our test pool.
(Anvil) Read IOPS through Queue Depth Scale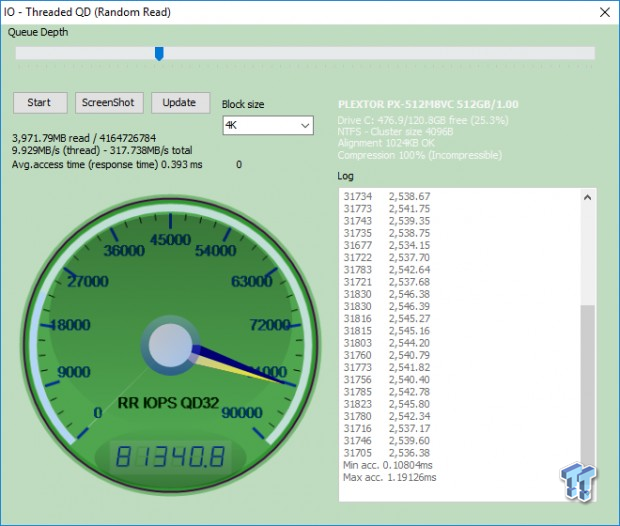 With a partition on the drive and 75% full, we are not quite able to hit factory max random read specs. Close enough though.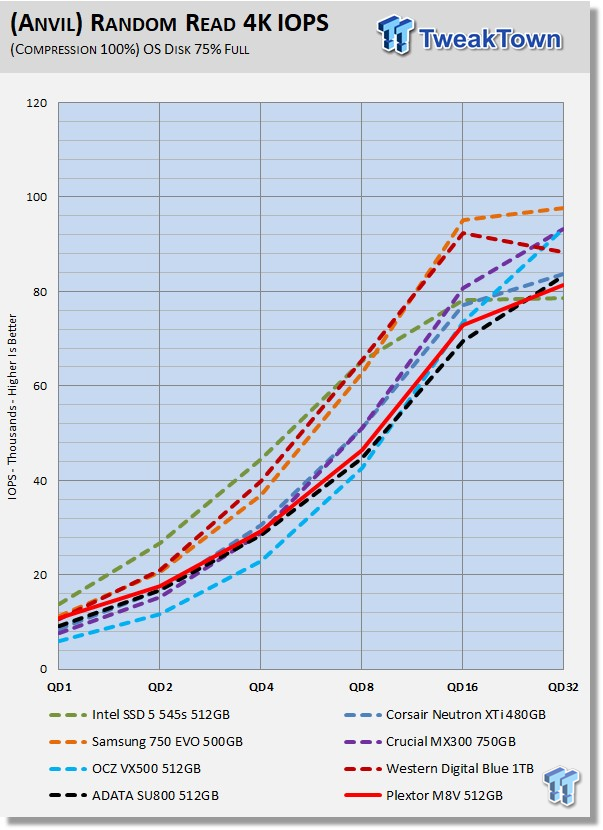 When reading random data, the M8V delivers performance that is on the lower-end of the spectrum. However, at QD1 which is by far the most important measurement, the M8V is really delivering the goods.
(Anvil) Write IOPS through Queue Scale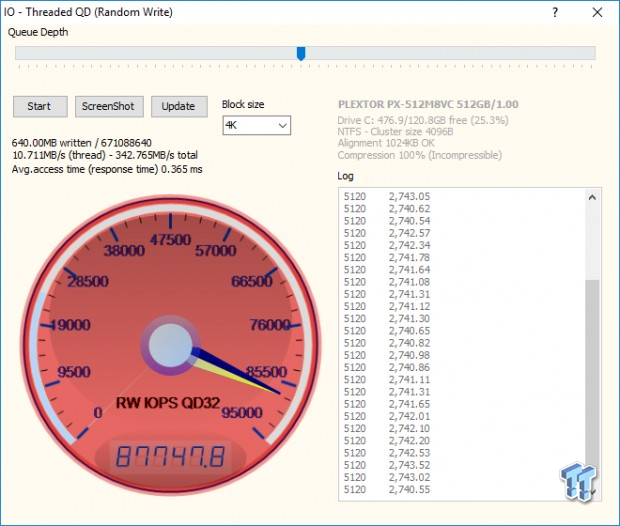 With a partition on the drive and 75% full, we are exceeding factory specs by almost 7K IOPS.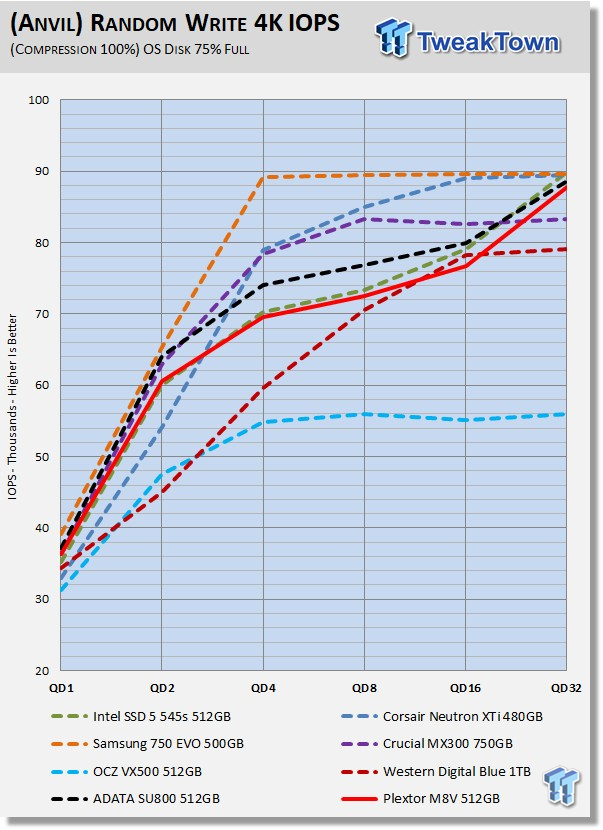 The M8V does well at QD1-2 but falls off at higher queue depths following closely the performance curve of Intel's 545s. Performance at QD1-2 is where it matters most, so with this in mind, the M8V is performing satisfactorily.
Synthetic Benchmarks – CDM & AS SSD
CrystalDiskMark
Version and / or Patch Used: 3.0 Technical Preview
CrystalDiskMark is disk benchmark software that allows us to benchmark 4k and 4k queue depths with accuracy. Note: Crystal Disk Mark 3.0 Technical Preview was used for these tests since it offers the ability to measure native command queuing at QD4. With this version of CDM, we are focused on 4K random performance at QD1 and QD4. Note sequential speeds on this version of CDM are measured at QD1.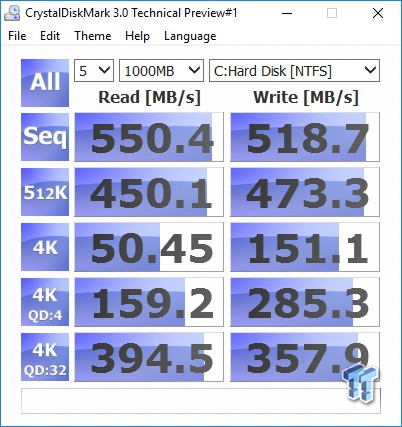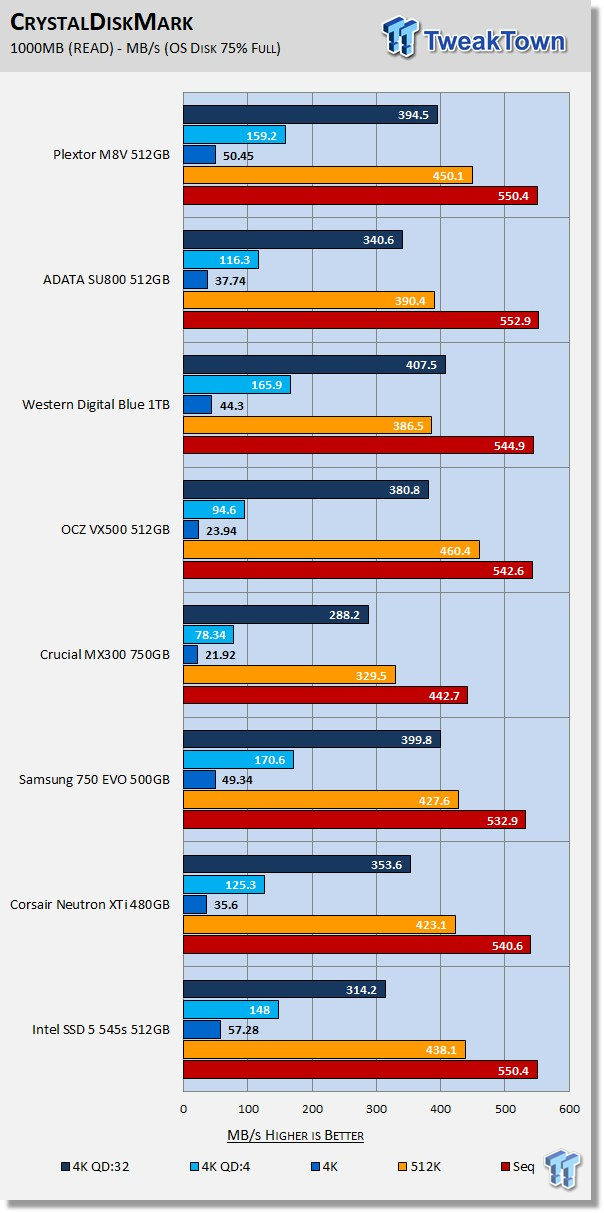 Focusing in on 4K QD1 and 4K QD4, we find the M8V serving up excellent performance that is a cut above most of the competing SSDs in our test pool. As a whole, the M8V is delivering excellent performance across the board.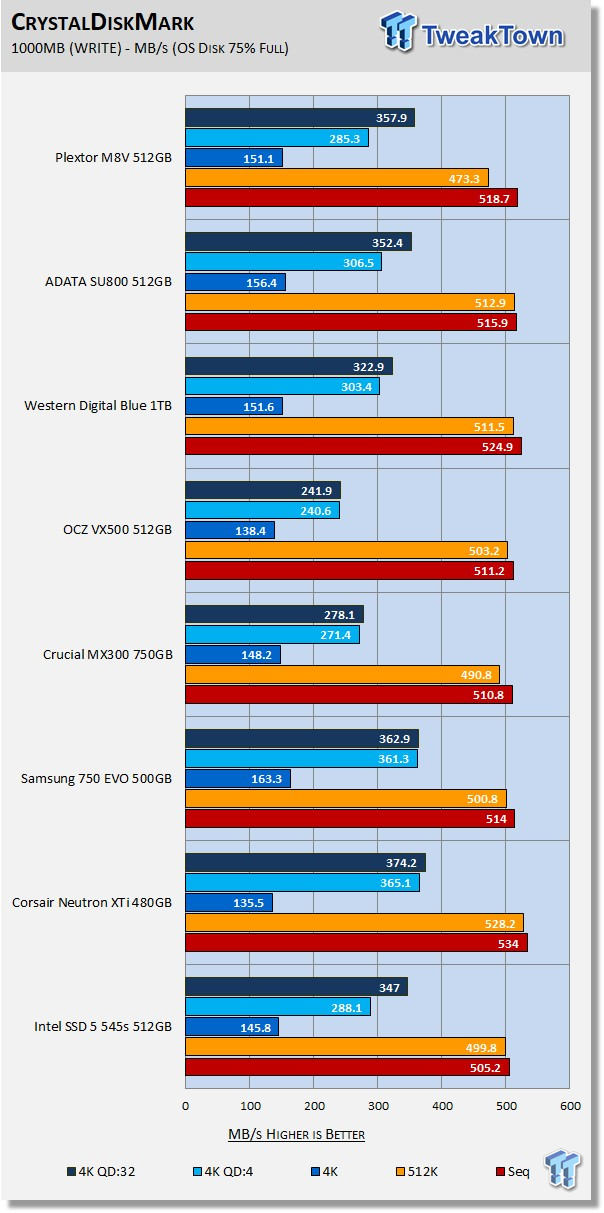 When writing random data at low queue depths, the Plextor M8V delivers above average performance. Taking a quick look at sequential write performance reveals the M8V delivering the highest rate of any of the TLC SSDs in our test pool.
AS SSD
Version and / or Patch Used: 1.8.5611.39791
AS SSD determines the performance of SSDs. The tool contains four synthetic as well as three practice tests. The synthetic tests are to determine the sequential and random read and write performance of the SSD. We focus on total score when evaluating AS SSD results.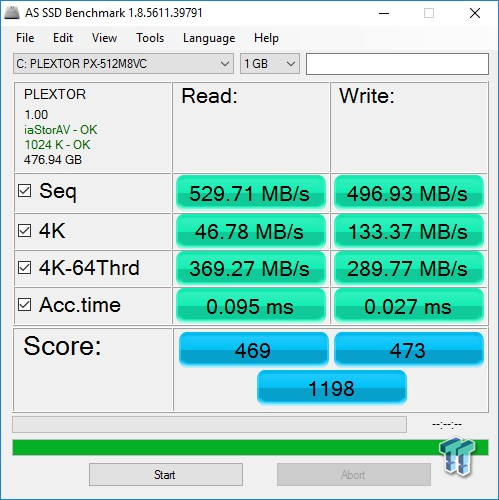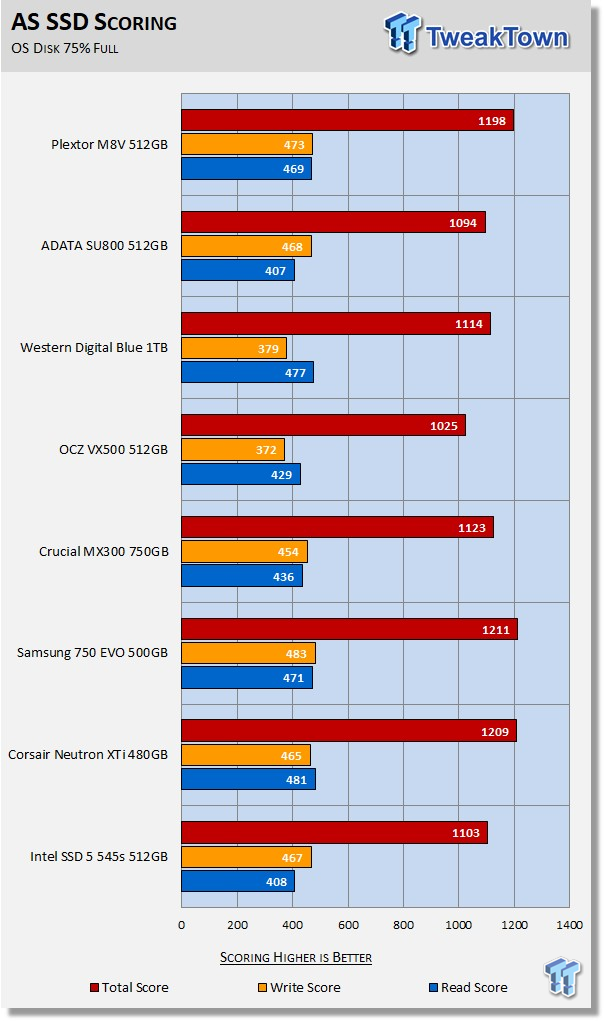 AS SSD is a demanding test. With AS SSD we are looking for a minimum score of 1000. The M8V passes this test with flying colors, delivering the third-best total score in our test pool. The read score is quite impressive, with only Samsung's 750 EVO delivering a higher score.
Benchmarks (OS) - Vantage, PCMark 7, PCMark 8 & More
Consumer Workloads
We categorize these tests as indicative of a moderate workload environment.
PCMark Vantage - Hard Disk Tests
Version and / or Patch Used: 1.2.0.0
The reason we like PCMark Vantage is because the recorded traces are played back without system stops. What we see is the raw performance of the drive. This allows us to see a marked difference between scoring that other trace-based benchmarks do not exhibit. An example of a marked difference in scoring on the same drive would be empty vs. filled vs. steady state.
We run Vantage three ways. The first run is with the OS drive 75% full to simulate a lightly used OS volume filled with data to an amount we feel is common for most users. The second run is with the OS volume written into a "Steady State" utilizing SNIA's guidelines.
Steady-state testing simulates a drive's performance similar to that of a drive that been subjected to consumer workloads for extensive amounts of time without time to recover. The third run is a Vantage HDD test with the test drive attached as an empty, lightly used secondary device.
OS Volume 75% Full - Lightly Used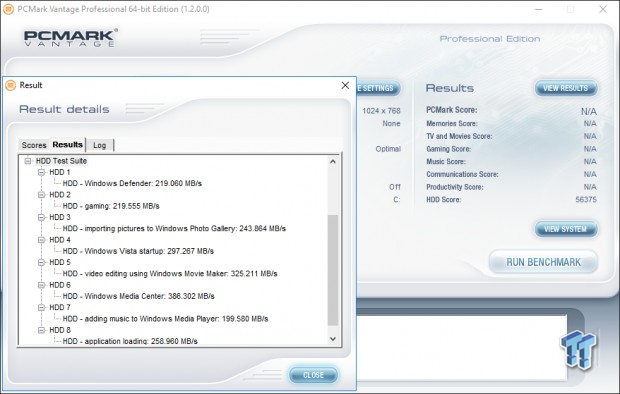 OS Volume 75% Full - Steady State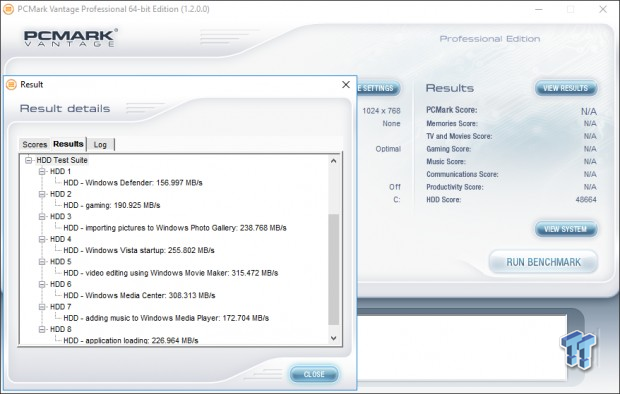 Secondary Volume Empty - FOB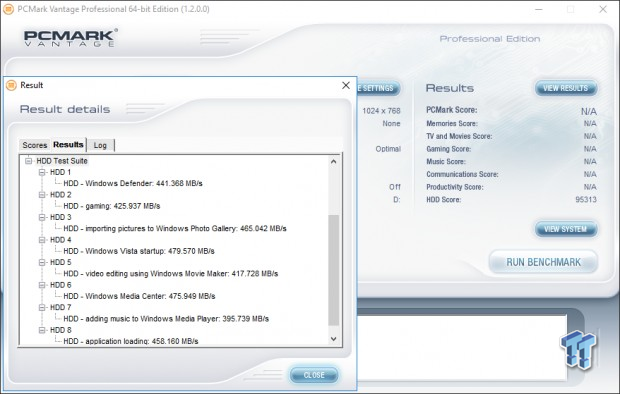 There's a big difference between an empty drive, one that's 75% full/used, and one that's in a steady state.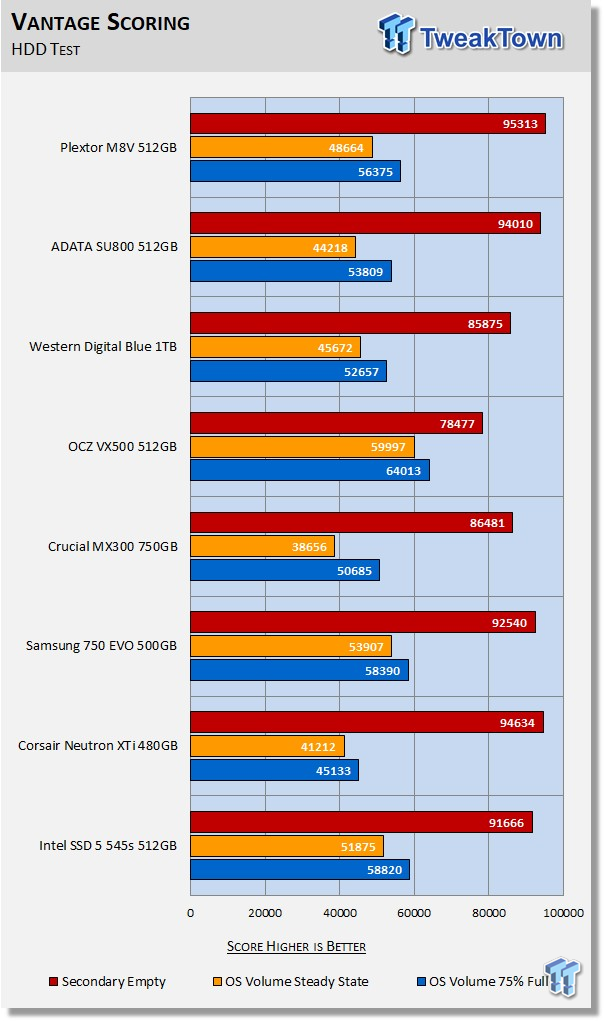 The important scores to pay attention to are "OS Volume Steady State" and "OS Volume 75% full." These two categories are most important because they are indicative of typical of consumer user states. When a drive is in a steady state, it means garbage collection is running at the same time it's reading/writing. This is exactly why we focus on steady-state performance. We are looking for a minimum score of 50K when the drive is in a steady state.
When empty, the M8V delivers a higher score than the competing drives in our test pool. Focusing in on 75% full and steady-state, we find the M8V delivering above average performance. Most TLC SSDs take a beating in a steady-state and the M8V is no exception.
PCMark 7 - System Storage
Version and / or Patch Used: 1.4.0
We will look to Raw System Storage scoring for evaluation because it's done without system stops and, therefore, allows us to see significant scoring differences between drives.
OS Volume 75% Full - Lightly Used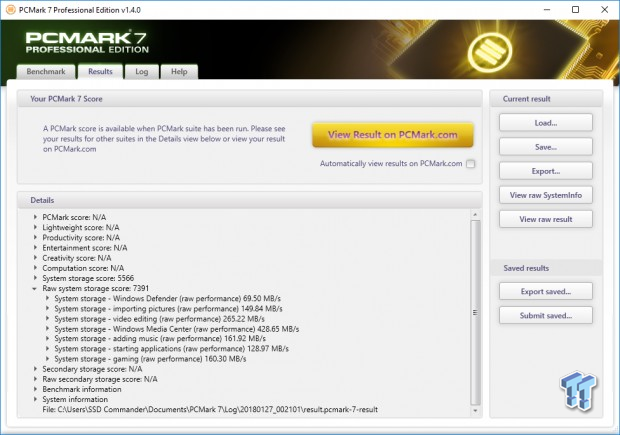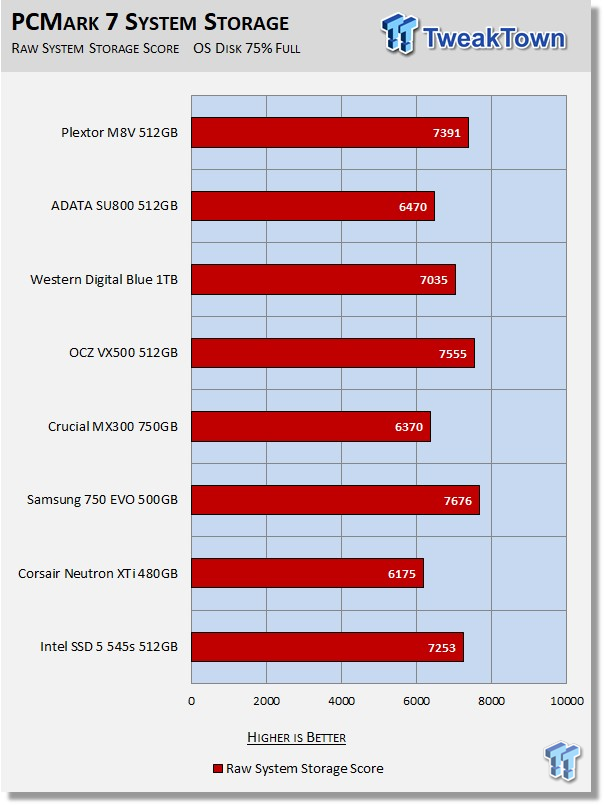 Whenever a SATA SSD scores 7K or above with PCMark 7 it is in an elite class. The M8V really delivers the goods. A score of 7,391 is very good, most notable it is better than we are getting from the 64-layer 3D NAND powered Intel 545s.
PCMark 8 - Storage Bandwidth
Version and / or Patch Used: 2.4.304
We use PCMark 8 Storage benchmark to test the performance of SSDs, HDDs, and hybrid drives with traces recorded from Adobe Creative Suite, Microsoft Office, and a selection of popular games. You can test the system drive or any other recognized storage device, including local external drives. Unlike synthetic storage tests, the PCMark 8 Storage benchmark highlights real-world performance differences between storage devices. We focus on the total score first and then storage bandwidth when evaluating PCMark 8 results.
OS Volume 75% Full - Lightly Used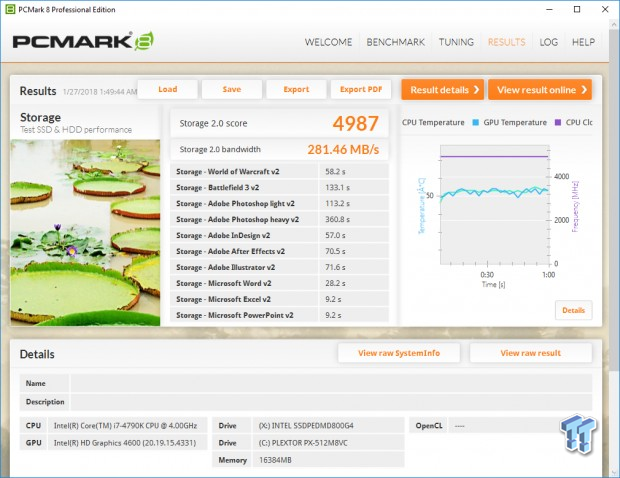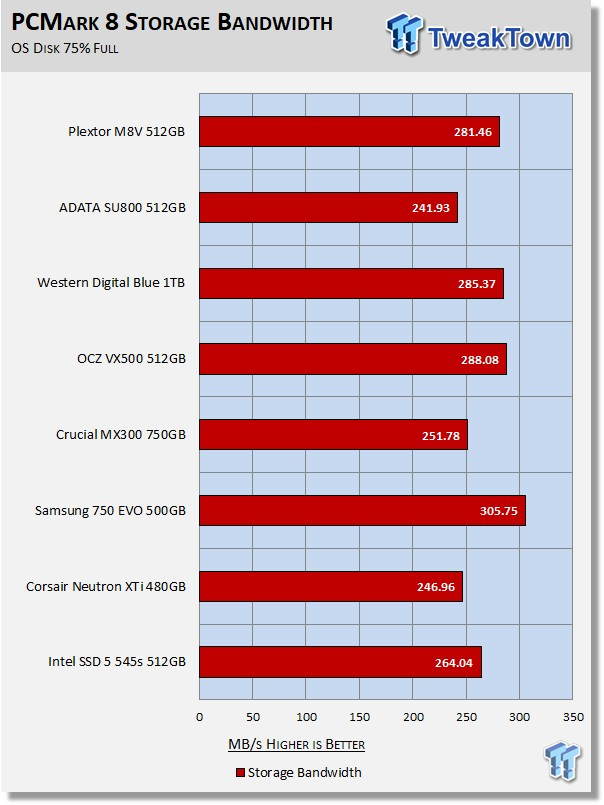 PCMark 8 is the most intensive moderate workload simulation we run. With respect to moderate workloads, this test is what we consider the best indicator of a drive's overall performance.
Here again, we find the M8V delivering better performance than Intel's 545s. This is significant because the M8V and the 545s use essentially the same SMI controller (SM2258 vs. SM2259). This indicates that the real difference comes down to the drive's flash array.
BAPCo SYSmark 2014 SE System Performance
Version and / or Patch Used: 2.0.0.70
SYSmark 2014 SE is considered the gold standard for testing system performance because it is an application-based benchmark. This test gives us the ultimate in real-world results because it utilizes actual applications running on the system, instead of playing back recorded traces. If you want to know what kind of impact a particular SSD will have on your system's overall performance; this test will show you.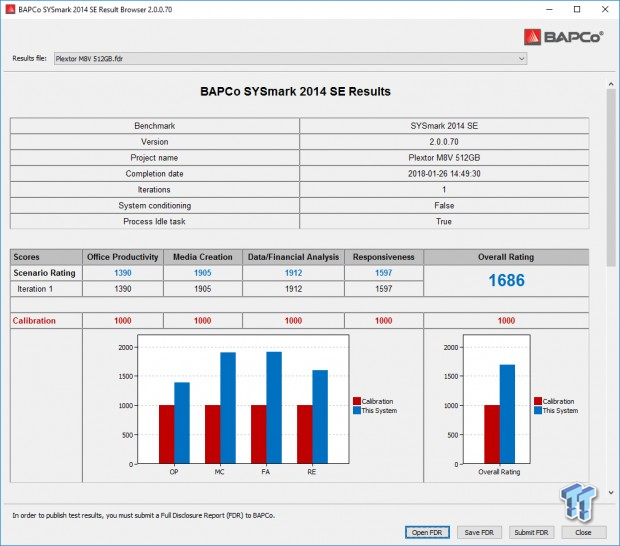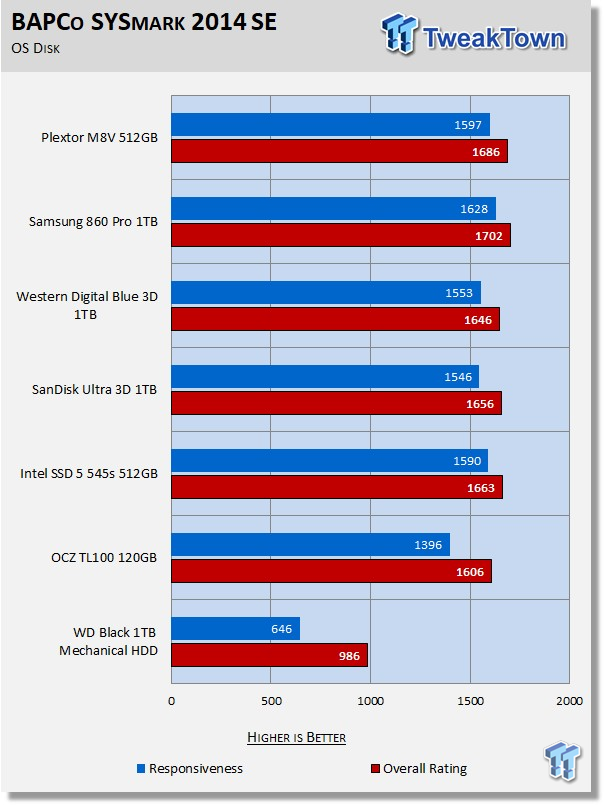 Our systems are much more powerful than the calibration system (1000-point baseline) used by BAPCo, so we ran an OCZ TL100 120GB SATA III SSD to establish a comparison point relative to our test systems. We will be running this test going forward and we will add drives to our chart as we test them.
We haven't tested a lot of SATA SSDs with SYSmark, but we can see that the M8V once again delivers the goods a little bit better than Intel's 545s. Of the SATA SSDs we've tested to this point, the M8V scores second best, beating the Intel 545s, SanDisk Ultra 3D and the WD Blue 3D.
Note: we are replacing our PCMark 8 Extended testing with SYSmark because we believe SYSmark is much more relevant for consumer SSD testing.
Benchmarks (Secondary) - IOPS, Response & Transfers
Iometer - Maximum IOPS
Version and / or Patch Used: Iometer 2014
We use Iometer to measure high queue depth performance. (No Partition)
Max IOPS Read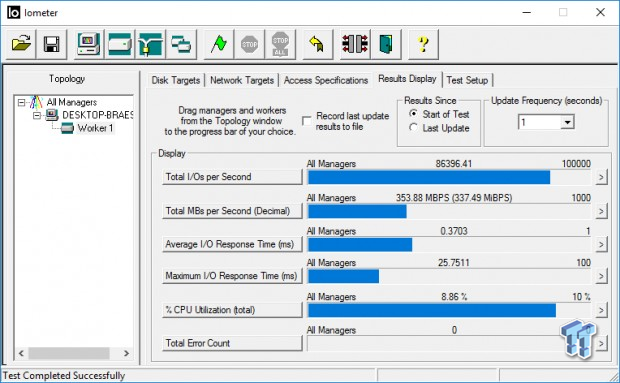 Max IOPS Write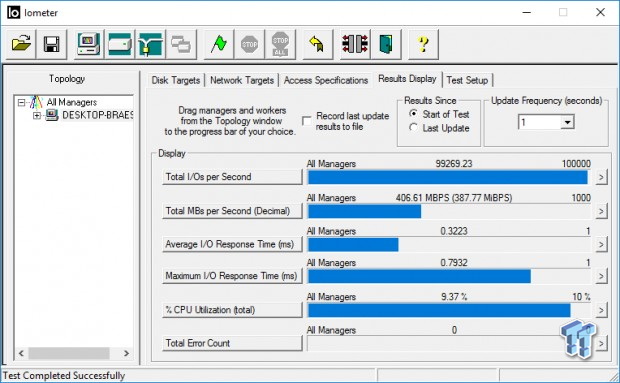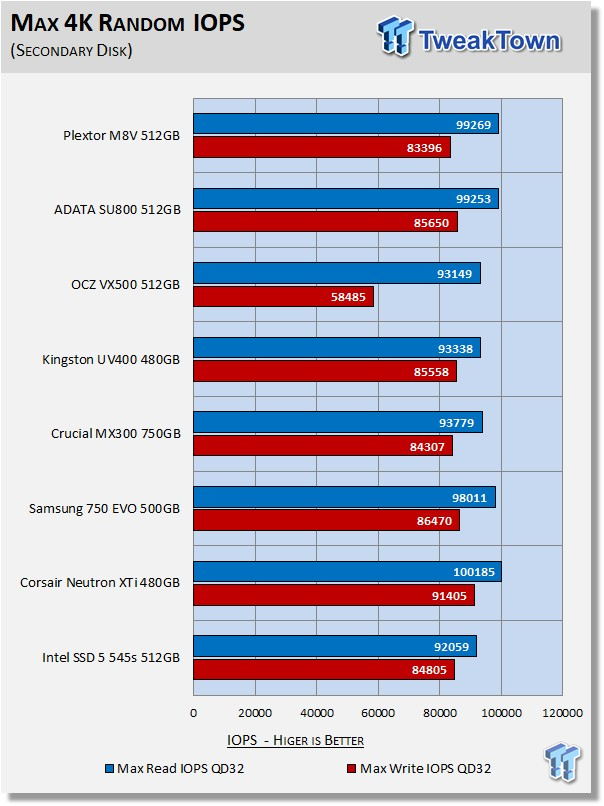 At QD32, we are exceeding factory max random specs by a significant amount.
Iometer - Disk Response
Version and / or Patch Used: Iometer 2014
We use Iometer to measure disk response times. Disk response times are measured at an industry accepted standard of 4K QD1 for both write and read. Each test runs twice for 30 seconds consecutively, with a 5-second ramp-up before each test. We partition the drive/array as a secondary device for this testing.
Avg. Write Response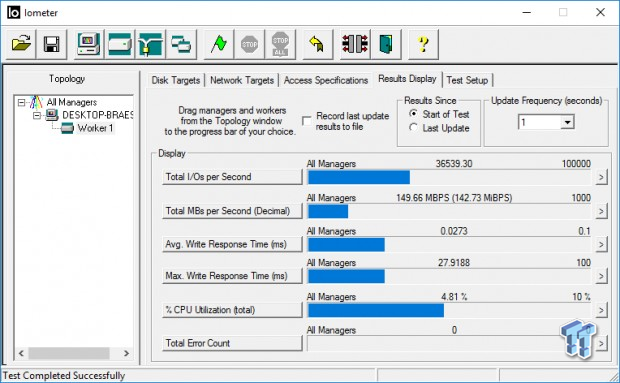 Avg. Read Response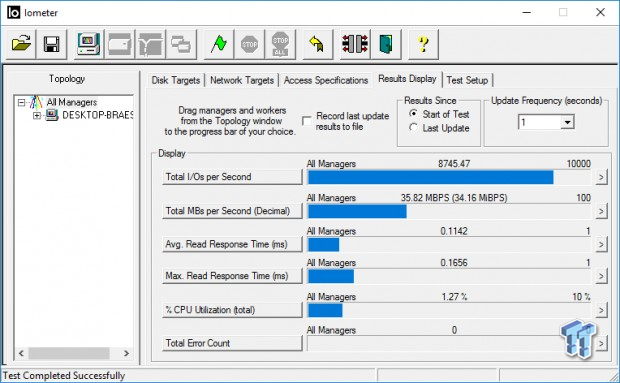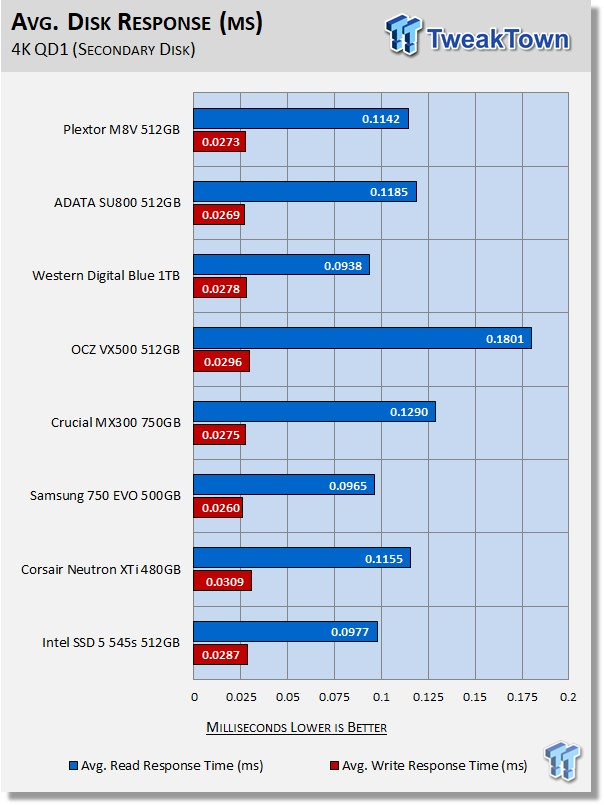 This testing bypasses any SLC buffer that may be on the drive when reading data which is why the M8V is delivering much lower random read performance at QD1 than we've seen from our other testing. Write response looks good, read response is average.
DiskBench - Directory Copy
Version and / or Patch Used: 2.6.2.0
We use DiskBench to time a 28.6GB block (9,882 files in 1,247 folders) composed primarily of incompressible sequential and random data as it's transferred from our DC P3700 PCIe NVME SSD to our test drive. We then read from a 6GB zip file that's part of our 28.6GB data block to determine the test drive's read transfer rate. Our system is restarted prior to the read test to clear any cached data, ensuring an accurate test result.
Write Transfer Rate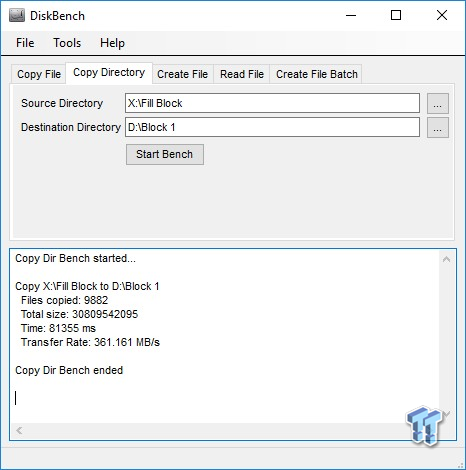 Read Transfer Rate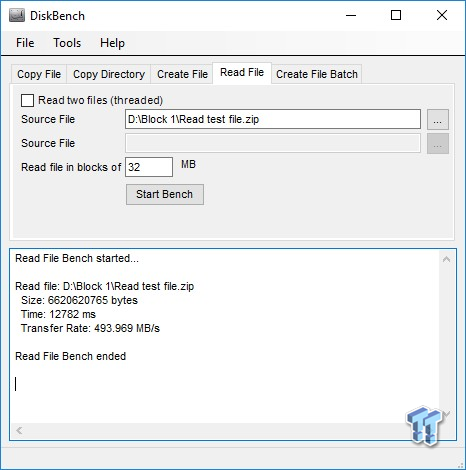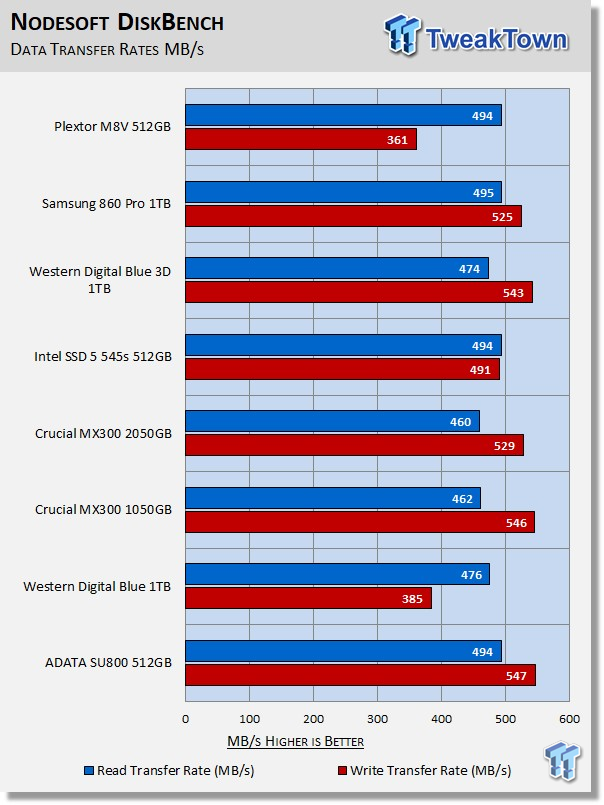 When testing write transfer rates we have a rule of thumb. If any SSD cannot achieve 200MB/s with our write transfer test, that SSD will not receive a TweakTown recommendation. There are many TLC SSDs that do not pass our minimum, but we didn't include those on our chart. Additionally, we recently updated to Windows 10 Anniversary Edition and with that update, sustained write performance greatly increased. This means our previous transfer tests cannot be compared with those run on the newer version on Windows 10. This is the reason we have drive's that differ from the rest of the review on this chart.
This test exposes the downside of lower performing TSOP packaged flash when writing a large block of data. The M8V reads data very fast but underperforms a bit when writing a large chunk of data. The M8V is the only SSD in our test pool that is using TSOP packaged flash. The good news is most users rarely write large blocks of data at one time. As we see it, this is a fair trade-off for the M8V's low price point.
Benchmarks – 70/30 Mixed Workload & Sustained Sequential Write
70/30 Mixed Workload Test (Sledgehammer)
Version and / or Patch Used: Iometer 2014
Heavy Workload Model
This test hammers a drive so hard we've dubbed it "Sledgehammer". Our 70/30 Mixed Workload test is designed to simulate a heavy-duty enthusiast/workstation steady-state environment. We feel that a mix of 70% read/30% write, full random 4K transfers best represents this type of user environment. Our test allows us to see the drive enter into and reach a steady state as the test progresses.
Phase one of the test preconditions the drive for 1 hour with 128K sequential writes at QD32. Phase two of the test runs a 70% read/30% write at QD32, full random 4K transfer workload on the drive for 1 hour. We log and chart (phase two) IOPS data at 5-second intervals for 1 hour (720 data points). 60 data points = 5 minutes.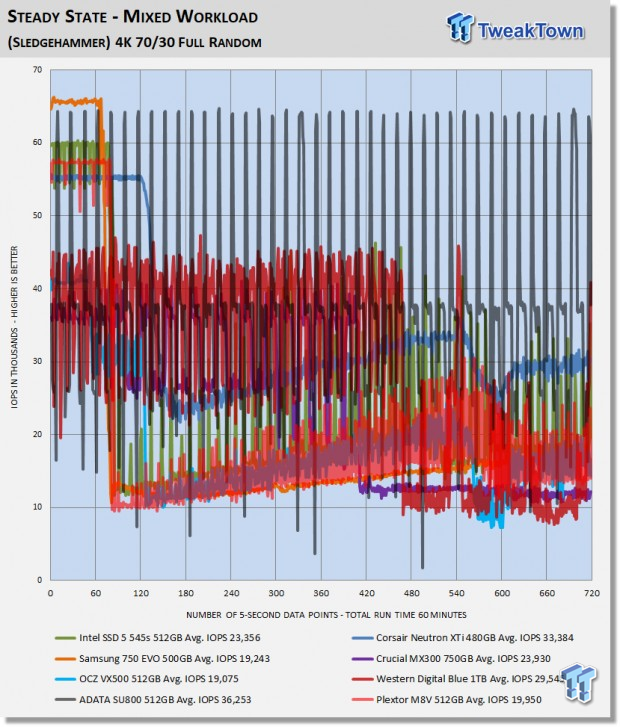 What we like about this test is that it reflects reality. Everything lines up, as it should. Consumer drives don't outperform Enterprise-Class SSDs that were designed for enterprise workloads. Consumer drives based on old technology are not outperforming modern Performance-Class SSDs, etc.
As expected, the M8V doesn't fare to well with this test. Most TLC SSDs have a hard time with sustained workloads of this nature. The M8V does manage to outperform Samsung's powerful 750 EVO and OCZ's DRAM-less MLC powered VX500. This time Intel's 545s gets the better of the M8V.
Sustained Sequential Write
Version and / or Patch Used: Iometer 2014
Heavy Workload Model
We write to the drive for 1 hour with 128K sequential writes at QD32. We log and chart megabytes per second data at 5-second intervals for 1 hour (720 data points). 60 data points = 5 minutes.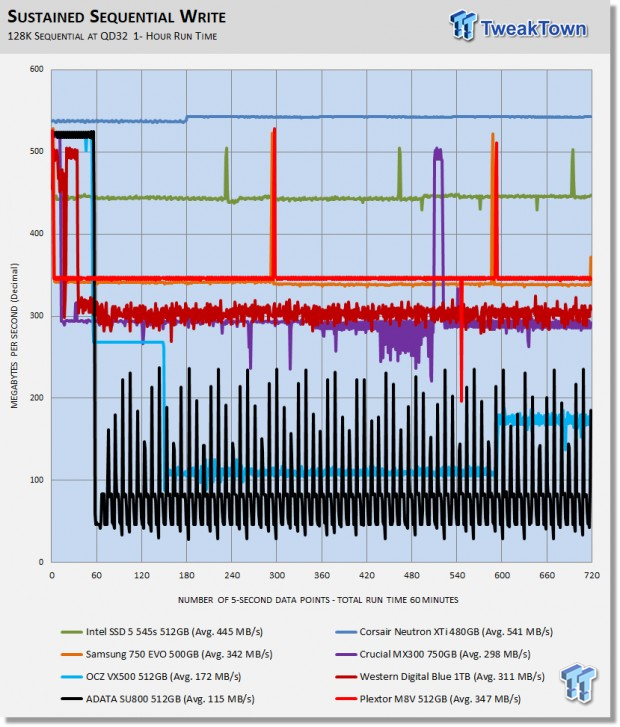 Even though the M8V's sustained sequential write performance isn't as high as we would like to see, it is still one of the best of the performers on our chart. For most TLC SSDs, lower sustained write performance is just the nature of the beast.
Maxed-Out Performance (MOP)
Maxed-Out Performance
This testing is just to see what the drive is capable of in an FOB (Fresh Out of Box) state under optimal conditions. We are utilizing empty volumes of Windows 10 64-bit and Windows Server 2008 R2 64-bit for this testing.
Windows 10 MOP
Plextor M8V 512GB SATA III SSD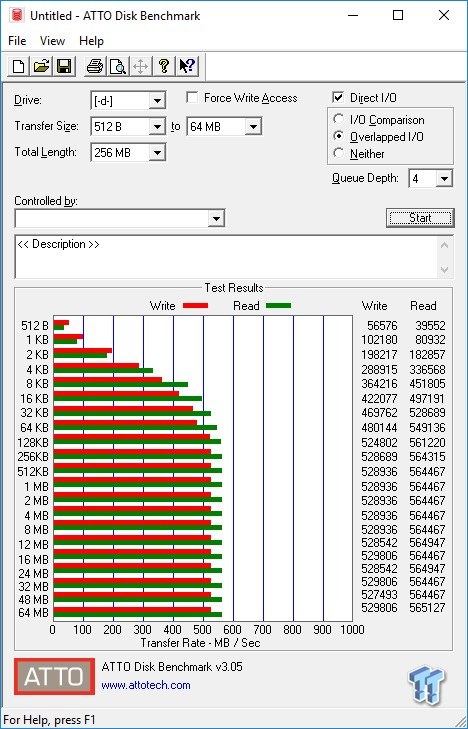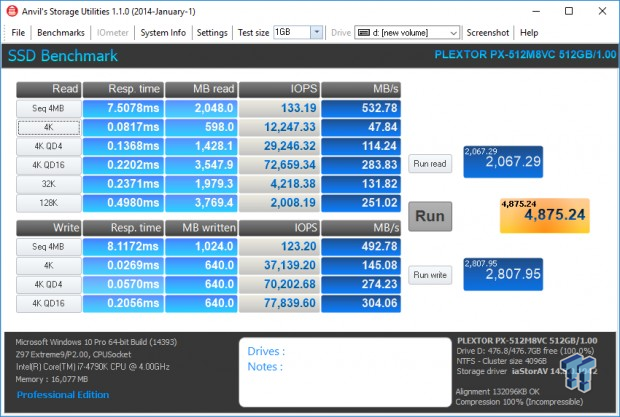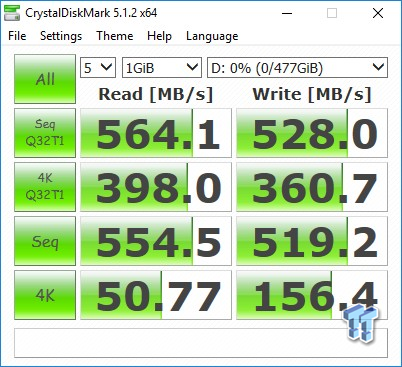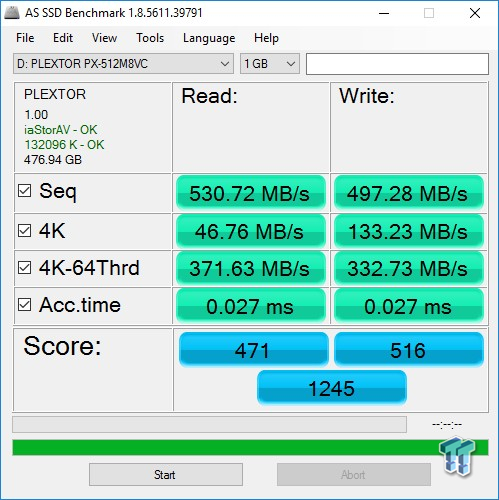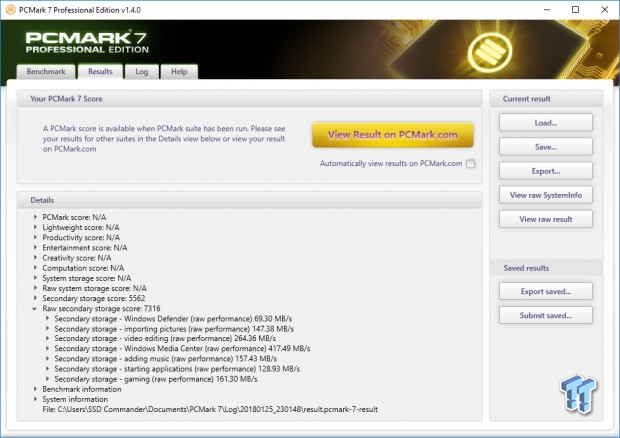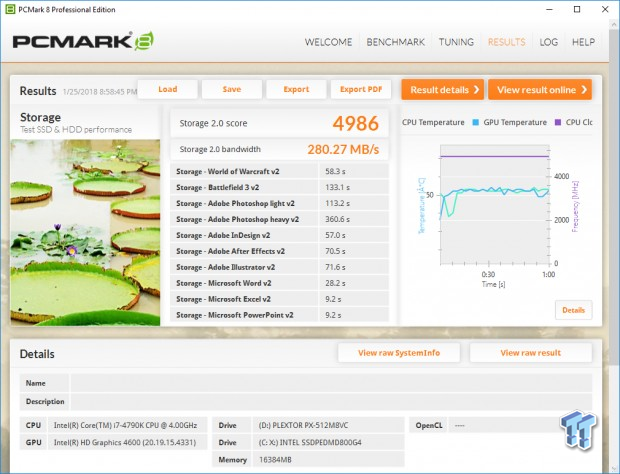 Windows Server 2008 R2 MOP
Plextor M8V 512GB SATA III SSD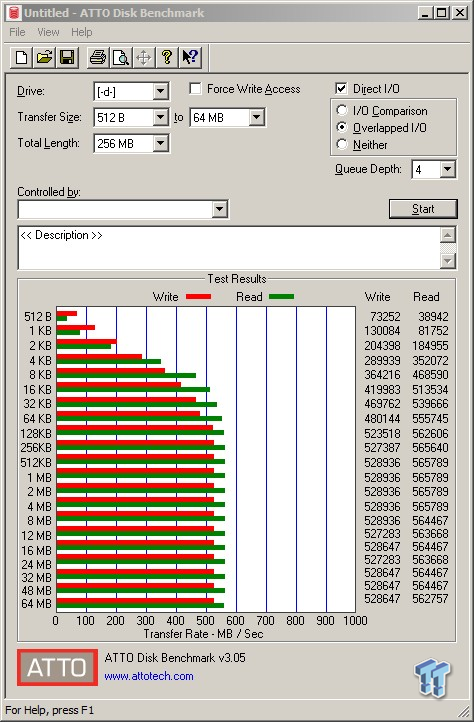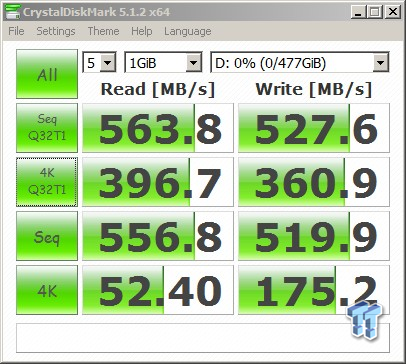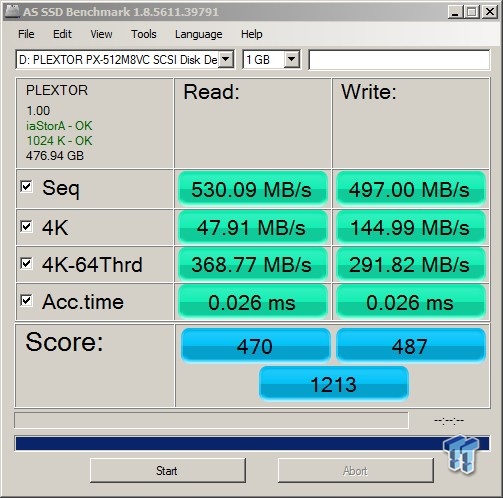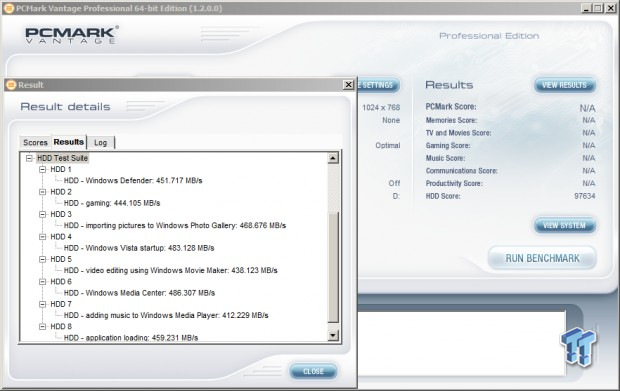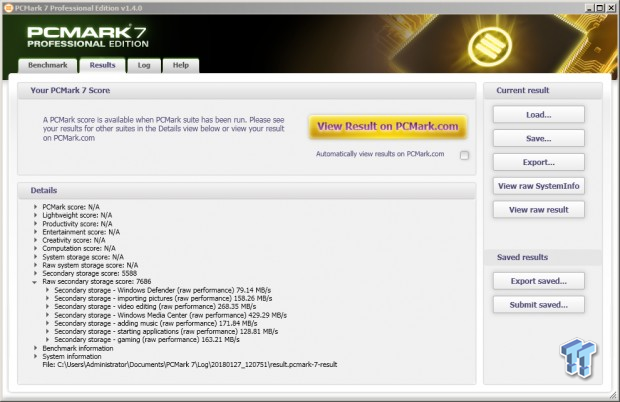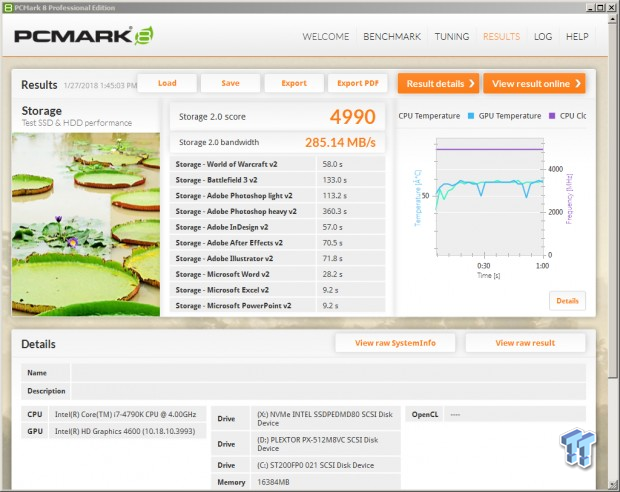 Windows Server 2008 R2 MOP With PlexTurbo
Plextor M8V 512GB SATA III SSD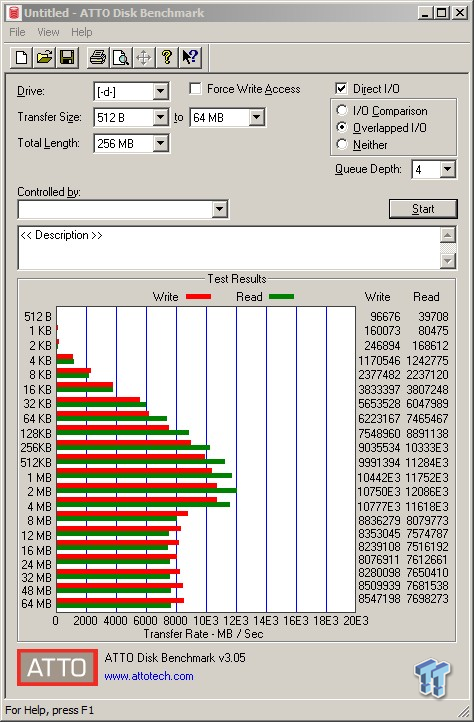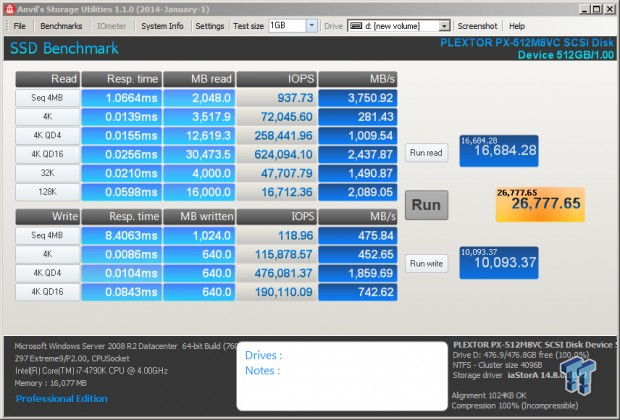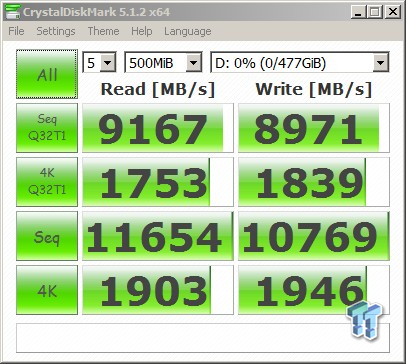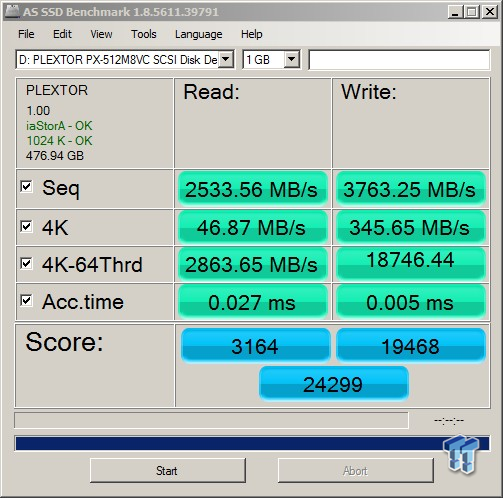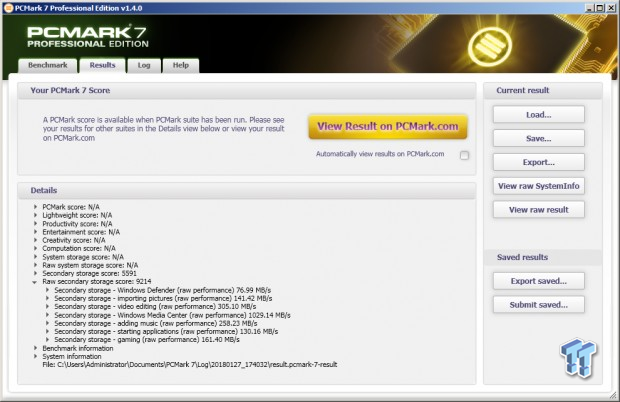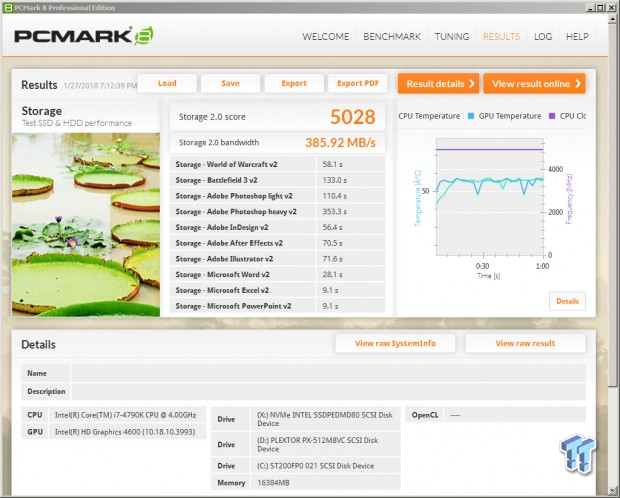 Final Thoughts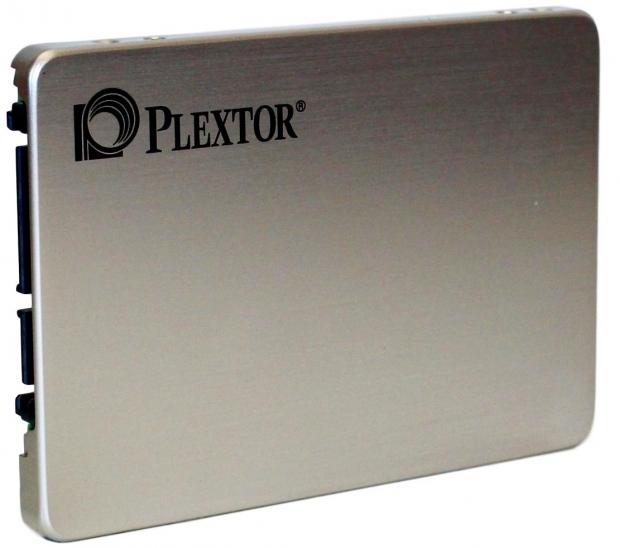 The M8V is proof positive of Plextor's commitment to continued support for the legacy SATA interface. The M8V takes advantage of the newest 64-layer flash technology, ensuring better performance at a lower price point than planar or 32-layer flash can deliver. At this point in SATA SSD evolution, the legacy bus technology has been pretty much maxed out. So, this means that going forward price and capacity become a more important factor than absolute performance when considering a SATA SSD upgrade.
Looking back at our testing results, we see that the Plextor M8V delivers excellent sequential read/write performance. Some of our tests showed the M8V to have less than stellar overall random performance at higher queue depths. But, the M8V more offsets this by delivering exceptional low queue depth performance when reading from the drives PlexNitro SLC layer. Looking at our real-world simulations reveals another side of the M8V, and that is exceptional moderate workload performance. Most impressive was the M8V outperforming three out of the four competing 64-layer flash-based SSDs in our test pool when running SYSmark.
We feel that the Plextor M8V represents one of the better values on the market today. With an opening MSRP of just $148 the Plextor M8V 512GB is priced to our liking and it does come with several exclusive value-adds including PlexTurbo, PlexCompressor, PlexVault and Plextool making it an even more attractive option.
In terms of user experience, the M8V delivered the goods. Even when running as a system disk 75% full, the M8V still performed almost as well as it does empty. This is what we want from an SSD, great performance in a typical user setting. The M8V performed well easily handling any task we threw at it which is why the Plextor M8V 512GB SATA III SSD is TweakTown recommended.
Pros:
Overall Performance

Low Opening MSRP

Exclusive Software
Cons: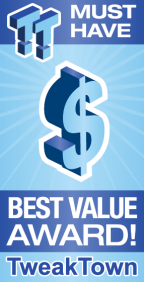 | | |
| --- | --- |
| Performance | 90% |
| Quality | 95% |
| Features | 95% |
| Value | 95% |
The Bottom Line: With its strong price point, exclusive features, and strong performance, the Plextor M8V represents one of the best values on the market today.
PRICING: You can find products similar to this one for sale below.

United States: Find other tech and computer products like this over at Amazon.com

United Kingdom: Find other tech and computer products like this over at Amazon.co.uk

Australia: Find other tech and computer products like this over at Amazon.com.au

Canada: Find other tech and computer products like this over at Amazon.ca

Deutschland: Finde andere Technik- und Computerprodukte wie dieses auf Amazon.de
We openly invite the companies who provide us with review samples / who are mentioned or discussed to express their opinion. If any company representative wishes to respond, we will publish the response here. Please contact us if you wish to respond.
Related Tags