BIOSTAR Z370GT6 Motherboard Review
BIOSTAR's Z370GT6 motherboard based on Intel's Z370 chipset is the next in line to get tested. Join us as we take a look at it.
Published Tue, Dec 5 2017 5:08 PM CST
|
Updated Thu, Jul 30 2020 4:20 PM CDT
Introduction, Specifications, and Pricing
Our first BIOSTAR Z370 motherboard review is finally here, and you are about to discover what BIOSTAR has in store for people who want to jump on the Coffee Lake bandwagon and need a Z370 motherboard. While the motherboard's chipset (PCH) is loaded with PCI-E lanes and features, motherboard vendors have gone above the call of duty and added in many unique features, extra features, and custom designs to make their product stand out.
BIOSTAR is known for offering high-value propositions at a very reasonable price and with unique styling, so let us see what they have in store today!
Specifications
The Z370GT6 offers two M.2 slots, USB 3.1 on the rear IO, Intel Gbit LAN, USB 3.0, and SATA6Gb/s.
Pricing
The Z370GT6 is currently not released yet.
Packaging and Z370GT6 Overview
Packaging and Overview
The box for the Z370GT6 has unique box art designed to showcase the motherboard's RGB LED capabilities. Packaging is decent and does a good job of protecting the motherboard.
The accessory package includes four SATA6Gb/s cables, IO shield, driver DVD, and manual.
The Z370GT6 offers five PWM headers on the motherboard for fan control; they are circled in red. The headers can be configured through the UEFI or BIOSTAR's Racing utility in Windows. They can also power voltage mode fans, but without control. The motherboard has a unique color theme. It has a slightly brown tinted PCB with gold accents on the PCB and the heat sinks. The core and iGPU VRMs have heat sinks, and the design is unique. The back of the motherboard's PCB is bare of components, and for some reason, BIOSTAR has used a lot of solder, which looks to expend quality.
The rear IO panel features PS/2 Keyboard, two USB 2.0 ports, four USB 3.0 ports, USB 3.1 type-C, HDMI, DVI, 1Gbit LAN, and 7.1 audio outputs.
The PCI-E layout is simple, the first and second x16 slots that have reinforced shields, operate in x16/x0 or x8/x8 modes. The bottommost x16 slot is x4 PCI-E 3.0. There are also three x1 PCI-E 3.0 slots wired to the PCH. There are two M.2 slots, the bottom slot has an M.2 heat sink, and it only takes in PCI-E based M.2 drives and supports up to 32Gbps. The bottom M.2 slot that has the heat sink and shares its bandwidth with the last x16 (x4 electrical) slot.
The top M.2 slot operates at x4 PCI-E 3.0 or in SATA mode, but in SATA mode, SATA3_1 is disabled. The motherboard has six SATA ports located right below the 24-pin connector, and they are angled straight up.
We also get two USB 3.0 internal headers at the bottom of the motherboard. The motherboard has OC features such as a POST code display, LN2 Mode (down-gear to x8 on the CPU) switch, capacitive touch power, reset, Sport, and ECO buttons. We also get two RGB LED headers at the top right corner of the motherboard.
We find a front panel header in the bottom right corner of the motherboard. Right above the front panel header is a clear CMOS header and to the left is a dual BIOS switch. On the bottom row of the motherboard, we find two USB 2.0 headers as well as HD audio and S/PDIF headers.
While the PCH heat sink uses plastic pushpins, the two VRM heat sinks are screwed into the motherboard, and they make solid contact with the MOSFETs.
BIOSTAR Z370GT6 Circuit Analysis
Circuit Analysis
The Z370GT6 shows us the goods.
The phases we see here are split into an 8+2 phase configuration for the CPU VCore and the iGPU voltage rail. We get four phases doubled to eight through doubling the number of VRM power stage components on each driver output, and we get two true phases for the iGPU from the PWM controller. The capacitors are rated 5K hours, but we don't know the rating on the inductors.
The VRM on this motherboard uses Intersil's ISL95866 4+3 phase PWM controller. It offers four phases for the CPU VCore, and on that rail, it has two integrated driver outputs, and BIOSTAR adds two more drivers (ISL6208) for a total of four driver outputs. These dour driver outputs go to two sets of power stage components. The Sinowpower SM4364 and SM4377 MOSFETs are used as low-side and high-side MOSFETs, these are the same we found on some Z170 motherboards from BIOSTAR.
Each power stage gets ones high-side and one low-side MOSFET if we consider each power stage and individual phase by inductor count. The VCCSA uses a single phase made up of the same MOSFETs. However, some other voltage rails use Richtek RT9045 linear regulators, and we also find some voltage console chips from UPI (UP1811) to monitor system parameters.
A UPI Semiconductor uP1514 is used as the PWM controller with integrated driver for the memory VRM, which is made up of three SM4377 MOSFETs (two low sides and one high side).
BIOSTAR Z370GT6 Circuit Analysis Continued
Z370GT6 Circuit Analysis Continued
The Z370GT6 has a Realtek ALC1220 codec with integrated amplifier under an EMI shield. We also find two sense amplifier (I think) as well as four Nippon Chemicon audio capacitors as well as a physical PCB divide to improve audio quality.
An Intel i219v PHY in combination with the MAC built into the PCH provides 1Gbit Intel LAN. A Super LAN protection module is used to protect the circuitry from voltage spikes over Ethernet. A single ASMedia ASM2142 is used as the controller for the rear USB 3.1 type-C port.
I found two ASMedia ASM1464, which are USB 3.0 re-drivers, that should improve rear USB signaling. We also find two ELAN capacitive touchpad controllers, one is used for the button panel, and I believe the second one is being repurposed for RGB LED headers.
An ITE IT8625E Super IO controller is used for system monitoring, fan control, and the PS/2 keyboard port on the rear IO. Two 64Mbit/8MB BIOS ROMs are used for dual BIOS.
We also find an NXP level shifter to provide DVI/HDMI on the rear IO. Multiple ASMedia ASM1480 quick switches are used to switch around PCI-E lanes.
BIOS and Software
BIOS
BIOSTAR went and redid their UEFI for their new Z370 series motherboards. The new UEFI has a new look and feel to it, but the layout and menu naming has stayed the same. They added new fan control, and it's significantly better than before. It's actually comparable to many of the other Z370 motherboards on the market and offers a GUI with a graph, DC/PWM mode switch, and individual fan control.
We also found RGB LED support inside the UEFI. To access RGB LED or fan control you need to press F6 or F5. The ONE menu is where you find overclocking settings, but AVX offset ratios are missing.
Software
BIOSTAR includes a Racing program that offers fan control, overclocking, audio control, RGB LED support, and an HW monitor tab. You also get the BIOS Update program and eHot-Line.
Test System Setup
Steven's Motherboard Test System Specifications
The Z370GT6 features a strip of RGB LEDs positioned up and down the audio section of the PCB. It shines bright LEDs right out from the GPU area. The top of the motherboard has no RGBs, except for some light emanating from the touch panel and POST code display.
Overclocking
Overclocking Results
CPU Overclocking
The Z370GT6 is an interesting case. It has the settings for us to overclock our CPU with 1.3v, multiplier support, and XMP, but it seems we must also increase power thresholds. However, our test is HandBrake, and it uses AVX. It seems that BIOSTAR has programmed in high AVX offset ratios, and we couldn't find where to change those in the UEFI.
BIOSTAR should add them in, or increase the current limit on the VRMs, as that could also be a culprit. Our CPU could boot at 4.9GHz but would throttle down with AVX loads (presumably because of an offset).
Compatible Memory Overclocking Kits
In this section, I overclock four memory kits only using XMP, if the kit works then the results are below. I welcome memory vendors to send in their kits to be tested on each motherboard.
The motherboard wasn't able to easily overclock our kits with XMP. Manually overclock works better than XMP right now.
CPU, Memory, and System Benchmarks
CINEBENCH 11.5
wPrime
AIDA64 FLOPS and IOPS
AIDA64 Memory
ScienceMark
HandBrake
3DMark: Fire Strike
3DMark: Cloud Gate
ResidentEvil 6
These tests are done out of the box, so I have decided to include whether or not the vendor has implemented some type of default overclocking, such as multi-core enhancement. Multi-core enhancement is when the motherboard vendor pushes all cores to maximum turbo speeds instead of just one or two.
MCE, as I will call it, can cause instability if your CPU isn't great, and we would hope vendors would have it off by default, but it does offer a free performance boost out of the box. Some motherboards also might increase the BCLK a bit over stock to score higher, and some might even mess with the turbo boost table. If we standardize settings, then most motherboards should perform the same, but in this case, we haven't.
Overall, the Z370GT6 looks like it's strictly abiding by Intel's specified multiplier levels for the CPU, and that is why once in a while it seems to score slightly lower. However, it's performance is solid and there are no issues in regards to performance.
System IO Benchmarks
CrystalDiskMark SATA6G:
CrystalDiskMark M.2:
ixChariot Network Throughput:
The Z370GT6's M.2 and SATA performance are excellent. Network performance is also very strong, probably because of the Intel NIC.
Audio RMAA 5.5:
I disable all audio features, set the correct bitrates, and then test the audio with a loopback test.
Sound Judgment by Ear: Very Good, however, BIOSTAR went above and beyond to isolate the audio hardware on the motherboard, and I would say audio is extremely good (closer to excellent). There are five ratings for audio: 1. Problems, 2. Okay, 3. Acceptable, 4. Very good, 5. Excellent
Thermal Imaging and Power Consumption
System power is measured at the wall with an AC power meter.
Note on Thermal Images: In the temperature section, we use our Seek thermal imaging camera to capture the surface temperatures of major components on the board. I look at the VRM and then all other things that light up the screen. If there is something to worry about, then I will state it. Otherwise, I will just show the hotter running parts of the board for fun. Unless some component is over 80-90C, then there isn't anything to worry about.
All systems will act differently, so I will look for commonalities, such as how far from the VRM the heat spreads through the PCB and the difference in temperature between the front side and backside of the PCB. Keep in mind, the majority of the heat from the VRM goes into the PCB as it is a giant soldered on copper heat sink. A larger difference in temperature between the back and front of the PCB points towards a more effective heat sink.
Thermal Testing at Stock Speeds:
The image on the left is always at idle, and the image on the right is at load. During ALL TESTS, fans to the right of the motherboard from the (Corsair H110i) radiator are left on automatic mode (ramps with internal block temperature). Additionally, a 120mm fan is situated right above the VRM, and it blows down at a medium rate (very quiet). Thermal Images are taken at loop 15 of Intel Burn Test
Full frontal.
Up-close of the front of the VRM.
Up-close of the back of the VRM.
Thermal Testing at 4.9GHz/1.3v Overclocked Speeds:
The image on the left is always at idle, and the image on the right is at load. During ALL TESTS, fans to the right of the motherboard from the (Corsair H110i) radiator are left on automatic mode (ramps with internal block temperature). Additionally, a 120mm fan is situated right above the VRM, and it blows down at a medium rate (very quiet). We standardize this test with a 4.9GHz on all cores with 1.3V real under load and take pictures at the 80% mark of HandBrake rendering a 4K video.
Up-close of the front and back of the VRM.
The Z370GT6's thermal performance is actually pretty decent at stock and overclocked it also very good, but that's mainly because all cores go back down to 4.4GHz, which is slightly above Intel's default specification. I am unsure whether it's the AVX offset or some type of internal VRM temperature/current limit, but you won't be able to easily overheat these VRMs because of that limiter. I do recommend a fan over the VRM area if you are going to overclock heavily.
Anything under 60C is great, 60-80C is acceptable, and anything above 80C is a bit worrisome (if at stock).
What's Hot, What's Not & Final Thoughts
Here are key points about the BIOSTAR Z370GT6.
What's Hot
OC Features: The GT6 has multiple overclocking features in the top and bottom right corners of the motherboard. You get the handy POST code display, a capacitive touch panel, LN2 mode switch, and a dual BIOS switch. The capacitive touch panel is where you will find the power, reset, ECO, and SPORT buttons.
Unique Look: With a dark brown PCB with gold silkscreened designs, the PCB is one of the most unique of any Z370 motherboard. The silkscreen design also matches that of the shield and heat sinks. I assume it's meant to look like a piece of art, as the letter "R" is used to represent BIOSTAR's gaming theme. The RGB LEDs up and down the audio section also help make the GT6 one of the more unique motherboards.
Small Details and Quality: I was surprised that the GT6 had two USB 3.0 re-drivers near the rear IO to improve USB signal quality on the rear IO panel. The motherboard also features a surge protection IC for the LAN port to protect the board from high voltage discharges. The motherboard also used a good amount of solder on the joints, something that is typically minimized to reduce costs. If we look at the PCI-E slots, all of them have x16 solder leads, while only one slot is x16, the others are x8 and x4 slots. There are solder strips under the VRMs to help dissipate heat, and the rear IO panel structures use a lot more solder to secure parts than needed.
Intel LAN and ALC1220 Audio: Many vendors look to reduce costs by downgrading the LAN and audio controllers, but not on the GT6. We find the same high-quality i219v Intel LAN part and ALC1220 audio codec on the GT6 that we find on high-end Z370 motherboards.
What's Not
UEFI OC: The only thing that bugged me is that BIOSTAR has set some sort of current limit, and the CPU throttled down on all cores in AVX scenarios when we overclocked it (and the AVX 256 and 512 offset ratios aren't present). XMP memory support also needs to be improved. Both these issues are BIOS fixes, so hopefully, BIOSTAR will make them soon.
Final Thoughts
The BIOSTAR Z370GT6 is an interesting motherboard, and since we don't know its price, we can't make finalized judgments on the motherboard. However, we know that BIOSTAR typically keeps motherboard prices very competitive, and we don't expect the GT6 to be priced very high. We found a few from Germany and Italy priced between $190 (no picture) to $200 (with picture), and since the Z270GT6 is priced between those two, we figure the retail Z370GT6 will be as well. The motherboard offers all platform features, including the proper amounts of USB 3.0 and SATA6Gb/s that the platform offers, as well as two M.2 slots rated at 32Gb/s. The positioning of the SATA6Gb/s ports and USB 3.0 headers is a bit troublesome; the SATA ports are located under the 24-pin power port, and the USB 3.0 headers are located all the way at the bottom of the motherboard.
I also like the new look of the new UEFI BIOS, BIOSTAR did a decent job with it. The Intel NIC, attention to detail, overclocking features, USB 3.1 type-C port, and platform features make the Z370GT6 a well-equipped motherboard, especially if its price is reasonable.
From what we have seen, the Z370GT6 is a solid motherboard, and it should hit the market soon.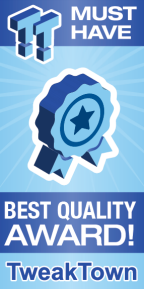 | | |
| --- | --- |
| Performance | 90% |
| Quality | 95% |
| Features | 91% |
| Value | N/A |
The Bottom Line: BIOSTAR's Z370GT6 is loaded with many of the latest features and if we look at the details, we see some high-quality practices and parts.
PRICING: You can find products similar to this one for sale below.
United States: Find other tech and computer products like this over at Amazon.com
United Kingdom: Find other tech and computer products like this over at Amazon.co.uk
Australia: Find other tech and computer products like this over at Amazon.com.au
Canada: Find other tech and computer products like this over at Amazon.ca
Deutschland: Finde andere Technik- und Computerprodukte wie dieses auf Amazon.de
We openly invite the companies who provide us with review samples / who are mentioned or discussed to express their opinion. If any company representative wishes to respond, we will publish the response here. Please contact us if you wish to respond.
Related Tags