Corsair Vengeance LPX DDR4-4000 16GB Memory Kit Review
Corsair's Vengeance LPX DDR4-4000 16GB dual-channel memory kit gets fully examined. Should you buy it? Let's see.

Published
7 minute read time
TweakTown's Rating: 95%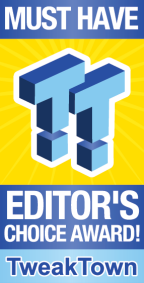 The Bottom Line
Corsair's Vengeance LPX 4000MHz 16GB kit is the most affordable of any 4000MHz kit out there! We do wish the XMP 2.0 performance was slightly better in certain tests, but with the flexibility it offers to those willing to tinker, we saw some of the best results we have ever achieved in DDR4.

After receipt of this set of RAM, we found our 7700K test system unable to handle the raw speed of what we are about to show off here today. Along with the need to run another faster set, which we will be showing off soon enough, we were faced with the obligation to update the test system. Doing so meant lots of testing, breaking out a few of the older kits we have, and seeing what the new system is capable of doing. With what we have already seen, nothing is holding back our ASRock X299 OCF and the i7 7740X CPU we are using now, and we can finally deliver the reviews of DDR4 with speeds higher than 3800MHz.
That all brings us to what we have for you today. To help us find the issues with our previous system, we asked Corsair for some of their Vengeance LPX kits, and to break our last barrier, we asked them for a set with 4000MHz. TO be more specific, we are looking at the CMK16GX4M2E4000C19R kit, with timings of 19-23-23-45. On the face of it, we do know of tighter timed memory at this speed, but with Corsair opting for one of the best ICs on the planet to populate these sticks, with little effort involved, we have a distinct feeling that Corsair has let some meat on the bone. This set of DDR4 will allow us to get even more out of this kit than what Corsair sets as the XMP 2.0 profile.
While the system has changed, our methodology stays the same, so for anyone used to reading our memory reviews, you will recognize our limits, but we have added a new test to the mix. Since finding out that RealBench is inconsistent in its results, we have moved to 7-Zip as our third metric to base conclusions. That being said, let's fire up this OCF with the Vengeance LPX 4000MHz DDR4, and see what sort of results we get out of the box, and what kind of fun you can have if you are not afraid to tinker around in the BIOS.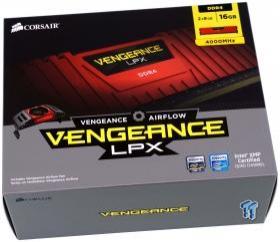 The packaging of the Corsair Vengeance LPX 4000MHz 16GB DDR4 is much larger than we usually see, but that is due to the inclusion of the Airflow fan assembly to help keep the sticks cool. We like the sizeable up-close look at the metal logo sticker on the heat spreaders, and we also see that this memory is XMP certified, but we can assure you it is not a Quad Channel set of RAM.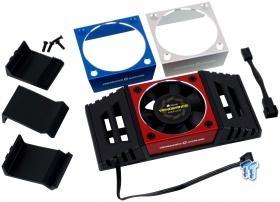 Showing first, the accessories that come inside of the box, we have all of the components to the Corsair Airflow fan. On the left are a pair of brackets for use with most motherboards, and a third to use with ASUS motherboards. There are screws to mount the brackets, as well as a trio of color options for the aluminum cover plates. We have the fan assembly at the bottom which is powered by a 3-pin fan header, and Corsair also ships a 7V adapter.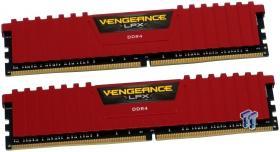 Denoted by the R at the end of the part number, we received red Vengeance LPX memory. The red heat spreaders add much style to the appearance of this kit, while still delivering a low profile of 34.45mm in total. We also appreciate the fact that Corsair sticks with black PCBs under the spreaders to eliminate the feeling of Christmas green PCBs would offer.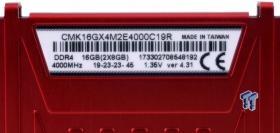 On the flip side of both sticks, we found the product sticker rather than the Vengeance LPX badge. We see the model number, density, serial number, speed, timings, XMP voltage, and that these are version 4.31 memory.

At this angle, we can see that the heat spreaders are split, with a slight deviation in them where the Corsair name is painted onto the top edge. Since these can be used with the Airflow fan assembly, we like that the top edge is not solid, allowing air to flow into the heat spreaders rather than just cooling the outside of them.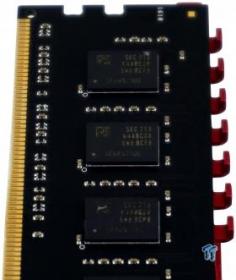 After gently removing the heat spreader from this single-sided memory, we were able to get a look at the specific ICs used here. These are obviously Samsung B-Die, and sport the model number of K4A8G085WB-BCPB. From what we know of these ICs, a little extra voltage can go a long way to having much fun with them.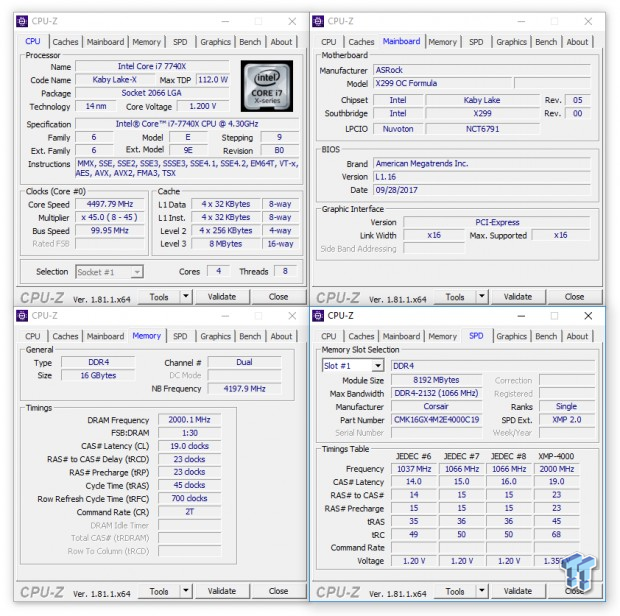 To obtain this group of CPU-Z windows, all we did after a CMOS clear, was reboot the PC and apply the XMP 2.0 profile and reset the system. As specified on the box, and on the product stickers, we are indeed running the Vengeance LPX at 4000MHz at 19-23-23-45 2T. We also noticed that while checking the BIOS for voltages that the VDIMM is set to 1.35V but so are the VCCIO and VCCSA.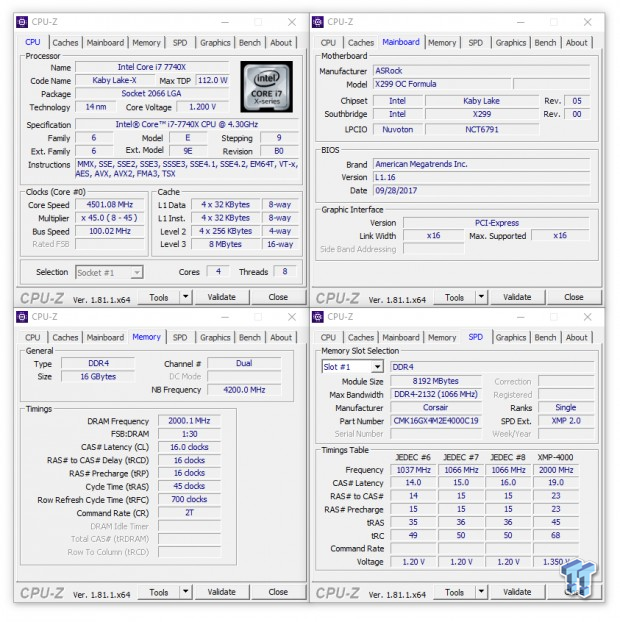 As we do, by changing them one at a time and testing, using 1.45VDIMM at this time, we were able to get the timings down to 16-16-16-45 2T, still at 4000MHz. As we alluded to, this is due to the premium ICs used, and even while binned quite high in speed, there is quite a bit of room left to gain additional performance in the timings department.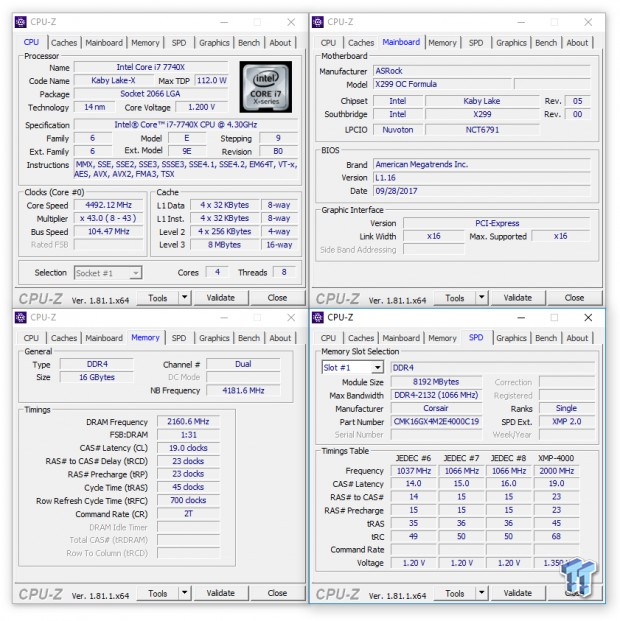 We then cleared the CMOS once more, set the XMP 2.0 profile, and set the VDIMM to 1.45V again; we were able to get more speed from the Vengeance LPX as well. In this set of CPU-Z windows, we have the memory running at 4320MHz with little effort. We do feel that there is more to give from this kit, but it would require more voltage to do so.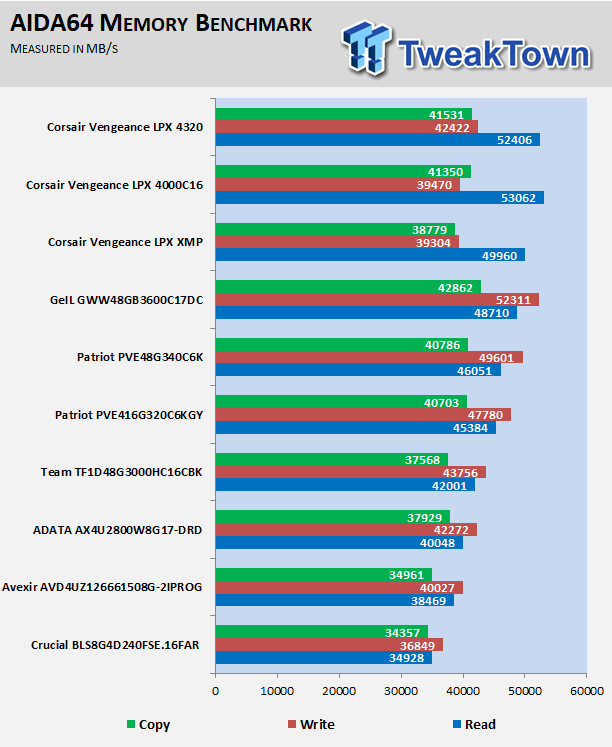 Using AIDA64 to get a handle on bandwidth, we were impressed with the Read capabilities of this memory in all three configurations. However, the Writes take a big hit compared to many of the much slower kits, and the Coper performance is not as high as we expected to see either.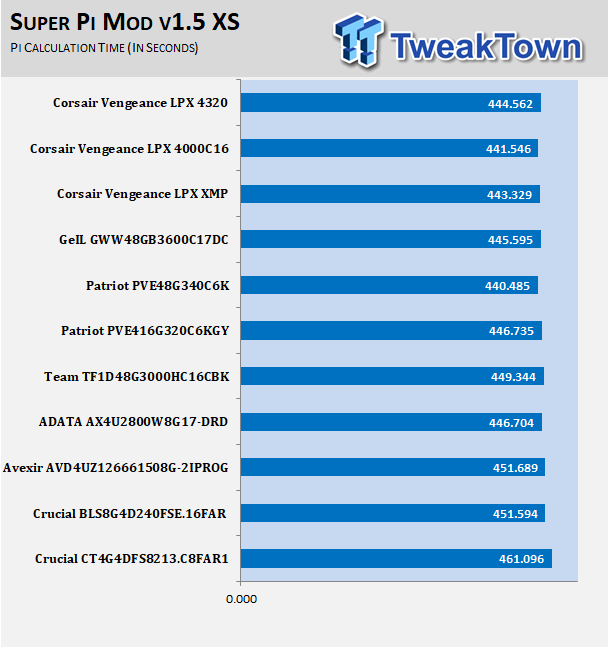 Moving into Super Pi 32M testing, we can see that faster does mean better when it comes to crunching numbers. While not providing a considerable gap to the 3600MHz kit tested, the 4000MHz in XMP use is better. Lowering the timings gives us nearly three seconds improvement, while the raw speed increase has hindered performance in this test.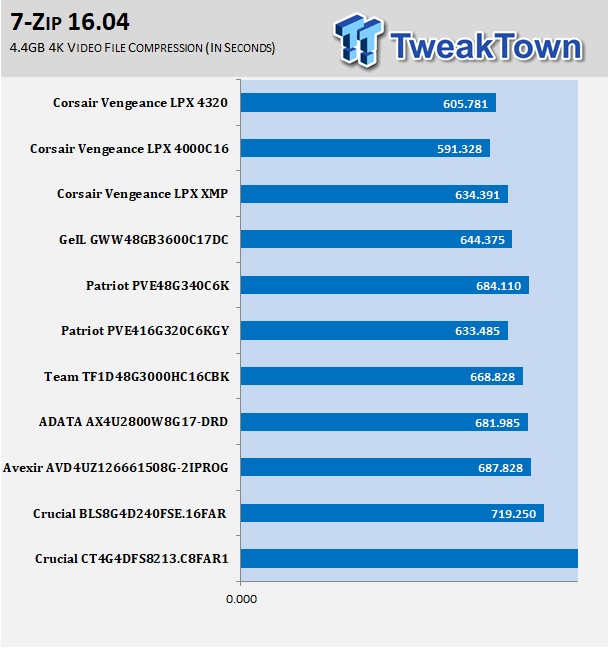 Compressing a 4K video file is something which tends to show where the speed of a kit is a big player in the ability to do work. In this chart, we can see that there is a 10-second advantage over the 3600MHz kit with the XMP profile used. Lowering the timings is a massive advantage in this test with 43 seconds of improvement, and while speed is not quite as productive as lowering the timings, that run was still 29 seconds faster.
In a face to face meeting with Corsair, they asked me why I was abusive to another set of Vengeance we had reviewed in the past. We replied that we felt that Vengeance memory was for overclockers, and Corsair refuted that it is more in line with other Value kits on the market, and is not directly marketed to overclockers. With what we see in this set of Vengeance LPX, we beg to differ. Corsair fits these sticks with some of the best ICs on the planet, and even while binned for 4000MHz, which is well beyond the sweet spot of most users, and it still has all this room to tinker with it, we cannot look at them as value-oriented kits. Also considering the Vengeance series carries higher speeds than the Dominator line, it all leads us to this conclusion.
No matter how you want to look at the Vengeance LPX, as value kits, as a low-profile solution so, CPU air coolers are of little concern, or if you're going to view these as your next DDR4 to overclock to the moon and back, you will not be disappointed. Because this RAM is snappy when installed and running the XMP profile, is what many want, something they can just plug in, run, and enjoy what it has to offer. However, for those where what comes out of the box is not enough, the CMK16GX4M2E4000C19R offers fun for you as well. With just a slight bump to the VDIMM, we were able to tighten timings well beyond where we thought they would go, and on the flip side of overclocking, there was still 320MHz left to find as well.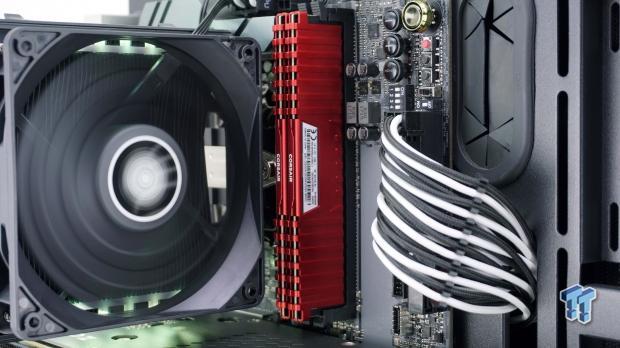 In our testing, we ran the Corsair Vengeance LPX in an open-air chassis and opted not to use the fan for this image, or for testing. What we found in testing, bu pointing our IR thermometer at them in various stages of testing, is that in normal conditions the kit never surpassed 32-degrees Celsius. When tested again with 1.45VDIMM used, we never saw temperatures above 35-degrees. However, knowing what voltage many overclockers will push through a set of Samsung B-Die memory, there is a point where the fan will have a marked benefit to keeping this RAM cool. Just for giggles we did use the fan to see how well it cooled, and with such limited voltage being applied, we only saw a 3-degree drop in temperatures, and since the fan is a single 60mm fan, the noise is much less than RAM cooler we have used in the past. The fan will get into the range of 40dB, but there is the adapter to help drop that noise down below 30dB.
While looking for this kit in the wild, we saw that you could buy them from Corsair at the asking price of $269.99, which is at the bottom end of pricing for any kit for sale at this speed. We do see a listing at Newegg, where the Vengeance LPX as listed at $249.99, but sadly, they are out of stock at this time. Most of the other options do have slightly better timings out of the box, and some are even RGB illuminated options, but you will have to pay quite the premium for them, and from what we gathered, none of them outside of Corsair included a fan. With all of the facts now presented, one thing is for sure; these Corsair Vengeance LPX 4000MHz sticks are fun to tinker with, place well in the testing, and look good too. For those looking for high-speed DDR4 and do not have the deepest pockets, we would suggest you look to Corsair and the Vengeance LPX memory, as it has everything even the most seasoned overclocker would want in a kit of DDR4.
Chad's DDR4 Dual-Channel Test System Specifications
Motherboard: ASRock X299 OCF
CPU: Intel Core i7 7740X - Buy from Amazon
Cooler: LEPA NEOllusion - Buy from Amazon
Video Card: ZOTAC GeForce GTX 970 AMP! Extreme Core
Storage: Samsung XP941 256GB
Case: Thermaltake Core P3 - Buy from Amazon
Power Supply: Corsair RM750 - Buy from Amazon
OS: Microsoft Windows 10 Home 64-bit - Buy from Amazon
Software: CPU-Z 1.78.3 x64, Super Pi Mod 1.5XS, 7-Zip 16.04, AIDA64 Engineer 5.92.4300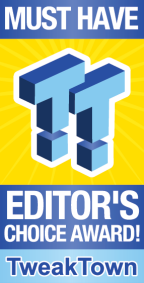 | | |
| --- | --- |
| Performance | 92% |
| Quality | 96% |
| Features | 93% |
| Value | 98% |
The Bottom Line: Corsair's Vengeance LPX 4000MHz 16GB kit is the most affordable of any 4000MHz kit out there! We do wish the XMP 2.0 performance was slightly better in certain tests, but with the flexibility it offers to those willing to tinker, we saw some of the best results we have ever achieved in DDR4.
PRICING: You can find products similar to this one for sale below.

United States: Find other tech and computer products like this over at Amazon.com

United Kingdom: Find other tech and computer products like this over at Amazon.co.uk

Australia: Find other tech and computer products like this over at Amazon.com.au

Canada: Find other tech and computer products like this over at Amazon.ca

Deutschland: Finde andere Technik- und Computerprodukte wie dieses auf Amazon.de
We openly invite the companies who provide us with review samples / who are mentioned or discussed to express their opinion. If any company representative wishes to respond, we will publish the response here. Please contact us if you wish to respond.