Smallest in the World: ThinkStation P320 Tiny Review
Lenovo's ThinkStation P320 Tiny SFF PC is the smallest true ISV certified workstation on the market and is well worth a close look.
Published Oct 25, 2017 11:51 AM CDT
|
Updated Tue, Nov 3 2020 6:58 PM CST
9 minute read time
TweakTown's Rating: 92%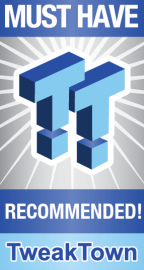 The Bottom Line
If you want the smallest true ISV certified workstation on the market that offers great performance and low power consumption, then the Lenovo ThinkStation P320 Tiny is your best bet!
Introduction, Specifications, and Pricing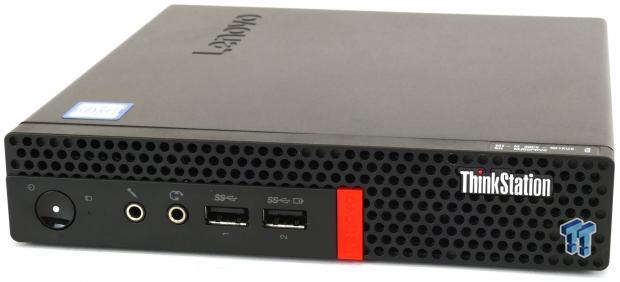 We have covered full workstations before, and we have covered many small form factor PCs, and today we are bringing you our first review of a true small form factor workstation PC. Lenovo's ThinkStation P320 Tiny is the world's smallest ISV certified workstation PC, and it truly is very tiny. The notion of a small workstation is an odd one. On the one hand, workstations are designed to be extremely powerful, use the latest in workstation hardware, which to be frank, can use a lot of power, which means a lot of heat.
Workstation CPUs from Intel's Xeons to vPro supporting CPUs and AMD's unreleased Ryzen Pro series of CPUs don't generally come in very low power packages, and workstation GPUs such as NVIDIA's Quadro and AMD's FirePro series of graphics cards also don't come in very power friendly packages. However, there are exceptions to our hardware dilemma, and those exceptions can be found inside the P320 Tiny.
Let's take a look at what Lenovo has created!
Specifications

The ThinkStation P320 Tiny can be configured with a 7th Gen Core i7, a NVIDIA Quadro P600 graphics card, the CPU's integrated graphics, up to 32GB of memory, up to two 1TB NVMe SSDs, and with a 2TB SSD/HDD. The dimensions are 1.4" x 7.1"x 7.2" (WxDxH) and could weigh up to 2.9lbs.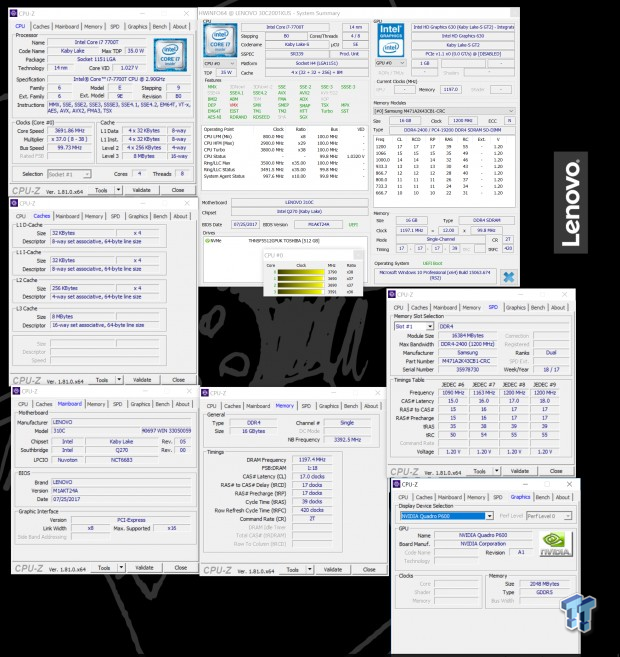 Our configuration came with an i7-7700T CPU, which can Turbo up to 3.8GHz, has a base of 2.0GHz, and features four cores and eight threads. The real kicker is that the 7700T has a 35W TDP, which is insanely low for a four core and eight thread desktop CPU. The motherboard has a single x16 slot, and a NVIDIA Quadro P600 sits in it, it's the low profile version of the card. We get 16GB of DDR4 memory clocks at 2400MHz, but it's only in a single channel configuration (1 stick). Our configuration came with a 512GB M.2 NVMe drive, which is custom made by Toshiba for Lenovo. The system is based on the Intel Q270 chipset, which is designed for business use.
Pricing
The Lenovo ThinkStation P320 Tiny can be had for under $1000, but our configuration cost roughly $1,245.
Packaging and System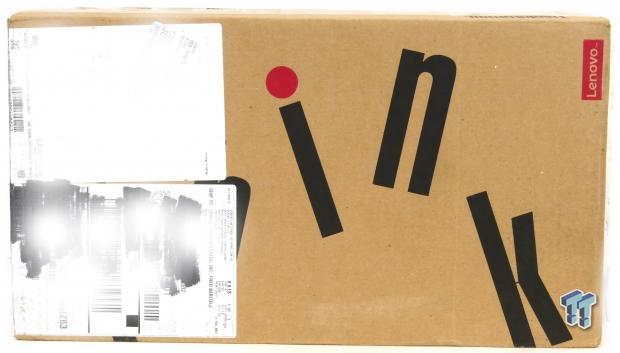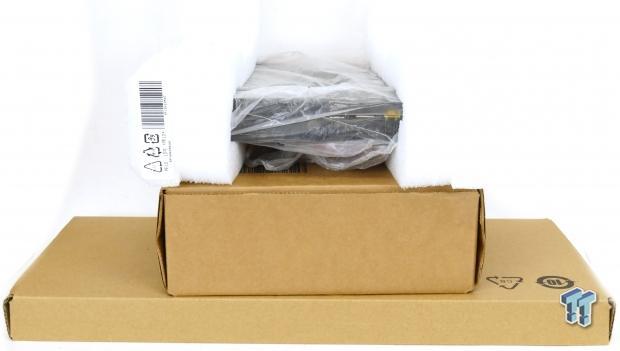 The box and packaging are typical for a Lenovo ThinkStation product, but they are much smaller than what we are used to. There is a keyboard included with the workstation, and the length of the box reflects that.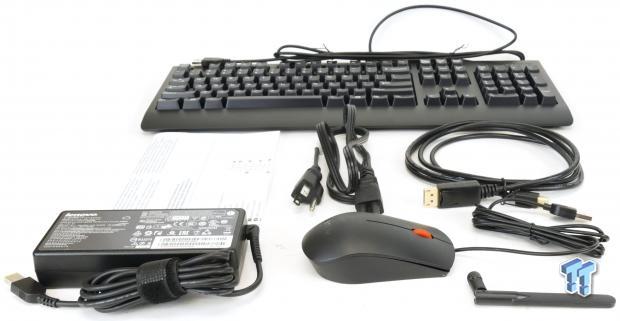 Accessories include AC power cable, AC/DC power supply, traditional keyboard, mouse, and manuals. There was also a WIFI antenna, but it wasn't compatible with our unit, presumably because we have a review sample. Lenovo also included a mini Display port to Display Port cable in our box, since the Quadro only outputs mini DisplayPort.


The front of the PC features two USB 3.0 ports, one of them can provide fast charging for a cell phone or other device. We also get a headphone jack, microphone jack, and power button at the front of the PC. At the rear of the unit we find a DC power input jack (Lenovo custom design), two full size DisplayPort ports from the CPU's integrated graphics, four more USB 3.0 ports, a Kensington Lock port, 1Gbit LAN port, WIFI antenna connector, and four mini Display Port outputs, which are from the Quadro P600 graphics card.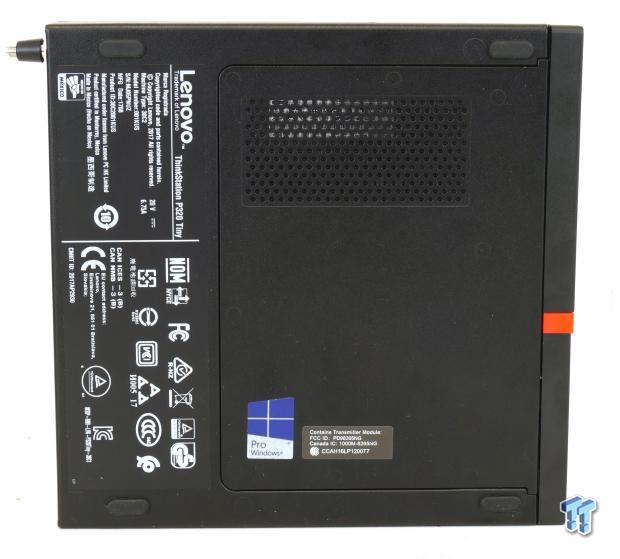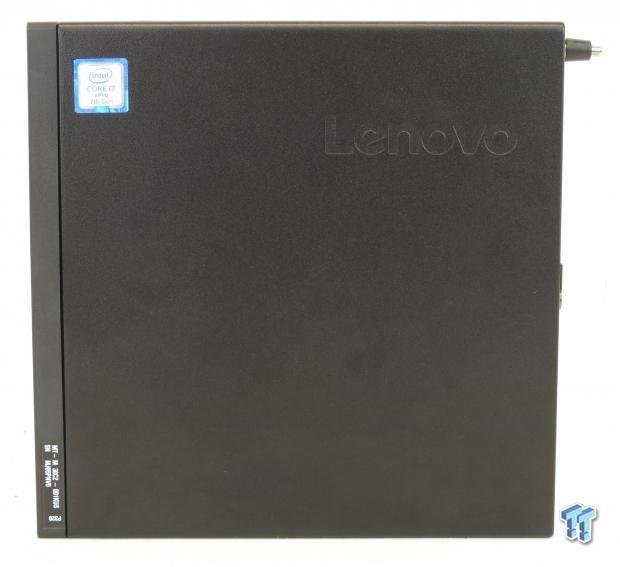 The bottom (or left) side of the device features four rubber feet, and a removable cover so you can access the RAM and M.2 storage area. The top (or right) of the device features nothing but an Intel sticker and Lenovo branding. The entire unit is encased in aluminum.


The left (or top) and right (or bottom) of the unit feature air vents.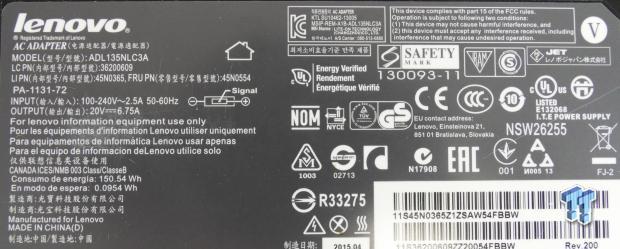 The power supply for the Lenovo ThinkStation P320 Tiny is rated 20v @ 6.75A, which is roughly 135W.
Teardown of the ThinkStation P320 Tiny
The Teardown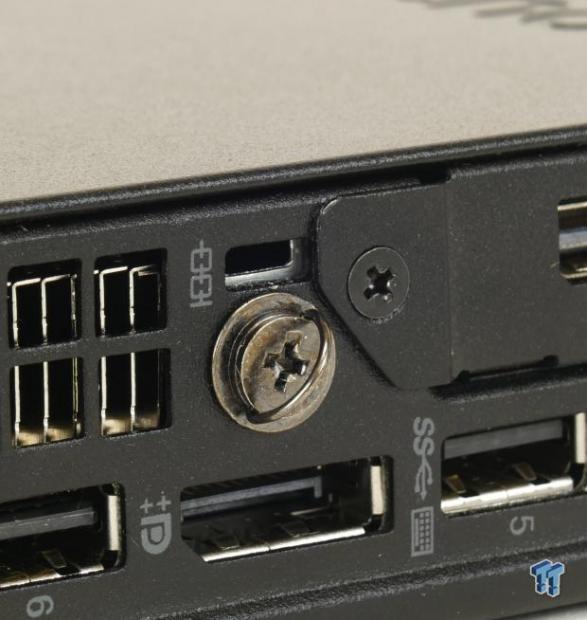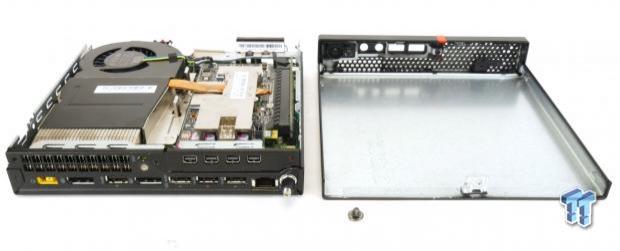 Opening up the PC isn't that tough, a single screw at the back of the unit features a tiny handle to unscrew it without tools. You just remove the screw and slide the top cover outwards. Once you unscrew the top of the PC, you will see a huge blower fan as well as the CPU and attached GPU. The GPU actually sits flat thanks to a custom riser card.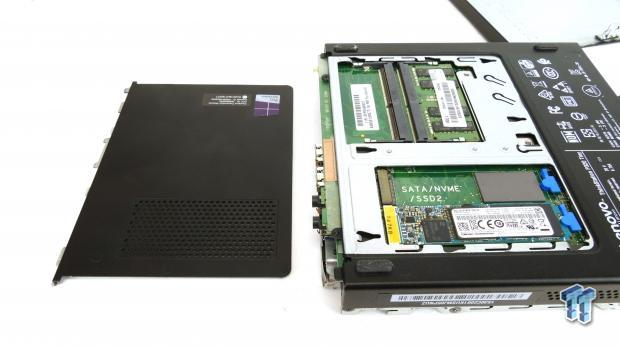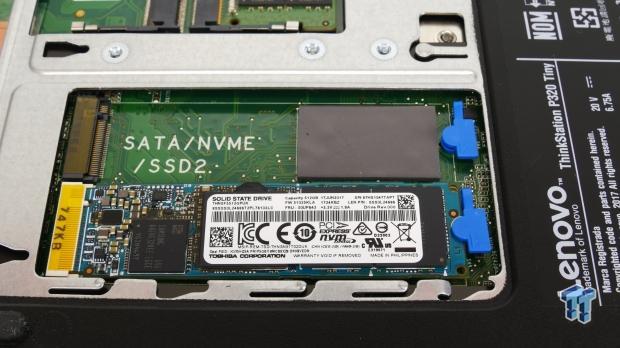 Flipping the unit over with the top panel removed, we can then slide the M.2 and SO-DIMM cover off to reveal upgrade options. M.2 installation won't require any tools, as the blue tabs can just be pulled up and then pressed back down to install drives. Lenovo added heat pads for the M.2 drives as well, and the M.2 slots support SATA or NVMe M.2 SSDs.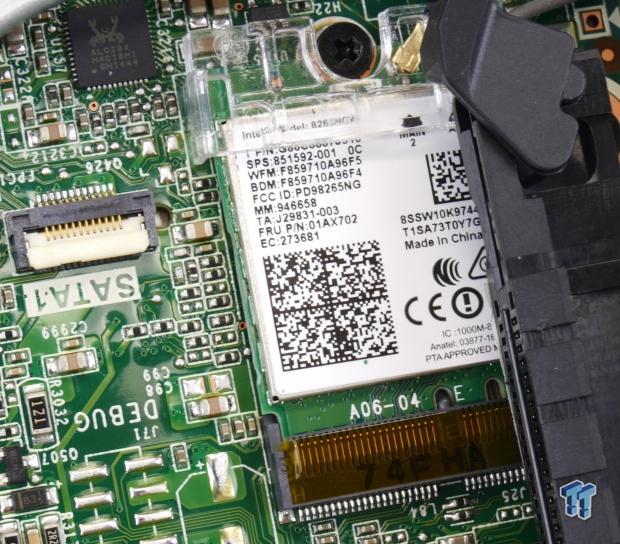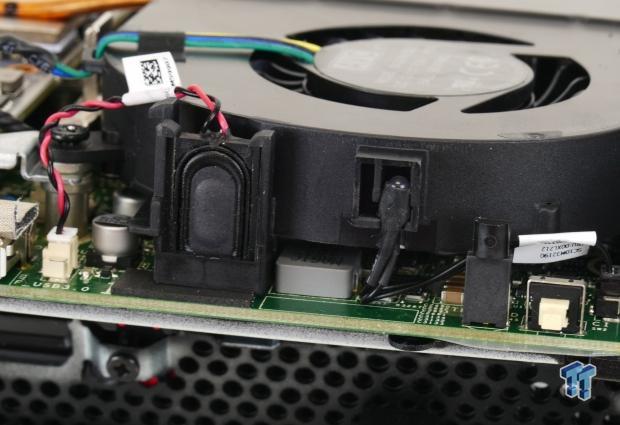 The wireless AC adapter is the Intel Wireless-AC 8265 2x2 867Mbps card, a very popular one. We can also see a small header labeled SATA1, which we assume could be used for a 2.5" SSD. If we look at what's hidden behind the front vents, we find three tiny surprises. A built-in speaker (for error codes), an IR receiver, and a temperature probe to monitor incoming air temperature. The temperature probe is common in Lenovo's workstation products.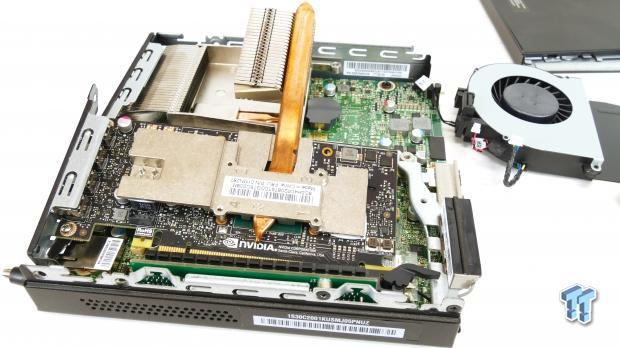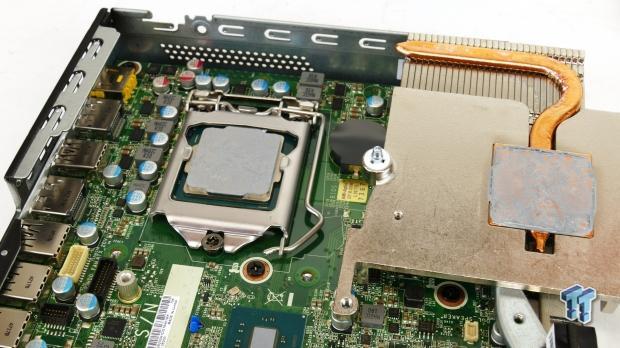 Removing the Quadro P600 isn't actually that tough, but we don't recommend you do it. To remove the card, you need to unscrew the GPU's custom cooling apparatus from the CPU's cooling apparatus, unscrew the CPU's bracket from the chassis bracket, and then gently lift and pull the GPU out at an angle. Once the GPU is removed, and the blower fan is removed, we find the CPU, which is actually in a LGA1151 socket. You could perhaps even upgrade the CPU, but we don't recommend it as we don't know if the motherboard's power supply can support it, or whether Lenovo has locked CPU upgradability.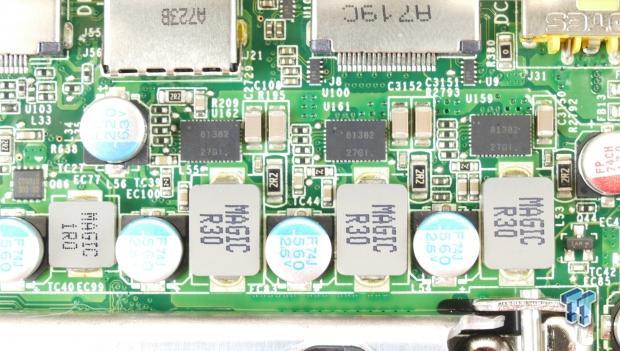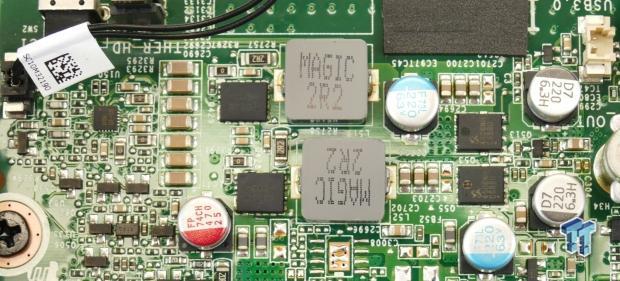 The CPU VRM uses integrated power stages from ON Semiconductor. The three NCP81382 are full integrates all power stage components into a single package, each one capable of constant 35A output with 70A peak, which is a lot (but those inductors can't take that). The memory VRM uses two phases it seems; they use dual N-Channel FETs from ON Semiconductor.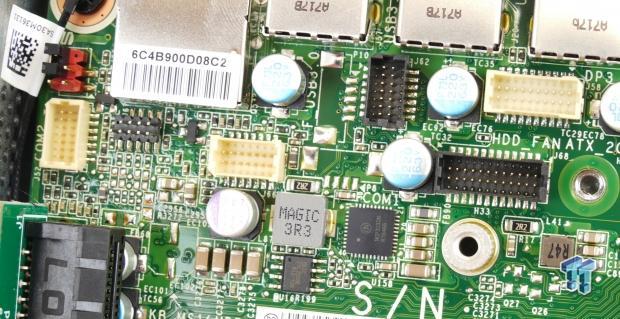 We also found many different internal headers that were unused. Some series labeled as COM ports, and others look like connectors we find in other SFFPCs and notebooks, meaning that the potential for different configurations of the P320 Tiny is very high.
BIOS and Software
BIOS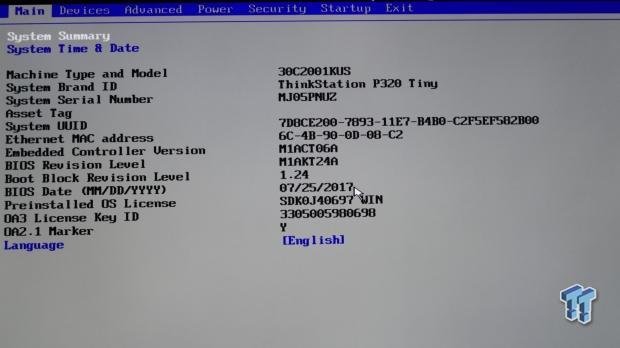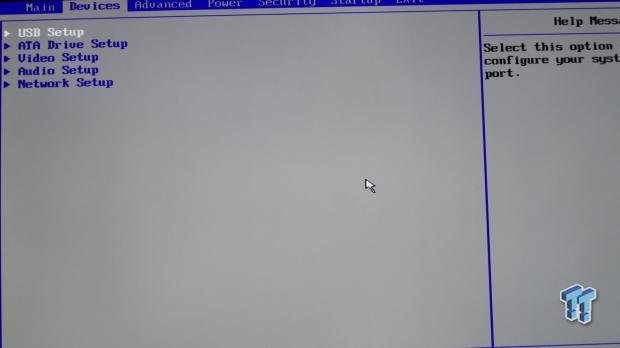 Lenovo 's UEFI BIOS is very similar to the older AWARD/Phoenix style BIOS of the past. It doesn't offer much regarding customization, other than the ability to disable features. However, it does provide extensive manageability features, such as the ability to get into IEMI for remote access. You can also disable some of the CPU's power saving features and even control the cooling curve through the ICE menu.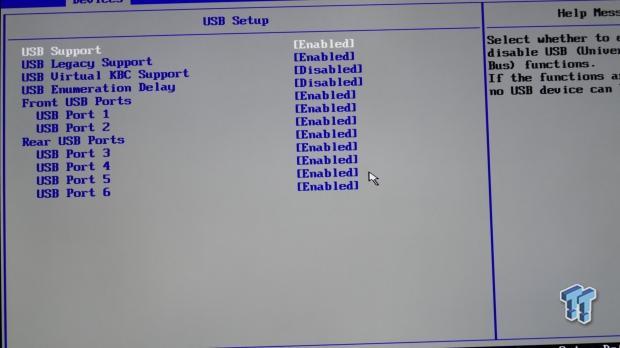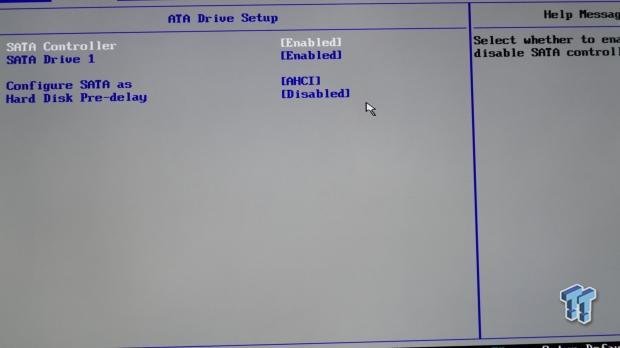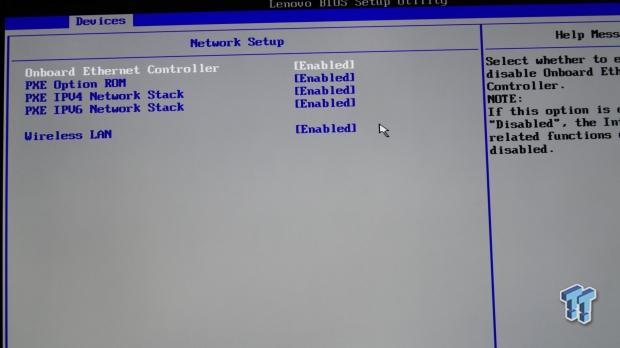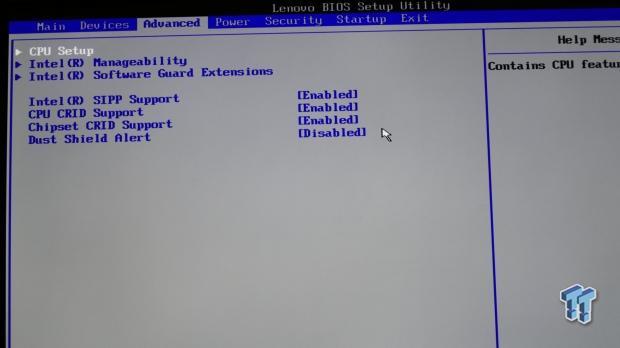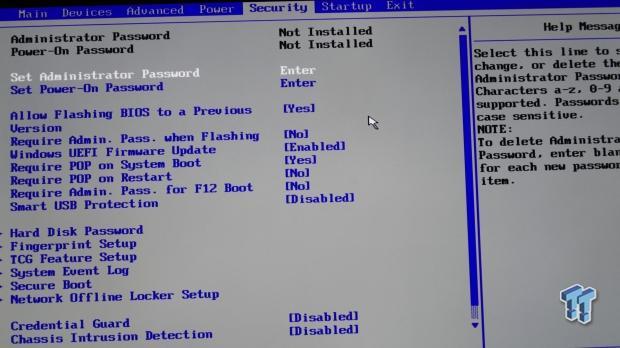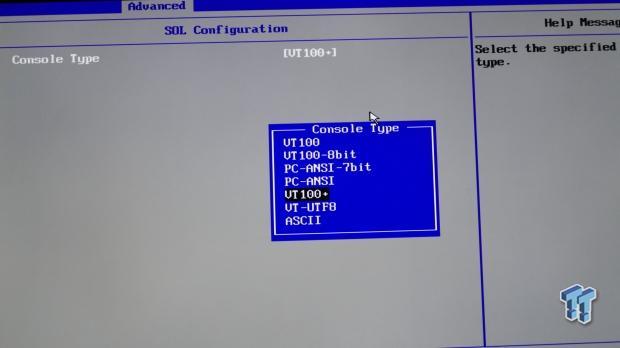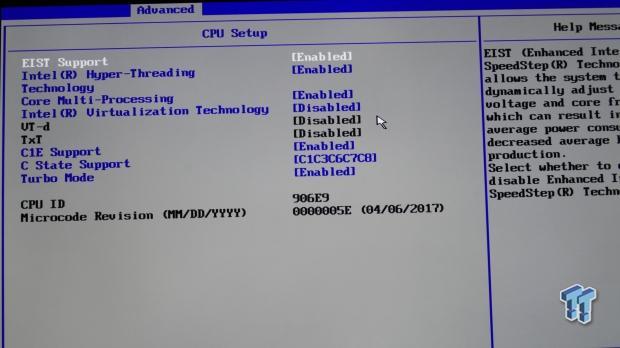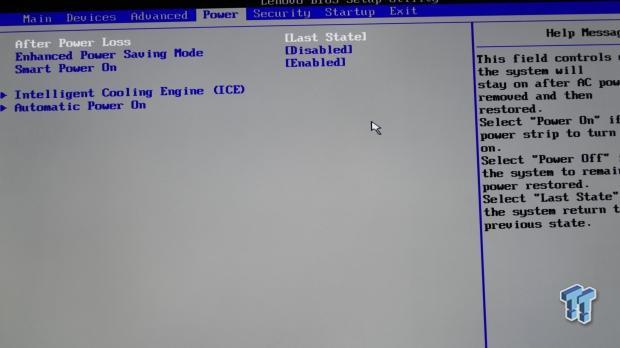 Software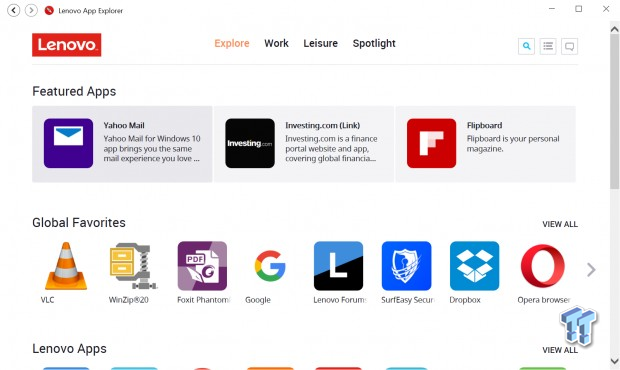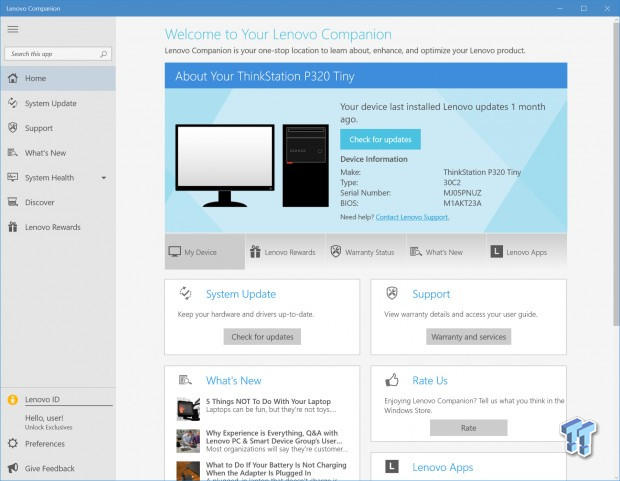 Lenovo's APP Explorer allows you to centralize all your major applications. Lenovo Companion allows you to diagnose, update, and discover device hardware and features.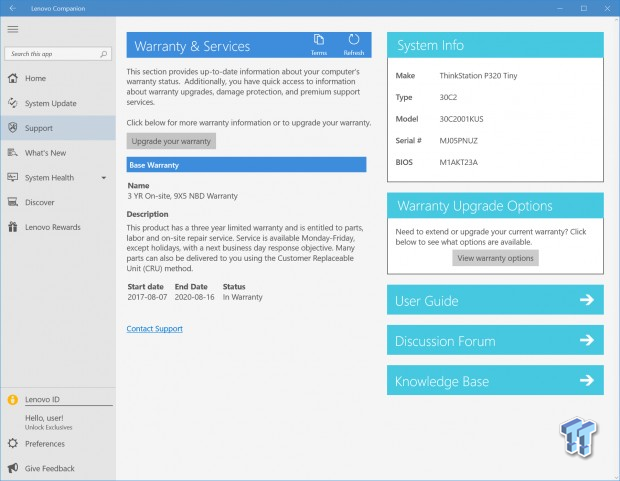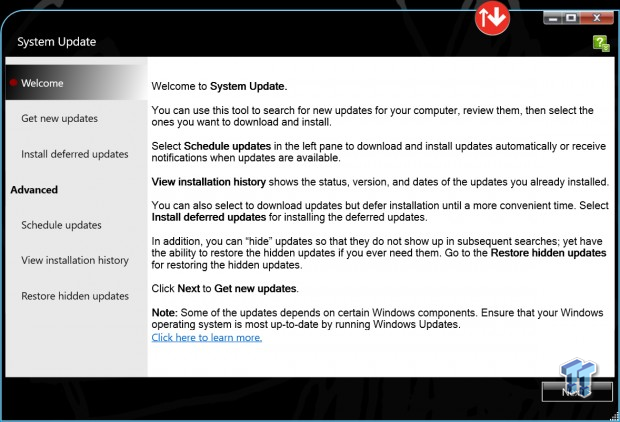 You can also access warranty and service features through the software, and you can see the warranty type (3 years on site). There is also a separate software application call "System Update" where you can control updates to the device.
Test Setup and Benchmarks
Test Setup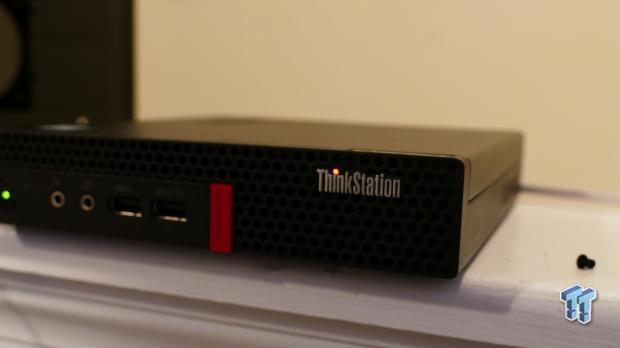 The USB, power, and HDD activity indicators on the front panel are backlight with white light.
CPU, Memory, System, and Graphics Benchmarks
CINEBENCH 11.5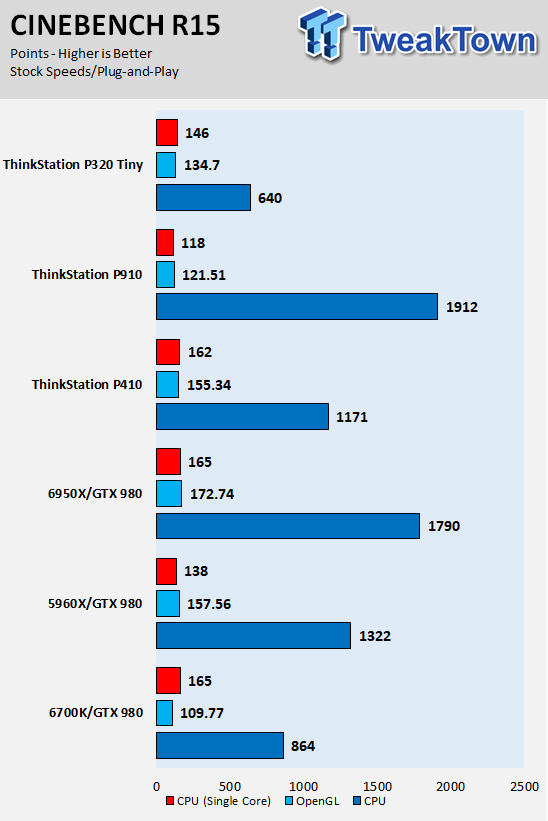 wPrime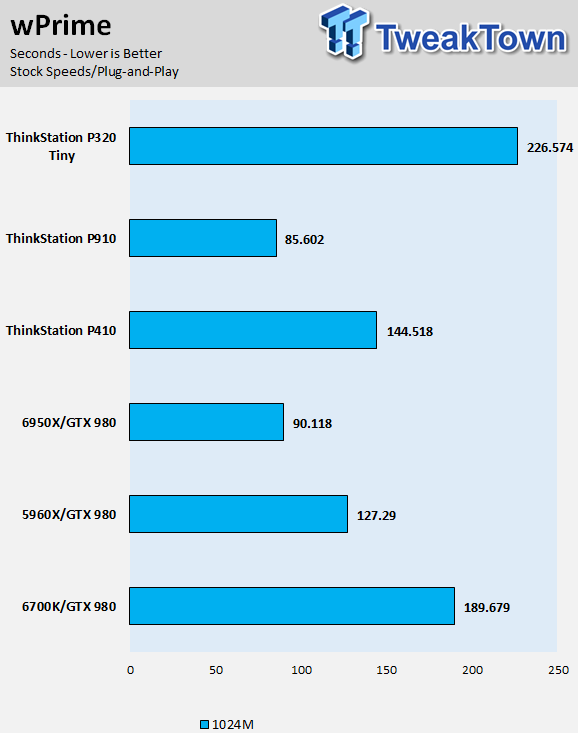 AIDA64 AES and HASH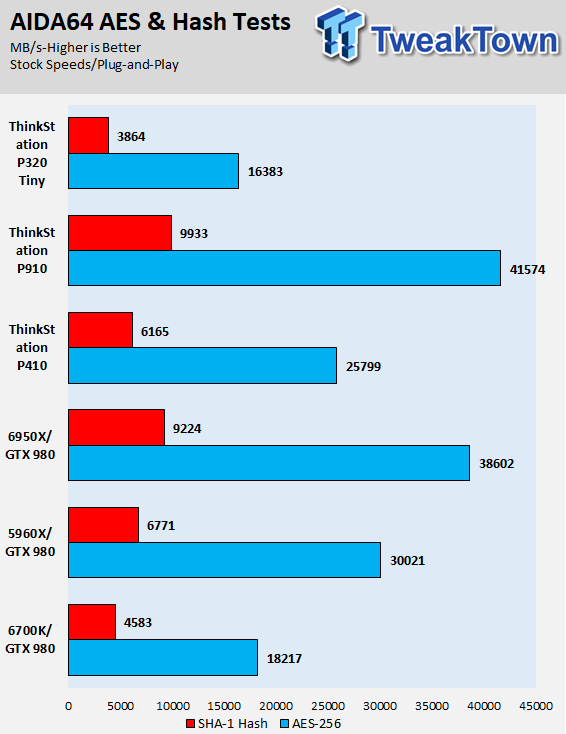 AIDA64 FPU Tests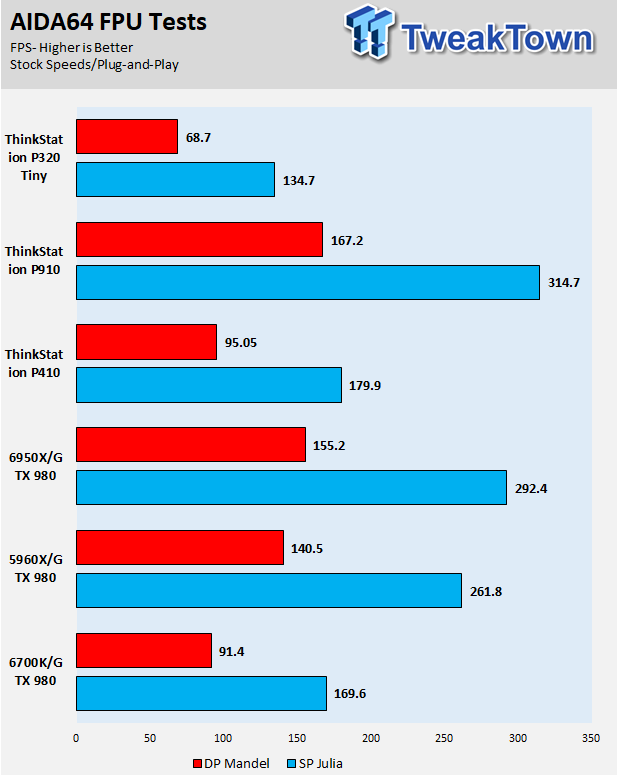 AIDA64 Memory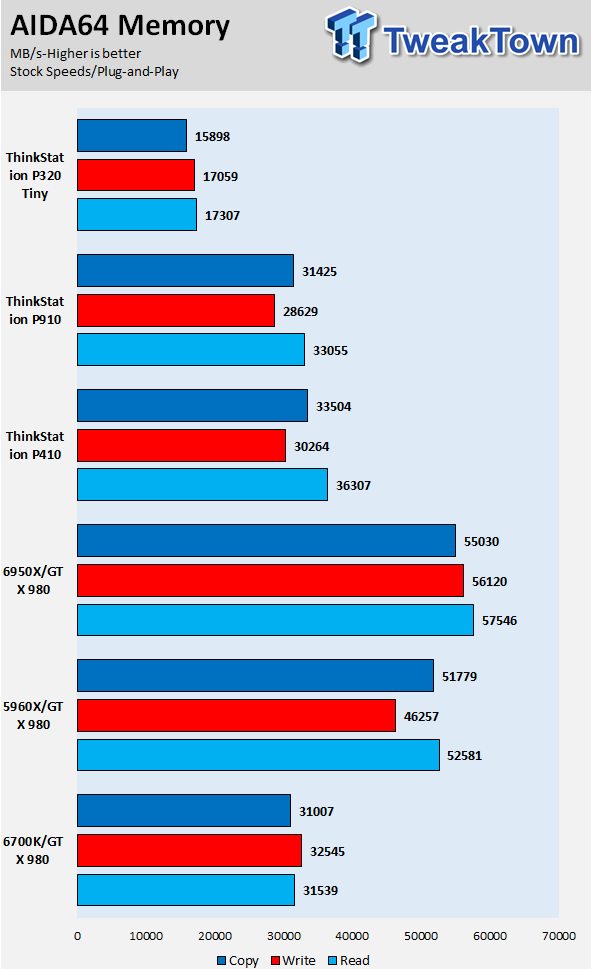 HandBrake Video Encoding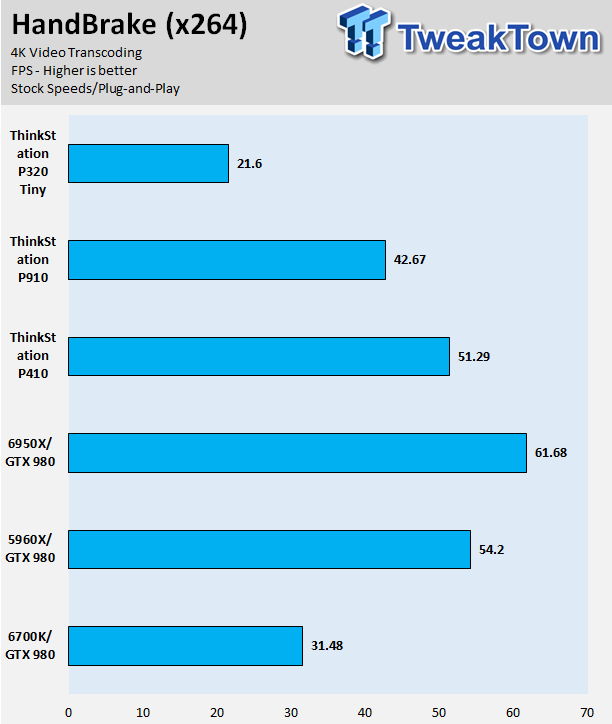 PCMark8 Home Test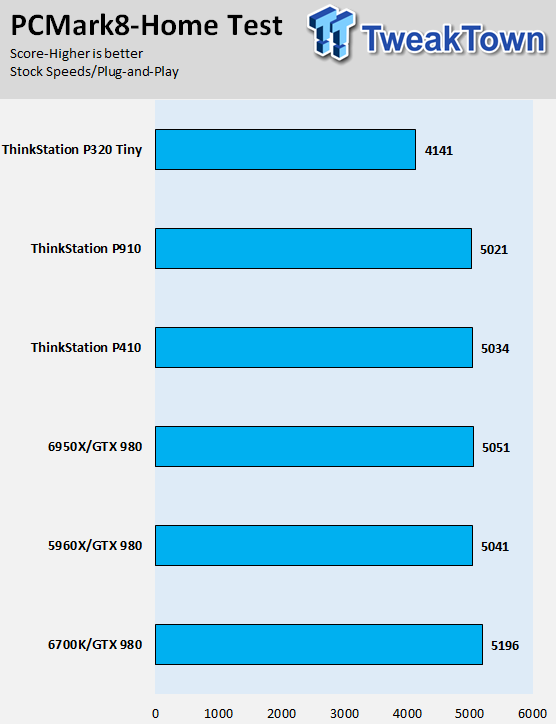 PCMark8 MS Office Productivity Test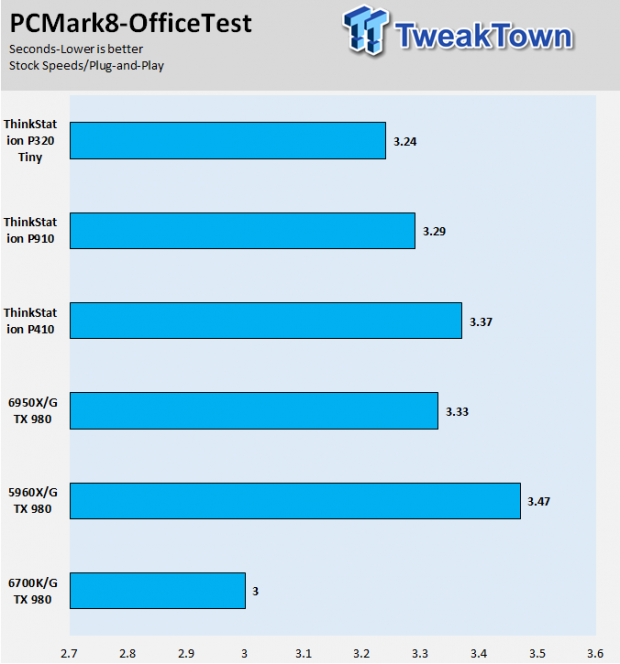 ScienceMark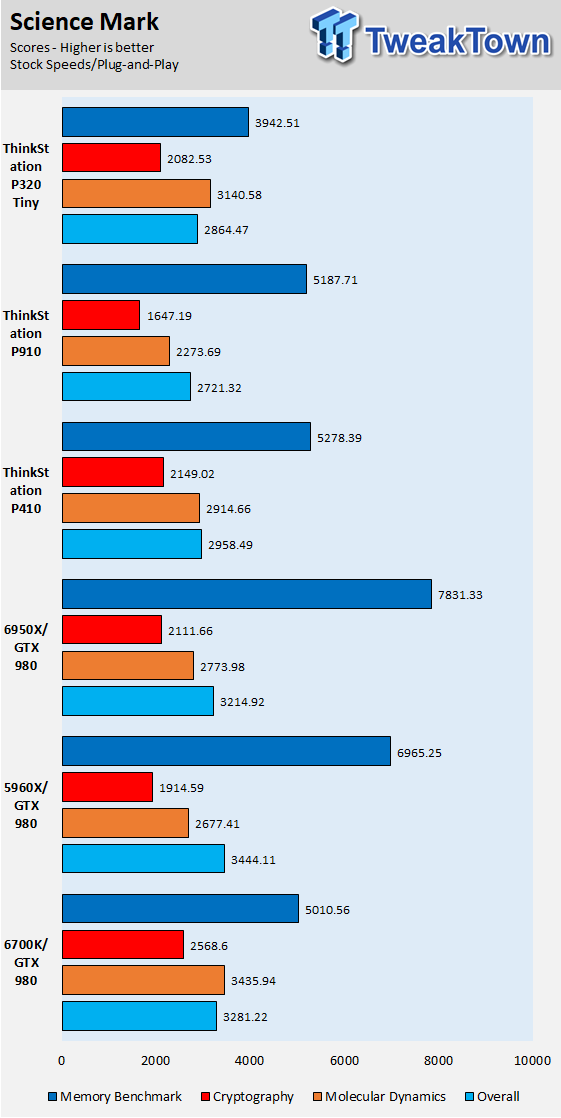 SuperPI MOD 1.5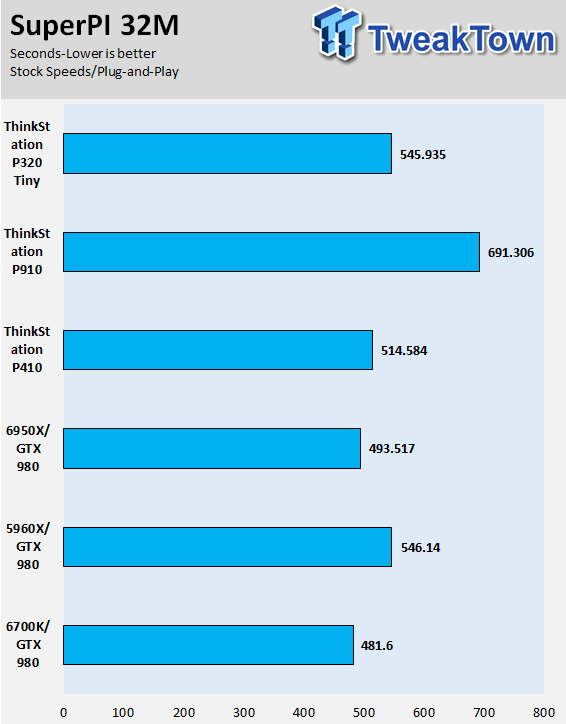 Lenovo 's ThinkStation P320 Tiny uses a single 7700T, which is a quad-core Kaby Lake CPU with hyperthreading and a 35W TDP. The 35W TDP comes with some performance cuts, so the 7700T is nowhere close to the 7700, 7700K, or even 6700K as operating frequency has been heavily cut. However, you still get excellent single core performance, and it's enough to get things done. We are also dealing with single channel memory, so when memory makes an impact, it will score a bit lower in certain areas.
If we look at the OpenGL test, the Quadro P600 beats the GTX 980 in our reference desktop. Most of the desktops/workstations in our charts are optimized for more cores and threads, but those aren't the strong points of the 7700T used in the P320 Tiny. The P320 Tiny does well in Cryptography and molecular dynamics benchmarks as well as MS office productivity (single core performance is good).
Overall, you can't really demand too much compute power from a device so small. While being small is an upside, a bigger upside is lower power usage.
Storage and Network Performance
Internal Storage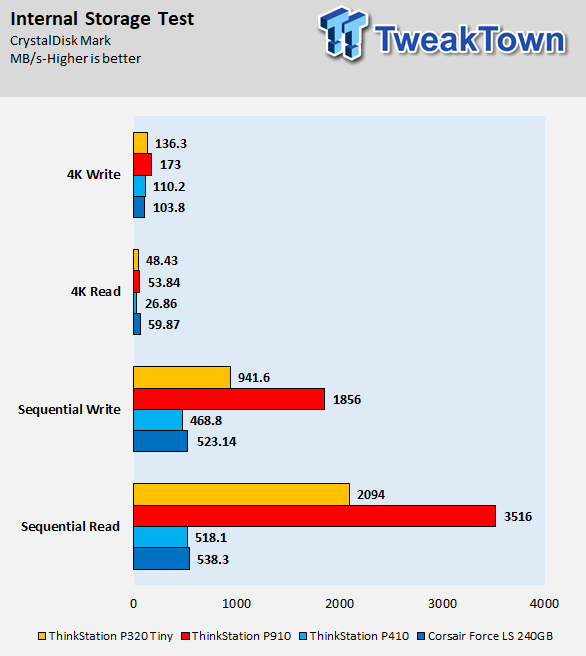 External Storage (USB)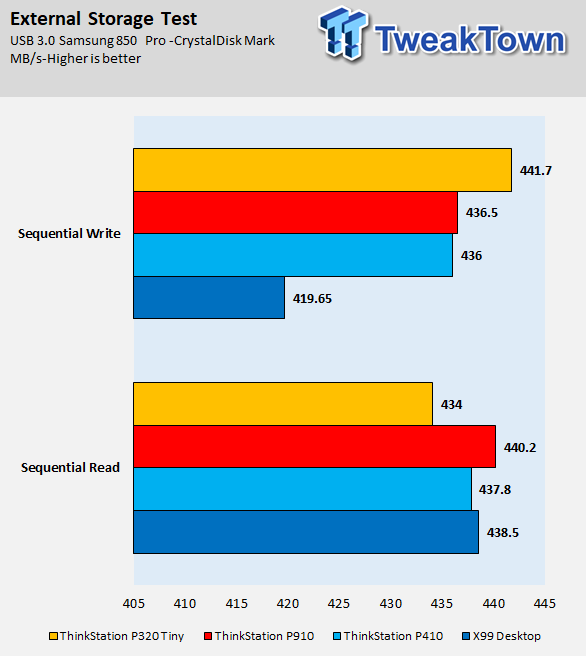 ixChariot Network Throughput: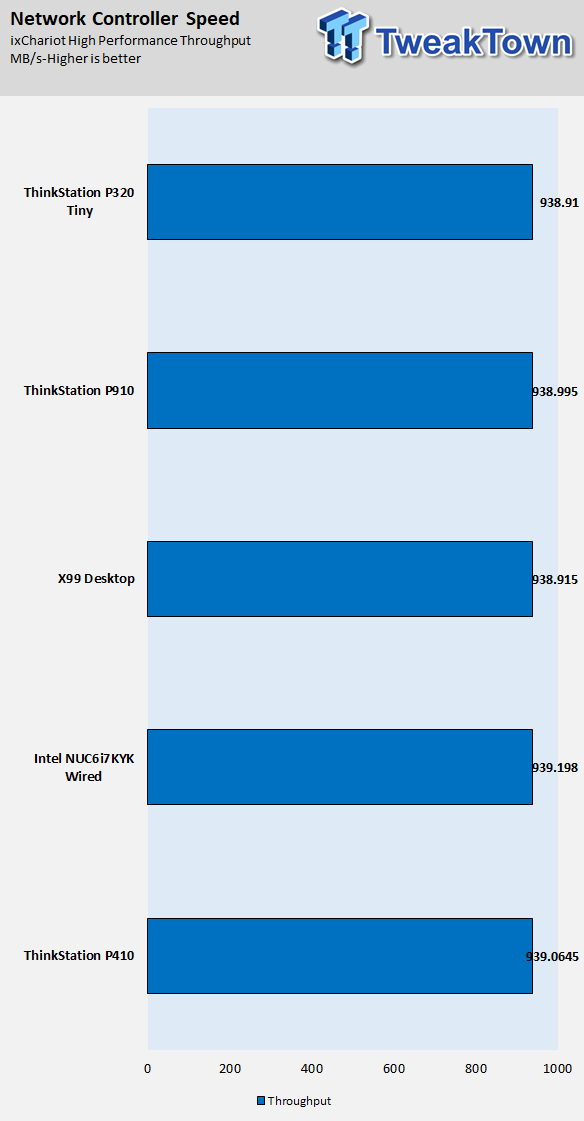 The ThinkStation P320 Tiny's SSD is scoring well. It's a NVMe based SSD, close in performance to a Samsung 950 series drive, but it's made by Toshiba. The USB write speed was a bit surprising, but the read wasn't the best. The wired NIC is performing where it should.
Temperature and Power Consumption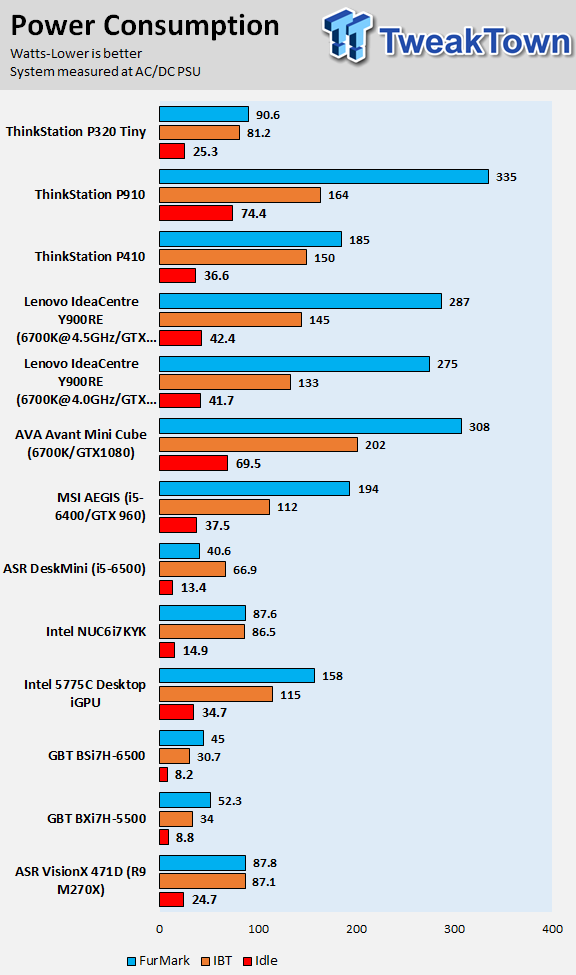 The power consumption of the ThinkStation P320 Tiny is one of its main selling points. It sips power like a NUC style device, but it has much more workstation compute performance.
Thermal Testing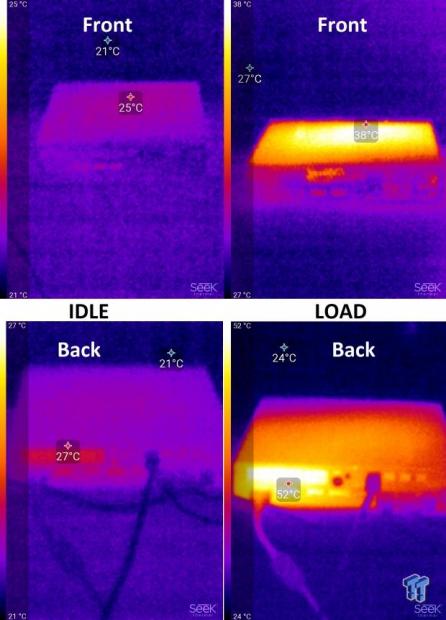 The thermal performance is quite good for such a small device. After 30 minutes of AIDA64 stressing everything from the CPU, FPU, GPU, and disks, the device did start to get quite loud.
While you would not typically load everything at once like this, the little workstation survived, temperatures weren't scary, but that fan can definitely ramp up when it needs too.
What's Hot, What's Not & Final Thoughts
Here are key points about the ThinkStation P320 Tiny.
What's Hot
Smallest in the World: It truly is a Small Form Factor Workstation, an SFFW or SFFWPC. It's thinner than an STX box and supports an x16 PCI-E low profile video card. Because of the P320 Tiny's small size, low power usage, and easy upgrade capabilities, I can see it becoming a popular mid-range workstation replacement. Producing a workstation in a NUC format is next level stuff, as you are much more limited in regards to GPUs. The Quadro P600 did well in our tests, and Lenovo did a nice job cooling it and the LGA1151 CPU with a single blower fan.
Low Power Consumption: The P320 Tiny uses an external power adapter that is rated for 135W, and that means the device won't pull more than that. In an office environment, power usage can become a huge issue, and a small full or mid-tower replacement such as this is a great thing.
Easy to Upgrade: Opening the device requires removing one screw, pushing the top forward and then lifting up the rear panel that covers the RAM and M.2 storage areas. It was very easy to access the M.2 storage and RAM bays, and there was room to add another M.2 drive in and another DDR4 SO-DIMM module. M.2 installation doesn't even require tools.
Workstation to the Bones: Lenovo has made good choices when it comes to onboard hardware. The low profile Quadro P600 and the 7700T (totally vPro compliant) go together very well. The BIOS has the right options to manage the device in a corporate environment and handle local security. Lenovo's workstation features, such as air intake sensor and multiple COM headers add a bit extra; I am sure Lenovo can change up features to fit the needs of different business users (I believe there are add-on units). Did I mention it also has ISV certification and a 3-year onsite warranty?
GPU Outputs: Workstations typically have a bunch of different monitors, and between the four mini DisplayPort outputs from the P600 and the two full-size DisplayPort outputs from the integrated GPU, you should be able to pull off up to six displays.
What's Not
Single Channel Memory: I am nitpicking, but I wouldn't build a device with only single channel memory these days. However, you can easily configure or upgrade the machine, so it has dual channel memory.
Under Heavy Load: While the unit stays quiet most of the time and through most loads, if you really load the CPU and the GPU at the same time, the blower will go full speed, and you can hear it. However, the P320 Tiny isn't unique in that regard; I have a Skull Canyon Intel NUC right in front of me that's getting loud as I am working on this article.
Final Thoughts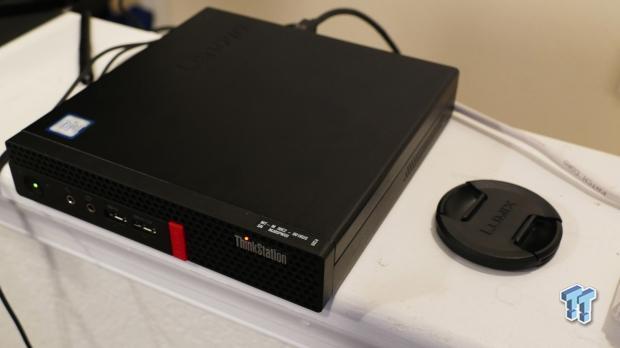 While NUCs aren't the most popular devices, they are slowly breaking into the desktop replacement market. These days, you don't need a full-sized desktop to get typical office work done. Intel's recent Kaby Lake microarchitecture has come so far, and many software applications aren't taking advantage of all the hardware can offer (like MS Office), so in some cases, tiny PCs can replace desktops.
Tiny PCs that replace full-sized towers are becoming more popular, not only because they save space, but because they also tend to use a lot less power. Power usage is a big thing when deploying hundreds of PCs into a business environment, and now we can cut it down by double-digit percentage points.
Until now, I hadn't seen a workstation PC this small (it's as long as a pencil). Sure, there are small workstations, but the ThinkStation P320 Tiny is the smallest ISV certified workstation.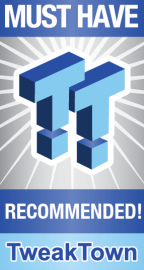 | | |
| --- | --- |
| Performance | 90% |
| Quality | 95% |
| Features | 92% |
| Value | 90% |
The Bottom Line: If you want the smallest true ISV certified workstation on the market that offers great performance and low power consumption, then the Lenovo ThinkStation P320 Tiny is your best bet!
PRICING: You can find products similar to this one for sale below.

United States: Find other tech and computer products like this over at Amazon.com

United Kingdom: Find other tech and computer products like this over at Amazon.co.uk

Australia: Find other tech and computer products like this over at Amazon.com.au

Canada: Find other tech and computer products like this over at Amazon.ca

Deutschland: Finde andere Technik- und Computerprodukte wie dieses auf Amazon.de
We openly invite the companies who provide us with review samples / who are mentioned or discussed to express their opinion. If any company representative wishes to respond, we will publish the response here. Please contact us if you wish to respond.