TweakTown's Rating: 94%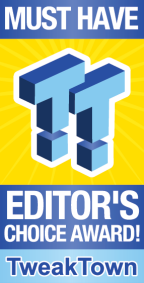 The Bottom Line
GEEKOM's Mini IT13 is the quickest 4x4 Mini PC we have tested to date, while offering fantastic connectivity for the price.
Pros
+

Fastest Mini PC we've tested to date

+

2.5Gbe Ethernet

+

Wi-Fi 6E

+

USB4
Cons
-

Still using DDR4

-

Expensive
Should you buy it?
Avoid
Consider
Shortlist
Buy
Introduction, Specifications, and Pricing
The Mini IT13 is one of GEEKOMs' most anticipated Mini PCs to date. They even pulled out all the stops to have a release party for this machine in late August of this year. GEEKOM was also able to grab headlines with this Mini IT13 being the first Intel 13th Gen Core i9 Mini PC to market. This had our interest piqued, so after a chat with GEEKOM, we had a unit sent over for review.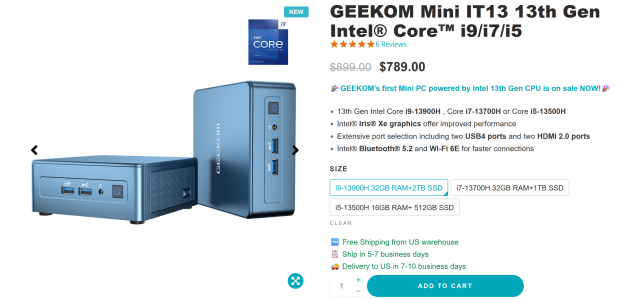 Our unit is the top-of-the-line model featuring the Intel Core i9-13900H processor. It gives us six performance cores and eight efficiency cores. Adding in hyper-threading lands this machine with a total of 20 threads. Clocks give this unit a 4.1GHz boost for the E-cores and a 5.4GHz boost for the P-Cores.
GEEKOM has paired this flagship model with 32GB of DDR4 memory via two SO-DIMM slots, while storage includes a 2TB NVMe solution out of the box with the option for a second M.2 via a second 2242 slot supporting SATA only. Legacy storage is also available, with the chassis holding room for a 2.5" drive.
The graphics for this unit is the Intel Iris Xe. Connectivity for this machine includes two USB 3.2 Gen 2 ports on the front of the machine alongside a 3.5mm audio jack. On the rear of the unit, we have dual USB4, dual HDMI, and 2.5Gbe. Additionally, there is a single USB 2.0 port and USB 3.2 Gen 2. The GEEKOM Mini IT13, as configured above, comes in at $899 MSRP. GEEKOM offers the code "FVMW2COH" for our readers buying from Amazon and code "tweaktown40" for those purchasing directly from GEEKOM. Both codes will net you $40 off the price.
Overview and BIOS
Overview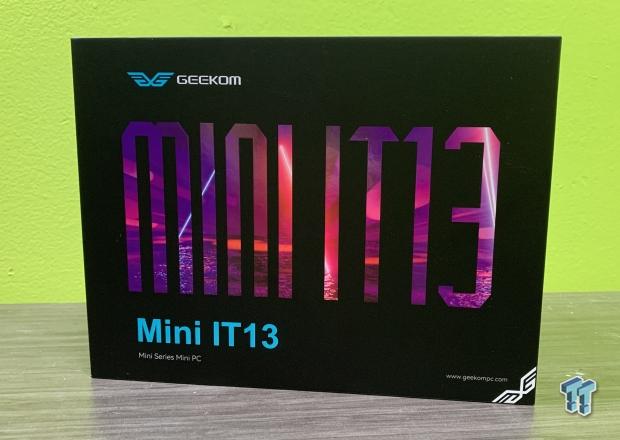 The Mini IT13 was delivered in its retail packaging, as seen above.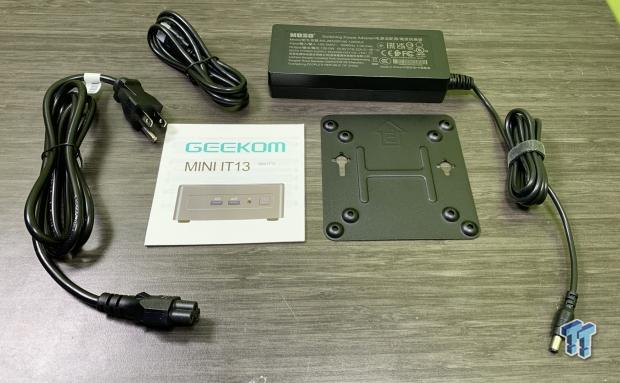 We have the power brick rated at 19v 6.3A, a VESA mount, and reading materials included in the package.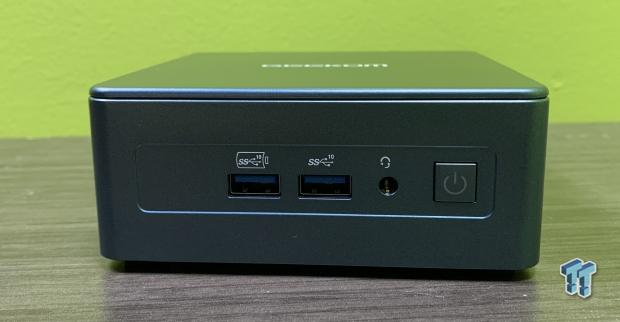 The front of the machine houses two Type-A USB 3.2 Gen 2, a 3.5mm audio jack, and a power button.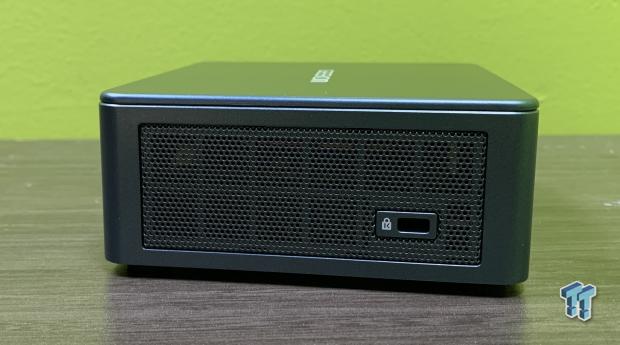 The right side offers ventilation for the unit, along with a Kensington lock slot.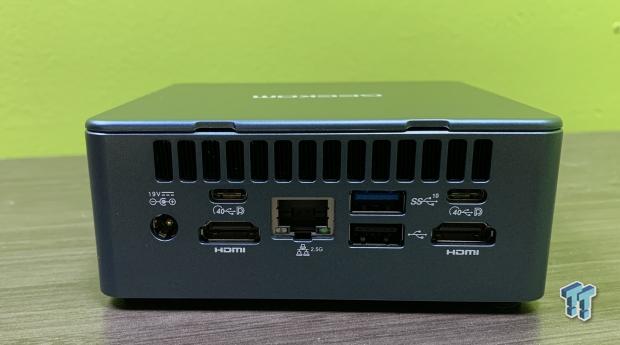 The rear I/O is tightly packed with the power input, dual USB4, and dual HDMI, and is followed by 2.5Gbe and two more USB ports.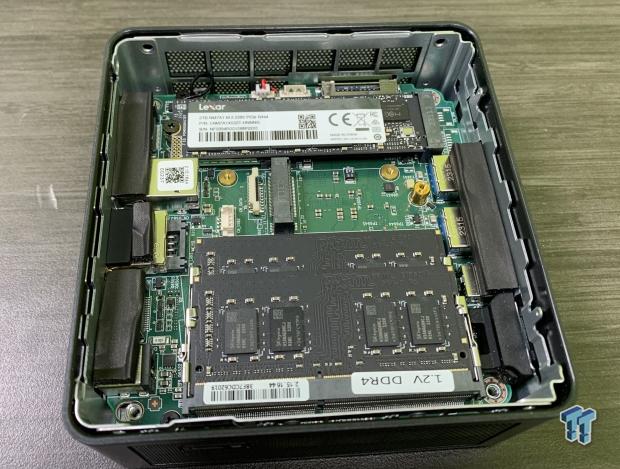 Internally, we have two DDR4 SO-DIMM slots at the bottom, with the 2242 SATA slot and 2280 NVMe above.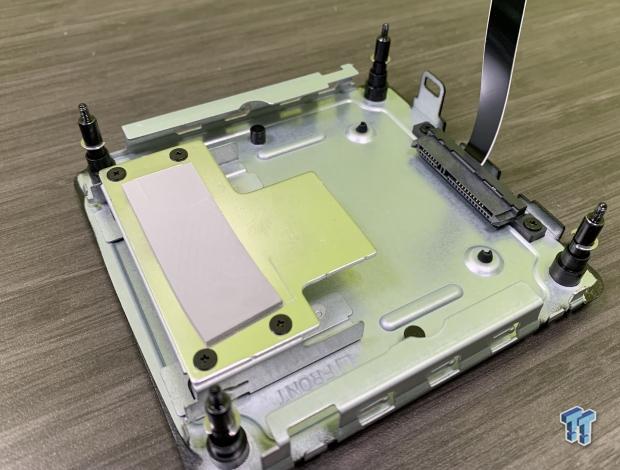 The machine's lid houses the tray for any 2.5" drive you may want to install.
BIOS/UEFI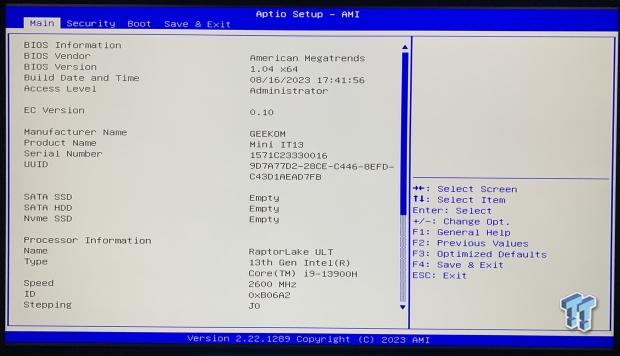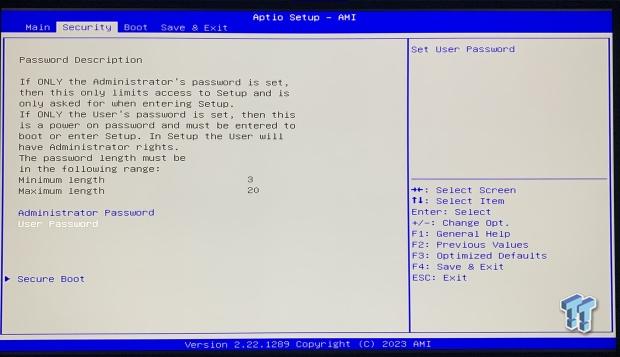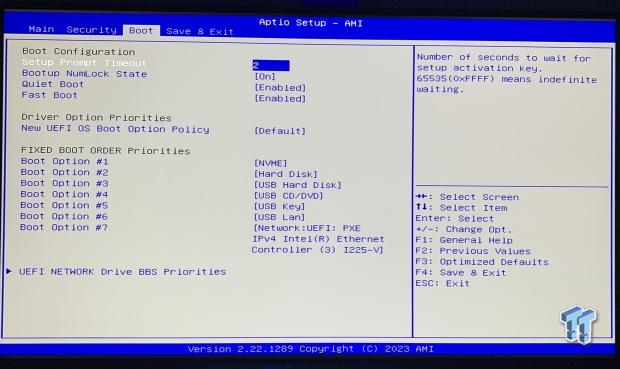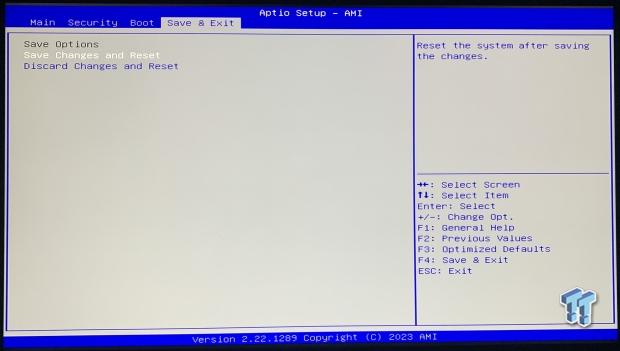 The BIOS on this machine uses the older basic BIOS system. The first page offers hardware information. The advanced tab carries most of the configuration options for this system, including CPU configuration, power, PCH, and NVMe.
The chipset tab offers little for configuration, while security gives options for TCG Security, and the boot and save menus are where we would configure startup devices and boot options.
System/CPU Benchmarks
Cinebench
Cinebench is a long-standing render benchmark that has been heavily relied upon by both Intel and AMD to highlight their newest platforms during unveils. The benchmark has two tests: a single-core workload utilizing one thread or 1T. There is also a multi-threaded test that uses all threads or nT of a tested CPU.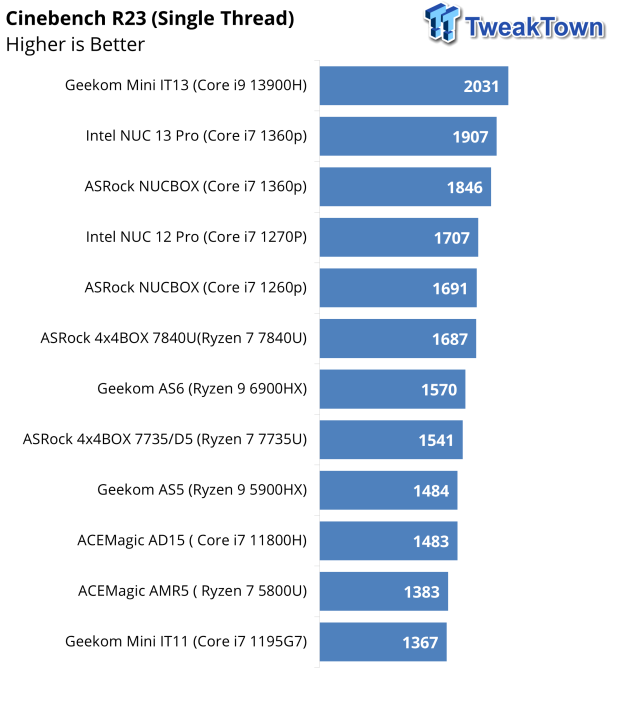 R23 kicked off our testing as it normally does. The Mini IT13 is the quickest machine we have tested in single core with a score of 2031.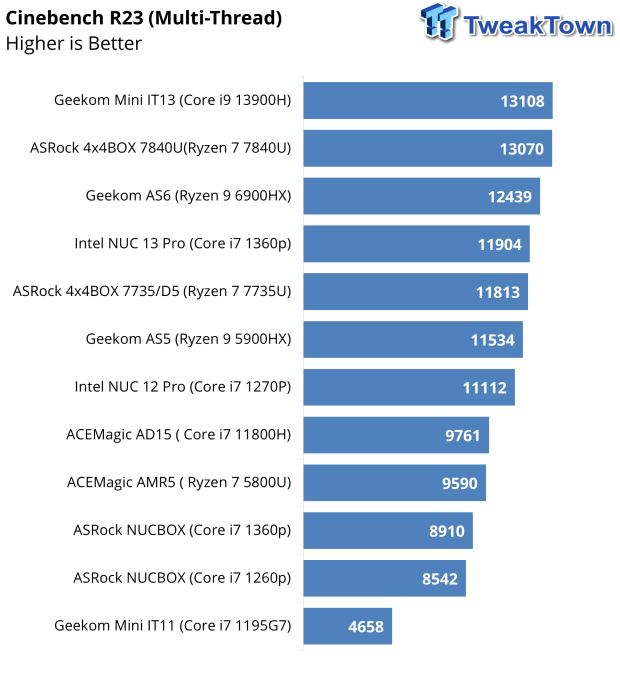 nT was also the quickest we have seen, with the Mini IT13 scoring 13108.
BAPCo CrossMark
CrossMark™ is an easy-to-run native cross-platform benchmark that measures the overall system performance and system responsiveness using models of real-world applications. CrossMark™ supports devices running Windows, iOS, and macOS platforms.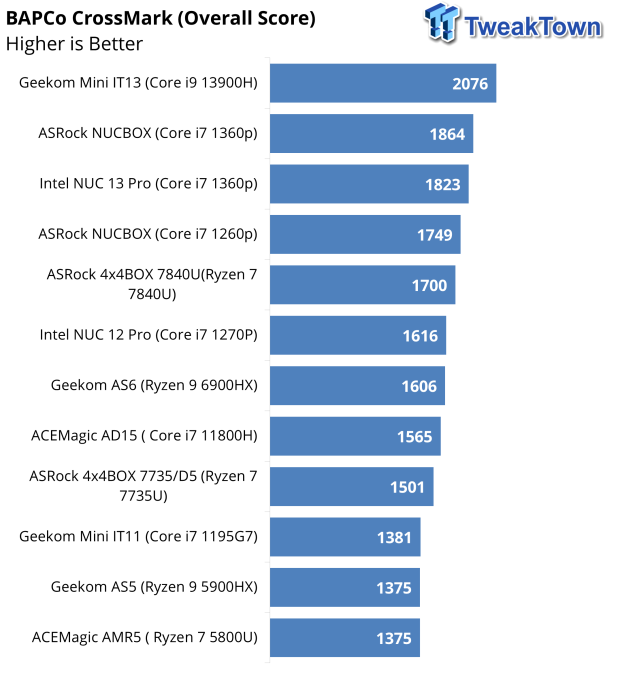 Crossmark also gave us chart-topping numbers, with the GEEKOM system pulling in 2076 overall.
Geekbench 6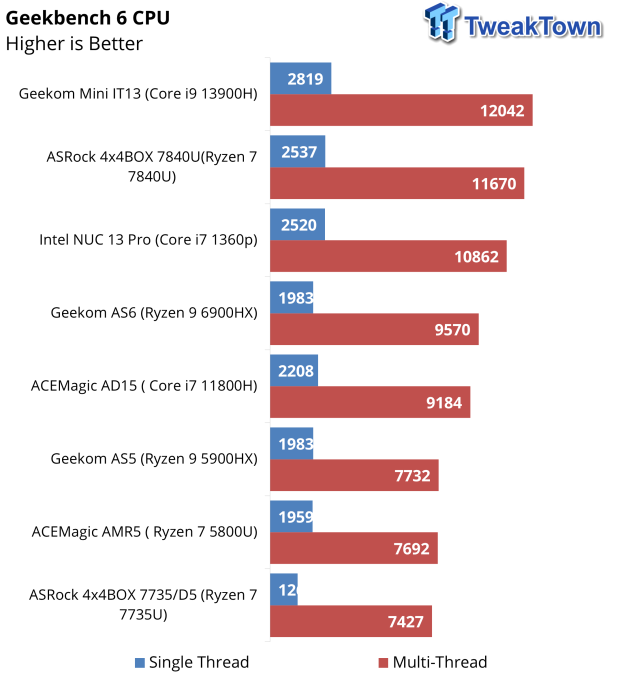 Geekbench CPU pushed this machine to the top, with single core scoring 2819 while multi-core picked up 12042.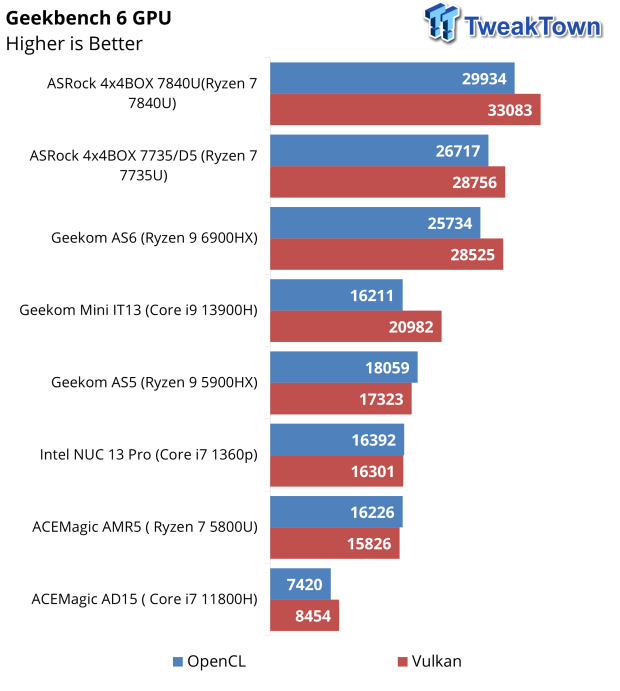 OpenCL had this machine third in our charts, with OpenCL showing 16211, while Vulkan was slightly better at 20982.
UL Benchmarks and Final Thoughts
UL Benchmarks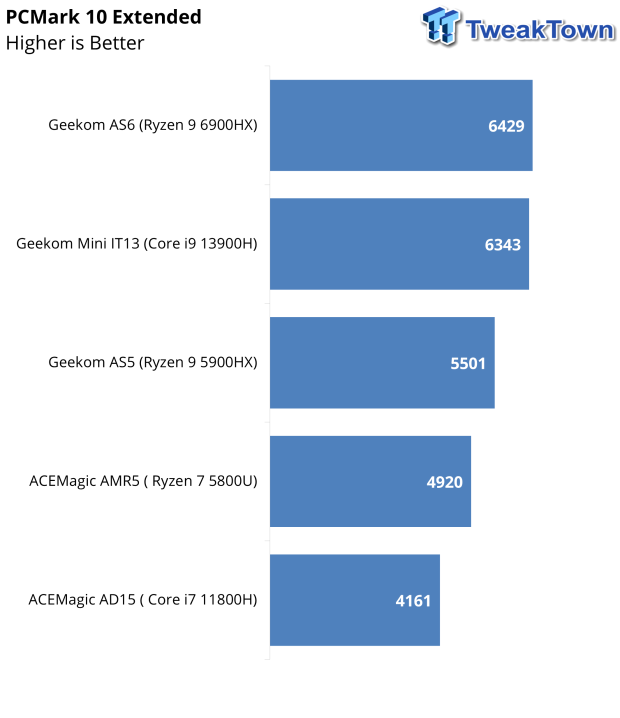 PCMark kicked off our UL Benchmarks. The Mini IT13 picked up an overall score of 6343, which was good enough for second in our charts.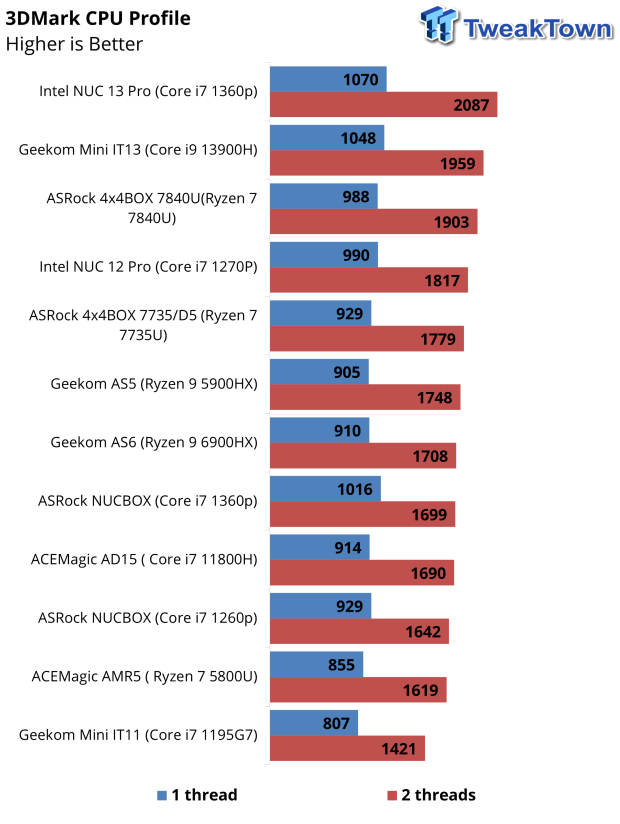 CPU Profile within one and two threads had the Mini IT13 again at the top of our charts, second to the NUC 13 Pro.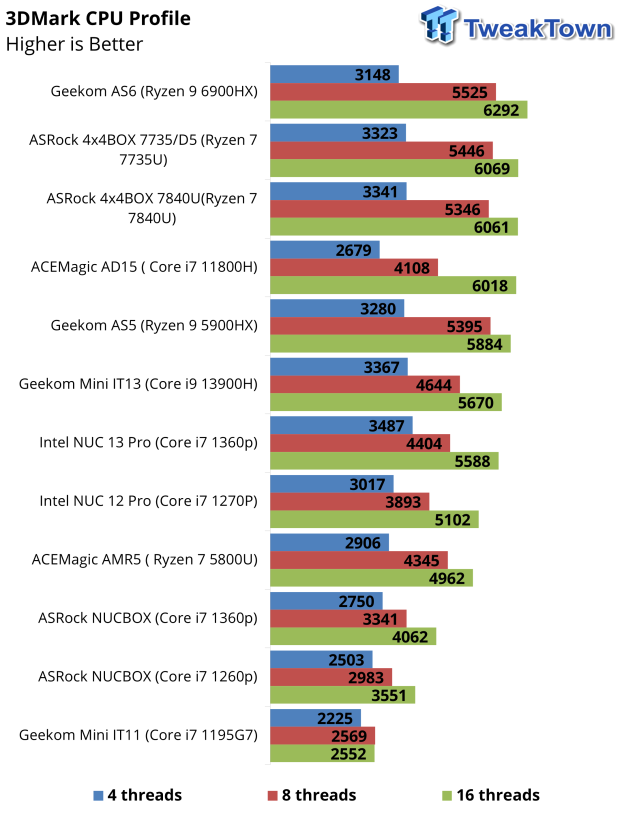 With four through sixteen threads, the GEEKOM lands in the sixth spot in the chart above.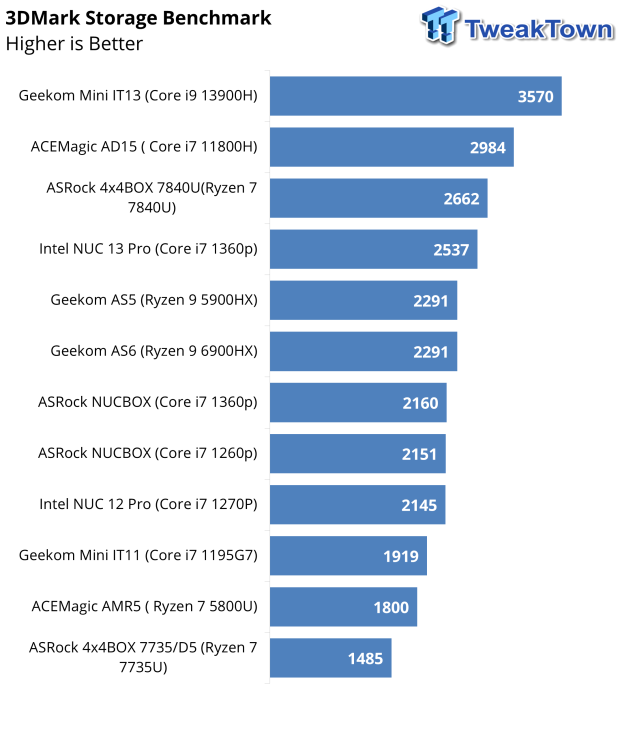 Time Spy landed third using the integrated graphics; note how much faster the 13900H is in CPU with its 9153 score.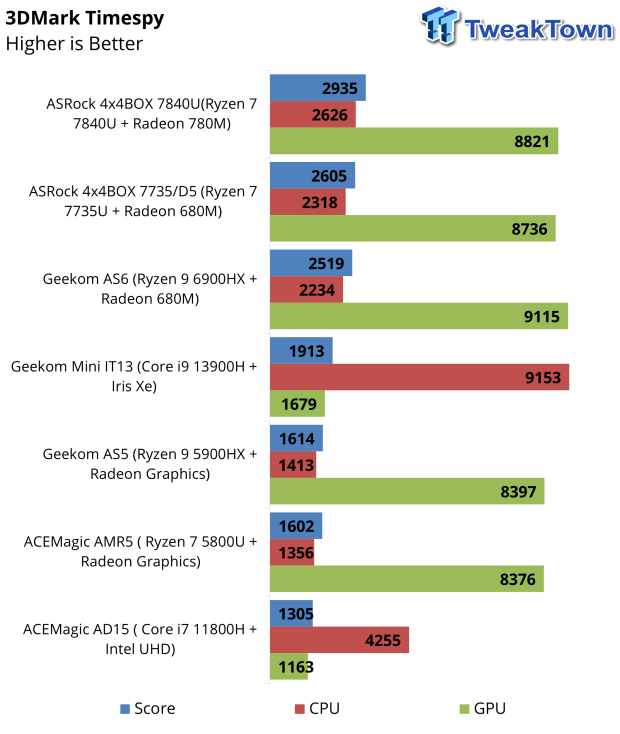 3DMark Storage once again gave this unit top marks in our charts with a score of 3570.
Final Thoughts
The GEEKOM Mini IT13 is the quickest Mini PC we have tested. The form factor sticks to the 4x4, which is nice for anyone buying in just for the space savings, though GEEKOM doesn't stop this from outfitting the machine with support for NVMe and SATA storage along with full SO-DIMM support for the memory.
I have to knock GEEKOM for using DDR4 when this is a second-generation DDR5-capable platform. There is no reason to omit DDR5 at this price point. The networking stack is quite good with 2.5Gbe and WiFi 6E, and we do note this appears to use CNVi, so upgrading it to WiFi 7 might not be possible.
The connectivity of this machine is very good, with quick access to dual USB 3.2 Gen on the front of the unit, while those wanting more performance from their external storage have access to dual USB4 on the rear of the unit. Having USB4 extends the capabilities of this machine even further, with 40GBps support for storage along with DisplayPort and the ability to tag in an external GPU to make this a very compact gaming machine.
Performance was top-notch, and this was something we expected. Though I wasn't sure it would completely melt our charts like it did. The single-core performance showed the power of the 13900H, taking top marks in Cinebench and 3DMark CPU Profile, while full system suites like Crossmark had this unit on top, and PCMark had it second to the 6900HX powered AS6 by about 90 points. The included storage was quite good, the best solution we have seen come from the factory in one of these machines, which took top honors in our charts.
Pricing could be slightly better, but you get what you pay for, and at its MSRP of $899, the GEEKOM Mini IT13 is one hell of a machine. As of this writing, GEEKOM has reduced the price to $789, and using either of the two codes at the beginning of the article will knock the price down another $40, bringing it down to $749 for our readers.