Alien: Covenant 4K Blu-ray Review
R-rating! Blood! Cutting edge visual effects! Despite all that, 'Alien: Covenant' fails to thrill audiences in the way it should.

Published
|
Updated Tue, Nov 3 2020 6:58 PM CST
3 minutes & 6 seconds read time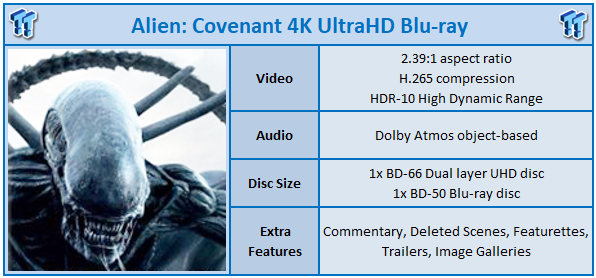 Alien: Covenant 4K Ultra HD Blu-ray
After limping out of cinemas with a disappointing $230 million worldwide gross (almost half what its predecessor Prometheus managed back in 2012), Alien: Covenant now gets a rapid home video release to capitalise on the huge theatrical marketing spend which failed to get bums on seats. Now divorced from the pre-release hype, the film can stand on its own two feet, but to me, a re-watch only serves to re-confirm its many shortcomings that even the latest tech buzzwords like 4K, HDR, and Dolby Atmos can't gloss over.
En route to the so-called planet 'Paradise,' the Prometheus mission fails when the android David (Michael Fassbender) becomes the only survivor. A decade later, Covenant begins a new mission to terraform an Earth-like planet, but when a systems failure wakes the crew from hyper sleep years before planned, Captain Oram (Billy Crudup) makes a fateful decision to land on a nearby planet which might very well support human life. On the other hand, it all just might be a pre-engineered plot to create a devastating new species.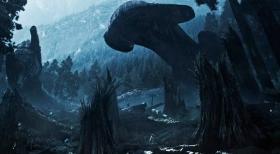 As sure as the 1979 original Alien and 1986 James Cameron sequel Aliens are out-and-out classics, and Alien 3 and Alien Resurrection are both highly flawed follow-ups (and the less said about the Alien VS Predator films, the better), let's not kid ourselves that the Alien franchise as a whole is any kind of untouchable modern masterpiece. Still, there remains a lot of reverence and goodwill to the series which, as proven by the huge financial success of Prometheus after an absence more than 15 years (as well as the word Alien in the title) seemingly working against it. With Covenant, Ridley Scott tries to assemble the narrative dissonance into a cohesive whole.
Lumbering forward with dumb and unappealing characters, Alien: Covenant unfolds with precious little suspense, grinding to a halt for its big reveal and climaxing with a faux shock ending that's telegraphed way in advance. Despite all the blood, the no-holds-barred R rating and cutting edge visual effects, when it's all said and done, some mysteries should probably just remain so.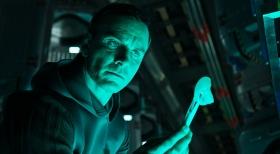 Video
Alien: Covenant is presented in its original aspect ratio of 2.39:1, encoded with H.265 compression and finished with a static HDR-10 pass.
Lensed largely on the industry standard Arri Alexa at 3.4K resolution before being finalised in a 2K digital intermediate (as is common with most CG heavy films at this point in time), Covenant features a subtle resolution uptick over the 1080p Blu-ray, with sharp and detailed images that are superbly saturated and colour corrected to within an each of their life.
Owing to their 2K origins, scenes featuring CG heavy manipulation can occasionally take on a softer tone, but not excessively so.
Fox is known for doing a consistently excellent job with their 4K High Dynamic Range passes, and Covenant is no exception. Compared to the Blu-ray, the HDR pass gives the film a slightly bluer hue but doesn't change the overall visual identity too much.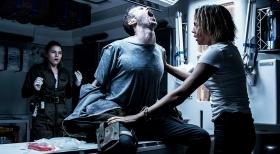 Audio
Alien: Covenant's primary English audio track is an object based, Dolby Atmos mix.
An aggressive and dynamic mix which can escalate at a moment's notice, Covenant features a superbly balanced mix which rarely lets any available audio channel rest. Despite the audio cacophony, dialogue remains punchy and audible from the front soundstage, while mayhem constantly enshrouds the rears and the front height channels alike. Unsurprisingly, the bass is heavy and ever-present, underscoring some of the rare scares in a cheap but effective way, as well as Jed Kurzel's moody and evocative score.
It's of note that the Blu-ray features 'only' a DTS HD master audio track, locked at 7.1, while the 4K disc is graced with the superior immersive mix.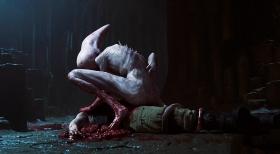 Extras
Short of the Audio Commentary by Director Ridley Scott, all the extra features for the film are isolated to the included 1080p Blu-ray disc. As usual, Ridley Scott speaks eloquently and knowledgeably about the film, as well as his long term association with the franchise. Unfortunately, the film's shortcomings don't seem to be as evident to Scott, or at the very least, he's reticent to point them out.
The undoubted highlight of the Blu-ray is the Master Class - Ridley Scott documentary, which through its 55-minute length sheds a lot of light on the production, even if it's not quite as generous as that offered by the other Alien films. Those hankering for a little more narrative will be delighted by the 18 minutes of Deleted and Extended Scenes, but I'm confident they were wise excisions from the theatrical release.

PRICING: You can find products similar to this one for sale below.

United States: Find other tech and computer products like this over at Amazon.com

United Kingdom: Find other tech and computer products like this over at Amazon.co.uk

Australia: Find other tech and computer products like this over at Amazon.com.au

Canada: Find other tech and computer products like this over at Amazon.ca

Deutschland: Finde andere Technik- und Computerprodukte wie dieses auf Amazon.de
We openly invite the companies who provide us with review samples / who are mentioned or discussed to express their opinion. If any company representative wishes to respond, we will publish the response here. Please contact us if you wish to respond.