Toshiba N300 8TB High-Reliability HDD Review
Toshiba's N300 8TB High-Reliability hard drive designed for up to eight-bay NAS systems goes under our tests. Is it one to consider?

Published Wed, Jul 26 2017 8:22 AM CDT
|
Updated Tue, Nov 3 2020 6:58 PM CST
Introduction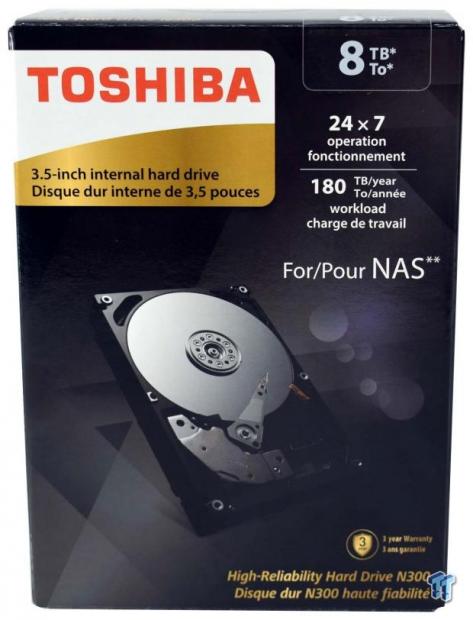 Toshiba is adding to its X and P300 series of drives with a new N300 lineup. This lineup is aimed at NAS users wanting a reliable, high capacity solution in the 7200 RPM flavor.
Toshiba is playing a bit of catch up with its hard drive business, bringing its very own NAS brewed solution to the market. The N300 designed from the ground up for NAS use in up to eight-bay systems offers several capacity options for the prospective buyer. At the ground floor, we have 4TB for entry-level consumers, and a step up gives us 6TB. 8TB is the peak capacity at this point, but all drives carry a 7200 RPM spindle speed.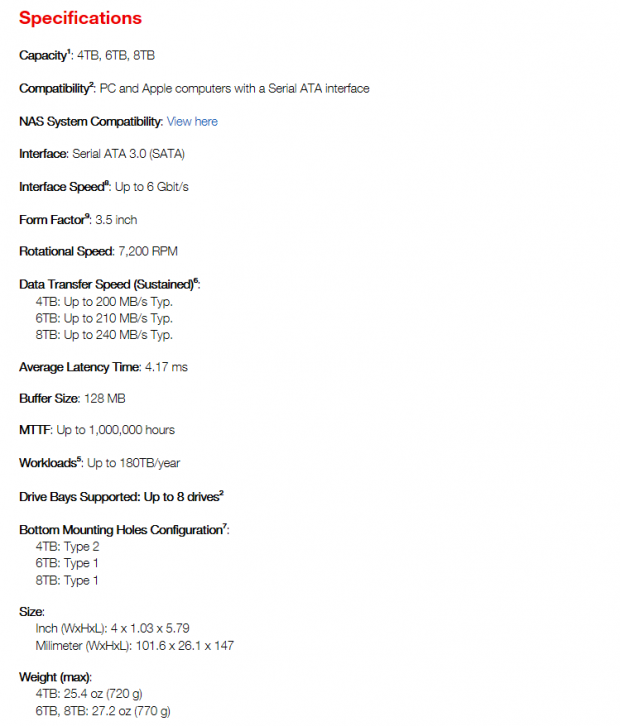 The N300 uses a Serial ATA 3.0 or SATA 6Gb/s interface in the 3.5" form factor. Sustained data transfer sits at 200 MB/s for the 4TB model, 210 MB/s for the 6TB, and 240 MB/s for the 8TB model in house. Buffer size comes in at 128MB on par with the standard for high-capacity drives with the N300 series carrying a 180TB/year workload rating, and MTBF sits at one million hours.
The Toshiba N300 in the 8TB capacity carries a three-year warranty and an MSRP of $279.99.
Toshiba N300 8TB
Packaging and a Closer Look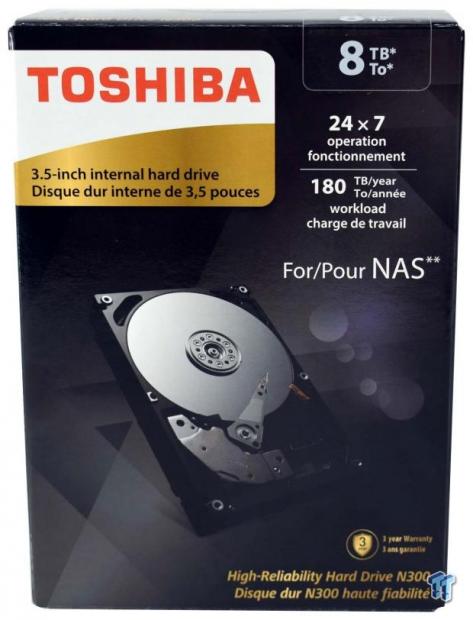 Our drives arrived in retail packaging. Packaging carries a capacity call out at the top right with reliability and workload ratings below.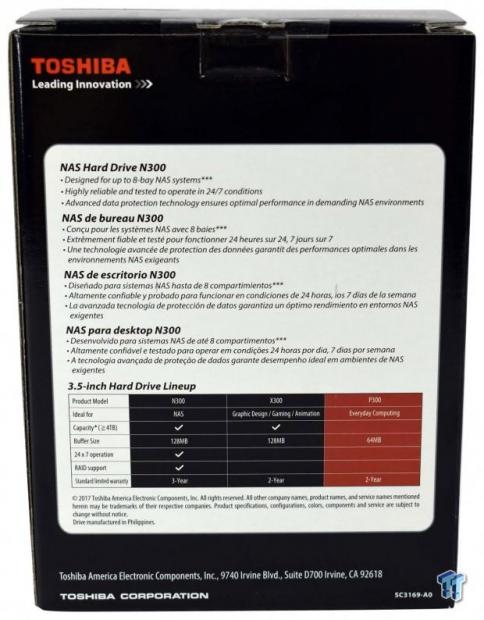 The backside gives a bit more info on the drive including its compatibility with up to eight-bay systems. Down below there is a hard drive lineup comparison from Toshiba.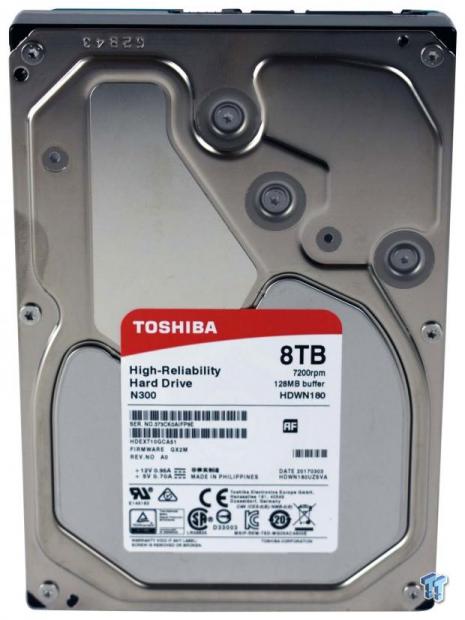 The drive itself has a small sticker on the front with all the relevant model and capacity information. To the top right capacity at 8TB and cache at 128M.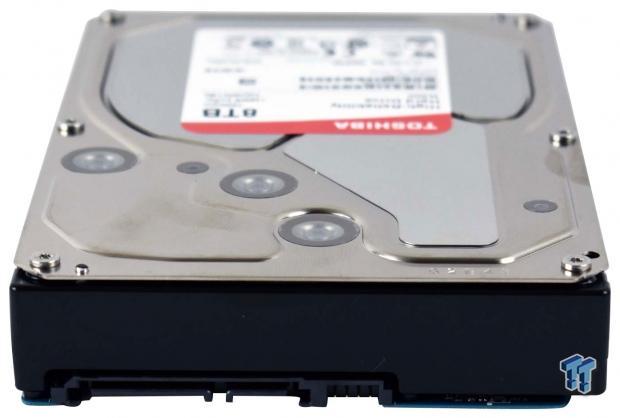 The drive follows standard practice for compatibility with drive trays and backplanes.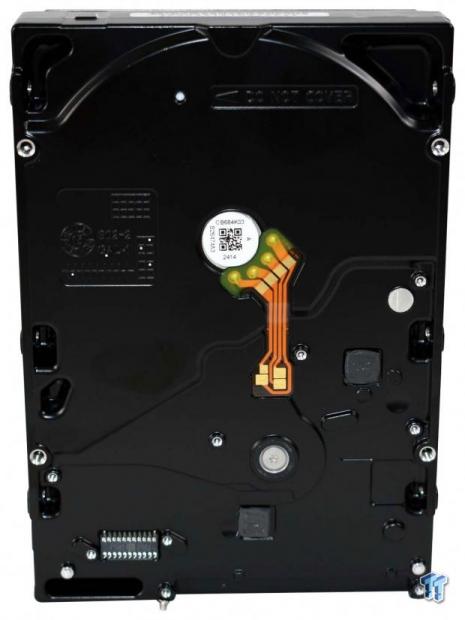 Removing the PCB, there are a set of thermal pads for conducting heat from the PCB. The bottom left houses connectivity pins with the drive motor on copper pads.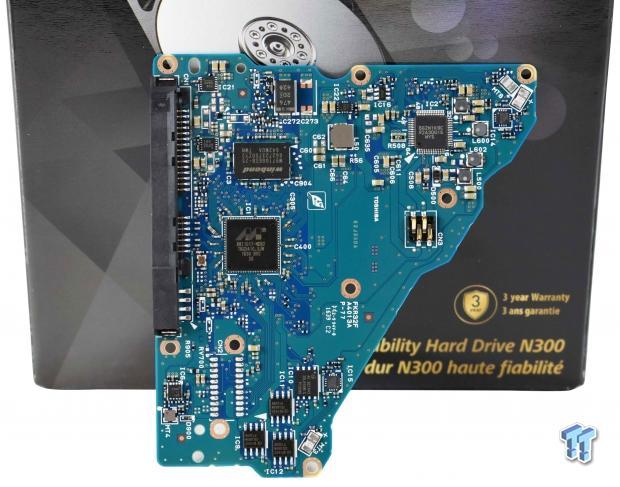 The N300 takes advantage of the Marvell 8811017 controller while Winbond provides the 128M of cache.
Test System Setup and ATTO Baseline
Test System Setup
Tyler's Test System Specifications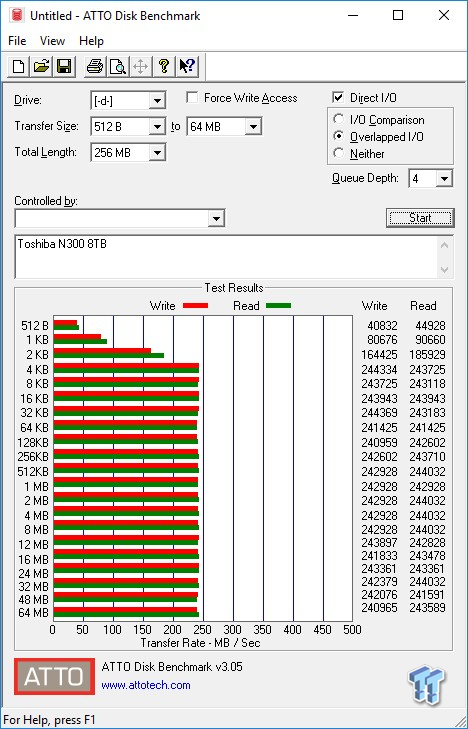 ATTO Disk Benchmark has long been a staple in testing all types of storage. For me, it's a quick test to get an idea where the drive will perform before diving into the longer testing scenarios.
The N300 performs quite well from 4K through 64M bringing in a consistent 244 MB/s read and write.
Benchmarks – IOMeter 4K Throughput and Latency
IOMeter 4K Throughput and Latency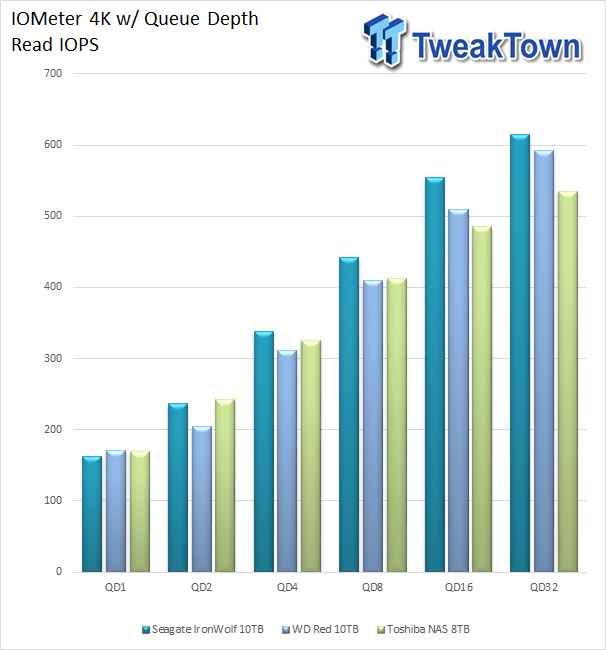 Performance testing kicks off with 4K throughput and latency. The N300 scales quite well starting at 175 IOPS and tapping out at 525 at QD32.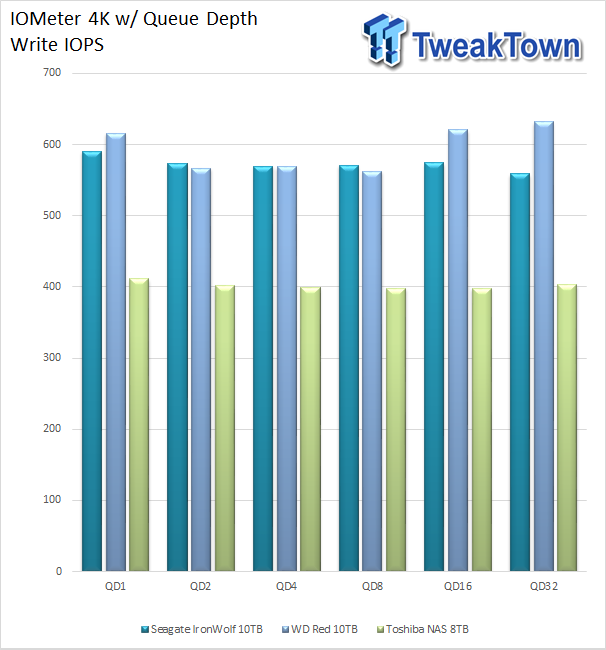 Write IOPS is a little different, performance is consistent from QD1 to 32 with performance hovering around 400 IOPS.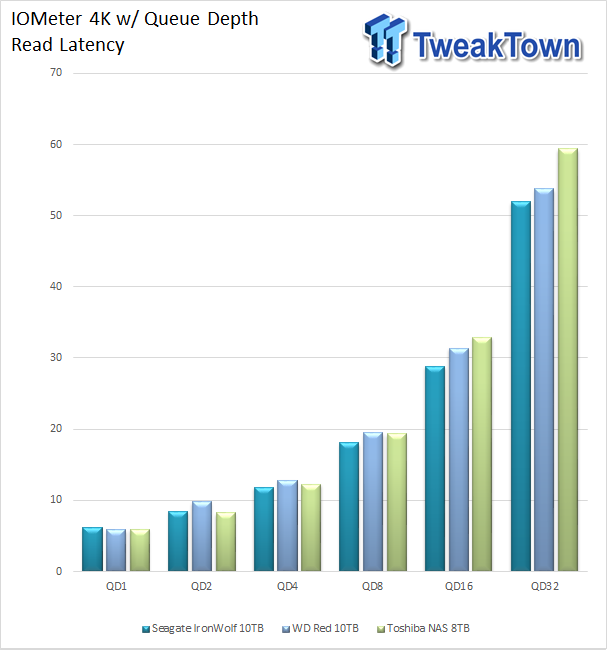 Read latency starts out around 8ms and progressively moves up with each step. At QD32, the N300 sits at 60ms.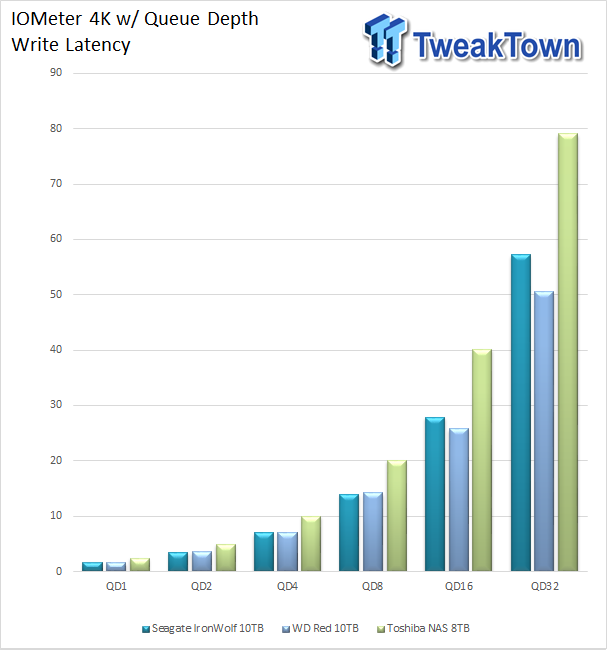 Write latency is similar except for an overall increase of about 20ms. From QD4 to QD8, latency doubles from 10 to 20ms, and QD16 to 32 sees that again double, finishing at 80ms.
Benchmarks – Sequential Workloads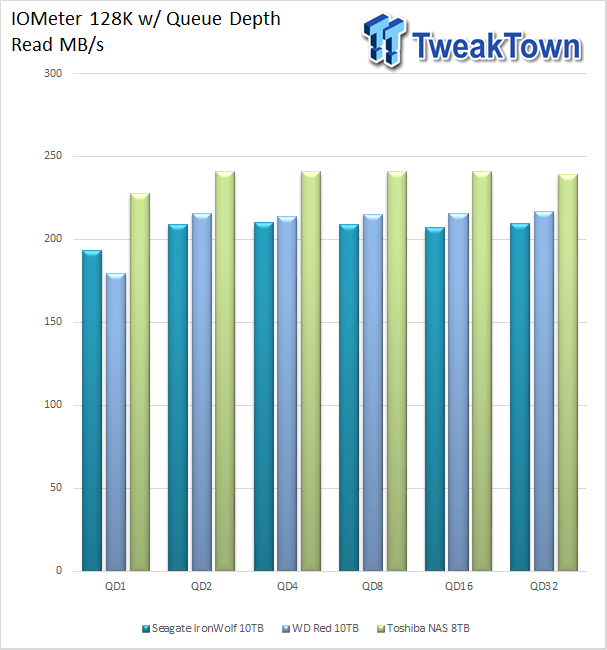 Sequential read is where the N300 shined. We see a peak near 240 MB/s, and it rides that throughout.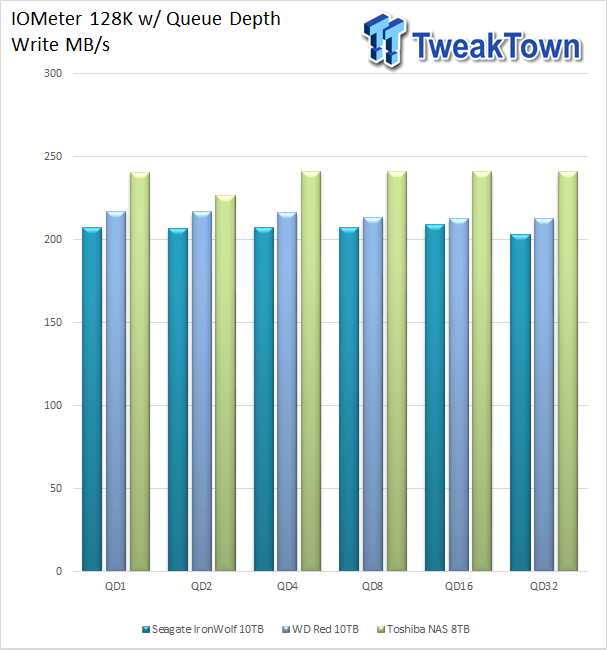 Write performance was able to hit and maintain that same 240 MB/s mark making the N300 a solid drive in sequential workloads.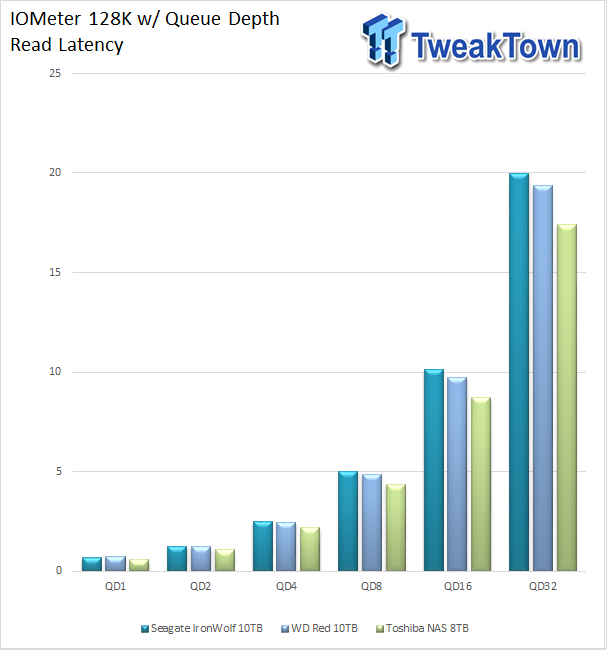 Latency shows a good start for the N300, pulling away from the IronWolf and Red at QD4. From QD8 to 32, the N300 continues to outperform finishing at 17ms.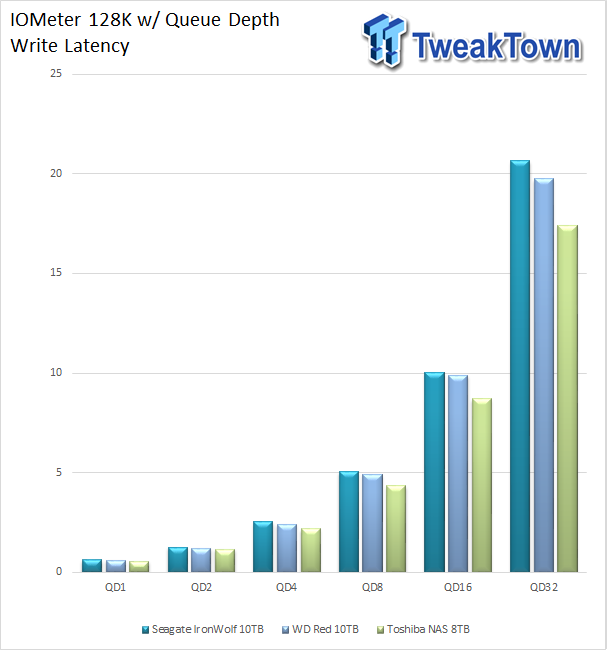 Write latency again starts strong hovering at 4ms at QD8.
Benchmarks – Datacenter Workloads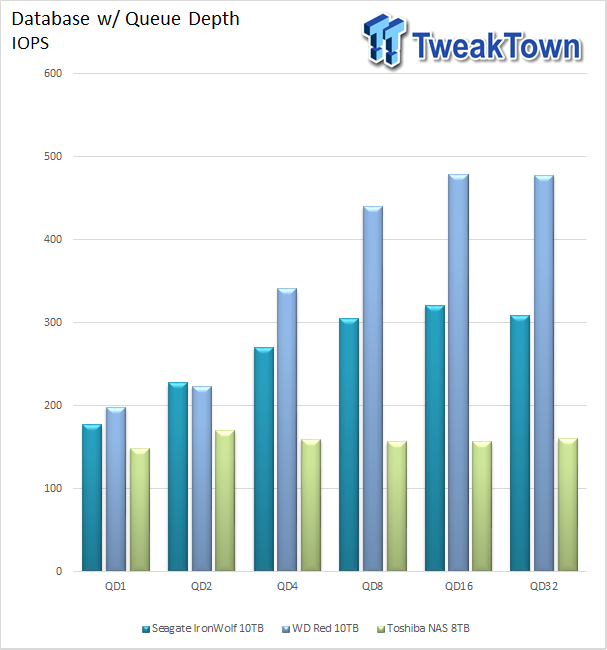 Mixed workloads can be tough for some drives, and that is true of the N300. In Database, we see the N300 start strong, but it hit a wall at around 150 IOPS, where competing solutions keep going.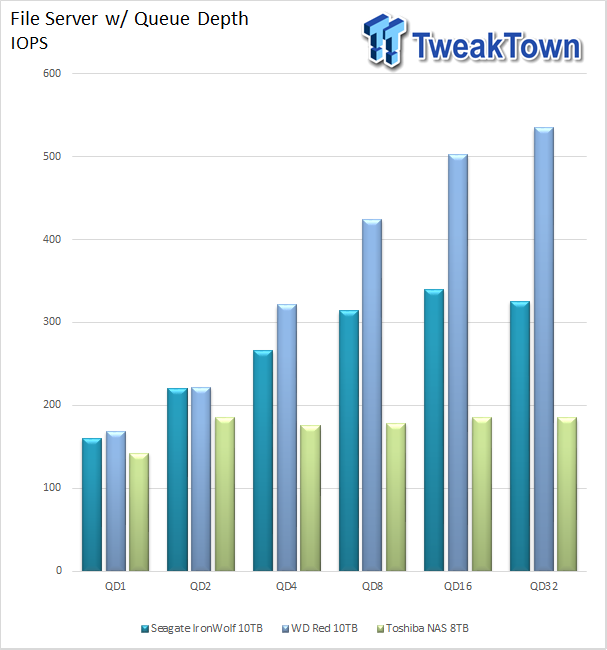 File Server showed much of the same - a 170-180 IOPS wall for the N300.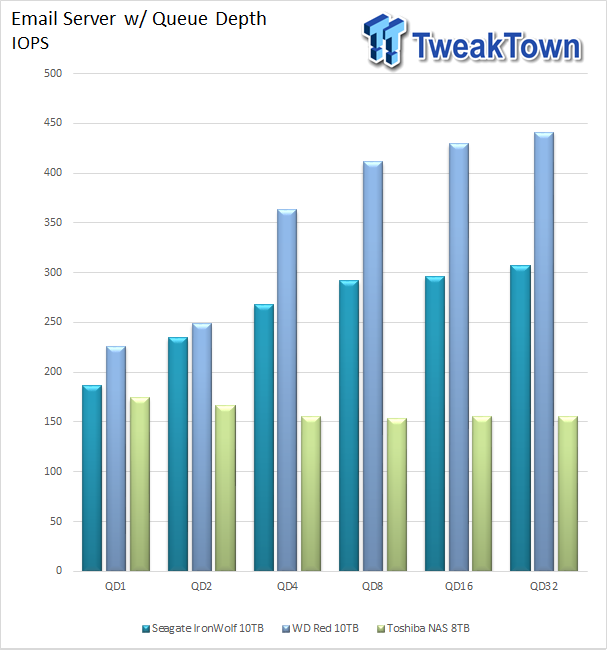 Email Server showed a slight burst at QD1 to 170 IOPS then slowing to 150 IOPS through the rest of the scale.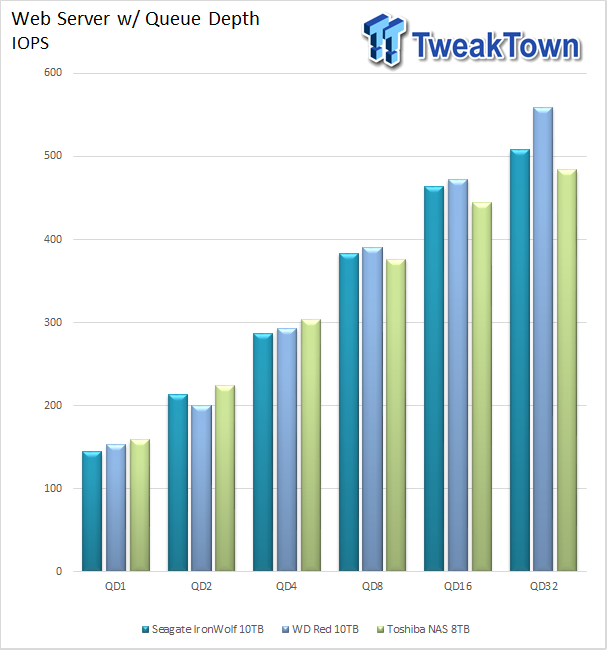 Web Server seems to be the strongest workload for many drives, and that too is the case with the N300. As you can see, it scaled perfectly from QD1 at 170 IOPS to QD32 at 490 IOPS.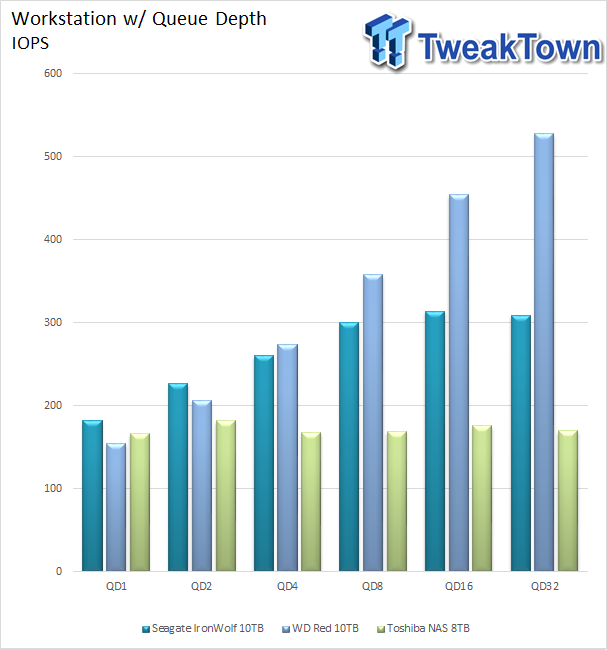 Workstation moved back to 150 IOPS performance QD1 to 32.
Benchmarks – RAID 0 Performance
Toshiba sent over two drives so that we could test RAID performance. Obviously with two drives we are limited to RAID 0 and RAID 1. RAID 1 numbers will often be just under single drive performance due to overhead while RAID 0 is what most will use for that extra bit of performance. Let's see how the 8TB N300 performs.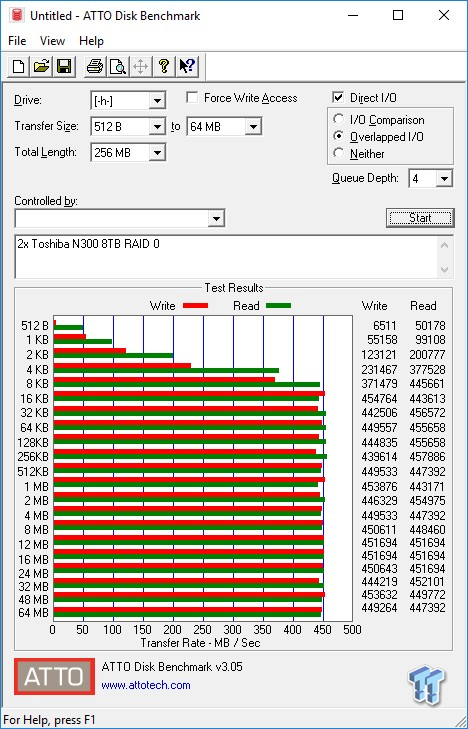 Starting off with ATTO, we get our baseline performance. Single drive hit around 244 MB/s read and write consistently, and in RAID 0, we see a solid 445 to 450 MB/s read and write.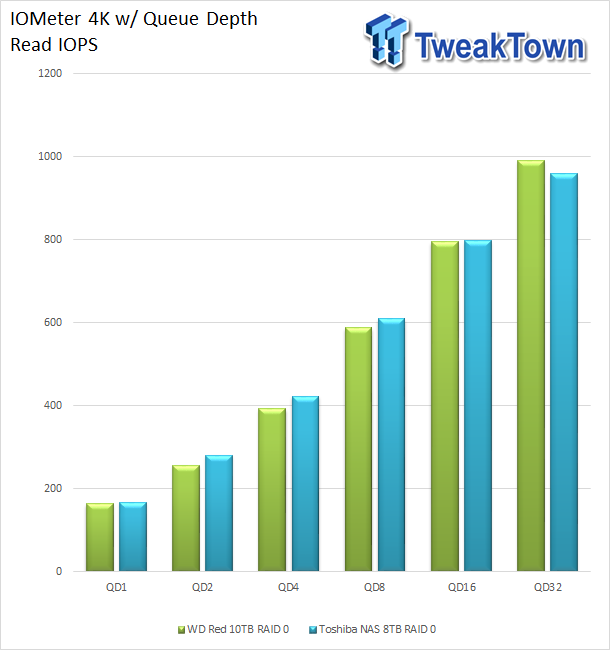 Fresh off the testing of the WD Red 10TB, we have a solid comparison for the 8TB N300. In 4K workloads in RAID 0, the N300 holds its own, scaling from 170-180 IOPS at QD1, to a touch under 1000 IOPS at QD32.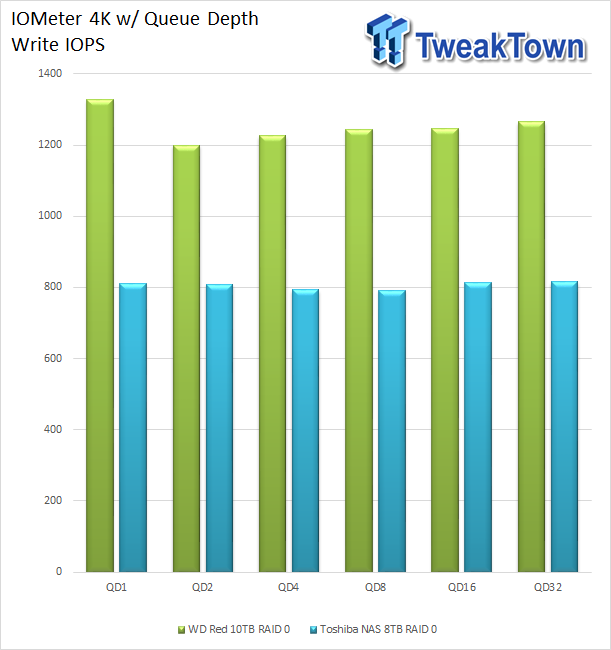 4K write was a different story. Here, while we do get a bump in performance, it is steady at 800 IOPS.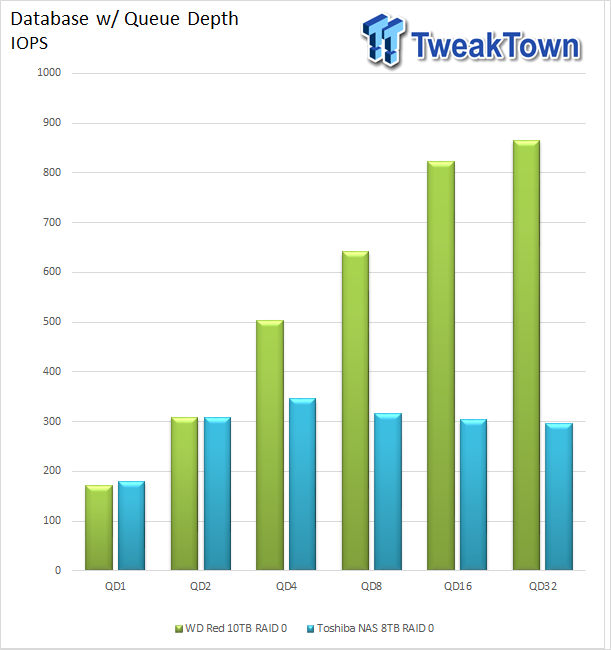 Database showed a slight gain of about 130 IOPS across the board with RAID 0.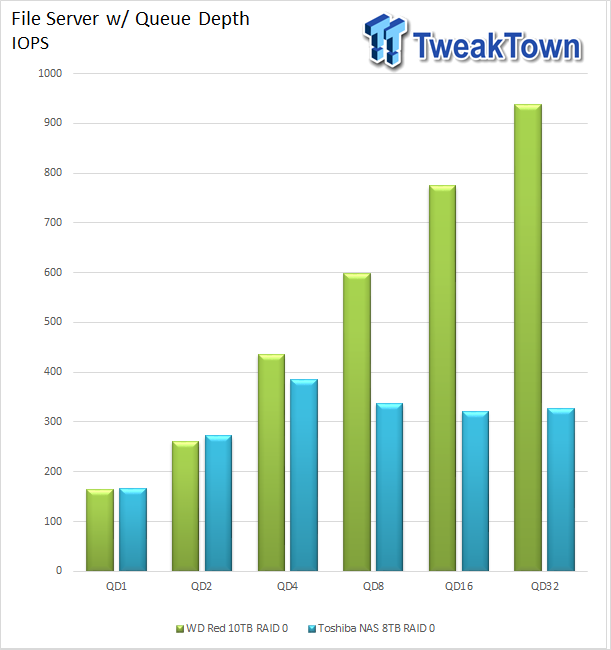 File Server got nearly the same boost moving from a single drive to RAID 0.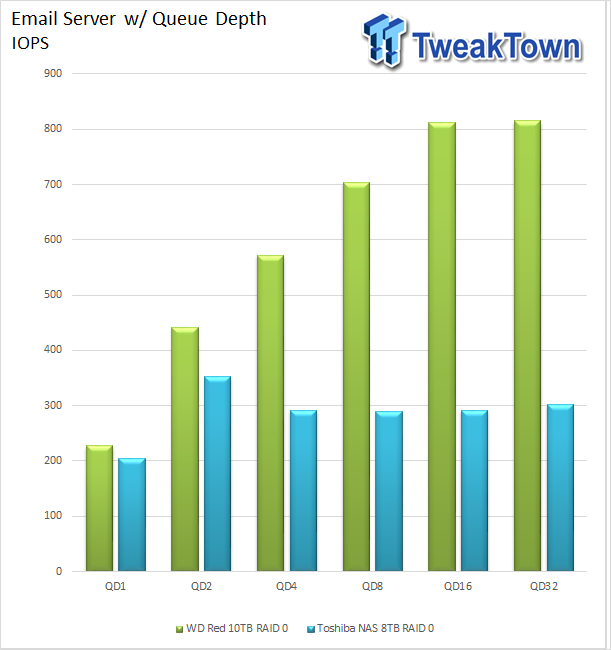 Email Server at 290 IOPS and was consistent there.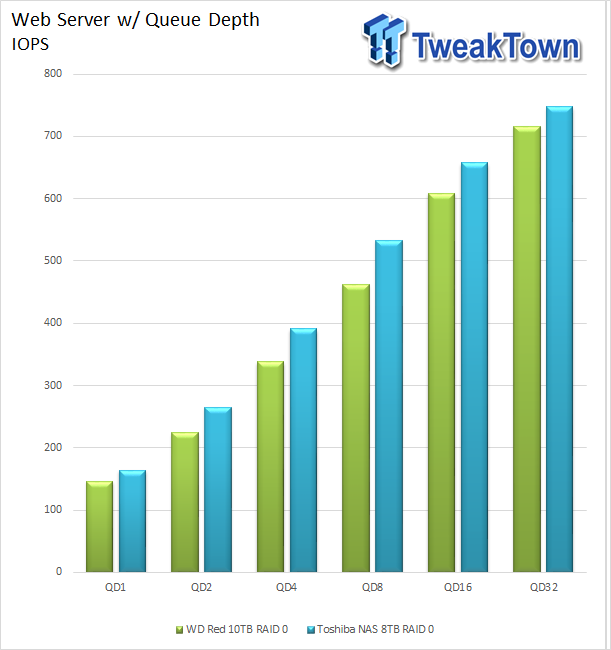 We see a solid boost up to 740 IOPS for Web Server, beating out the WD Red at higher queue depths.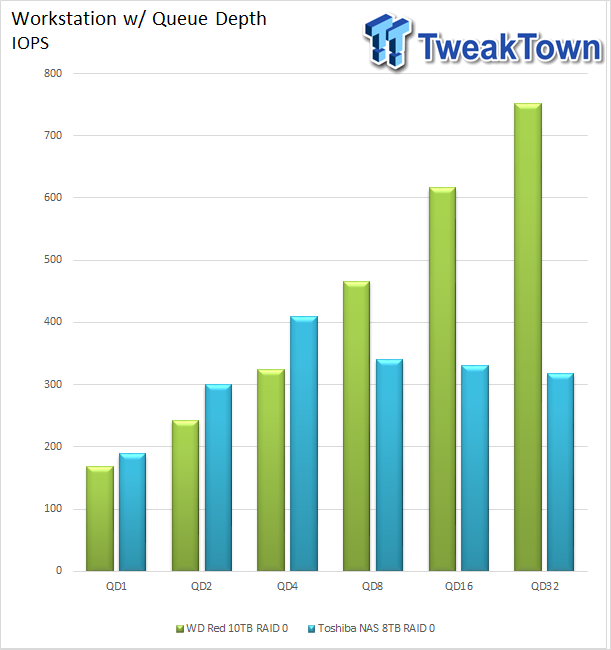 Last, we have a look at Workstation, a slight bump in performance due to RAID 0, finishing at 300 IOPS.
Power Consumption and Final Thoughts
Power Consumption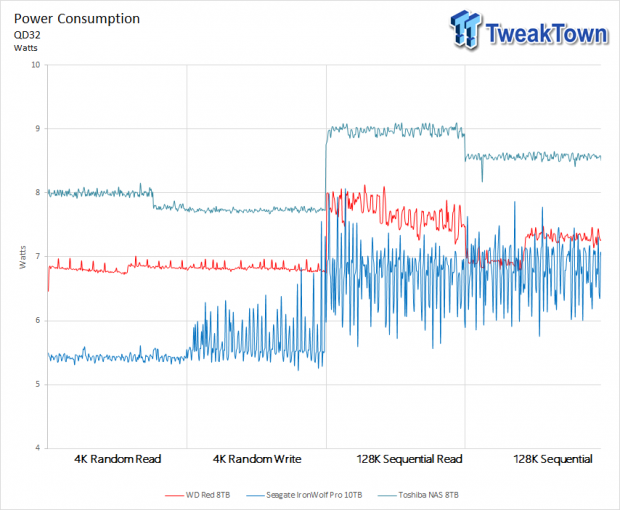 Power consumption is one of the most important metrics when it comes to data storage.
The N300, unfortunately, isn't the friendliest when it comes to saving you money. In random workloads, I found it to use around 8 watts, and the transition to sequential sees a boost to 9 watts during read operations and 8.5 in write.
Final Thoughts
As for reliability, the N300 seems to be a well-built drive. I had no issues in testing with the two samples I had sent over, but it does remain to be seen with this being the first NAS solution from Toshiba. With that said, I do like that Toshiba pushed the boundary of what can be done regarding capacity without moving to Helium. But, on the other hand, I'm slightly disappointed with its performance, especially when compared to something like the WD Red that uses a variable spindle speed.
On that note, the Toshiba N300 does have one thing going for it, and that is sequential performance. In all cases single drive and RAID 0, we found the N300 to outperform competing solutions from WD and Seagate. Also, random read at low QD showed promise with the N300 holding its own through QD4.
As for workloads, the N300 isn't quite tuned at this point. In my testing, I found it to have a wall around 150-170 IOPS, and more importantly, most workloads showed no scaling with QD at all. Web Server was the outlier here as it showed beautiful scaling with the N300.
Toshiba is one of the largest OEMs for turnkey NAS solutions. It's nice to see them break out of that mold and offer a purpose-built storage solution for NAS with their N300 solution.
They do have some tuning to do, but it's a solid first effort.
| | |
| --- | --- |
| Performance | 85% |
| Quality | 90% |
| Features | 85% |
| Value | 85% |
The Bottom Line: With the N300 being Toshiba's first attempt at a NAS-ready consumer solution, it offers top notch sequentials but leaves room for work to be done with mixed and random workload performance.
PRICING: You can find products similar to this one for sale below.

United States: Find other tech and computer products like this over at Amazon.com

United Kingdom: Find other tech and computer products like this over at Amazon.co.uk

Australia: Find other tech and computer products like this over at Amazon.com.au

Canada: Find other tech and computer products like this over at Amazon.ca

Deutschland: Finde andere Technik- und Computerprodukte wie dieses auf Amazon.de
We openly invite the companies who provide us with review samples / who are mentioned or discussed to express their opinion. If any company representative wishes to respond, we will publish the response here. Please contact us if you wish to respond.