ASUS PRIME X299-DELUXE Motherboard Review
The new ASUS PRIME X299-DELUXE motherboard comes packed with features that it can pretty much handle anything. Let's take a close look.
Published Jul 14, 2017 1:10 PM CDT
|
Updated Tue, Nov 3 2020 6:58 PM CST
13 minute read time
TweakTown's Rating: 91%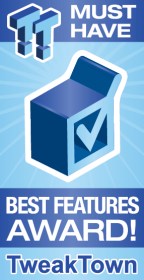 The Bottom Line
The ASUS PRIME X299 DELUXE is loaded with so many features; it's equipped to tackle pretty much anything.
Introduction, Specifications, and Pricing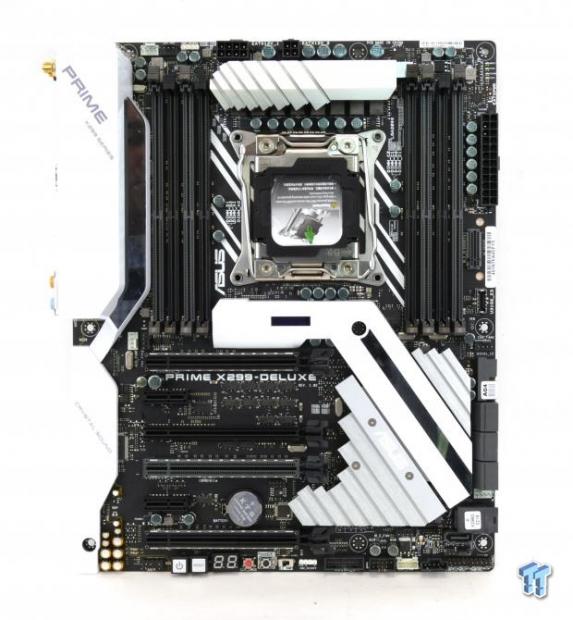 ASUS's PRIME X299-DELUXE is currently ASUS's top of the line X299 motherboard, and the second most expensive you can buy at this point. ASUS's Deluxe lineup of motherboards has a long-standing tradition of being quite hardcore in the way of features and quality. The new Prime X299 Deluxe should follow in the footsteps of its predecessors, and we will see if it truly does in the coming pages and review.
The motherboard is loaded with features such as Wireless AD also known as WiGig, and what they couldn't fit on the PCB they provide in the form of an add-in card. The motherboard also has a white and black color theme that many people like, as well as RGB LED support.
Without further wait, let's see what it's got!
Specifications

The X299 Deluxe supports the latest storage technologies such as M.2, U.2, and SATA6Gb/s, it offers a plethora of USB 3.1, SATA6Gb/s, Wireless AD (WiGig), dual Intel LAN, and comes with a ThunderBolt 3 card.
Pricing
The X299-Aorus Gaming 9 costs $489.99.
Packaging and ASUS PRIME X299-DELUXE Overview
Packaging and Overview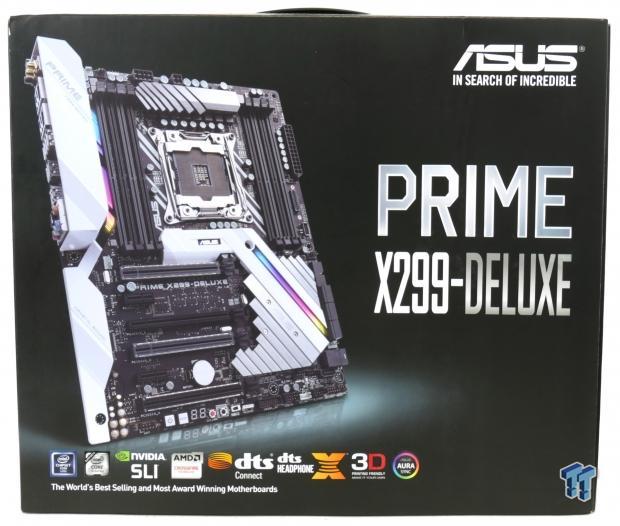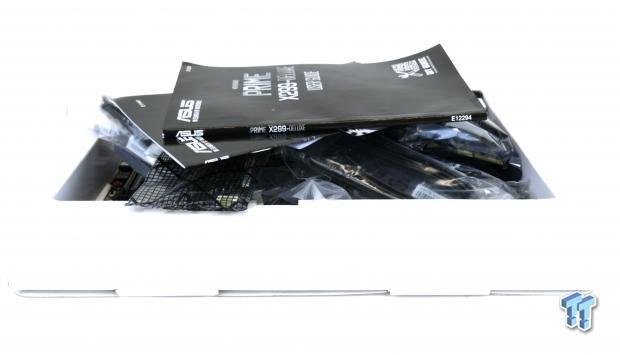 The box and packaging are nothing too special, in fact, they are very similar to what I saw when I reviewed the X99 Deluxe II motherboard last year.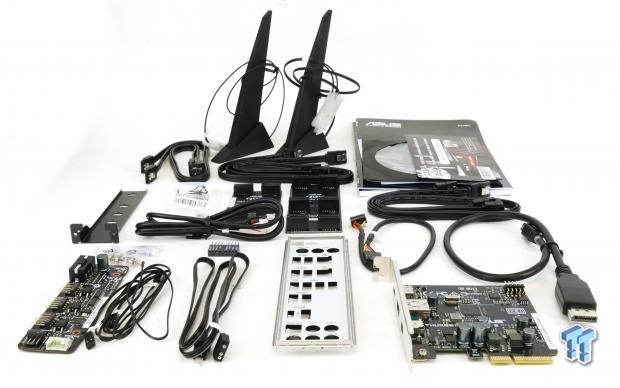 The accessory package includes six SATA6Gb/s cables, a WiGig Antenna, a 2T2R Wireless AC antenna, verticle M.2 mount, SLI HB Bridge, 3-way SLI bridge, ThunderBolt 3 card, TB3 GPIO cable, DisplayPort to miniDP cable (for TB3), two temperature probes, digital RGB LED extension cable, fan extension card with cable, IO panel, manuals, and DVDs.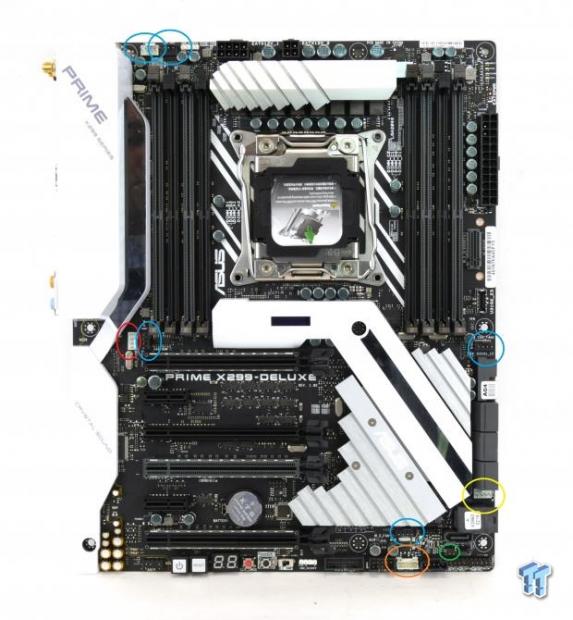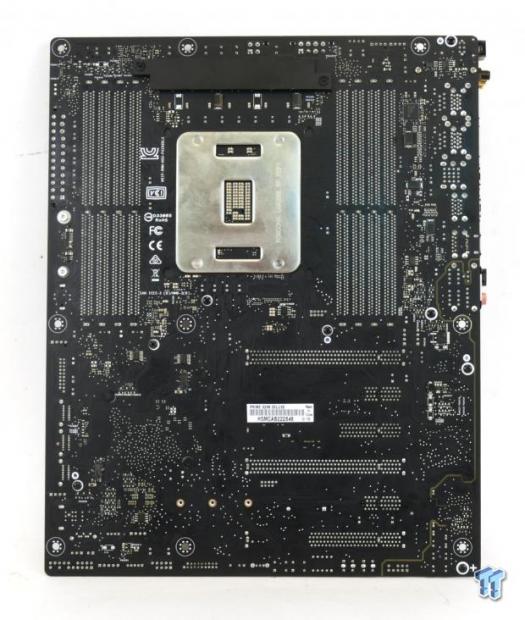 ASUS is at war with other vendors, resulting in a fan arms race. The motherboard has seven onboard headers; the ones circled in blue offer DC/PWM hybrid support for either type of fan. The header circled in yellow is also a hybrid header but supports up to 3A, it's meant for high-end water pumps. The header circled in red is a header meant for AIO pumps, I assume it runs full speed by default. You can allow multiple temperature sensors built into the motherboard to control the fans, but ASUS also provides a probe header circled in green.
ASUS also offers a fan extension card, its header is circled in orange, and it provides extra hybrid headers and even temperature probe headers and is fully integrated into the UEFI and ASUS's Windows based utility. The motherboard's white and black aesthetics have been proven to work on X99, so ASUS brought them back with X299. ASUS is trying a new style, and I like it a lot, especially the way the RGB LEDs illuminate the harder underneath translucent strips (you can see it light in the test setup page). The back of the motherboard is not bare, we do find our second NIC there as well as some switches, and a slab of aluminum to help cool the back of the VRM.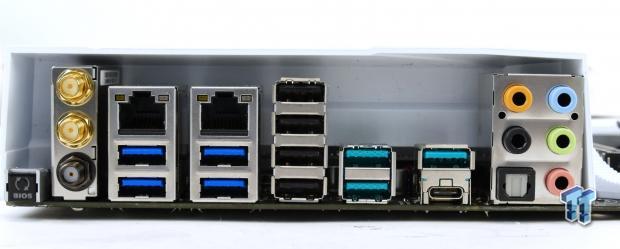 ASUS offers a BIOS Flashback button on the rear IO panel, the Wireless AD/AC card (it shares bandwidth with the first PCI-E x1 slot), four USB 3.0 ports, four USB 2.0 ports, two Intel LAN ports, three USB 3.1 type-A ports, one USB 3.1 type-C port, and 7.1 audio outputs with S/PDIF out.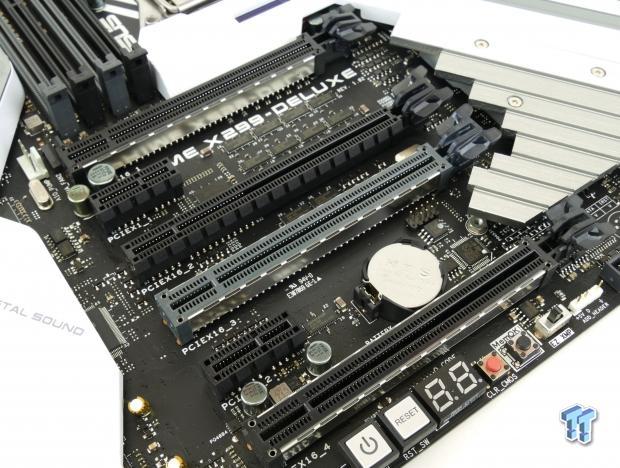 The PCI-E layout is not that simple, and it won't be with any X299 motherboard. You can only run 3-way with a 44-lane CPU, at x16/x16/x8, in the slots that are reinforced with metal. These slots are routed to the CPU, as is the other x16 slot (except its maximum bandwidth is x4). If you want to run 2-way it's x16/x16/x0 (44 lane), x16/x8/x0 (28 lane), or x8/x8/x0 (16 lane). The single x16 slot is always the first x16 slot. The first x1 slot shares with the Wireless AD card.
The motherboard offers seven SATA6Gb/s ports, but they are shared too. SATA6G_7 shares with the second x1 slot, and ports 5 and 6 share with the last x16 slot, but only with 28 and 16 lane CPUs as they aren't connected to the last x16 slot. Here is where things get interesting, the second x16 slot, the max x4 slot that is routed to the CPU for 28 and 44 lane CPUs, switches over and shares x2 lanes with the front panel USB 3.1 header when in use with a 16 lane CPU.
So basically, ASUS is allowing you to use the second and fourth slot, but routed to the PCH and disabling SATA/USB 3.1, so at least you have options... Please read the manual if you are going to use a lot of devices, X299 is complex. There is a U.2 connector; it shares all its bandwidth with the vertical M.2 slot. There is a right-angled USB 3.0 header located below the 24-pin connector.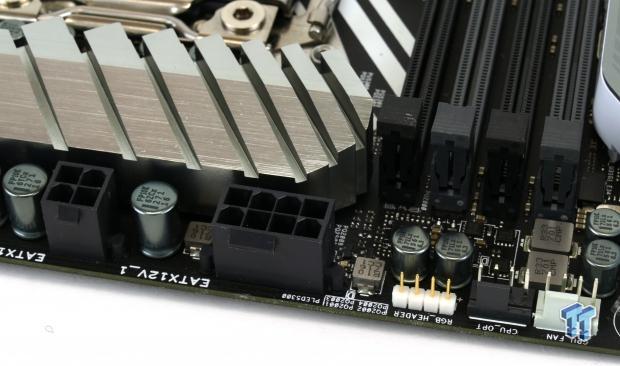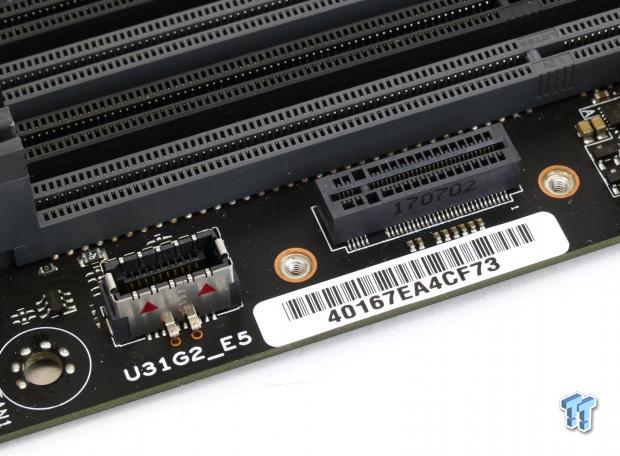 One RGB LED header is located near the CPU fan headers at the top of the motherboard. You also get an extra 4-pin CPU power plug, which is recommended for overclocks over 4.5GHz with 10+ core CPUs. A vertical M.2 slot sits right above the USB 3.1 internal type-C header.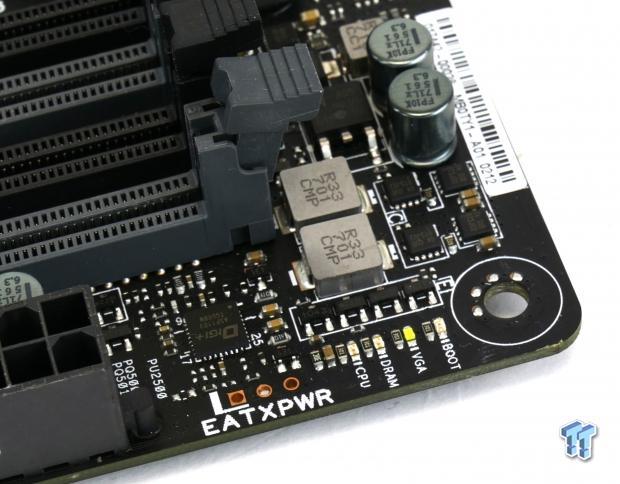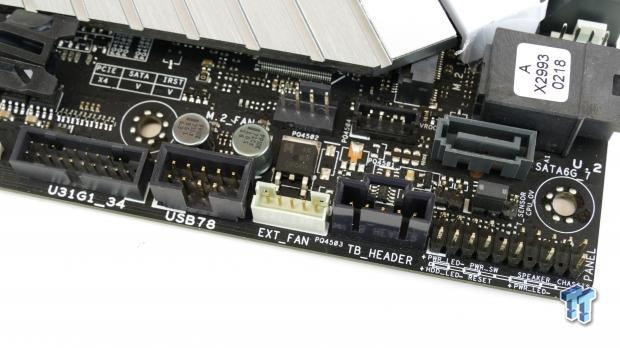 Boot LEDs can help with a quick diagnosis of any problems you might encounter. The motherboard's 7th SATA header is angled straight into the air. We also get the VROC, TB 3 GPI, and front panel headers in this area. A USB 2.0 and USB 3.0 internal header can also be located here.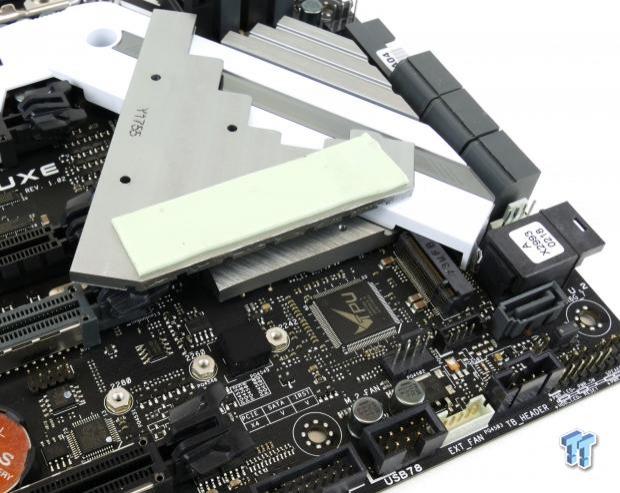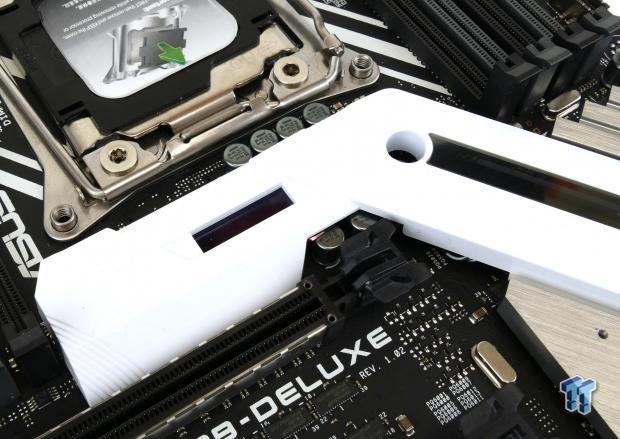 ASUS has made it so that one of your M.2 drives can sit under and be cooled by the PCH heat sink. An OLED display shows live statistics, my favorite at the boot codes it produces during booting, so you know where the system is in the POST process. After boot, it shows a variety of system stats.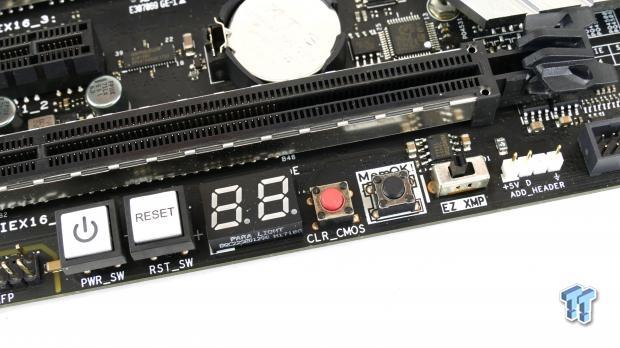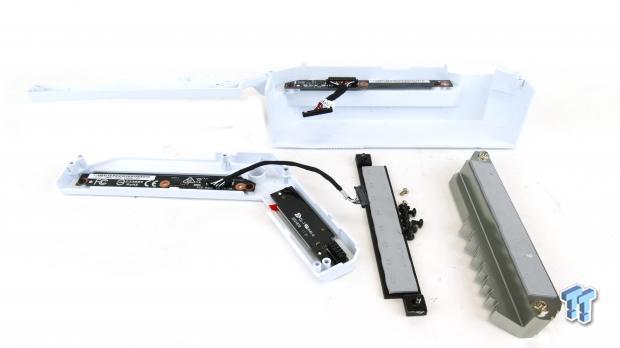 The motherboard also offers an addressable RGB LED header that operates at 5v (Digital RGB), XMP switch, MemOK! Button, Clear CMOS button, POST Code display, as well as power and reset buttons. The motherboard heat sinks were not that easy to remove, I ended up stripping one of the PCH heat sink's screws, so I wasn't able to get it out. The VRM heat sink is tight on the components, but it's not that big.
ASUS PRIME X299-DELUXE Circuit Analysis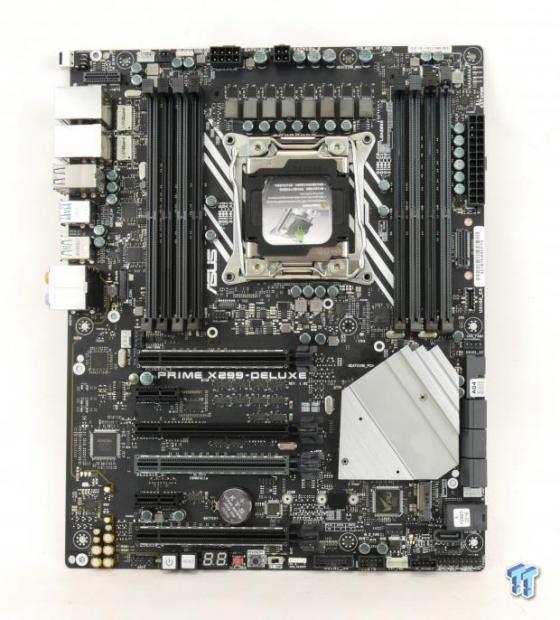 The PRIME X299-DELUXE hides a lot under the shields.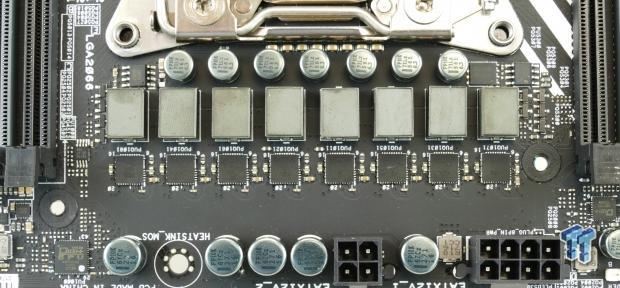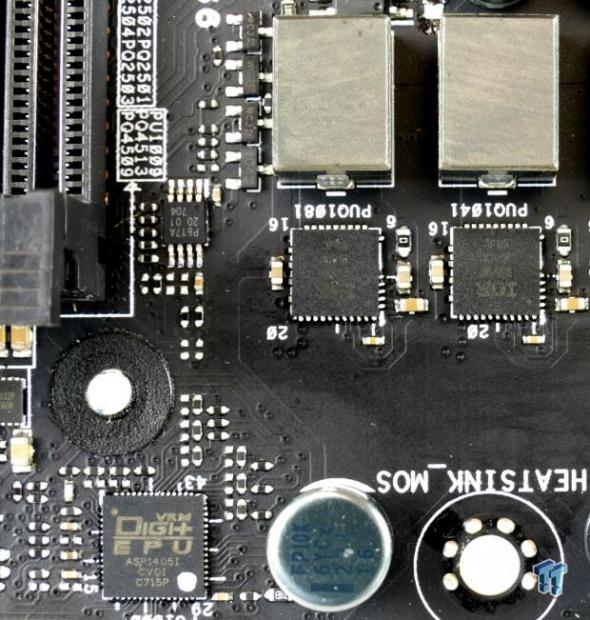 The VCore or Input voltage is powered by a true 8 phase VRM. The VRM is made up of a relabeled Infineon (IR) IR35201, labeled ASP1405 working in 8+0 phase mode. Each phase consists of an IR3555, fully integrated 60A power stage. I am not sure of the inductor rating (I wish I knew), and the capacitors are 10K solid polymers.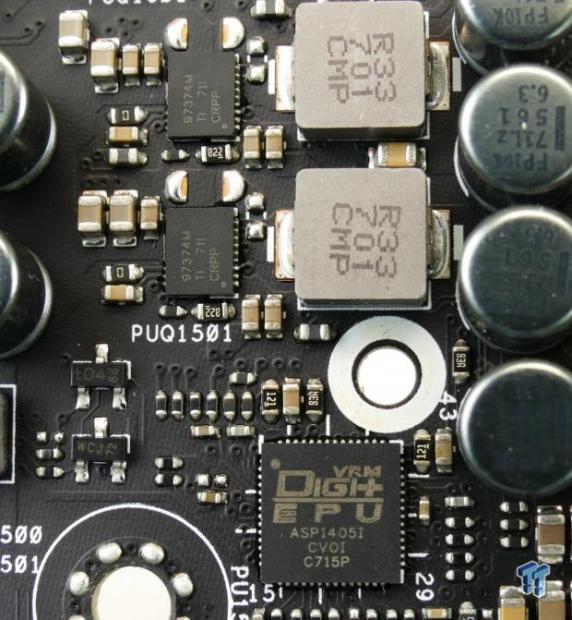 Another ASP1405 seems to control two Texas Instruments CSD97374Q4M NexFETs, but these NexFETs have integrated drivers, just like the IR parts in the main CPU VRM. These phases control secondary and lower power rails such as VCCSA and VCCIO, so the NexFET's output of 15A efficient and 25A continuous is more than enough.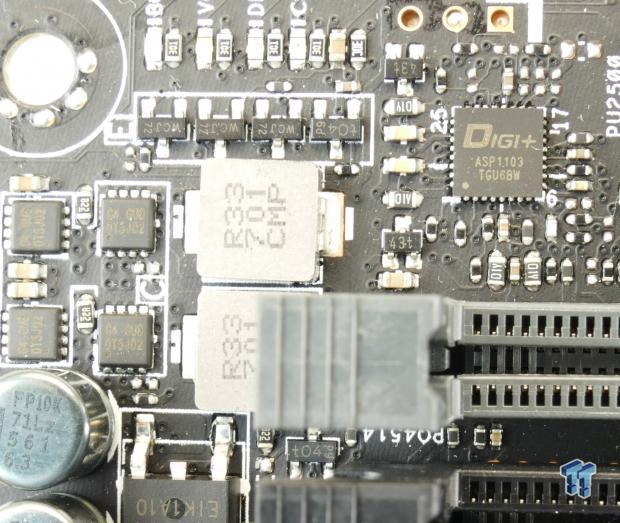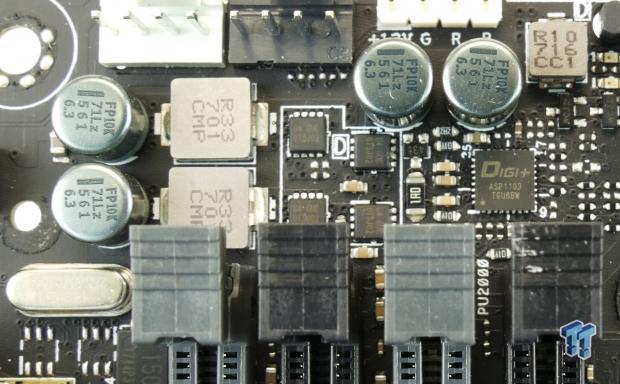 Two Digi+ ASP1103 PWM controllers control the memory VRMs; I am not sure what PWM it is as ASUS rebranded them. Each main phase (each set of four DIMMs gets two phases for the main DDR4 power rail) is made up of four low RDS ON MOSFETs and low profile inductors. They get the job done, as they are using the same components found on ASUS's Z270 overclocking motherboards.
ASUS PRIME X299-DELUXE Circuit Analysis Continued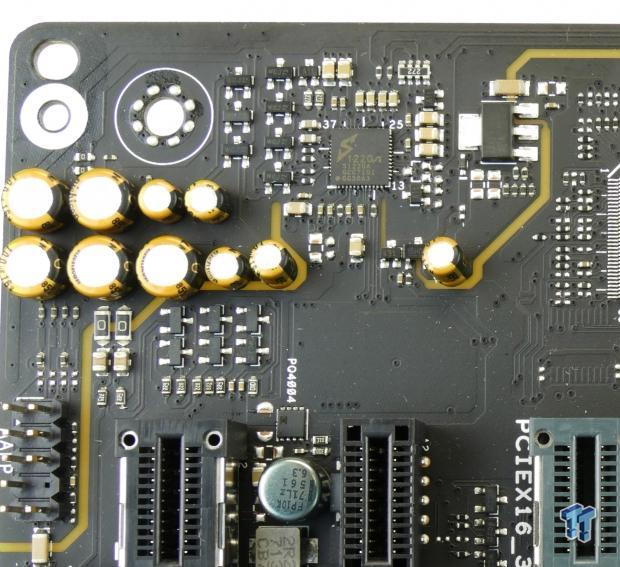 ASUS's Realtek implementation is very simple, a single Realtek ALC1220 with integrated amplifier along with some Nichicon Gold Series audio capacitors and a physical PCB divide are enough to top a lot of things.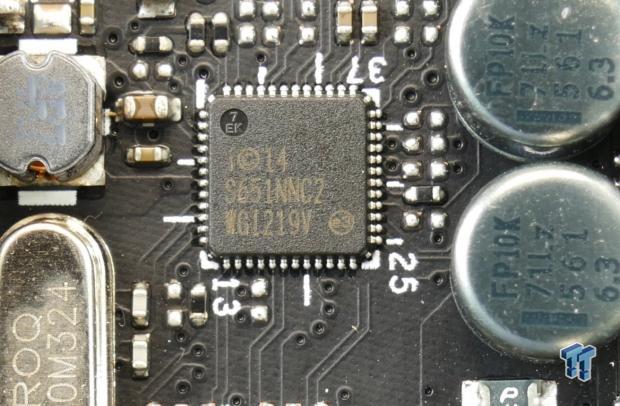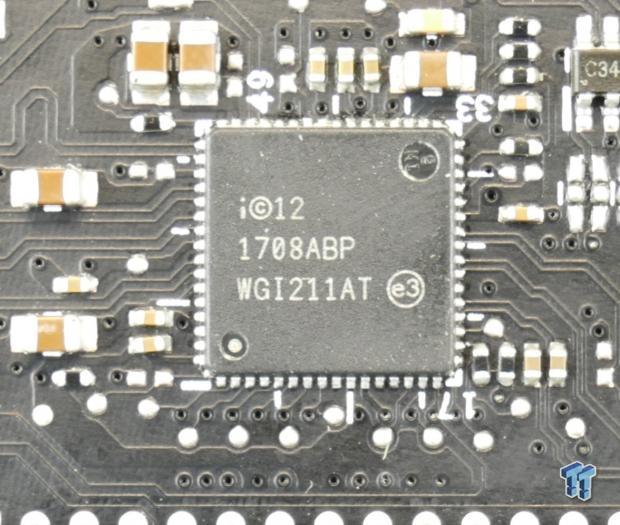 ASUS's first Intel NIC is an i219v, which would mean the PCH has an integrated MAC built into it. ASUS's second Intel NIC is an i211AT 1Gbit NIC, which is fully integrated.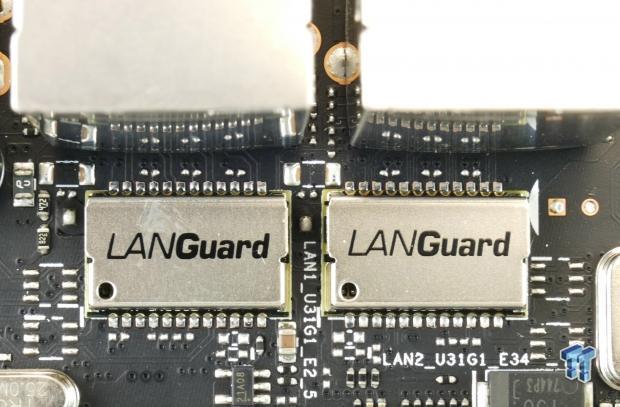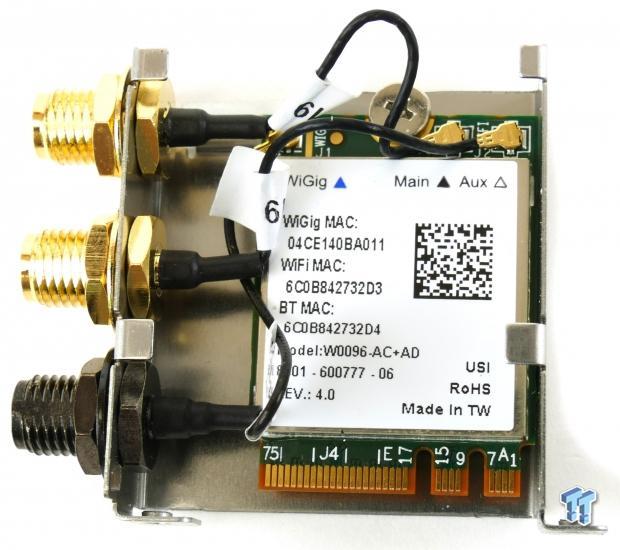 Two LANGuard SMDs provide ESD protection on each of the two NICs. The Wireless AD (4.6Gbps)/Wireless AC (1.3Gbps) card is the QCA6174-W0096 from Qualcomm. The Deluxe is the first motherboard to carry this new technology, and it operates at 60GHz, so it only works in some countries.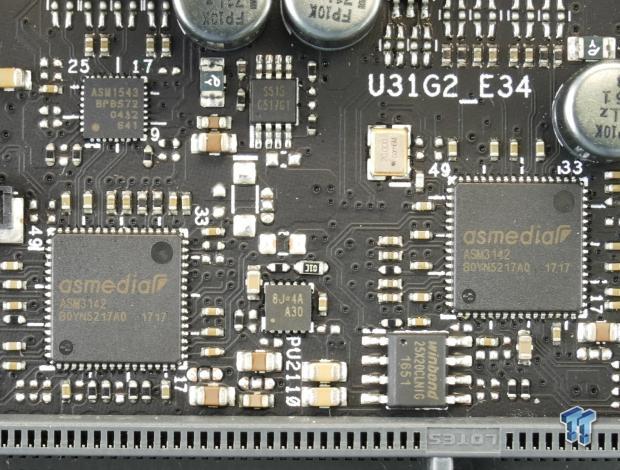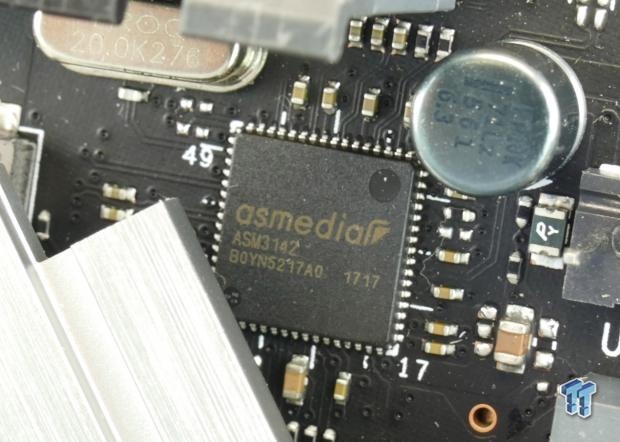 ASUS didn't mess around with its rear USB 3.1, they took things to the next level and used two USB 3.1 controllers, the ASMedia ASM3142, each of which gets two PCI-E 3.0 lanes from the CPU. The type-C port on the rear uses the ASM1543 controller chip. There is also another ASMedia ASM3142 located near the type-C internal header; it shares x2 PCI-E 3.0 with the second x16 slot when using a 16 lane CPU.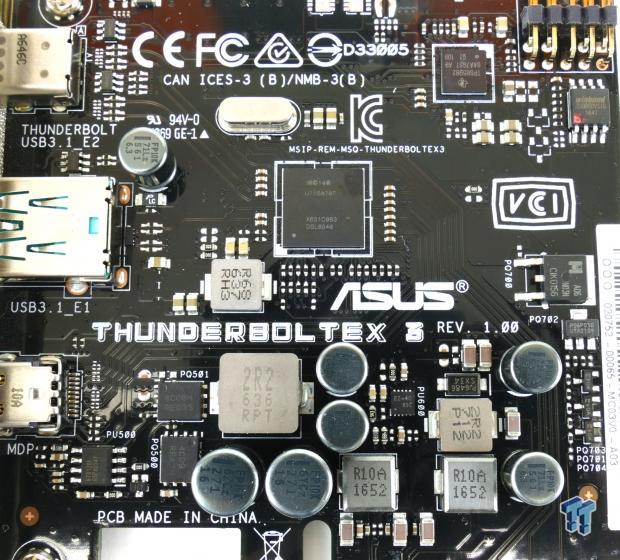 ASUS's ThunderBolt 3 card uses the Intel DSL6540 controller chip, Texas Instruments TPS65982 Type-C controller and power delivery IC, along with a wide array of circuitry to support both ThunderBolt 3, and USB 3.1 (including type-A) on the same card. The fan extension card ASUS uses is identical the ones that have been included with high-end ASUS motherboards for a while; it uses nuvoTon and Winbond fan control ICs to get the job done.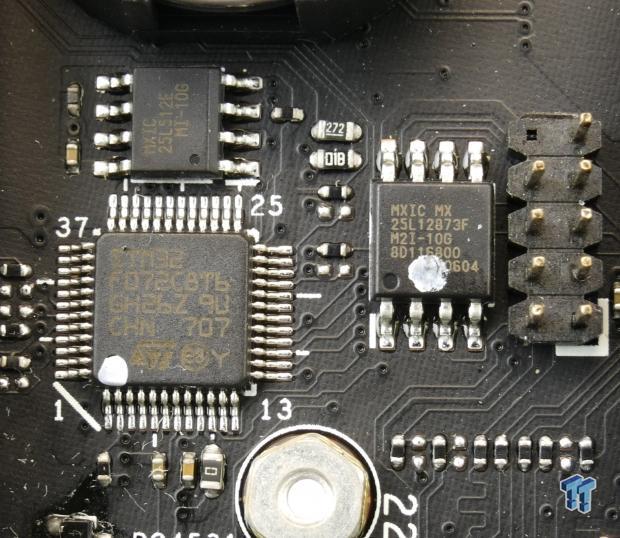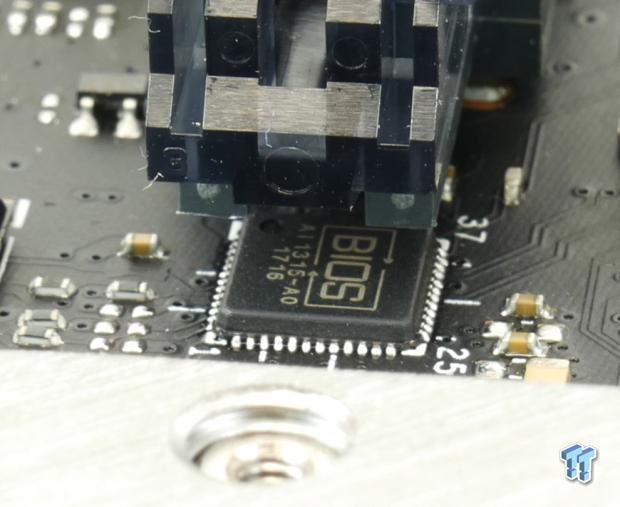 A single 128Mbit/16MB BIOS ROM sits near an STMicro STM32 microcontroller. I am not sure what this IC does, but my best guess is it controls the digital RGB LED header, or it helps with the new OLED or fans. I am surprised ASUS didn't re-label it. The chip labeled BIOS is still lurking around; it provides the USB BIOS Flashback feature so that you can recover from a bad flash.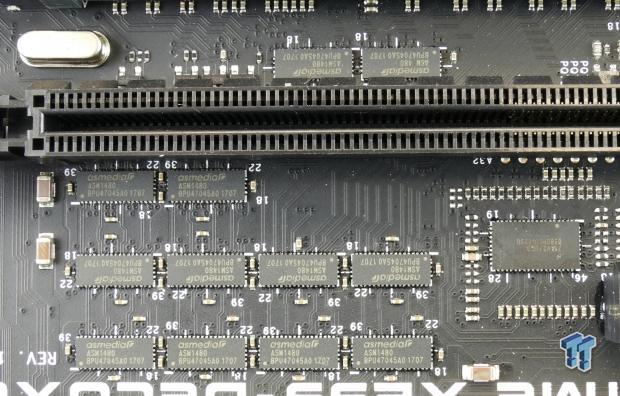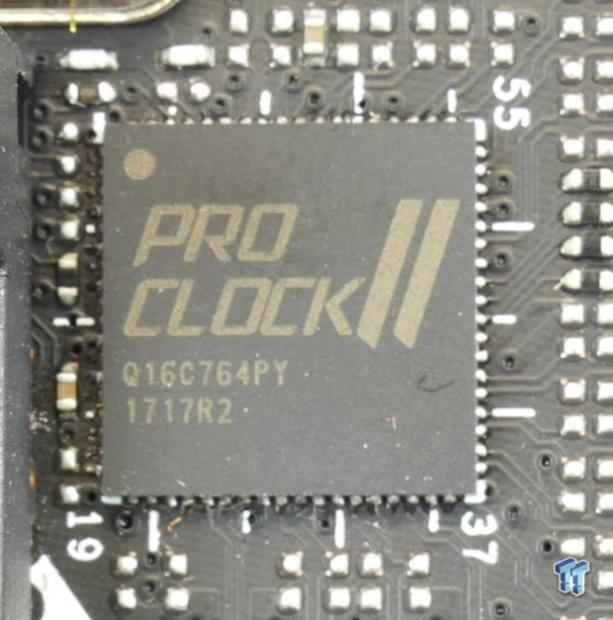 All that switching and so many chipsets, almost as many as the Rampage V Edition 10. We also get a high-performance PCI-E re-driver, I assume to ensure the highest performance when switching from CPU to PCH based PCI-E lanes when using an x16 CPU. ASUS is making that chip relabeling machine of theirs do some overtime; here we see they rebranded a clock generator (actually that was a smart move since that's one part where the model can make a difference, and it's not obvious).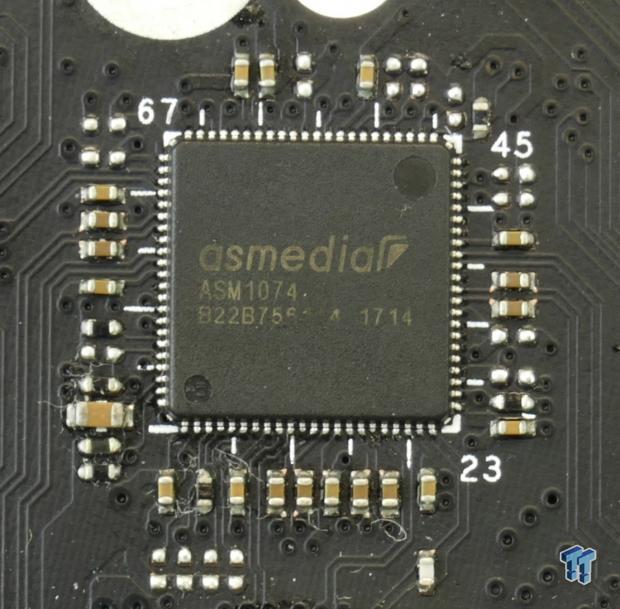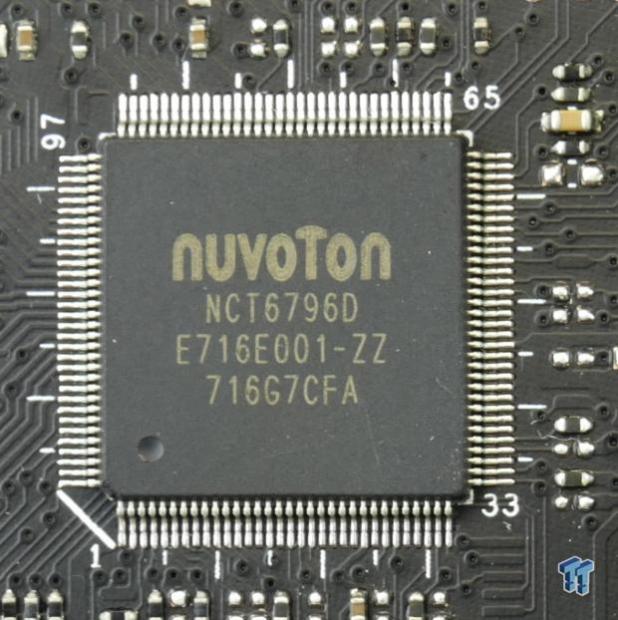 Those four USB 3.0 ports on the back get their bandwidth from a USB 3.0 hub, the ASM1074, which gets a single USB 3.0 port from the PCH. The main SuperIO is the nuvoTon NCT6796D.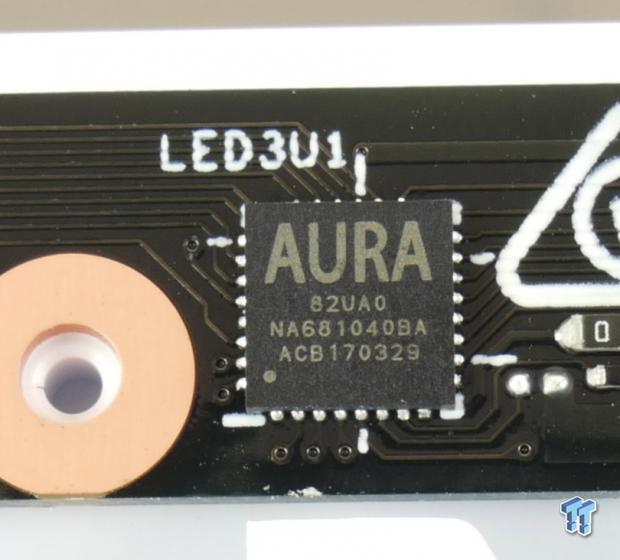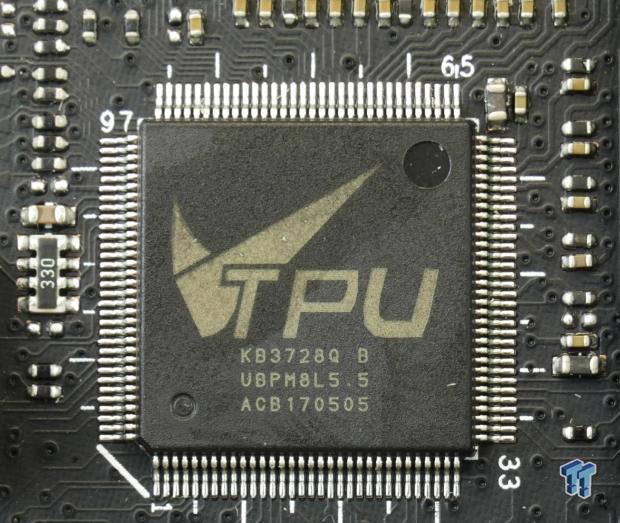 The AURA chip fan is found in multiple places; it helps control the RGB LEDs. A new larger TPU chip can also be found on the motherboard; it helps provide the TPU functions such as better fan control. I assume there is an EPU chip as well hidden under the PCH heat sink I was not able to remove.
BIOS and Software
BIOS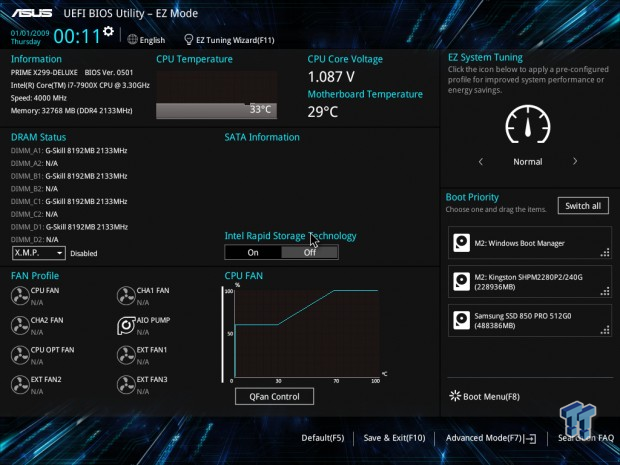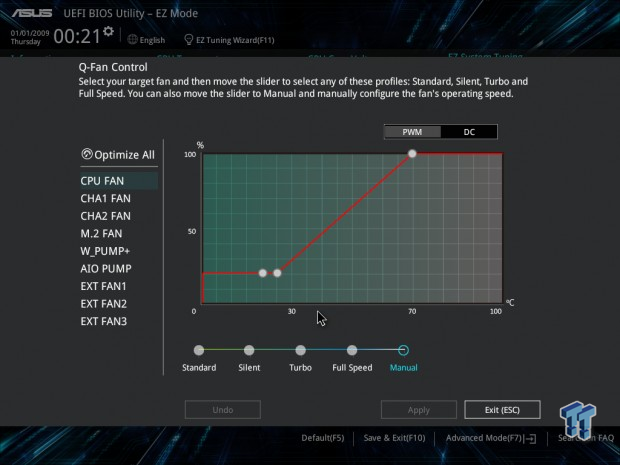 ASUS's UEFI for the X299 Deluxe is very well crafted. Navigation is simple; the menu layout is easy to understand. The learning curve is short, and for those who have had experience with ASUS UEFIs, it will feel very familiar.
There is a slight change to the setting names and aesthetics, but it's much like ASUS's Z270 UEFI, even the fan control is very similar. There is an EZ Mode and a more advanced mode for more experienced users and overclockers.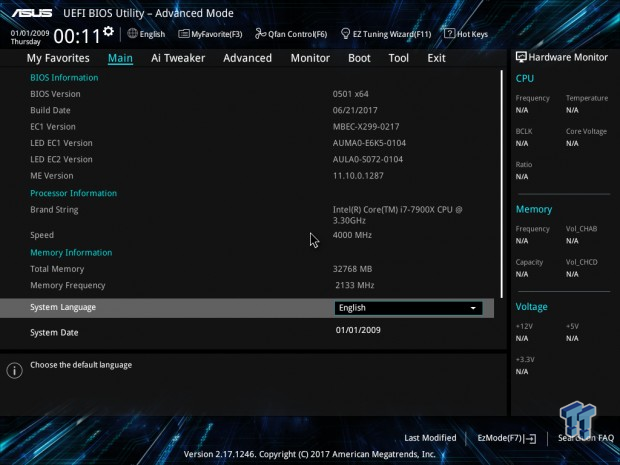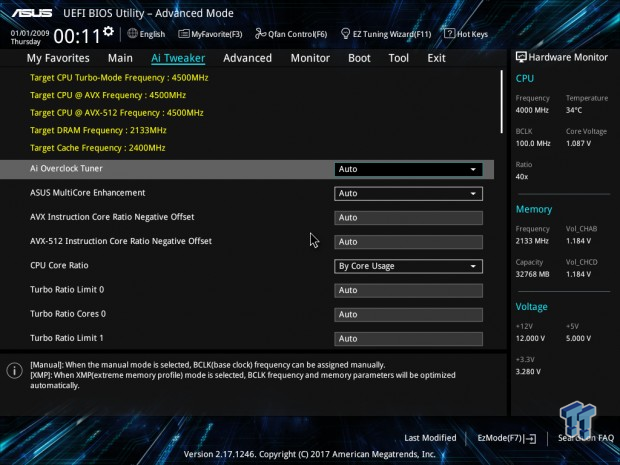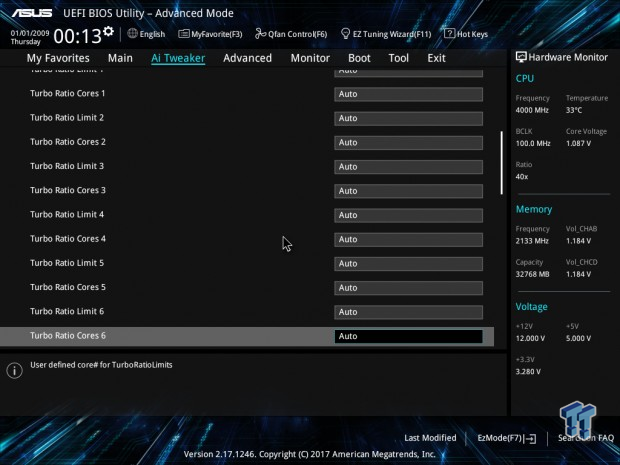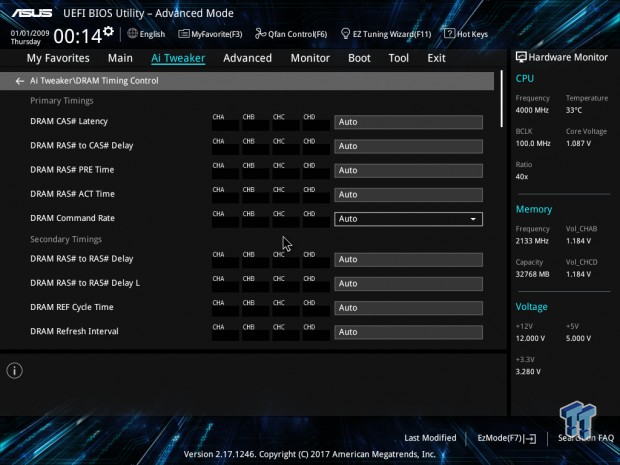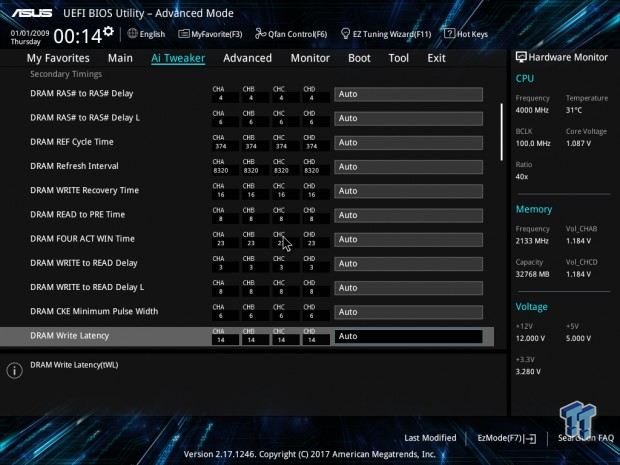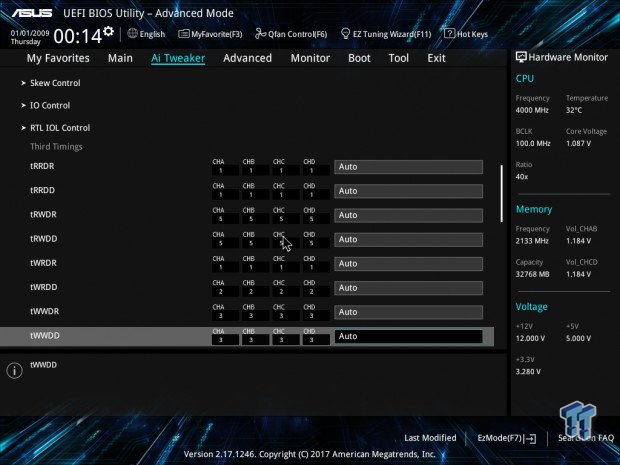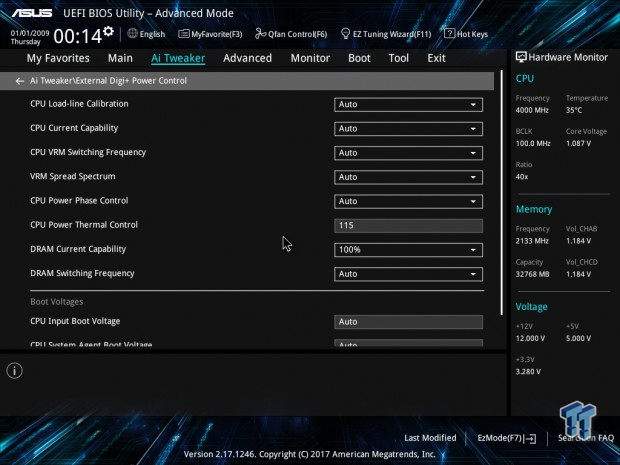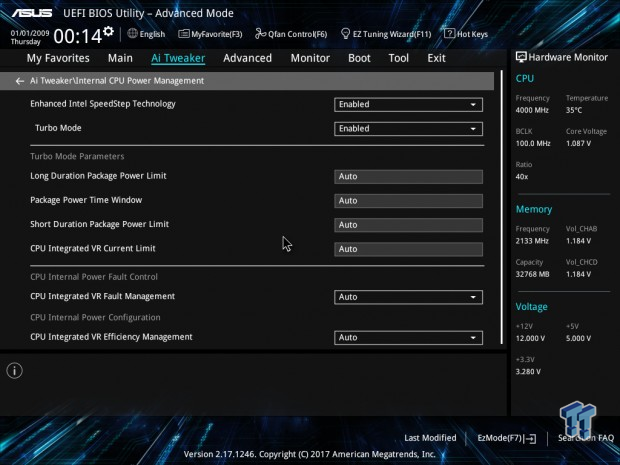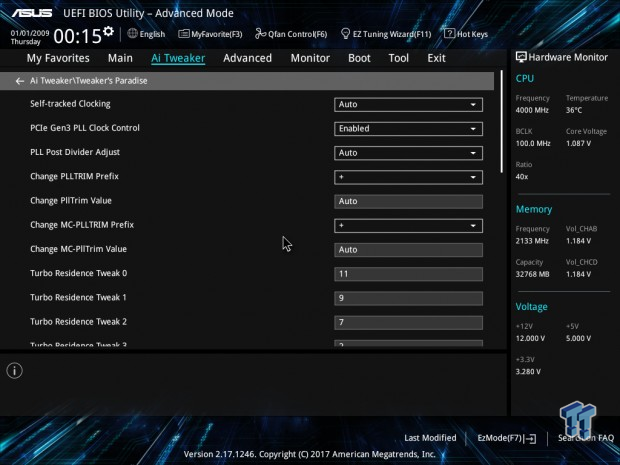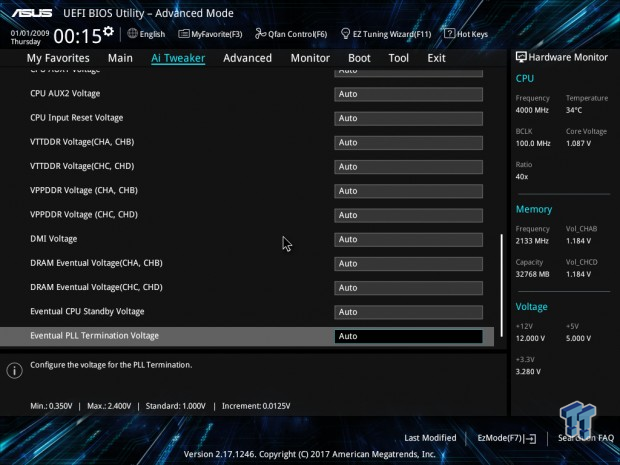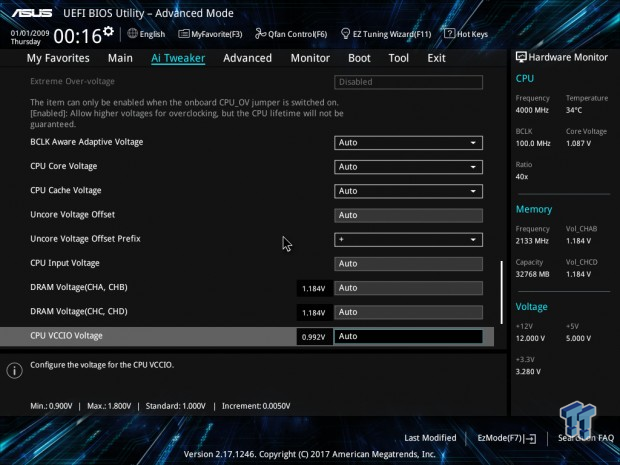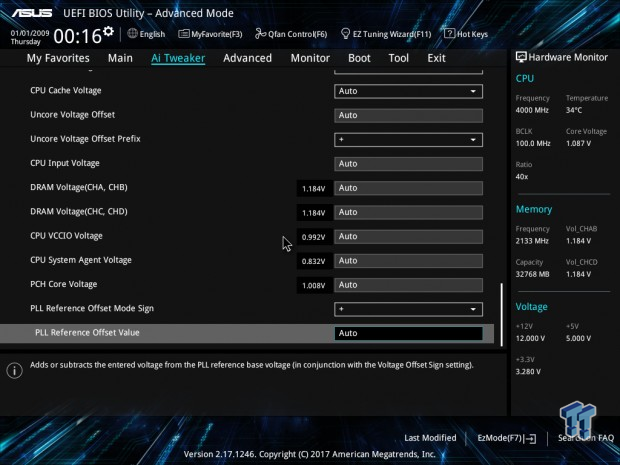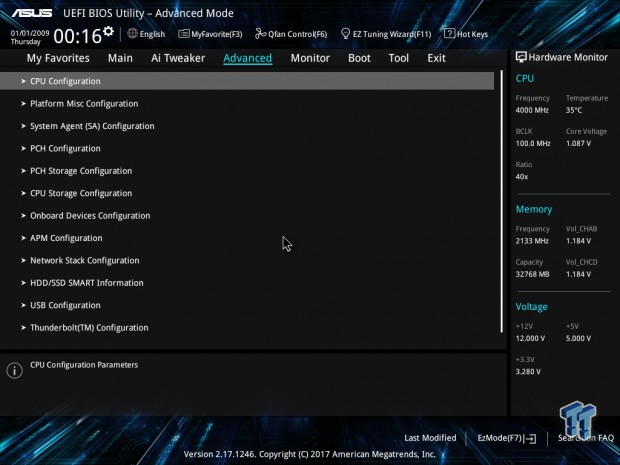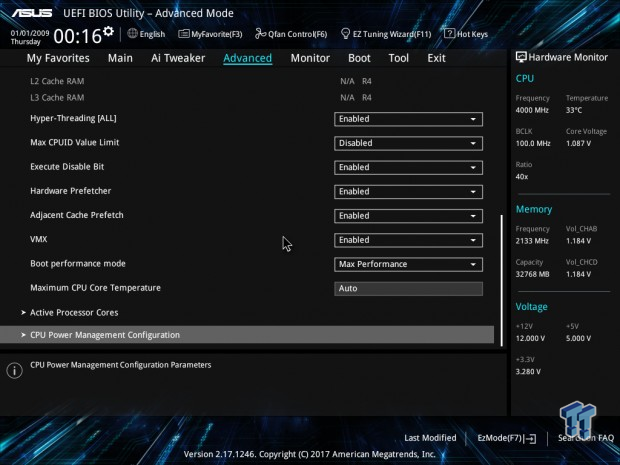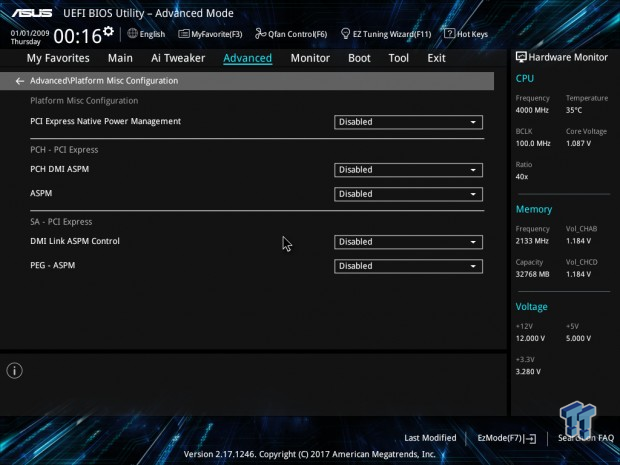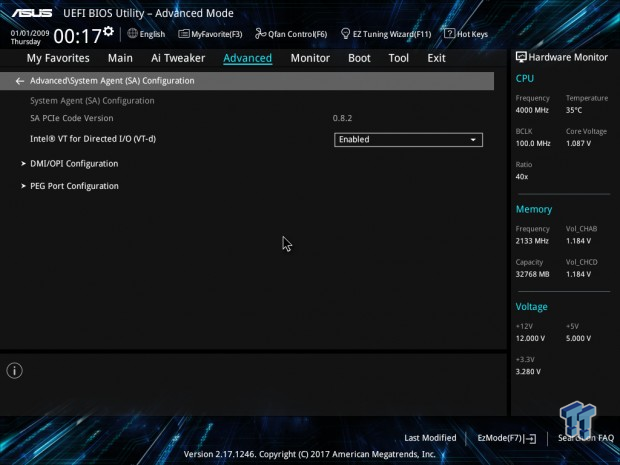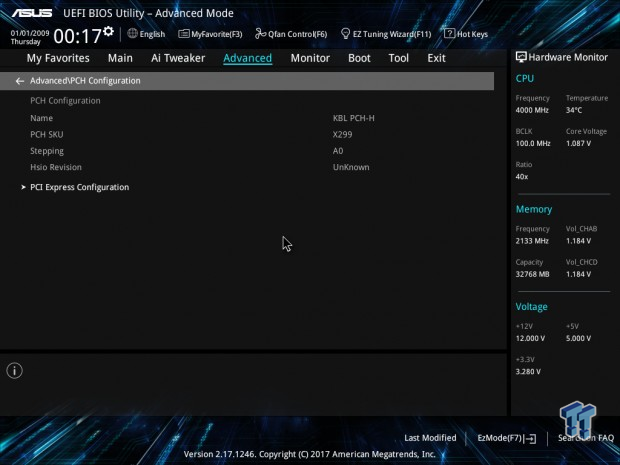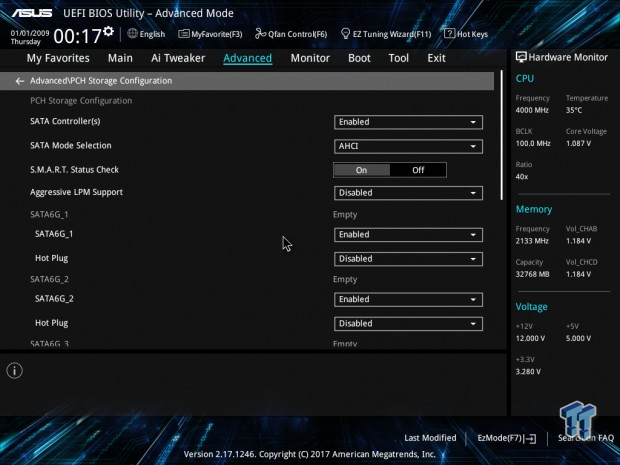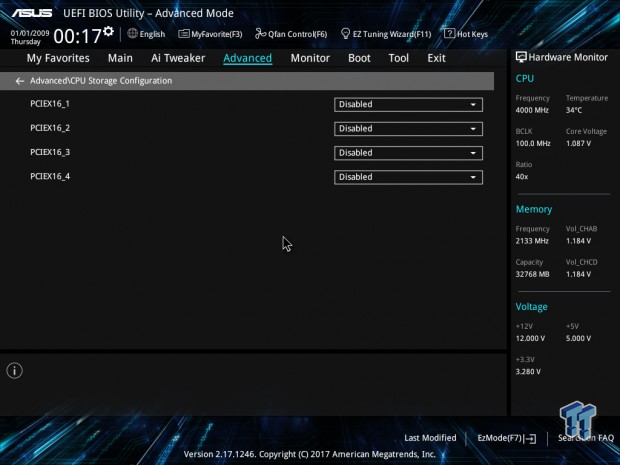 Software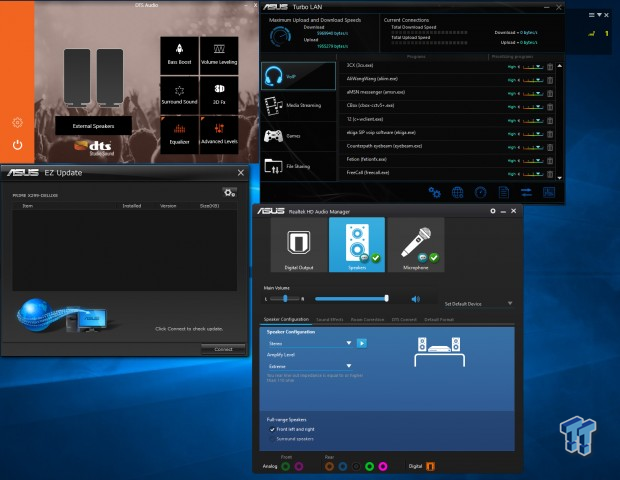 Software included with the motherboard includes DIP5, TPU, TurboApp, EPU, Fan Xpert 4, DIGI+ Power Control, PC Cleaner, Version, System Information, Turbo LAN, EZ Update, DTS Audio, and more.
Test System Setup
Steven's Motherboard Test System Specifications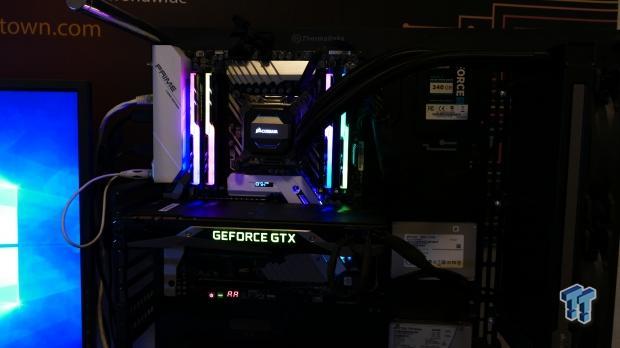 The motherboard looks very sleek and chic with its cuts of RGB lighting.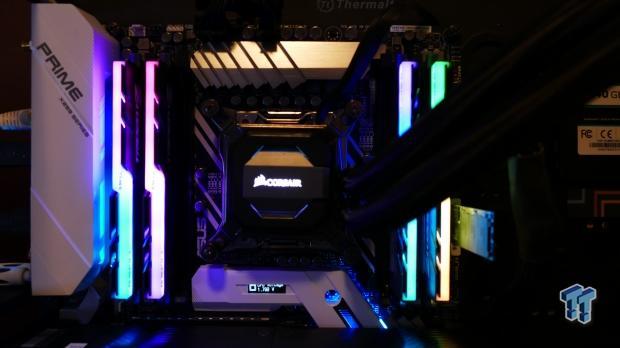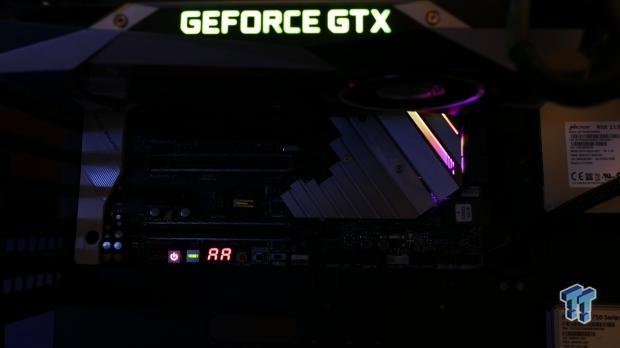 Translucent slits that light up at the top along with the OLED makes the X299 Deluxe unique indeed. Its OLED is cool, and I liked using it for diagnosing startup problems, as it spells out the POST Codes as they are happening. While it's not the flashiest motherboard, it offers enough along the lines of being RGB-lit.
Overclocking
Overclocking Results
CPU Overclocking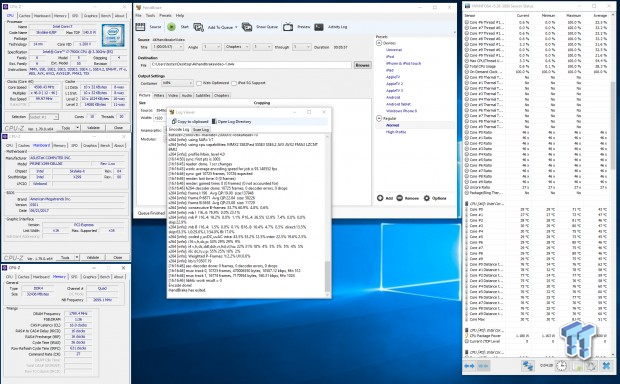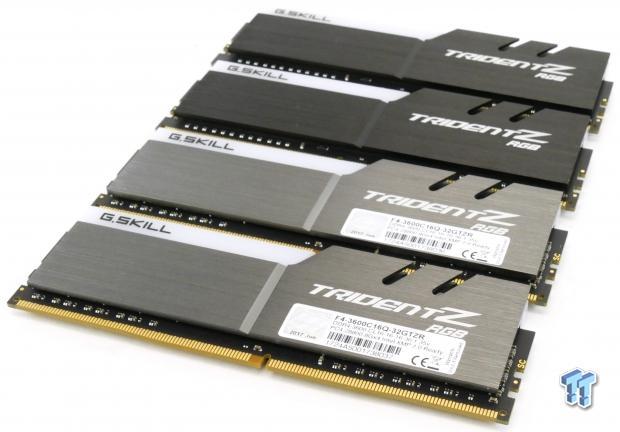 Right now I am going to see how far the motherboard can push my 7900X. The best overclock (or typical one) able to pass my Handbrake 4K encoding benchmark for stability is 4.6GHz with 1.2v VCore. On this motherboard, I used an input voltage of 1.75v with LLC level 6 and 1.2v set. You first need to enable XMP mode if you want to run XMP and then set all cores to 46x. It's a solid motherboard; it also overclocks Kaby Lake-X quite well. Our G.Skill 3600Mhz Kit hit 3.6GHz with ease.
Memory Overclocking
We are still waiting on more X299 memory kits to arrive, as we only have one on hand and it's running XMP in the CPU section. We have one kit on the way, and more should be on hand soon enough.
CPU, Memory, and System Benchmarks
CINEBENCH R15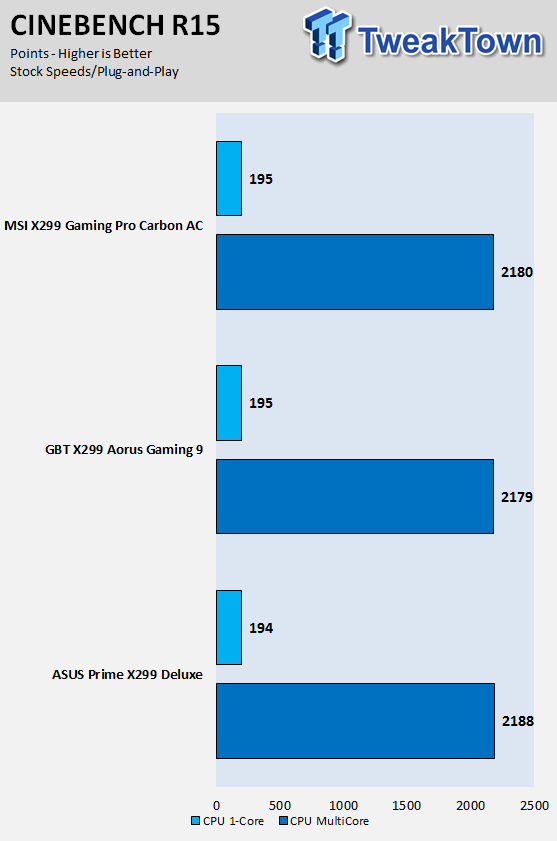 wPrime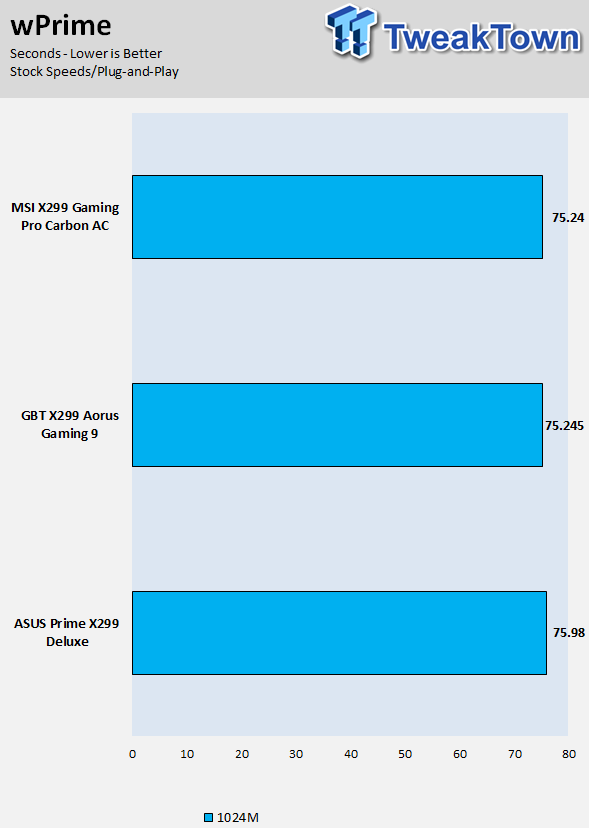 AIDA64 FPU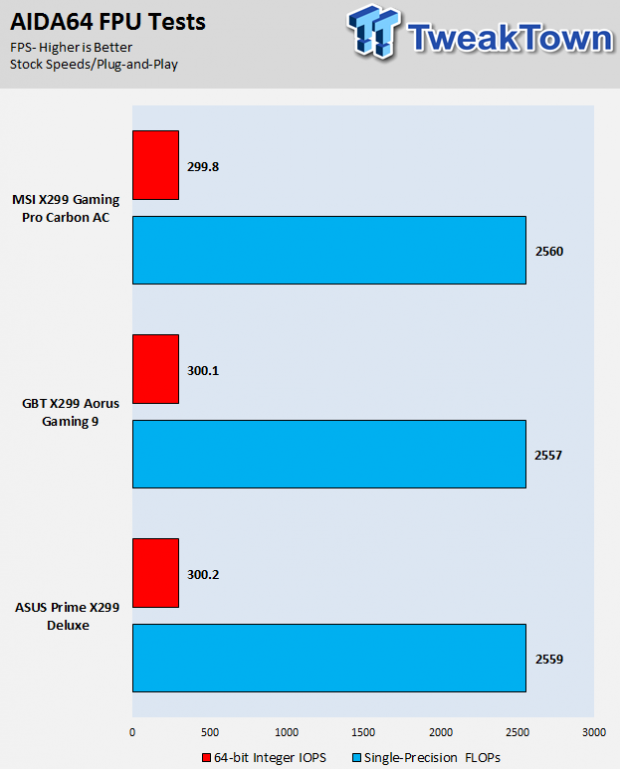 AIDA64 Memory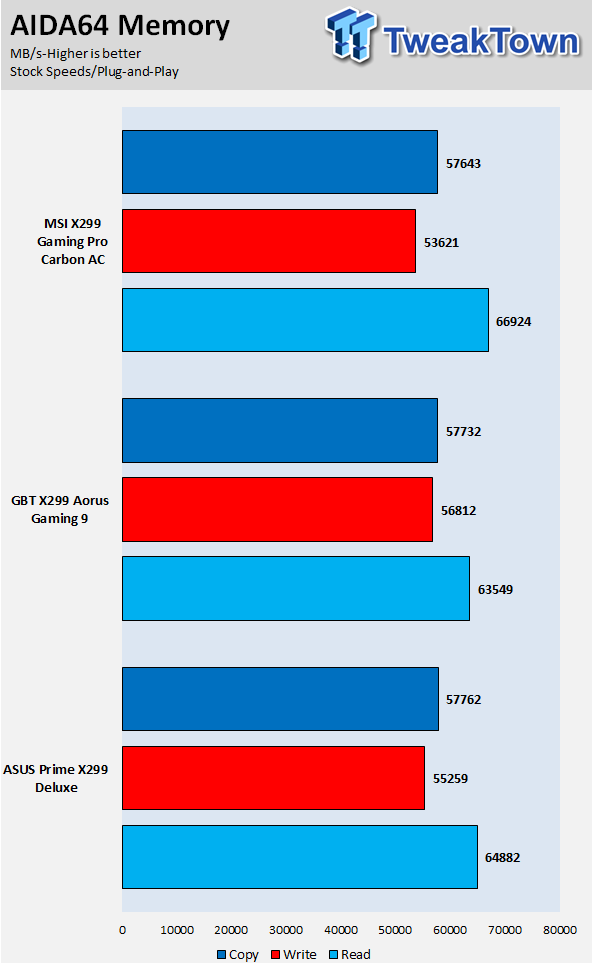 ScienceMark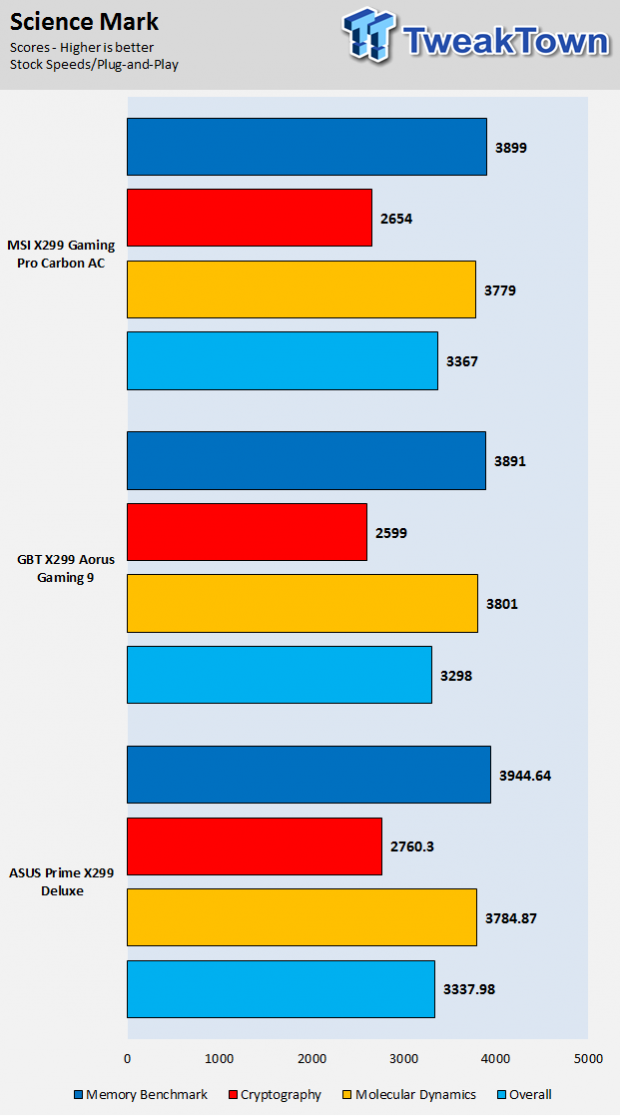 HandBrake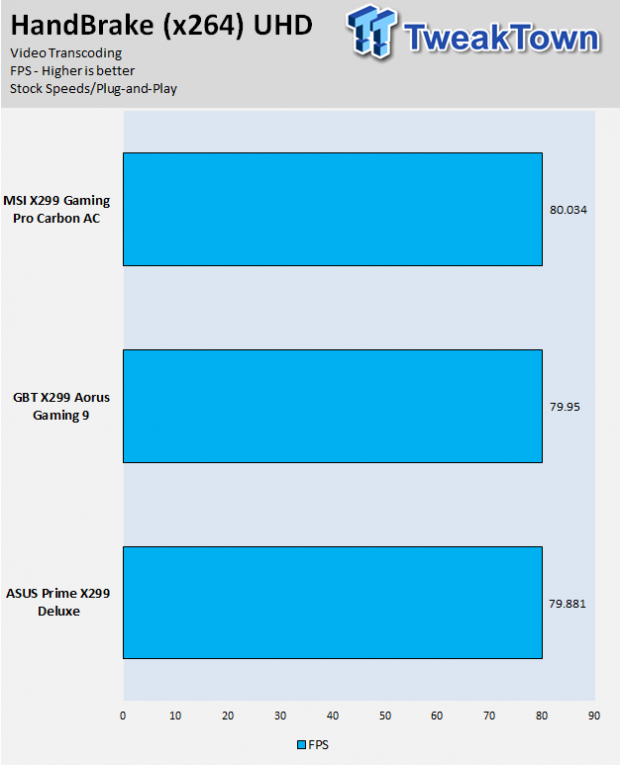 SuperPi 32M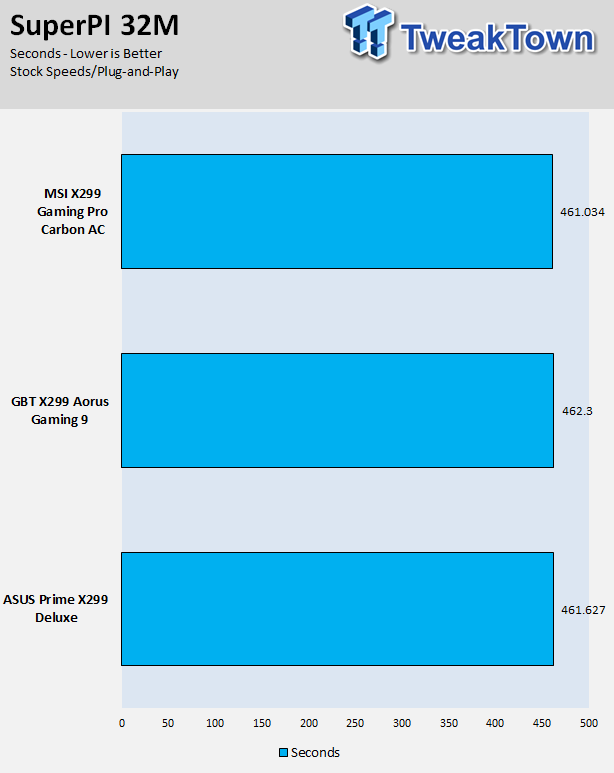 3DMark: Fire Strike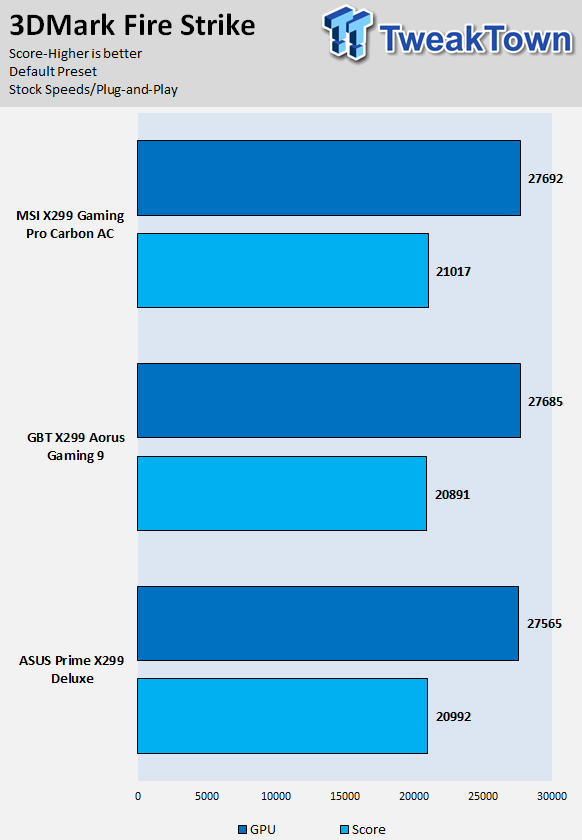 3DMark: Cloud Gate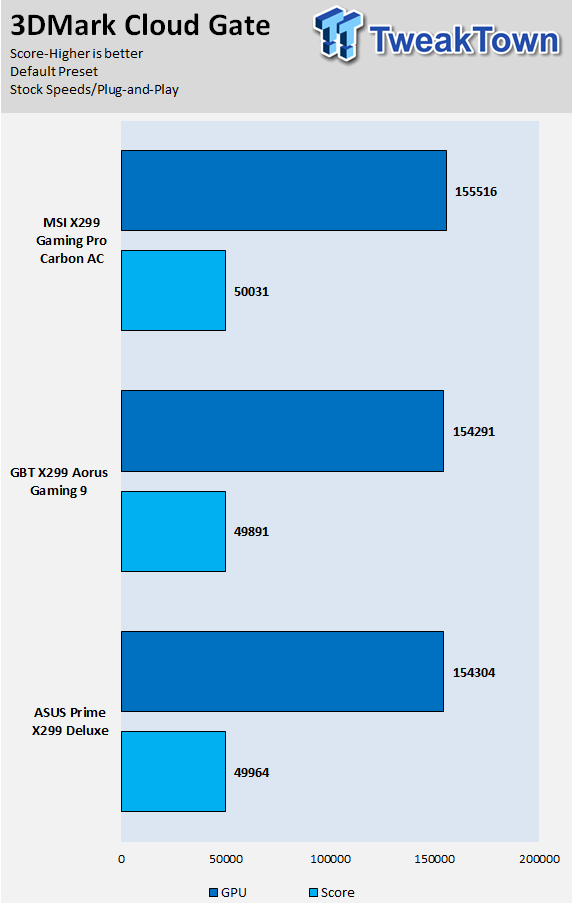 ResidentEvil 6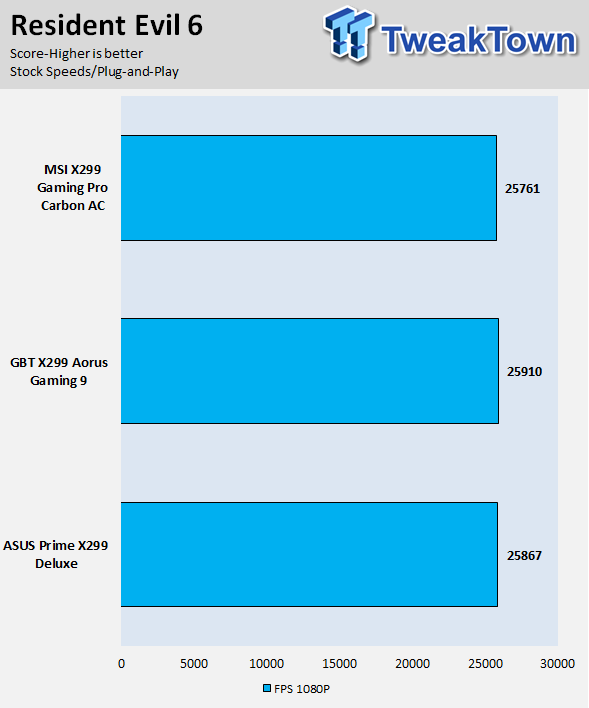 The ASUS PRIME X299 DELUXE is a very good performer and does well in CPU, memory, and GPU benchmarks. Our BIOS version is the latest we could find, and it looks like the board has the latest microcode. At this point, and as we go further, we won't see too much deviation in the performance of the CPU, memory, or GPU.
I don't take much too much credence into benchmarking the CPU or GPU to see how well the motherboard does, as the difference is almost always within the margin of error. These tests are to make sure performance isn't below that margin, or to see what's going on if it's above.
System IO Benchmarks
CrystalDiskMark SATA6G: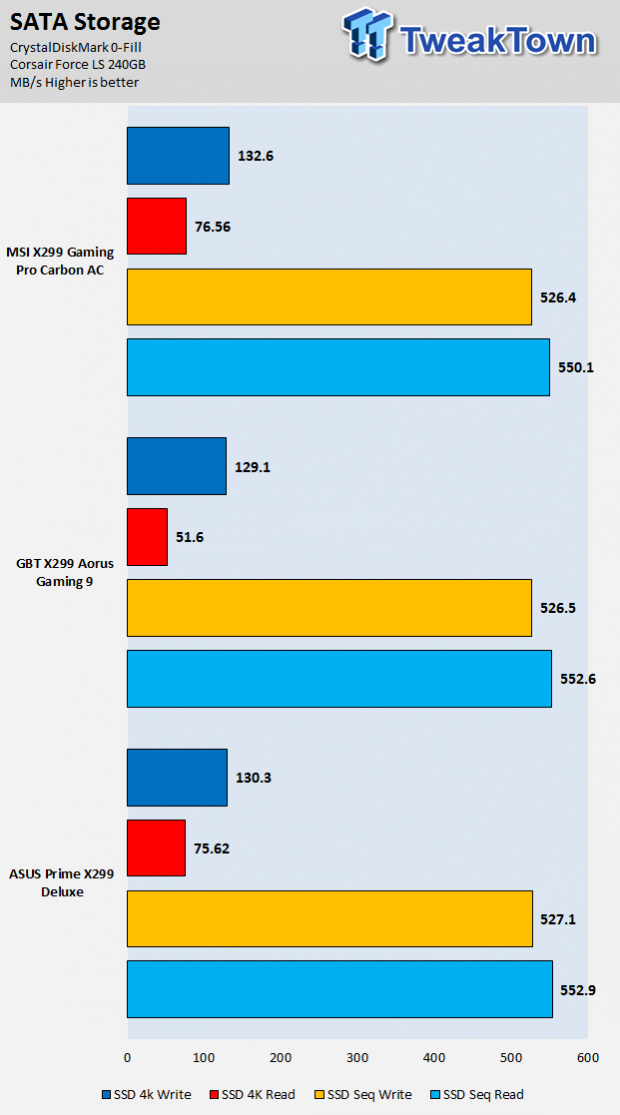 CrystalDiskMark M.2: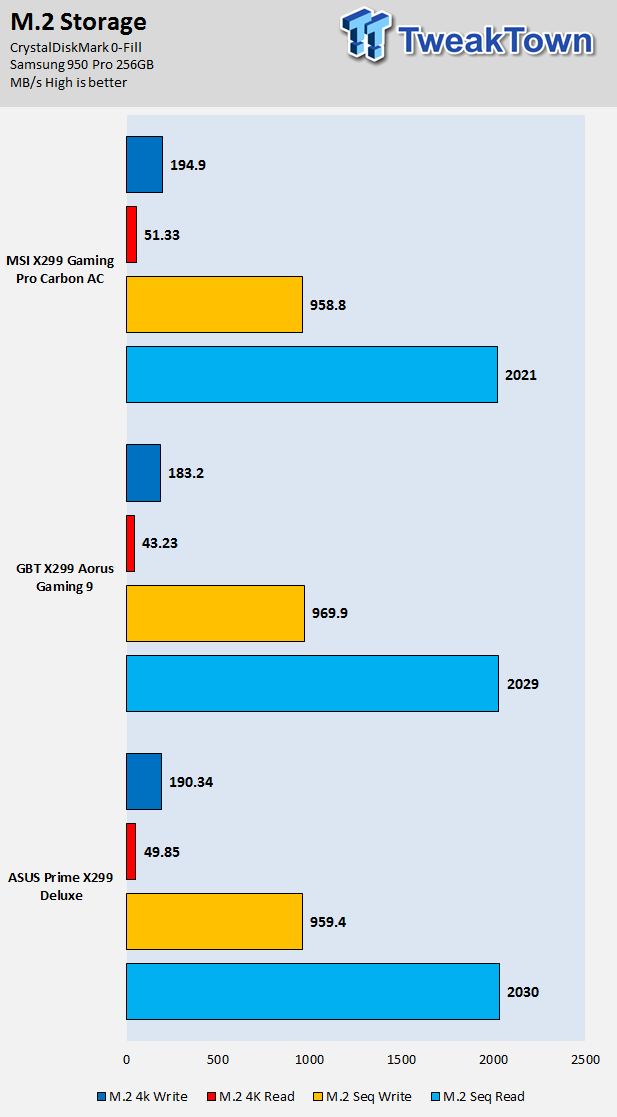 ixChariot Network Throughput: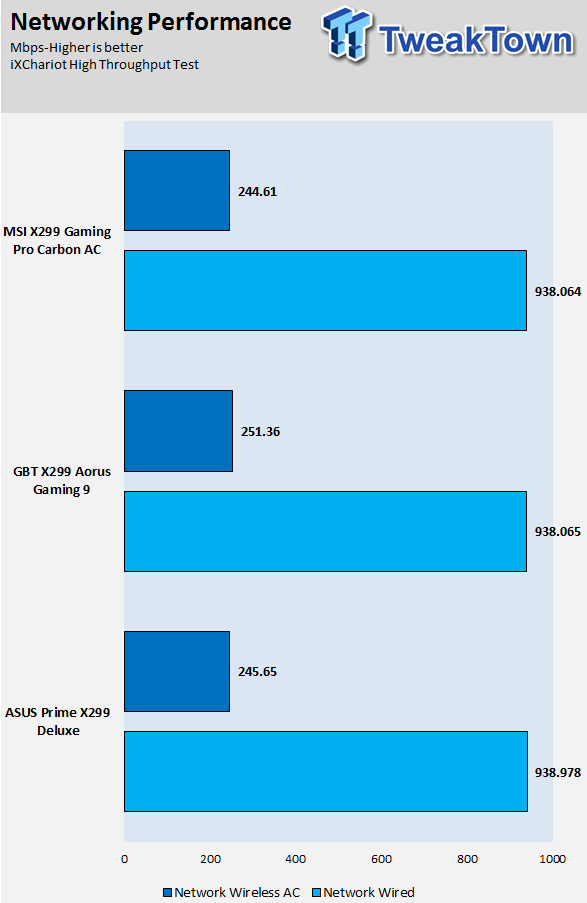 ASUS's X299 Deluxe offers excellent SATA and M.2 performance. Networking performance was excellent as well, although we weren't able to test the Wireless AD because we don't have a Wireless AD device to test it with.
Audio RMAA 5.5:
I disable all audio features, set the correct bitrates, and then test the audio with a loopback test.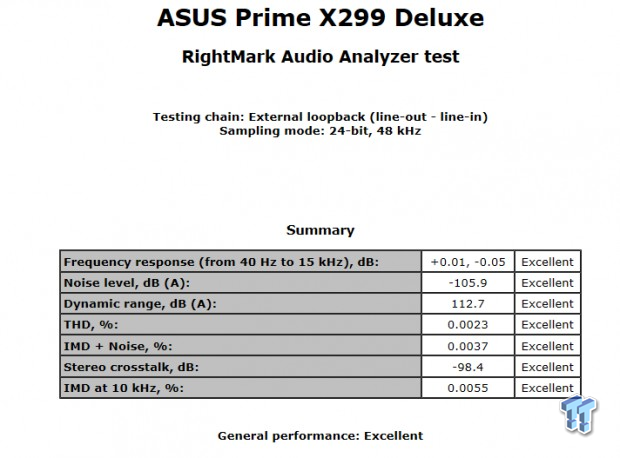 Sound Judgment by Ear: Excellent, as most no-frills ALC1220 implementations with solid trace routing offer. There are five ratings for audio: 1. Problems, 2. Okay, 3. Acceptable, 4. Very good, 5. Excellent
VRM and System Thermal Imaging and Power Consumption
Thermal Imaging and Power Consumption
System power is measured at the wall with an AC power meter.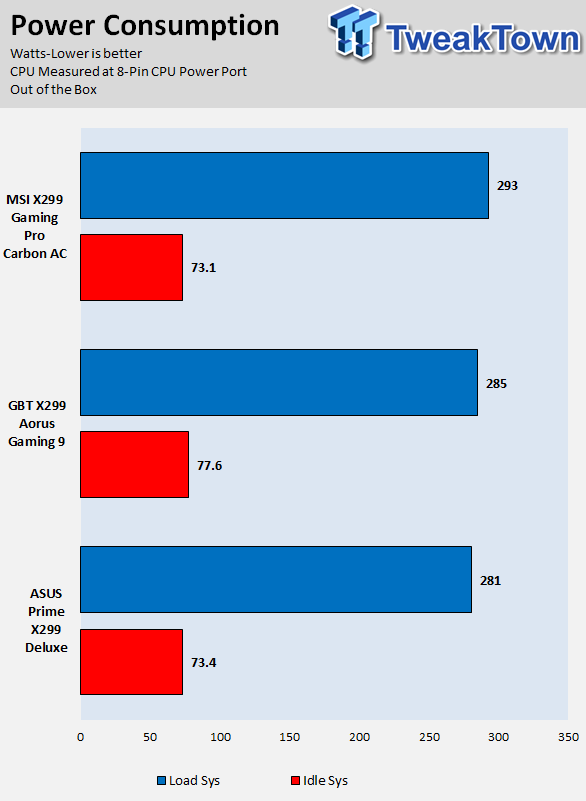 Note on Thermal Images: In the temperature section, we use our Seek thermal imaging camera to capture the surface temperatures of major components on the board. I look at the VRM and then all other things that light up the screen. If there is something to worry about, then I will state it. Otherwise, I will just show the hotter running parts of the board for fun. Unless some component is over 80-90C, then there isn't anything to worry about.
All systems will act differently, so I will look for commonalities, such as how far from the VRM the heat spreads through the PCB and the difference in temperature between the front side and backside of the PCB. Keep in mind, the majority of the heat from the VRM goes into the PCB as it is a giant soldered on copper heat sink. A larger difference in temperature between the back and front of the PCB points towards a more effective heat sink.
Thermal Testing at Stock Speeds:
The image on the left is always at idle, and the image on the right is at load. During ALL TESTS, fans above the VRM that cool the CPU cooler's (Corsair H110i) radiator are turned on to high (12v).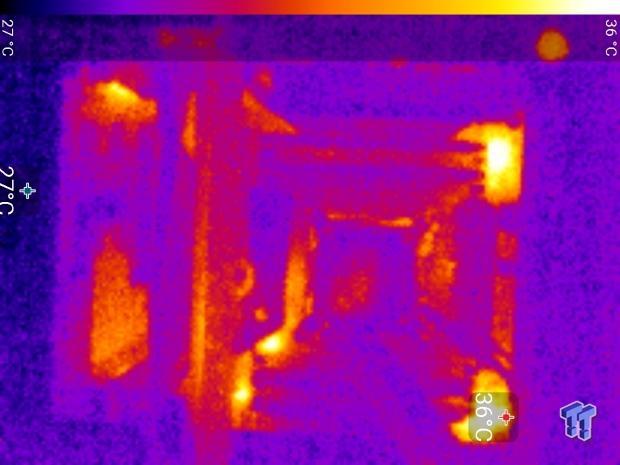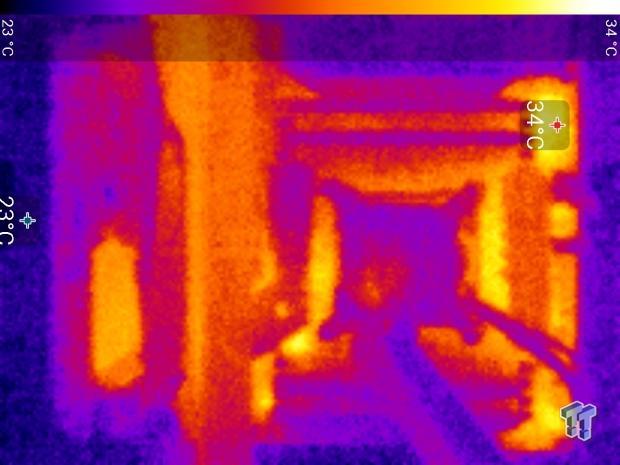 Full frontal.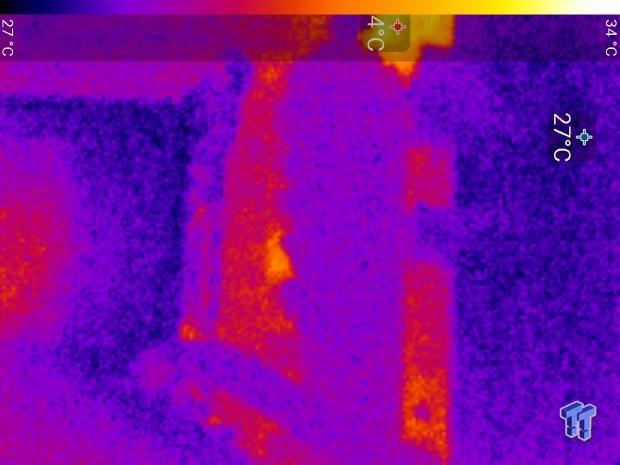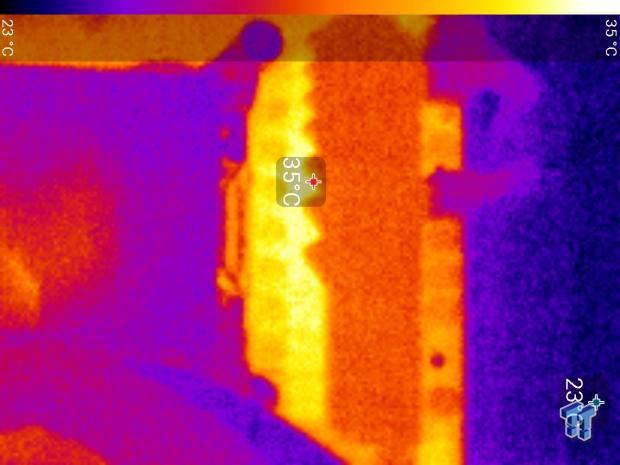 Up-close of the front of the VRM.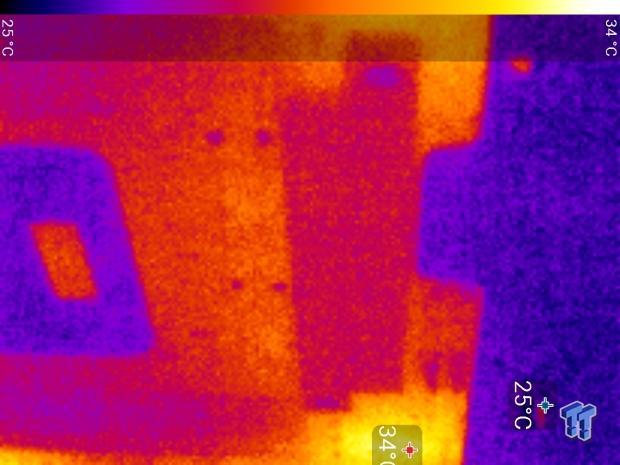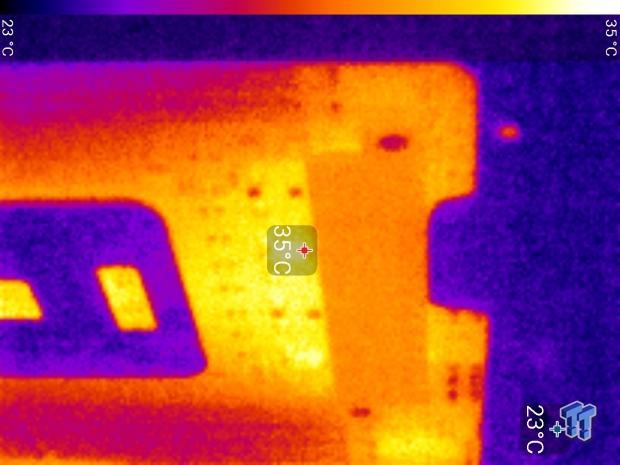 The VRM temperature raised one degree from idle to load, and the front temperature was exact the same as the back when it came to the hottest point. At stock, this is one of the best VRMs I have seen thus far for the X299 platform; it offers excellent light-load and full-load performance.
Up-close of the back of the VRM.
4.6GHz 1.75V VCCIN OCed VRM Thermal Imaging: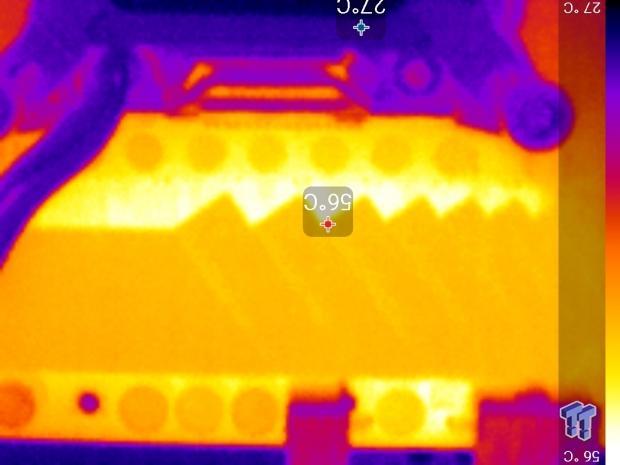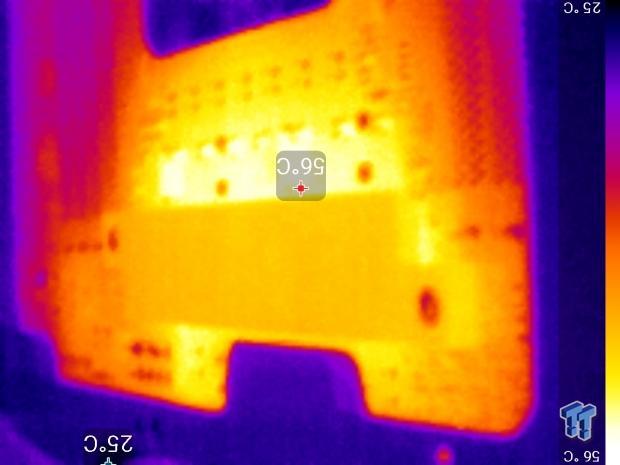 The heat sink here is working okay; temperature on the back is about a degree warmer than on the front, so it is not too bad. These temperatures are some of the best we have seen thus far, the only better was on a motherboard with a secondary heat sink and heat pipe, so it had more cooling capacity.
What's Hot, What's Not & Final Thoughts
Here are key points about the ASUS PRIME X299 DELUXE.
What's Hot
Wireless AD: ASUS has been the first vendor to integrated Wireless AD (WiGig) into their motherboards. The technology offers speeds up to 4.6Gbps, which is more than four times that of a wired NIC. While you might not always get that type of bandwidth, it's still a huge improvement over Wireless N and AC.
Excellent Quality: From the fact that ASUS offers three ASMedia ASM3142 for six USB 3.1 ports, to the fact they are using the best integrated VRM circuitry Infineon has to offer, ASUS did a solid job with quality on this motherboard. While it doesn't have that ROG feel theme to it, it's still up there with the highest quality X299 motherboards.
ThunderBolt 3.0: The X299 Deluxe is one of the only motherboards with ThunderBolt 3, albeit it comes with a card in the box. The card offers two USB 3.1 ports, one of which is a type-C port that also does ThunderBolt 3.0. ASUS provides you with everything needed to get it going. The X299 Deluxe is the second most expensive X299 board on the market, the one above it doesn't offer ThunderBolt 3.
Tons of Fans and Sensors: As if seven fan headers wasn't enough, ASUS throwing in its fan extension card, that adds another three fans with sensors. ASUS does provide three sensor cables for the board/extension card, and the card's sensors and headers are as addressable as those integrated into the motherboard. ASUS's fan control is top notch, and this is the latest and most advanced ASUS has to offer.
What's Not
No 4-way: Most X99 motherboards offered 4-way SLI and CrossFireX, but like some other X299 motherboards, the Deluxe doesn't offer this feature.
Very Complex Routing: The routing of bandwidth on the motherboard's PCI-E slots is very complex and could be extremely confusing if we didn't have the manual. How else would we know that the Wireless AD and first x1 slot share the same PCI-E lane, or that if you use an x16 lane CPU, then the second x16 slot will take x2 of PCI-E 3.0 from the USB 3.1 internal header if it is in use. Two SATA ports also share with the last PCI-E x16 slot when using x16 and x28 lane CPUs. It is a complex system, so it's best to investigate if you plan on adding in tons of hardware and devices into your slots.
Final Thoughts
ASUS has done a fine job with the Prime X299 Deluxe. We could nitpick about only having an 8+4 pin power connector and single designer VRM heat sink, but the Deluxe isn't a ROG motherboard. It is at the core of ASUS's design philosophy and has a long legacy of catering to power users, workstation builders, and gamers alike. Quality also is top notch on this Deluxe series motherboard.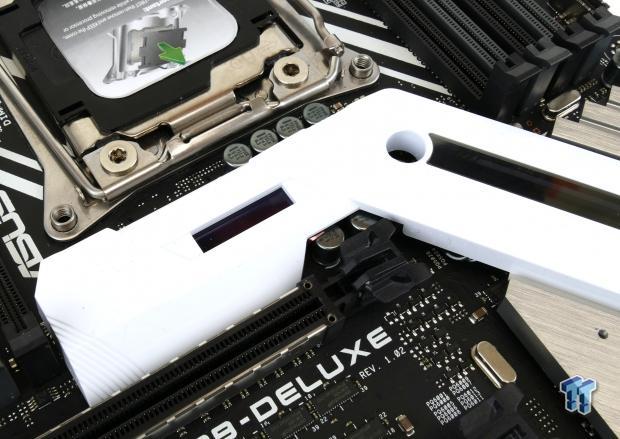 It is a do-everything motherboard, with just enough of everything to make everyone happy. Digital RGB LED support, Thunderbolt 3, best in class VRM components, and Wireless AD all find a home within the X299 Deluxe. It's like the Swiss Army knife of ASUS's X299 offerings, and while it does cost a lot, it has the features to back it up.
If you are looking for a feature packed X299 motherboard and have a bit of change to spare, then the X299 Deluxe might be the right motherboard for you.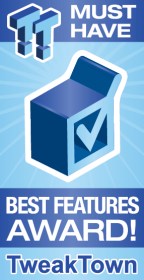 | | |
| --- | --- |
| Performance | 90% |
| Quality | 93% |
| Features | 96% |
| Value | 85% |
The Bottom Line: The ASUS PRIME X299 DELUXE is loaded with so many features; it's equipped to tackle pretty much anything.
PRICING: You can find products similar to this one for sale below.

United States: Find other tech and computer products like this over at Amazon.com

United Kingdom: Find other tech and computer products like this over at Amazon.co.uk

Australia: Find other tech and computer products like this over at Amazon.com.au

Canada: Find other tech and computer products like this over at Amazon.ca

Deutschland: Finde andere Technik- und Computerprodukte wie dieses auf Amazon.de
We openly invite the companies who provide us with review samples / who are mentioned or discussed to express their opinion. If any company representative wishes to respond, we will publish the response here. Please contact us if you wish to respond.
Related Tags