ASRock Z270 SuperCarrier Motherboard Review
Are you looking for an Intel Z270 motherboard that's packed with features? ASRock's Z270 SuperCarrier might be for you.
Published Mon, Apr 10 2017 7:50 AM CDT
|
Updated Tue, Nov 3 2020 6:58 PM CST
Rating:

94%
Manufacturer: ASRock
Introduction, Specifications, and Pricing
The largest type of aircraft carriers are sometimes referred to as supercarriers, and today I get to take a look at what ASRock has deemed their ultimate Z270 motherboard. Decked out with a PEX8747 that doubles the amount of PCI-E lanes for up to 4-way SLI; the motherboard is one of a handful that offers the ability to run 3-way and 4-way SLI on the LGA1151 platform.
The motherboard also carries a totally new color theme, the latest in consumer features, and even a 5Gbit NIC. The "27" on the PCH heat sink is a symbol based on the Z270 chipset, which is loaded with tons of the latest features. The motherboard is designed to push the bounds of quality in almost every way. Let's begin our analysis of the Z270 SuperCarrier and see if it lives up to the hype.
Specifications
The Z270 SuperCarrier offers a 5Gbit NIC, two 1Gbit NICs, Wireless AC, three Ultra M.2 slots, ten SATA6Gb/s ports, and many other premium features.
Pricing
The Z270 SuperCarrier costs $379.99.
Packaging and Z270 SuperCarrier Overview
Packaging and Overview
The box is simple and uses the same color theme as the motherboard. Packaging is done very well; the motherboard is encased in a foam box and the accessories in a box below.
The accessory package includes four SATA6Gb/s cables, IO shield, two WIFI antennas, case badge, M.2 screws, 4-way SLI bridge, 3-way SLI bridge, long 2-way SLI bridge, SLI_HB bridge, postcard, manual, and driver DVD.
The Z270 SuperCarrier has five fan headers. All the fan headers offer PWM or DC operation mode. The CPU fan header circled in red is rated to provide up to 1A of current. The four headers circled in green are rated up to 1.5A of current. The motherboard's color theme is half black and half gray, with a lot of effort put into component placement, so the "runway" on the motherboard remains unobstructed. The VRM heat sink's color even changes to reflect the PCB's color, with the top portion of the heat sink being black and the rest being silver. Since ASRock moved a lot of parts to the rear of the PCB, we find a lot of backside chips, be careful not to scrape the back of the motherboard.
The rear IO panel features PS/2 Keyboard/Mouse, two USB 2.0 ports, four USB 3.0 ports, two ThunderBolt 3/USB 3.1 type-C ports, Clear CMOS button, WIFI antenna, HDMI, DisplayPort, two 1Gbit LAN, one 5Gbit LAN (red), and 7.1 gold plated audio outputs with S/PDIF out.
The four reinforced x16 slots operate at x16/x0/x16/x0, x8/x8/x16/x0, x16/x0/x8/x8, or x8/x8/x8/x8. The motherboard's PEX8747 allows you to run up to 4-way SLI/CrossFireX. There is also a single x1 PCI-E 3.0 port. Three Ultra M.2 ports, each rated at 32Gbps of throughput, offer RAID support. Each M.2 port shares one lane with an SATA6Gb/s port from the PCH, so if you use an SATA-based M.2 drive, one port will be disabled.
Two USB 3.0 internal headers and a single vertical type-A port are located right below the 24-pin power connector. There are six SATA6Gb/s ports from the PCH and four more from two ASMedia controllers. An extra power connector provides extra power to the PCI-E slots for running 4-way SLI/CrossFireX. SATA ports 0 and 3 share their bandwidth with the first and third M.2 slots and will be disabled if you use an SATA M.2 drive in those slots. The second M.2 slot shares bandwidth with SATA ports 4 and 5, so if you use either, the other will be disabled.
A switch to simply enable XMP is located in the top-right corner of the motherboard. The motherboard does have overclocking features including power and reset buttons as well as a POST code display.
An RGB LED header is located to the left of two USB 2.0 internal headers. A slow-mode jumper is located above the clear CMOS jumper. The motherboard carries two internal audio headers, they are redundant and are designed to easily hide the cable depending on the length of your cable and case breakout locations.
The VRM and PEX8747 heat sink use heat pipes. The 5Gbit NIC also gets its own heat sink. All heat sinks and the IO shield are held down by screws, but the 5Gbit heat sink uses a sticky heat pad.
ASRock Z270 SuperCarrier Circuit Analysis
Circuit Analysis
The Z270 SuperCarrier has some serious hardware under those heat sinks.
The VRM on this motherboard is a 8+4+1+1 phase VRM. Starting at the top left, we have VCCIO, VCCSA, eight CPU VCore phases, and then four iGPU phases. The main PWM is the tried and true digital PWM from International Rectifier IR35201 fully digital PWM. It outputs 8+0/6+2/7+1 phases depending on the vendors' needs. In this case, ASRock is using it as 6+2 phases and uses only 4+2 of those phases. Those extra phases are then doubled by phase doublers/dual-drivers. Each power stage uses a Texas Instruments CSD87350Q5D NexFETs rated at 25A at 90% and up to 40A each. Each of the inductors is rated 60A, and the capacitors are 12K FP solid polymer Japanese capacitors.
There are six IR3598 doublers/dual-driver chips that supply the 8+4 phases for the CPU and iGPU phases. The memory VRM is two phases controlled by the uP1674P PWM with integrated drivers and outputs to two Texas Instruments CSD87350Q5D NexFETs.
ASRock Z270 SuperCarrier Circuit Analysis Continued
Z270 SuperCarrier Circuit Analysis Continued
ASRock is using the new ALC1220, which is rated at 120dB SNR output on a single headphone output routed to the rear IO, it features an integrated amplifier on that output. To amplify the front panel headphone output, ASRock uses a Texas Instruments NE5532 amplifier. Nichicon Gold series electrolytic audio capacitors are present to improve audio quality as is physical PCB division to separate the analog and digital parts of the audio circuit. There are two internal audio headers offering better cable management possibilities in case you put a GPU in the last slot.
The PLX Technologies (now Avago) PEX8747 takes in x16 PCI-E 3.0 from the CPU and outputs x32 PCI-E 3.0 lanes to the four PCI-E x16 slots so you can run 3-way and 4-way SLI/CrossFireX. The Aquantia AQC108 offers 5Gbit LAN; it is backward compatible with 1Gbit.
ASRock is using the Intel JHL6540 ThunderBolt 3/USB 3.1 controller along with two Texas Instruments TPS65982DA type-C logic and power delivery controller chips. The result is two type-C ports of the highest caliber. On the rear of the motherboard are multiple ASMedia ASM1480 quick switches to switch around PCI-E bandwidth between the PCI-E slots. An ASMedia ASM1184e PCI-E hub takes in a single PCI-E 3.0 port and outputs multiple PCI-E 2.0 ports for low bandwidth devices such as the ASMedia SATA6Gb/s controllers and WIFI controller.
An Intel i211AT provides one of the Intel NICs, and an Intel i219v acts as a PHY for the integrated MAC in the PCH to provide the second 1Gbit NIC.
An Intel Dual Band Wireless-AC 3160 provides WIFI and Bluetooth. An ASMedia ASM1074 USB 3.0 hub takes in a single USB 3.0 port from the PCH and outputs four to two USB 3.0 internal headers.
Two ASMedia ASM1061 produce four extra SATA6Gb/s ports.
An IDT 6V41642B clock generator provides better BCLK overclocking margins. The main SuperIO is a nuvoTon NCT6791D that outputs PS/2, offers voltage and temperature monitoring, and other system management controls. The motherboard also features two 128Mbit/16MB BIOS ROMs. A nuvoton N76E885AT2 provides RGB LED control.
BIOS and Software
BIOS
ASRock's UEFI is extensive and has a ton of options. It is one of the only UEFI's to offer RGB LED control over individual sections of the motherboard. It also has built-in overclocking profiles with AVX offsets. Extensive fan control is also present in the form of a GUI and a menu where you can type in values. There is also an Easy Mode of operation, you can switch between Easy Mode and Advanced Mode by pressing "F6".
Software
ASRock's software suite includes A-Tuning, AURA RGB LED, APP Charger, and XFast LAN.
Test System Setup
Steven's Motherboard Test System Specifications
The Z270 SuperCarrier's aesthetics are very easy to match. When the motherboard is in a case, it's gray and black color theme will fade into the background, and you will be able to customize your build with its RGB LEDs.
Overclocking
Overclocking Results
CPU Overclocking
CPU overclocking was easy enough; I was able to hit 5GHz with memory running XMP frequency and timings. I will say that ASRock's LLC levels are a bit strong and you will probably need to experiment a little bit with them to find a good match. I usually like to use the second strongest level, but I ended up having to use their highest level.
Compatible Memory Overclocking Kits
In this section, I overclock four memory kits only using XMP, if the kit works then the results are below. I welcome memory vendors to send in their kits to be tested on each motherboard.
Corsair Dominator Platinum 3200MHz C16 8GBx2
G.Skill TridentZ 3866MHz C18 8GBx2
GEIL EVO X RGB 3200MHz C16 8GBx2
GEIL EVO FORZA 3200MHz C16 8GBx2
The Z270 SuperCarrier overclocked all our kits with ease by just enabling XMP.
CPU, Memory, and System Benchmarks
CINEBENCH 11.5
wPrime
AIDA64 AES and HASH
AIDA64 FPU
AIDA64 Memory
ScienceMark
HandBrake
3DMark: Fire Strike
3DMark: Cloud Gate
ResidentEvil 6
The Z270 SuperCarrier's performance is strong in both CPU and gaming scenarios. I will mention that the PEX8747 imposes a slight performance penalty on a single GPU. With more GPUs, performance will be great, but because of the way it doubles the PCI-E lanes, the PEX8747 affects single GPU performance.
Some motherboard reviews put a lot of weight into motherboard CPU, memory, and GPU benchmarks, but for me, CPU, memory, and GPU benchmarks on motherboards should be more about finding anomalies, and I do that at standard settings (4.8G in graphs).
System IO Benchmarks
CrystalDiskMark SATA6G:
CrystalDiskMark M.2:
ixChariot Network Throughput:
The Z270 SuperCarrier's M.2 and SATA performance is top notch, but that s to be expected from ASRock as they tune their storage interfaces very well. Network performance on the 5Gbit NIC is excellent, and we will have more coverage on this in the future.
Audio RMAA 5.5:
I disable all audio features, set the correct bitrates, and then test the audio with a loopback test.
Sound Judgment by Ear: Excellent. ASRock's implementation of the ALC1220 is very good. There are five ratings for audio: 1. Problems, 2. Okay, 3. Acceptable, 4. Very good, 5. Excellent
Thermal Imaging and Power Consumption
System power is measured at the wall with an AC power meter.
Note on Thermal Images: In the temperature section, we use our Seek thermal imaging camera to capture the surface temperatures of major components on the board. I look at the VRM and then all other things that light up the screen. If there is something to worry about, then I will state it. Otherwise, I will just show the hotter running parts of the board for fun. Unless some component is over 80-90C, then there isn't anything to worry about.
All systems will act differently, so I will look for commonalities, such as how far from the VRM the heat spreads through the PCB and the difference in temperature between the front side and backside of the PCB. Keep in mind, the majority of the heat from the VRM goes into the PCB as it is a giant soldered on copper heat sink. A larger difference in temperature between the back and front of the PCB points towards a more effective heat sink.
Thermal Testing at Stock Speeds:
The image on the left is always at idle, and the image on the right is at load. During ALL TESTS, fans above the VRM that cool the CPU cooler's (Corsair H110i GT) radiator are turned on to high (12v).
Full frontal.
Up-close of the front of the VRM.
Up-close of the back of the VRM.
Thermal Testing at 4.8GHz Overclocked Speeds:
The image on the left is always at idle, and the image on the right is at load. During ALL TESTS, fans above the VRM that cool the CPU cooler's (Corsair H110i GT) radiator are turned on to high (12v).
Full frontal.
Up-close of the front of the VRM.
Up-close of the back of the VRM.
The Z270 SuperCarrier's thermal performance is good. With all the hardware on the motherboard, we cannot expect cool operation, but ASRock has done a nice job of cooling all the hot components such as the PEX8747 and 5Gbit NIC. The VRM quality is also part of the solution, as it's high quality and operates at lower temperatures.
Anything under 60C is great, 60-80C is acceptable, and anything above 80C is a bit worrisome (if at stock).
What's Hot, What's Not & Final Thoughts
Here are key points about the ASRock Z270 SuperCarrier.
What's Hot
PEX8747 To Expand Lanes: There is only one way to run 3-way SLI and 4-way SLI/CrossFireX on the LGA1151 platform, and that is with a motherboard with the Avago PEX8747. The PEX8747 doubles CPU PCI-E 3.0 to a total of 32 lanes. You can run two cards at x16/x16 or four at x8/x8/x8/x8.
Crazy Networking: If the Aquantia 5Gbit NIC isn't enough to satisfy your networking requirements, ASRock includes two Intel Gbit NICs and a Wireless AC card onboard. The SuperCarrier is one of the most network capable Z270 motherboards on the market.
Dual ThunderBolt 3: The two type-C ports on the rear IO support Intel's Thunderbolt 3.0. Not all type-C ports are equal, but with up to 40Gbps of throughput and 36W of power, these two type-C ports are superior to many others and offer backward compatibility with USB 3.1 and other type-C protocols.
Triple M.2: As if all these other features weren't enough to impress you, ASRock made sure to include three 32Gbps M.2 slots to support all types of storage requirements. M.2 is the clear successor to the SATA connector, and with all the latest drives coming out in the form factor, ASRock has you covered with support for three and RAID.
What's Not
Single GPU: It's well known that the PEX8747 which doubles PCI-E bandwidth inflicts a bit of a latency penalty for single GPU operation.
Final Thoughts
The ASRock Z270 SuperCarrier is perhaps the most loaded Z270 motherboards I have reviewed thus far. The 5Gbit NIC, dual Thunderbolt 3 ports, and PEX8747 give it an edge up on its competitors in the same price range. I was shocked to see ASRock selling this motherboard for $380; I thought it would be priced upwards of $500 with all these features. That being said some of its competitors offer better audio and more fan headers, but ASRock decided to shift resources towards other features.
The 5Gbit NIC is also a nice feature, and soon we will have an article discussing the new protocol and its benefits over the 1Gbit NIC. With content creators requiring faster protocols, the Z270 SuperCarrier has you covered with Thunderbolt 3 to transfer your huge files into your computer. The triple M.2 and 4-way SLI support provide a fast environment to work your files, and the 5Gbit NIC allows quick transfer around your network. Content creation isn't the only scenario where all the hardware helps, the motherboard is also excellent for playing the latest games. If you are looking for one of the most loaded motherboards with the latest connectivity protocols at a fairly reasonable price, the Z270 SuperCarrier should be at the top of your list.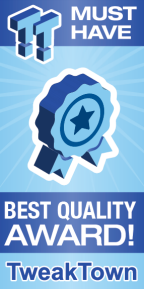 | | |
| --- | --- |
| Performance | 92% |
| Quality | 95% |
| Features | 97% |
| Value | 90% |
The Bottom Line: ASRock's Z270 SuperCarrier is loaded with high-quality Thunderbolt 3, 4-way multi-GPU support, an excellent VRM, and Aquantia's 5Gbit NIC.
PRICING: You can find products similar to this one for sale below.

United States: Find other tech and computer products like this over at Amazon.com

United Kingdom: Find other tech and computer products like this over at Amazon.co.uk

Australia: Find other tech and computer products like this over at Amazon.com.au

Canada: Find other tech and computer products like this over at Amazon.ca

Deutschland: Finde andere Technik- und Computerprodukte wie dieses auf Amazon.de