TweakTown's Rating: 95%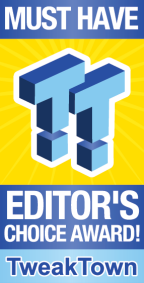 The Bottom Line
With its overall quality, flexibility, and solid performance, it's rather hard to look past the value in the Velop Mesh system from Linksys.
Introduction & Pricing, Availability, and Specifications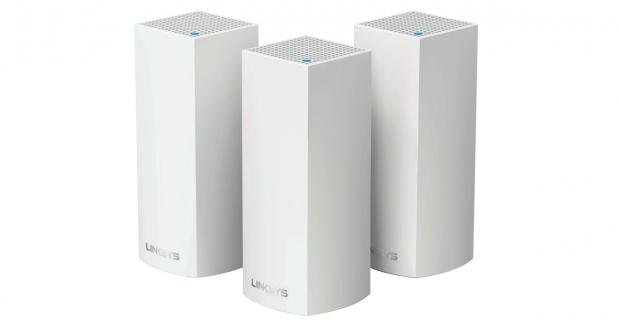 Towards the middle to end of January, I was contacted about Velop, Linksys' entry into the Mesh Wi-Fi space, a week or so later it was in house, and I set it up to begin testing.
Velop, like many Mesh systems, allows for expandability. You can start with a single unit and add on as you grow or your home grows. The technology inside Velop allows each node to essentially be an AC200 Router, Extender, Access Point and Wireless Bridge all wrapped into one package.
This starts with the base of the platform, a 716MHz quad-core processor. Onboard storage for the firmware sits around 4GB with 512MB of DDR3, and each node houses six antennas along with a Bluetooth 4.0 radio. Velop is an AC2200 class solution, meaning we have a 400 Mbps 2.4GHz radio and two 867 Mbps 5GHz radios.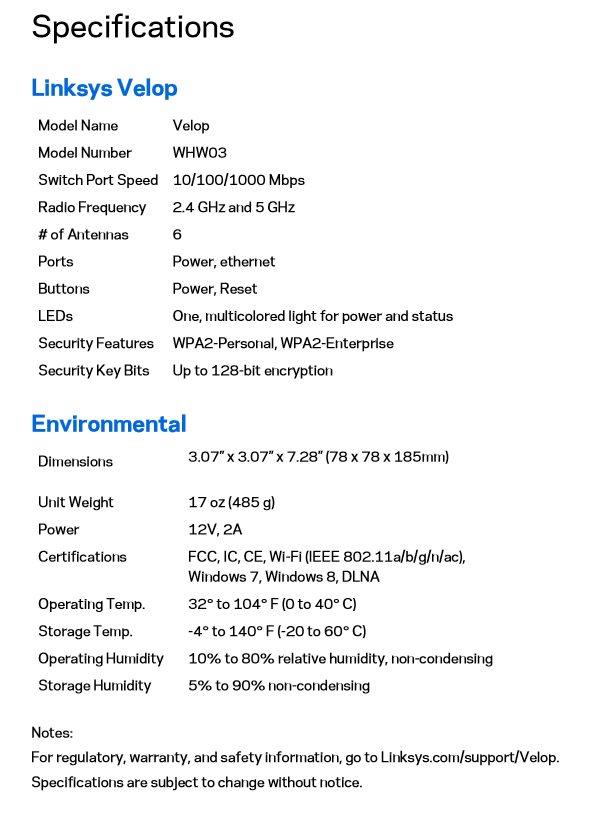 The actual specification sheet given by Linksys doesn't make mention of any of the details of the wireless network. Instead, not to confuse any potential buyers, we have the model number followed by switch ports speed up to 1000Mbps, two listed radio frequencies and the number of internal antennas. Each unit does have a power and reset button along with an RGB LED that helps with placement and setup.
The MSRP of the Linksys Velop three node kit comes in at $499.99 with a three-year warranty.
Router Details
Linksys Velop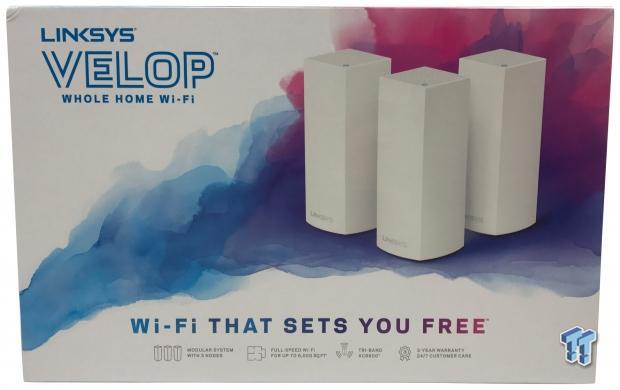 Packaging for the Velop is getting darn close to being Apple-esque. On the outside, we have a moderately colored box with an image of the device. Subtle branding.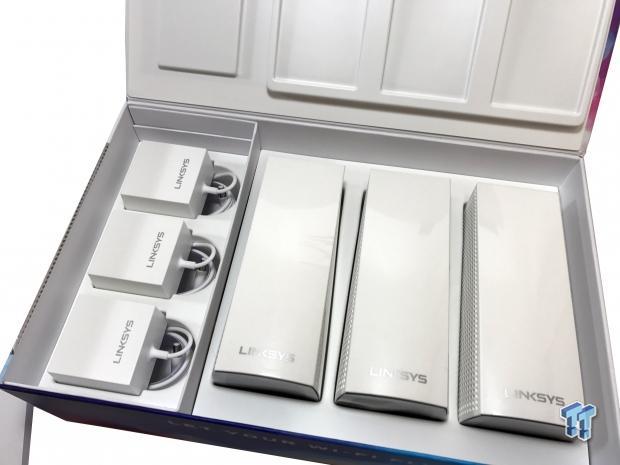 Opening the box, you can see what I'm talking about. Each node has its own vacuum molded place as do each of the power adapters.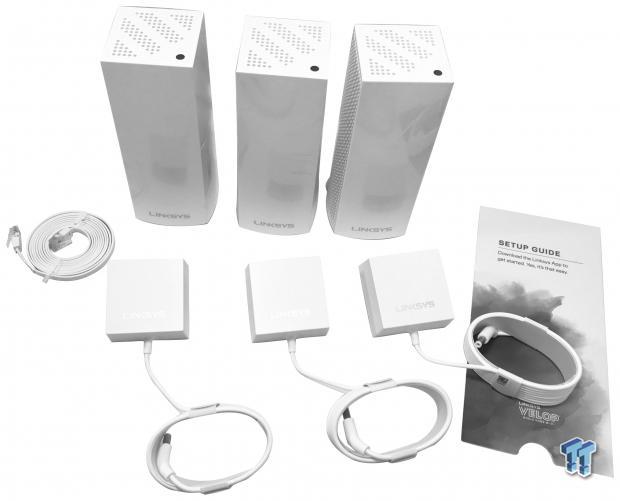 The scope of delivery includes what we see above - three nodes with power adapters and a flat white Ethernet cable.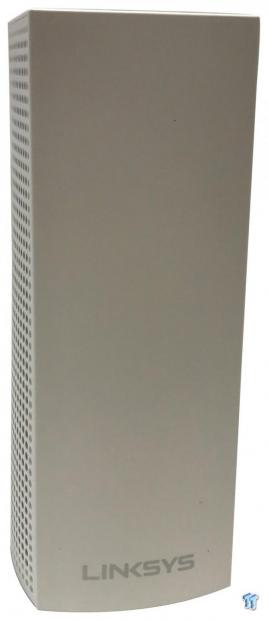 The Velop nodes stand tall about the size of a PC speaker or a water bottle. The bottom gives a little branding.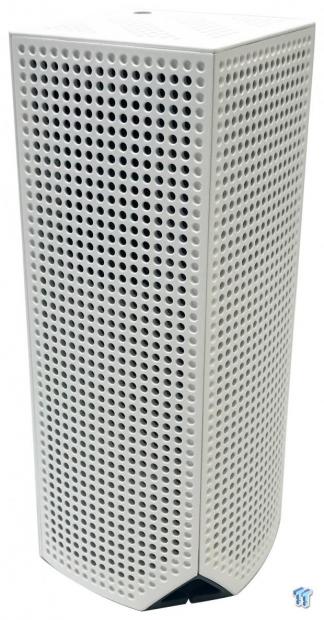 The two opposing sides are full on mesh including the top of the node, allowing heat to escape efficiently.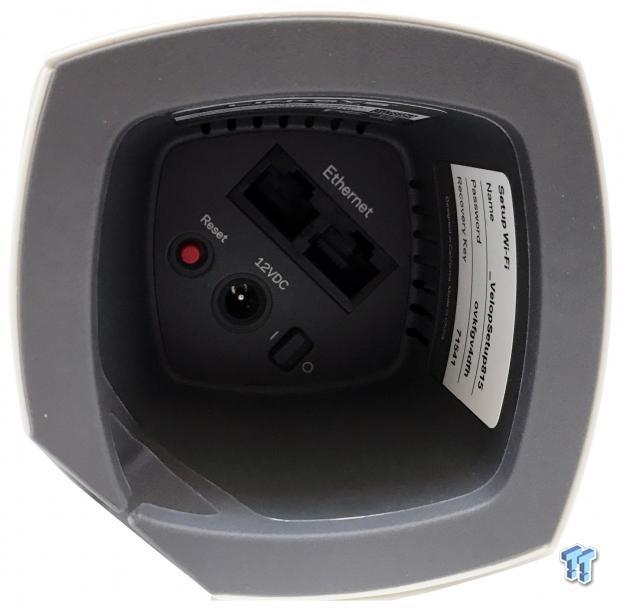 Underneath, we have access to two Ethernet ports; there is no set designation for which one is for WAN. During setup, the Velop will use whichever port has the modem connection.
Management GUI Details
Management GUI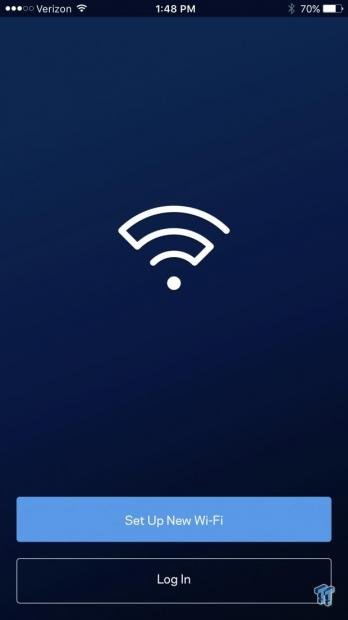 The Velop Mesh system uses an Android or iOS app. There is no WebGUI for this solution.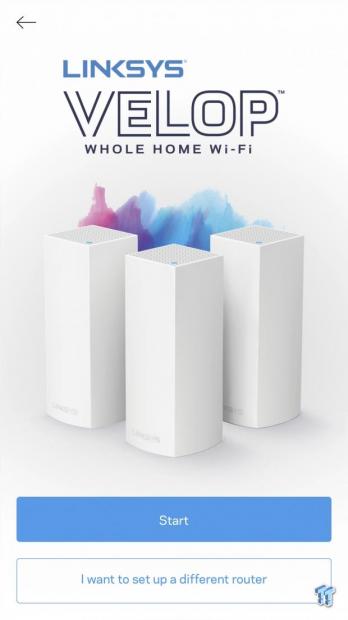 Setup starts with the above screen. We first need a Linksys account.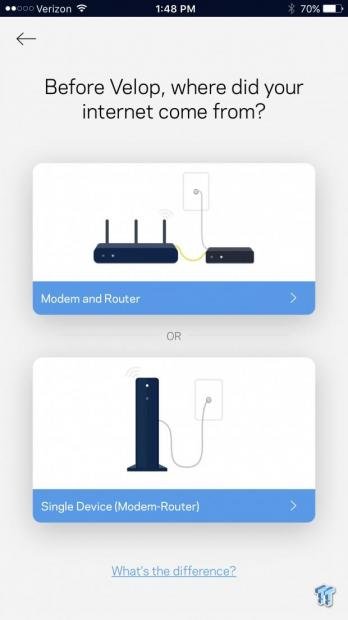 Once we have an account, we move on to actual setup with the app acting like a wizard to guide you through.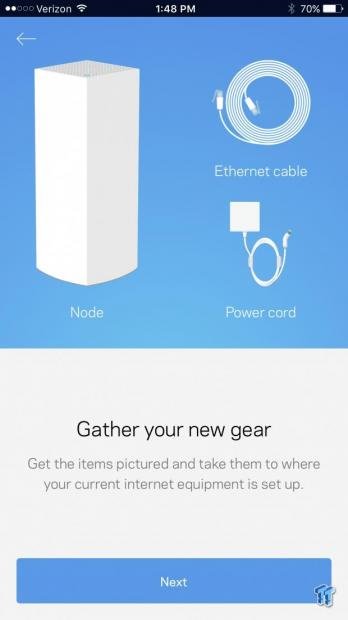 Gather everything that came in the box and set it up where you want it. I set up all three nodes in my kit but only plugged the one with the modem connection into power at this point.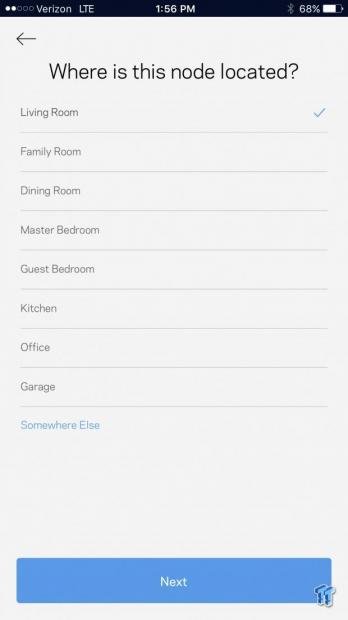 Moving through the setup procedure, the app will ask you where your nodes are located.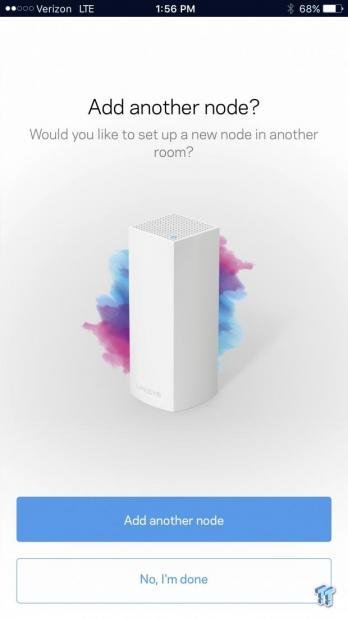 Once you push through the setup of the first and main node, the Velop system will ask if you want to add other nodes. If you bought a multi-node kit, this is where you will add those extras into your network.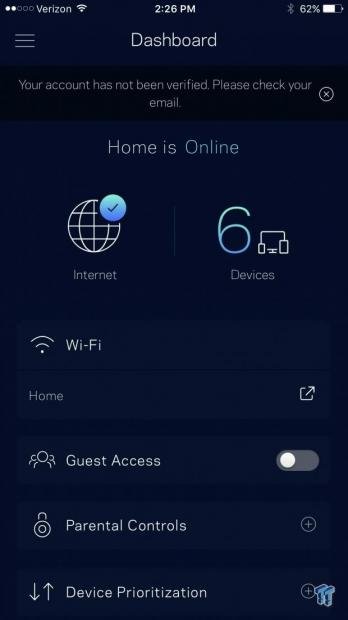 The dashboard in the app gives you a glimpse of what's going on in your network.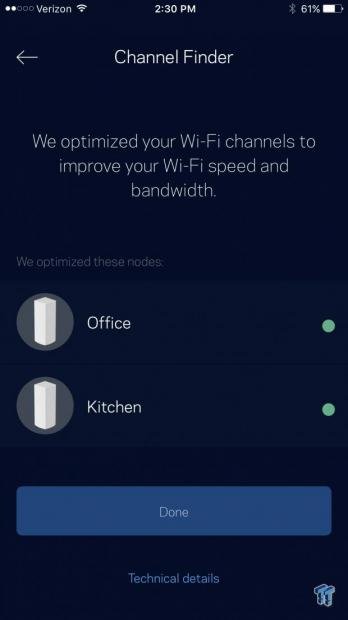 After setup, you can run through channel finder as seen above to optimize channels for each node.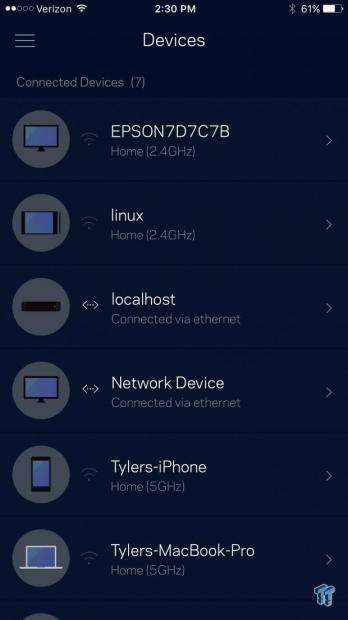 Here we have all the connected devices. It's worth noting you won't get many wired devices with Velop unless you add a network switch.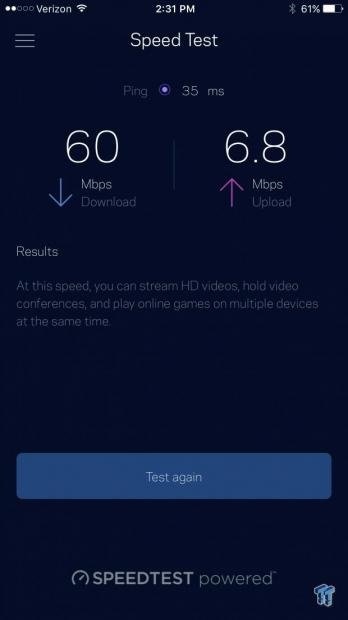 The built-in speed test takes a short amount of time to run but is needed if you decide you want to use QoS.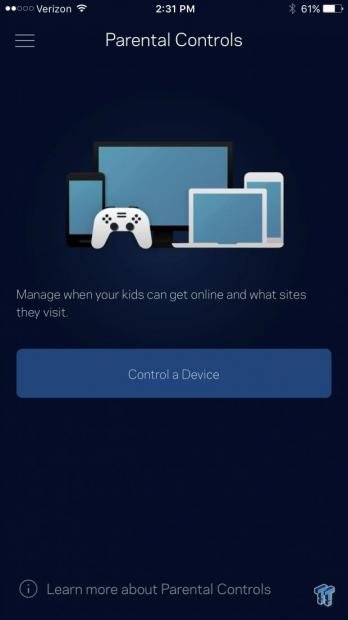 Parental controls are included in the app and can be changed on-the-fly.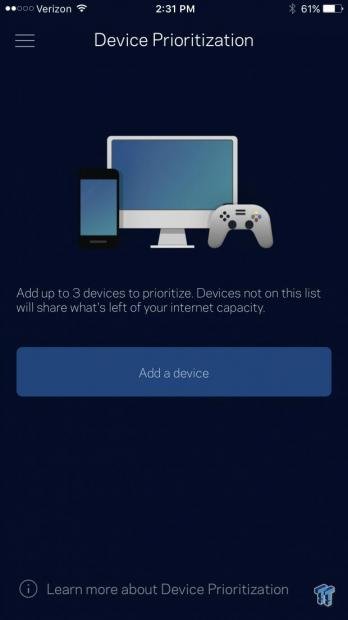 As mentioned, device prioritization (or QoS) is included as well.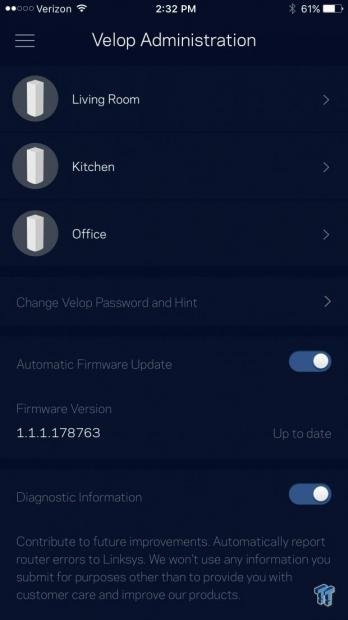 The admin panel allows you to configure each node individually along with firmware updates as needed.
Test System Setup & Benchmark Throughput Tests
Tyler's Router Test System Specifications
Wired Throughput and Range
The Tenda AC9 was the last router I tested with the old Z170 platform. With our new test system, we re-ran it through testing to have it on our new charts.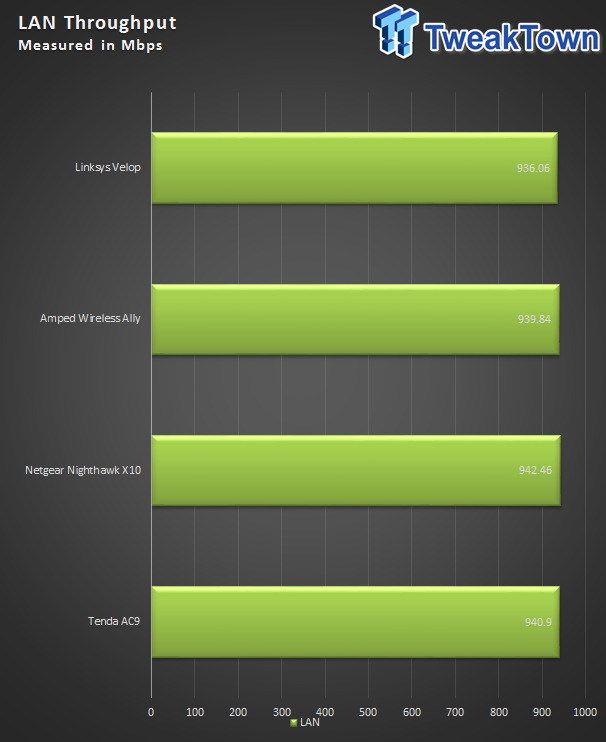 Starting out, the Velop did quite well, bringing in 936 Mbps over LAN. WAN wasn't rested as there is no specific WAN port.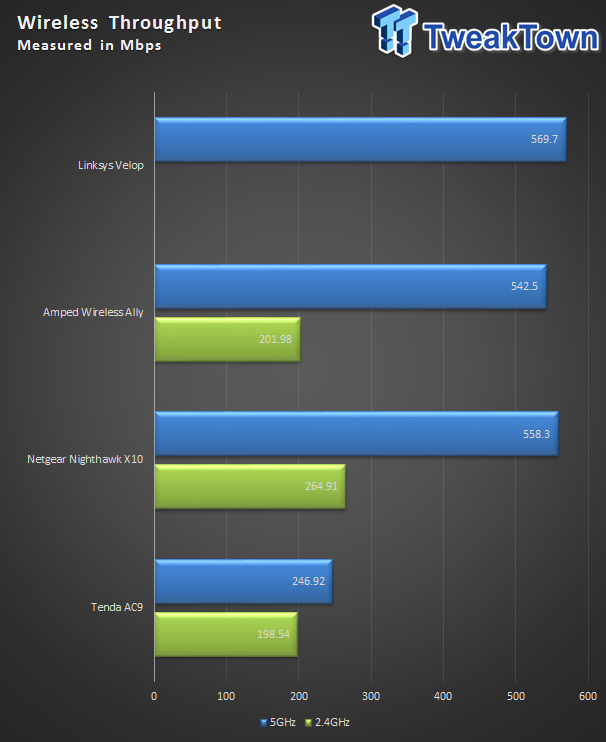 With the Velop being a band steering solution, the charts are slightly different. I was unable to get my PCE-AC88 to connect to the 2.4GHz band, so there is no comparison for 2.4GHz here. However, with 5GHz, the Velop did perform quite well, reaching 570 Mbps.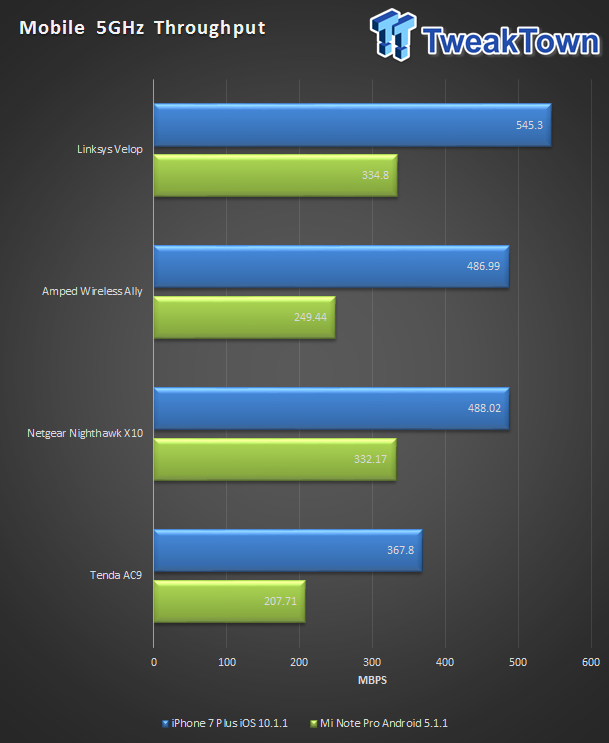 In mobile device throughput, I could get a good amount more out of the iPhone 7 Plus than our Android counterpart, topping out at 545 Mbps.
Wireless Range
Our next test for this new setup sees how range affects performance. With this we start at 10Ft and move out to 30Ft, after we reach the end we move to a location again at 30ft but with two walls between us and the router. Routers are tested in their default configuration for this part; the client device is the iPhone 7 Plus.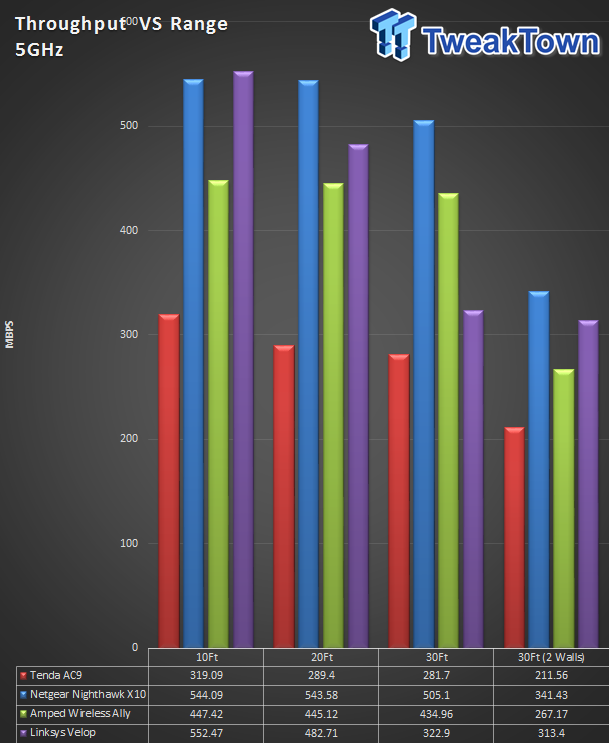 For this to be a fair comparison with standard one node routers, the Velop was tested with a single node. At 10 ft., the Velop started at 552 Mbps moving out to 482 Mbps at 20 Ft. Adding another 10Ft to bring us to 30 Ft., the Velop offered 322 Mbps. Adding a few walls into the mix, we dropped to 313 Mbps.
Benchmarks - Sessions & Final Thoughts
Sessions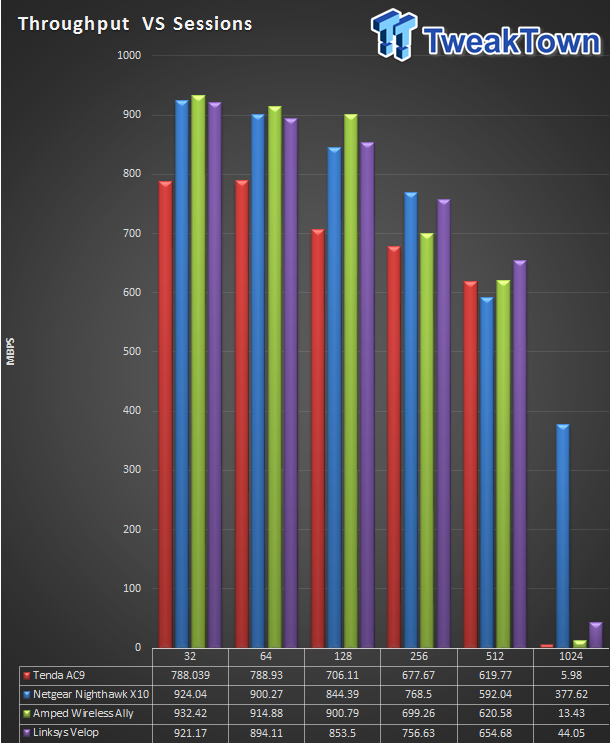 Basically, with this test, I'm looking to see if the router will lock up if enough sessions are pushed through the hardware. Starting at 32 sessions, the Velop has no issues starting out at 921 Mbps.
Moving through 128 sessions, we stay in the 850 Mbps range and continuing through 512 sessions, we drop to just 654 Mbps. At 1000 sessions, the Velop did not crash, but only offered 44 Mbps.
Final Thoughts
Back at the end of 2016, I reviewed the Amplifi HD from Ubiquiti. That being my first look at Mesh Wi-Fi, it blew me away at the promise this technology holds. To this point, I have now tested three additional systems, and honestly, the Linksys Velop is right up with the Amplifi HD in my mind. Starting with build quality, I'm happy with the Velop; the plastics feel quite durable, the mesh lets a bit of heat through, and they have a matte finish.
The performance was a bit different to test with the band steering feature locked on so we have a lot of details on the 5GHz performance but nothing on the 2.4GHz. Going by specifications, it's not a very high-performance band at 400 Mbps, but you could reasonably expect to see a good deal of range from it. With that said, LAN performance was topping out at 936 Mbps, and 5GHz wireless throughput took over top honors at 569 Mbps.
In our mobile throughput testing, our iOS device did slightly better at 545 Mbps while the Android did 334 Mbps. Lastly, we did a bit of throughput vs. range with the 5GHz band and found the Velop to do quite well out to 20 Ft holding most of its throughput with 30Ft dropping off slightly to 322 Mbps.
Adding to this experience is the app. I believe this is only the second solution I have tested that hasn't had a WebGUI, and so far, both experiences have been good. Linksys has brought a lot of their Smart Wi-Fi control to the app so you get the dashboard to see what your router is doing and all the controls for devices, ports and controlling what your kids are doing are there at your fingertips.
Adding to all of this is the system's flexibility. You don't have to go all in at $500 to get Velop. You can start small with a single node and work your way as your network grows or as your budget allows.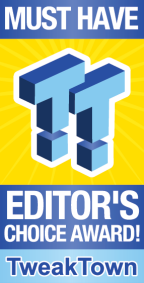 | | |
| --- | --- |
| Performance | 95% |
| Quality | 95% |
| Features | 95% |
| Value | 93% |
The Bottom Line: With its overall quality, flexibility, and solid performance, it's rather hard to look past the value in the Velop Mesh system from Linksys.
PRICING: You can find products similar to this one for sale below.

United States: Find other tech and computer products like this over at Amazon.com

United Kingdom: Find other tech and computer products like this over at Amazon.co.uk

Australia: Find other tech and computer products like this over at Amazon.com.au

Canada: Find other tech and computer products like this over at Amazon.ca

Deutschland: Finde andere Technik- und Computerprodukte wie dieses auf Amazon.de
We openly invite the companies who provide us with review samples / who are mentioned or discussed to express their opinion. If any company representative wishes to respond, we will publish the response here. Please contact us if you wish to respond.