MSI Z270 Gaming M7 Motherboard Review
MSI's Z270 Gaming M7 is the next Intel Z270-based motherboard up on the chopping block. Come and take a look and see how it does.
Published Mon, Jan 9 2017 2:55 PM CST
|
Updated Tue, Nov 3 2020 6:58 PM CST
Rating:

92%
Manufacturer: MSI
Introduction, Specifications, and Pricing
MSI's Z270 Gaming M7 is not only significantly different from the Z170A Gaming M7 regarding exterior design, but also in regards to hardware and features. Since the Z270 chipset doesn't offer a whole lot other than some extra PCI-E lanes and Intel Optane support, motherboard vendors have had to pull out all the tricks to offer people a reason to upgrade.
The Z270 Gaming M7 departs from MSI's traditional red and black design and gravitates towards a much more color neutral black design, allowing users to customize the onboard RGB LEDs to choose their motherboard's color and set the stage for matching accessories.
The motherboard also adds better fan control, upgrades audio and USB controllers, adds extra M.2 with a shield, and even a USB 3.1 internal header.
Let's take a look at what MSI has to offer with the Z270 Gaming M7.
Specifications
The Z270 GAMING M7 has three M.2 ports, U.2, USB 3.1 at the rear and internally, SATA6Gb/s, and a slew of OC features. MSI has gone ahead and shown us exactly what the differences are between the Z170 and Z270 Gaming M7s.
Pricing
The Z270 GAMING M7 price is $249.99.
Packaging and Z270 GAMING M7 Overview
Packaging and Overview
MSI's box design has not changed much; it displays the motherboard lit up and shows us their CES 2017 innovation award. The motherboard is securely packaged.
The accessory package includes four SATA6Gb/s cables, two RGB extension cables, IO shield, SLI bridge, M-Connectors, case badge, cable stickers, and of course driver DVD and manual.
MSI offers six fan headers on the Z270 Gaming M7, and all of them can work in either DC or PWM Mode. The two headers circled in red can auto detect if the fan plugged in is a DC or PWM fan and change the pins accordingly. The four headers circled in blue will work in DC mode by default, but can be changed to PWM mode in the UEFI if needed.
The color theme of the motherboard is black and gray, something many enthusiasts have been asking for mainly because everything matches with black. The motherboard does have accent lighting; all of it consists of well-diffused RGB LEDs. The back of the motherboard is bare except for some doublers.
The rear IO panel offers three USB 2.0 ports, two USB 3.0 ports, PS/2 port, Clear CMOS button, DisplayPort, HDMI, USB 3.1 type-A, USB 3.1 type-C, 1GBit LAN, and gold plated audio connector with S/PDIF optical.
The PCI-E Layout is simple enough; the first and second x16 slots share x8 of bandwidth so you can get either x16/x8 or x8/x8. The last x16 slot is x4 hard wired to the PCH and shares its bandwidth with the U.2 connector. The motherboard features six SATA6Gb/s connector and a U.2 connector. The U.2 port, some SATA ports, and M.2 slots share bandwidth and MSI provides nice diagrams in the manual to help you figure out what ports to use.
MSI is using the new USB 3.1 20-pin internal connector, which should catch on soon enough. A new feature to MSI is USB Flashback+, which allows users to recover a corrupt BIOS with a USB stick, you just plug in the USB stick into the designated USB port and click the FLASHB1 button. MSI has not only shielded their PCI-E and memory DIMMs, but also their M.2 slots. One of their M.2 slots even gets a heat sink shield to cool down hotter M.2 drives. MSI is the first motherboard vendor to implement and M.2 SSD heat sink, but it's very thin.
The third M.2 slot sits right below the CPU socket and supports longer M.2 drives. The motherboard does have overclocking features including a POST Code display.
The memory DIMMs are shielded as well, and the traces that go to the memory DIMMs have an isolation layer starting from the CPU socket and ending at the DIMMs. A USB 3.0 header sits at the bottom of the motherboard near two USB 2.0 internal headers.
An RGB LED header is also located at this bottom row as are the power and reset buttons. MSI's GAME BOOST knob provides eight different OC presets for users to choose from, with the maximum being a 5.2GHz overclock on a Kaby Lake CPU.
MSI's M.2 shield/heat sink has a thermal pad, all you have to do is peel off the blue layer, install your M.2 drive, and screw down everything for it to help cool your M.2 drive. The VRM heat sink is practically integrated into the IO panel shield. All heat sinks and shields are screwed down, and all three segments have RGB LEDs built into them.
MSI Z270 GAMING M7 Circuit Analysis
Circuit Analysis
The motherboard is much more revealing when you take off the shields and heat sinks.
MSI's VRM on the Z270 Gaming M7 uses an 8+2+1 phase design. The main PWM provides 4 phases to doublers that double them to eight, while the iGPu gets a single phase doubled to two. However, the datasheet for the UPI Semiconductor uP9508 is publicly available (it is a hybrid PWM), and states the PWM is a 3+2 phase PWM.
Looking at the thermals and inductor routing, as well as the doubler count, indicate 4+1 phase configuration, which leads me to believe that perhaps the B version of the PWM offers 1 phase as flexible, that can be used for the CPU or iGPU set of phases. The VRM uses uP1961 doublers which also must act as dual drivers. Each CPU phase gets a single NIKOS PK6328A PowerPAK for the high side and PK616BA for the low-side, each iGPu phase gets an extra low-side MOSFET.
The doublers/dual drivers are located at the rear of the PCB. The memory VRM is a two-phase powered by the same NIKOS MOSFETs, and a digital Primarion PWM controller, the PV3205.
MSI Z270 GAMING M7 Circuit Analysis Continued
Z270 GAMING M7 Circuit Analysis Continued
When I first saw the audio section, I was a little taken aback by the fact that there are two Realtek ALC1220 codecs. The new codec offers 120 dB SNR, and each one has an integrated amplifier. MSI is using two, one for the backpanel audio and another for the front panel header, Nichicon Gold series electrolytic audio capacitors, as well as PCB division, to help improve audio quality.
You might also notice a shield that says VR Boost, and it is funny that this component has a shield over it since it is already covered by plastic shielding for the audio and PCI-E area. I am not sure what is underneath, perhaps a re-driver or repeater, but I was not able to remove it.
MSI is using the brand new Killer e2500, the successor to the e2400. Near the NIC are two ASM1464 USB repeaters to improve USB signaling. Two more ASM1464 can be found near the internal USB 3.0 header.
There is one ASMedia ASM2142 USB 3.1 controller along with an ASMedia ASM1543 type-C switch and CC logic for the rear USB 3.1 ports, and another ASM2142 for the internal USB 3.1 header. The new controller succeeds the ASM1142, offering the ability to hook up two PCI-E 3.0 ports for a total of 16Gb/s of PCH bandwidth for the 10Gb/s USB 3.1 port.
The SuperIO is the nuvoTon NCT6795D, and there are multiple NCT5605 secondary ICs located around the board, perhaps to expand fan control. There are also multiple ASM1480 PCI-E quick switches to switch PCI-E bandwidth between the U.2, M.2, and SATA ports. The motherboard uses a single 128Mbit ROM. You don't have to go far to find more ASMedia ASM1464 repeaters; they are all over the place.
Four ASMedia ASM1480 switch x8 PCI-E 3.0 between the first and second x16 slots. MSI provides an IDT clock buffer to help improve BCLK overclocking margins and accuracy.
A single NXP level shifter provides the HDMI 1.4a port from the digital video output from the iGPU.
BIOS and Software
BIOS
The Z270 GAMING M7's UEFI is very similar to previous generation MSI offerings, but that isn't a bad thing since MSI has a great UEFI with tons of settings and easy navigation. For those who aren't a fan of the advanced mode, or just want a basic GUI, MSI does offer a more basic EZ Mode.
Fan control over each header is present, and you can choose between various sensors for each header. MSI's custom OC settings are also present, such as the ability to change between "Dynamic" and "Fixed" modes for CPU frequency. Overall, I liked the UEFI, and I did not find any issues.
Software
MSI offers many software applications including Dragon Eye, Killer Network Manager, Realtek HD Audio Manager, DPC Latency Tuner, MSI Smart Tool, MSI RAMDISK, MSI Gaming APP, MSI Command Center, Nahamic, XSplit GameCaster, WTFast, MSI Command Center, and SteelSeries.
Test System Setup
Steven's Motherboard Test System Specifications
The Z270 Gaming M7 has a unique shield design that acts as sort of a cover for a lot of the PCB. The lights are RGB, but at default, they are red.
The RGB LED lighting is diffused into strips one for each heat sink with another diagonally pointing at the CPU. The lower portion of the board has a shield that illuminates the beginning of each PCI-E slot and oneThe POST Code display also doubles as a CPU temperature meter.
The PCH uses RGBs pointing down, and the heat sink shape creates a novel lighting effect.
Overclocking
Overclocking Results
CPU Overclocking
The CPU was able to reach a 5GHz overclock with 1.3v with XMP enabled. I was able to run Handbrake, and encode a 6GB 4K video without topping 80C or crashing.
Compatible Memory Overclocking Kits
In this section, I overclock four memory kits only using XMP, if the kit works then the results are below. I welcome memory vendors to send in their kits to be tested on each motherboard.
Corsair Dominator Platinum 3200MHz C16 8GBx2
G.Skill TridentZ 3866MHz C18 8GBx2
GEIL EVO X RGB 3200MHz C16 8GBx2
GEIL EVO FORZA 3200MHz C16 8GBx2
Almost every single Z270 motherboard I have tested works fine with the kits above using only XMP, and the Z270 Gaming M7 is no exception.
CPU, Memory, and System Benchmarks
CINEBENCH 11.5
wPrime
AIDA64 AES and HASH
AIDA64 FPU
AIDA64 Memory
ScienceMark
HandBrake
3DMark: Fire Strike
3DMark: Cloud Gate
ResidentEvil 6
Just like most of the other motherboards on the charts, the Z270 Gaming M9 uses multi-core enhancement, boosting all cores to the maximum 4.5GHz Turbo bin. When I equalize the scores, the Z270 Gaming M9 reveals that it is still a strong motherboard, and isn't lacking performance tuning in any area.
Some motherboard reviews put a lot of weight into motherboard CPU, memory, and GPU benchmarks, but for me, CPU, memory, and GPU benchmarks on motherboards should be more about finding anomalies, and I do that at standard settings (4.8G in graphs).
System IO Benchmarks
CrystalDiskMark SATA6G:
CrystalDiskMark M.2:
ixChariot Network Throughput:
The Z270 Gaming M7 is very quick with storage and does not seem to have any issue with high-performance drives.
Network performance is where it should be as well.
Audio RMAA 5.5:
I disable all audio features, set the correct bitrates, and then test the audio with a loopback test.
Sound Judgment by Ear: Excellent. By using two of Realtek's latest ALC1220s, MSI provides the rear headphone jack and front headphone jack with 120dB SNR with an integrated amplifier. There are five ratings for audio: 1. Problems, 2. Okay, 3. Acceptable, 4. Very good, 5. Excellent
Thermal Imaging and Power Consumption
System power is measured at the wall with an AC power meter.
Note on Thermal Images: In the temperature section, we use our Seek thermal imaging camera to capture the surface temperatures of major components on the board. I look at the VRM and then all other things that light up the screen. If there is something to worry about, then I will state it. Otherwise, I will just show the hotter running parts of the board for fun. Unless some component is over 80-90C, then there isn't anything to worry about.
All systems will act differently, so I will look for commonalities, such as how far from the VRM the heat spreads through the PCB and the difference in temperature between the front side and backside of the PCB. Keep in mind, the majority of the heat from the VRM goes into the PCB as it is a giant soldered on copper heat sink. A larger difference in temperature between the back and front of the PCB points towards a more effective heat sink.
Thermal Testing at Stock Speeds:
The image on the left is always at idle, and the image on the right is at load. During ALL TESTS, fans above the VRM that cool the CPU cooler's (Corsair H110i GT) radiator are turned on to high (12v).
Full frontal.
Up-close of the front of the VRM.
Up-close of the back of the VRM.
Thermal Testing at 4.5GHz Overclocked Speeds:
The image on the left is always at idle, and the image on the right is at load. During ALL TESTS, fans above the VRM that cool the CPU cooler's (Corsair H110i GT) radiator are turned on to high (12v).
Full frontal.
Up-close of the front of the VRM.
Up-close of the back of the VRM.
The Z270 Gaming M7 has quite good VRM thermal performance for its phase count, probably because they are doubling phases the correct way instead of adding on two sets of MOSFETs to a single driver.
Overall, thermal performance was solid, and I was happy to see phase shedding working well at stock.
Anything under 60C is great, 60-80C is acceptable, and anything above 80C is a bit worrisome (if at stock).
What's Hot, What's Not & Final Thoughts
Here are key points about the MSI Z270 Gaming M7.
What's Hot
Triple M.2 and even one U.2: There are many boards with two M.2 slots, but not many with three, let alone many with three M.2 with a U.2 port in the sub $300 segment. MSI even tosses in a heat sink for one of the M.2 slots.
Dual ALC1220: The Z270 Gaming M7 might be the first board I have seen with two of the same codec. MSI did this so that users would get an amplifier for the front and rear without having to use sub-120dB outputs the codecs provide.
USB 3.1 at the rear and front: Most motherboards have rear USB type-C and type-A, but not many have the brand new 20-pin USB 3.1 front panel header. The new header isn't very common because of its high price, but the Z270 Gaming M7 has one.
Signal Quality: By using multiple redrivers and repeaters, MSI is ensuring optimal signal quality for the USB ports on the motherboard.
USB BIOS Recovery: I was happy to find most of the basic OC features one might expect to find on a Z270 motherboard costing over $200, but I didn't expect to find USB BIOS recovery on an MSI motherboard. However, the Z270 Gaming M7 provides USB BIOS recovery.
Appeasing Aesthetics: While most products have RGB LEDs, not all of them utilize them in a way that is aesthetically pleasing, either the light glares into your eyes or the design is tacky. MSI did a nice job of diffusing the RGBs everywhere they put them, resulting in a product that doesn't scream light. The all black color theme is also one many case modders will appreciate, since everything matches black.
What's Not
Rear USB 3.0: The Z270 Gaming M7 only has two USB 3.0 ports and one USB 3.1 type-A port at the rear IO. Of course, if you are okay with USB 2.0, then there are three at the rear IO.
Final Thoughts
Most motherboard vendors don't take big risks with aesthetics, and this can be seen when we look at lower-end products with designs that the community asks for, while mid and high-end products always play it safe.
MSI took a risk making their Z270 Gaming M7 all black, and I think it will pay off because RGB LEDs make it so that users can choose their motherboard's color theme, and MSI's implementation of the RGB LEDs is quite well done.
Overall, the motherboard carries almost every feature you might expect from a sub-$300 motherboard, it overclocks well, and compared to other boards in its class, it offers slightly more storage options. The amount of features you get from the Z270 Gaming M7 at its price point is worth noting, making the Z270 Gaming M7 an excellent value.
If you are looking for a motherboard in the $200-$300 with a lot of value, the Z270 Gaming M7 is worth a look.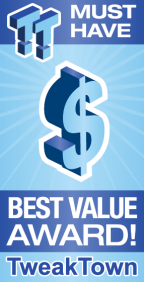 | | |
| --- | --- |
| Performance (including Overclocking) | 90% |
| Quality including Design and Build | 92% |
| General Features | 93% |
| Bundle and Packaging | 90% |
| Value for Money | 93% |
The Bottom Line: At the $200-$300 price point, competition is fierce, but MSI's Z270 Gaming M7 offers excellent value through many features matched with a solid UEFI and overclocking.
PRICING: You can find products similar to this one for sale below.

United States: Find other tech and computer products like this over at Amazon.com

United Kingdom: Find other tech and computer products like this over at Amazon.co.uk

Australia: Find other tech and computer products like this over at Amazon.com.au

Canada: Find other tech and computer products like this over at Amazon.ca

Deutschland: Finde andere Technik- und Computerprodukte wie dieses auf Amazon.de