TweakTown's Rating: 83%
The Bottom Line
QNAP's TVS-682 NAS is a well-built appliance that offers connectivity options unequaled, and if you can overlook the subpar m.2 connectivity, it's probably one of the top offerings in the market, but it will cost you.
Introduction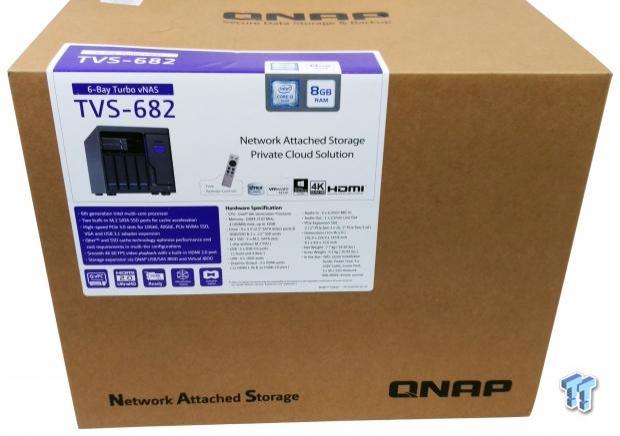 After a long hiatus, I managed to get my hands-on one of the latest appliances from QNAP, a six-bay NAS, but not in the standard form factor one would expect. Instead, this solution uses four 3.5" bays and two 2.5" bays, but that's not all.
The TVS x82 series covers quite a range of appliances including a 12, 8 and the six bay we have in house. These are all planted on the Intel Skylake platform and use an H series chipset. In using a desktop platform for this appliance, QNAP has opened an entire world of possibilities with this NAS including the ability to use a dedicated GPU if you go with the 450W PSU model. Adding to that functionality, this solution is ready for your 10 and 40GBe NICs and can also handle expansion for USB 3.1. These capabilities are being served up for businesses, professionals, and some enthusiasts looking for a purpose-built unit for tiered storage.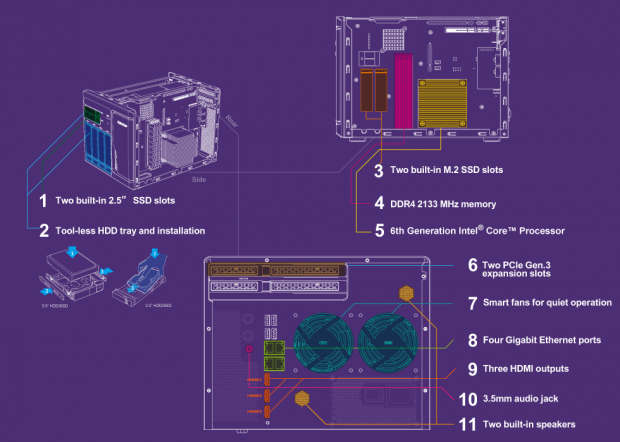 The best way to show what this solution has to offer is to look at the graphic above; QNAP has packed this NAS with high-level components, and that starts with dual m.2 functionality at the top next to full height DDR4 memory slots and for our sample a Core i3-6100 processor. Again with the PCIe expansion slots, you can fit any number of options into the chassis while the rear panel will give you plenty of connectivity with four Gigabit Ethernet ports, three HDMI port along with built-in speakers.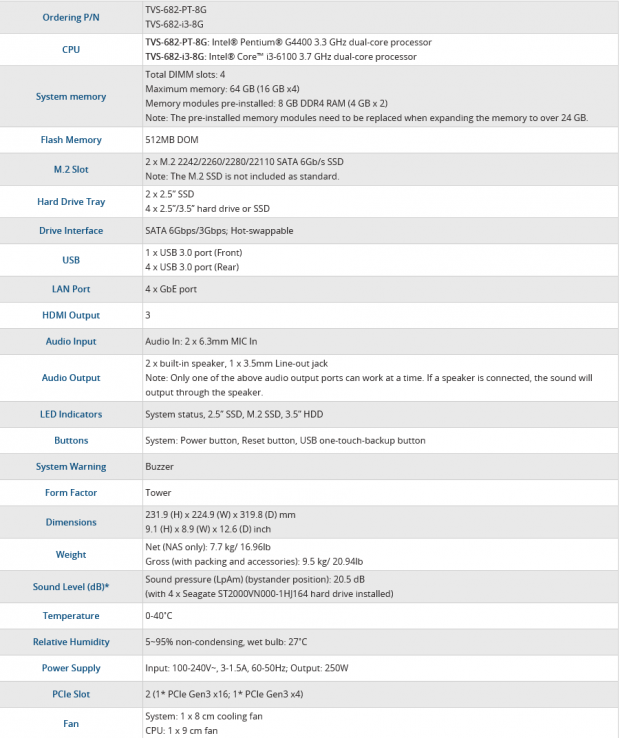 With all of the above, the QNAP TVS-682 with Core i3-6100 and 8G of memory is holding an MSRP of $1299.99 with a two-year warranty.
QNAP TVS-682
Packaging and a Closer Look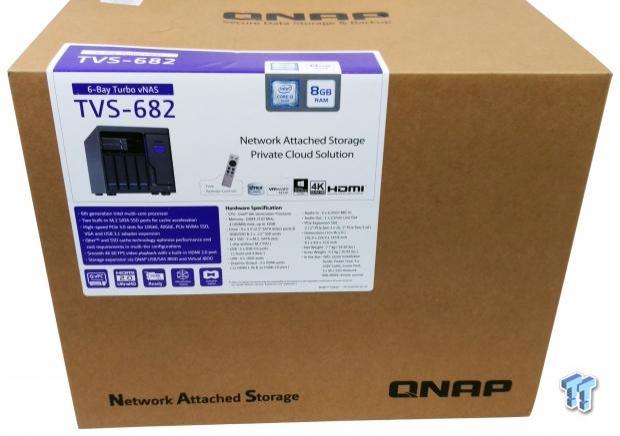 Packaging for the TVS includes a large brown box and sticker that covers many of the specifications for this unit. In bold to the top right, we have 8GB of memory and the Intel Core i3 logo.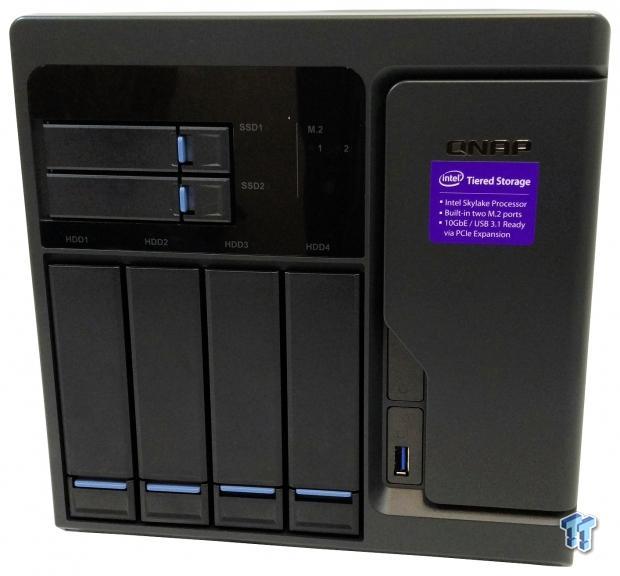 Pulling this unit from the box, you can get an idea of the hybrid platform this model uses. At the bottom, we have four 3.5" bays for your capacity driven mechanical drives like the 10TB IronWolf from Seagate, while two 2.5" drive trays allow for SATA SSD installation.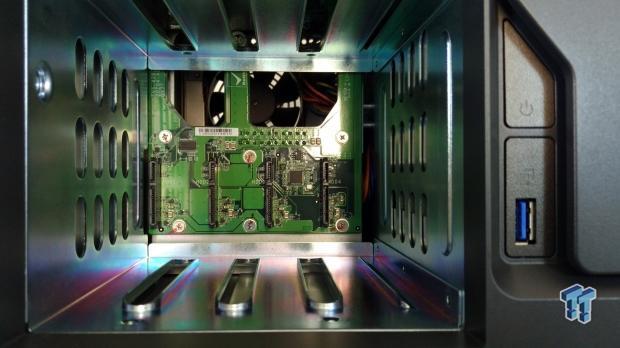 The backplane is outfitted with four SATA ports.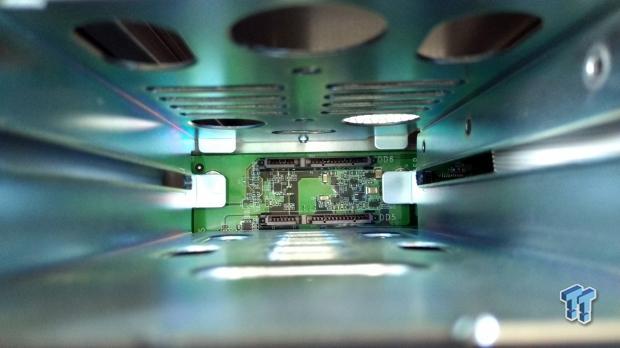 The 2.5" backplane is setup for two SATA drives.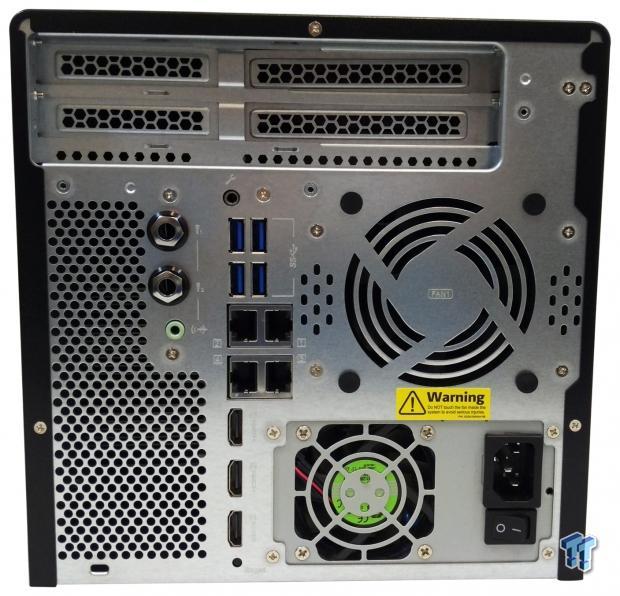 Diving to the back of this appliance, we have a whole host of connectivity options including two 6.2mm jack inputs for microphones next to four USB 3.0. Moving down, we have four gigabit Ethernet ports and three HDMI ports (one of which is 2.0 capable).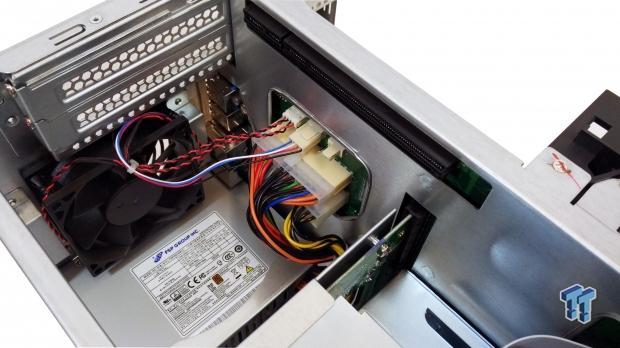 Diving inside the NAS, I found an FSP 250-watt power supply which is certainly sufficient for the system fully loaded.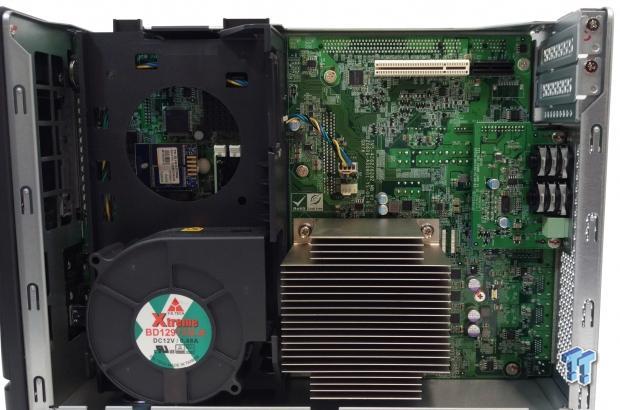 A wider view shows the motherboard layout with the CPU to the right and memory slots in the center. A large squirrel cage fan pushes air through the low profile heat sink.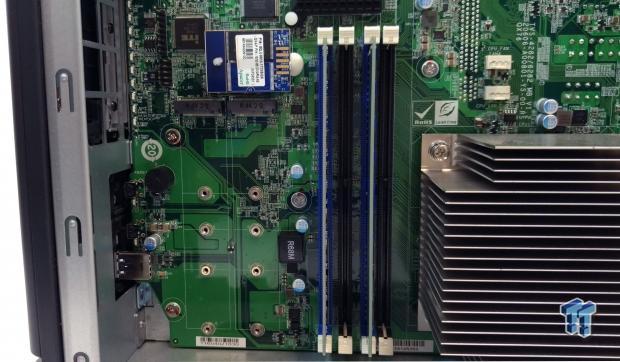 Pulling the shroud, we find both of the m.2 slots.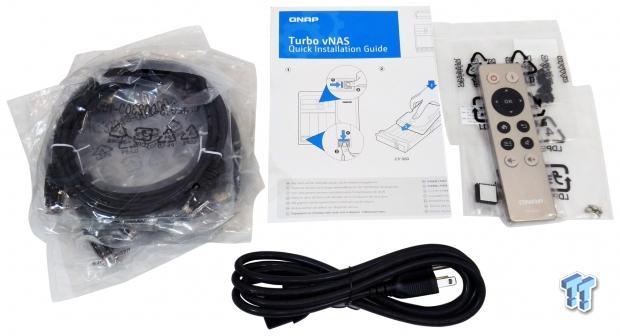 Part of the scope of delivery includes the remote and m.2 heat sinks. To the left, we also have four Ethernet cables and the power cable below it.
Test System Setup and Web Management
Tyler's NAS Test System Specifications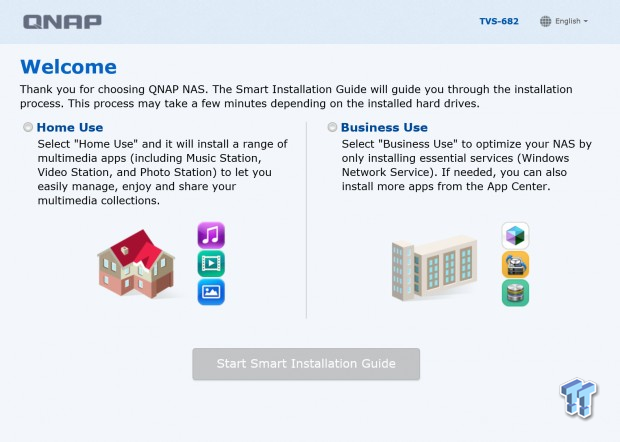 Setup hasn't changed much for QNAP over the past year. We still follow the QTS routine as seen above. I chose home use for this review.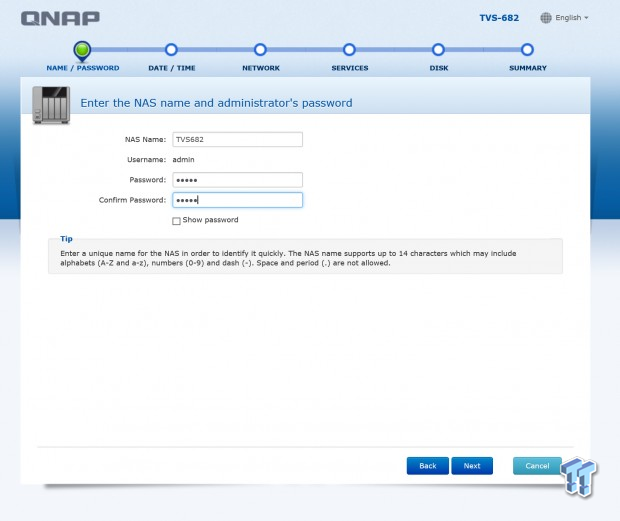 Moving on, I set up the admin information.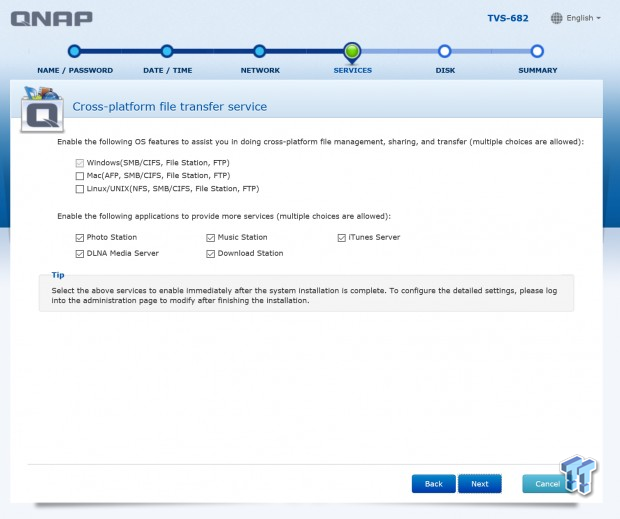 We then come to the services setup, where you can choose what you would like to utilize.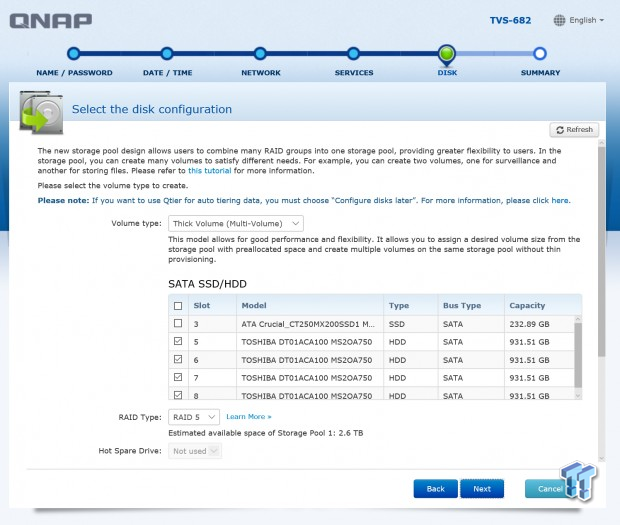 Our drive setup uses four Toshiba 3.5" drives and a single Crucial 250GB in the 2.5" bay for caching.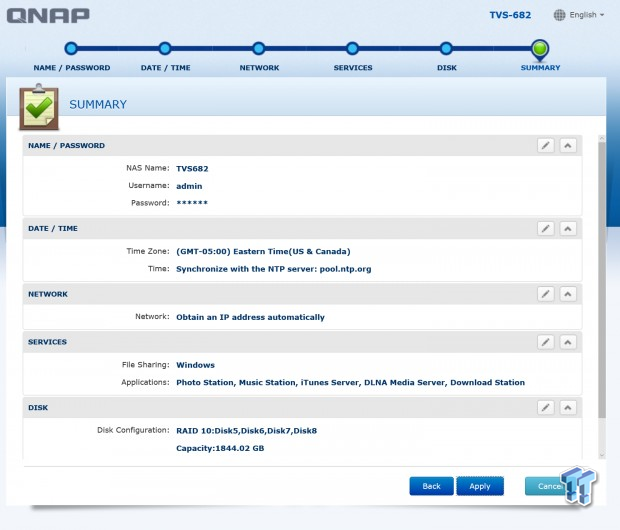 Lastly, we have the overview of our setup.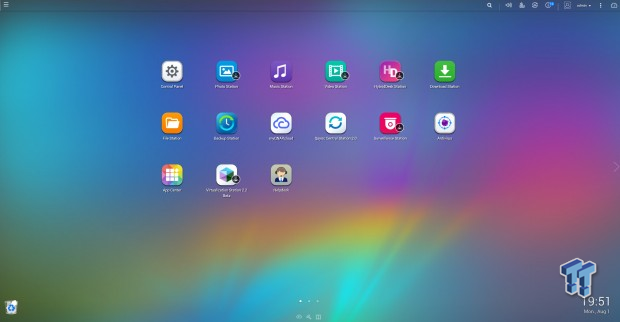 The desktop has changed slightly since I last used a QNAP appliance. Several apps sit on the desktop waiting for first use before they install. And at the top right, we have a new taskbar.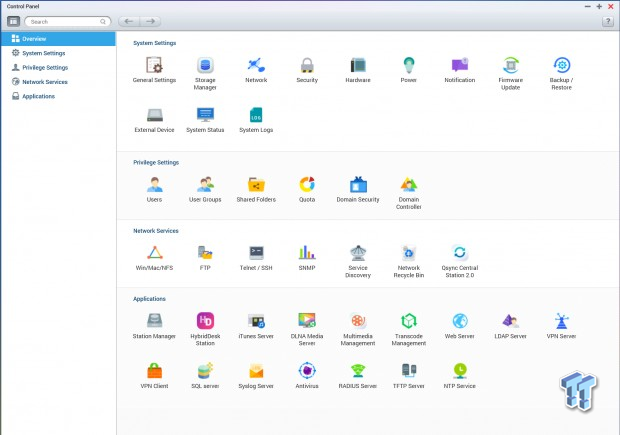 The control panel is similar but does have a few new items added but a familiar layout.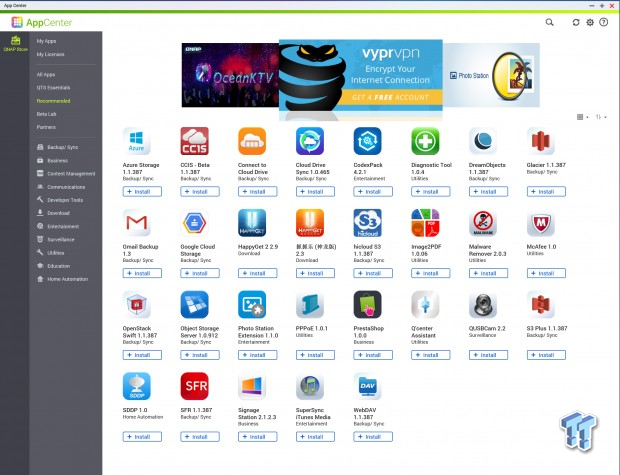 The app center includes quite a few programs ready for download which are categorized on the left pane.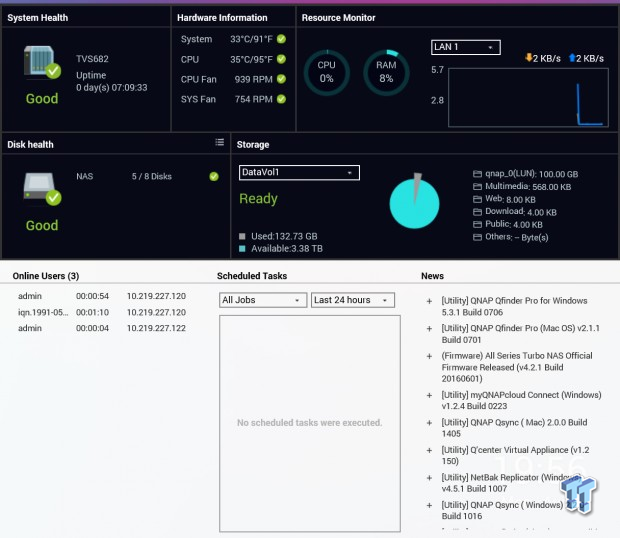 Added since my last use is this performance monitor that gives you an overview of the performance of your drives, CPU, memory, and LAN.
Benchmarks – Single Client and SMB Performance
Single Client Throughput
HD Video Play - 720p HD stream from Windows Media Player, 256kB reads
2HD Video Play - 2x playback
4HD Video Play - 4x playback
HD Video Record - 720p HD stream, 256kB writes
File Copy from NAS - 4GB file copy, 64kB reads
File Copy to NAS - 64kB writes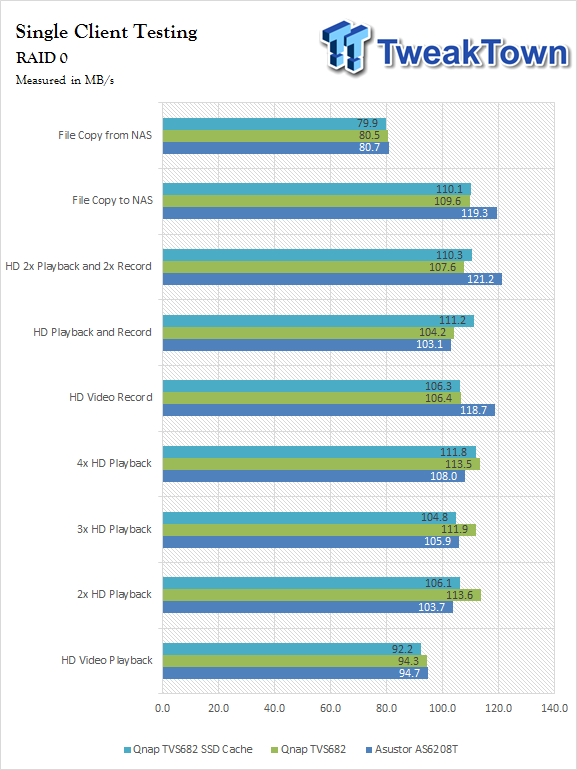 I tested the TVS-682 both with and without caching - the cache drive used was a Crucial MX200.
As you can see in our RAID 0 chart, the cache didn't help much over a single Gbe connection. In fact, in some cases, we lost performance.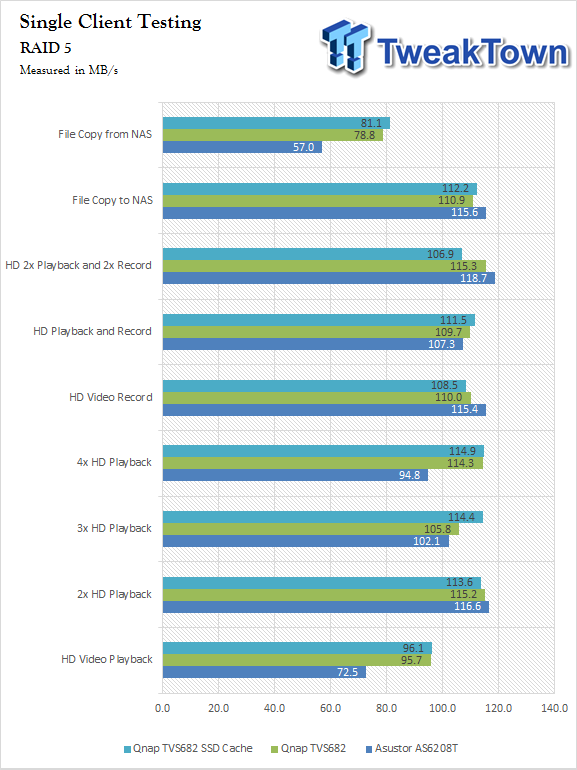 RAID 5 did get a very slight boost from the cache while the standard setup was able to reach a peak of 115 MB/s in playback and 110 MB/s in file copy.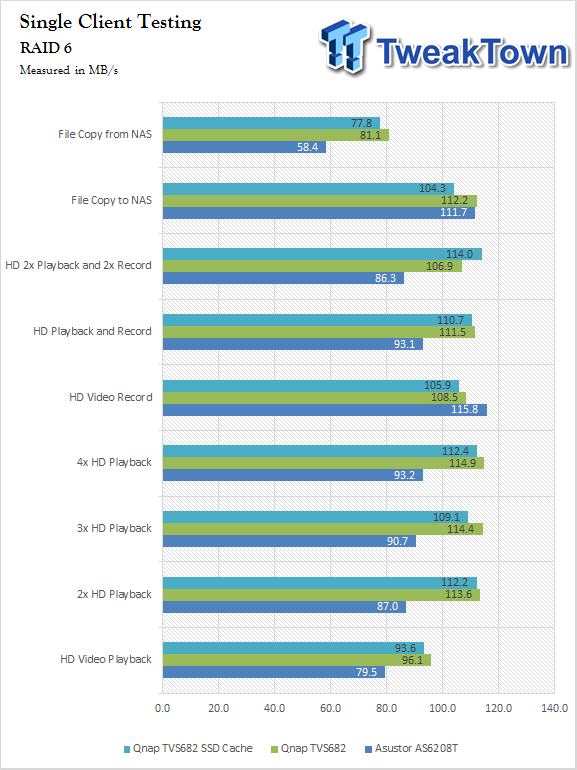 RAID 6 shared similar performance, topping out at 114 MB/s in playback and 112 MB/s in file copy.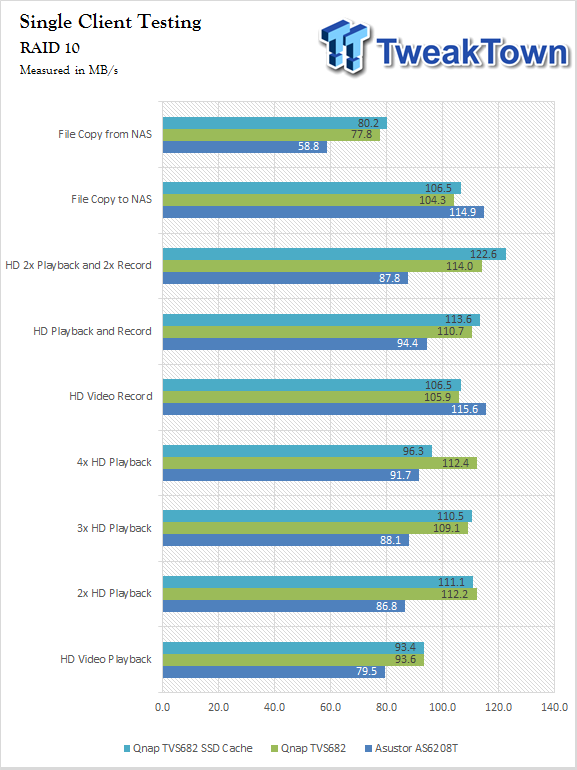 112 MB/s was the peak for our RAID 10 array while adding in the cache brought that to 122 MB/s.
Benchmarks – SMB Performance
SMB performance is tested over several test sizes including 100, 800, 1000 and 8000M with each test ran three times. The average of these three runs is recorded in the charts.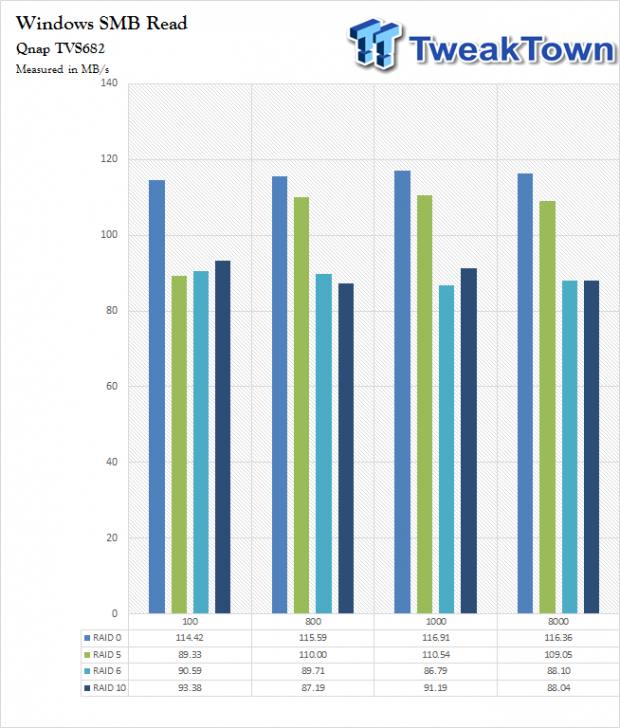 The TVS-682 performed quite well with RAID 0 at 116 MB/s while RAID 5 and 6 came in at 109 MB/s and 88 MB/s, respectively. RAID 10 wasn't quite able to match RAID 0 and landed at 89 MB/s.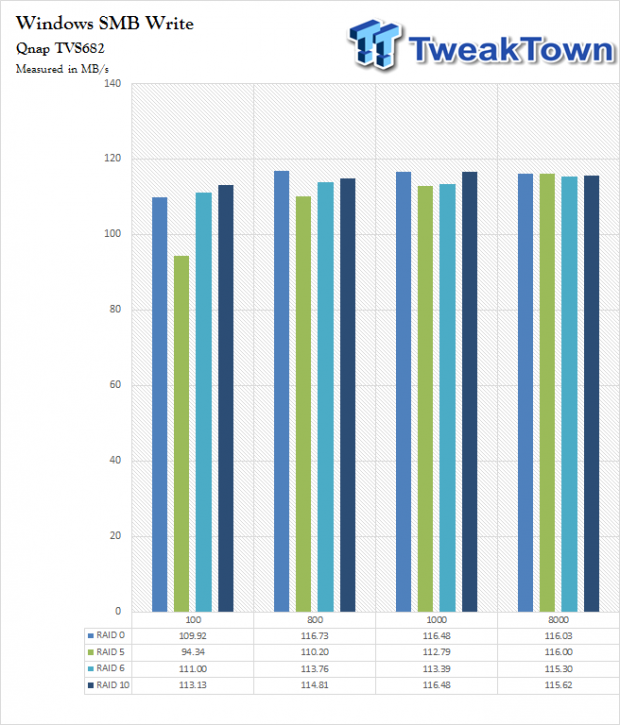 Write performance, on the other hand, showed steady performance across all RAID modes including RAID 5 and 6 where I expected to see more of a performance hit.
SMB Workloads
Benchmarks – SMB Workloads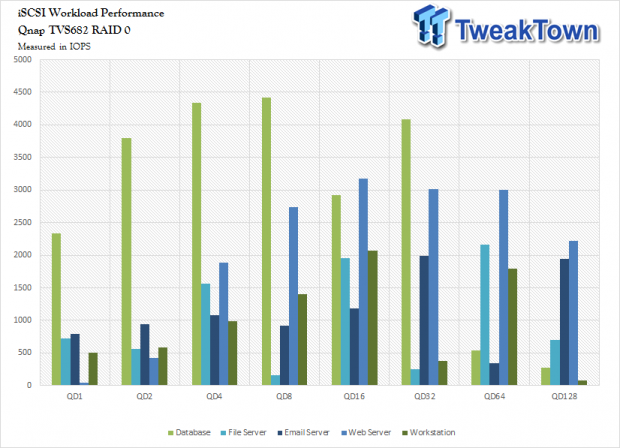 RAID 0 showed solid performance at QD8 for database, after that the 682 seemed to get erratic. Peak IOPS landed at 4400 at QD8. File and Email server both scaled quite well to QD64 with Web server scaling the entire length of testing.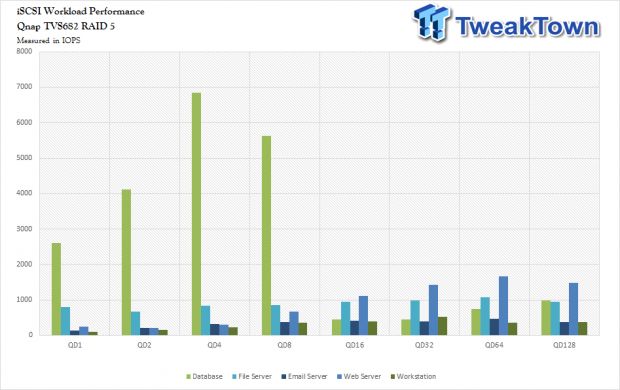 Database again excelled reaching near 7000 IOPS through QD8, then suffered the same drop in performance. File, Email, and Web Servers scaled linearly through testing and Workstation appeared to neither gain or lose performance.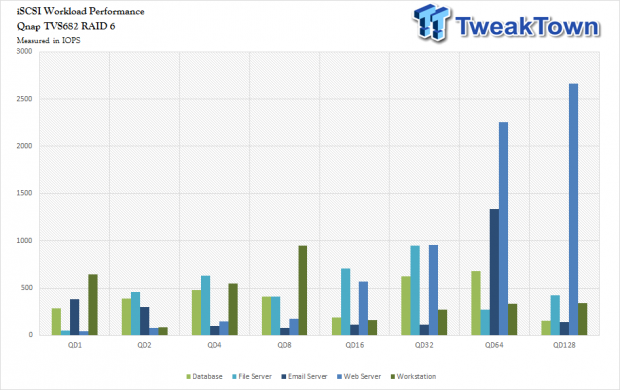 RAID 6 showed some solid gains for Web Server, just past 2500 IOPS at QD128.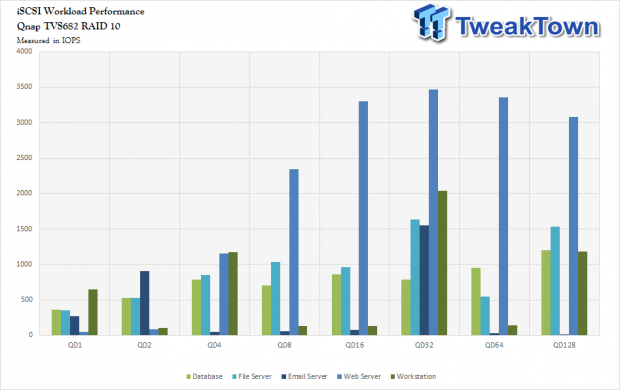 RAID 10 again had a solid performance run for Web Server inching closer to 3500 IOPs while Workstation came out of its shell reaching very close to 2100 IOPs at QD32.
Power Consumption and Final Thoughts
Power Consumption
To test power consumption of the NAS appliance, I deploy a rather simple Kill-A-Watt device between the receptacle and NAS. I then monitor power usage of several minutes in each stage to get an idea where the NAS lands.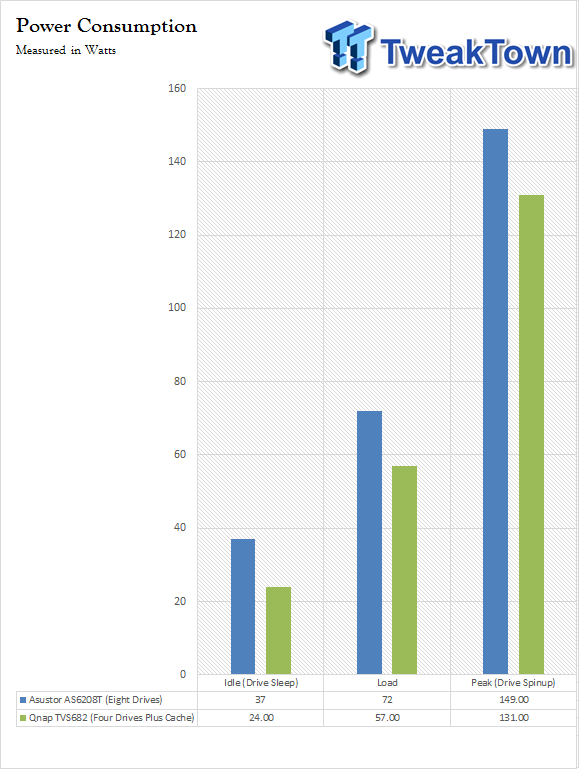 The TVS-682 is a unique solution because of its tiered storage. In power testing, I loaded the four 3.5" bays with our Toshiba drives we normally use for testing and slapped two 2.5" SSDs in the 2.5" trays. At idle with all Ethernet cables removed, the NAS used 24 watts, while spinning up those same drives peaked at 131 watts. Normal operation hovered around 57 watts.
Final Thoughts
It has been a long time, nearly a year, since I last got my hands-on a QNAP appliance. I found coming back to using a QNAP device to be a refreshing experience, as it's often good to not get too comfortable with any single platform. The TVS-682 is a solid platform to reintroduce me to QNAP as it has quite a few good things going for it.
Build quality is just as good as it always has been with QNAP, with a full metal enclosure and built-in power supply. Adding to this, QNAP went all in using Intel's Skylake platform as a base for this unit. That geared this device towards businesses that have the ability or want to take advantage of tiered storage through the four 3.5" bays with high capacity mechanical drives, the 2.5" bays with SATA SSDs, and the m.2 slots. Unfortunately, the m.2 slots only support SATA m.2 drives, making them pretty useless for tiered storage, unless you just want to save space.
The performance of this appliance was quite good across all testing starting with Single Client with NASPT in each RAID array I was able to reach 114 MB/s for playback. File copy was a bit different. In RAID 0, I peaked out at 80 MB/s from the NAS and 110 MB/s to the NAS. Workload testing showed a good bit of performance to a point for the database workload, while Web Server and Workstation were the next in line. When looking at Windows networking, read and writes this NAS performed great with RAID 0 and 5.
With all of the above out of the way, I am a bit torn with this NAS. I love that QNAP deployed an Intel Skylake platform with a ton of connectivity options, and the QNAP QTS OS is one of the best on the market next to Synology DSM. However, with QNAP pushing this for tiering, I don't know why they cut corners on the m.2 connectivity and at an expensive MSRP of $1299.99, it's a deal breaker for me.
| | |
| --- | --- |
| Performance | 87% |
| Quality including Design and Build | 90% |
| General Features | 90% |
| Bundle and Packaging | 80% |
| Value for Money | 70% |
The Bottom Line: QNAP's TVS-682 NAS is a well-built appliance that offers connectivity options unequaled, and if you can overlook the subpar m.2 connectivity, it's probably one of the top offerings in the market, but it will cost you.
PRICING: You can find products similar to this one for sale below.

United States: Find other tech and computer products like this over at Amazon.com

United Kingdom: Find other tech and computer products like this over at Amazon.co.uk

Australia: Find other tech and computer products like this over at Amazon.com.au

Canada: Find other tech and computer products like this over at Amazon.ca

Deutschland: Finde andere Technik- und Computerprodukte wie dieses auf Amazon.de
We openly invite the companies who provide us with review samples / who are mentioned or discussed to express their opinion. If any company representative wishes to respond, we will publish the response here. Please contact us if you wish to respond.