ADATA XPG Dazzle DDR4-2800 16GB Memory Kit Review
ADATA's XPG Dazzle DDR4-2800 16GB dual-channel memory kit gets tested to see if its worth buying or not. Let's take a close look.

Published Sat, Sep 17 2016 6:50 PM CDT
|
Updated Tue, Nov 3 2020 6:58 PM CST
Rating:

93%
Manufacturer: ADATA

ADATA had always impressed us with their outside of the box mentality when it comes to RAM heat spreader design. While we have never personally had the pleasure of using an ADATA kit before this, their unique styling and eye-catching designs have made it into many machines that we all see plastered over custom build threads or in modding competitions. ADATA has presented themselves well in near every image we saw of them in the past. However, while aesthetics are the leading reason to attract a customer to a particular set of RAM, the performance has to be there as well, as there is no point in a modern system for memory that is all show and no go.
This new kit sports a new LED light heat spreader, which we have not seen from them in the past, and comes with a funky name as well. ADATA has sent us the AX4U2800W8G17-DRD, or more commonly called XPG Dazzle DDR4. These kits are available in single 8GB sticks, or 16GB, 32GB, and even 64GB kit densities, and range in speeds from 2400MHz, 2800MHz, and 3000MHz kits. Along with the LED lighting of these kits, they also sport TCT, which is how ADATA presents the Thermal Conductive Technology of the metal heat spreaders and how it helps to stabilize the ICs, which are placed on a 10-layer PCB, improving signaling. The ICs used are SK Hynix branded and are said to go through a filtering process to ensure rigid reliability and compatibility standards.
With no previous personal testing of ADATA kits, we are unsure of what to expect, to be honest. This 2800MHz 16GB kit that they have sent us could easily mosey through our testing without much impressiveness to speak of, or they could completely surprise us and show very well against many other fierce competitors on our charts. We do know that so far they are very appealing to look at, as you will soon see for yourself, and with the price of DDR4 being so affordable right now, looks alone could seal the deal for some, but not for us. We need this kit to not only hold its own in XMP testing but also offer more wiggle room beyond that. So, let's put this XPG Dazzle DDR4 2800MHz CAS17 16GB kit through its paces and see what sort of results we get.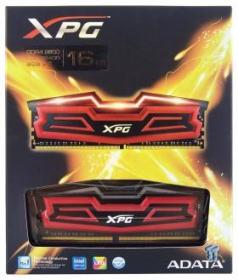 This XPG memory comes in a packaging which shows an image of the stick above a cutaway which shows the actual product inside. The black background with the bright yellow and orange plasma-like splashes of color will make your eyes jump right to this kit. In gold, near the top, we see that this set is DDR4 at 2800MHz, delivered in an 8GB per stick density with two sticks in the box. Along the bottom, before we get to the ADATA name, we see icons denoting TCT, Intel XMP 2.0, LEDs, and a lifetime warranty for this memory.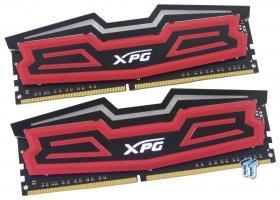 Inside of the box, you will find a pair of sticks, both of them sporting bright red metal heat spreaders, with the accents done in flat black and exposed metal for the XPG naming. The heat spreaders cover black PCBs, and at the top of each spreader is a clear plastic section to allow the lighting to extend past the PCB, and thin metal trim has been applied to it to match the design of the central section below them.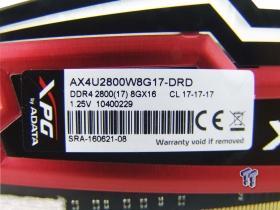 The opposite side of the sticks are identical, aside from on the reverse, we do find the product sticker. Here we confirm the AX4U2800W8G17-DRD model number. This is also where we can see that with the XMP 2.0 profile active, this set will run at 2800MHz with 17-17-17-36 2T timings, and require only 1.25V to do so.

The top edges of the sticks are also impressive to look at, especially once this kit is powered up and illuminated. The metal that is applied to the clear plastic also wraps around to the top of it, but here we find a line along the top which is left exposed. In the center, down in the notch, we see the XPG naming again, and all of the clear plastic you can see at this point will glow red.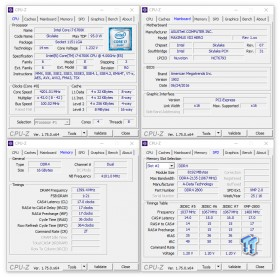 After updating the BIOS due to compatibility issues we found with 1701, we are now running 1902 on our ASUS HERO, and the problems disappeared. Enabling the XMP profile in the BIOS, and booting the PC, we can see the XPG Dazzle is very close to the advertised 2800MHz and is indeed running at 17-17-17-36 2T, and we also confirmed the XMP profile voltage at 1.25V.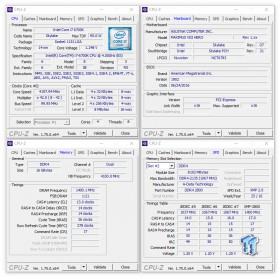 With the new BIOS in play, we were able to get the timings much lower this time. Where initially CAS14 was failing, and no way to get 1T stable with the 1702 version, the new BIOS delivered success. At this point, upping the DRAM voltage to 1.35V, and adding a touch to the VCCIO and SA voltages, this is what we ended up with before blue screens or instability. Still, at 2800MHz, we were able to get these timings down to 13-14-14-36 at 1T command rate without a hiccup.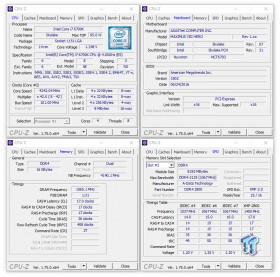 Failing at trying the 2900MHz and 2933MHz memory dividers previously, the new BIOS helped out a bunch in this area too. Using the XMP timings and the same voltages used to lower the timings, as we went for their top speed, this is where it ended. Here, we are using the 3100MHz memory divider, and to get the last drop of speed out of them, we did increase the BCLK to 101MHz. This left us stable as can be with an overall speed of 3131MHz on our XPG Dazzle DDR4.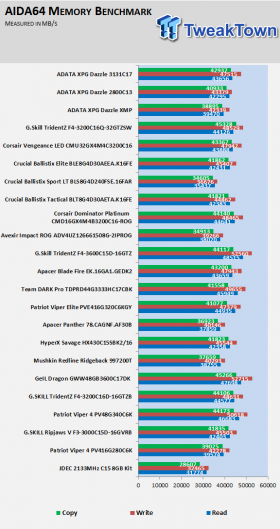 AIDA64 delivered results we expected to see with the XMP 2.0 profile set. The XPG Dazzle competes head to head with the likes of the Mushkin, which is slower but has tighter timings, and outperforms the rest of the slower kits on this chart. Reducing the timings shows a distinct advantage, and delivers results similar to those found in some of the 3000MHz kits. However, with this set of memory, it is the speed that wins the day in this test, and while not the best on the chart, they do come close to some much more expensive solutions.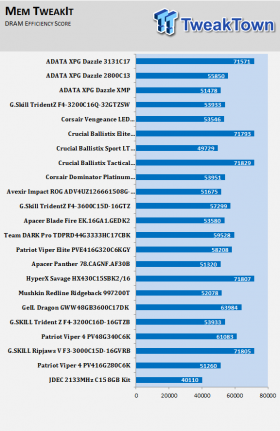 Using Mem TweakIt for an efficiency number, we see that with the XMP profile and the lowered timings, the XPG Dazzle DDR4 holds its own with its direct competition. Once we ran testing at the maximum speed achieved, our efficiency results jumped dramatically and put this kit into the top five results in out testing with this benchmark. It is random in which a kit can break the 70,000 mark here, but it seems the XPG Dazzle has what it takes when they are set in this manner.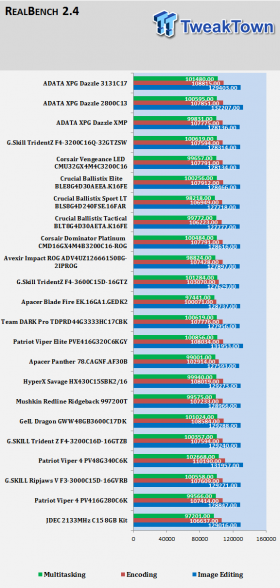 When it comes to image editing, encoding, and multi-tasking, the XMP profile offers respectable results for the speed and timings that are provided in this DDR4. Comparing to other XMP runs, ADATA can do better than a few of the higher speed kits were able to produce. Where a lot of our testing shows instances where more speed can win the day in this benchmark, it is the lowered timings results which are the best for this kit using RealBench.
While this RAM from ADATA may not have set any records with us, the results we saw, allowing this slower kit to compete with some of the 3000MHz and 3200MHz kits head to head, is in and of itself impressive, to say the least. Using SK Hynix ICs, and moving to the new BIOS, we feel we took every drop of performance that the XPG Dazzle DDR4 had to offer, and are pleased with those results as well. Dropping the timings as we did is impressive, not as a whole, as many kits will get this low relatively quickly, but it is the fact that we did this with just 1.35V.
In most of our testing, it takes all of the 1.45V we run on kits with a higher initial voltage to get these sort of results. We do feel that there was more speed to give judging by the Q-Codes we were seeing when trying to go further, but sticking within our boundaries, we set for each kit. The 3131MHz we obtained is all free, and where some kits barely move, 300MHz over their rated speed is just whip cream and a cherry on top of this red and black sundae.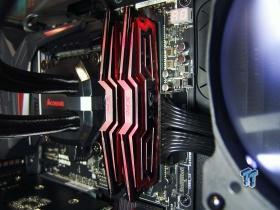 Once the kit is powered and working inside of your PC, you are dazzled by the pulsing of the red LEDs of this XPG DDR4 memory. The tops and sides of the sticks come to life with a mild red glow emanating from all of that clear plastic section we saw earlier. As for the way in which they pulse, they are lit for a few seconds, and fade out for a second, and come right back on. Initially, the sticks would pulse in sync, but as time goes on and the way in which the sticks are called on by the motherboard, the LED lighting does go out of phase with each other after just a few minutes. The lighting is pleasant to look at with just two sticks in play, but would look so much better with four sticks pulsing back and forth, or even eight sticks for those of you running X99 systems.
While we did recognize right away that something was amiss, our first thought was to look for a new BIOS, and we are glad we did. The XMP 2.0 profile worked fine in both versions, and the test results were very close in both batches of testing, so for the majority of users, you will likely not run into the limits we found overclocking them. However, once running the latest BIOS, this XPG Dazzle DDR4 16GB kit did everything we would expect from a kit with this density and timings and even offered us more than we expected with the limited voltages we used for these results.
For those of you looking to plug-and-play with this kit, you will be pleased with what you are offered in gaming and its feel day to day with whatever workload you put on them. For those of you looking to tweak this kit to its extreme ends, ADATA delivers enough in timings or speed to keep you adjusting things to their best performance levels. With our down and dirty methodology, we were still impressed, and had we had a week or more to tinker with this kit and finalize the best balance of the RAM, we feel it can be even more impressive than what we have shown, in the right hands of course.
At this time, availability on this side of the Atlantic is a big fat goose egg for this particular kit. We were able to find many other versions of this memory on Newegg, and there we spotted the 2400MHz XPG Dazzle in 16GB kits for just $80.99, and the 3000MHz kit listed at $119.99, again in 16GB densities. However, the option to buy the 2800MHz kit is shown but is currently grayed out on the Newegg pages. With basic math involved, we found a $39 difference in the kits and splitting that difference again results in the fact that this kit should be offered near the $100 price point. Considering speed, density, and capacity, this does leave the ADATA XPG Dazzle DDR4 2800MHz 16GB kit at the upper end of pricing. Out of all of the offerings we see listed, none have a look like these do, and while many kits come dressed in red and black, these 47.3mm tall sticks should easily find a home in any rig, and be a stunning addition to any system.
Chad's DDR4 Dual-Channel Test System Specifications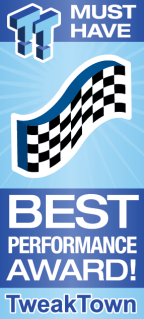 | | |
| --- | --- |
| Performance (including Overclocking) | 93% |
| Quality including Design and Build | 95% |
| General Features | 96% |
| Bundle and Packaging | 94% |
| Value for Money | 89% |
The Bottom Line: ADATA's XPG Dazzle 2800MHz sticks offer pleasing aesthetics, a calm red glow, and are tuned to hang with faster kits we have previously tested. While cost may be a concern, this kit punches above its weight.
PRICING: You can find products similar to this one for sale below.

United States: Find other tech and computer products like this over at Amazon.com

United Kingdom: Find other tech and computer products like this over at Amazon.co.uk

Australia: Find other tech and computer products like this over at Amazon.com.au

Canada: Find other tech and computer products like this over at Amazon.ca

Deutschland: Finde andere Technik- und Computerprodukte wie dieses auf Amazon.de
We openly invite the companies who provide us with review samples / who are mentioned or discussed to express their opinion. If any company representative wishes to respond, we will publish the response here. Please contact us if you wish to respond.