Corsair Vengeance LED DDR4-3200 32GB RAM Kit Review
Corsair's Vengeance LED DDR4-3200 32GB dual-channel memory kit goes under the microscope to determine if it's worth buying or not.

Published Aug 15, 2016 8:40 PM CDT
|
Updated Tue, Nov 3 2020 6:58 PM CST
7 minute read time
TweakTown's Rating: 97%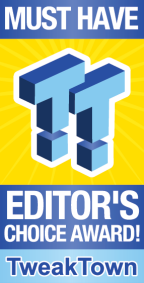 The Bottom Line
It may require a slightly higher investment, but with what Corsair delivered in the Vengeance LED 32GB kit they sent us, we would gladly hand over our money! They look stunning, the LED aspect is tasteful and bright, and we had a ton of fun overclocking them.

Moving away from Crucial and onto another huge player in the RAM market, we now look at some of the latest DDR4 memory offered from Corsair. Some of our first DDR we bought was Corsair Value sticks, and even then we liked everything about our purchase. A long time has passed, and being a tinkerer when it comes to memory, we evolved into various kits from Corsair over the years, and we found that as long as you were willing to shell out for the right kits, you would get some truly outstanding offerings. While we did miss out on their quad-channel kits, and the first series of dual-channel DDR4 releases, what we saw in the Dominator Platinum ROG sticks we last reviewed, we were and still are very pleased with what they delivered.
This time we move from the Dominator series into the Vengeance series, but just not the ordinary line. This time, Corsair has released the Vengeance LED series, and in this version, they sent us the CMU32GX4M4C3200C16 kit. In our version of the Vengeance LED RAM, we received a set that cruises along at 3200MHz, using 16-18-28-36 2T timings, draws 1.35V, and is 32GB in density. Optionally, the Vengeance LED series is offered with densities from 16GB kits to 64GB kits; you can get the LEDs in white or red, and they are provided with speeds ranging between 2666MHz and 3466MHz.
What you are about to see in this review is how a company can develop a product with nothing to complain about on any front. With all the speed and density options, even offering optional LED color choices, Corsair delivers a set of DDR4 memory that will not only impress, but are also able to attract even the most discerning of buyers. All other companies should take note to what Corsair did here today, as this is how you do DDR4 right.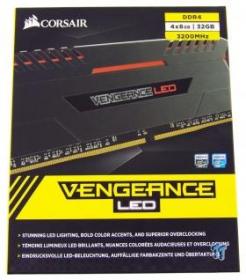 Our four stick kit is sent in the same yellow and black packaging we find all of the Vengeance series products sporting. While there isn't a view of the actual RAM inside, all of the information can be found in bold print on the front panel. Also, the interior consists of dense foam surrounding plastic trays used to isolate and protect this memory, giving it a very high-end feel when releasing your sticks from it.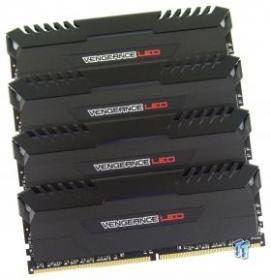 Inside of the box, we found four sticks, 8GB each, which can be used in the Z100 or X99 chipset motherboards, and look damn good in there. The sides of the heat spreaders are textured, with a slim sticker delivering the Vengeance LED naming. The top of the spreaders are cut to expose the LED bar below, and both sections are made of anodized aluminum.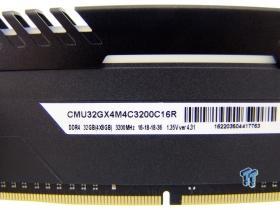 Rather than the product name sticker, on the reverse side of the sticks, this area is used for the technical specifications of this memory. At the top is the CMU32GX4M4C3200C16R name, and the R at the end denoted red LEDs. Below this we see the density and XMP 2.0 profile speed, timings, voltage, and even the revision, which is 4.31 for this kit.

While the extended top and the LED light bar do make for a stick that is 49.3mm tall, the look from it is particularly nice. With a stack of Corsair logos running down the middle of them and the six slits of LED light to either side, when these are running on the motherboard, they are just so nice to see.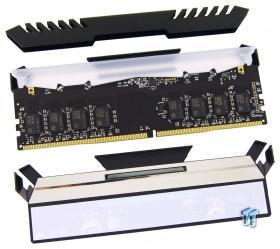 Since we have a habit of opening things up, we tried our hand here too. After removing the top cover, and then releasing the thermal tape from the ICs, we took the Vengeance LED down to its core components. In this design, there are reflective panels inside of the heat spreaders, and via the translucent plastic and the four LEDs in each stick, these will deliver brilliant lighting into the build.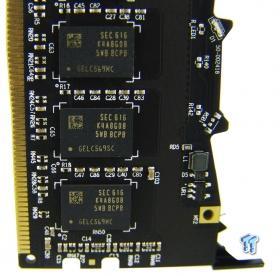 As most companies use, we again find the Corsair Vengeance to be yet another Samsung IC based kit. These are single sided sticks, and use the K4A8G08 ICs rather than the K4A4 versions we saw from Crucial. It might also be a good time to mention the black PCB used to mount them, as it continues with the murdered-out look of the design.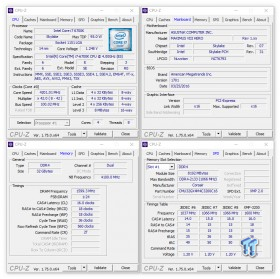 After clearing the CMOS and setting the board to boot with the XMP 2.0 profile active, we booted the system and checked the vitals. Here we can see all 32GB showing up; they are running at 3200MHz with 16-18-18-36 2T timings, and the tRFC has increased due to the use of four sticks.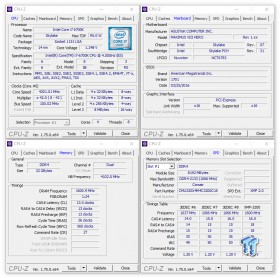 What we did not expect to see was the ability to drop the timings to the level we did. Using a VDIMM setting of 1.45V, we were able to push the timings to 13-13-13-36 2T, and still keep the 3200MHz of speed stable.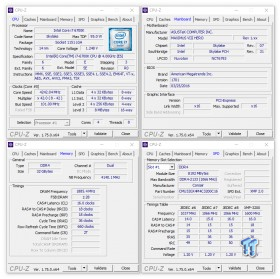 With the voltages the same for the speed run, we found the Vengeance LED memory to have quite a bit still left in the tank. Using the XMP 2.0 profile timings, we were able to get another 570MHz out of this kit, taking us to 3770MHz.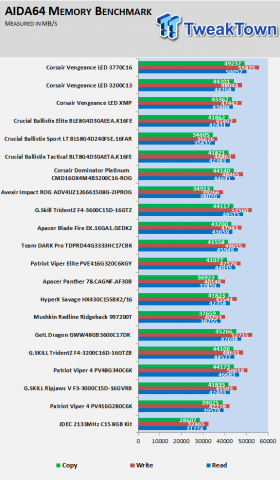 The Vengeance LED memory at XMP is at the top end of the list in bandwidth. While five or so kits are slightly better, most of them are much faster kits out of the box. While the timing reduction shows an increase in the scores, once the speed was increased, the Vengeance LEDs have the best performance of any of the listed competitors.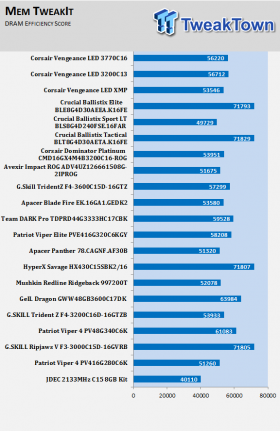 Mem TweakIt is not generous to the Vengeance LED RAM but is more in line with a lot of the kits we test. The results are on par, for its speed, and outside of the four 3000MHz kits, it took a faster set to beat it. In this instance, lowering the timings or increasing speed did not seem to make a huge difference to give either a marked advantage over the other.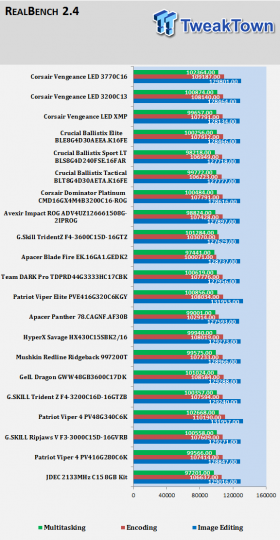 Using RealBench, we can see that the faster Crucial kits can outperform this faster set of Corsair RAM, but across the board, it is what we expected to see from such a kit. Although, when it came to overclocking, only the Patriot Viper 4 at 3400MHz seem to offer real competition across all tests, but we were running nearly 400MHz faster on the Corsair modules.
So, why should other companies take note when it comes to a set of DDR4 like this? Let us explain. Let's start at the beginning, where we got an ever so familiar package, in which all Vengeance series products are delivered. Along with that familiarity of the product line, there is the fact that this kit arrived packed in dense foam, with thick cardboard around it, scaling up the initial impression, just in feel alone, and we had not even seen the sticks inside. Then, of course, when we laid eyes on the actual sticks inside of the box, there was not one thing about them we did not like. The use of anodized aluminum, every bit but the stickers and logo on the tops is black, and the slits allowing the LEDs to shine through allows that red led lighting to shine. Don't forget; they also are offered with white LEDs in case red just will not go with your build. Just in impressions and looks alone, Corsair won us over early on.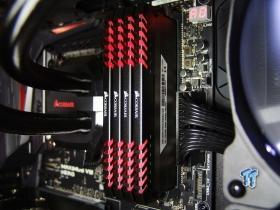 Then we got to run this kit and found this 32GB set of 3200MHz memory to perform admirably against the competition. The Vengeance LED memory may not have topped the charts with what we saw in our results, but is still able to deliver the performance needed to get you through any task you can throw at it. Then, we also incorporate "tinkering" into the score as well, and we were, to say the least, very impressed with that the Vengeance LED had to offer beyond the XMP 2.0 profile. Where other Samsung IC based kits are binned much closer to their maximums, this kit had a lot of room to play. We were able to run straight thirteen timings with just a touch to the VDIMM voltage, and on the flip side, took the speed up an additional 570MHz. Only two other kits have offered us this sort of overhead, and one of those is the Dominator Platinum ROG kit we tested not that long ago, so Corsair seems to have some of the better ICs on the market right now.
What we do know is that when it comes to Corsair memory, especially those from the upper echelon, you do pay a premium to obtain them, and the Vengeance LED happily can break this mold. When shopping based on speed and density to match this kit, we find pricing starting at $159.99 and creeps up into the $240 range to obtain such a kit. Now if you planned to use Amazon to purchase this exact set of DDR4, it would set you back $206.10. We did look at Newegg, but they do not have this particular kit, only the 2 X 16GB version listed at $199.99. Even so, with a midrange price point, stellar looks, and plenty left in reserve for those looking to maximize their overclocking potential, Corsair's Vengeance LED DDR4 dual-channel kit gave us everything we wanted and more - and considering we got this sort of love across a four stick kit lifts it to another level again. This is one of very few RAM kits that we have had this much fun with, and it looks this spectacular while in use, all at the same time.
Chad's DDR4 Dual-Channel Test System Specifications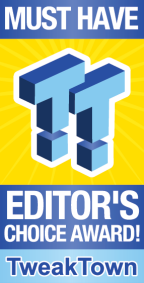 | | |
| --- | --- |
| Performance (including Overclocking) | 98% |
| Quality including Design and Build | 97% |
| General Features | 98% |
| Bundle and Packaging | 99% |
| Value for Money | 93% |
The Bottom Line: It may require a slightly higher investment, but with what Corsair delivered in the Vengeance LED 32GB kit they sent us, we would gladly hand over our money! They look stunning, the LED aspect is tasteful and bright, and we had a ton of fun overclocking them.
PRICING: You can find products similar to this one for sale below.

United States: Find other tech and computer products like this over at Amazon.com

United Kingdom: Find other tech and computer products like this over at Amazon.co.uk

Australia: Find other tech and computer products like this over at Amazon.com.au

Canada: Find other tech and computer products like this over at Amazon.ca

Deutschland: Finde andere Technik- und Computerprodukte wie dieses auf Amazon.de
We openly invite the companies who provide us with review samples / who are mentioned or discussed to express their opinion. If any company representative wishes to respond, we will publish the response here. Please contact us if you wish to respond.