Crucial Ballistix Sport LT DDR4-2400 16GB RAM Kit Review
Crucial's Ballistix Sport LT DDR4-2400 16GB dual-channel memory kit gets investigated and is found to provide awesome value for money.

Published Mon, Aug 8 2016 8:08 PM CDT
|
Updated Tue, Nov 3 2020 6:58 PM CST

Kit number two from the Crucial trio takes us to a different segment of the DDR4 RAM game: low power kits. While likely ninety percent or more of the market use the full 1.35V, the top end of voltage required within the XMP 2.0 specification, a select few kits are offered with only 1.20V required to power the RAM. Crucial's Ballistix Sport LT is one of the latter kits, and while density is good, speed in most of these low voltage sets tend to be set much lower. This is the case with the entire Ballistix Sport LT line-up, but boy, they still deliver on other aspects other than outright speed. This goes back to the tortoise and the hare; not always is the fastest solution the winner in every race.
We have been sent Ballistix Sport LT RAM with red heat spreaders, but there are also gray and white versions out in the wild as well - our particular set is the BLS8G4D240FSE.16FAR. This denotes it is from the Sport series and that it has two 8GB dual-sided sticks, which run at 2400MHz. The total density is then 16GB, and the FAR on the end will change based on color to either a W for white or a G for gray at the end. Across all kits, no matter their density, we find that they all are offered for use with their XMP 2.0 profile set with 16-16-16-39 2T timings. Also due to the lower speed of such kits, we find this set to be Micron D9 ICs.
While RAM voltage may have never crossed your mind, there is a lot written about how higher voltages lead to degradation over time, and with such a kit requiring less voltage, it only stands to reason it would be better for the longevity of the system, not just the memory. The other angle to use such sticks is when it comes to the realm of HTPC or SFF builds, where added heat is not something anyone wants to deal with. Even if you have neither of these requirements, with what you are about to see, not only in style and aesthetics but in what we can do with our Ballistix Sport LT 2400MHz 16GB kit, it could very well be exactly what you are looking for to complete your themed build as well.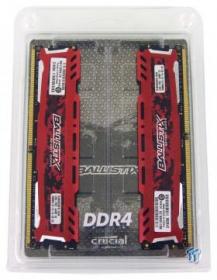 The packaging is the same, using a cardboard insert for some style, while clear plastic surrounds and supports the sticks. Again Crucial inserted the RAM in a manner that displays all of the product information via the stickers found on the heat spreaders.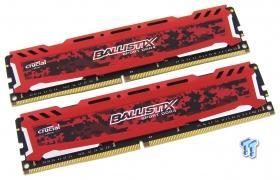 With a unique shape for the heat spreaders, you can get this Ballistix Sport LT with gray, white, or red, like what we have here. The majority of the metal is anodized to match the stickers in the middle. There we see the naming printed in white text on top of some digital camo, mixed in with some bright work that makes this kit "pop" inside of the chassis.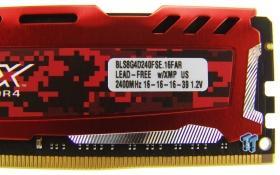 Flipping the stick over, we find the smaller sticker displaying the part number across the top and its 2400MHz 16-16-16-39 2T XMP 2.0 profile at the bottom. It is also shown that they only draw 1.20V. We can also see the striped brightwork around the spreader, and that these sport black PCBs as well.

Much like with what we saw in the Ballistix Tactical, the Sport LT uses a separated heat spreader design as well. Rather than coming straight up to the top like the Tactical does, on the Sport LT, the spreaders are curved as they come near each other, leaving a wide gap along the top.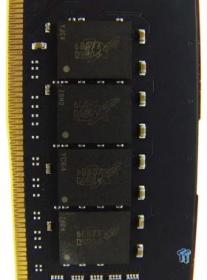 Due to the heat spreader design, it is easy to remove them, allowing us to view the Micron D9 ICs under them on either side of the PCB. Unlike when we lost adhesion with the Tactical thermal tape, the tape used in the Sport LT kits seems much better, as replacing the spreader onto the ICs took, and stayed in place.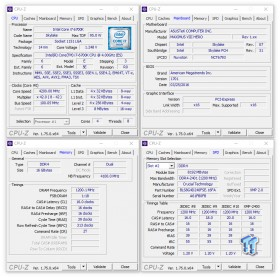 After clearing the CMOS from our last kit tested, we set the XMP 2.0 profile and processed to boot with the Sport LT in place. Once in Windows, we found that everything was as described. The Ballistix Sport LT showed 2400MHz at 16-16-16-39 2T timings, and all 16GB registered correctly.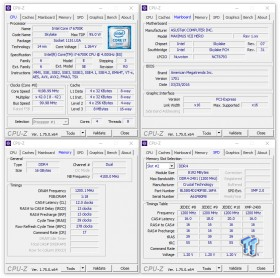 We then tried our luck with reducing the timings and were able to get quite far before we saw any instability in this memory. Using 1.35V to the VDIMM setting in BIOS, we dropped the timings to an impressive 12-13-13-39 with a 1T command rate.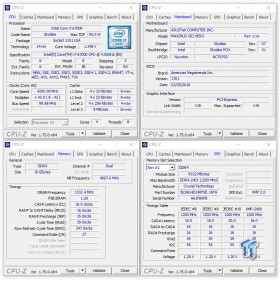 When it came to testing for overall speed, we were not able to get that far, even still using 1.35V. We were able to boot the system with a 2666MHz setting, which is nice, but anything more would cause instability. Even so, we are impressed that we got this far with a low voltage kit.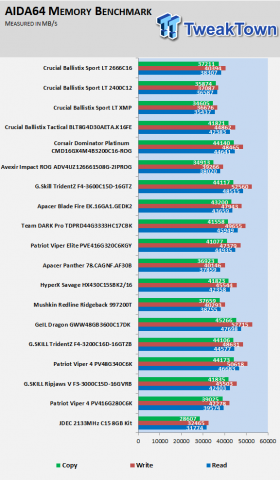 While our results do not seem impressive out of the gate, keep in mind this is the only 2400MHz memory tested on this chart. In essence, it should outperform the JEDEC settings, which it does handily, but the fact that it is slightly behind 2666MHz and 2800MHz kits says a lot for this Sport LT RAM. We also found that while timings and raw speed may not matter to some, there is a noticeable increase in performance using these with those tweaks.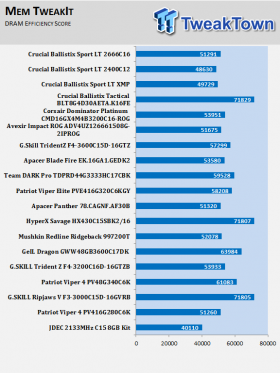 Where efficiency is concerned, the Crucial Ballistix Sport LT is behind everything but the initial kit we tested for JEDEC specifications. This is expected of course, but our lowered timings results were not. We do see that increasing the speed helps quite a bit, where these then compete with the Panthers, ROG Impacts, and even the 2800MHz Viper 4s at the bottom.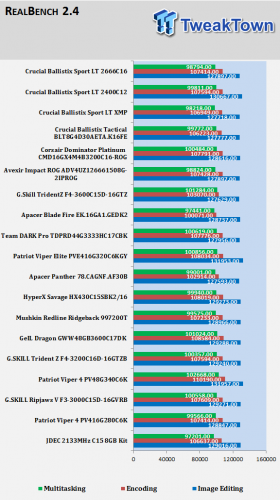 RealBench shows that speed isn't everything when it comes to productivity. The Sport LT are just shy of the Tactical sticks we just tested last and are just trailing the same kits we mentioned in the last bench. Lowering the timings seems to get the best advantage in this bench, as overall speed in this kit lost to the CAS12 run at 2400MHz.
While the Ballistix Sport LT RAM may seem slow, with the entire line-up offered at just 2400MHz, and even the initial timings of 16-16-16-39 2T do not seem all that impressive, looks can be deceiving. The fact of the matter is, that while being low voltage compared to just about everything else we have tested in DDR4, it is still able to perform admirably against kits which are on paper supposed to be better. So while you have optional colors to match your build theme, and various densities to choose from in this series, the Ballistix Sport LT memory is a bit of a sleeper. You may not expect it by looking at it, but the results in our testing speak for themselves.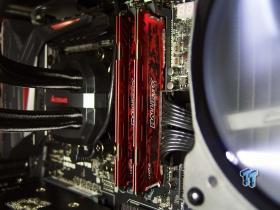 We like the aesthetics of the spreaders; their design is top tier, color matching metal spreaders to the stickers that flank the sides, digital camo on the stickers, bright white naming, so it is easy to see, and exposed metal sections to reflect light and works much like chrome on a classic car. All of this packed on top of dual sided sticks and black PCBs makes for an attractive addition for those looking for a gray, white or red kits to fit with a theme. The fact that we can run this kit at CAS 12 with a 1T command rate, and that there was an additional 266MHz left in these ICs is all just icing on the cake, but also increased the performance of this kit allowing it to compete and even overtake faster kits in some testing.
While you can find the Ballistix Sport LT sticks as single 4GB modules right on through to 64GB kits, all using the same speed, timings, and voltage, it makes the buying decision as simple as obtaining the density you need. You do have to make a choice between white, gray, or red used on the heat spreaders as well, but that usually depends on parts you already have, making that decision much easier. What makes the Sport LT attractive though is that they are some of the most affordable memory we have tested.
To obtain the BLS8G4D240FSE.16FAR that we tested, you could spend the $73.99 that Crucial is asking, direct from the manufacturer, or you can go to the e-tail segment. There you can find this kit selling at Amazon for just $67.99, which is a steal, but then there is the listing at Newegg. It is there where we found the Ballistix Sport LT in red priced at just $59.99 for 16GB of 2400MHz memory. While we did not top any charts with our testing, for this price, and the fact that we competed with faster kits requiring more voltage to do so, says a lot for such a product. These Crucial Ballistix Sport LT memory modules performed above their expected limitations; they look great, and at this sort of a price point, it is hard to deny the deal Crucial is offering you with the Ballistix Sport LT 2400MHz RAM.
Chad's DDR4 Dual-Channel Test System Specifications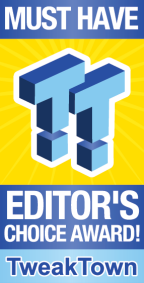 | | |
| --- | --- |
| Performance (including Overclocking) | 93% |
| Quality including Design and Build | 95% |
| General Features | 94% |
| Bundle and Packaging | 90% |
| Value for Money | 99% |
The Bottom Line: It may not be the fastest RAM on the planet, but Crucial more than delivers with this kit! It is stunning to look at, it uses less voltage to accomplish its tasks, and can be found for phenomenal pricing. These Crucial Ballistix Sport LT sticks perform well above their pay grade.
PRICING: You can find products similar to this one for sale below.

United States: Find other tech and computer products like this over at Amazon.com

United Kingdom: Find other tech and computer products like this over at Amazon.co.uk

Australia: Find other tech and computer products like this over at Amazon.com.au

Canada: Find other tech and computer products like this over at Amazon.ca

Deutschland: Finde andere Technik- und Computerprodukte wie dieses auf Amazon.de
We openly invite the companies who provide us with review samples / who are mentioned or discussed to express their opinion. If any company representative wishes to respond, we will publish the response here. Please contact us if you wish to respond.