TweakTown's Rating: 91%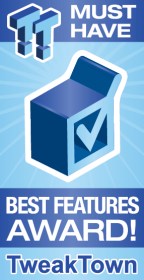 The Bottom Line
ASRock's Beebox-S is a very tiny mini PC designed with high performance desktop grade features that won't disappoint.
Introduction, Specifications, and Pricing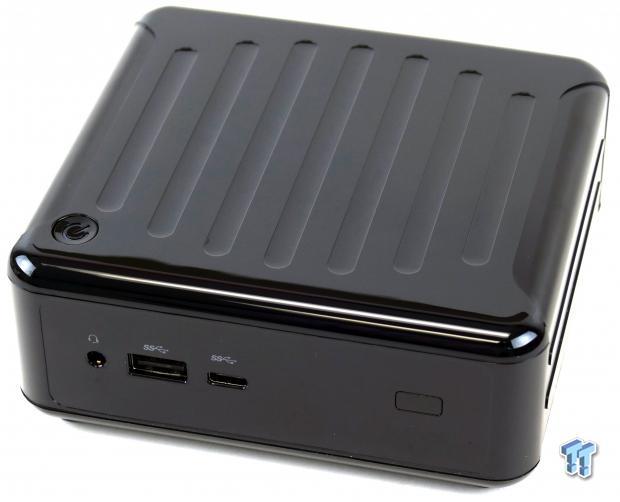 My first encounter with ASRock's Beebox was roughly a year ago. The Beebox I tested carried an Intel N3000 and passive cooling, so it didn't make any noise whatsoever, but it wasn't as quick as I had hoped. The N3000 is great for a streaming machine and can be used for simple tasks, but you will notice the sluggish nature of the CPU. ASRock went back to the drawing board, this time, armed with Intel's latest Skylake-U CPUs with TDPs in the 15W range. Compared to the 4W Celeron N3000, the i3-6100U and i5-6200U put out roughly four times more heat, but also provide a significant performance boost. ASRock went ahead and added a fan and the latest in platform technologies to produce the new Beebox-S series.
The Beebox-S is only 0.6L, which is smaller than some other NUCs, and even with the higher TDP CPU, the new Beebox-S is the same size as the original. The units are offered either with an i3-6100U or an i5-6200U, they are targeted at many different market segments. The Beebox-S even has two HDMI ports each capable of 4K output, making it good for digital signage or streaming. Its small form factor, relatively quick CPU, and storage options also make it great for home or business users. Let's take a look at what this little machine can do.
Specifications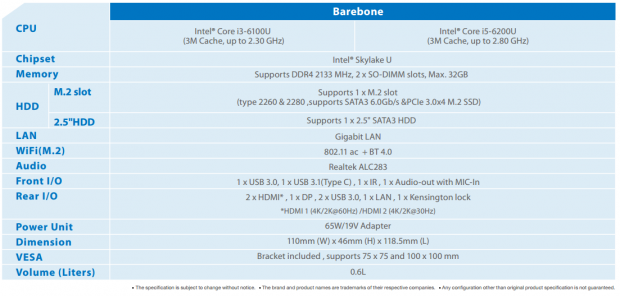 Our version uses the i5-6200U. The unit supports DDR4 SO-DIMMs, and you can install up to 32GB of RAM. It not only has a x4 PCI-E 3.0 M.2 slot for the latest in NVMe storage devices but also a standard SATA6Gb/s port for a 2.5" drive. The unit has a 1Gbit LAN, Wireless AC/BT4, and even USB 3.1 type-C. There are two HDMI ports (one is HDMI 2.0). The normal HDMI port supports up to 4K at 30Hz while the HDMI 2.0 port supports up to 4K at 60Hz. The unit is 110mm in width, 118.5mm in length, and 46mm in height.
Pricing
The ASRock informed us that the MSRP will be roughly $319 for this version.
Packaging and System
Packaging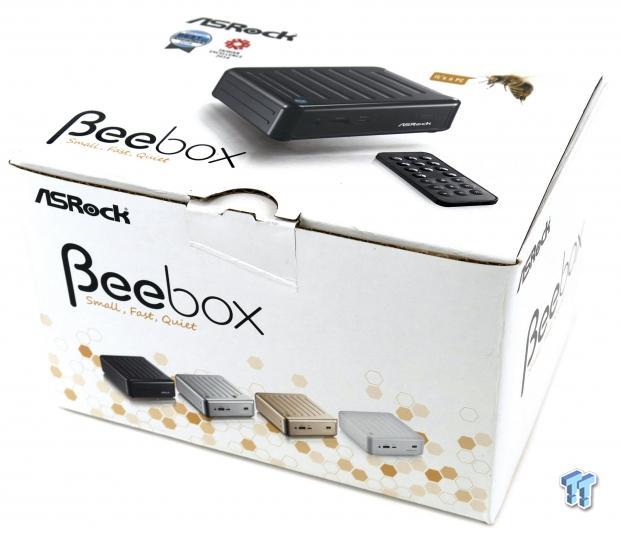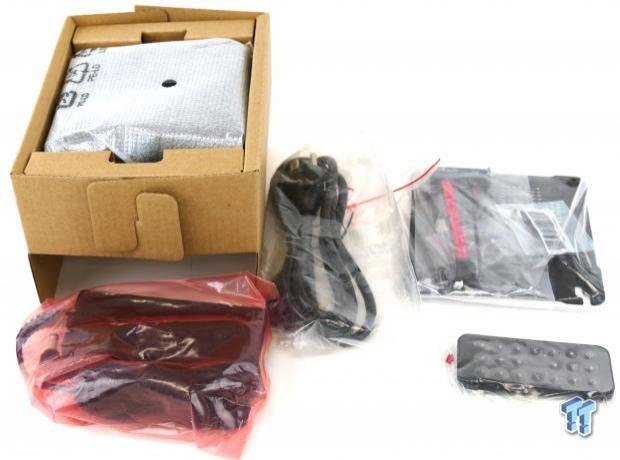 The box is simple and shows the four different color versions of the Beebox-S. Packaging ensures the unit is very well protected.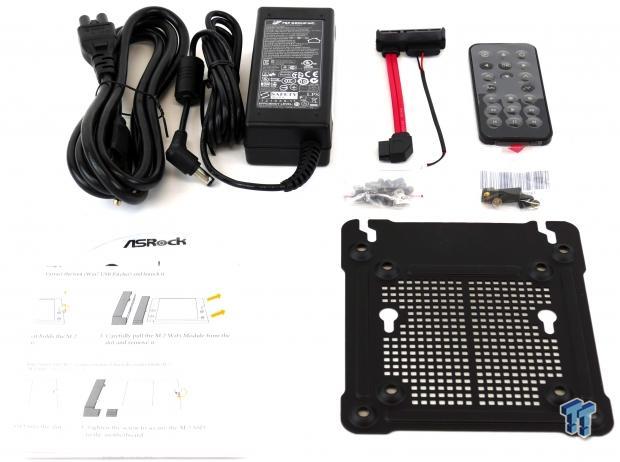 You get many accessories including the 65W/19v AC/DC adapter, VESA mounting hardware, M.2 slot riser, SATA breakout cable, IR remote, and of course manuals. There is also a driver DVD.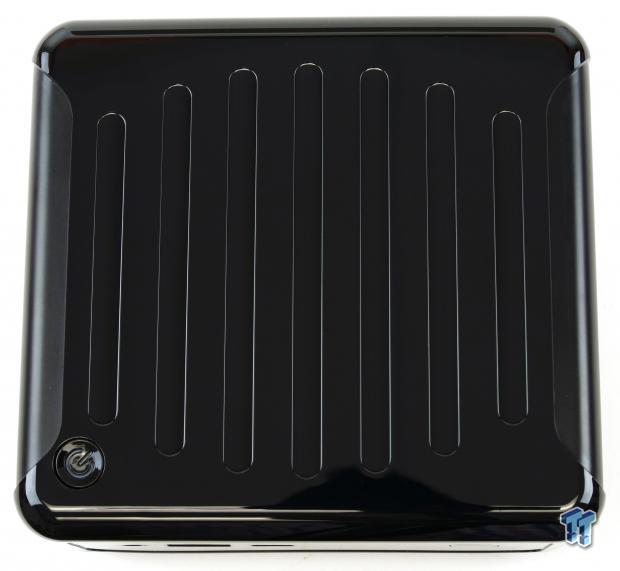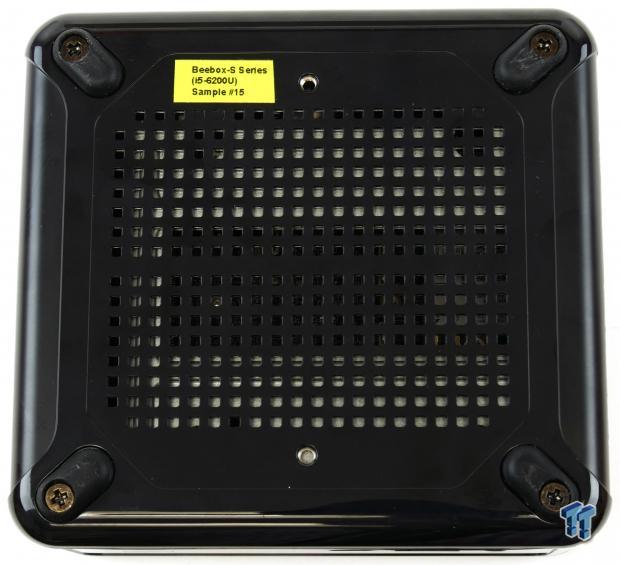 The top of the unit has a glossy finish and a small power button at the corner. The power button does illuminate, but there is an option in the UEFI to disable this illumination. The bottom of the unit features a large air intake vent. Air will be pulled through this vent and exhausted by the CPU's blower fan, ensuring that cool air circulates over storage devices. There are four rubber feet, and inside each foot is a screw, the unit is held together by these four screws.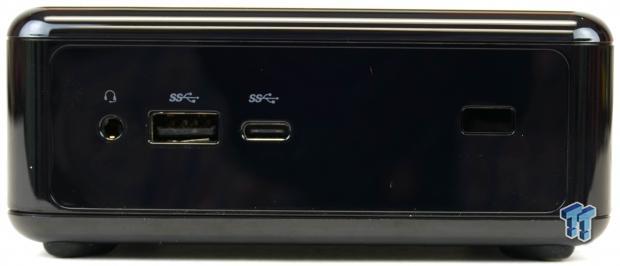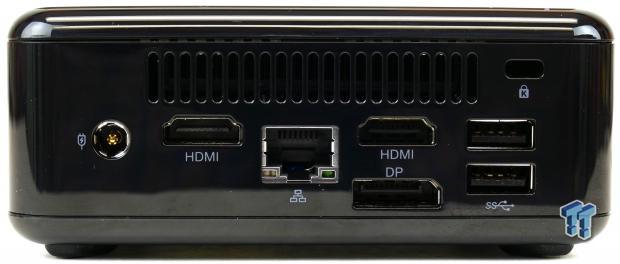 The front of the device features a headphone jack, a USB 3.1 type-C port, a USB 3.0 port, and an IR receiver. The rear of the device features your DC 19v input jack, two HDMI ports, DisplayPort, 1Gbit LAN, two USB 3.0 ports, and a Kensington lock slot. The vents at the rear are for fan exhaust.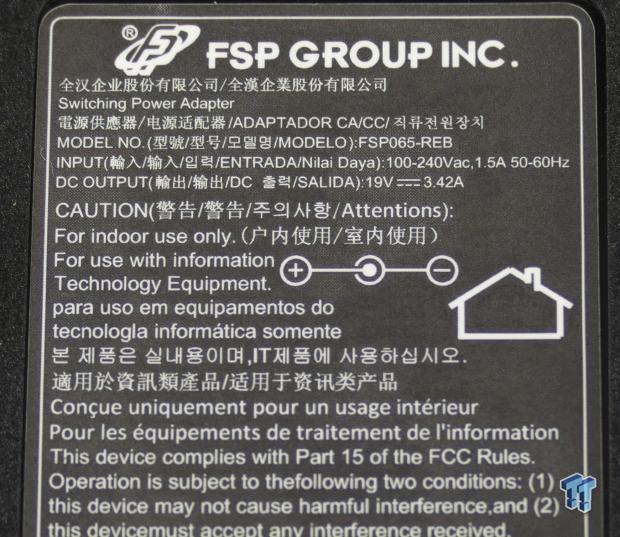 The power supply is external. An FSP Group 19v/3.42A adapter can output 65W to the unit. It uses a standard jack, so if you do lose this adapter, you will be able to replace it easily.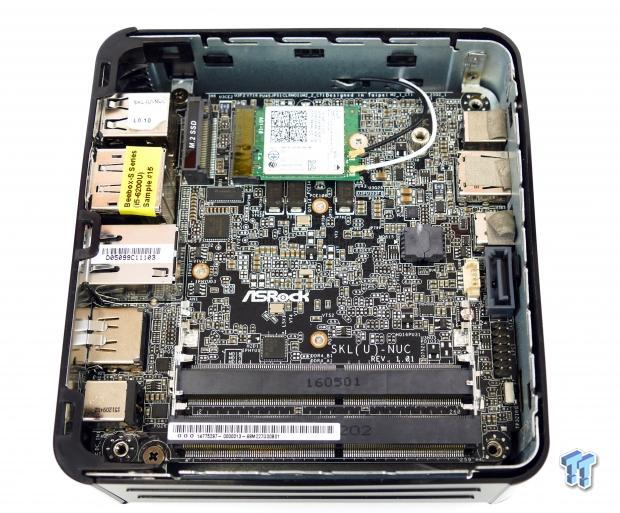 You will need to open the device to install your memory and storage. The device does support most M.2 devices (I used a 950 Pro). In the accessory package, you will find a bracket to extend the length of the screw hole. Be very careful with the WIFI antenna leads, they pop off too easily when touched.
Teardown of the Beebox-S
The Teardown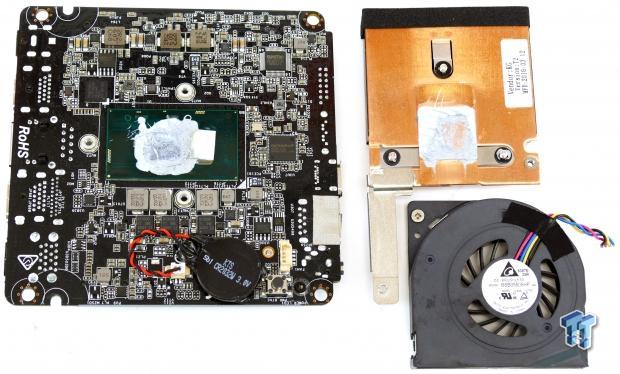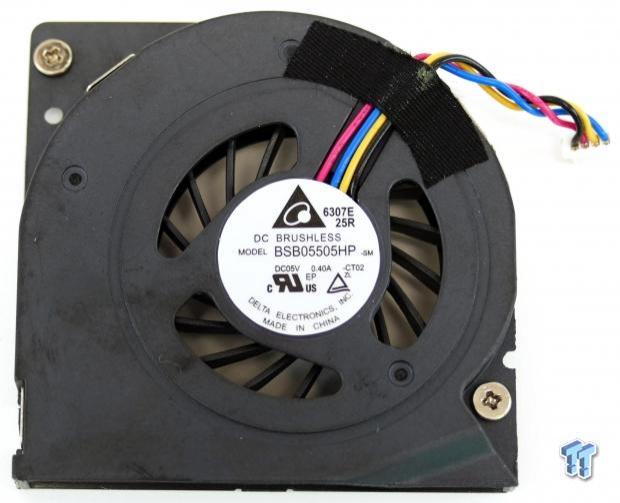 The SoC is cooled by a copper plate/heat sink. Thermal paste is used for the CPU core and a thermal pad for the PCH area. The fan is a Delta BSB05505HP.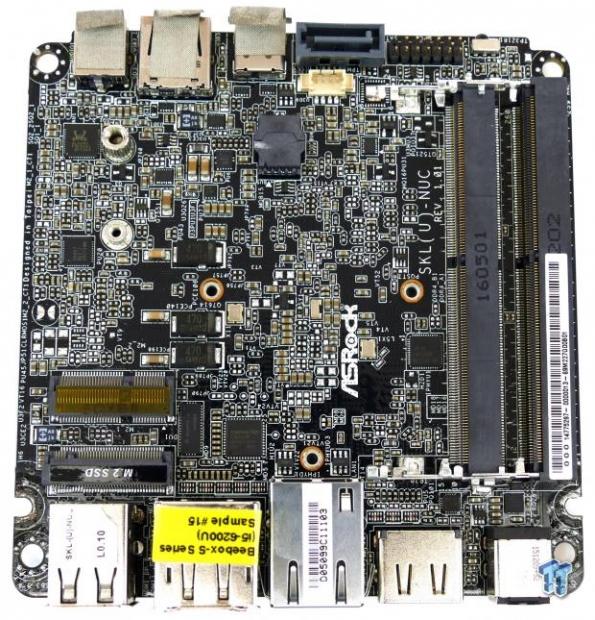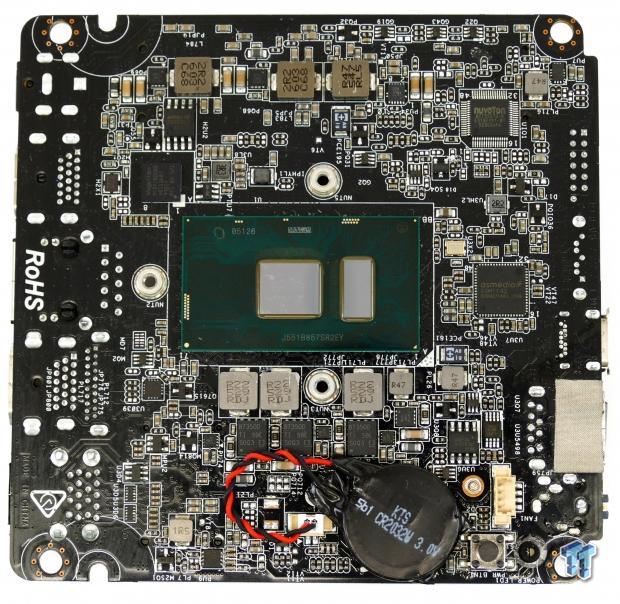 The PCB carries a fair amount of controllers to provide the latest in connectivity. A CMOS battery is on the bottom of the PCB, but I doubt you will ever need to access it.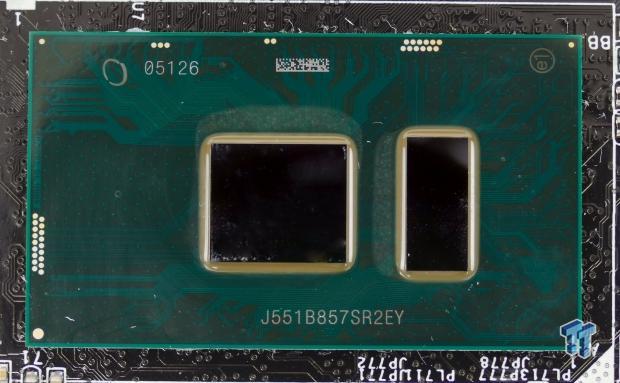 The i5-6200U is a Skylake-U based SoC; it contains the CPU core, iGPU, and PCH all on a single package with multiple dies. The CPU carries 3MB of SmartCache, operates 2/4 cores/threads at 2.3GHz base frequency with a 2.8GHz boost. Its TDP can range from 7.5W to 25W depending on the configuration, but its default TDP is 15W. The SoC uses Intel HD Graphics 520 that has more dedicated 4K hardware than previous iGPUs, so it can playback 4K videos with ease.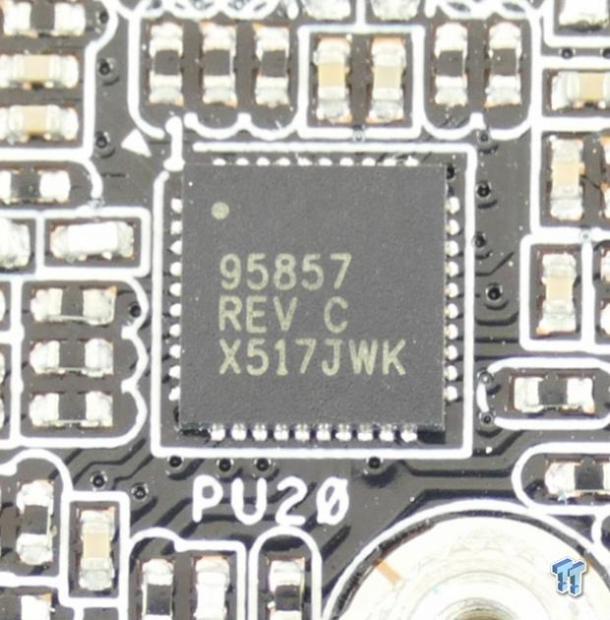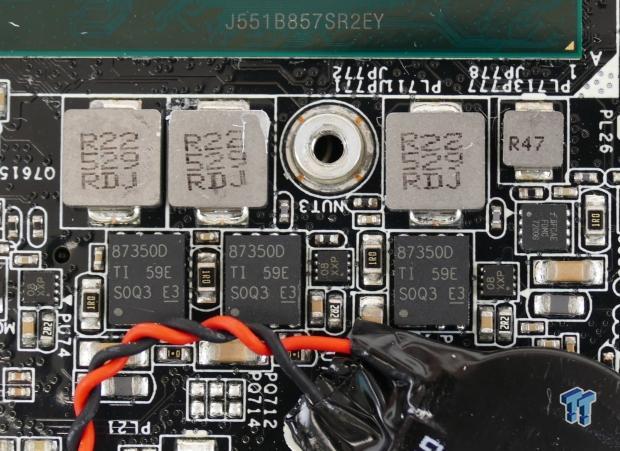 Power delivery for Skylake CPUs is much more complex than that for Broadwell or Haswell CPUs since Intel removed the FIVR. ASRock is using Intel's ISL95857 hybrid-digital power controller, which features three separate outputs for the multiple voltage rails required by the system. ASRock is using multiple CSD87350Q5D NexFETs from Texas Instruments, which are "dual-stacked" MOSFETs (high-side and low-side are integrated into a single package. The VRM component quality is quite high.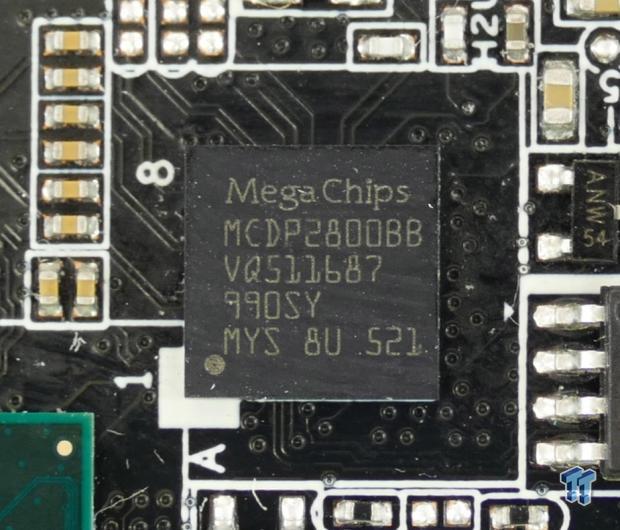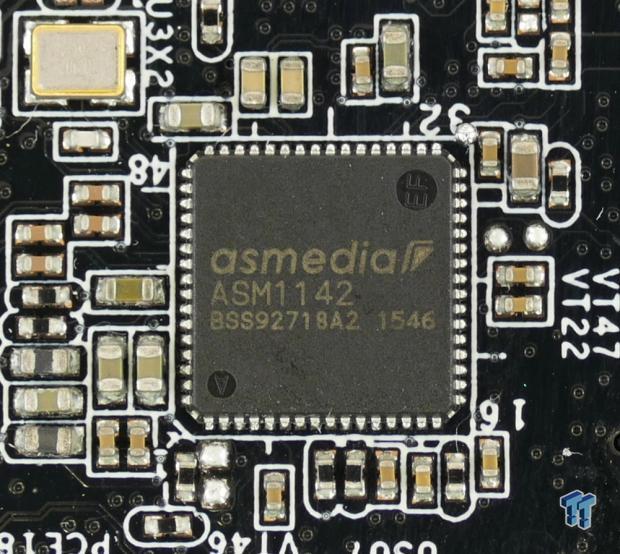 One of the HDMI ports is HDMI 1.4, but the other is HDMI 2.0. The HDMI 2.0 is possible because of the MegaChips MCDP2800BB, which changes over one digital video output to HDMI 2.0 for 4K at 60Hz. USB 3.1 is provided by the ASMedia ASM1142.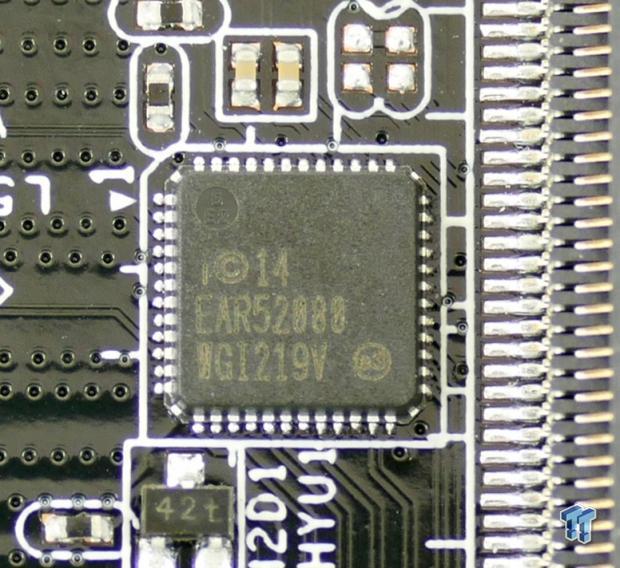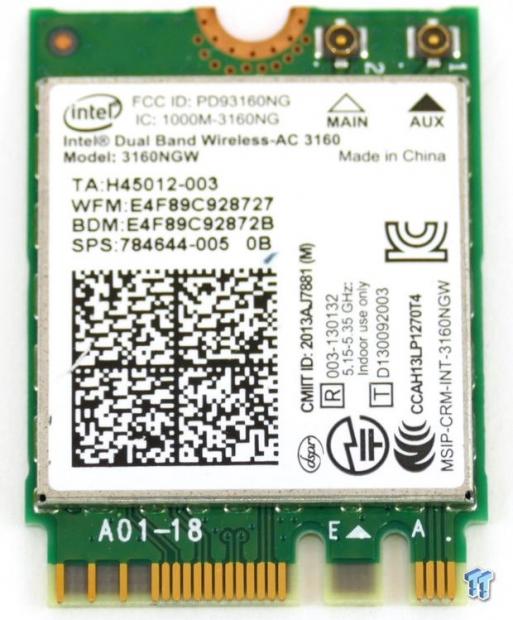 An Intel i219v PHY is used with the integrated MAC in the PCH to provide the 1Gbit wired NIC. An Intel dual band (2x2) Wireless AC 3160 provides up to 866Mbps Wi-Fi and Bluetooth 4.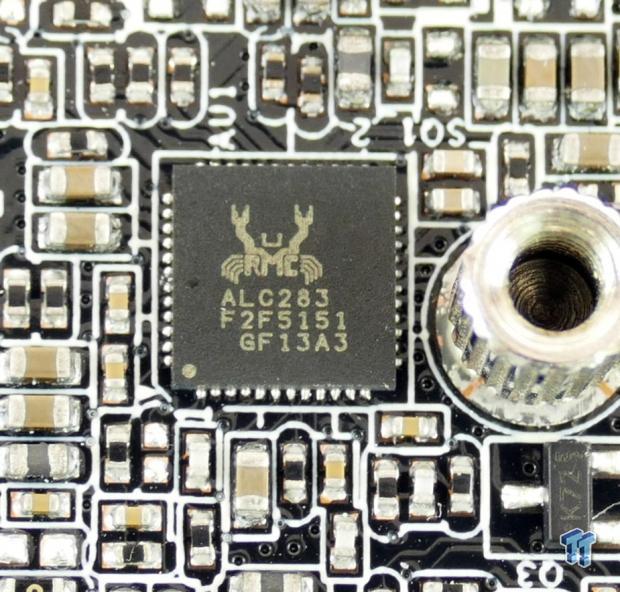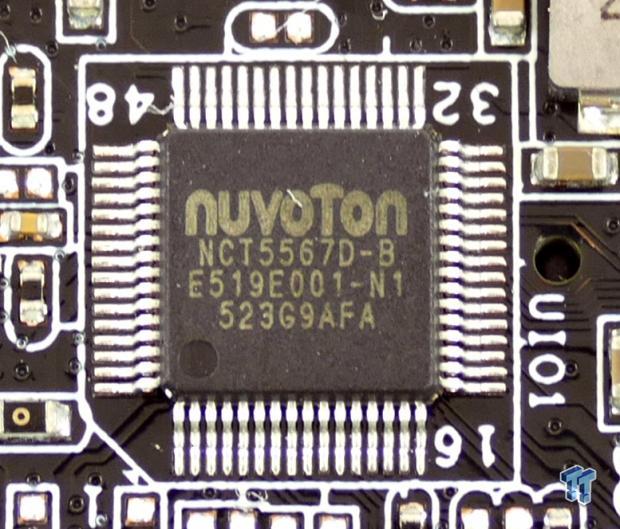 The audio codec is the Realtek ALC283. The SuperIO is the nuvoTon NCT5567.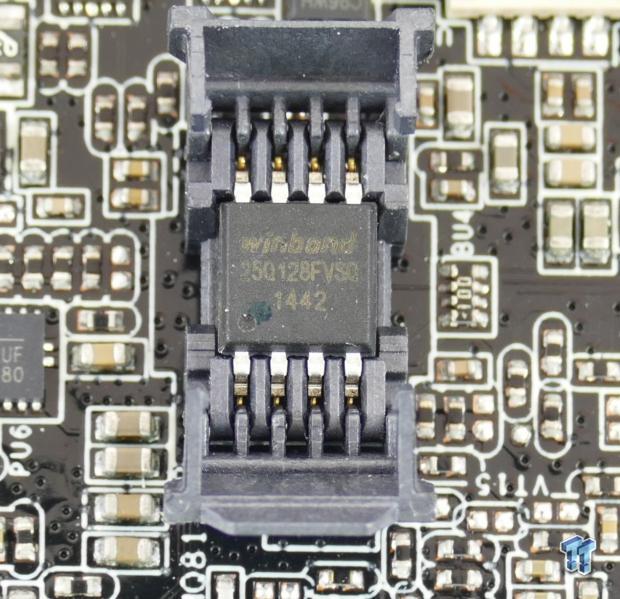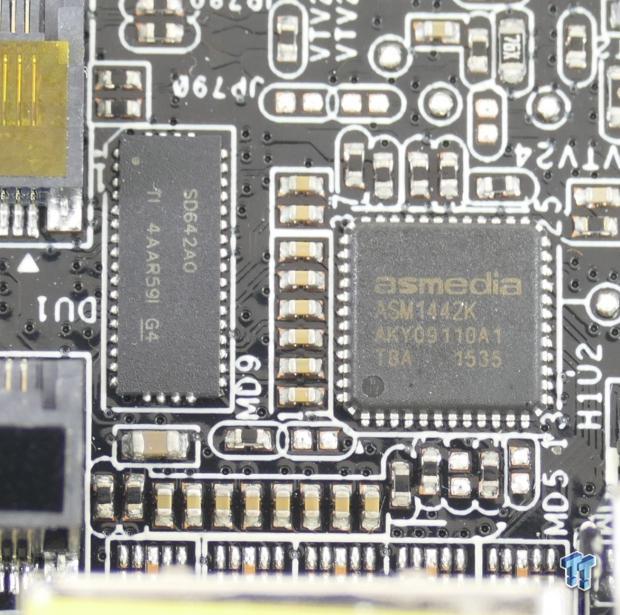 The unit uses a single 128Mbit (16MB) BIOS ROM that sits in a socket for easy replacement. There is also an ASMedia ASM1442K digital video level shifter to provide the HDMI 1.4a port. There is also a Texas Instruments MUX that allows you to either use HDMI 2.0 and DisplayPort at the same time or both HDMI ports at the same time. You cannot use all three display outputs simultaneously.
BIOS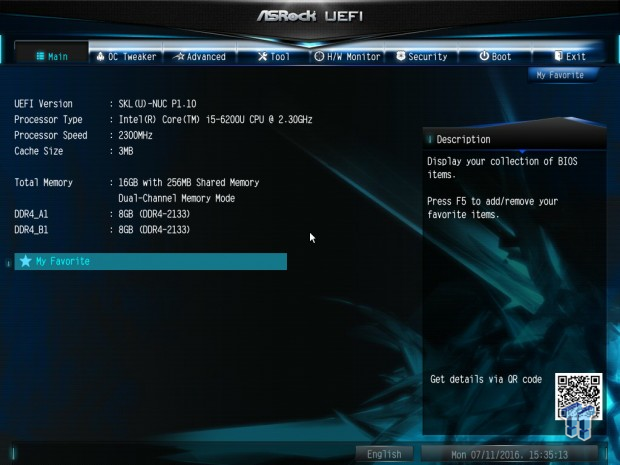 The Beebox-S has a UEFI almost identical to that of ASRock's full-sized motherboards. In fact, it's pretty much identical to the BIOS of the DeskMini 110 I reviewed last month. It's a full-featured UEFI with mouse control and settings to change just about everything, except overclocking.
There isn't too much you will need to change. There aren't many possible hardware combinations, so logic would dictate there wouldn't be many UEFI settings you would have to configure for optimum performance. I didn't touch anything in the UEFI.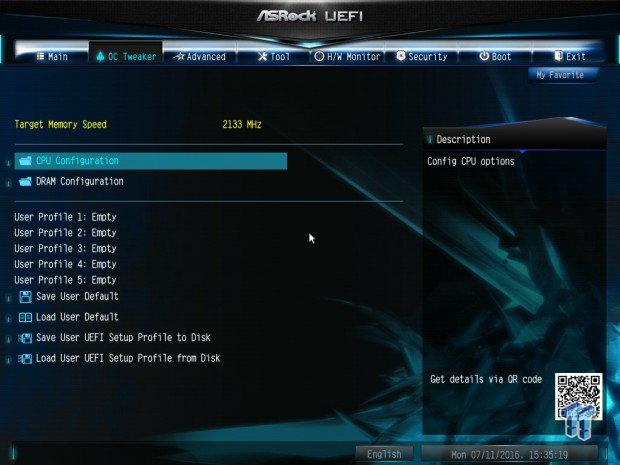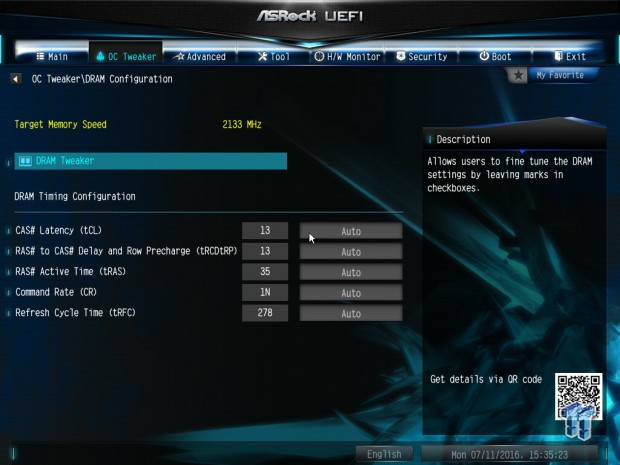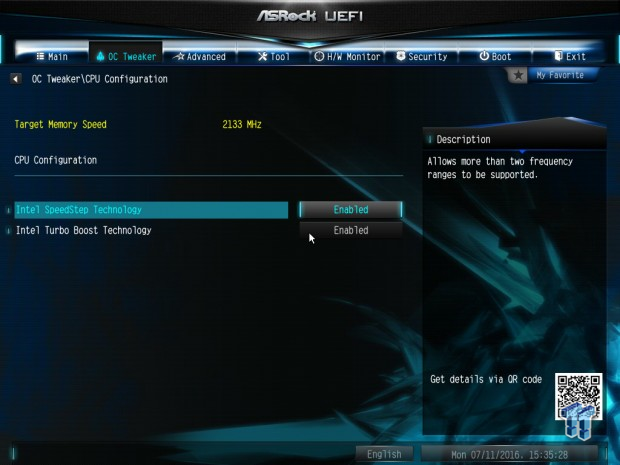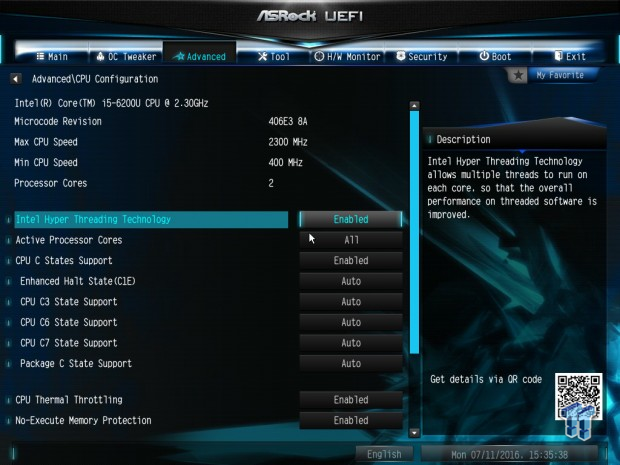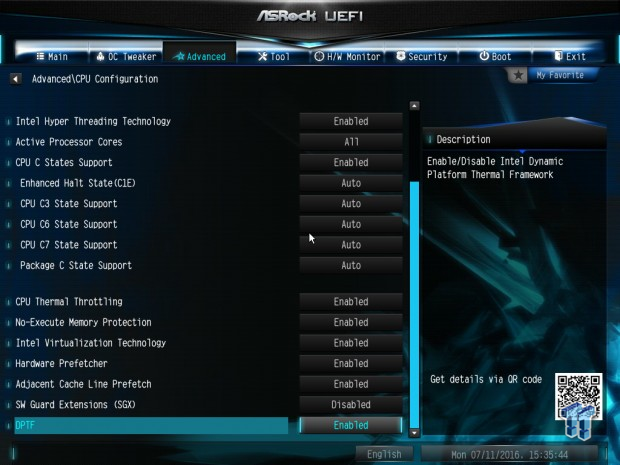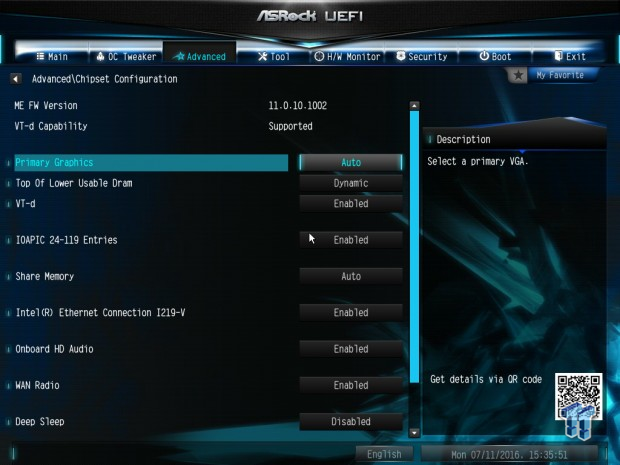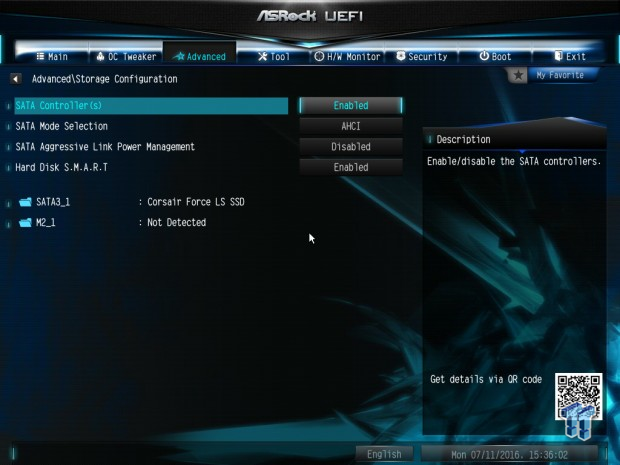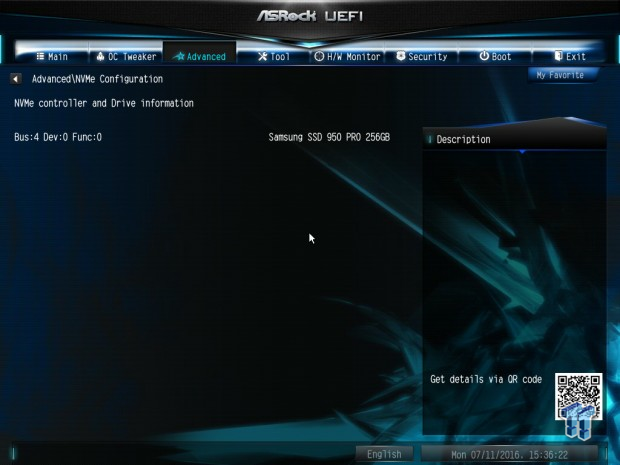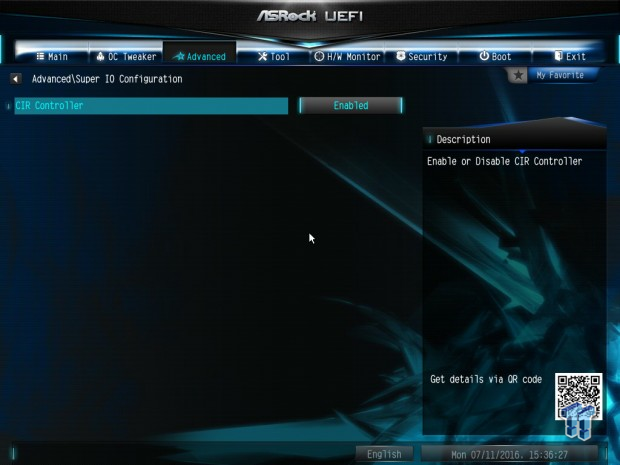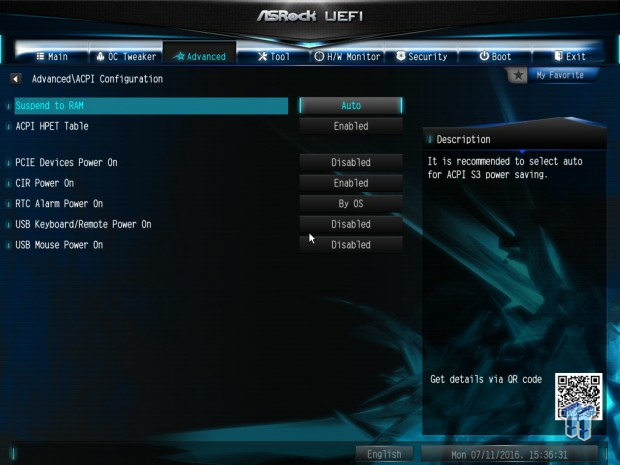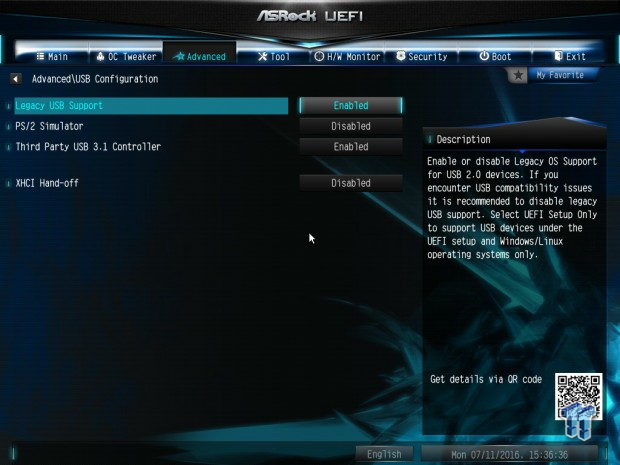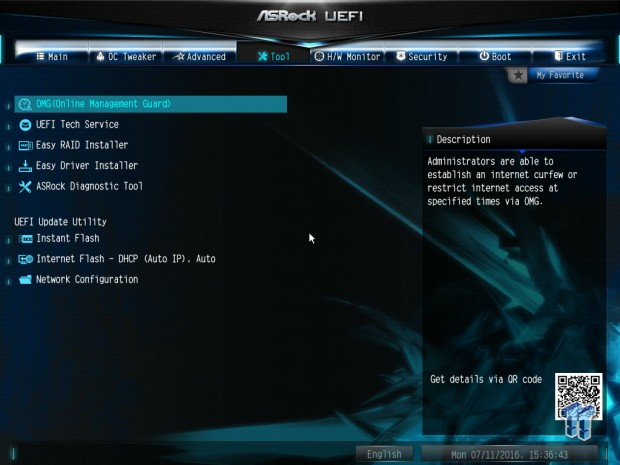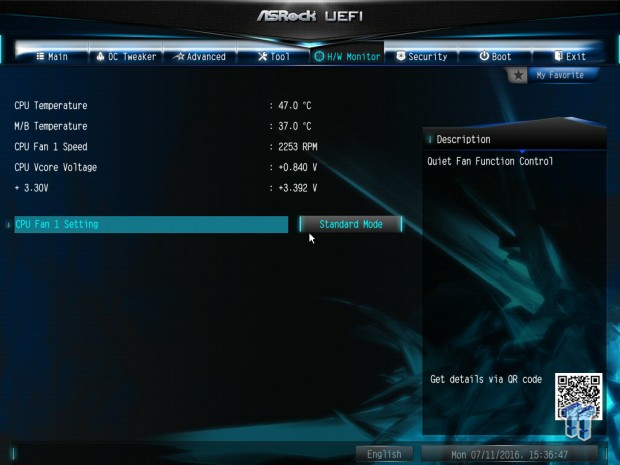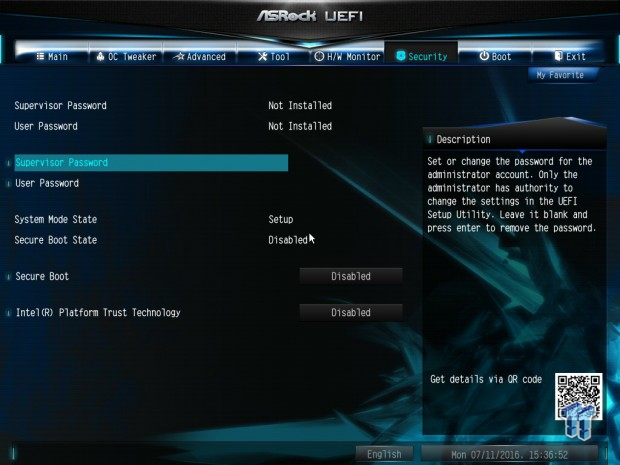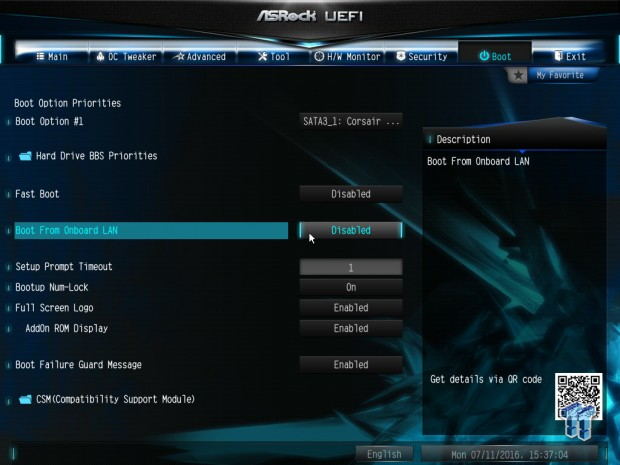 Test Setup and Benchmarks
Test Setup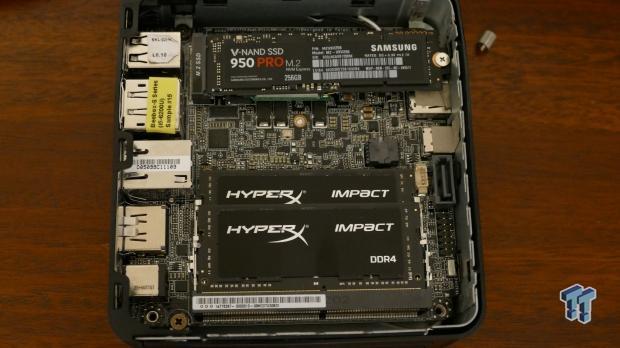 I used the same Kingston HyperX Impact (HX421S13IBK2/16) DDR4 2133MHz SO-DIMM kit I used in my DeskMini 110 review along with a Samsung 950 Pro NVMe based PCI-E 3.0 x4 SSD. The configuration is very nimble. ASRock included a special bracket, which you screw into the PCB that extends the screw hole to the edge of the case, allowing for drives like the 950 Pro to fit.
CPUz shots so you can see the exact configuration.
CPU, Memory, System, and Graphics Benchmarks
CINEBENCH 11.5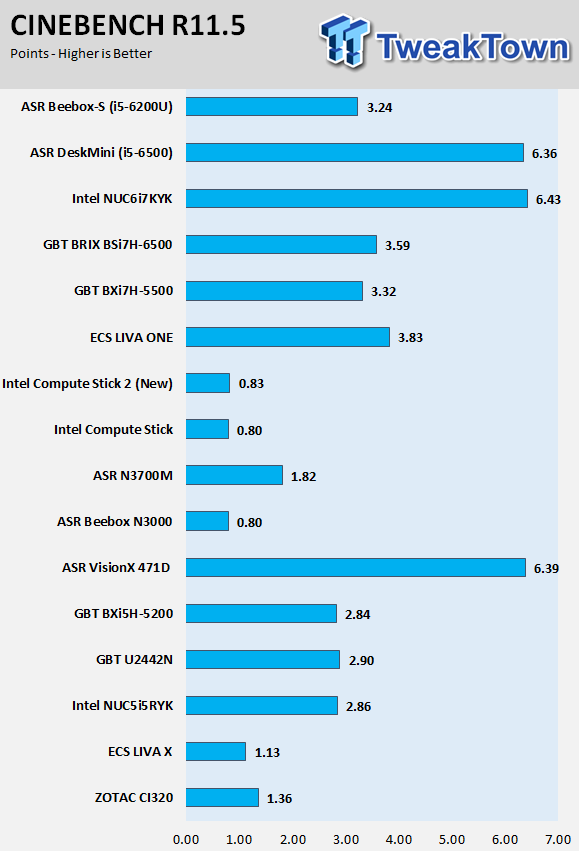 wPrime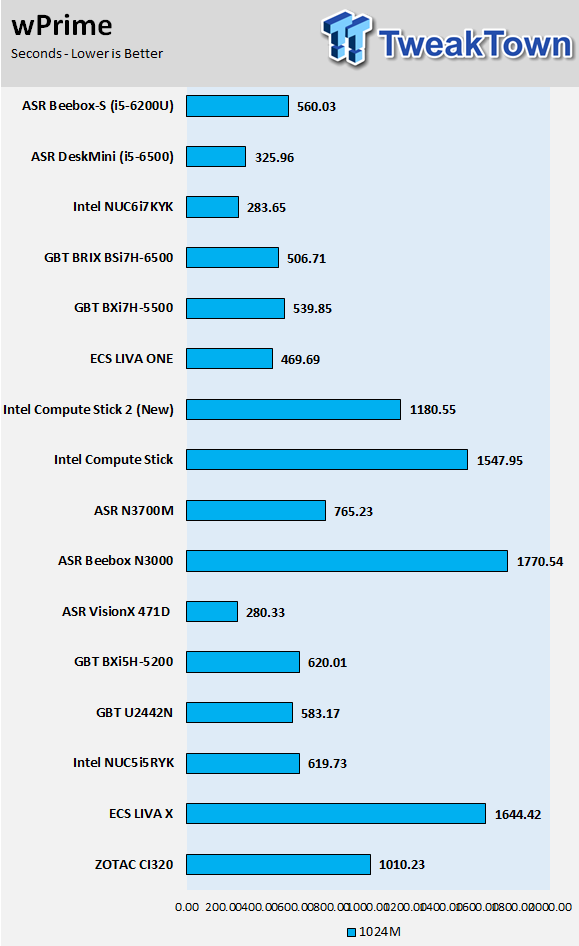 AIDA64 AES and HASH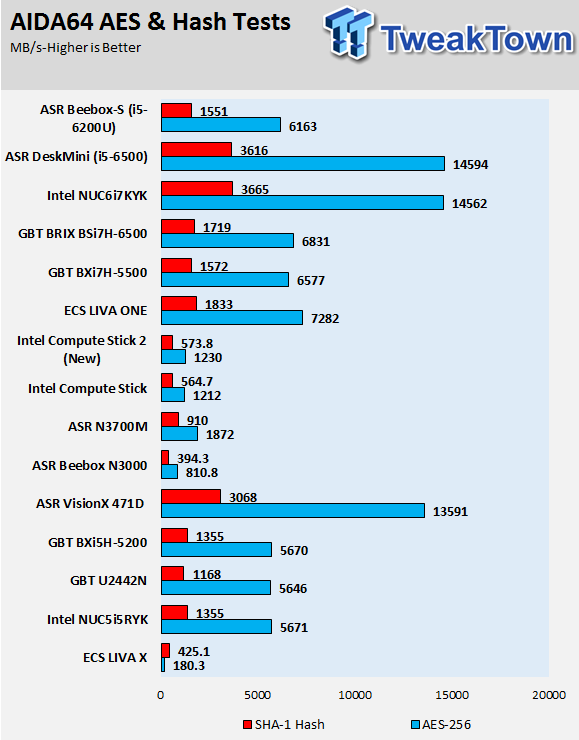 AIDA64 Memory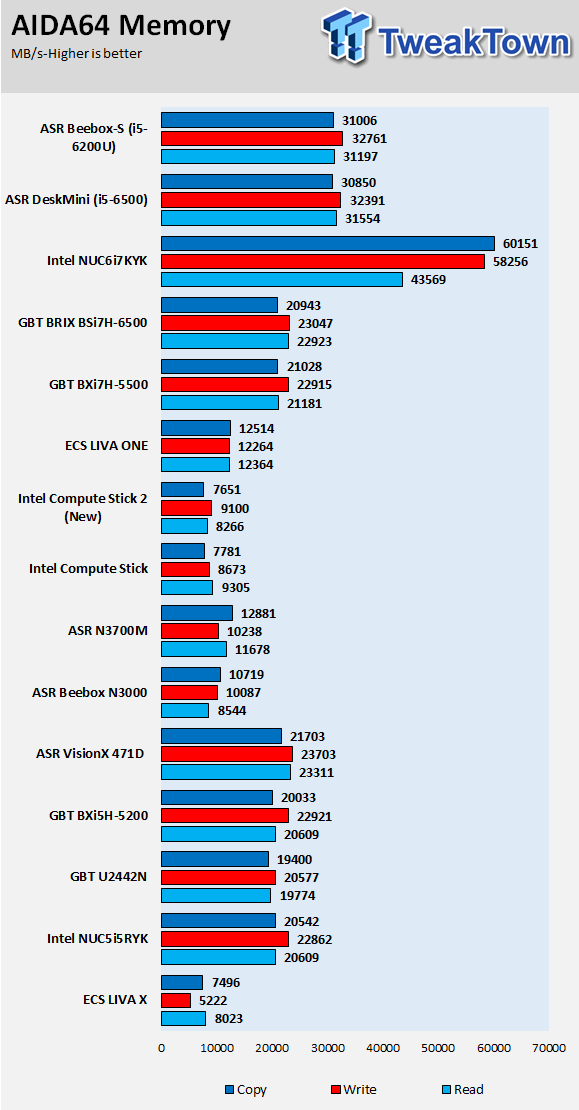 PCMark8 Home Test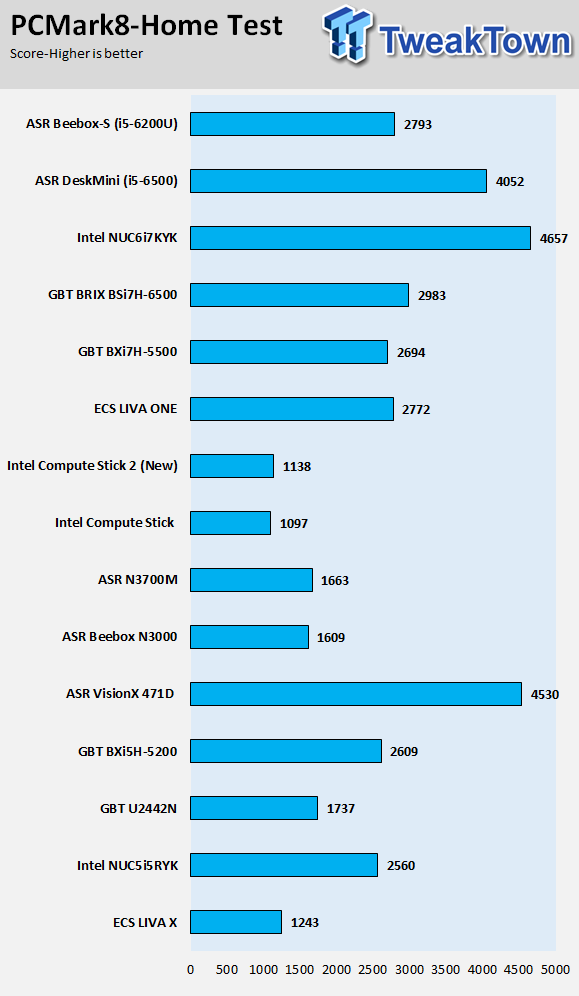 PCMark8 Work Test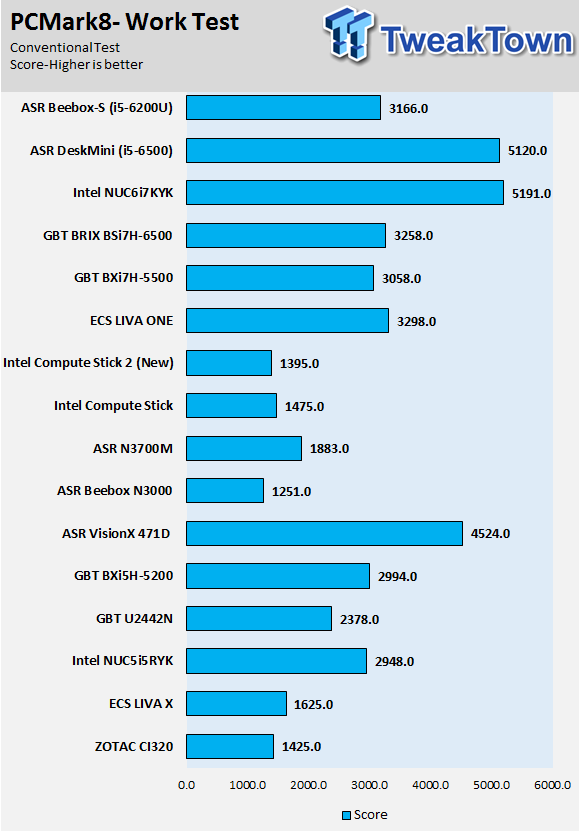 WebXPRT
3DMark11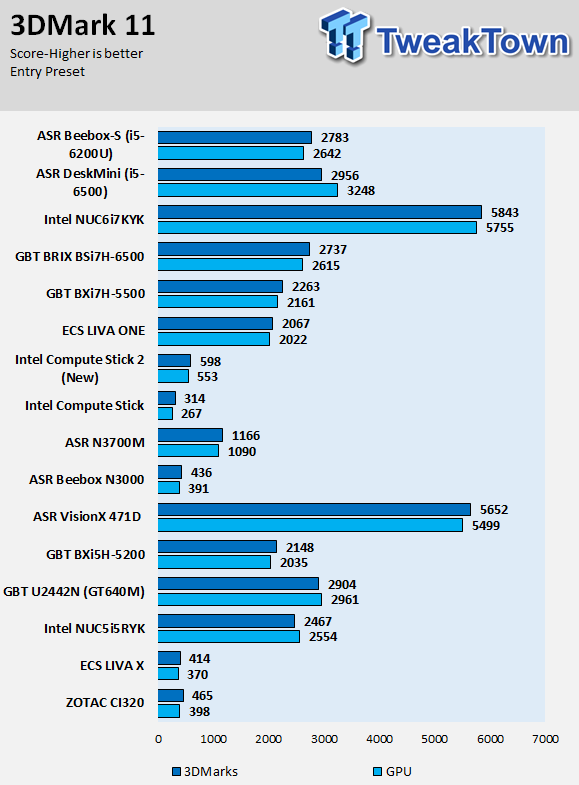 UNIGINE Heaven 4.0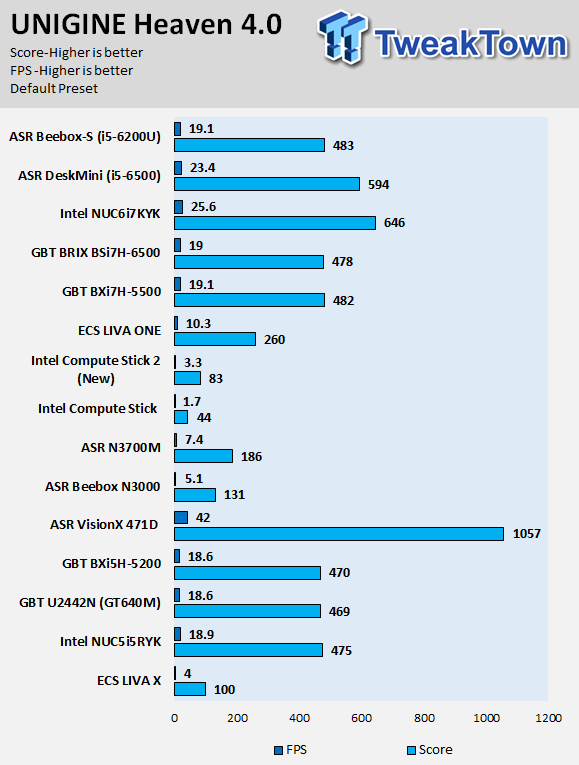 Resident Evil 6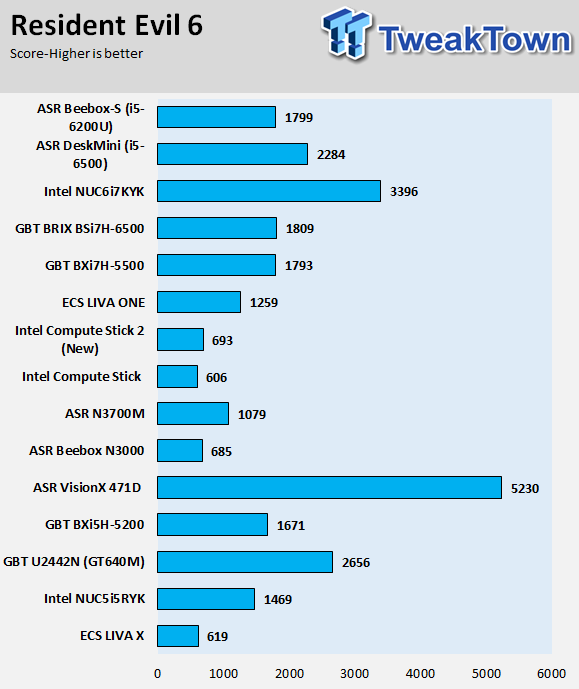 Storage and Network Performance
CrystalDiskBench-Read: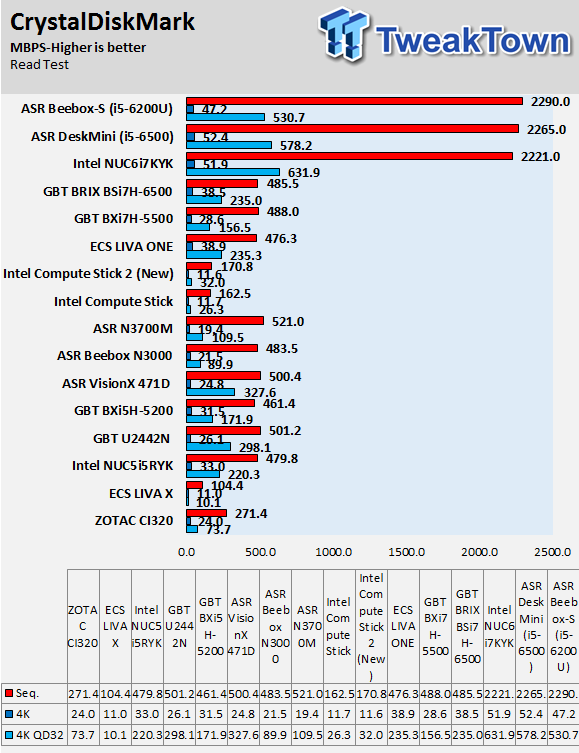 CrystalDiskBench-Write: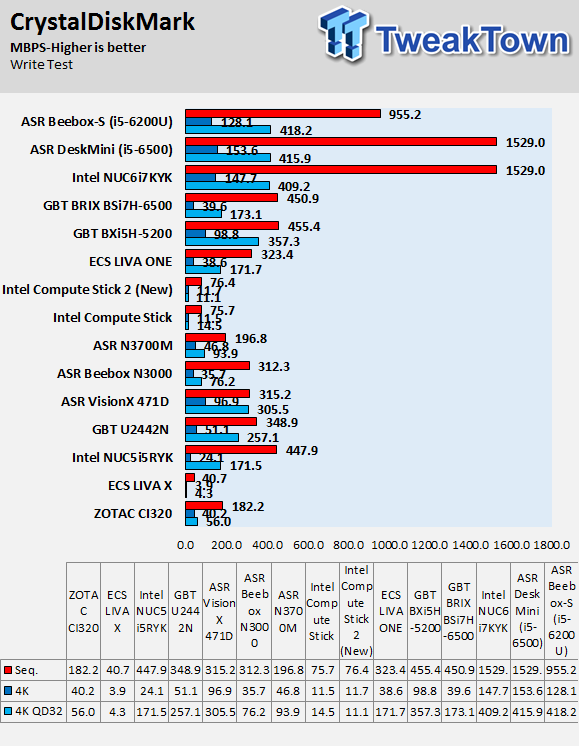 ixChariot Network Throughput: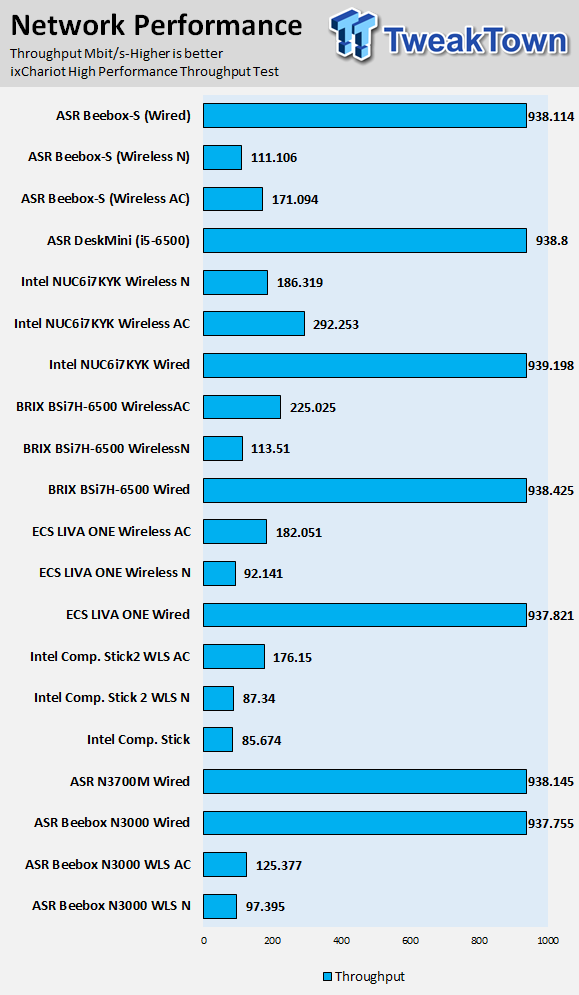 The Beebox-S is exactly where it should be in regards to overall CPU/memory/graphics performance because all of the performance is in the SoC. The i5-6200U scores right in between the i5-5500U and i7-6500U, showing good generational improvements along with the lower performance compared to a faster CPU of the same generation.
Intel's integrated graphics follow the same type of trend. It doesn't seem like ASRock has gimped this machine's TDP, which is a great thing. Overall, I was impressed by the real-world performance of the machine. You would be hard pressed to call it slow or sluggish, and that is because of Intel's improvements in lower wattage areas and the advancements in solid state storage.
Temperature and Power Consumption
Power Consumption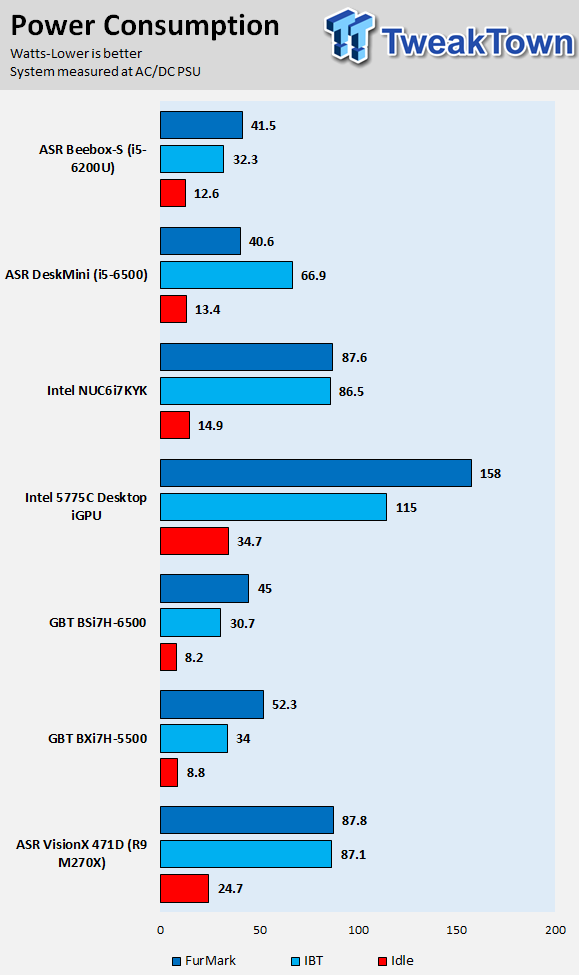 The power consumption of the Beebox-S puts it right in between an NUC and a full-fledged desktop, further bridging the gap between the two.
Thermal Testing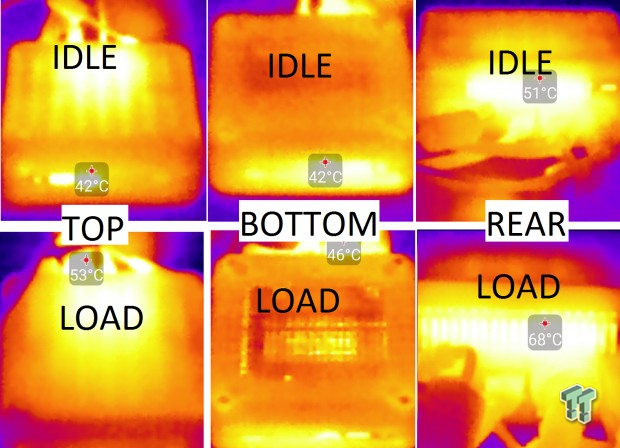 There is roughly a 10C increase from idle to load after running FURMARK for 30 minutes. Running that program is very unrealistic compared to normal usage, I only used it to test how hot the unit can get. I was surprised by how well the unit handled the increase in temperature, especially when it came to noise.
The unit didn't howl because the fan was maxed out, and I would venture a guess that the fan curve is setup to allow for higher temperature operation before the fan goes to 100%. The CPU can handle high operating temperatures (it is a mobile CPU after all), so why try and keep it super cool? I saw the same technique on the Skull Canyon NUC.
What's Hot, What's Not & Final Thoughts
Here are key points about the ASRock Beebox-S.
What's Hot
Small In Size But Not Storage: The Beebox-S is very small - one of the smallest NUCs I have reviewed - but it still can fit a 2.5" drive in its lid and a 2280 M.2 SSD. At first glance, you would think there is no way a 2280 M.2 drive could fit. ASRock's tiny bracket allows you to extend the screw hole out a few millimeters extra from the 2260 hole so that it screws in right above some of the IO ports. I also had no problem whatsoever with my 950 Pro NVMe drive and the Beebox-S.
Intel i5-6200U Skylake-U: At 15W, Intel's i5-6200U is quite formidable. The previous Beebox used an N3000 Celeron, and I figured since the device was so small the sluggish performance was acceptable, but the i5-6200U proved me wrong. The i5-6200U brings some serious performance increases to the table. The unit is faster not only in benchmarks but also real-world performance.
4K Anyone?: Many older devices have trouble playing 4K video smoothly, but Skylake CPUs bring dedicated 4K hardware to the table so that you don't need a $300+ GPU to playback what you recorded without lag. The Beebox-S takes things a bit further by improving the standard HDMI output. The device has two HDMI ports. The first is an HDMI 1.4 port which is shared with the DisplayPort and can output 4K at 30Hz. The second is an HDMI 2.0 port from a dedicated MegaChips IC that can output 4K at 60Hz. The Beebox-S can even output both HDMI ports or the HDMI 2.0 and DisplayPort at the same time, so you can actually use two 4K monitors side by side watch a movie on one and do work on the other.
USB 3.1 and 1GBit NIC: I wasn't expecting USB 3.1 because of the size constraints. Since USB 3.1 isn't native to the SoC, vendors must use a third-party IC. ASRock is using the ASMedia ASM1142 more commonly found on desktops to drive the USB 3.1 type-C port at the front. The unit is also using the i219v; the same Intel PHY used on desktop CPUs, and network performance is excellent.
What's Not
Glossy Surface: The glossy surface looks nice, but it's a fingerprint magnet.
Tight Fit: The Beebox-S is a tight fit if you install the longer 2280 M.2 drive and a 2.5" SSD. I was able to install both, but you have to be very careful with the SATA wiring when you close the device. I also wasn't sure how to install the M.2 extension bracket; I didn't think of unscrewing the preinstalled standoff until I read the manual.
Final Thoughts
At $319, the Beebox-S isn't cheap, but you get what you pay for. The unit carries a very formidable 15W Intel Skylake SoC with enough horsepower to do basic desktop tasks. Productivity won't be hampered by the CPU as long as you aren't doing heavy editing, rendering, or gaming. I also liked that the unit didn't get very loud when I stressed it to maximum levels, but it does get a bit warm. The hardware that ASRock used is also top notch; the VRMs are built from very high-quality parts so that they won't overheat.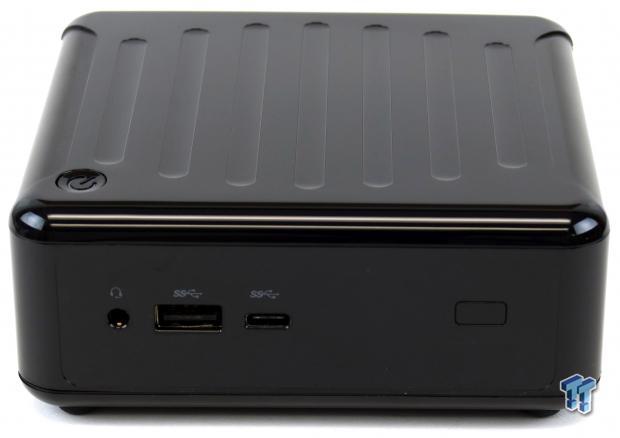 ASRock's addition of the HDMI 2.0 port was unexpected. When teamed with the IR remote, you can see how this could be a really good 4K streaming device. It's not easy to playback 4K outside of YouTube, which heavily downgrades quality. I was very impressed with the performance of this little device, especially considering its size.
At $319, the unit still requires storage, memory, and OS so you will end up spending close to $550 for a very capable system. However, if you want high-performance features in a tiny space, the ASRock Beebox-S might be exactly what you are looking for.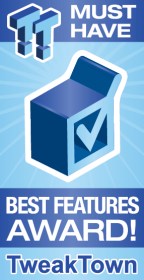 | | |
| --- | --- |
| Performance | 90% |
| Quality including Design and Build | 92% |
| General Features | 95% |
| Bundle and Packaging | 89% |
| Value for Money | 89% |
The Bottom Line: ASRock's Beebox-S is a very tiny mini PC designed with high performance desktop grade features that won't disappoint.
PRICING: You can find products similar to this one for sale below.

United States: Find other tech and computer products like this over at Amazon.com

United Kingdom: Find other tech and computer products like this over at Amazon.co.uk

Australia: Find other tech and computer products like this over at Amazon.com.au

Canada: Find other tech and computer products like this over at Amazon.ca

Deutschland: Finde andere Technik- und Computerprodukte wie dieses auf Amazon.de
We openly invite the companies who provide us with review samples / who are mentioned or discussed to express their opinion. If any company representative wishes to respond, we will publish the response here. Please contact us if you wish to respond.