TweakTown's Rating: 94%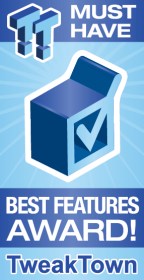 The Bottom Line
Pulsating LEDs, aesthetically perfect for the latest ASUS ROG motherboards, and an overclockers dream! The Avexir Impact ROG Certified DDR4 delivers in every aspect, but you will need to shell out near triple the price to obtain this kit over its direct competitors.

While we have never dealt with Avexir personally before the kit we are about to show you arrived, they do come with a lot of hype and fanfare preceding them. What we have learned while trying to hunt this Snipe of the memory world, is that no matter the style you are looking for, Avexir has a unique look to suit many various tastes. While Avexir did some crazy things with DDR3, as we have watched news posts and multiple videos playing on social media, it seems Avexir is just getting started. If you look at the product lineup today, they not only offer a very solid product with a lifetime warranty backing it, the heat spreader designs and lighting effects are second to no other RAM maker on this planet.
So, where could Avexir go next if they already offer some of the most hyped up memory out there? Well, they can always go beyond color matching a company's motherboards, and move right into partnerships, in which they can certify their memory for a particular series of motherboards. This means, not only will the memory look the part, but with fine tuning of the kits to, in this case, ROG motherboards, performance and reliability can be taken to a higher standard. This also means that rather than offering just a basic XMP profile, they can provide a specially certified profile to overclock the memory with just one click in the BIOS, and not having to worry about it flaking out in the long run. It is made to do this, and also is covered by the warranty for this.
While we may be a bit more excited than most to get our hands finally on some Avexir memory, let us get right to the point of why we are here. Avexir has sent us a kit from their Impact line of memory, and it is indeed ROG certified for all ROG boards in the X99 and Z170 chipsets. It's time to see if all the hype about their performance and overclocking prowess is real, as we offer you our take on the 16GB kit of Avexir Impact ROG Certified 2666MHz RAM, and put it through our paces.
The packaging is eye catching, and being ROG Certified, it only makes sense to have red and black as the colors on the box. The "perfectly matched design" of these Impact sticks shown off to the left show just how well this kit will accompany any ASUS ROG motherboard using DDR4.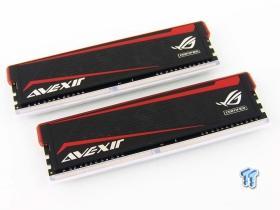 Inside of the box, you will find these attractive RAM sticks. The stylized black section of the heat spreaders looks like circuitry, and the red accents are angular and match the ROG motherboard accents well. Of course, there is also an Avexir name off to the left, and a large ROG Certified emblem to the right. We also love the use of a black PCB, and the fact that these come with protection for the gold pins along the bottom edge.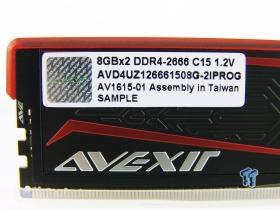 On the reverse of the sticks, each one offers a product sticker with a holographic section at the left, and the information presented to the right. We see these are 8GB sticks running at 2666MHz with a CAS of 15, at just 1.20V each. We can also see the very long part name, and that they marked this kit as a "SAMPLE" rather than offering a serial number.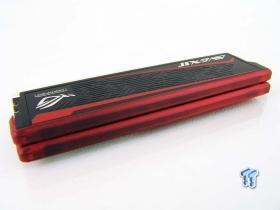 The top of the Impact ROG Certified memory offers a long red plastic strip that covers both ends, as well as the top edge. Under this translucent piece, there are four sets of two LEDs that run along the top, and they pulse on and off when powered.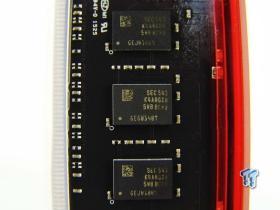 These sticks are single sided, and on the side that holds the Samsung ICs we found here, the heat spreader is held on with gray thermal tape on this side. The other spreader section it held on with a thicker foam tape to keep the spreaders evenly spaced on the PCB.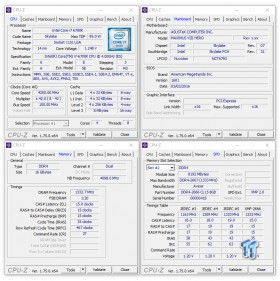 As we first powered up with the Avexir Impact sticks in our test rig, we selected the XMP profile in BIOS and booted to this. Here you can see we are running at 2666MHz with 15-15-15-35 2T timings, and we also verified that they are using 1.20V at this time.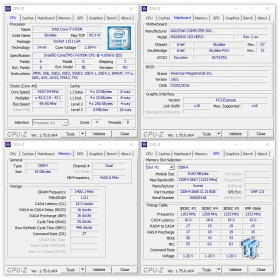 While in BIOS selecting the XMP profile, we noticed one marked ROG as well. Selecting that profile gave us a speed boost, and at this point, the memory is now running 2800MHz with slightly relaxed timings of 15-16-16-35 2T. Also, note the tRFC has increased along with the voltage, which is now 1.35V.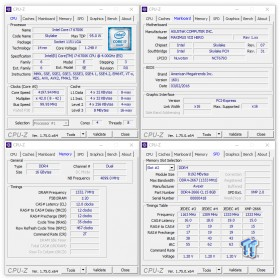 Moving away from the default options, we wanted to see how low the timings would go, using 1.35V as out VDIMM maximum. We were very surprised to see the Avexir Impact kit to drop down to 12-12-12-35 2T at 2666MHz timings, and still be stable.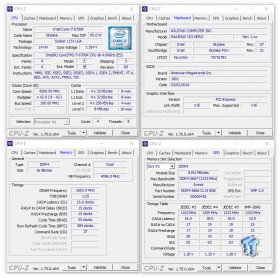 As we always do, we also look for the maximum overclock in speed using the same voltage limits, and in the endeavor, we added near 700MHz using the XMP timings. With 15-15-15-35 2T timings and just 1.35V, this kit leaped to 3333MHz without an issue along the way.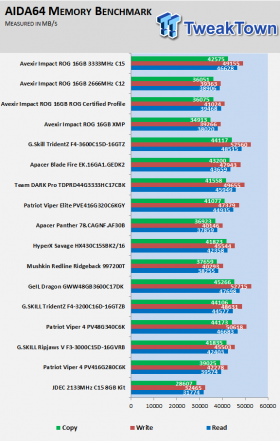 Using the XMP profile does not offer what the ROG profile is capable of offering, but this Avexir kit does perform with other 2666MHz and 2800MHz kits seen on the chart. CAS 12 may have been taking it a bit too far as we see performance drops, but when unleashed to 3333MHz, the Impact sticks outshine kits with similar speeds.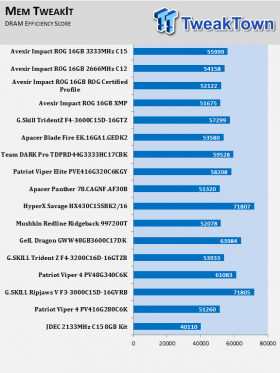 MemTweakIt does show us improvements with each step we took in testing. Our results are admirable here, not outstanding, but Avexir holds their own compared to the other kits at similar speeds.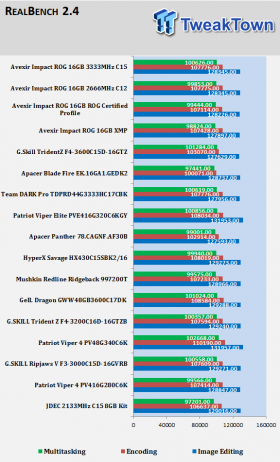 All of the results found using RealBench all play right in where they should, no surprises here. No matter how we set this kit, the Avexir Impact took it, gave us reliable results using that setting, and compares close to others in the chart that go along with the four ways we ran this kit.
As you go to look for your very own set of ROG Certified Impact sticks like we have, you will find them in four variations. All are 2666MHz in speed, but you can buy them in 2X4GB and 2X8GB kits for Z170, and in 4X4GB and 4X8GB configurations for X99, and pricing swings from $79 on the least dense kit, and can go as high as $299.99 for the X99 32GB kit. As for the 16GB kit we tested in dual channel, we found them listed on Newegg for $179.99, but if you shop at Amazon, currently they are only $148.99 there. For as much style, flexibility, and reliability as this kit offers, we can see many users opting for these for their ROG boards, no questions asked. The reality is, however, that this kit does sell with a huge premium attached, but to get something so special, it usually comes with a higher cost associated with it.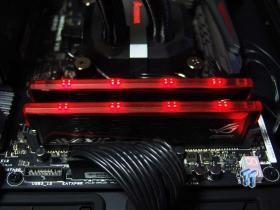 The aesthetics are what sells most kits of memory to ninety percent of the system builders out there. In other words, the kit has to match the theme of the build, and that carries a lot of weight when making the decision to pull the trigger on any kit out there. That being said, if you are the owner of an ASUS X99 or Z170 ROG motherboard, there are not many mainstream sets available that can hold a candle to the overall combination of these Avexir Impact ROG Certified sticks have with an ASUS ROG motherboard. On top of this, you still get the results expected from a kit of this speed, and the additional bonus of the ROG profile to auto-overclock this kit to a level that Avexir feels is not only safe, but it adds a boost of performance as well. To be honest, we got a ton of enjoyment out of this kit when overclocking them, and we feel that if you have the grapes to take voltage a bit further, this set of Impact DDR4 still had more to offer.
The hype surrounding Avexir is real and is well worth your attention. With performance being right where it should be, no matter how we ran them, anyone with an X99 or Z170 ASUS ROG motherboard should take notice of these kits. We had plenty to play with as far as headroom is concerned, and with 667MHz to gain in our testing, the Avexir Impact ROG Certified kit we were sent has been a complete pleasure to deal with. It is rare that we get kits that offer on every aspect of what RAM users want from their DDR4, but Avexir covers everything so well, it may just put the nail in coffins of many other manufacturers.
Chad's DDR4 Dual-Channel Test System Specifications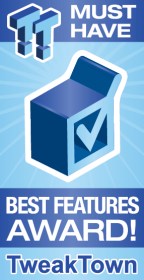 | | |
| --- | --- |
| Performance (including Overclocking) | 97% |
| Quality including Design and Build | 99% |
| General Features | 100% |
| Bundle and Packaging | 95% |
| Value for Money | 80% |
The Bottom Line: Pulsating LEDs, aesthetically perfect for the latest ASUS ROG motherboards, and an overclockers dream! The Avexir Impact ROG Certified DDR4 delivers in every aspect, but you will need to shell out near triple the price to obtain this kit over its direct competitors.
PRICING: You can find products similar to this one for sale below.

United States: Find other tech and computer products like this over at Amazon.com

United Kingdom: Find other tech and computer products like this over at Amazon.co.uk

Australia: Find other tech and computer products like this over at Amazon.com.au

Canada: Find other tech and computer products like this over at Amazon.ca

Deutschland: Finde andere Technik- und Computerprodukte wie dieses auf Amazon.de
We openly invite the companies who provide us with review samples / who are mentioned or discussed to express their opinion. If any company representative wishes to respond, we will publish the response here. Please contact us if you wish to respond.