TweakTown's Rating: 94%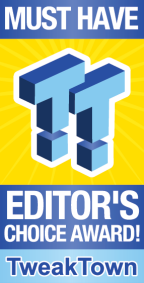 The Bottom Line
When it comes to productivity, the Seagate Enterprise Capacity 10TB hard drive has it all - Capacity, Performance, and a 2.5 Million hour MTBF!
Introduction & Specifications, Pricing and Availability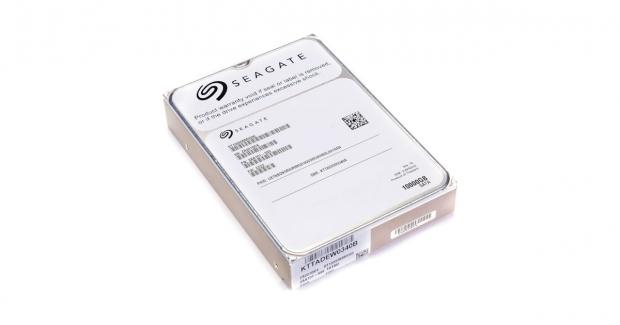 Late last week I was talking to Seagate about Desktop HDDs and upon going through their portfolio, looking at model numbers came across this 10TB solution. As distracted as I was, I inquired about these drives, and here I am Tuesday morning, and the drives just arrived. Straight out of the packing and shipping materials, you can tell these drives are completely different; the casings appear to be machined instead of forged and that alone reduces weight.
Seagate touts these drives as low power and low weight solutions, and while I cannot comment on the power consumption of these just yet, there is a noticeable difference in weight as I mentioned above. With that said these drives pack in a lot of technology to get 10TB of capacity including a completely new design that leverages a seven platter and fourteen head design. Helium has been added to the recipe, which also includes Seagate's PowerChoice and PowerBalance technologies, these two technologies work in tandem to reduce power consumption and offer an optimized IOPS/Watt efficiency.
These are very important metrics as this solution is rated for 550TB/yr workloads, which is equal to 10x a typical desktop drive, and adding to this Seagate has increased the MTBF to 2.5 million hours.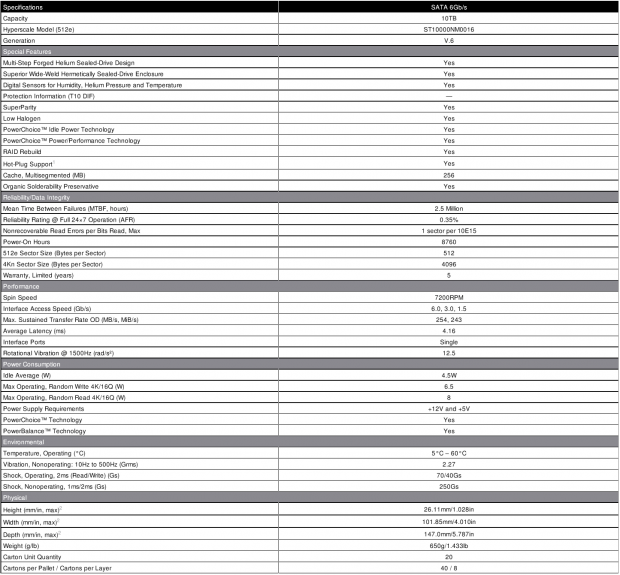 It took some digging around to find a spec sheet for these drives but alas, I was able to find it. This Enterprise Capacity solution comes from the 6th generation of drives and offers a full lineup of features including sensors for humidity, helium pressure, and temperature. Further down, we have mention of the cache, which is 256MB and just a few more lines down the MTBF and NREBR that is at 10e15. Spindle speed is set at 7200RPM with a sustained transfer speed of 254 MB/s and an average latency of 4.16ms.
Power consumption is said to hover around 4.5w at idle, while in use is said to consume between 6.5 to 8 watts.
At the time of writing, we had no MSRP set in stone. Looking around, I have found this drive anywhere from $609.99 and $649.99 with a five-year warranty.
Drive Details
Seagate Enterprise Capacity 3.5 10TB Helium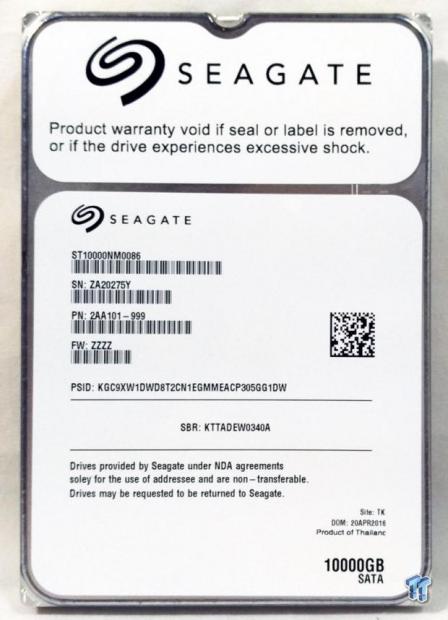 This solution, as I stated in the introduction, has an entirely new design. As you can see, even the stickers are much different. Capacity is listed at the very bottom right.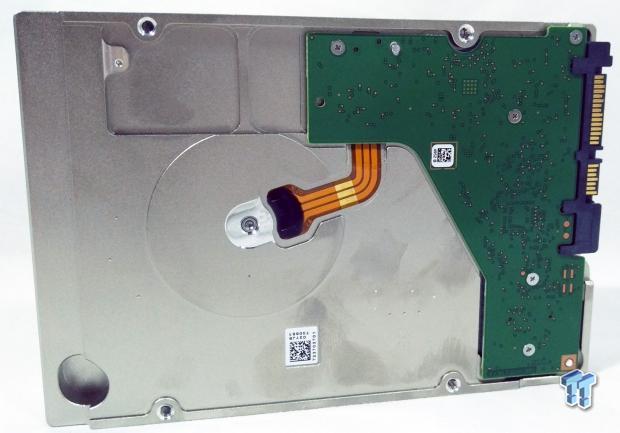 The backside of the enclosure leaves room open for more PCB. Perhaps an SSHD version in the future?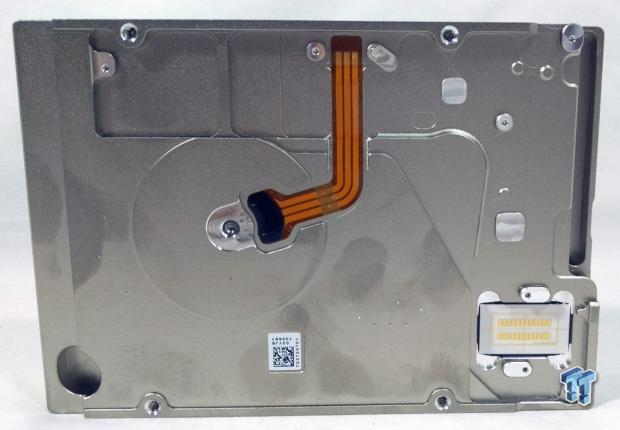 Seagate has chosen to flip the connectivity with this helium solution. We now have the pins on the PCB and the pads on the drive itself.
Pulling off the PCB, we have a Seagate-branded controller in the center with a Smooth motor driver at the top. 256MB of cache comes from Winbond.
Benchmarks - Test System Setup and ATTO Benchmarks
Tyler's Test System Specifications
ATTO - Baseline Performance
Version and / or Patch Used: 2.34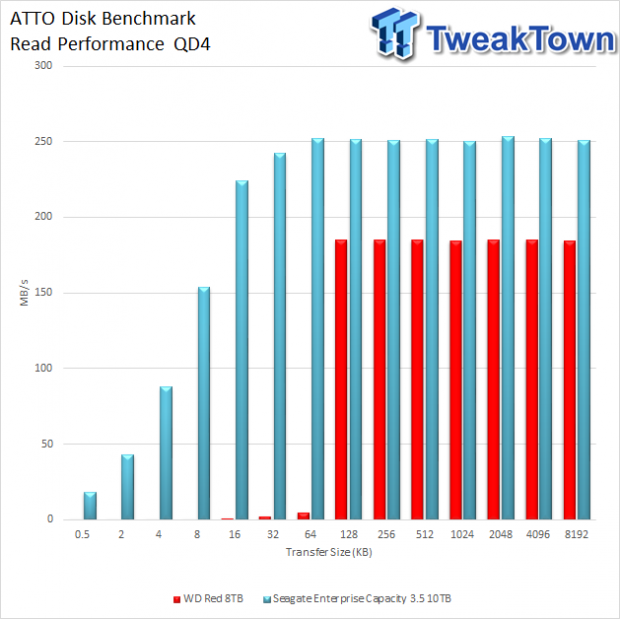 Starting out testing, I have just the 8TB Helium drive from WD to compare. A little further on and I will throw in the SMR Archive drive from Seagate as well. As you can see, the 10TB is a rather quick drive and adding to this it ramps up pretty quick as well, in ATTO read it peaked at 252 MB/s.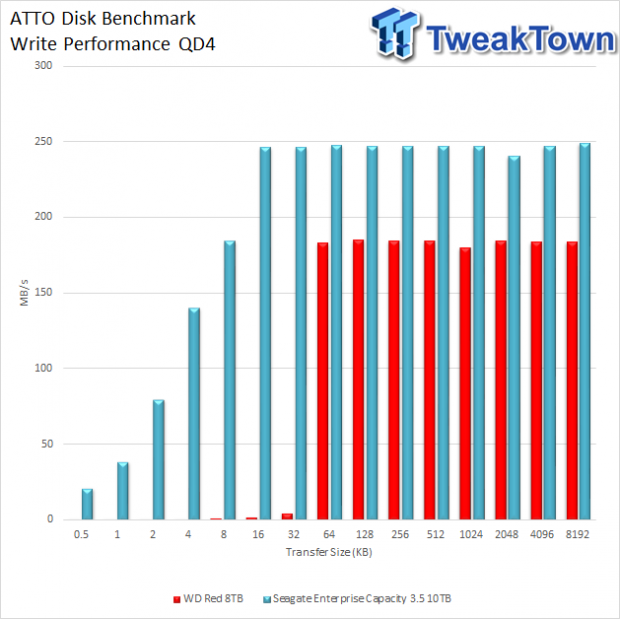 Write performance was just a touch slower at 248 MB/s.
Benchmarks – 4K Random Performance & Latency
IOMeter – 4K Random Performance with QD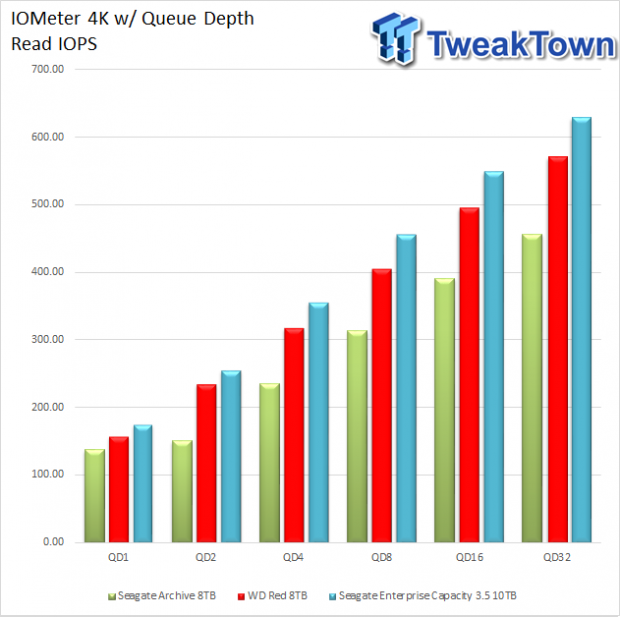 Starting our Iometer testing with 4K, I found the 10TB solution a touch quicker than the 8TB from WD. Closer inspection shows a near 25% increase in performance over the 8TB Archive at QD32.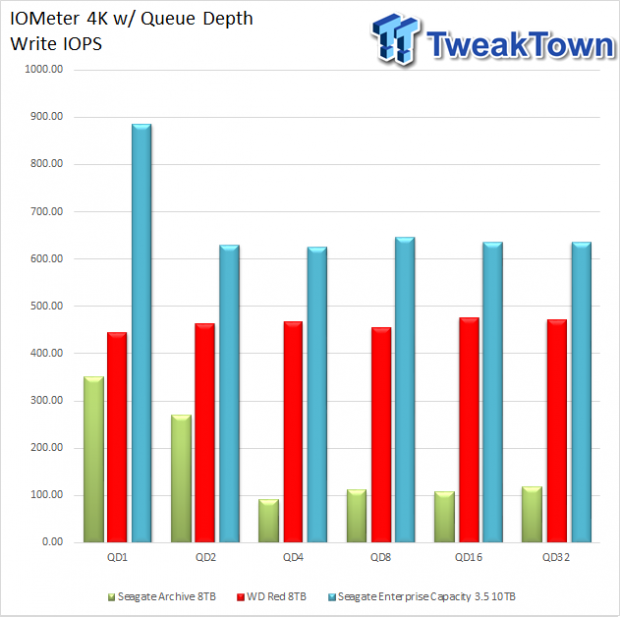 Write performance touched near 900 IOPS for a second, then things calmed down and averaged around 600 IOPS.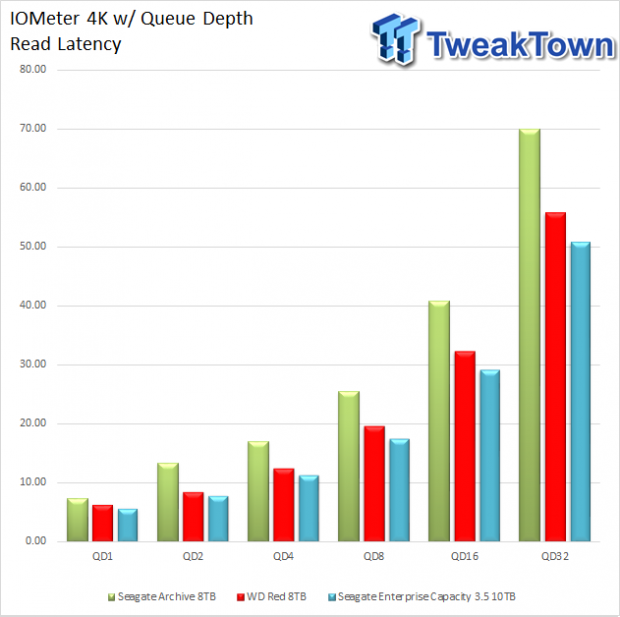 The latency results show solid performance as the Enterprise Capacity scales quite well from under 10ms at QD1 to 50ms at QD32.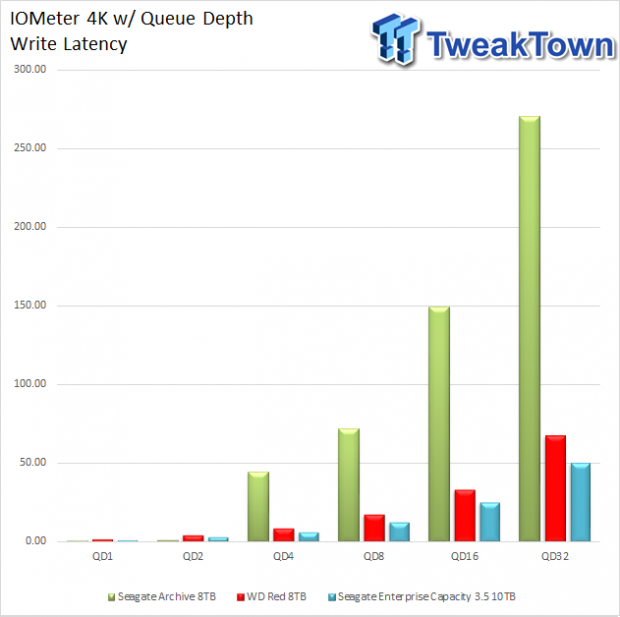 I don't think this new 10TB design leverages any SMR technology. As you can see in comparison to the Archive, the 10TB drive has much better latency at high QD.
Benchmarks – Sequential Performance & Latency
IOMeter – Sequential Performance with QD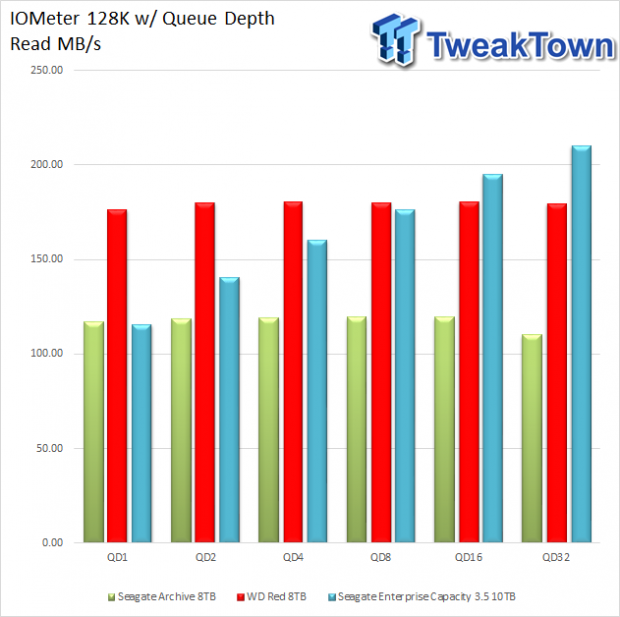 Sequential performance had the 10TB reaching just over 200 MB/s at QD32.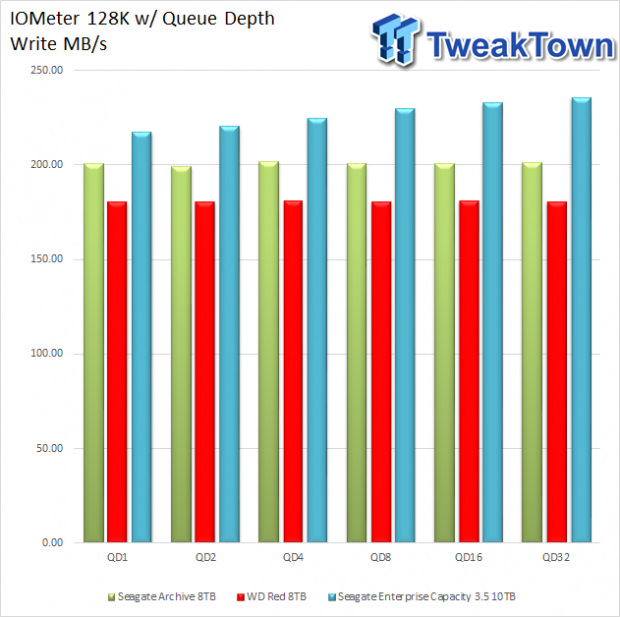 Sequential write was rather interesting, starting at 225 MB/s at QD1 and ramping to 245 MB/s at QD32.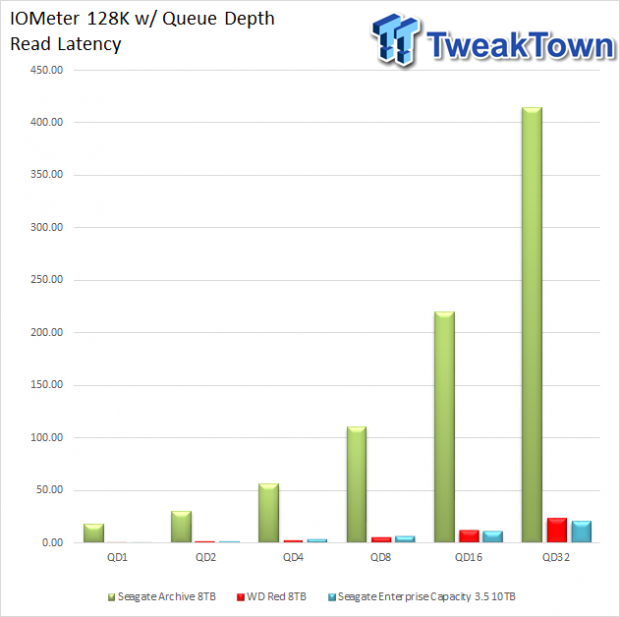 Read latency was rather low with the 10TB solution, right with the 8TB from WD.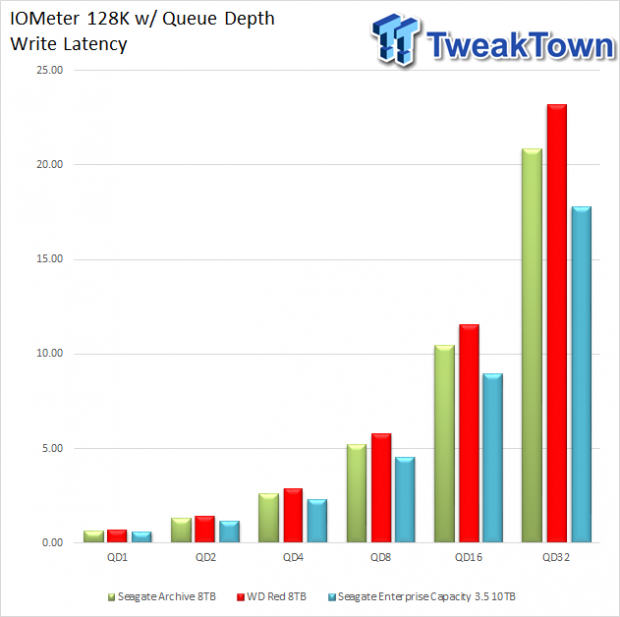 Write latency started well under 1ms but ramped to a peak of 17ms at QD32.
Benchmarks – Workloads
IOMeter – Workload Performance with QD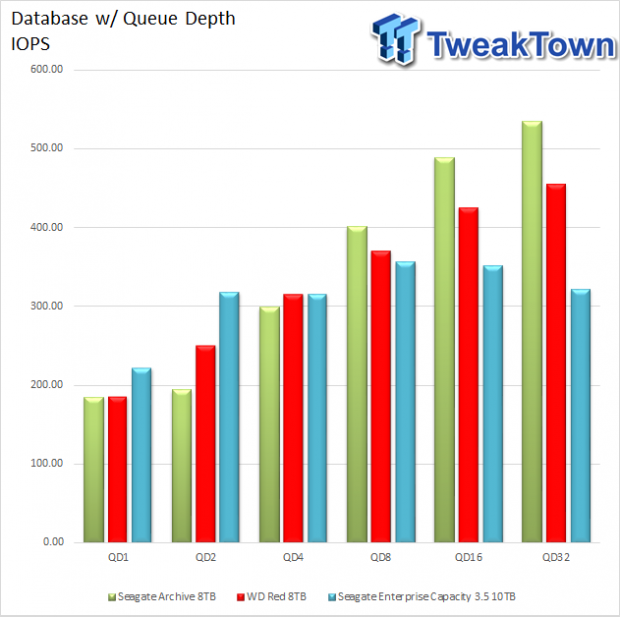 Workloads were not the greatest for the 10TB solution. Database started just over 200 IOPS at QD1 scaled up to 350 near QD8 then dropping off closer to 300 at QD32.
File server peaked near QD8 reaching 375 IOPS.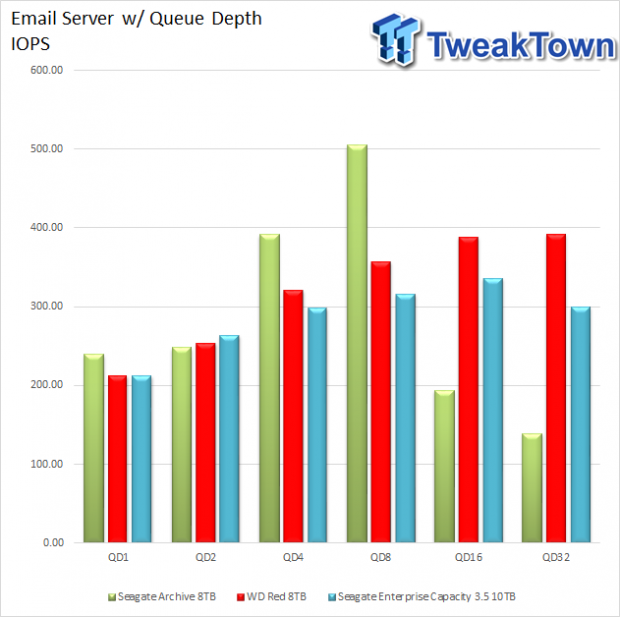 Email server had consistent performance around 300 IOPS start to finish.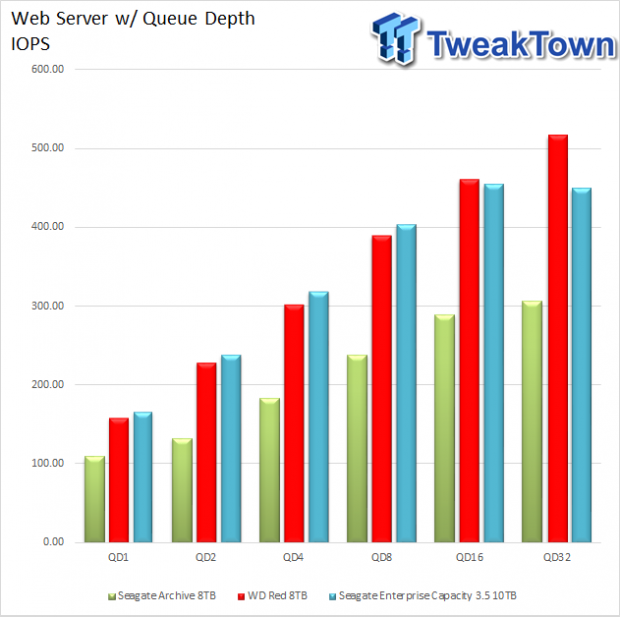 Web Server was by far the best workload for the 10TB solution, as it was able to reach very close to 500 IOPs at QD16.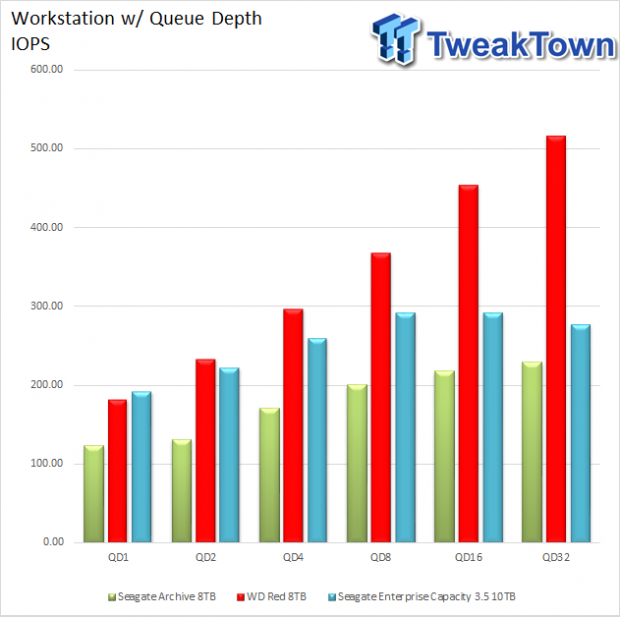 Workstation has the EnCap 10TB again very consistent at 300 IOPS.
Benchmarks – Legacy Benchmarks
Legacy Benchmarks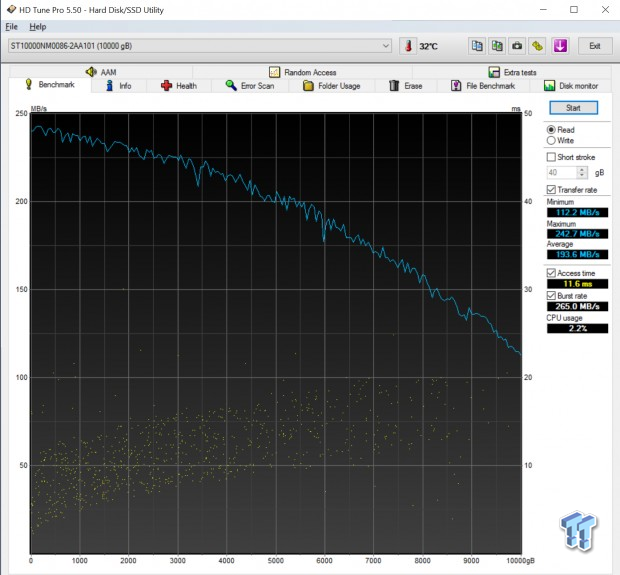 It has been awhile since I have used HDTune and many other benchmarks in a review. I thought with the 10TB it might be a solid tool for comparison for many of you so here we go starting with HDTune read. Starting at 242 MB/s the drive has a rather slow decline in performance, which was surprising as I thought performance would drop when the cache was full. Burst throughput was 265 MB/s while peak access was 11.6ms.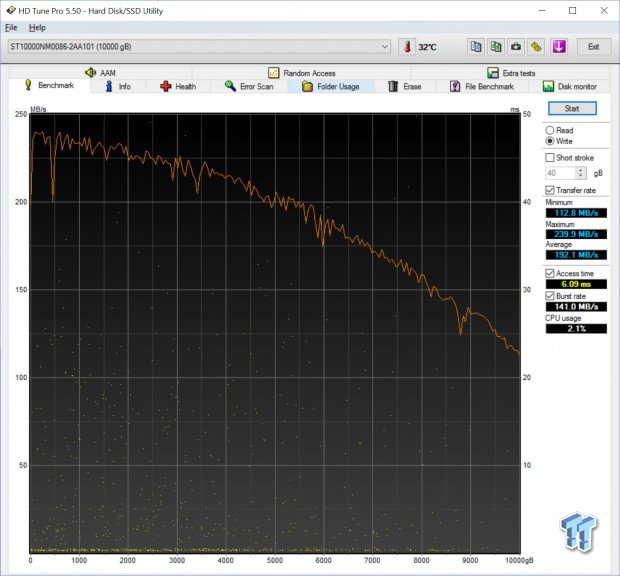 Write performance was quite similar although we start at a lower 239 MB/s and end at 112 MB/s.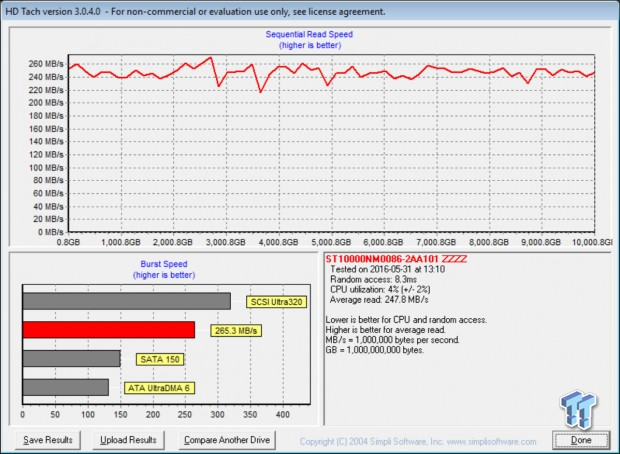 Moving to HDTach 8MB zone test, the 10TB Helium drive reached a burst of 265 MB/s once again with a solid sequential speed of 247 MB/s.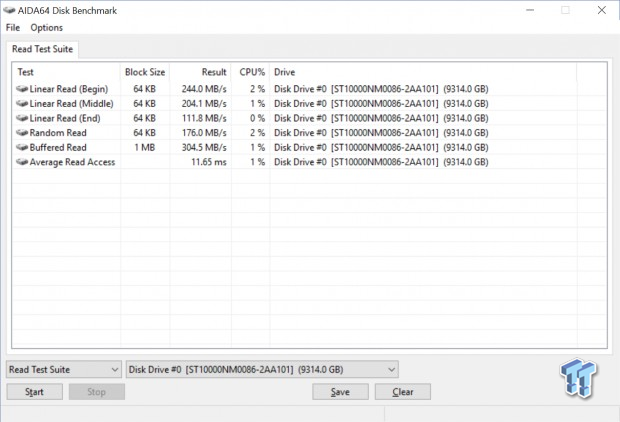 AIDA64 showed solid promise with 244 MB/s in read and 176 MB/s in random read. Buffered read reached a nice 304 MB/s.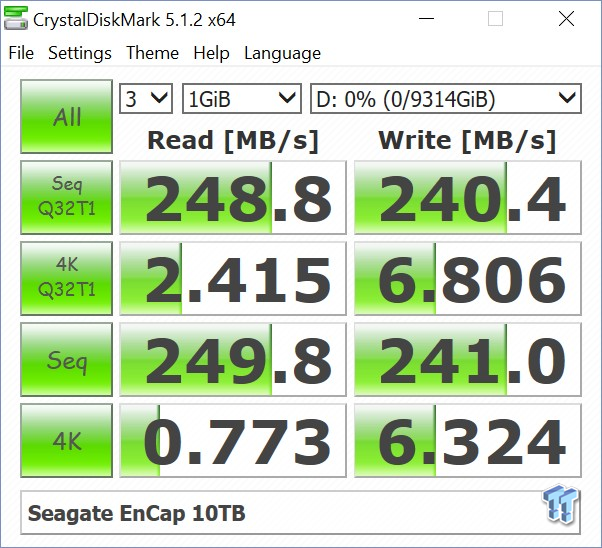 Last, we have CDM where the EnCap 10TB came in at 249 MB/s read and 241 MB/s write.
Power Consumption and Final Thoughts
Power Consumption
Our custom power testing samples each drive for a period of three minutes, across each workload. In order to offer more granularity, we sample the power in one-second intervals.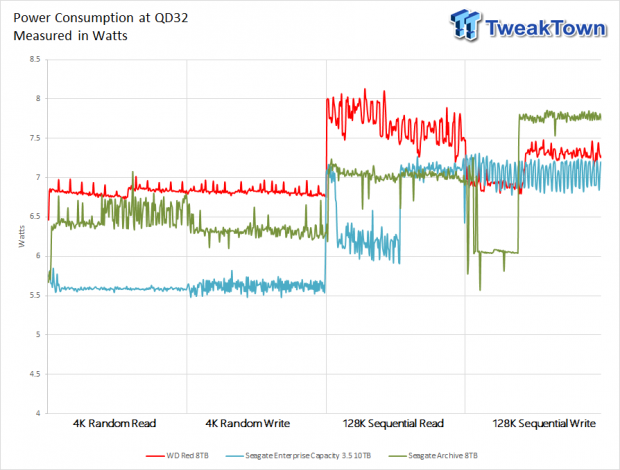 Diving back to power consumption, the Enterprise Capacity 10TB impresses even more as you can see in random workloads we ran just above 5.5 watts then transitioning into sequential we had a small spot where it appears the drive filled its cache. Peak consumption reaches a hair over seven watts in testing.
Final Thoughts
If I am honest, I am very impressed with this 10TB solution from Seagate. I never expected these drives to be as lightweight as they are nor did I expect such a drastic design change. Build quality seems to be top tier with these as the entire process in which they use to seal these drives starts with what appears to be a machined aluminum enclosure over the old molded design.
Performance too is quite amazing; I do not think I have ever seen a platter drive go over 200 MB/s and the Seagate Enterprise Capacity does it with ease, repeatedly. Starting with ATTO, I had read performance right up to the specifications limits of 254 MB/s while moving into 4K read and write the 10TB scaled quite well to a peak of 625 IOPs.
Sequential performance with IOMeter reached a comfortable 230 MB/s read and write, and when I swapped over to legacy benchmarks, we found more of the same. Power consumption, as seen above, is 25% lower than the 8TB Red in random and 15% lower than the Archive 8TB while sequential had the Red and Enterprise Capacity 10TB using near 7 watts.
In closing, the Enterprise Capacity 10TB is an amazing benchmark in the storage industry, as Seagate has proven the reliability and performance gains that come with helium.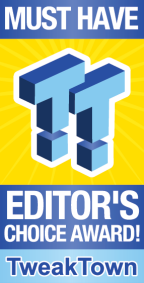 | | |
| --- | --- |
| Performance | 96% |
| Quality including Design and Build | 95% |
| General Features | 95% |
| Bundle and Packaging | N/A |
| Value for Money | 90% |
The Bottom Line: When it comes to productivity, the Seagate Enterprise Capacity 10TB hard drive has it all - Capacity, Performance, and a 2.5 Million hour MTBF!
PRICING: You can find products similar to this one for sale below.

United States: Find other tech and computer products like this over at Amazon.com

United Kingdom: Find other tech and computer products like this over at Amazon.co.uk

Australia: Find other tech and computer products like this over at Amazon.com.au

Canada: Find other tech and computer products like this over at Amazon.ca

Deutschland: Finde andere Technik- und Computerprodukte wie dieses auf Amazon.de
We openly invite the companies who provide us with review samples / who are mentioned or discussed to express their opinion. If any company representative wishes to respond, we will publish the response here. Please contact us if you wish to respond.