Razer Kraken Mobile Gaming Headset Review
Designed to help you frag around the globe, how does Razer's Kraken Mobile Gaming Headset stack up? Let's find out.
Published Mar 26, 2016 5:40 PM CDT
|
Updated Tue, Nov 3 2020 6:58 PM CST
5 minute read time
TweakTown's Rating: 54%
The Bottom Line
Mobile by name but not by nature, Razer's Kraken Mobile Gaming Headset doesn't match the marketing and doesn't perform as well you might expect.
Introduction
Released as part of the speciality Neon series, the Razer Kraken Mobile Gaming Headset I have with me today is designed to be your personal gaming companion, working as a handy accessory to connect predominantly to Apple iOS devices.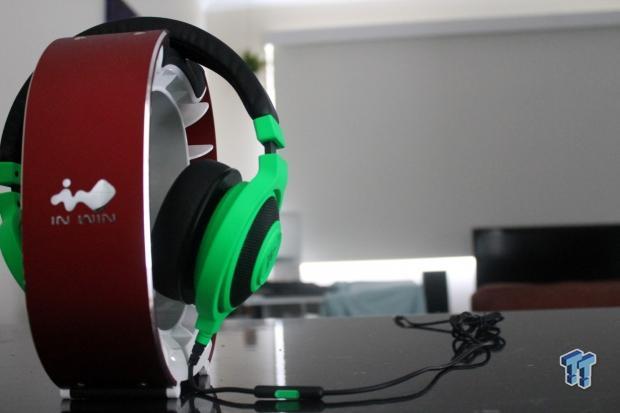 Designed to provide you with seamless iOS integration, Razer has released this series of headsets in some wild color schemes to cater to a wider audience.
While we're not expecting mind blowing positional FPS audio out of a headset that's branded for mobile gaming, we want to find out how it stacks up against the rest. This headset will have to be portable, comfortable and sound crisp to become your next travel companion. Read on to see what I think.
Specifications
Utilizing 40mm neodymium drivers to push a frequency response of 20 – 20,000 Hz, this headset is further rated at an impedance of 32 Ohms and carries a sensitivity of 110 +/- 4dB. These specifications show it to be sitting in the mid-range of gaming offerings, with most $50-$120 headsets offering this exact frequency response plus similar impedance and sensitivity ratings.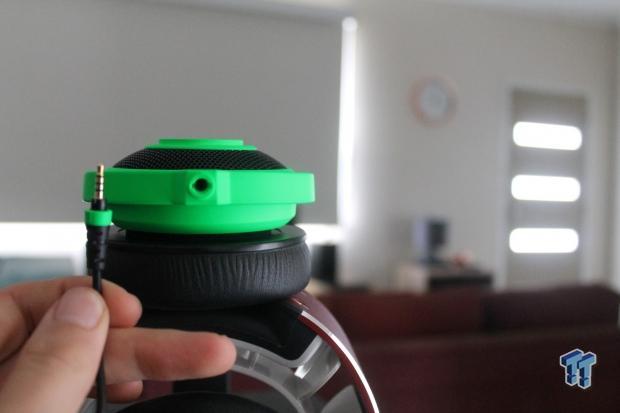 Designed mainly for connection to Apple iOS devices, this product can be connected to most portable devices through the removable 4.27ft (1.3m) cable, providing a 2.5mm locking connection at one end (for the headset) and a 3-ringed (4 pole) connection at the other for microphone and audio through a single port.
Weighing in at 0.69lbs (315g), it isn't the lightest on the market. Keep in mind that this weight also takes into account that there is no included boom microphone here, but an instead there is an included in-line microphone on the cable itself.
The microphone is designed to pick up sound in an omnidirectional format, further providing a standard frequency response of 100 – 10,000Hz and a sensitivity of -42 +/- 3dB. The in-line control unit carries various functions including the actual microphone, sound mute, song skip, and volume adjustment.
Pricing & Availability
Available for $77.99 from Amazon with shipping included, this new product from Razer stacks up against the Noontec Zoro II HD Foldable Headphones which I reviewed a short while ago. Set with a sub-$80 price tag, this mobile headset is pushed into the mid-range of gaming audio.
What's in the box?
While this headset is mobile by name, the accessories show that it's not exactly mobile by nature. Understanding that it has been marketed towards use with smartphone devices mainly, there is a distinct lack of accessories that you may come to expect with a portable product.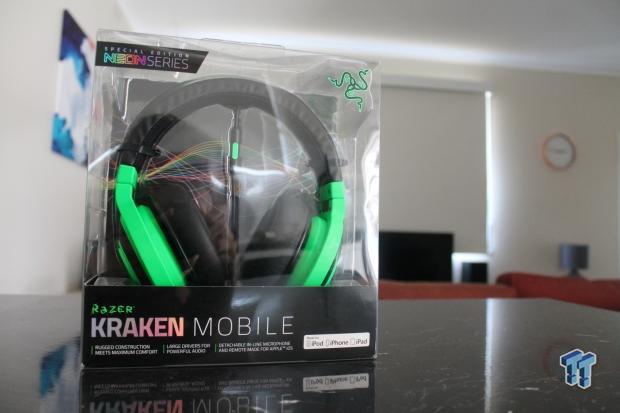 There's no carry pouch included here, which is something that will not only help you keep your headset safe when in transit, but will also help keep the detachable cable in your possession and not lost.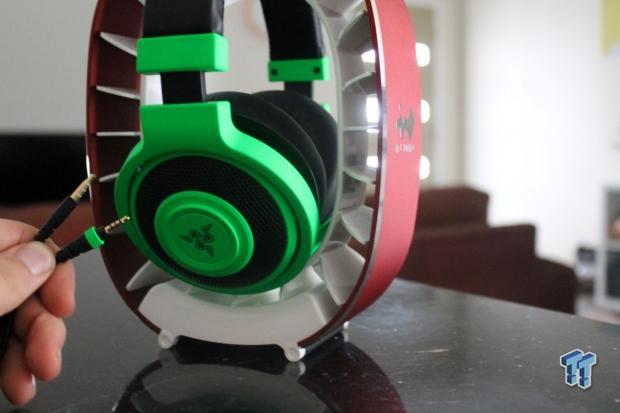 The cable could maybe be claimed as an accessory. However, it is vital to the operation of this headset, and it's just about the only thing inside this package. Besides a user manual and Razer sticker, there is nothing else to be found. I would have loved to see a carry pouch and possibly an aircraft adapter included with this buy, not having them leaves me a little confused as to what this "mobile" headset offers besides not including a boom microphone.
Let's dig deeper
The detachable cable is locked in by a screwing mechanism which is helpful to avoid losing the cable, with this headset also being foldable in nature it can be packed up well.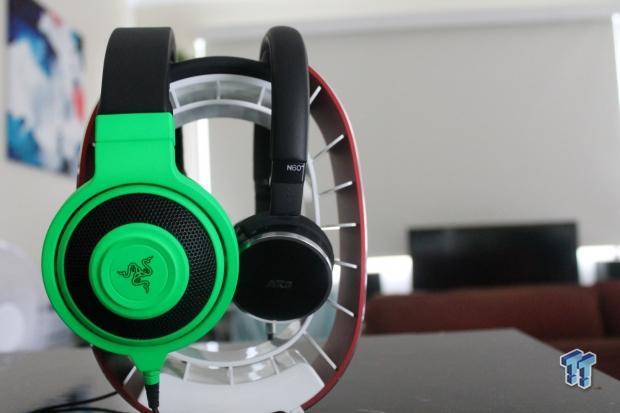 These two positives match the marketing and branding for this headset, but that's where the buck stops. The Razer Kraken Mobile headset is essentially the Razer Kraken Gaming headset with the microphone ripped out, meaning that it was designed for home use on a computer. This means that the headset is quite large, bulky, bright, and lacks mobile accessories.
The headset clamped a tightly on my head but eased in after some wear (but not enough), with the leather earcups feeling sufficiently soft and helping mask the long term wear discomfort. The whole time using this headset I couldn't help but think it was just created as something to tack on the end of a product catalogue, or there simply just to increase Razer's range.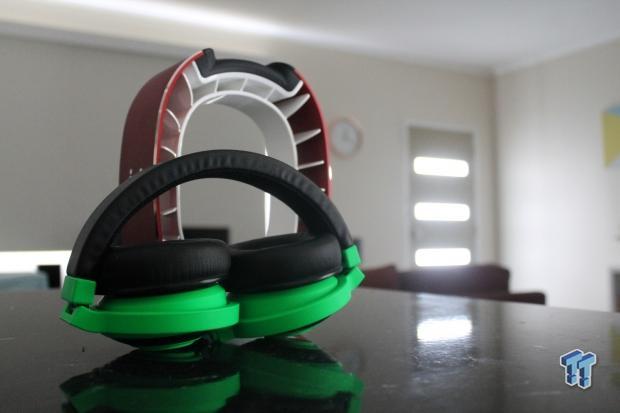 There doesn't seem to be the particular thought, consideration, and planning put into this headset as with other Razer products that I have looked at before. It almost seems that Razer has ripped off the microphone, thrown on some crazy colors (it also comes in pink, red, orange, yellow, and blue) and called it "Mobile." This is similar to how so many peripheral manufacturers of 2011 would throw in a million LEDs, sharp angles, and shiny plastic which justified labelling products as "gaming".
As for the design, it is a love or hate thing. Personally, I'm a fan of simple travel headsets or in-ear models, but lovers of flair will enjoy the pastel color design.
Tunes and some light gaming
I couldn't help but test this product out with a few rounds of CS: GO, along with extensive mobile sound testing (as this headset is positioned towards).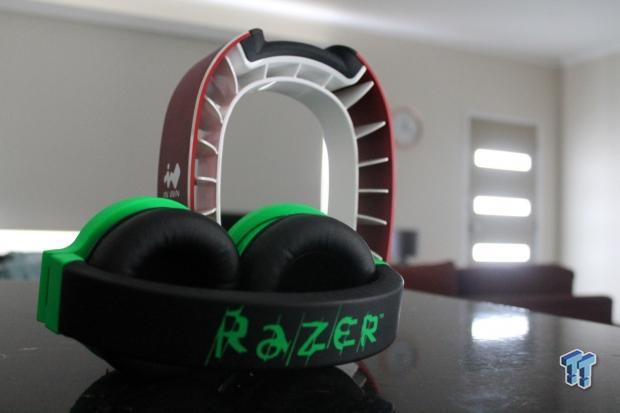 The issues with sound in this headset mirror that of the original Razer Kraken Gaming model and other similarly-priced headsets, showcasing problems regarding jacked up bass and washy clarity. Many songs or gaming titles will sound like you're listening to them through speakers located under a blanket, showcasing muffled sound and bass that overpowers everything else.
This is a step up from some headsets that offer no bass whatsoever, but it does provide something that's on the opposite end of the spectrum. While I did have initial issues with comfort that eased up towards the end of testing, the sound just wasn't up to par with what I was expecting.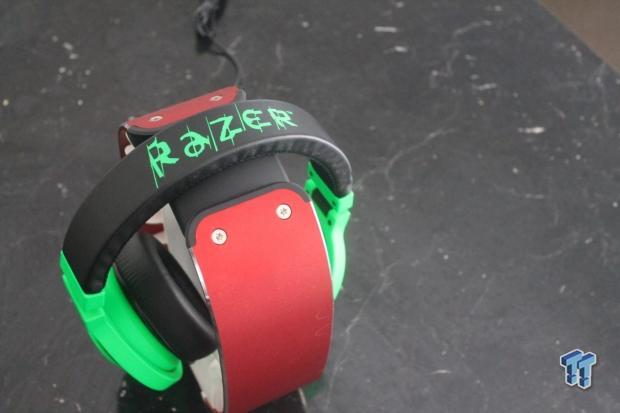 In saying this, the Razer Kraken Mobile Gaming Headset isn't all-around bad by any means, but I think it could do with a lot of refinement and a refocus on what exactly this product designed for. The bass issues were accentuated in CS: GO, with thundering AWP shots and grenade explosions masking the quieter sounds of footsteps and bomb plants, providing a similar washed out bass experience as with music. Some harder-hitting songs sounded just fine due to the exaggerated booming bass, but songs that have a small bass line and crisp, smooth lyrics suffered.
Some of the music I tested this product with included:
What's Hot
Leather earcups: They are very soft and feel well made.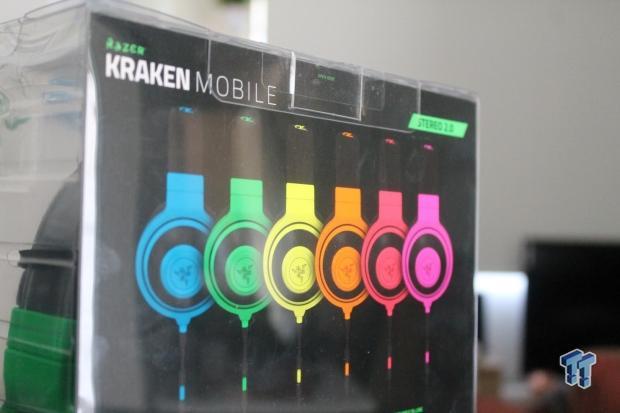 The cable: It locks in firmly, the in-line control unit doesn't feel cheap, and it's built solidly to withstand punishment.
What's Not
Overpowering bass: The sub-par clarity and overpowering bass means that a lot of what you want to hear is washed out.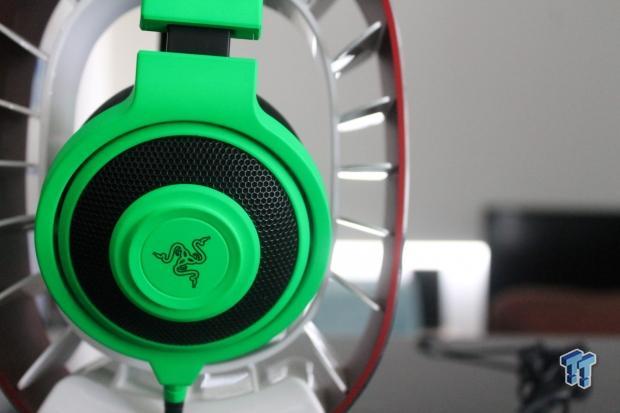 Accessories: A mobile audio product is often expected to come with some travel accessories – there are none to be seen here.
Clamps hard: This headset clamped on my head hard and took some stretching to get used to.
Washy clarity: When not drowned out by bass, the clarity is muffled.
Final Thoughts
It seems to me that Razer hasn't thought this release through, and this product is seemingly a rebrand and slightly changed revision the Razer Kraken Gaming Headset. While mobile by name, this headset is not mobile by nature.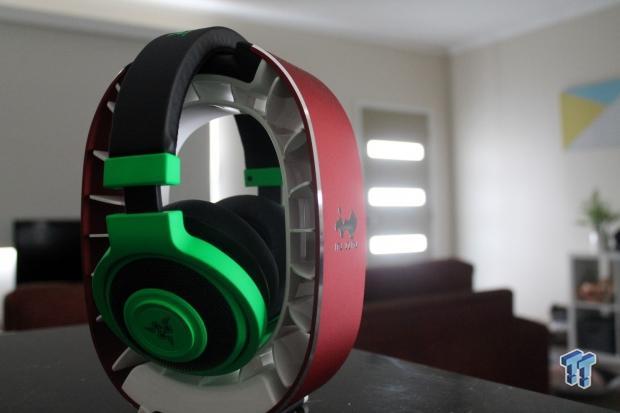 Granted it is foldable, this headset is, however, large and bulky. It doesn't come with travel accessories and further contains cheap overall packaging. The presentation and performance of this device doesn't seem to match the way that Razer usually develops and positions its products, coming across as an afterthought release, something that has been rushed in just to bolster a product range. If Razer can address the severe lack of accessories and tune up the drivers, it will have a much better product on its hands.
Chris' Test System Specifications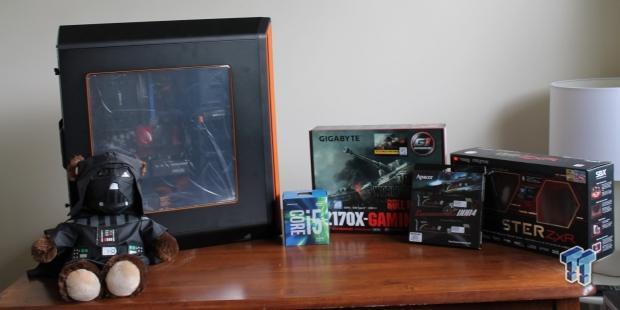 | | |
| --- | --- |
| Performance | 50% |
| Quality including Design and Build | 60% |
| General Features | 60% |
| Bundle and Packaging | 50% |
| Value for Money | 50% |
The Bottom Line: Mobile by name but not by nature, Razer's Kraken Mobile Gaming Headset doesn't match the marketing and doesn't perform as well you might expect.
PRICING: You can find products similar to this one for sale below.

United States: Find other tech and computer products like this over at Amazon.com

United Kingdom: Find other tech and computer products like this over at Amazon.co.uk

Australia: Find other tech and computer products like this over at Amazon.com.au

Canada: Find other tech and computer products like this over at Amazon.ca

Deutschland: Finde andere Technik- und Computerprodukte wie dieses auf Amazon.de
We openly invite the companies who provide us with review samples / who are mentioned or discussed to express their opinion. If any company representative wishes to respond, we will publish the response here. Please contact us if you wish to respond.